The original summer blockbuster, Steven Spielberg's JAWS (124 mins., 1975, PG; Universal) quickly became my favorite film growing up, having devoured it on VHS and on ABC's Sunday Night Movie presentation (the one with the added footage) so many times I could recite some dialogue before I was out of grade school. Over the years I've been able to see it on the big screen (thanks to a visit with Lukas on Martha's Vineyard back in the '90s), but despite that – and having reviewed numerous laserdisc and DVD releases over the years – only with Universal's Blu-Ray and now 4K UHD edition have I felt like I've completely been able to appreciate "Jaws." The Blu-Ray offered a brilliant HD presentation that's now been one-upped by a HDR/Dolby Vision-enhanced 4K transfer that does one notch better on an already-superb restoration, doing full justice to the classic 1975 screen adaptation of Peter Benchley's bestseller.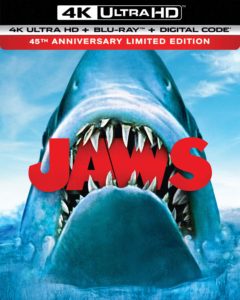 There's not much I can say about the movie that hasn't been written or documented – from behind-the-scenes books to countless documentaries – since the film's 1975 release date. Spielberg's miraculous direction took advantage of every difficult production situation to create an all-time film masterwork that's always been as satisfying for its unforgettable characterizations, surprising humor and memorable atmosphere as it is a white-knuckle thriller about a great white marauding swimmers off the shores of Amity Island. "Jaws" itself was a collaborative success, one that saw actors from Roy Scheider, Richard Dreyfuss and Robert Shaw down to assorted extras improvising their lines, giving the film a real, human center that we seldom see in modern filmmaking. The daily shooting schedule couldn't be mapped out all that far in advance since screenwriter Carl Gottlieb spent most nights working on the script with Spielberg – combined with our unpredictable and ever-changing weather here in southeastern New England, "Jaws" relied on the people making it so much that it's because of their efforts – as well as Spielberg, who marshaled them all together – that the movie overcame its physical production struggles. In fact, had the movie not endured such a tumultuous shoot, it's likely that "Jaws" never would've become the classic it did.
Universal produced a number of "100th Anniversary" Blu-Rays in 2012 with remastered transfers – the results ranged from superb to mediocre, but none looked as brilliantly detailed as "Jaws." Restored from high-res 35mm original film elements at the time, the "Jaws" Blu-Ray was one of the most satisfying catalog releases the studio produced in the format: Bill Butler's cinematography is richly textured down to the finest detail, with warm colors and just a dazzling appearance that brought new background detail to light with a clarity unseen in prior "Jaws" home video presentations (there was also, thankfully, no attempt at "tweaking" the movie's color scheme like we've seen on too many BD releases over the years). The water has more depth, the Martha's Vineyard locations come into sharper focus, and only the faintest hint of some filtering is apparent on a transfer that lets the movie's natural cinematography speak for itself.
The 4K UHD appears to be built upon the same restoration but offers gains across a number of areas – blacks are a little deeper, the image is a little darker and richer, colors are generally more saturated but the application of HDR10+ and Dolby Vision isn't over the top or distracting. Some viewers anticipating a night/day enhancement over something that was already superlative will need to fine tune their expectations – at first glance the 4K transfer may appear to be just a subtle enrichment, but when you spend a few minutes, then go back and compare this disc with the Blu-Ray, you can clearly see the benefits afforded by the UHD. The Blu-Ray subsequently appears a little blander overall in terms of its colors and contrasts – it's still perfectly good, but the 4K UHD is even better, enabling "Jaws" fans to look upon the film with fresh eyes.
The rest of the presentation is basically a reprisal of what was previously released on Blu-Ray. Viewers can select from the movie's original mono soundtrack (in a two-channel DTS mix) as well as a Dolby Atmos track derived from the Blu-Ray's 7.1 remix, which offered a broader sound stage with some alterations that purists objected to (i.e. the "new" gunshots at the end still sound closer to the controversial 2005 DVD 5.1 remix than they do the original mono recording, though in other instances, portions of the mono mix were carried over).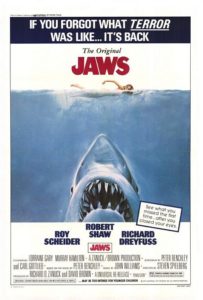 The extra features don't offer anything new, outside the ability to see most of them in new HVEC encodes on the 4K UHD disc. The one special feature not ported over (it's still available on the Blu-Ray, which is a straight reprise of the 2012 release) is the still-frame archive, produced-for-laserdisc "Jaws Archives" gallery.
The remaining supplements are great, though we've seen them all before. The eight-minute "From The Set" segment includes candid footage of the production's first few days on-location in Martha's Vineyard. Included here is priceless footage of Carl Gottlieb falling overboard and into the icy, early May waters of the Atlantic – all for the abandoned first attempt Spielberg made at showing the discovery of Ben Gardner's boat. It's a wonderful segment and it's a shame it doesn't go on longer than it does.
Laurent Bouzereau's dry but still-essential two-hour "Making of Jaws" documentary from the '90s Signature Collection laserdisc is back, and it's been again complemented by "The Shark is Still Working," a 2007 labor of love doc from James Gelet, Jake Gove, Erik Hollander, and James-Michael Roddy that treads over ground previously traveled by numerous other "Jaws" docs, as well as profiles other aspects glossed over by them (such as an interview with Percy Rodriguez, who performed the voice over for the film's classic theatrical trailer). While still upscaled, at least this documentary is presented in proper 16:9 with superior encoding this time around, while the Bouzereau doc is notably sharper than its Blu-Ray transfer. The same deleted scenes reel from the laserdisc is also included (this time with the benefit of 16:9 enhancement), while the trailer, a Digital HD copy, and a look at Universal's 2012 restoration has been ported over from the Blu-Ray.
Ultimately, Universal has done one of their crown jewels proud here with an essential UHD catalog release that offers a marvelous presentation of Spielberg's masterpiece for 4K TV owners.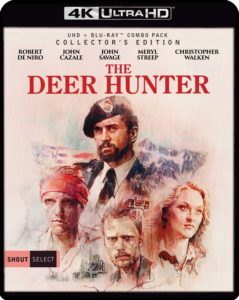 Marking Shout! Factory's inaugural 4K UHD feature film release is Michael Cimino's THE DEER HUNTER (182 mins., 1978, R), an Oscar-winner that, over time, has become somewhat diminished in terms of its place in Hollywood history. The latter is due to the sheer amount of Vietnam-themed films released in the decades since Cimino's highly-regarded — though at times frustratingly overlong — film was released. Nevertheless, "The Deer Hunter" vividly captures time and place, is superbly performed by Robert DeNiro and Christopher Walken, and brilliantly shot by Vilmos Zsigmond. In a weird career that reached its apex here, Cimino is at full command of his talents, utilizing the wide Panavision frame to tell a leisurely-paced tale of small-town dreams lost in the American experience of the late '60s, yet one that's more restrained – and rich in detail – than innumerable films from its genre that followed.
Shout's 4K UHD/Blu-Ray combo pack includes an HDR-enhanced HVEC transfer (2.35) that utilizes the same Studio Canal encode from the European 4K UHD release. That turns out to be a very good thing as the image is nicely saturated and consistently well composed, with fine detail in many scenes and a wider color pallet than the standard Blu-Ray. The disc includes a superb multi-track Dolby Stereo mix in 5.1 DTS MA while the original 2-channel audio and an older commentary from Vilmos Zsigmond and journalist Bob Fisher are also included.
While Studio Canal's overseas Blu-Ray offered a commentary from Cimino himself and several featurettes, Shout's included Blu-Ray debuts new interviews (mostly on the short side) with co-stars John Savage and Rutanya Alda, plus producer Michael Deeley, production executive Katy Haber and Willette Klausner. They're joined by a couple of extras from the earlier Universal and Studio Canal BDs (deleted/extended scenes, interview with critic David Thomson, and the trailer).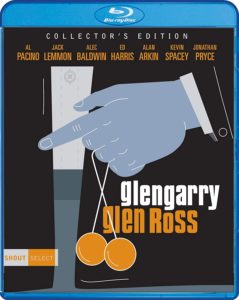 The all-star cast assembled for David Mamet's GLENGARRY GLEN ROSS (100 mins., 1992, R; Shout! Factory) reads like a one-of-a-kind ensemble: Al Pacino, Jack Lemmon, Alec Baldwin, Ed Harris, Alan Arkin, Jonathan Pryce and Kevin Spacey essay the cutthroat Chicago real-estate agents whose lives, and careers, intersect over a couple of fateful days. The movie, directed by James Foley, is a mostly unadorned adaptation of Mamet's profanity-laden character study, putting the focus on the dialogue and performances from its cast. Of them, Lemmon is a standout as the veteran agent desperately hanging on while his shady firm – teetering on the edge of con artistry – brings in a "trainer." That role is memorably filled by Baldwin, who announces two salesmen are about to be axed, putting in motion a savage monthly contest where the cruelest internal instincts of the men are eventually revealed.
The shock value of some of Mamet's dialogue has dimmed over time, but "Glengarry Glen Ross" still functions as a powerhouse actor's showcase, and the movie – while not a major commercial success at the time of its 1992 release – does its job, keeping the claustrophobic confines of its setting intact and allowing for a simmering tension that keeps the viewer on edge throughout.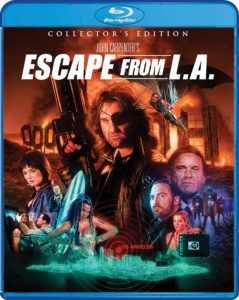 Shout! Factory's new Blu-Ray edition of "Glengarry Glenn Ross" offers a much needed, all-new 4K remaster (2.35, 5.1 DTS MA) that boasts a detailed, crisp presentation of the original Super 35 lensing by cinematographer Juan Ruiz Anchia. This is a fresh transfer that offers more detail than Lionsgate's discontinued 2016 Blu-Ray, while carrying over assorted extras from that release (commentaries by James Foley and Jack Lemmon, featurettes) and adding several new ones. Among the fresh supplements are an interview with Foley and a separate talk with actor Joe Mantegna, one of the original Broadway cast members, recalling his work with Mamet and Tony win for his performance as the original "Ricky Roma" (Pacino's film role).
Taking a severe turn from Mamet to late-era John Carpenter, ESCAPE FROM L.A. (100 mins., 1996, R) was the long-gestating follow-up to the director's 1981 futuristic thriller, reuniting Carpenter with star Kurt Russell. Here taking a writing and producer credit as well, Russell fits comfortably back into his role of the eye-patch adorned Snake Plissken, sent to retrieve an apocalyptic device stolen by the brainwashed daughter (A.J. Langer) of the President (Cliff Robertson) in a Los Angeles ravaged by "The Big One." That enables Carpenter to craft a series of would-be visual set-pieces that are nearly totally sunk by lousy CGI – so bad that the film was jeered even upon its original theatrical run.
If you can get past the FX (and that's a big "if"), "Escape From L.A." proves to be a middling rehash with just enough amusement to garner interest from the director's devotees, though the fact that Carpenter doesn't have any participation in Scream Factory's Blu-Ray is probably all the evidence you need to realize even its principal creators weren't happy with the finished product.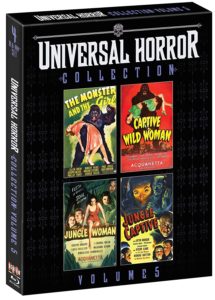 Scream's Blu-Ray does include a new 4K scan (2.35) from the original negative and both 5.1/2.0 DTS MA mixes and interviews with mostly peripheral supporting cast members. These include Stacy Keach, Peter Jason and George Corraface (who amusingly discusses his career, including his casting in "Christopher Columbus: The Discovery"), plus an audio conversation with Bruce Campbell, makeup artist Jim McPherson and VFX animator David Jones. The disc also sports the trailer, a stills gallery and assorted TV spots.
Finally, new this month from Scream Factory is Volume 5 in their marvelous UNIVERSAL HORROR COLLECTION Blu-Ray series. This one surveys animal madness and jungle mania, though weirdly includes a non-studio entry, 1941's "The Monster and the Girl" (65 mins.), featuring George Zucco as a scientist who transplants the brain of a slain church organist into the body of a gorilla. More entertaining are a pair of Universal B-entries starring Acquanetta, "Captive Wild Woman" (61 mins., 1943) and "Jungle Woman" (61 mins., 1944), while the package is capped by the quasi-follow-up "Jungle Captive" (63 mins., 1945). Aside from "Captive Wild Woman," all the films have received new 2K film transfers with commentaries provided by Golden Age horror authorities Tom Weaver, Gregory William Mank and others. DTS MA mono sound and trailers put the finishing touch on another must for Universal genre enthusiasts.
---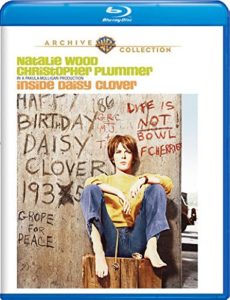 Warner Archive New Reviews
Robert Mulligan and Alan J. Pakula seldom produced uninteresting movies, even when they didn't entirely connect. INSIDE DAISY CLOVER (128 mins., 1965) would fall into that category – a sumptuously shot widescreen drama about a teenager's rapid rise and fall in the Hollywood studio system of the 1930s. Reuniting with star Natalie Wood – who they shepherded through the contemporary "Love With the Proper Stranger" – director Mulligan and producer Pakula fashioned a generally compelling profile of the disposable nature of the early years of Hollywood's Golden Age, with Wood playing opposite Christopher Plummer (the studio honcho) and Robert Redford (Daisy's bisexual husband), both anchoring a superb supporting cast with Roddy McDowall and Ruth Gordon counted among them.
Andre Previn's score has its moments, and Gavin Lambert's script – adapting his book – does as well. Sadly, some obvious edits prior to release resulted in a box-office disappointment that's a bit episodic and uneven, as if connecting chunks were removed in an effort to bring down the running time. Still worth a look on Blu-Ray, at least, with Warner Archive's 1080p (2.35) AVC encoded transfer capturing all the detail and color of Charles Lang's cinematography, with the trailer and the WB cartoon "War and Pieces" included on the supplemental side.
A full restoration by the UCLA Film & Television Archive, The Film Foundation and Warner Bros. – with an assist from the George Lucas Family Foundation – enables viewers to newly reappraise the early Technicolor effort THE MYSTERY OF THE WAX MUSEUM (78 mins., 1933), a Warner Bros.-Vitaphone production starring Lionel Atwill as the mad proprietor of a wax museum who becomes obsessed with his next intended victim, played by Fay Wray. Utilizing all the benefits of its pre-Code filming, director Michael Curtiz's tidy thriller is a quasi-classic of its kind – and this restoration is just stellar. Warner previously included the film as a bonus feature in the Blu-Ray of its Vincent Price '50s 3D remake, "House of Wax," but unlike that old master, this is a spectacular, full restoration that includes much stronger colors and fine detail. The Archive's Blu-Ray also offers commentaries by Alan K. Robe and Scott Maqueen, a featurette on Fay Wray from Constantine Nasr, and a restoration comparison.
Three more Blu-Rays from Warner Archive spotlight a trio of diverse studio projects from across the decades.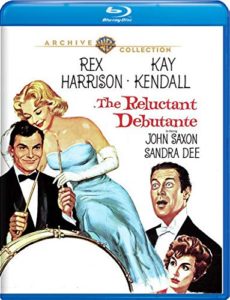 MGM's 1958 filming of William Douglas Home's play THE RELUCTANT DEBUTANTE (96 mins.) matched the British sensibilities of Rex Harrison and Kay Kendall with the decidedly American matinee idols Sandra Dee and John Saxon. The result is an amiable Cinemascope comedy from the MGM factory's waning years, with Vincente Minnelli expertly guiding this story of English aristocrats (Harrison, Kendall) trying to guide their American-raised daughter (Dee) through the London social network. Saxon is the musician she cares about with Angela Lansbury co-starring in a film Home adapted from his source material. Warner Archive's Blu-Ray boasts a vivid 1080p (2.35) transfer with 2.0 DTS MA sound…a later MGM comedy, SUNDAY IN NEW YORK (105 mins., 1963), meanwhile, adapted another stage success — a Norman Krasna play the writer likewise adapted for the screen — that provided a plum early role for Jane Fonda, playing a New York City gal trying to decide between her finance (Robert Culp) and a handsome stranger (Rod Taylor) after she retreats to the swinging bachelor pad of her brother (Cliff Robertson). Peter Nero scored the film, Mel Torme provides the title song, and Peter Tewksbury effectively shot the film on-location, with the fun captured in another strong Warner Archive Blu-Ray (1.85, 2.0 DTS MA mono)…Finally, Jennifer Lopez's star-making turn as the ill-fated pop star SELENA (128/134 mins., 1997, PG) powered director Gregory Nava's superb bio-pic of the Latina singer's life and premature demise. Warner Archive's Blu-Ray (2.4, 5.1 DTS MA) includes both the theatrical version and an extended cut that adds six minutes of footage; outtakes, the trailer, and two featurettes.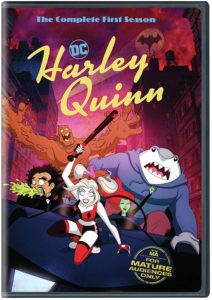 Also New & Noteworthy
HARLEY QUINN: The Complete First Season DVD (296 mins., 2019-20; Warner): The DC Comics anti-heroine seems to be everywhere these days. This time the Joker's ex-flame tries to climb her way into a spot in the villain-coveted Legion of Doom, stumbling (mostly) along the way while running into Batman, Poison Ivy and other assorted Gotham residents. While billed firmly as a comedy, this is an at-times graphic and often profane animated series from Warner, best left for the hardest core Quinn fans. Warner's two-disc Season 1 DVD offers the series' initial 13 episodes in 16:9 transfers and 5.1 surround.
Also new from Warner this week is the interestingly "remixed" HBO take on WATCHMEN (527 mins., 2020), with executive producer Damon Lindelof (mostly) successfully taking Alan Moore's graphic novel and applying it to a new framework wherein police detective/masked super-hero Angela Abar is on the case of a conspiracy that threatens the world. Regina King, Jeremy Irons, Tim Blake Nelson, Don Johnson and Jean Smart lead an all-star cast in a very slickly produced – and surprisingly decent – series adaptation that tries to do its own thing while retaining the general vibe of its source material. Alas, the fact that Lindelof nixed an involvement in a prospective second season led HBO to cancel the program, leaving its cliffhanger finale here a major deficit. Warner's attractive Blu-Ray (1.78, 5.1 DTS MA) is out this week with a pair of exclusive documentaries and ample special features – behind-the-scenes featurettes and production interviews – along with a Digital HD copy.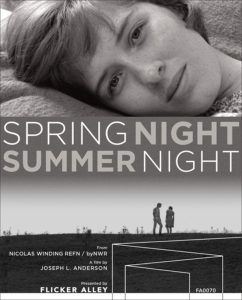 SPRING NIGHT SUMMER NIGHT Blu-Ray (82 mins., 1967; Flicker Alley): Flicker Alley, which often specializes in silent film preservation, has produced something quite different for movie buffs this month: a restoration of a wholly independent 1967 film, "Spring Night Summer Night," which was shot on-location with amateur actors by J.J. Anderson, a University of Ohio professor. This is a fascinating study of the illicit love affair between two half-siblings in a small Ohio mining town – filmed in an intentional "New Wave" manner by Anderson. Over the years after its release, the picture was recut for the exploitation market and has been difficult to find in its original form. This impressive Blu-Ray restoration was produced in 4K and is presented here in a beautiful B&W print alongside a generous assortment of supplements: these include Anderson's early '60s shorts, a look at the recut version "Miss Jessica Is Pregnant," plus 16mm behind-the-scenes footage, a 2016 Q&A with surviving cast and crew, a collector's edition souvenir booklet and a DVD bundled in the combo pack. Recommended.
ROBERT THE BRUCE Blu-Ray (122 mins., 2020, Not Rated; Screen Media): Reprising his role as Robert the Bruce from "Braveheart," Angus Macfadyen stars, produced and co-wrote this more introspective piece as the one-time Scottish king is seen on the run – hiding out from English forces with a bounty on his head when he meets a boy whose father once fought for Scotland's freedom alongside him. You have to give Macfadyen credit for trying, but this is a slow-going character piece that burns off whatever goodwill it has early on, turning into something of a depressing view. Screen Media's Blu-Ray includes 5.1/2.0 audio, a fine 1080p transfer, Making Of and commentary with Macfadyen and director Richard Gray.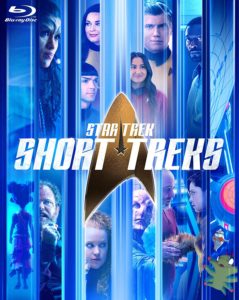 STAR TREK: SHORT TREKS Blu-Ray (aprx. 2 hours, 2020; CBS/Paramount): Compilation of "Star Trek"-inspired short films includes the segments Runaway, Calypso, The Brightest Star, The Escape Artist, Q&A, The Trouble With Edward, Ask Not, and the animated Ephraim & Dot and The Girl Who Made the Stars. Special features include Making Of segments that give this Blu-Ray (1080, 5.1 DTS MA) nearly an hour of additional content.
BRAHMS: THE BOY II Blu-Ray Combo Pack (87 mins., 2020, PG-13; Universal): Feeble sequel to the quasi-hit "The Boy" stars Katie Holmes as a suffering mom whose family moves into a guest house on the Heelshire Mansion – just in time for her son (Christopher Convery) to become attached to the demonic doll Brahms, returning – along with writer Stacey Menear and director William Brent Bill – from its predecessor. The original notched a respectable commercial performance but not so this unwanted follow-up, which proves there wasn't enough juice in the material to power a prospective franchise. Universal's Blu-Ray (2.39, 5.1 DTS MA) includes an alternate ending, deleted/alternate scenes, Digital HD copy and a DVD.
A recent Universal movie which seemed to be "cursed" was THE HUNT (90 mins., 2020, R), a Blumhouse production that received an awful lot of controversy for its provocative story of wealthy liberal females hunting "red staters". Betty Gilpin and Hilary Swank play two women at opposite ends of the spectrum in a fast-moving and occasionally funny film that wasn't worth all the attention (is it ever?) but at least isn't as bad as its rep would lead one to believe. Universal's now-available Blu-Ray — released the same time as the recent riots, ironic since the theatrical release had to be scuttled due to political squabbling — includes a 1080p (2.39) transfer, 7.1 DTS MA sound, a DVD, Digital HD copy and three featurettes.
ONE CUT OF THE DEAD Blu-Ray (96 mins., 2017, Not Rated; RLJE Films): Shinichiro Ueda's 2017 zombie mash-up is set in a warehouse where a film crew shooting a genre picture runs afoul of the real thing. Comedy, horror, blood, gore, and general mayhem all combine for a superior zombie effort brought to Blu-Ray by RLJE in a deluxe Steelbook package. In addition to the snazzy packaging, the disc includes outtakes, a photo gallery, POM! Instructional Video, and a Go-Pro camera version of the film. The 1080p (1.78) transfer and 2.0 DTS MA sound are both fine.
A SOLDIER'S REVENGE Blu-Ray (149 mins., 2019, Not Rated; Well Go USA): Neal Bledsoe plays a Civil War veteran who's either drinking or pursuing fugitives via his work as a bounty hunter. Things change when he's entrusted by a pair of kids to find their missing mother (Annalynne McCord). Michael Feifer helmed this independently-shot western co-starring Val Kilmer and Jake Busey, out on Blu-Ray (1080p, 5.1 DTS MA) June 16th from Well Go USA.
NEXT TIME: Paul Mazursky's AN UNMARRIED WOMAN gets the Criterion treatment! Until then, don't forget to drop in on the official Aisle Seat Message Boards and direct any emails to our email address.