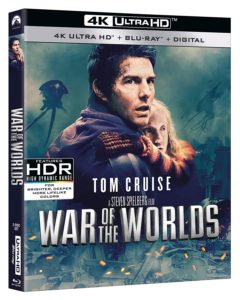 Because we've been stuck in the midst of a COVID-driven lockdown, I've found it comforting to revisit apocalyptic, end-of-the-world fare on home video over these last few weeks. If you think it's been bad being locked up over the last two months – well, wait, an extraterrestrial invasion and being trapped in Tim Robbins' basement could well be worse.
That's what happens, of course, in Steven Spielberg's 2005 version of WAR OF THE WORLDS (116 mins., PG-13; Paramount), a movie which felt like a major letdown at the time of its original release. Revisiting it in Paramount's gorgeous new, HDR-enhanced 4K UHD edition, I spent the first 20 minutes thinking I may have been wrong about this one 15 years ago…until the movie kept going and totally confirmed the heavy disappointment I felt the first time around.
The combination of director Spielberg and a modern day adaptation of the H.G. Wells classic should've been dynamite…and perhaps would've been, at an earlier stage of Spielberg's career. If there was ever an opportunity for Spielberg to once again ignite his passion for genre films and reconnect with audiences — and take all of us back to the kinds of chilling extraterrestrial tales of decades past — it should've been this film.
Unfortunately, despite all the trappings of a blockbuster, the presence of Tom Cruise and all of Spielberg's resident artists on-hand to support the director's vision, this miscalculated, and quite poorly written, film looks and feels as if it was slapped together in a matter of months. Outside of a couple of set-pieces that were probably storyboarded before the screenplay was finished (and ultimately credited to Josh Friedman and David Koepp, whose name is on all of Spielberg's worst films), Spielberg's "War of the Worlds" seldom displays the craftsmanship of its filmmaker and ultimately leaves the viewer disheartened that a great opportunity for a genre classic was lost.
It's not as if the film doesn't begin well, however. Cruise's protagonist, Ray Ferrier, is a typical working class New Yorker who wears a Yankees cap and takes his kids (Dakota Fanning, Justin Chatwin) from his divorced wife (Miranda Otto) for what initially appears to be an ordinary weekend. Friedman and Koepp's script quickly establishes the broken, dysfunctional American family in a matter of minutes — with Chatwin and Cruise bickering to no end — but it's thankfully not long before something from the skies descends upon New York.
Lightning strikes quickly, and repeatedly. The wind blows towards the mounting storm. Cars lose their power. Watches stop. The electricity goes out — and gigantic machines break out of the ground, literally zapping New Yorkers and anyone who comes in their path. It's a great set-up, but sadly one of the only scenes in "War of the Worlds" that you'll remember once the credits roll.
From there, Cruise and his kids travel off the highway and towards the Hudson River, in the hopes that they can cross and find Mom in Boston. Along the way they run into a crazed mob, a futile military encounter with the aliens, and a nutcase (played by Tim Robbins) who wants to take back the fight against the extraterrestrials. At every turn, though, the creatures in their mammoth machines are there, zapping humans, growing the Red Weed, and harvesting the bodies of their helpless victims for fertilizer.
"War of the Worlds" has several things in its favor: an exciting opening set-piece, a fairly rousing climactic confrontation (even if you don't realize it's the climax until the film ends shortly thereafter), and scene-setting narration by Morgan Freeman that perfectly captures the mood and mystery of Wells' fantastic tale.
What's disappointing about the film is — unfortunately — everything else. After the picture's opening the seams begin to show almost immediately, with endless sequences of Cruise playing the Peter Pan-Dad who has never grown up (how many times have we seen that in a Spielberg film?) and can't do much else but shout at his kids.
The dialogue is so bad that you'll start noticing the movie's numerous logistical lapses, like how Cruise is able to maneuver through a highway of stalled cars, how his kids don't hear the initial alien attack (they look at their father as if he was just roughed up at the local bar when he returns home), why he doesn't bother to watch TV when he arrives at his ex-wife's house, or why a crazed mob waiting to go on a ferry would violently attack an SUV going in the exact same direction (it might have made more sense if Cruise was driving a boat).
These latter sequences now come off as being heavy-handed 9/11 parallels that make little sense given the context of this film – for example, given the immediacy of the alien attack, who would even have the time to put up posters of missing family members?
If that wasn't bad enough, Robbins then appears out of nowhere as a Jedi Knight of the Overweight Republic, in a sequence that ranks with the worst of Spielberg's career. After a melodramatic shot that introduces his appearance ("look, it's a movie star!"), Robbins mugs endlessly as the neurotic who can't help himself, while Cruise sings Fanning a lullaby in a moment that could provoke a few unintended chuckles. Even the alien "camera" that shows up is nothing but a recycling of the Pseudopod from "The Abyss," further compounding an already interminable sequence that only becomes amusing once Robbins is seen digging a tunnel — at that point I almost expected Freeman to re-start his narration and ask what Andy Dufresne has been eating for the last 11 years.
Technically "War of the Worlds" has some solid effects but the design of the aliens and the ships themselves aren't jaw-dropping or particularly memorable (their design is so generic, I actually forgot that the aliens fully appear on-screen). Janusz Kaminski's cinematography captures the claustrophobic nature of some of the film's trappings all too effectively (you'll feel like you've spent an eternity in Robbins' basement), while John Williams' stunningly nondescript score ranks as one of the most thankless and forgettable compositions of his entire career.
Dialed down in the movie to the point where you'll never realize it's there unless you specifically try and hear it, Williams' score adds virtually nothing to the film from a dramatic standpoint – though on the same hand, it doesn't seem like Spielberg wanted Williams' music to do much of anything except stay out of the way.
By the time you get to the movie's weak ending, you can clearly discern the difference between George Pal's 1953 "War of the Worlds" and Spielberg's modern version. Pal and director Byron Haskin ended their film with an elegant, quasi-religious conclusion that viewers have remembered for decades. Spielberg reprises a similar shot of the aliens' demise, yet throws it away in a hastily-filmed finale shot in an abandoned Connecticut mill (substituting for a Boston suburb). There's no resonance here, no majesty — just a quick goodbye and roll to the credits.
That's the ultimate feeling one is left with from "War of the Worlds." This project went on the fast track because Cruise and Spielberg wanted to work together again after "Minority Report" and a convenient opening popped up in their respective schedules. They were ready to make the film, even if the script itself wasn't ready to be made. Given the director and the subject matter, "War of the Worlds" was – and still is – a colossal disappointment that sums up Spielberg's late-career failure to reconnect with otherworldly material he once reached galactic cinematic heights with.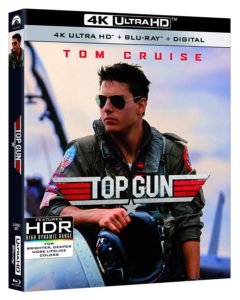 For those wanting to revisit the film, Paramount bows "War of the Worlds" in 4K UHD on May 19th. This is a dynamic looking disc with a boisterous Dolby Atmos soundtrack, offering a clear advantage over the 1080p BD with an enhanced color pallet and more vivid lighting, thanks to HDR and Dolby Vision. The previous Blu-Ray (also included) sports all the extras from the earlier release (Laurent Bouzereau docs, etc.), while a Digital HD copy rounds out the disc.
"War of the Worlds" isn't the only Cruise catalog title to receive the 4K UHD treatment this month from Paramount.
Celebrating its 34th Anniversary is TOP GUN (109 mins., 1986, PG; Paramount), the 1986 blockbuster Tom Cruise smash that contains some of the most memorable imagery of any '80s studio film, with Cruise's Maverick trying to fly his way to the top of the Navy's elite fighter pilot program, backed to a rockin' Harold Faltermeyer/Kenny Loggins/Berlin soundtrack and performances from the likes of Kelly McGillis, Val Kilmer and Anthony Edwards.
Back in the old days of laserdisc, it seemed as if a new release of "Top Gun" appeared every few months. It hasn't been that way on DVD or Blu-Ray, with Paramount and Scott Free's Charlie de Lauzirika giving fans a genuine Special Edition in 2007-08 that was reprised only in a Steelbook "30th Anniversary" Blu-Ray combo pack that's now been enhanced in a 4K UHD edition.
This is a snazzy, high-contrast package with HDR and Dolby Vision that bests the original Blu-Ray in both detail and color gamut while preserving the 2.35 Super 35 aspect ratio of its theatrical exhibition (some previous releases offered a 1.85 frame that showed the entire picture area that was shot). Meanwhile, the reference-quality 6.1 DTS Master Audio surround of the earlier BD has been enhanced and improved here by an aggressive Dolby Atmos mix, which brilliantly captures the sonic oomph of the movie's original sound design.
Extras have been reprieved from prior editions with the addition of a very brief featurette, "The Legacy of Top Gun," exclusively on the 4K UHD platter, that's basically just an ad for the upcoming sequel.
For the earlier BD, De Lauzirika packaged a two-hour plus documentary, "Danger Zone: The Making of 'Top Gun'," split into six different segments. Offering interviews with producer Jerry Bruckheimer, director Tony Scott, stars Val Kilmer and Rick Rossovich (Cruise appears only fleetingly), and composer Harold Faltermeyer among others, this is an insightful and entertaining look at the creation of the film and logistics involved in utilizing the various jets and carriers, all of which necessitated the cooperation of the U.S. Navy. Faltermeyer, meanwhile, appears along with singer Kenny Loggins in dissecting the creation and massive success of the score (and the soundtrack album).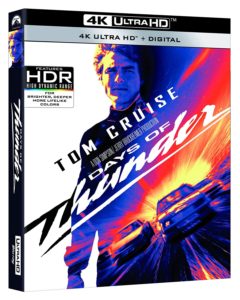 There's also vintage behind-the-scenes featurettes (including a videotaped interview with Cruise), TV spots, four classic music videos, and commentary from Bruckheimer, Scott, and the Naval veterans who offered their sage advice to the filmmakers. Highly recommended for all "Top Gun" buffs, and easily the most comprehensive package ever assembled for '86's #1 box-office hit – a must for 4K owners with a Digital copy also included.
Finally, Cruise's reunion with "Top Gun" producers Don Simpson and Jerry Bruckheimer along with director Tony Scott, DAYS OF THUNDER (107 mins., 1990, PG-13; Paramount), has also been remastered in an attractive 4K UHD release. Granted, this Summer 1990 NASCAR racing drama never became the box-office behemoth Paramount was hoping for – yet it's still a very slick, and really good looking, widescreen affair with Cruise paired with soon-to-be-(ex)wife Nicole Kidman, Robert Duvall, Randy Quaid and Cary Elwes for a formulaic sports movie scripted by Robert Towne.
Since the movie's biggest asset is its elegant widescreen lensing, "Days of Thunder" benefits enormously from another superb Paramount 4K UHD presentation with HDR, Dolby Vision and Dolby Atmos audio. The brightness and colors, solid as they were on the original Blu-Ray, all get an enhancement in this excellent release, with an isolated score track of Hans Zimmer's soundtrack debuting here alongside the "Days of Thunder: Filmmaker Focus" featurette. A digital copy is also included.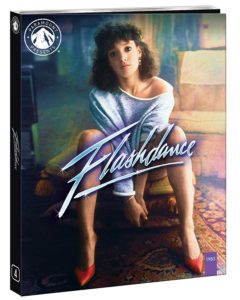 Finally, receiving a new "Paramount Presents" Blu-Ray release is FLASHDANCE (94 mins., 1983, R; Paramount), the silly box-office smash from '83. Its simple rags-to-riches tale of an 18-year-old (Jennifer Beals) who welds by day and dances at night — so she can make it as a legitimate ballet dancer — is basically "Cinderella in Pittsburgh," complete with a knight in shining armor (Michael Nouri), who here happens to be the boss of the construction company she works at.
All you have to do is take a look at the individuals who made "Flashdance" to know what the movie is all about. It was directed by Adrian Lyne, produced by Don Simpson and Jerry Bruckheimer, co-written by Joe Eszterhas, and scored by Giorgio Moroder (with "Sylvestor" Levay receiving credit for arranging and conducting Moroder's compositions). The soundtrack features plenty of classic '80s songs (including the Oscar-winning Irene Cara title track) and offers slick and satisfying entertainment so long as you aren't looking for much of a story.
Paramount's new 4K remaster of "Flashdance (5.1 DTS MA, 2.0 Dolby Digital, 1.85) looks terrific. The previous 2013 Blu-Ray was fine, but this is a consistently nice looking disc with a brief new interview with Lyne included on the supplemental end, along with two featurettes from the older release (though as with the other Paramount Presents discs, a number of extras from the previous releases have been regrettably excised).
---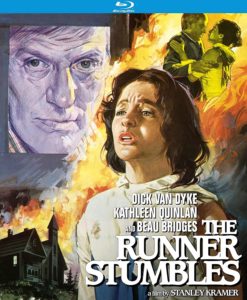 Kino Lorber New Releases
THE RUNNER STUMBLES Blu-Ray (109 mins., 1979, PG; Kino Lorber): Infamous late '70s box-office failure at last becomes available in a modern home video format.
Marking its first release since Key Video's VHS tape, this last feature from producer-director Stanley Kramer stars Dick Van Dyke as a Catholic priest in Michigan circa 1927. When two of the nuns in Van Dyke's parish fall ill, a young nun (Kathleen Quinlan) comes to help out, making an immediate impact on the local school children and creating sinful impulses in Van Dyke's small-town man of the cloth. It goes without saying that things go downhill for all from there.
"The Runner Stumbles" was based on a real murder case and was dramatized on-stage by Milan Stitt, who adapted his play for this Melvin Simon production. Sadly, there's no edge – and little believability – in this surprisingly lightweight film, which through Kramer's handling of the material and the lead performance of Van Dyke, seems to hail from a filmmaking approach that was well past its prime in 1979. Van Dyke is mostly in over his head and generates unintentional laughs in the few scenes where his character acknowledges a crisis of faith – he also has little chemistry with Quinlan, whose attachment to the veteran priest is nearly impossible to believe as portrayed here. In fact, Kramer's earnestness robs the picture of any kind of gravitas – this is a "theatrical" film, not a credible one, and Ernest Gold's old-fashioned scoring seems more in-line with an episode of Michael Landon's "Highway To Heaven" or "Little House on the Prairie" than what the confined, character-driven storyline requires.
Nevertheless a movie that curious buffs will want to see for themselves, "The Runner Stumbles" debuts on Blu-Ray this month courtesy of Kino Lorber. Even though the heavily-processed transfer (1.66) offers scant detail, one can still appreciate the craftsmanship of Lazlo Kovacs' Washington-lensed cinematography, while the mono sound is fine and a commentary from critic Peter Tonguette extols the film's (few) virtues.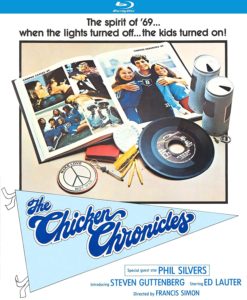 Another film from producer Melvin Simon, THE CHICKEN CHRONICLES (94 mins., 1977, PG) is a likeable, if disjointed, coming-of-age picture that "introduced" the world to one Steven (Steve) Guttenberg.
The future '80s comedy star plays a Beverly Hills high school senior hoping to "go all the way" with one (or both) of the movie's female leads (Lisa Reeves and Meridith Baer) while working at a take-out chicken joint owned by irascible, top-billed "Guest Star" Phil Silvers. The episodic script by TV writer Paul Diamond is uneven and never really paints a convincing portrait of time and place – the movie is set in the late '60s, with the Vietnam War looming in the backdrop – but there are some mild laughs here and there. To his credit, director Francis Simon also stays on the clean side of the PG-rated movie's subject matter, since a few years later, a movie like "The Chicken Chronicles" would've been a tasteless R-rated raunchfest in the "Porky's" era.
Co-starring Ed Lauter, "The Chicken Chronicles" debuts on Blu-Ray in an attractive, detailed Studio Canal licensed master (1.85) that hails from healthy source materials. The mono soundtrack offers a number of songs and score by Ken Lauber, with a commentary from Lee Gambin detailing the film's placement in the teen movie genre.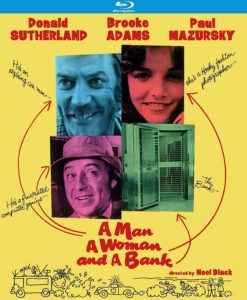 A MAN, A WOMAN, AND A BANK Blu-Ray (101 mins., 1979, PG; Kino Lorber): Easy-going heist seriocomicdrama was one of numerous Canadian tax shelter productions from the '70s and early '80s.
Donald Sutherland reunited with his "Body Snatchers" co-star Brooke Adams (spoiler alert: this ending's not nearly as bleak!) for this story of a con artist who drags along his reluctant computer programmer buddy (Paul Mazursky) to knock over a Vancouver bank while it's still under construction. Adams is the fashion photographer who gets in the middle in a movie that's leisurely paced to a fault – the script by future '80s A-listers Raynold Gideon and Bruce A. Evans ("Stand By Me") puts the pieces in motion for a casual rom-com, but director Noel Black is unable to inject the needed energy to make the picture come together.
As it is, between Bill Conti's score (complete with Dan Hill crooning the title song) and Jack Cardiff's lensing, "A Man, A Woman And A Bank" generates a pleasant enough atmosphere, as if you've just rolled out of bed at a Holiday Inn during a Vancouver vacation in the late '70s, and strolled down to the set to shoot a few scenes before heading back for the Happy Hour buffet.
Kino Lorber's Blu-Ray (1.78) includes a healthy, good-looking transfer with DTS MA mono sound. The disc even includes a couple of commentaries – an informative production chat between Black and producer Peter Samuelson is the superior of the duo – with the trailer also included.
ALL NIGHT LONG Blu-Ray (88 mins., 1981, R; Kino Lorber): Gene Hackman's first cinematic sojourn after "Superman" came with this box-office wipeout where the actor played an executive demoted to managing a dingy 24-hour drugstore. Opposite Hackman was originally Lisa Eichhorn, playing a cooky neighbor both he, and his son (Dennis Quaid), have an affair with – yet Eichhorn was quickly replaced after (among other things) Hackman felt he had no chemistry with her. Stepping into this unglamorous role was none other than Barbra Streisand, looking to play opposite one of Hollywood's A-listers at the time.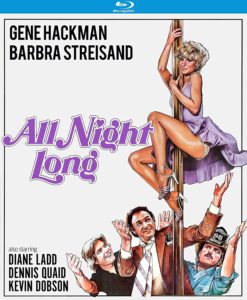 This mix ordinarily might've led to commercial fireworks but "All Night Long" was far too slight to function. In fact, even writer W.D. Richter was baffled by some of the positive reviews the movie received at the time from Pauline Kael among others – noting it was also seen by so few people that it never even had a chance to become an infamous flop. With a goofy tone and a roster of interesting supporting players (Diane Lane, Kevin Dobson, and Charlie Siebert all pop up too), the movie plays out like a slapstick farce where something is just "off" from the very start. The energy level and investment on the part of both Hackman and Streisand is there – and to her credit, Babs played the role as written – but the film is disconnected to such a degree you're left wondering what, exactly, the point was supposed to be.
A film that's long been hard to find, Kino Lorber brings interested viewers a satisfying 1080p (1.85) AVC encoded transfer of "All Night Long" here from the Universal vaults. A candid interview with Richter details the film's numerous shortcomings with the trailer and a pair of radio spots also on-hand.
The soundtrack credits are equally odd, with Ira Newborn and Richard Hazard credited with the score, yet the end credits identify Dave Grusin as the composer of "Cheryl's Theme" while "George" Delerue nabs an early Hollywood credit for conducting!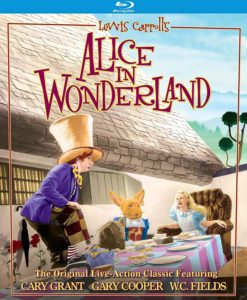 ALICE IN WONDERLAND Blu-Ray (76 mins., 1933; Kino Lorber): Another vintage film making its Blu-Ray debut this month from Kino Lorber, Paramount's "Alice in Wonderland" was a box-office disappointment upon its release in 1933. Criticized by many over the decades for its use of big stars mostly buried in often grotesque make-up/puppetry effects, this Norman McLeod-directed take on Lewis Carroll's books nevertheless offers ample viewing amusement for Golden Age buffs; between the movie's evocative sets and general weirdness, this strange film, scripted by Joseph L. Mankiewicz and William Cameron Menzies, offers an unusual, pre-Disney take that's decidedly more disturbing than its later animated counterpart, if not occasionally nightmarish in its approach (I remember being freaked out by the baby that turns into a pig while running across the movie while I was very young).
The movie still has issues – and feels prolonged even with its abbreviated running time – but the "appearances" of Richard Arlen, Gary Cooper, W.C. Fields, Cary Grant and Edward Everett Horton amongst others makes this an interesting, and very early, "all-star" Hollywood adaptation of classic source material. Kino Lorber's Blu-Ray (1.37) has been sourced from what looks like a newish Universal scan of source elements that vary – as one might expect given the movie's vintage – in their overall condition. An early score by Dimitri Tiomkin is on-hand in the mono soundtrack, while Lee Gambin provides another commentary.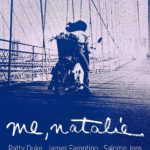 ME, NATALIE Blu-Ray (111 mins., 1969, Not Rated; Kino Lorber): Patty Duke gives a convincing performance in this overlong and odd late '60s piece about an ugly duckling teen who eventually leaves her Brooklyn home and heads down to the Village, where she meets an artist (James Farentino) with his own hang-ups. A. Martin Zwiback's script is episodic and feels like several episodes of a TV sitcom strung together, minus the laugh track, with the movie straddling a weird line between wanting to tell an adult story – in keeping with its era – while retaining the conventions of old Hollywood, as evidenced by Henry Mancini's overly lush score, augmented by syrupy lyrics by Rod McKuen. Still, Duke is winning here – and deservedly earned a Golden Globe nomination for Best Actress – plus there are early appearances from Al Pacino and Bob Balaban, making "Me, Natalie" worth a view for the curious. This little-screened Cinema Center Films release debuts here on Blu-Ray in a fresh HD master (1.78) with DTS MA mono sound.
---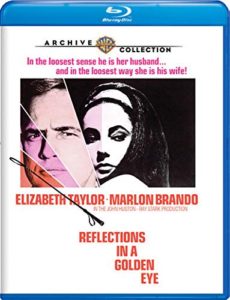 Warner Archive New Releases
Author Carson McCullers' works didn't really translate to the screen, with "The Heart Is a Lonely Hunter" remembered today primarily for Dave Grusin's heartfelt score and REFLECTIONS IN A GOLDEN EYE (109 mins., 1967) having served as a footnote in the careers of Brando, co-star Elizabeth Taylor and director John Huston for many years since its 1967 release.
Warner Archive's two-disc Blu-Ray edition may help rectify that, at least partially, as this sordid tale of repressed sexuality in the deep south offers some bonkers moments and over-the-top performances from its stars — not to mention a bizarre, gold-tinted color scheme which Huston insisted upon. Warner-Seven Arts, however, felt differently at the time, and the movie went into general release with its original Technicolor hues intact.
Huston's "golden" visual intentions are included in this Archive Blu-Ray, though one may grow tired eventually of the bland visuals. For the first time in the U.S., Warner has also included the full color version on a separate disc, allowing viewers to choose whichever color scheme they desire. Both transfers look superb in these high bit-rate AVC encoded (2.35) transfers, while on the supplemental side, some 20 minutes of extensive, silent black-and-white behind the scenes footage is available. The clear DTS MA mono sound offers an eclectic, not altogether satisfying score by Toshiro Mayuzumi.
A pair of black-and-white RKO westerns from 1948 also comprise Warner Archive's May Blu-Ray slate. Robert Mitchum plays the "Stranger" to Loretta Young's title role in RACHEL AND THE STRANGER (93 mins.), an easy-going character piece with Young the bride "bought" by William Holden to help raise his now-motherless son. This is a satisfying, three-character driven drama with an exciting ending, even if Waldo Salt's script is pretty much predictable all the way through. More satisfying on balance is Mitchum's lead role in Robert Wise's BLOOD ON THE MOON (88 mins.), a moody and atmospheric "noir western" with the star playing a gunslinger who switches sides and aids a rancher (Tom Tully) unjustly positioned against local landowners by the old friend (Robert Preston) who hired him. Barbara Bel Geddes is the rancher's daughter he falls for in this mostly interior-shot genre exercise, preserved – like "Rachel" – in a crisp and nicely textured 1080p (1.37) B&W transfer with DTS MA mono sound.
---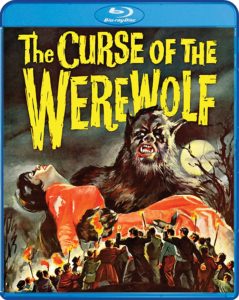 New From Shout! Factory
THE CURSE OF THE WEREWOLF Blu-Ray (93 mins., 1960; Shout! Factory): Hammer ran through most of the classic horror archetypes over their many decades, but only hit on their own version of "The Wolfman" with this superior, A-grade color effort starring Oliver Reed as the tormented werewolf. Under the direction of Terence Fisher, "Curse" boasts a better-than-average human storyline with Reed and Clifford Evans acting opposite 19th century European locales. The result is one of the studio's best from the era, presented in a crisp, beautiful 1080p (1.85) new 4K remaster from the original negative. Extras include two new commentaries, one from historians Steve Haberman and Constantine Nasr, another featuring actress Yvonne Romain, make up artist Mike Hill and Leslie Bricusse. There are also new featurettes on makeup artist Roy Ashton and composer Benjamin Frankel and a number of extras from prior releases (Making Of, trailer, still galleries, featurettes).
PROMARE Blu-Ray/DVD (111 mins., 2019; Shout! Factory): The highest-grossing anime feature of 2019, "Promare" marks the first feature-length work from animation studio Trigger and director Hiroyuki Imaishi. Set some 30 years after flame-wielding mutants appeared on the scene, destroying half the world, "Promare" is a wild, unrestrained picture that anime buffs should enjoy in terms of its bombastic tone and colorful visuals. These are all captured in Gkids and Shout's Blu-Ray combo pack (also including a DVD), with a 1080p (1.77) transfer, 5.1 DTS MA Japanese or English audio, and extras including an interview with Imaishi, a pair of shorts (Side: Galo and Side: Lio), trailers and additional featurettes all included.
THE GOOD PLACE – The Complete Series Blu-Ray (25 hours, 2018-20; Shout! Factory): Kristen Bell and Ted Danson starred in executive producer Michael Schur's NBC comedy, which wrapped up last season after generating a strong amount of critical acclaim. Shout! Factory previously released individual season DVDs of the series – which I previously reviewed in the column (check the Archives for those specific reviews) – and now brings the series to Blu-Ray for the first time. All 53 episodes of "The Good Place" are included in Shout's multi-disc box, augmented with superior 1080p (1.78) AVC encoded transfers and 5.1 DTS MA soundtracks over their standard-def editions. As with those DVDs, a good amount of extras have been included, with extended episodes, commentaries, a gag reel, visual FX reel, a Finale Special, 2019 Comic Con panel and other bonuses gracing this recommended Shout package.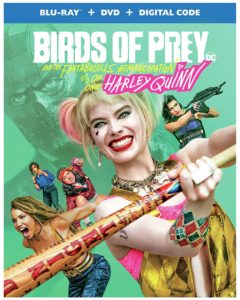 Warner New Releases
Goes without saying that a number of titles were either pushed back or just unavailable for review during the virus crisis of the last couple of months. Warner has graciously sent along several titles that fell among the latter, including BIRDS OF PREY (AND THE FANTABULOUS EMANCIPATION OF ONE HARLEY QUINN) (109 mins., 2020, R).
This high-profile spin-off for Margot Robbie's Harley Quinn was able to hit theaters in February before cinemas closed down weeks later, so the virus wasn't to blame for the film's disappointing box-office. An R rating (which excluded the teen audience that Harley especially appeals to) and tepid audience reaction were responsible for the picture's limp grosses, with Robbie and friends (Mary Elizabeth Winstead as The Huntress, Jurnee Smollett-Bell as Black Canary) going up against Ewan McGregor's crime lord bad guy. Cathy Yan's film is fun in spurts but doesn't amount to very much, having been reportedly massaged in post-production reshoots that culminate in an uneven product that doesn't feel like it has a particular identity – or a reason to exist.
Warner's Blu-Ray (2.39, Dolby TrueHD) looks and sounds good, with a "Birds Eye View Mode" boasting an interactive amount of Easter Eggs and trivia on-hand plus additional featurettes, a DVD and Digital Code.
Ben Affleck gives a strong performance in the otherwise relentlessly downbeat THE WAY BACK (108 mins., 2020, R), a sports drama offering Affleck as an alcoholic ex-basketball star who tries to turn around his life, and the fortunes of his alma mater, when he takes a job as their new high school coach. Gavin O'Connor helmed Brad Ingelsby's original script, which is well-intentioned but so gloomy and, ultimately, predictable that it's hard to recommend. Warner's Blu-Ray includes Dolby Atmos audio and two featurettes, a DVD and Digtial Copy.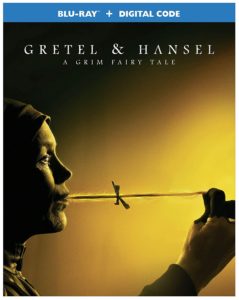 Finally, there's ample atmosphere – but not a lot of story – in GRETEL & HANSEL (87 mins., 2019, PG-13), director Osgood Perkins' self-described "Grim Fairy Tale" starring Sophia Lillis ("It") as a teenage Gretel, who leads her young brother (Sam Leakey) into the woods where they run into a spooky witch (Alice Krige). Perkins shot the film in Ireland and there's plenty of moody atmosphere on-hand, yet this retelling isn't nearly developed enough to satisfy. Warner's attractive 1080p transfer and DTS MA audio make for a good-looking BD, with a "Storybook" animation archive on-hand plus a Digital Copy.
THE INVISIBLE MAN Blu-Ray Combo Pack (124 mins., 2020, R; Universal): Elisabeth Moss' performance is the main reason to check out this Blumhouse-produced, female-empowered take on the classic horror character – reimagined here by writer/director Leigh Whannell ("Insidious") as more of a "Hollow Man"-esque psycho than H.G. Wells' original inception. Whannell's #metoo-era thriller offers a number of shocks but is most definitely overlong, relying heavily on Moss' performance as the heroine to save the day. Ultimately, it's a little like "Sleeping With The Invisible Man," though the picture's end does offer some twists even seasoned viewers may not see coming, and is worth a look for genre buffs. Universal's Blu-Ray (2.39, Dolby Atmos) is now available featuring a commentary from Whannell and multiple featurettes, a DVD and Digital copy.
DANCE, GIRL, DANCE Blu-Ray (89 mins.,1940; Criterion): Dorothy Arzner was the only woman director working in Hollywood's studio system during the 1930s and early '40s, and Criterion pays her tribute this month with a Blu-Ray release of the 1940 RKO drama "Dance, Girl, Dance." Maureen O'Hara stars here as an aspiring ballerina working as a chorus girl alongside the gold-digging Lucille Ball – they're both going after their dreams – along with male lead Louis Hayward – in an entertaining, and more serious, take on a well-worn formula courtesy of Tess Slesinger and Frank Davis' screenplay. Criterion's Blu-Ray (1.37, PCM mono) includes a new, restored 4K transfer, brand new interview with Francis Ford Coppola, an introduction from critic B. Ruby Rich and an essay by critic Sheila O'Malley.