Message Board (open 24 hours!)
Twitter - @andredursin (for everything else!)
The quintessential '80s thriller that set the standard for a stream of imitators to follow, FATAL ATTRACTION (119 mins., 1987, R; Paramount) kicks off a trio of "Paramount Presents" Blu-Ray remasters, offering new 4K film transfers, collectible slipcovers boasting fold-out reproductions of each film's respective one-sheet poster, and a few new extras.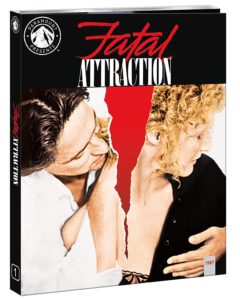 Adrian Lyne's film was not only a box-office blockbuster but also a cultural phenomenon at the time of its release. James Dearden's script – which he adapted from his own short film – deftly exploits the nightmarish scenario that happens to married NYC book editor Michael Douglas when he decides to spend some time with sexy, aggressive Glenn Close, whom he spies at a company party. Douglas tries in vain to end the affair, but Close keeps on coming even after he calls it off — going so far as to stalk Douglas' family (wife Anne Archer and a little girl), and displaying just a few psychotic tendencies along the way.
Before it turns violent and a bit excessive at the end, "Fatal Attraction" is an excellent thriller with a plot that has, admittedly, lost a bit of its potency since so many films have copied its blueprint. What keeps it fresh and compelling are the performances of its stars, from Close's creepy villainess (whose mental ailments are never disclosed) to Douglas' love-him-or-hate-him, though ultimately sympathetic, family man. Anne Archer, meanwhile, may not have made that positive an impression as Harrison Ford's wife in the Jack Ryan films, but her role in "Fatal" has a depth that many of her other, subsequent "devoted spouse" characters lacked.
Dearden's script — which was worked on by an uncredited Nicholas Meyer — presses a lot of "hot button" issues involving fidelity, sex, and relationships, which director Lyne uses to enhance a formulaic story with a predictable outcome. Maurice Jarre's low-key score becomes a bit much in the final third (when its heavy-handed synths turn overly bombastic), but technically the movie is well-made and an interesting document — and indictment — of social and sexual relationships in the '80s.
Paramount's new Blu-Ray is a nice upgrade over their first Blu-Ray package. This new 4K (1.85) transfer boasts crisp detail and a more satisfying color pallet over a noise-reduction riddled earlier transfer, while the same, active Dolby TrueHD soundtrack is reprised from its previous issue. A seven-minute featurette with Lyne remembering the picture is included along with the movie's original ending and rehearsal footage (alas, extensive documentary featurettes produced for earlier DVD/BD releases have been entirely excised).
As many viewers are aware, "Fatal Attraction"'s bombastic, crowd-pleasing resolution was actually the project's re-shot, second ending — filmed to replace the its far subtler though less satisfying original denouement. That original ending, which was first included decades ago on Paramount's letterboxed laserdisc, re-appears here and still makes for a fascinating comparison with the final version.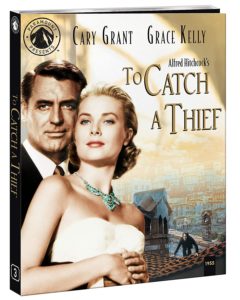 TO CATCH A THIEF Blu-Ray (106 mins., 1955; Paramount): A fresh 4K presentation of the memorable, if not quite classic, Alfred Hitchcock-Cary Grant-Grace Kelly teaming sadly disposes of nearly all of the extras from its prior release, carrying over only a reprise of Drew Casper's commentary track, the brief "Behind the Gates" featurette and Leonard Maltin's recent recollections of the 1955 French Riviera romantic thriller. What's more, the new transfer's (1.85) image quality is a disappointment also, boasting slightly less image area and a brighter tone that's a little washed out than the previous Blu-Ray. Sound options are also scaled back, with a 5.1 Dolby TrueHD soundtrack the sole English option (the older disc offered both a 2.0 TrueHD stereo track plus the original mono).
Lastly, KING CREOLE (115 mins., 1958) is viewed as one of Elvis Presley's strongest big-screen vehicles, with the crooner – under the direction of Michael Curtiz ("Casablanca") – playing a troubled youth with a big heart who performs in the French Quarter while romancing a local girl (Dolores Hart) and getting mixed up with a mobster (Walter Matthau) and his mistress (Carolyn Jones). The B&W 1080p transfer – augmented with both 5.1 Dolby TrueHD and mono sound – is superb in this third "Paramount Presents" Blu-Ray, packaged with a Leonard Maltin interview on the film and direct access to the movie's assorted songs.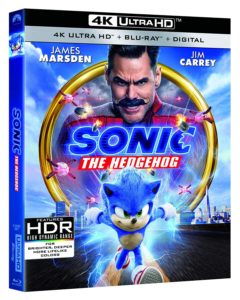 SONIC THE HEDGEHOG 4K Ultra HD Combo Pack (97 mins., 2020, PG; Paramount): Cute family movie derived from the Sega game franchise shows signs of both budgetary thriftiness (after a fantasy land-set open, the movie settles into the familiar confines of rural Vancouver) and heavy post-production cutting (characters come and go especially early on, with narration used to cover the edits). That said, this is a likeable film for kids with Sonic trying to fit into his human surroundings on Earth while taking on a maniacal scientist (Jim Carrey, who's invested if nothing else). James Mardsen is agreeable also as Sonic's human sidekick, a small-town sheriff, while there are enough in the way of VFX and direct shoutouts to the long-running game series to hook parents who may have grew up on it.
Paramount's attractive 4K Ultra HD combo pack (HDR, Dolby Vision, Dolby Atmos) offers deleted scenes, bloopers, featurettes with Jim Carrey and the cast, a music video, and commentary from director Jeff Fowler and the voice of Sonic, Ben Schwartz. A Blu-Ray and digital copy round out the release.
SPONGEBOB SQUAREPANTS: Bikini Bottom Bash DVD (134 mins., 2002, 2008-09, 2019; Paramount): New Paramount compilation includes "Spongebob's Big Birthday Blowout" with bonus episodes "SpongeBob's House Party," "Sun Bleached," "The Slumber Party" and "Truth or Square." 16:9 transfers and stereo sound comprise the single-disc Nickelodeon release.
---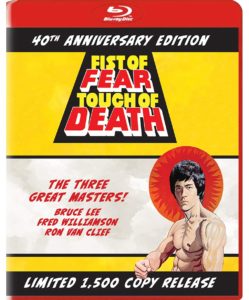 Coming From The Film Detective
After the death of Bruce Lee, a series of awful "Bruce-sploitation" flicks popped up all over the globe. One of the most notoriously amusing is FIST OF FEAR, TOUCH OF DEATH (90 mins., 1980), a hodge-podge of material culled from a late '50s Lee appearance and a Japanese-set HK samurai film (!), strung together with new scenes shot in NYC during the 1979 World Karate Championship. The latter are hosted by actor Adolph Caesar (as himself!) and spotlight "special appearances" by the likes of Ron Van Clief and Fred Williamson, in material that seems to have been shot in, around, and outside his hotel room!
Producer Terry Levine and director Matthew Mallinson took scenes from a 1957 drama "The Thunderstorm" where Lee played a teenager, mixed them with the 1971 HK-produced, samurai film named "Invincible Super Chan" and came up with this silly nonsense that's nevertheless entertaining for its out-there, fictional storyline involving Lee's death and unabashedly shameless approach to hit feature-length by any means necessary.
For Lee buffs, The Film Detective's Blu-Ray – now becoming widely available this month – is an invaluable piece of history. The 4K (1.66) restored transfer was struck from the 35mm original negative and looks good though the elements show their age; fans will note a ton of library music here, including the CBS/Fox Home Video theme and music from NBC's "Wimbledon" coverage. Interviews with Mallinson, Levene, writer Ron Harvey, Van Clief and Williamson are on-tap plus the trailer and booklet notes. If you sound intrigued, don't miss this 1500-copy limited edition!
---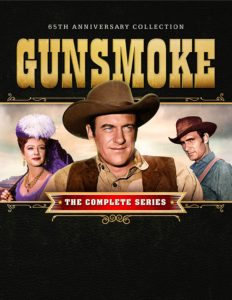 CBS New Releases
One of the longest-running series in TV history, GUNSMOKE has – at long last – completed its long journey to DVD from CBS. Now available in a mammoth – though economically packaged – king-sized box-set, "Gunsmoke"s incredible package boasts 143 DVDs featuring 635 digitally remastered episodes, all in their original broadcast versions. Guest stars ranging from Bette Davis to future stars Harrison Ford, Kurt Russell and Jodie Foster populate the 20-season run of the prime-time western with Marshall Matt Dillon (James Arness) and company trying to keep the peace in Dodge City. All the corresponding special features from the individual releases of the program – many covered here in the Aisle Seat – have been carried over, with the series housed in a large box boasting six individual, large-sized plastic cases. For fans of the show, this is a most impressive package and comes strongly recommended.
Also available individually from CBS is the Twentieth and Final Season of GUNSMOKE (20 hours, 1974-75), finding Matt, Festus and Newly posing as outlaws to outwit bandits who captured Doc. As the series was hoping for a return, there's not much juice in the show's proper series finale, but fans should be satisfied that, at long last, the complete run of this TV classic is now available on DVD. CBS' six-disc set features 4:3 remastered transfers restored from 35mm film elements, a commentary on the episode "Thirty a Month and Found" by Jim Byrnes and Ben Costello, the all-new "Ben and Beckey Talk Gunsmoke: Season 20" featurette, a photo gallery, and episodic promos on all episodes.
Finally, Season 7 of RAY DONOVAN (8 hours, 2019-20) finishes off, at least in series form, the popular and acclaimed Showtime series starring Liev Schrieber and Jon Voight. CBS' four-disc set includes the complete fourth season (16:9, 5.1/2.0) with featurettes "Dash Directs" and "Deconstructing Ray" included.
---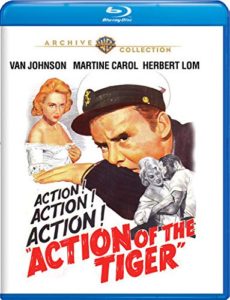 Warner Archive New Releases
Ron Shelton scored a major success with his baseball comedy "Bull Durham" and parlayed it into a series of features that generally met with diminishing returns throughout the '90s. TIN CUP (135 mins., 1996, R) reunited him with Kevin Costner, playing a veteran golf pro hoping he can win the US Open with the help of a sexy shrink (Rene Russo). The duo have chemistry, but Shelton's bloated screenplay is something of a mess, failing to find a focal point and rambling on for an unmanageable 135 minutes. Warner Archive's Blu-Ray (2.39, 5.1 DTS MA) debuts the widescreen film in scope for the first time, preserving its anamorphic proportions and offering a nicely balanced, crisp image.
An MGM film I was not at all familiar with, ACTION OF THE TIGER (93 mins., 1957) is a Cinemascope adventure starring Van Johnson as a sea captain who's hired by a French woman (Martine Carol) trying to rescue a prisoner being held in Albania. Herbert Lom made an early name for himself as the freedom-fighter guerrilla who hooks up with the duo, and Sean Connery plays Johnson's first mate in a picture helmed by Connery's future Bond collaborator, director Terence Young. Despite those connections, this is a mostly obscure MGM picture that proves to be an odd choice for Blu-Ray treatment, though Warner Archive's disc does include a strong 1080p (2.39) AVC encode with 2.0 DTS MA mono sound.
On the television front, LUCIFER: Season Four (500 mins., 2019) brings back the former Fox series for a new season (on Netflix) with Lucifer Morningstar returning to Earth, resurrected and back with LAPD detective Chloe Decker, for 10 more episodes of black comedy, murder-mystery and assorted supernatural shenanigans. Warner Archive's Blu-Ray (1.78, 5.1 DTS MA) includes solid transfers and deleted scenes for extras.
Quick Takes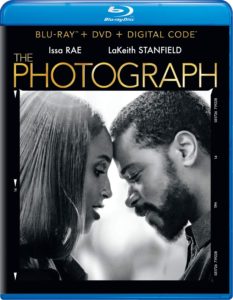 THE PHOTOGRAPH Blu-Ray/DVD (106 mins., 2020, PG-13; Universal): Issa Rae plays a young woman who finds a hidden family photograph and sets out on a quest to uncover the truth about her estranged mother's past and relationships. Along the way, she begins a new romance with a journalist (Lakeith Stanfield) in a very well-performed love story that's unafraid to hit emotional beats a lot of modern fare try to avoid. Kudos to Stella Meghie for constructing a crowd-pleasing flick that will function as a solid "date night" movie, even if one's viewing partner is on the other side of quarantine. Universal's Blu-Ray/DVD combo pack is out this week featuring the "Shooting the Photograph" featurette, additional behind-the-scenes segments, a 1080p (2.39) transfer, 7.1 DTS MA sound, the Blu-Ray and a Digital HD copy.
THE JESUS ROLLS (85 mins., 2017, R; Screen Media): Bizarre and undernourished vehicle from star-writer-director John Turturro adapts a French novel and film named "Les Valseuses" for a road trip movie involving his peripheral "Big Lebowski" character. The end result met with the blessing of the Coen Brothers but little else – in fact, this tale of a recently-paroled Jesus hooking with pals Bobby Cannavale and Audrey Tautou was shot several years ago and has only intermittently shown up at various festivals since. Screen Media debuts the poorly-received film on Blu-Ray this month (1080p, 5.1/2.0) and it offers a few fleeting laughs but little to sustain its premise. A commentary from Turturro and Cannavale is the sole extra.
BETTER DAYS Blu-Ray (136 mins., 2019; Well Go USA): A melodramatic character study from Hong Kong, "Better Days" finds a high school-aged girl latching onto a small-time criminal after she's bullied at school – all leading to a murder investigation that will change both of their future fates. Well Go's Blu-Ray includes 5.1 DTS MA Mandarin audio and English subtitles and is now available.
NEXT TIME: Could it be? Shout Factory's quarantine is over? Come back and find out! Until then, don't forget to drop in on the official Aisle Seat Message Boards and direct any emails to our email address.