Roland Emmerich's passion project MIDWAY (138 mins., 2019, PG-13; Lionsgate) fared moderately well at the U.S. box-office despite getting mixed reviews, yet (once again) the Rotten Tomatoes critical crew missed the boat. While lavishing praise on the likes of "Birds of Prey" and "The Last Jedi," they mostly brushed aside this sturdy war film with a commendable attention to the historical record – bringing to the screen more actual history than was contained in Universal's at-times melodramatic 1976 Sensurround extravaganza chronicling the same battle.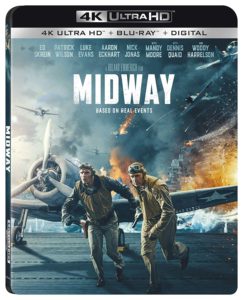 In fact it's fascinating how much reality was worked into the movie – most of the major characters in Wes Tooke's screenplay are derived from the real participants in the defining battle of the Pacific Theater during WWII. These include brash fighter pilot Dick Best (Ed Skrein), stationed aboard the USS Enterprise, which finds itself locked in a battle with Japanese naval forces months after Pearl Harbor; Patrick Wilson as Lieutenant Commander Edwin Layton, whose warnings about the attack on Pearl weren't heeded by his superiors; Woody Harrelson as Admiral Nimitz, placed in charge of the Navy after the 12/7/41 attack; Dennis Quaid as Vice Admiral Halsey, the Enterprise's Commander, who has to sit on the sidelines after contracting shingles; Aaron Eckhart as the legendary Jimmy Dolittle; and a series of other brave fighter pilots (played by the likes of Luke Evans and Nick Jonas) who participated in the epic battle of Midway.
Tooke's script condenses an awful lot of story into "Midway"'s 138 minutes – sometimes so much that you might be scrambling for your phone to verify everything that's going on – yet the movie very effectively crafts a dramatic rendering of the actual timeline involved with the battle and what lead up to it. Emmerich, meanwhile, brings his patented eye for sprawling action and applies it to the material, and while the film is heavily green-screened, it's visually impressive: aerial dogfights are crisply edited and choreographed, and the immense scope of the battle is vividly conveyed. It's an impressive feat for a film carrying a $100 million, independently-financed budget, which is comparatively thrifty given what studios typically spend on modern-day blockbusters.
"Midway" also, wisely, dispatches with the kind of soap opera melodramatics that colored both the Charlton Heston "Midway" and Michael Bay's later "Pearl Harbor." Believing that the actual events were more dramatic than anything Hollywood could concoct, Emmerich's film brings the actual battle to life in a straightforward, no-nonsense and entertaining way. The movie may lack the cinematic innovation of Sam Mendes' brilliant "1917," but it's a very worthwhile effort that numerous military scholars ranked as one of the most accurate cinematic depictions of WWII, and comes strongly recommended on that basis alone.
Lionsgate brings "Midway" to 4K UHD this week in a gorgeously bright, colorful HDR/Dolby Vision-capable HVEC transfer (2.39). The thundering Dolby Atmos soundtrack is finely engineered also, layered with effects but properly mixed dialogue levels that are never overwhelmed by the action. Numerous featurettes are included – among them are a welcome 15-minute historian panel where viewers can gauge just how factual the film largely is, plus the usual cast and crew interviews and a profile of two living Midway survivors. The extras are offered on both the 4K UHD disc as well as the included Blu-Ray along with a Digital HD copy.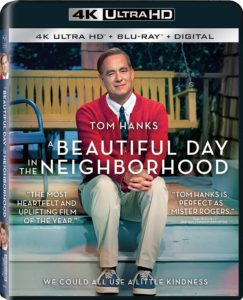 IT'S A BEAUTIFUL DAY IN THE NEIGHBORHOOD 4K Ultra HD/Blu-Ray (109 mins., 2019, PG; Sony): What was basically sold as "The Mr. Rogers Movie" is something of a bait-and-switch where Mr. Rogers (Tom Hanks) is nearly a peripheral part in a depressing family drama wherein acclaimed magazine writer Matthew Rhys has to come to terms with the relationship he has with his ailing, estranged father (Chris Cooper).
Micah Fitzerman-Blue and Noah Harpster's screenplay, "inspired by a true story," uses Rhys' profile of the TV icon as a springboard, kind of, for how Rogers and his PBS series tapped into, and understood, the feelings of generations of children — with Rhys reconnecting (of course) with his dad and coping with long buried feelings as a result. Yet the manner in which the picture drops Rhys "into" the series, not to mention uses the show and its models to depict most exterior shots, is downright odd. I doubt these sequences were intended to feel like "The Twilight Zone" but it's how they play in director Marielle Heller's picture.
Aesthetically the film is dreary and unappealing — overly "gritty" and dark — and the performances are similarly gloomy. Rhys basically repeats his "Americans" role and Hanks is a mixed bag — the re-enactments of the show function effectively, yet his mannerisms and general delivery come off like a stroke victim at other times. And Rogers' singing voice wasn't nearly as off-key as Hanks'!
The end result is intermittently moving but also slow-going and maudlin — despite all the positive reviews, it's easy to see why the film didn't take off commercially as some analysts expected.
Sony releases "It's a Beautiful Day…" on 4K Ultra HD with a HVEC encoded (1.85) transfer featuring HDR and DTS:X audio. Extras include over 15 minutes of additional scenes, bloopers, featurettes, a Blu-Ray, Digital HD copy, and commentary from Marielle Heller.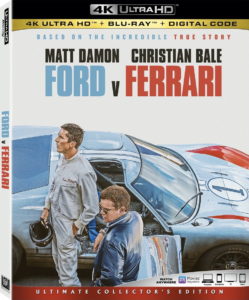 FORD V FERRARI 4K Ultra HD Combo Pack (152 mins., 2019, PG-13; Fox): Absorbing, and splendidly executed, sports drama is as adept at profiling the relationship between its lead characters – Ford designer Carroll Shelby (Matt Damon) and his driver, the great Ken Miles (Christian Bale) – as it is chronicling the car racing action that culminates in the Ford contingent taking on Ferrari at Le Mans in 1966. Both Damon and Bale are terrific, and James Mangold's direction does a superb job balancing the fascinating real-life background of their story with spectacular racing footage. Unsurprisingly, it's all captured in a gorgeous 4K UHD (2.39) HDR-enhanced presentation with immersive Dolby Atmos audio. For one of the last "real" 20th Century Fox releases, this is a memorable way for the studio to go out, with Fox's 4K/Blu-Ray combo pack including an eight-part Making of and Digital HD copy.
JOJO RABBIT 4K Ultra HD Combo Pack (108 mins., 2019, PG-13; Fox): A precocious German boy (Roman Griffin Davis), towards the end of WWII – with a child's view of both the conflict and Adolf Hitler – becomes enlightened after it turns out his mother (Scarlett Johansson) is hiding a Jewish girl (Thoasin McKenzie) in their attic in Taika Waititi's offbeat comic satire. Waititi plays Hitler himself in this weirdly uneven film which netted a host of critical raves, yet the humor generates a situation where you either go with it or not – and for me, much of "Jojo Rabbit" played like a sketch extended to feature length that wasn't especially funny. Your mileage, of course, may (and likely will) vary. Fox's 4K UHD includes a commentary with Waititi, deleted scenes, Making Of featurettes, an HVEC encoded (1.85) transfer and 5.1 DTS MA audio. A Blu-Ray and Digital HD copy are also included.
---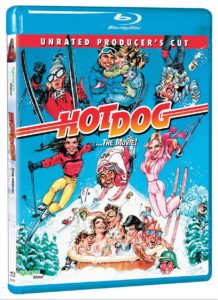 Also New & Noteworthy
The early '80s were a fertile time for dumb teen movies and off-shoots from the "Animal House" era of "slob comedies." HOT DOG: THE MOVIE (98 mins., Unrated, 1984; Synapse) would be one of the more profitable genre offerings from its era – this one documenting the antics of pro skiiers who party as hard off the course as they do traversing the slopes of Squaw Valley.
Patrick Houser stars as the farm boy who makes his way, hoping for skiing gold, to the west, only to immediately run into resistance from an obnoxious European champion (John Patrick Reger). Fortunately, top-billed David Naughton and his new friends are there to help Houser conquer his rival on the course, while a number of parties offer drinking, carousing (with Playboy playmate Shannon Tweed), hot tubs, saunas and some wonderful '80s tunes supplied by Al Jarreau and Duran Duran among others.
"Hot Dog: The Movie" was an Edward S. Feldman production that MGM/UA picked up – wisely, given the movie's robust box-office grosses in January '84. The plot of writer/producer Mike Marvin's film is pretty much conventional, the casting not altogether appealing (female lead Tracy N. Smith isn't particularly likeable), and the comedy quotient is hit or miss – yet the location work and skiing aerials offer a lot of appeal. Peter Bernstein's soundtrack includes a bit of orchestral underscore but is pretty much synthesized with his own original song, "Top of the Hill," playing a large role, while director Peter Markle does what he can to keep the shenanigans in check. Make no mistake – with its broad, one-dimensional characters (and assorted ethnic/cultural stereotypes), "Hot Dog" isn't a great movie – even for its genre – but it's bouncy and entertaining enough to warrant a recommendation for '80s enthusiasts.
A cult favorite that's been long in production for Blu-Ray, "Hot Dog" has been given a spectacular restoration in a 4K (1.85) restored transfer. The image, drawn from the uncut original 35mm camera negative, is brilliantly colorful and detailed, along with sporting 2-3 minutes of material that MGM/UA cut from the theatrical release (hence the "Unrated" tag for this R-rated comedy). The original mono sound is included but has been bested by a wonderfully layered new 5.1 DTS MA stereo mix offering surprisingly good use of the surrounds and left/right panning.
Syanpse's Blu-Ray is also jammed with extras including Marvin's commentary, a full 50-minute documentary (featuring Marvin, Naughton and other stars), trailers/TV spots, and a music video. The production was unsurprisingly raucous off-screen, resulting in a problematic shoot that its various participants thought at one point wouldn't ever end up being released – particularly after a disastrous, three-hour test screening that Markle assembled. Marvin himself re-cut the film to a manageable length and "Hot Dog" ended up one of the more notable underdog successes of its era – one that can now be celebrated, in its all its skiing glory, in a superlative Synapse Blu-Ray release.
---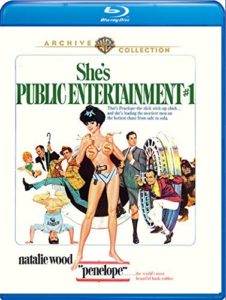 Warner Archive New Releases
Silly early/mid '60s comedies haven't ever been a favorite genre of mine. The bad ones seem positively antiquated, most trapped between the confines of formulaic TV sitcoms and a big-screen arena that was a few years off from being able to embrace the more free-wheeling openness of R-rated fare.
The frivolous MGM comedy PENELOPE (98 mins., 1966) is one of those instances – a glossy star comedy that wastes the talents of Natalie Wood, here playing the bored housewife of a bank vice-president (Ian Bannen). She's so neglected, "Penelope" takes to dressing up as an old woman and pulling off a series of stick 'em ups – including a heist of Bannen's brand-new, just-opened establishment.
Co-starring Dick Shawn (Penelope's shrink), Peter Falk (warming up for "Columbo" as, what else, the lead cop working the case), and Jonathan Winters in an icky role as a college professor who tries to rape our heroine, only to inadvertently expose her to a (double) life of crime, "Penelope" looks good but fizzles in the laugh department. The overly manic tone established by director Arthur Hiller tries to compensate for an unfunny screenplay by George Wells, which adapted a well-received 1965 comic novel by E.V. Cunningham (Howard Fast) that was apparently based on the script.
The movie shows few signs of life, with the rampant artificiality of it – despite its widescreen trappings – punctuating how empty the film is. Even John(ny) Williams' early score proves to be an annoyance with its repetitive main title theme (written with Leslie Bricusse), though at least the score itself offers a few sprightly flourishes that give a small indication of the composer's abundant ability, and more substantial works, that would later follow.
Warner Archive's attractive Blu-Ray is marked by a sparkling 1080p (2.35) AVC encoded transfer and DTS MA mono for a movie making its home video debut in the U.S. The trailer and a brief promo feauturette featuring the great Edith Head comprise the extras.
Of all the "Golden Age" westerns, CIMARRON is often regarded as being one of the more dated – both its 1930 original version as well as its less-esteemed 1960 Cinemascope remake (147 mins.).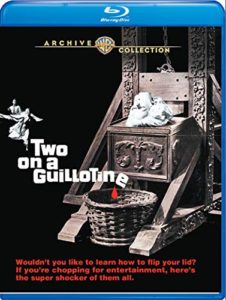 The latter is out on Blu-Ray for the first time this month boasting gorgeous widescreen cinematography – in a lovely 1080p (2.35) transfer with 2.0 DTS MA stereo sound backing up Franz Waxman's score – yet the film itself is a disappointing, often tedious adaptation of Edna Ferber's novel. Here, Glenn Ford is one of the homesteaders vying for property during the Oklahoma Land Rush; Maria Schell is his wife with a big supporting cast of MGM contract players and a melodramatic script by Arnold Schulman backing up the mammoth production.
Director Anthony Mann helmed a number of wonderful character-driven westerns during the 1950s that remain worthwhile today – but he was in over his head with "Cimarron," which reportedly cost a fortune and ended up becoming a box-office disappointment. Even worse for Mann, he departed from the movie long before it was finished, with director Charles Walters completing the film without credit.
Western fans may still feel the film is worth a look – especially for its centerpiece Land Rush sequence, the likes of which wouldn't be matched until Ron Howard's underappreciated "Far and Away" was released 30 years later.
Finally, actor William Conrad produced and directed the William Castle-like TWO ON A GUILLOTINE (107 mins., 1965), a minor B&W thriller starring Connie Stevens as the daughter of a famous, recently deceased magician (Cesar Romero) who has to spend a week in his run-down mansion in order to gain the family inheritance. A reporter (Dean Jones) attempts to help, but the spectre of his return looms large in a Panavision-lensed affair that offers some interesting early location work (including a scene at the Hollywood Bowl) before becoming a stagy, set-bound piece that seems to mimic Castle's bag of tricks but at a far more leisurely – at times downright sluggish – pace.
The penultimate score by Max Steiner is one of the main draws to this routine, plodding production making its debut from Warner Archive this month on Blu-Ray. The 1080p (2.35) AVC encode boasts crisp detail and perfect black levels along with mono sound and the trailer.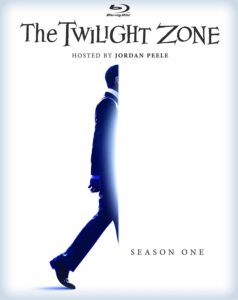 TV on Disc
THE TWILIGHT ZONE Season 1 Blu-Ray (14 hours, 2019; CBS): Remaking "The Twilight Zone" has always been a perilous undertaking. Whether it was the tragic production associated with Steven Spielberg and John Landis' 1983 big-screen movie, or mostly forgotten TV revivals from the mid '80s and early 2000's, a myriad of different producers and writers have found it difficult to recapture the power and potency of Rod Serling's original creation.
Actor/filmmaker Jordan Peele has given it another go, and the results are just as mixed as you might expect. His CBS All Access streaming production offers strong production values and stars (Kumail Nanjiani, Seth Rogen, Sanaa Lathan, John Cho and Tracy Morgan among others), yet the actual stories are a mostly ineffective run of contemporary tales with a couple of overtly sharp allegories, one involving illegal aliens, in the mix. At least they saved the best for last, as the finale, "Blurryman," proves to be reasonably engaging, with a capper of an ending that's livelier than the rest of this uneven first season.
CBS brings Season 1 of the new "Zone" to Blu-Ray this week in a terrific five-disc set. B&W versions of all episodes are included plus a two-part documentary, featurettes, deleted scenes and selected commentaries, a gag reel, 1080p transfers and 5.1 DTS MA sound.
GUNSMOKE: Season 18 DVD (20 hours, 1972-73; CBS)/GUNSMOKE: Season 19 DVD (20 hours, 1973-74; CBS): It's the final ride for Matt Dillon and Miss Kitty in CBS' Season 18 and 19 DVD compilations of the classic TV western. Both box-sets are newly out this month, sporting six remastered DVDs from 35mm film elements. In Season 18, James Arness' Marshal goes after the brutes who left Kitty near death, while Season 19 includes the final 24 episodes from the show though there's no "series finale" – the final episode wasn't designed as a conclusion, just a regular episode since the producers had every intention of bringing "Gunsmoke" back for a Season 20. That never happened, though a handful of TV movies in the late '80s and early '90s continued the adventures of Matt Dillon – something CBS may well want to release on DVD since the series itself has now been given a thorough, definitive DVD release at last.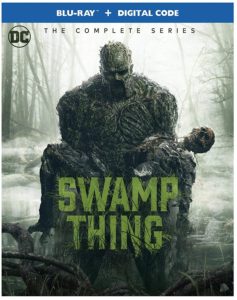 SWAMP THING: The Complete Series Blu-Ray (489 mins., 2019; Warner): Well-mounted production adapts the DC Comics hero – and yet was unceremoniously canceled after just a couple of its episodes were made available. Your guess is as good as anyone else's as to why the James Wan-produced "Swamp Thing" didn't last, but fans will at least have this single-season souvenir of the program that opens with CDC doctor Abby Arcade (Crystal Reed) heading down to the Bayou with disgraced biologist Alec Holland to investigate a disease preying upon a small Louisiana town. There, she finds all kinds of mayhem including a plant-based creature that absorbs Holland's memories after he's murdered. "Swamp Thing" makes its way to Blu-Ray in the form of a multi-disc set sporting high bit-rate 1080p transfers and 5.1 DTS MA soundtracks. No extras are included, though Warner has enclosed a Digital HD copy of the complete, 10-episode show.
STEP BY STEP: Season 6 DVD (523 mins., 1996-97; Warner): One of the staples of ABC's "TGIF" block of Friday night sitcoms continues its run on DVD. In this sixth season, Bronson Pinchot – fresh off the end of his "Perfect Strangers"' run – joins the cast as Suzanne Somers' new business partner, an eccentric hairdresser named Jean-Luc Rieupeyroux. Punchot's daffy character gets involved with all kids of Lambert family predicaments, from their respective kids' daily shenanigans to dad Frank's (Patrick Duffy) mid-life crisis. Warner's DVD includes 1.33 full-screen transfers and stereo soundtracks.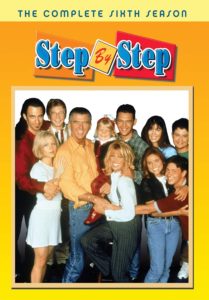 YEARS AND YEARS DVD (355 mins., 2019; HBO): "Doctor Who" and "Queer as Folk" veteran Russell T. Davies wrote this original HBO series charting the lives of a British family, living in a post-Brexit world, over the course of 15 years. Their relationships are set against a changing socio-political backdrop where America becomes isolationist and China emerges on the world stage, while a brash loudmouth businesswoman (Emma Thompson) becomes a major player on the world stage. This is obviously a Trumpian commentary from Davies which arrives on DVD this month from HBO (2:1 widescreen, 5.1 Dolby Digital audio) in a two-disc set.
PBS New Releases: A trio of new PBS Nature releases highlight the label's recent DVD releases.
OKAVANGO: RIVER OF DREAMS (160 mins., 2019) looks at the Okavango River in Southern Africa, from its origins in the Angola highlands through its unusual passage inland through Botswana and eventual disappearance in the Kalahari. Dereck and Beverly Joubert shot this superb production narrated by F. Murray Abraham, here presented on a single DVD with 16:9 widescreen and 5.1 Dolby Digital sound…NATURE'S BIGGEST BEASTS (55 mins., 2019) is a co-production of Nature and the BBC, profiling a 150-ton blue whale, giant hornets and additional "largest" mammals, insects and others in their respective classes, and how they have to specially adapt to survive. This hour-long documentary (which may leave you wanting more) offers lovely photography, a 16:9 widescreen transfer and 5.1 audio…BEARS (55 mins., 2019) is another Nature/BBC production, this one examining the remarkable animal family and its assorted types: from the spectacled bear to a bamboo-eating panda and bizarrely-attired sloth bear. PBS' DVD (16:9, 5.1) is now available.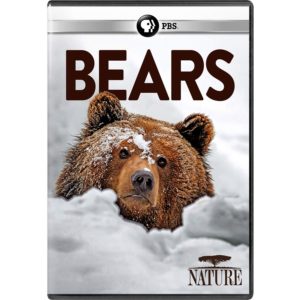 NO PASSPORT REQUIRED: Season Two (6 hours, 2019) brings back acclaimed chef Marcus Samuelsson for another six-part look at how foreign traditions and cultures are bringing fresh tastes into the U.S.A. Seattle, Houston, Philly, Boston, Southern California and Las Vegas are the locales incorporated into this second season of the popular series, with PBS' two-disc DVD set (16:9, 5.1) now available for fans who may have missed the show's initial broadcast.
THE GOOD KARMA HOSPITAL Series 3 Blu-Ray (285 mins., 2019; RLJE/Acorn): Amrita Acharia returns as Dr. Ruby Walker with Amanda Redman as her boss, Dr. Lydia Fonseca – workers at the financially strapped Good Karma Hospital in rural India – in Season 3 of the Acorn TV series. This colorful and acclaimed program balances a mix of storylines along with strong location shooting – once again perfect for Blu-Ray, as it turns out. Acorn's attractive Series 3 Blu-Ray edition – which finds Dr. Gabriel Varma's former mentor, Dr. Aisha Ray (Priyanka Bose), arriving on the scene – is out this week sporting a 17-minute behind the scenes featurette, 1080p transfers (1.78) and 5.1 DTS MA soundtracks.
---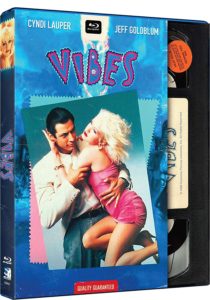 Mill Creek "Retro VHS" Blu-Ray Releases
Mill Creek continues their series of collectible "Retro VHS" Blu-Ray catalog releases this month with VIBES (99 mins., 1988, PG-13), a Columbia Summer '88 box-office bomb from producers Ron Howard and Brian Grazer that attempted to recycle "Indiana Jones" and "Romancing the Stone" as a vehicle for pop princess Cyndi Lauper.
Lauper stars as a psychic who joins another medium (Jeff Goldblum, subbing for Dan Aykroyd, who turned the movie down) in South America after being asked by Peter Falk to help him find his missing son. Would-be adventure and romance follows in a film that was very obviously intended to be a blockbuster — from Richard Edlund's effects to James Horner providing the original score — but completely died with critics and audiences alike, thanks mainly to heavy-handed direction from Ken Kwapis and one of Lowell Ganz and Babaloo Mandel's weakest scripts. Lauper is fun but she ultimately provides some of the only "Vibes" the movie has going for it. Mill Creek's Blu-Ray – the movie's premiere in high-definition – includes an acceptable if grainy 1080p (1.85) transfer with 2.0 DTS MA stereo sound.
NO MERCY Blu-Ray (106 mins., 1986, R; Mill Creek): Another Blu-Ray debut, "No Mercy" is a formulaic – yet very watchable – Tri-Star thriller from Christmas '86 pairing Richard Gere – a Chicago cop looking to avenge his partner's murder – and Kim Basinger as a Bayou mob witness whom he has an affair with while on the run from a ruthless crime boss (Jeroen Krabbe from "The Fugitive"). Gere and Basinger later worked together on the Phil Joanou thriller "Final Analysis" but apparently didn't get along while making this film – who could blame them with all the muck they wade through – yet the grittiness of director Richard Pearce's picture is one of its selling points along with the star power generated by the two leads. Mill Creek's Blu-Ray includes an okay 1080p (1.85) Sony catalog master with 2.0 DTS MA stereo sound, the latter offering an electronic Alan Silvestri score.
HUDSON HAWK Blu-Ray (100 mins., 1991, R; Mill Creek):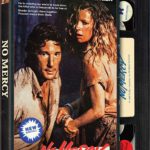 Over-budgeted box-office flop from the summer of '91 was a vanity project for co-writer and star Bruce Willis, who recruited "Heathers" director Michael Lehmann to helm this tale of an affable burglar coerced into stealing daVinci paintings. Danny Aiello is "Hawk"'s buddy, Andie MacDowell the love interest, and Sandra Bernhard and Richard E. Grant a pair of wacky villains in a lighthearted lark that's become something of a cult favorite among the film's devotees over the years. Certainly the locales and Michael Kamen's breezy score lend a strong assist to the fun. Mill Creek's 1080p (1.85) transfer and DTS MA stereo sound are both serviceable, but no extras are included, as was the case with the label's previous releases of the film in the format.
---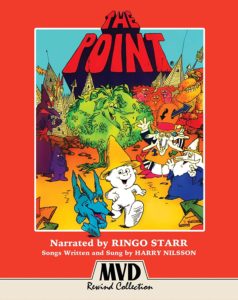 Arrow/MVD New Releases
An original, animated ABC Movie of the Week, THE POINT (75 mins., 1971) was written by singer Harry Nilsson – a wacky fable about a young man living in a world where everyone has a pointed head….except for him. Banished to "The Pointless Forest," little Oblio and his dog Arrow make their way in an adventure about conformity, individualism and acceptance – social elements that are all, obviously, still relevant today.
Nilsson also composed the original songs for "The Point" (which he turned into an album of the same name) and the producers apparently paid a small fortune at the time to Dustin Hoffman, who performed the role of the father who narrates the story to his young son. That contract (allegedly worth $20,000) was only for a single airing of "The Point," so future broadcasts and home video releases substituted Ringo Starr (among others) for this eclectic, decidedly "70s" production with sparse yet effectively articulated animation from director Fred Wolf.
Not a program I ran into growing up in the late '70s and '80s, "The Point" has been given a new 2K transfer (1.37) from a 16mm release print by MVD. It should be noted those elements are not in pristine condition – MVD provides a disclaimer that the negative couldn't be found, and while some debris was removed, a full restoration wasn't possible due to the condition of the print. Provided viewers are aware of that, "The Point" still offers a respectable image here with 2.0 Dolby Digital mono sound backing the George Tipton-conducted score (a feeble, hollow-sounding 5.0 mix is also on-hand but isn't recommended).
Considerable supplements include a new interview with "Brady Bunch" vet Mike Lookinland, who voiced Oblio, plus an hour-long talk with Nilsson historians about the production's genesis (and the artist's work on other film projects). There's also a new interview with screenwriter Norm Lenzer, an older four-part Making Of, Dean Torrence's original Claymation sequence that inspired the movie, and a collectible mini-poster.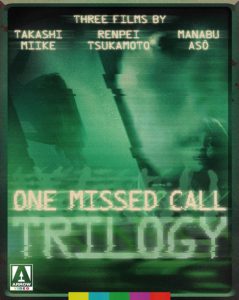 Coming from Arrow on February 25th is the ONE MISSED CALL TRILOGY (112/105/109 mins., 2003-06). Takashi Miike launched the first of this Japanese horror series in 2002 with the story of a killer cell phone that sends a message to its recipient with audio from their forthcoming death. Like other J-horrors from that era, this is a deliberately paced affair for genre buffs that would be followed by sequels "One Missed Call 2" in 2005 and "One Missed Call: Final" a year later. There, Miike was replaced by directors Renpei Tsukamoto and Manabu Aso, respectively, before the series migrated to Japanese TV and a quickly-forgotten U.S. Remake thereafter.
Arrow's Blu-Ray box brings the entire "One Missed Call" trilogy to domestic Blu-Ray sporting 1080p (1.85) transfers with 5.1 DTS MA/2.0 PCM soundtracks, in Japanese with English subtitles. Extras include, for the first movie, a new commentary on the original by Miike biographer Tom Mes; an archival hour-long doc on the making of the picture; archival interviews with the cast and director; vintage premiere footage; and an alternate ending. "One Missed Call 2" offers a half-hour archival documentary, Tsukamoto's short "Gom," deleted scenes and a music video. Finally, "One Missed Call: Final" offers an hour-long archival doc; vintage featurettes and a profile with Keun-Suk Jang, the South Korean star who appears in the trilogy capper.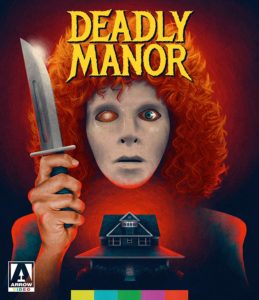 Also New From Arrow: Also due out February 25th from Arrow is DEADLY MANOR (86 mins., 1989), a Spanish horror exercise from its late "master of the macabre," Jose Ramon Larraz. This final effort from Larraz uses the old standby of a group of young people who end up at an abandoned mansion where they spend the night…only to find out they are not alone. A new 2K restoration (1.85) from original film elements and uncompressed PCM mono audio are on-hand in Arrow's Blu-Ray along with a commentary from Kat Ellinger and Samm Deighan, new interviews with actress Jennifer Delora and producer Brian Smedley-Aston, an archival interview with Larraz, BD-ROM content and promo galleries…Henri-Georges Clouzot's MANON (105 mins., 1949) adapts Prevost's 1731 novel about a tragic romance, here transposed to a WWII setting where a village girl (Cecile Aubry) is rescued by a former French Resistance fighter (Michel Auclair) after she's accused of being a Nazi sympathizer. Their relationship, though, isn't exactly a Hallmark romance as this acclaimed early work from the future "Wages of Fear" filmmaker attests. Arrow's "Arrow Academy" Blu-Ray release boasts a 1080p (1.37) B&W transfer, mono PCM audio, an archival documentary from 1970 on the director, and a new video appreciation by critic Geoff Andrew.
---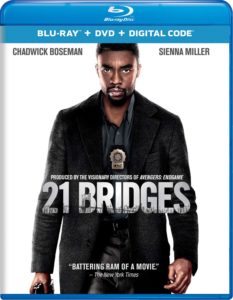 Quick Takes
21 BRIDGES Blu-Ray Combo Pack (100 mins., 2019, R; Universal): "Black Panther"'s Chadwick Boseman stars in this formulaic thriller as a NYPD cop who doesn't play by the book (of course). After being interrogated in internal affairs, Boseman's protagonist is assigned to investigate a cocaine theft pulled off by a pair of military vets (Stephan James, Taylor Kitsch) while working with a new partner (Sienna Miller). "21 Bridges" is competently produced but offers an underwhelming script credited to Adam Mervis and Matthew Michael Carnahan, so routine that there's little the cast and director Brian Kirk can do to energize its premise. Universal's Blu-Ray (2.39) includes 5.1 DTS MA sound, a DVD, Digital HD copy, deleted scenes, trailers, and commentary from Kirk and editor Tim Murrell.
DRAGONHEART: VENGEANCE Blu-Ray Combo Pack (97 mins., 2020, PG-13; Universal): Latest direct-to-video continuation of the 1996 big-screen fantasy stars Jack Kane as a farmer looking for revenge after his family is killed by raiders. He's joined in his adventure by a mercenary (Joseph Millson) and an ice-breathing dragon (voiced by Helena Bonham Carter) who was banished after failing to save the king's life. Series vets Matthew Feitshans wrote and Raffaella DeLaurentiis once again produced this agreeable prequel to the series, filled with nicely-executed action and respectable VFX work. Universal's Blu-Ray (1.78) boasts a 5.1 DTS MA soundtrack, a DVD, Digital HD copy, and two behind-the-scenes featurettes.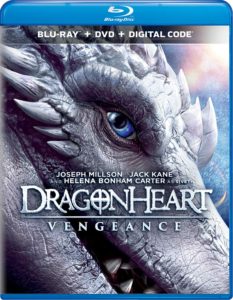 PARASITE Blu-Ray (132 mins., 2019, R; Universal): Acclaimed Korean import – this year's unlikely multiple Best Picture winner (Picture itself and Foreign Language Film) – from "The Host" director Bong Joon Ho takes an eclectic approach to its story of two families, from two different classes, who clash in an improbable thriller with comedic overtones. Those with an understanding of the Korean cultural commentary Hoo instills in "Parasite" will get the most appreciation out of the picture, which veers into a heavy (and strange) violent finale. Universal's now-available Blu-Ray presentation includes a 1080p (2.39) AVC encoded transfer, 5.1 DTS MA Korean audio with English subtitles, a Digital HD commentary and Q&A with Ho.
FIRST LOVE Blu-Ray/DVD (109 mins., 2019; Well Go USA): A terminally ill boxer (Masataka Kubota) and a druggie call girl (Sakuako Konishi) become unlikely allies – and lovers – after a low-level yakuza member (Shota Sometani) gets them involved in a smuggling operation. Miike's movies are always an acquired taste but "First Love" should be embraced by the Japanese director's fans, seeing as it offers an amusing story line and equal doses of comedy and brutal violence. Well Go debuts the film in a Blu-Ray/DVD combo pack this month, the disc including a 1080p transfer, trailers, and DTS MA audio in either Japanese or a dubbed English track.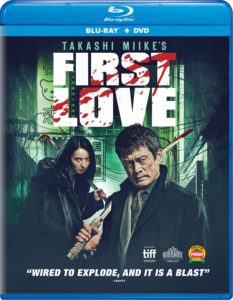 WARRIORS OF THE NATION Blu-Ray (92 mins., 2019; Well Go USA): Vincent Zhao returns as Wong Fei Hung, who's here charged with saving a kidnapped military officer who's overheard information related to a military plot to overthrow China's central government. Set at the end of the Chino-Japanese war, this HK import comes to Blu-Ray on February 18th from Well Go. The disc offers a straightforward presentation (1080p, DTS MA Mandarin with English subtitles) without any extras.
THE GREAT ALASKAN RACE DVD (84 mins., 2019, PG; P12 Films): Independently produced feature looks at the Iditarod race with director/writer/producer/star Brian Presley leading a cast that also includes Treat Williams, Henry Thomas, Bruce Davison and James Russo. This recent feature is included in an "Educational Films" DVD bundle alongside the documentaries "Why Do They Run?" and "Lure of the North" by P12 Films.
HIGH STRUNG FREE DANCE Blu-Ray (103 mins., 2020; GVN): Thomas Doherty stars as a young choreographer whose latest production – destined for Broadway – brings in a talented dancer (Juliet Doherty) and a pianist (Harry Jarvis) whom end up creating a romantic triangle in Michael Damian's film, co-starring Jane Seymour. GVN's Blu-Ray is now available sporting an interview with composer Nathan Lanier, music videos, a behind-the-scenes segment, 1080p (2.39) transfer and 5.1/2.0 stereo audio.
CLOWN FEAR DVD (110 mins., 2019, R; Lionsgate): Dopey little thriller about a newlywed and her bridesmaids who stumble upon a cult of sadistic clowns who hang around in the desert. This Grindstone production offers fleeting thrills and amateurish black comedy to match, and is now out on DVD from Lionsgate featuring a 16:9 (1.78) transfer, 5.1 sound, a featurette and music video.
SCANDALOUS: THE UNTOLD STORY OF THE NATIONAL ENQUIRER DVD (97 mins., 2019; Magnolia): Mark Landsman's entertaining documentary profiles some 60 years of the tabloid newspaper, from its dark, sordid past involving payoffs and blackmail, to chronicling some of the oddest supernatural occurrences in the universe. This Magnolia/CNN Films co-production is out on DVD this month featuring a 16:9 transfer and 5.1 sound.
NEXT TIME: More of the latest reviews! Until then, don't forget to drop in on the official Aisle Seat Message Boards and direct any emails to our email address.