Message Board (open 24 hours!)
Twitter - @andredursin (for everything else!)
Kino Lorber's September slate of Studio Classics offers movie buffs a number of fascinating titles debuting on Blu-Ray: a DeMille color epic from the early '40s, two Hitch-like Universal '60s thrillers, and a trio of comedy classics that would instantly define "the Ealing touch" in screen comedy.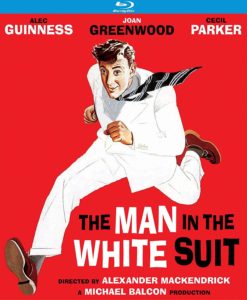 For British cinephiles, these Ealing favorites need little introduction: KIND HEARTS AND CORONETS (****, 106 mins., 1949) starred Alec Guinness in no less than eight different roles – all family members that commoner David Price needs to off in order to gain a family inheritance in Edwardian England; the similarly esteemed THE LAVENDER HILL MOB (****, 81 mins., 1951) sports Guinness in Charles Crichton's farce about a clerk who hatches a plan to rob his own bank; and the almost-as-classic THE MAN IN THE WHITE SUIT (***½, 85 mins. 1951) serves up a satire on industrialization and innovation with Guinness playing a chemist who creates an impenetrable fiber – one that could derail numerous industries and their associated workers.
Watching these B&W comedies today, one is taken aback by Guinness' brilliant timing, the marvelous ensemble casts assembled alongside him, the witty scripts and unforgettable individual moments. Examples of a more sophisticated era in screen comedy, Kino Lorber brings all three of these Ealing classics to Blu-Ray through high-definition Studio Canal masters this month. Each of the three 1080p (1.37) images offers deep blacks and generally superb detail – though apparently culled from 2K transfers and not more recent 4K restorations – with crisp DTS MA mono audio.
Extra features are abundant across the three discs, including, on "Kind Hearts," a commentary with Kat Ellinger, an introduction from John Landis, Douglas Slocombe interview, Dennis Price featurette and alternate U.S. ending; for "Lavender Hill Mob," a commentary by Jeremy Arnold, Martin Scorsese introduction, T.E.B. Clarke interview and audio conversation with Charles Crichton; and on "Man in the White Suit," a commentary provided by Dr. Dean Brandum and interviews with director Stephen Frears and critic Ian Christie. Trailers are also included for all three features.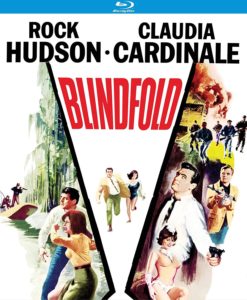 Hitch Without a Hitch: Among Kino Lorber's September releases a pair of faux-Hitchockian thrillers debuting in high-definition Blu-Ray.
MIRAGE (**½, 108 mins., 1965) was the follow-up to "Charade" from writer Peter Stone ("1776," "Taking of Pelham 1-2-3") that tries to strike a similarly Hitch-esque vibe via Gregory Peck's amnesia-ridden protagonist. Unable to recall anything beyond the past two years, Peck's accountant David Stillwell also finds himself being unable to recognize assorted acquaintances save one of his work colleagues (Kevin McCarthy), yet as time progresses, he uncovers a vast conspiracy where nobody is who they seem to be.
Edward Dmytryk helmed this black-and-white Universal thriller, packed with familiar faces – Jack Weston, George Kennedy, and Walter Matthau (as a private eye) among them – that contribute an enormous amount to making "Mirage" watchable. So does the NYC location lensing and Quincy Jones' Mancini-esque, romantic and energetic score – yet "Mirage" ultimately becomes a tedious affair midway through. Stone's script, adapted from a novel by Howard Fast ("Spartacus"), is overly convoluted and talky, while too much time ends up being devoted to Peck's relationship with Diane Baker, whose role serves little purpose outside of being "the girl." It all ends with a claustrophobic "reveal" climax that's not especially well-staged by the director.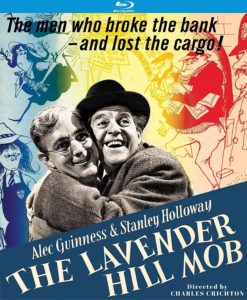 Kino Lorber's Blu-Ray (1.85, DTS MA 2.0 mono) premieres "Mirage" in high-def from an older Universal master that suffers from the usual ailments as the label's early HD presentations (artificial sharpening, noise-reduction, etc.). It's an upgrade over DVD but just a minor one. Extras include a wonderful 14-minute new interview with Diane Baker recalling the shoot (and Dymtryk's general lack of direction towards the actors), image gallery, the trailer, and a commentary from Nathaniel Thompson, Howard Berger and Steve Mitchell.
Faring much better in a technical sense is BLINDFOLD (**½, 102 mins., 1966), another Universal thriller – this one much lighter on its feet – from the same era. Rock Hudson stars as a prominent New York City psychiatrist recruited by government spooks (including Jack Warden) to interrogate a former patient of his – also a brilliant scientist – being hidden at a remote, classified location. Claudia Cardinale is the man's sister, who's trying to pinpoint his location when she falls for Hudson's charms.
Director Philip Dunne's final feature is a bit all over the map, trying to juggle '60s espionage with a light romance that seems more aligned with Hudson's teamings with Doris Day than a believable extension of this particular story. Ultimately, "Blindfold" works best as a silly Hudson vehicle more than a semi-serious spy thriller, with Dunne punching up the action with some location work and elegantly shooting the film in scope with D.P. Joseph MacDonald. Lalo Schifrin, meanwhile, contributes an early score in a breezy manner. Kino Lorber's Blu-Ray is derived from an attractive Universal master (2.35, 2.0 DTS MA mono) with the trailer and an image gallery included for extras.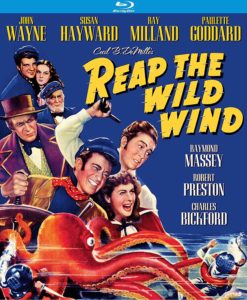 Finally, thrills from Hollywood's Golden Age can be seen in Cecil B. De Mille's 1942 epic REAP THE WILD WIND (***, 123 mins.). A Technicolor extravaganza, DeMille's saga is set in mid-19th century Key West where Paulette Goddard plays a tough local woman working to salvage shipwrecks when she runs into a handsome captain (John Wayne) whose stranded vessel may have been destroyed on purpose by the suspicious rival salvager "King Cutler" (Raymond Massey). Ray Milland, meanwhile, essays a superior at the shipping line Wayne works for — and who also falls for Goddard – while Susan Hayward is Goddard's cousin, who has designs on Cutler's brother (a young Robert Preston).
Though the melodramatic script (credited to Alan LeMay, Charles Bennett and Jesse Lasky, Jr.) results in some syrupy romantic sequences, there's enough spectacle on the high seas – and a memorable run-in with a giant sea creature – to make "Reap the Wild Wind" worth a view. Also worthwhile is Victor Young's score and a cast filled with established and soon-to-be-breakout stars like Hayward and, obviously, Wayne.
All of it is enriched here by a marvelous 1080p (1.37) AVC encoded transfer. A Technicolor release, "Reap the Wild Wind" has clearly been derived from a more recent Universal master, since detail and color are quite satisfying throughout. A mono soundtrack, trailer and animated image gallery put the wrap on a recommended release for Golden Age buffs.
---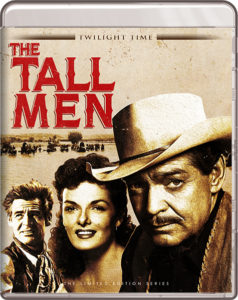 Twilight Time New Releases
Kicking off this month's new Blu-Rays from Twilight Time is THE TALL MEN (122 mins., 1955), a terrific Fox western starring Clark Gable and Cameron Mitchell as ex-Confederate soldiers who, after the Civil War, decide to rob a suspect businessman (Robert Ryan) – only to be talked into an alliance with him, and lead a 1,500-mile cattle drive from Texas to Montana.
Jane Russell is the woman the brothers vie for along the way in a Raoul Walsh-helmed Cinemascope production that's pretty much perfectly paced: leisurely enough to develop its characters yet packed with enough action to maintain interest. Leo Tover's widescreen images and Victor Young's lovely score keep things lively as well, and all of it is captured in a wonderful Twilight Time 1080p (2.55) AVC encoded master with 5.1/4.0/2.0 DTS MA stereo soundtrack options. An isolated score track and the trailer round out the disc.
Something entirely different is on-tap in Otto Preminger's earlier effort WHIRLPOOL (97 mins., 1949), an outlandish noir-thriller starring "Laura"'s Gene Tierney as a young woman who's framed in a murder she didn't commit by her hypnotist (Jose Ferrer). Richard Conte is her psychiatrist husband and Charles Bickford the police detective on the case – it's all pretty silly, especially considering talents like Preminger and writer Ben Hecht involved. This 1949 B&W thriller is brought to Blu-Ray featuring a 1080p (1.33) Fox master, 2.0 and 1.0 DTS MA sound (unsurprisingly, David Raksin was brought over from "Laura" to score the film), isolated score (on the film and the trailer), and a commentary from former Time critic Richard Schickel.
---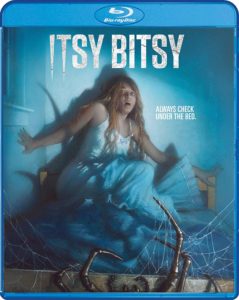 Shout! New Releases
ITSY BITSY Blu-Ray (95 mins., 2019, Not Rated; Shout! Factory): Micah Gallo's new film embraces practical FX to bring its tale of a mystical giant spider to the screen – yet it isn't as much fun as it could've been. Not that the world was asking for a remake of "Arachnophobia" necessarily, but "Itsy Bitsy" is so solemn in its depiction of a troubled single mom (Elizabeth Roberts) who moves with her two kids to the country in order to take care of an MS-afflicted man (Bruce Davison) that the picture remains one-note nearly all the way to the "creature fun." By the time you get there – and Gallo does a good job executing the final third – many viewers may have simply dropped out. For those patient enough to stay with it, "Itsy Bitsy" spindles its way to Blu-Ray October 1st. Scream's BD (2.35, 5.1/2.0 DTS MA) includes commentary with Gallo, a separate track with Gallo and co-writers Bryan Dick and Jason Alvino, featurettes and trailers…Due on Blu-Ray October 15th are a pair of feature anthologies of anime shorts: GENIUS PARTY and GENIUS PARTY BEYOND (183 mins.). These separate features — bundled here by Shout and GKids into a single Blu-Ray package — offer a dozen stories from a dozen Japanese animators. Directors including Shoji Kawamori, Shinichiro Watanabe, Masaaki Yuasa, and Mahiro Maeda provided the mostly fascinating and quite varied shorts, all independent save the mandate that they were built around "the spirit of creativity." GKids' Blu-Ray (1.77, 5.1 DTS MA Japanese with English subtitles) looks superb and streets in a couple of weeks.
Also New on DVD from Shout: A two-disc DVD retrospective, SESAME STREET: 50 YEARS AND COUNTING (350 mins.) offers an entertaining overview of the now-50 year old broadcast history of the Sesame Street series. Classic clips of Patti LaBelle and REM are on-hand with fan-favorite sketches starring Cookie Monster's Alastair Cookie, Sherlock Hemlock, and appearances of Kermit and friends throughout the years. Ample guest star appearances and songs are provided by a wide swath of celebs, of course, but the most moving passages are the indelible moments from the late '70s and early 80s where Big Bird's best friend Snuffleupagus becomes real and the cast deals with the passing of Mr. Hooper. While there have been other DVD retrospectives of the Street in the past (with fuller episodes preserved), this is still a well-produced, clip-oriented package recommended for both young viewers and nostalgic Street buffs alike.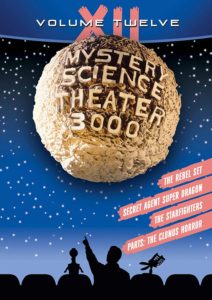 MYSTERY SCIENCE THEATER 3000: Volume XII offers a handful of classic episodes from the series previously unreleased on DVD: the hilarious "The Rebel Set" episode also includes the classic short "Johnny At The Fair"; the 5th-season "Secret Agent Super Dragon" offers a high quotient of laughs; "The Starfighters" hails from Season 6; and "Parts: The Clonus Horror" is a special favorite, presented on DVD for the first time. An interview with the latter's director, Robert Fiveson, is included along with trailers, MST3K Hour Wraps, an interview with "Rebel Set" star Don Sullivan, and new featurettes on Gene Fowler, Jr. and Will Zens…available October 15th, PRINCESS EMMY (75 mins., 2018) is a German-produced animated production for kids about a princess who can secretly communicate with horses. Her abilities, however, are thrown in jeopardy after her troublesome cousin Gizana appears, putting Emmy to the test. Shout's DVD of this kid-friendly effort, sporting the voices of Jon Hannah and Franka Potente among others, includes a 16:9 (1.78) transfer and 5.1 English or German audio.
Also New & Noteworthy
MEAN GIRLS Blu-Ray (***, 99 mins., 2004, PG-13; Paramount): Sharp, funny, and winning 2004 teen comedy basically served as that generation's "Clueless": an observant youth picture that broke through the confines of its genre to become one of the year's sleeper hits.
Lindsay Lohan stars as a home-schooled student who enters a suburban Chicago high school for the first time. There, she discovers all sorts of cliques, including one "in crowd" presided over by snobby Rachel McAdams, which promptly recruits her into its lair. Though torn between the "Queen Bees" and her outsider friends, Lohan ultimately succumbs to the pressure of popularity, and learns more than a few hard lessons about high school life in the process.
Saturday Night Live "Weekend Update" anchor Tina Fey scripted this adaptation of a Rosalind Wiseman novel, and also co-stars as one of Lohan's well-intentioned teachers. Her amusing and thoughtful screenplay anchors the colorful and consistently entertaining "Mean Girls," which sports solid performances from Lohan and McAdams, plus plenty of laughs throughout. This is one of those rare teen movies that can appeal to viewers of all ages, due to its easily-identifiable lead protagonist and on-target observations. Additional kudos go out to Rolfe Kent's comedic score, which utilizes African percussion and tribal beats to poke fun at the animalistic world of present-day high schools.
Paramount's "15th Anniversary" Blu-Ray is just a reprise of their earlier format edition, including a commentary track from director Mark Waters, Fey, and producer Lorne Michaels; three Making Of featurettes of the mostly fluffy, promotional variety; blooper reel; trailer and inter-stitials, plus deleted scenes. The Dolby TrueHD soundtrack and 1080p transfer are fine.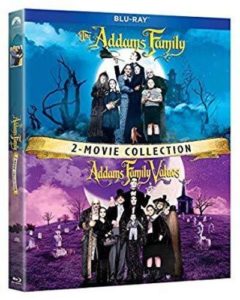 Making its debut on Blu-Ray from Paramount is the sequel ADDAMS FAMILY VALUES (**½, 94 mins., 1993, PG-13), which is here bundled in a double-disc Blu-Ray set with its previously-released smash hit predecessor THE ADDAMS FAMILY (***, 99 mins., 1991, PG-13). It's hard to believe Barry Sonnenfeld's 1991 original was an Orion movie the studio was forced to sell off to pay debts – the Raul Julia-Anjelica Huston starrer became a blockbuster in the winter of 1991 for Paramount instead, leading to an uneven 1993 follow-up from Sonnenfeld and writer Paul Rudnick that didn't do nearly as well at the box-office. Both movies look quite nice here in Paramount's relatively spartan package with DTS MA 5.1 audio and 1080p transfers…Some speculated that, due to off-screen allegations about his personal conduct, Casey Affleck's follow-up to "Manchester By The Sea" made little noise earlier this year — or perhaps it's just because the film itself wasn't all that great to begin with. LIGHT OF MY LIFE (119 mins., 2019, R) is a downbeat grind of a post-apocalyptic picture about a father (Affleck) trying to pass his daughter (Anna Pniowsky) off as a boy in a world where the female population has been decimated. Recalling "The Road" and other dour films about mankind's future, Affleck takes forever to get the movie — which he also wrote and directed — moving, offering few surprises in spite of sincere performances. Paramount's Blu-Ray is out October 8th featuring a 1080p transfer, 5.1 DTS MA sound and a Digital HD copy of the Saban Films release.
THE DEATH AND RETURN OF SUPERMAN – Complete Film Collection 4K Ultra HD Combo Pack (166 mins., 2018-19, PG-13; Warner): Specially packaged new edition of DC's previous "Death of Superman" and "Reign of the Supermen" animated features combines the two into a single epic storyline.
DC's self-explanatory 2018 "Death of Superman" feature was followed by last year's "Reign of the Supermen," where, months after the Man of Steel's apparent demise, four different heroes – Eradicator, Superboy, Steel and Cyborg Superman – appear in Metropolis looking to lay claim to Supes' mantle, only to have to band together with the Justice League when dark forces converge. Most fans are likely to enjoy this well-animated and entertaining adaptation of a beloved DC storyline, though some hardcore comic-book readers may lament alterations from the source material. Still, production values are high and the picture is quite satisfying on the whole, especially with the story being re-edited here into a single, near-three hour epic.
Warner's attractive 4K Ultra HD combo pack includes the entire 166-minute "Death and Return of Superman" storyline with HDR, 5.1 DTS MA audio, a Blu-Ray copy, and bonus 4K Ultra HD of the previously-adapted "Superman: Doomsday" feature. An all-new documentary, "Long Live Superman," debuts here alongside other extras, a half-dozen bonus DC cartoons, Digital HD copy and limited-edition Cyborg Superman figurine included in the nicely packaged Gift Set from Warner.
SCOOBY-DOO: RETURN TO ZOMBIE ISLAND DVD (80 mins. 2019; Warner): Scooby, Shaggy and the rest of the Mystery Inc. gang are back, this time on vacation at the Moonstar Island Resort. Unfortunately, the isle's amok with cat people (yes) and zombies (yes), and this time they're real – not just guys and girls in masks. Your mileage may vary with this new animated feature, but our five-year-old was not impressed and found some of the material a tad scary. Warner's DVD (1.78, 5.1 Dolby Digital) is available this week sporting a couple of bonus episodes from prior Scooby shows.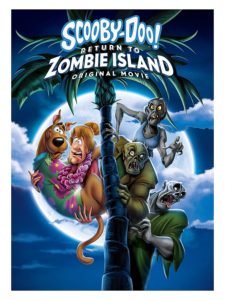 FLCL: PROGRESSIVE DVD (132 mins., 2019; Warner): A sequel to the 2001 Japanese anime "FLCL," this fan-awaited follow-up brings together members of the original team with a new generation of animators. "Progessive" chronicles the adventures of a 14-year-old girl named Hidomi, pal Ide, and two beings determined to bring out their potential. All the while, a force named the ATOMSK, a vintage car and a Vespa Scooter all play a major role in the insanity. Cartoon Network's Adult Swim division premiered "FLCL: Progressive" and brings it to DVD October 1st featuring its six episodes (2.35, 2.0 stereo audio in either Japanese or an English dub) with two featurettes.
CHILD'S PLAY Blu-Ray (90 mins., 2019, R; MGM/Fox): Bland and forgettable remake of the Thanksgiving '88 horror hit presses the reset button, with Chucky the killer doll being a newly enhanced, interactive A.I. model whose psychotic motivations are decidedly less supernatural in origin. A couple of twists like those make this "Child's Play" not entirely the push-button rehash you might expect, but Tyler Burton Smith's script still doesn't substitute fresh concepts in his reworking of Don Mancini's original characters, as Chucky (now voiced by Mark Hamill) again stalks single mom Karen (Aubrey Plaza) and son Andy (Gabriel Bateman). You've seen it before — and executed better at that. Fox's now-available Blu-Ray (2.39, 5.1 DTS MA) offers a Digital HD copy and plenty of extras, including commentary from director Lars Klevberg, Making Of featurettes and the trailer…Also new from Fox for genre fans is Season 8 of AMERICAN HORROR STORY. Here dubbed APOCALYPSE (431 mins., 2018), Ryan Murphy's latest incarnation of his gross-out franchise is set after a nuclear apocalypse where survivors are holed up in outposts created by the "Cooperative." Underneath it all is a battle for Good Vs. Evil with series returnees Sarah Paulson and Kathy Bates on-hand, vamping it up. As is always the case with AHS, this is for fans only, and Fox's DVD presents the complete Season 8 with 16:9 (1.78) transfers and 5.1 Dolby Digital sound.
Cinedigm New Releases: New on DVD this week, KARMA (85 mins., 2019, Not Rated) finds a recent college graduate being stalked by a "karma demon." Mandela Van Peebles stars in Nick Simon's Cinetel Films production, on disc featuring a 16:9 transfer and 5.1 sound…Now availale on Blu-Ray from Cinedigm is AWAKE (92 mins., 2018, Not Rated), a thriller with a higher pedigree. Alex Cher and Fedor Lyass' picture centers around an amnesiac (Jonathan Rhys Meyers) whom the police believe is a serial killer and the nurse (Francesca Eastwood) bound to help him after he maintains his innocence. Malik Yoba and William Forsythe co-star in this twisty affair, with Cinedigm's Blu-Ray boasting a 1080p transfer and 5.1 DTS MA sound.
GWEN Blu-Ray (84 mins., 2018; RLJ): Familiar tale about a young girl trying to keep her family's farm together – with her mother suffering from a debilitating, apparent illness and angry villagers trying to take the property – when a dark force descends around them (maybe). If William McGregor's film sounds like "The Witch," it's because it does, with the Wales locations providing scenic interest but little in the slow-moving story being compelling otherwise. RLJ's Blu-Ray includes interviews with the cast, a 1080p (2.35) transfer and 5.1 DTS MA sound.
---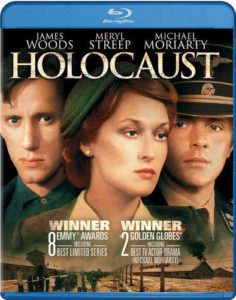 CBS New Releases
One of the most highly-rated TV mini-series of its respective era is new to Blu-Ray from CBS.
The multi-part NBC production, HOLOCAUST (aprx. 7½ hours, 1978), drew massive ratings for its powerful portrait of the Weiss family, German Jews broken apart by WWII, as well as the Dorfs, a Berlin family that embraces Nazism and which the Weiss' eldest son (James Woods) marries into. Meryl Streep is his Catholic wife, who tries to find her artist husband during the war, while Michael Moriarty is a chilling standout as a "good man" – an initially ambivalent lawyer just looking for work — who becomes one of the chief architects of "The Final Solution."
Fritz Weaver, Rosemary Harris, Timothy Bottoms, Tovah Feldshuh, and Sam Wanamaker co-star in this four-part production – one of the most elaborate depictions of the Holocaust on-screen at the time, and one which drew both raves as well as criticism from others, including Elie Wiesel, who thought the fictional story (with the two families being composite characters) didn't go far enough and lacked some accuracy.
Spanning nearly eight hours, this is a most compelling story that's noteworthy for not just its emotional portrait of the Weiss family but also the Nazi figures, here portrayed not as cartoonish villains but occasionally (as in the case of David Warner's commandant) sensible human beings – something that makes their ultimate atrocities all the more horrifying. The mini-series, written by Gerald Green and helmed by TV veteran Marvin J. Chomsky, is long but only feels sluggish in its concluding chapter, all of it superbly acted and economically scored by Morton Gould.
CBS' Blu-Ray of "Holocaust" is apparently uncut but is something of a mixed bag. While the remastered 1080p image is superbly detailed, it's also been cropped to 1.85 from its original 4:3 aspect ratio. The sound is also a disappointment – metallic and harsh sounding in nature, it renders some of the dialogue hard to comprehend at times.
CBS also has lined up Season 15 of GUNSMOKE (9 and 13 hours, 1969-70) on DVD this week. Again presented in two different volumes, these color adventures of Marshal Matt Dillon, Miss Kitty and the gang include remastered 4:3 transfers and episodic previews on selected episodes…More vintage network TV fare is on-hand in the first-ever DVD release of LIFE WITH LUCY (5 hours, 1986), the short-lived ABC comedy starring Lucille Ball as a grandmother who deals with family predicaments while helping her late husband's partner (Gale Gordon) run their hardware store. Though heavily hyped, "Life with Lucy" was contrived and sank quickly in the ratings, though there's still some merit in revisiting the series, thanks to Lucy's appearances with the likes of guest stars John Ritter, Peter Graves and Audrey Meadows. CBS' DVD includes five episodes that never aired before the show was yanked, plus "Entertainment Tonight" and "Hour Magazine" segments, promos 4:3 transfers and 2.0 sound.
Season 1 of the new CHARMED (15 hours, 2018-19) revival has netted decent ratings on the CW since its premiere. This is a reworked, more "culturally diverse" take on the "young witches" formula, making its way to DVD from CBS sporting a featurette, gag reel, 5.1 sound and 16:9 transfers…Kevin Williamson is back in series form with TELL ME A STORY (8 hours, 2018-19), a CBS streaming program that weaves The Three Little Pigs, Little Red Riding Hood and Hansel and Gretel into a modern day New York City. More "adult" and grittier than, say, "Once Upon a Time," "Tell Me A Story"'s first season bows on DVD from CBS with 16:9 (1.78) transfers and 5.1/2.0 stereo audio.
NEXT TIME: 4K Horrors including GREMLINS, PAN'S LABYRINTH and more! Until then, don't forget to drop in on the official Aisle Seat Message Boards and direct any emails to our email address. Cheers everyone!