There are fewer cinematic eras more fascinating than the late '60s. Iconoclast filmmakers like Stanley Kubrick unleashed classics like "2001" while previously reliable genres like the movie musical nearly drowned several major studios. 20th Century Fox's "Star!", Paramount's "Darling Lili" and Universal's SWEET CHARITY (145/151 mins., 1968, G) proved to be big-budget disappointments from a genre that once reliably drew audiences – a sign of shifting times and attitudes, and also, perhaps, the respective source material involved in each instance. In the case of the latter, Bob Fosse's adaptation of his Broadway hit proves to be a weird, highly watchable and yet ultimately unsatisfying fusion of a "mod" downer with old-fashioned musical-comedy sensibilities, as strange as the teaming of Fosse with writer Neil Simon sounds on paper.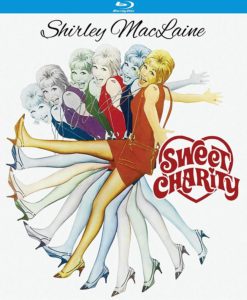 Adapting the Fellini New Wave classic "Nights of Cabiria," "Sweet Charity" stars Shirley MacLaine in Gwen Verdon's stage role as the New York City dance hall hostess whose hopes for true love – and breaking out of the gutter – are dashed at seemingly every opportunity. Her initial romance fails, her meeting with an internationally famous director (Ricardo Montalban) is met with disbelief by her fellow chorus girls (Chita Rivera and Paula Kelly among them), and her eventual relationship with a klutzy, buttoned-down guy (John McMartin, repeating his stage performance) offers a rocky road all its own.
On stage, one can surmise why "Sweet Charity" was a hit – Fosse's dynamic choreography puts the best of Cy Coleman and Dorothy Fields' otherwise forgettable song-score over the top ("Hey Big Spender," "If My Friends Could See Me Now," "There's Gotta Be Something Better Than This"), and with a talent like Verdon anchoring it down, it was probably easier to forgive the tonal shifts that exist in the material. Or, to be more specific, the differing artistic flourishes provided by Fosse and the likes of Neil Simon, whose book (adapted for the film by Peter Stone) is much lighter than the overall delivery of the entire project.
When placed on-screen, those issues are amplified – legitimately funny sequences like MacLaine and McMartin being stuck in an elevator are surrounded by Fosse's comparatively more "adult", cutting bits with Charity and her friends at work. Then there are "what the bleep" moments like Sammy Davis, Jr. leading a hippie revival in a big showpiece number that really has nothing to do with the story or the characters (it actually stops the film dead), but does offer concrete proof of the era in which it was produced.
It's no wonder Universal wanted Fosse to shoot a happier ending than the movie's original finale – while universally derided as being unnecessary, that reshot ending (ultimately unused by the studio) isn't any less satisfying than the pretentious conclusion that caps the released, so-called "Roadshow" version of the film. Neither really works, but each is indicative of the two directions the story is pulled throughout – a cinematic tug-of-war that's made highly watchable through the dance sequences and occasional flashes of Fosse's brilliance…the ones that often pass by after a deadly song that doesn't advance the material in any meaningful way.
Kino Lorber has produced a magnificent Blu-Ray edition of "Sweet Charity." The 151-minute Roadshow version (mostly complete, since it does not include Entr'acte or Exit Music) offers a beautiful 4K (2.35) restoration with an equally stunning 5.1 DTS MA stereo soundtrack (the mono soundtrack, heard in non-70mm exhibitions, is also included). The colors are magnificent and detail is strong, while the second disc houses an "alternate version" with the unused "happy ending" and no Overture/Intermission music. A couple of archival featurettes are included plus the trailer, an at-times incomprehensible commentary from Kat Ellinger but a well-rounded, as-always astute reading of the film in a booklet essay from Julie Kirgo.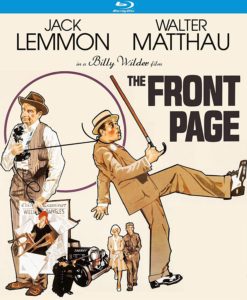 Kino Lorber's August slate also includes a welcome Blu-Ray edition of Billy Wilder's THE FRONT PAGE (105 mins., 1974, PG), a so-so remake of the Ben Hecht-Charles MacArthur stage chestnut that marked the fourth collaboration between Jack Lemmon (soon-to-be-retiring reporter Hildy Johnson) and Walter Matthau (his disgruntled editor Walter Burns). This is one of those instances where all the ingredients for a classic were in place – Wilder and co-writer I.A.L. Diamond scripting with Lemmon and Matthau backed by the likes of Carol Burnett, Charles Durning, Vincent Gardenia, Allen Garfield and a young Susan Sarandon – yet there's just something a little "off" about the finished product.
Jordan Cronenweth's widescreen lensing, Henry Bumstead's production design and the period atmosphere come across loud and clear, but the laughs are mostly muted and, more disconcerting, the overall tone feels strained at every turn. Add in a miscast Burnett totally missing the mark and you have a film that fails to match the heights of its source material – even if Matthau and Lemmon are still a joy to watch together.
Making its U.S. format debut, Kino Lorber's Blu-Ray offers a number of extras including interviews with first assistant director Howard Kazanjian (future "Star Wars" alum) and Wilder's assistant Rex McGee, plus a conversation with co-star Austin Pendleton. The trailer and a new commentary from historians Michael Schlesinger and Mark Evanier are also on-hand, while Universal's 1080p (2.35) AVC encoded master and DTS MA mono soundtrack are both above-par.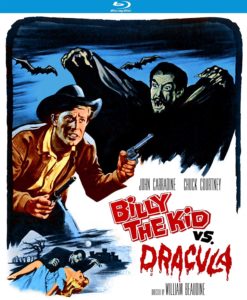 Three cult-favorite genre titles – undoubtedly familiar to anyone who had a "Creature Double Feature" at their disposal on local TV decades ago – are also new to Blu-Ray this month from Kino Lorber.
Producer Jack H. Harris hit paydirt in the late '50s with the drive-in classic "The Blob," and was able to catapult off that success with a pair of sci-fi adventures, also directed by Irvin S. Yeaworth, Jr., that Universal-International picked up for distribution.
The superior of the duo is 4D MAN (85 mins., 1959), starring James Congdon as a scientist whose latest breakthrough discovery involves the ability to move solid objects through one another. His brother (Robert Lansing) wants to take the project a step further, utilizing himself as a test subject. It works – but at a price, with "4D Man" aging each time he engages in the activity, and only being able to drain the "life force" from living beings can he stay youthful. Lee Meriwether is the girl caught between them and a very young Patty Duke makes a brief appearance in this sufficiently entertaining '50s mad scientist outing, shot in color and brought to Blu-Ray by Kino Lorber sporting a 4K restoration (1.85) from the original camera negative. The crisp transfer is nicely rendered with extras including two commentaries (one by Kris Yeaworth, another from historian Richard Harland Smith); interviews with Jack H. Harris and Lee Meriwether; an animated image gallery and the trailer.
Not nearly as well-reviewed was DINOSAURUS! (83 mins., 1960), a goofy, unintentionally uproarious "family adventure" shot in Cinemascope. Utilizing a far greater budget than "The Blob," Harris and Yeaworth tried to tap into every kid's imagination by having a T-rex, brontosaurus and a caveman thawed out after being jostled by an underwater explosion off the coast of a Caribbean island. The rote human characters who have to contend with this trio include a young boy named Julio (Alan Roberts) who hangs out with the caveman before the dinosaurs do battle in a duel to the death.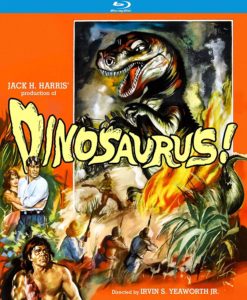 It all ends on a sadly downbeat note that seems to betray the young demographic "Dinosaurus!" was aiming for, making this silly Saturday Matinee affair best viewed even today by nostalgic older viewers familiar with it. Kino Lorber's Blu-Ray again benefits from a clear and lovely 4K restoration (2.35) from the original camera negative, with the trailer, a German documentary (featuring interviews with Harris among others), and a new commentary by Kris Yeaworth comprising the supplemental selections.
Third amongst the trio is the unforgettably titled BILLY THE KID VS. DRACULA (73 mins., 1966), a particular drive-in staple with John Carradine attempting to court the fiancee (Melinda Plowman) of Billy the Kid (Chuck Courtney, best known as one of Hollywood's top stuntmen of the era) and turn her into a vampire! With a short running time, "The Ape Man" auteur William Beaudine's film never overstays its welcome and seems to have been engineered specifically for one half of a drive-in double-bill – and/or repeated TV airings, where the movie would conveniently fit into a 90-minute slot. It's ridiculous B-movie fun, right down to the vampire wandering out into the sunlight and not suffering any consequences at all!
Kino Lorber's Blu-Ray (1.85, DTS MA mono) comes licensed from Studio Canal and looks better than any local TV broadcast one might recall from their youth. Extras include trailers and a commentary with historians Lee Gambin and John Harrison.
Lastly, Kino Classics brings American viewers a film that was too controversial for the U.S. back in 1980: BABYLON (95 mins.), a British picture from director Franco Rosso that followed a unique protagonist for that time in UK cinema: a reggae DJ (Brinsley Forde), struggling to pursue his musical talents while having to deal with the police, racist neighbors, and assorted employers among them. This is a fascinating portrayal of the prejudice and the legal laws that essentially enabled racial profiling in England back at the time, with the great Chris Menges shooting this then-incendiary film that was "too hot" for U.S. distributors upon its original release. Kino Lorber's Blu-Ray (1.85, DTS MA stereo) offers commentary with Rosso and others; a short documentary, "Dread Beat and Blood," helmed by Rosso; new interviews with Forde and Dennis Bovell; a restoration featurette; trailers; and a Cast and Crew Q&A recorded at the BFI Southbank in 2008.
---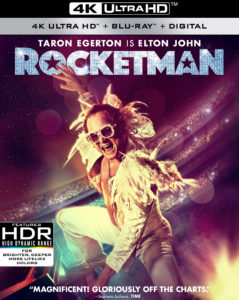 New & Noteworthy
ROCKETMAN 4K UHD Combo Pack (121 mins., 2019, R; Paramount): The life, times and music of Elton John are chronicled in this zippy, entertaining but ultimately somewhat disappointing film, which likely would've worked better had it drifted more towards being a full-blown screen musical — or a more developed biopic — instead of the "let's try to please everyone" approach employed here.
Produced by Matthew Vaughn (with most of his filmmaking team assembled behind the scenes) and directed by Dexter Fletcher (ironically credited with helming some of last year's "Bohemian Rhapsody" after Bryan Singer went AWOL), "Rocketman" employs the usual music biopic framework: young Reginald Dwight is a music prodigy to a pair of parents who don't understand him. A mostly miserable upbringing follows, including struggles with his sexuality, yet "Reggie"'s fortunes are sealed once he meets lyricist Bernie Taupin (Jamie Bell), with the now-rechristened Elton John (Taron Egerton) spinning one hit after another…at least until fame and drugs rear themselves inbetween bouts of chart-topping rock 'n roll.
"Rocketman" moves so quickly that it's never boring – and jumping from one of John and Taupin's hits to another keeps the film from ever becoming stilted. Yet, the movie also never stops during the musical numbers to do anything other than quote a few bars and then move along, usually before 60-90 seconds has gone by. It's an unfortunate case of the film being cut too tight, since the picture seems to want to break into big "song and dance" numbers – but right when they start to become interesting, the movie simply keeps on going. Egerton is sympathetic as John and he and Bell have a nice chemistry together, though some viewers may be turned off by the theatricality of the picture – if you didn't know better, you might've thought "Rocketman" was based on a stage musical that never existed.
Ultimately, "Rocketman" is passable but also forgettable, spending much of its final third on John's depression and addiction, leaving only time for a re-enactment of the "Still Standing" music video for redemption at the very end. A more specific storytelling approach – say, focusing on John and Taupin's partnership – also may have been more effective than the familiar, tried-and-true path "Rocketman" ventures down.
Paramount's 4K UHD (2.39) of the film is a dazzler with Dolby Atmos sound, HDR/Dolby Vision capability, a Digital HD copy, a special booklet message from John (presaging his autobiography due out this fall), 10 deleted/extended scenes, additional musical performances, a sing-along and other behind-the-scenes materials.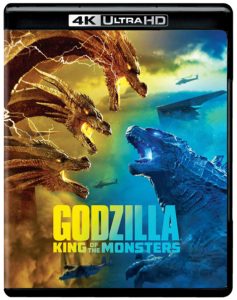 GODZILLA, KING OF THE MONSTERS 4K UHD (131 mins., 2019, PG-13; Warner): A leaden bust that manages to be somehow even less appealing than Roland Emmerich's ill-fated 1998 rendition, "Godzilla, King of the Monsters" gives you more of all the things you never wanted in a Godzilla movie – namely, an anonymous roster of who-cares human characters – and not enough of the things you do.
Sure, this follow-up to Gareth Edwards' imperfect but vastly more satisfying 2014 "Godzilla" trots out a series of Toho staples beyond the Big G – there's the empathetic Mothra, villainous Ghidorah (aka Monster Zero), and high-flying Rodan all on-hand for support – but the bland, and badly-shot, monster action is mostly just a running series of peripheral encounters that frame the boring human story.
That end of things proves to be a total wipeout, no thanks to director/co-writer Michael Dougherty. Managing to waste a good cast capable of delivering more, Dougherty and Zach Shields' script makes the central mistake of following around not just one but two groups of uninteresting characters: there's slightly crazed scientist Vera Farmiga and daughter Millie Bobby Brown ("Stranger Things"), reluctantly working with eco-terrorist Charles Dance, who thinks the only way to purge the flawed human world is to hand it back to the monsters who once populated it by way of Farmiga's communication device. Out to stop them (I think) is the Monarch team of Farmiga's ex, Kyle Chandler, paired up with a returning Ken Watanabe and (briefly) Sally Hawkins, who try and tell their near-worthless leading man that Godzilla is the only salvation the Earth has left.
Just one section of these characters would be sufficient – framing the entire story through Brown's perspective would've made the most sense – but to populate the movie with both of them, not to mention the likes of Zhang Ziyi (apparently playing the "Mothra" twins — or something), David Straithairn (who disappears after having a couple of lines of dialogue), Aisha Hinds (TV's "9-1-1"), and Thomas Middleditch (TV's "Silicon Valley") leads to a overly muddled collage of protagonists where only Bradley Whitford manages to make an impression as one of Monarch's daffier scientists.
There comes a point about a third of the way through when you realize "Godzilla: King of the Monsters" isn't ever going to get on-track, and that Dougherty's clumsy direction and inartful staging of the creature sequences – all of them inexplicably in rain and/or the dark – will make viewers pine for Edwards' frustrating "pulling back" of the monster action in the film's predecessor. The difference though is that when the previous movie did eventually deliver the goods, it did so in an impressive and rousing fashion; "King of the Monsters" ultimately provides no such emotional release. In fact, it's missing a whole lot – charm, humor, a sense of wonder and playfulness – all the things that even a group of guys in rubber suits once managed to convey.
A major box-office disappointment that raked in half of its predecessor's domestic in-take, Warner brings "King of the Monsters" to 4K UHD this week. As you might anticipate this is a high quality presentation with Dolby Vision, HDR, and Dolby Atmos, though as I wrote above, both the dank cinematography and constantly throbbing soundtrack may exhaust viewers after awhile. Extras include a commentary from Dougherty, exec producer Zach Shields and co-star O'Shea Jackson, Jr.,; deleted scenes; and the featurettes "Welcome to the Monsterverse," "Godzilla 2.0," and "Mothra: Queen of the Monsters." A Digital HD copy and the Blu-Ray round out the package.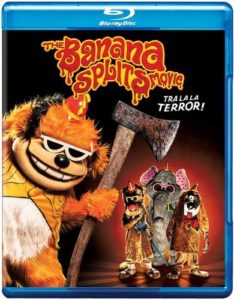 THE BANANA SPLITS MOVIE Blu-Ray Combo Pack (89 mins., 2019, R; Warner): Hanna-Barbera may well be rolling in their graves after the release of this absurd (albeit oddly compelling) horror recasting of their kitschy '60s TV characters – here repurposed as robots who decide to go on a slaying spree after their children's show is unceremoniously canceled.
Rumor has it this South African-shot effort (debuting on home video first before Syfy Channel airings this fall) was written as the film adaptation of the popular "Five Nights at Freddy's" video game, then reworked when licensing fell through. Certainly there's ample evidence of that, as a cast of bland characters mostly serves as sacrificial lambs for the robotic Splits, though there's at least something of a "Just Desserts" morality to the film as the victims are the most obnoxious characters amongst the group – and having the characters being animatronic robots kinda (sorta) lessens the horrific nature of its irreverent premise.
I watched reruns of "The Banana Splits" growing up in the late '70s and early '80s, and while I don't hold a particular affection for the material, it's still depressing that the license was revived here just as an excuse to make a schlocky cable movie whose shock value will mostly be limited to older viewers, familiar with the series. Still, I can't argue that Danishka Esterhazy's movie didn't keep me watching – as repulsive as some of its killings are! Warner's Blu-Ray combo pack is out this week featuring a 1080p (1.78) AVC encoded transfer, 5.1 DTS MA sound, a DVD, Digital HD copy, and three featurettes.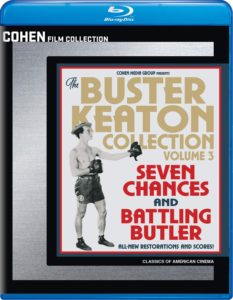 THE BUSTER KEATON COLLECTION Volume 3 Blu-Ray (Cohen Film Collection): Cohen Media Group continues their superb remastering/restoration of the legendary comedian's most memorable features, here pairing two of Buster Keaton's finest from 1925-26.
"Seven Chances" offers Keaton fans an irresistible premise – Buster will inherit millions if he finds a way to get married by 7pm the same day – and a madcap flurry of laughs that makes this film one of his best. "Battling Butler," meanwhile, was regarded by Keaton himself as his most favorite – an adaptation of a Broadway play that centers on the mistaken identity between two men sharing the same name: a meek millionaire (Keaton) and the heavyweight champion of the world (Francis McDonald). Big laughs follow in a classic silent comedy. Cohen's Blu-Ray includes new restorations of both features, restoration trailers, and 5.1 and 2.0 DTS MA soundtracks. Highly recommended!
---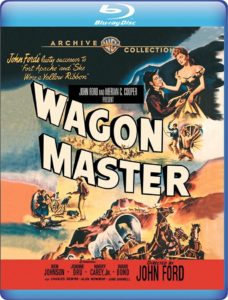 Catalog Capsules
Warner Archive New Releases: Somewhat curiously regarded by the great John Ford as his favorite work, the serviceable WAGON MASTER (86 mins., 1950) offers Ford's repertory company – minus the star power of a Ford or Fonda – in the casual tale of a group of Mormons (led by Ward Bond) being escorted to southwestern Utah by a pair of horse traders (top-billed Ben Johnson and Harry Carey, Jr.). Frank Nugent and Patrick Ford's script has the group encounter a succession of people and endure a number of escapades along the way, but it's only in the second half where "Wagon Master" kicks into a higher gear as it pits the group against the Cleggs, an outlaw gang using the wagon train as a hideout.
Warner's beautiful Archive transfer (1.37) has been newly restored and is filled with pinpoint detail, which is important since the mood and setting of "Wagon Master" are vital to the picture. This is a low-key film that's certainly worthwhile for Ford aficionados, yet I have to admit I didn't find the picture especially compelling, with a song-filled, Sons of the Pioneers-led soundtrack that misses the likes of a Tiomkin score that could've added more punch. A vintage commentary with Harry Carey, Jr., Peter Bogdanovich and Ford is included plus DTS MA mono sound.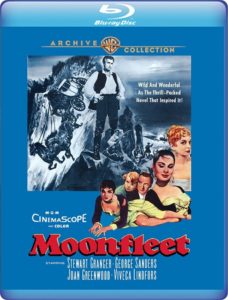 Also new from Warner Archive this month is the uneven but often quite entertaining MOONFLEET (87 mins., 1955), Fritz Lang's moody MGM pirate adventure. Set along the Cornwall coast in the mid 1700s, this adaptation of J. Meade Falkner's book (itself as reportedly popular as "Treasure Island" back in its day) offers Stewart Granger as an aristocrat who also moonlights as a smuggler. His life is turned upside down by the arrival of young John Mohune (a quite impressive performance from then nine-year-old Jon Whiteley), sent to live with him at the behest of his mother, who once had a relationship with the man. Granger's Jeremy Fox wants as little to do with John – whose dilapidated family estate still resides nearby – as possible, at least until they go hunting for a long-lost diamond, buried in secret years before.
Though not as exciting as Disney's "Treasure Island" – and bogged down with a little too much talk – there are still plenty of things to like about "Moonfleet." Lang's direction brings out a number of interesting performances, from Granger and Whiteley to George Sanders as a dastardly villain and female roles filled by the likes of Joan Greenwood and Viveca Lindfors. The Cinemascope lensing and Miklos Rozsa's wonderful score add a touch of grandeur, and several terrific moments (Whiteley swinging in a well, trying to grab the diamond; a climactic chase sequence) make this an entertaining view and an especially worthwhile title on Blu-Ray. Warner Archive's 1080p (2.35) transfer houses pleasing colors and the 2.0 DTS MA stereo soundtrack is rousing, marked by a wide dynamic range and use of directional dialogue.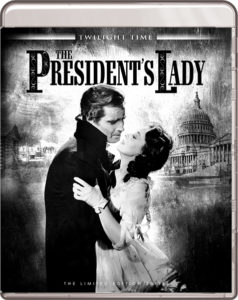 Twilight Time New Releases: A pair of 20th Century-Fox Blu-Ray premieres (enjoy them folks; with Disney now controlling this catalog, we won't be seeing many more) comprise Twilight Time's duo of August releases.
Elvis Presley delivered one of his stronger screen performances in Philip Dunne's WILD IN THE COUNTRY (114 mins., 1961). This Fox Cinemascope drama stars The King as a country boy whose psychiatrist (Hope Lange) helps steer him along the right path; Tuesday Weld, Millie Perkins, John Ireland, Gary Lockwood and Rafer Johnson co-star while Elvis croons (of course) a quartet of songs and Kenyon Hopkins' score adds a touch of class. Yet this isn't a typically mindless Presley screen vehicle, with Clifford Odets penning a Tennessee Williams-esque dramatic scenario out of J.R. Salamanca's novel. Worthwhile viewing with a superlative 1080p (2.35) transfer, 2.0 DTS MA sound, an isolated score track and the trailer in Twilight Time's package.
Charlton Heston and Susan Hayward, meanwhile, strike up some chemistry in the glossy Fox "historical soaper" THE PRESIDENT'S LADY (98 mins., 1953), the adaptation of Irving Stone's novel. Heston plays lawyer-and-future-president Andrew Jackson with Hayward as the married woman whom Jackson loves. His future, both personal and political, is on the line with Hayward's Rachel Donelson, who gets out of a loveless marriage during Jackson's ascension from Tennessee lawyer to national prominence. Henry Levin's film apparently took quite a few (many?) liberties with the historical record, but this is a quite watchable studio product from its era. Twilight Time's Blu-Ray includes a radio dramatization, isolated score track of Alfred Newman's soundtrack, good looking 1080p (1.33) B&W transfer and mono sound.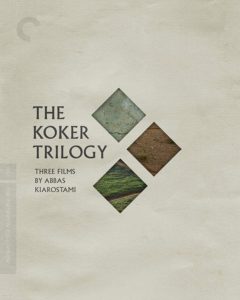 New From Criterion: In the late '80s and '90s, Iranian filmmaker Abbas Kiarostami became renowned for his trio of self-referential films set in northern Iran – specifically the town of Koker. The so-called KOKER TRILOGY houses "Where Is The Friend's House" (83 mins., 1987), "And Life Goes On" (95 mins. 1992), and "Through The Olive Trees" (103 mins., 1994), each focused on the people and places that inform the relationships between the town's inhabitants, as profiled in a trio of gentle and engaging filmic works.
Criterion's box-set for "The Koker Trilogy" offers new 2K (1.66) digital restorations of all three films (in Persian with English subtitles), with numerous insightful extras. These include a new commentary on "And Life Goes On" from Mehrnaz Saeed-Vafa and Jonathan Rosenbaum; a 1989 documentary, "Homework," by Kiarostami; a 1994 documentary, "Abbas Kiarostami: Truths and Dreams"; a new interview with the director's son, Ahmad; a new interview between Jamsheed Akrami and critic Geoffrey Cheshire; a 2015 talk between Kiarostami and programmer Peter Scarlet; an interview with scholar Hamid Naficy; and all-new English subtitle translations.
---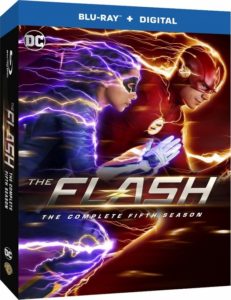 TV on DVD
ARROW – The Complete Seventh Season Blu-Ray (1014 mins., 2018-19; Warner). WHAT IT IS: Seventh season of "Arrow" starts out with Oliver Queen not as the hooded DC hero but as "Inmate 4587" – his penal assignment since revealing his secret identity some six months before. While serving his time, Team Green Arrow picks up the slack to protect the rest of Star City – at least until a mysterious new Arrow appears on the scene, right at the same time John Diggle and Dinah Drake opt to leave their costumes behind. Soon, though, all of the gang will be tested by the arrival of new super-villains – plus a trio of crossover episodes with fellow DC heroes "The Flash" and "Supergirl." BLU-RAY BREAKDOWN: On Blu-Ray this week, Warner's Season 7 of "Arrow" offers 1080p (1.78) transfers and 5.1 DTS MA soundtracks plus Digital HD copies. New extras include the complete crossover arc with Supergirl & The Flash; an in-depth featurette on DC's "Villains: Modes of Persuasion"; two additional featurettes; a gag reel and deleted scenes. AISLE SEAT BOTTOM LINE: While some feel that "Arrow" has been running on gas for a while, hardcore fans will likely still be sufficiently entertained by Warner's attractive, features-laden seventh season package, now available.
THE FLASH – The Complete Fifth Season Blu-Ray (1016 mins., 2018-19; Warner). WHAT IT IS: No sooner have "Flash" Barry Allen and his wife, Iris West, taken to their newfound married bliss than their daughter from the future – Nora West-Allen – comes speeding back in time. Her arrival causes Team Flash to take a look at their future selves and where they're headed, while Iris seems to have a less than cozy relationship with Nora in the future. What's more, Nora's time-shifting appearance triggers the villain Cicada, who pops up in these 24 Season 5 episodes from the CW series. BLU-RAY BREAKDOWN: Like "Arrow," Warner has included the entire 2018-19 DC "Crossover Event" with "Supergirl" being thrown into the mix, while three featurettes, a gag reel, deleted scenes, and the "Villains: Modes of Persuasion" featurette appears here as well. The 1080p (1.78) transfers and 5.1 DTS MA soundtracks are above par with a Digital HD copy rounding out the release. AISLE SEAT BOTTOM LINE: Even hardcore "Flash" fans seemed irritated with the assorted story arcs of Season 5, making this recommended strictly for the devoted who haven't missed an episode since the series' beginning.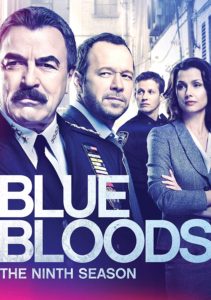 BLUE BLOODS – The Ninth Season DVD (16 hours, 2018-19; CBS). WHAT IT IS: One of network TV's currently most-watched series picks up from the end of its eighth season where Jamie (Will Estes) and Eddie (Vanessa Ray) celebrated their engagement – but with the Reagan family wondering about the future of their partnership and if it's appropriate for the duo to continue working on the force. At the same time, Erin (Bridget Moynahan) is slated for a promotion after her boss's death while Danny (Donnie Wahlberg) prepares to send his son to college. Police procedural action and family drama mix in another 22 episodes from the hugely popular CBS series, about to enter its second decade on the air. CBS' Season 9 DVD boasts deleted scenes, featurettes, CBS Watch! Magazine segments with cast interviews, a gag reel, 16:9 (1.78) transfers and 5.1 Dolby Digital soundtracks.
NCIS: New Orleans – The Seventh Season DVD (17 hours, 2018-19; CBS). WHAT IT IS: Special Agent Dwayne Cassius Pride (Scott Bakula) is back, leading his elite team of agents and specialists as they tackle a variety of cases – from hitmen and conspiracies to cold cases and assorted mysteries of all shapes and sizes. New blood is also added into the mix in this fifth season of the Big Easy-set variant of the long-running NCIS franchise, now on DVD from CBS. The label's six-disc DVD set boasts a 100th episode featurette, cast and crew interviews, behind-the-scenes materials, and bonus pilot episodes of CBS' "Star Trek: Discovery" and "SEAL Team." The 16:9 (1.78) transfers and 5.1 Dolby Digital soundtracks are all top notch.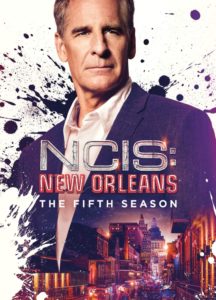 NCIS: Los Angeles – Season 10 DVD (17 hours, 2018-19; CBS). WHAT IT IS: "G" Callen (Chris O'Donnell) and Sam Hanna (LL Cool J) find themselves having to deal with a number of changes during this 10th season of NCIS: LA. With Kensi Blye (Daniela Rush) and Marty Deeks (Eric Christian Olsen) typing the knot, the elite team of Special Agents also finds Hetty (Linda Hunt) returning from her disappearance while Eric (Barrett Foa) and Nell (Renee Felice Smith) contemplate their professional and personal relationships. 24 episodes include the team protecting a Saudi prince and working with the FBI to find a terrorist cell in the series' 10th season, now on DVD from CBS. Extras include several featurettes, deleted/extended scenes, bonus pilot episodes, 16:9 transfers and 5.1 sound.
HOMELAND – The Complete Seventh Season DVD (648 mins., 2018; Fox). WHAT IT IS: The glory days of this widely acclaimed Showtime series have passed, leaving Claire Danes' Carrie Mathison to try and work through a Russian propaganda plot that feels a lot more simplistic, and pointed, than the "shades of grey"-type scenarios painted by previous seasons of "Homeland." In fact, this first true "post-Trump" season of "Homeland" (the sixth season aired after the 2016 election but was clearly mapped out with a Clinton presidency in mind) is well-acted but the general intensity level is muted in comparison to the best years of this honored series, making it recommended for fans only. Eschewing a domestic Blu-Ray release, Fox's DVD offers all 12 seventh-season episodes in a three-disc set (1.78, 5.1 Dolby Digital) with no extras.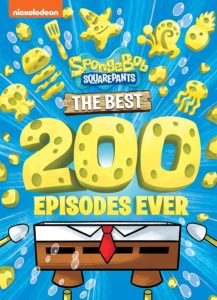 MAYANS M.C. – The Complete First Season DVD (606 mins., 2018; Fox): Spinoff of the "Sons of Anarchy" franchise travels down a somewhat similar terrain, albeit with a heavy Latino accent. Kurt Sutter created this FX series starring JD Pardo as "EZ" Reyes, out of prison and the latest prospect for the Mayans M.C. on the Californian-Mexican border. EZ tries — and naturally struggles — to get his life in order in this continuation of the Anarchy saga, brought to DVD in a Season 1 package this week from Fox. Three behind-the-scenes featurettes and a promo featurette are included in the multi-disc DVD with 16:9 (1.78) transfers and 5.1 soundtracks.
SPONGEBOB SQUAREPANTS: THE BEST 200 EPISODES EVER DVD (4533 mins., 1999-2017; Nickelodeon/Paramount): Mammoth compilation of episodes from the long-running, uber-popular Nickelodeon series is actually an anthology of the first nine seasons of the show – the first 204 episodes, in fact. Fan-favorite shows like "SpongeBob You're Fired," "It Came From Goo Lagoon," "Mermaidman Begins," "Pickles," "Rock Bottom," "Chocolate With Nuts" and "Ripped Pants" are obviously here and accounted for, with all the adventures from Bikini Bottom presented in colorful full-screen (1.33) transfers and Dolby Digital stereo 2.0 soundtracks. Paramount's box houses the DVDs in two oversized plastic cases (similar to CBS' Complete Series home video sets) with the special edition 20th Anniversary SpongeBob SquarePants poster — which was created specifically for Nickelodeon at SDCC and features all 760 characters and creatures that have ever appeared in the long-running (1999-2017) series – also included.
TEEN TITANS GO! Season 5, Part 1: Lookin' For a Fight DVD (279 mins., 2019; Warner): In this first section of episodes from the popular series' fifth season, Starfire causes trouble by breaking up the H.I.V.E.'s ice cream social; Slade destroys the Titans Tower, leading Robin to lead the crusade to rebuild; Aqualad ties to win back Raven by avoiding Beast Boy and Cyborg; while Jump City finds itself under a galactic crime alert. Fans of the hit show should enjoy this two-DVD set from Warner, now available featuring 16:9 (1.78) transfers and 2.0 Dolby Surround tracks.
---
Quick Takes
Lionsgate New Releases: Joe Talbot's sensitively drawn THE LAST BLACK MAN IN SAN FRANCISCO (121 mins., 2019, R) stars Jimmie Fails in the story of an African-American man who enlists the help of his friend (Jonathan Majors) to reclaim his grandfather's ancestral home in the heart of a very rapidly changing city. Talbot's movie – his feature debut – was a hit at Sundance and captures the essence of Frisco street life and the populace that's had to adjust to changing times. It's colorfully told and distinctive, graced by Emile Mosseri's striking score and two superb lead performances. Lionsgate's Blu-Ray of the A24 release includes Talbot's commentary, a featurette, an attractive 1080p (1.66) AVC encoded transfer, 5.1 DTS MA sound and a Digital HD copy…Now available on DVD is THE SPANISH PRINCESS (7 hours, 2019), a Starz mini-series focusing on Catherine of Aragon, who arrives in England to take control over the English throne until her husband, Prince Arthur, suddenly dies. All is not lost, however, once she sets her sights on Prince Harry, in this femme-centric tale of Tudor court intrigue that's well-acted and quite lively given most comparable genre exercises. Lionsgate presents the mini-series on two DVDs with a 16:9 (1.78) transfer and 5.1 Dolby Digital sound.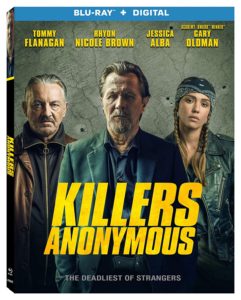 Gary Oldman and Jessica Alba provide the star names above the title on KILLERS ANONYMOUS (96 mins., 2019, R), yet they play second fiddle to Tommy Flanagan and Rhyon Nicole Brown (who?) in this claustrophobic story of a "support group for killers" trying to piece together which one of them just sent the country on high alert for an assassination attempt on a U.S. senator. Martin Owen's drawn-out drama doesn't get much mileage out of its premise and comes off as a particularly limp direct-to-demand outing. Lionsgate's Blu-Ray offers a series of extras (deleted scenes, alternate ending, director's commentary, trailers), a Digital HD copy, and a 1080p (2.35) AVC encoded transfer with 5.1 DTS MA sound……Also new this week, Season 3 of INTO THE BADLANDS (11 hours, 2018-19) continues the martial arts-dominated futuristic series. Here, Sonny has to contend with his son being infected by a mysterious illness — causing him to join forces with Bajie. They head back into the Badlands, where Baron Chau and The Widow continue their prolonged skirmish that's seized the entire land. This visually impressive AMC series is about to complete its run with an abbreviated fourth season, and hits home video in the interim this week. Lionsgate's third-season Blu-Ray includes 1080p (1.78) transfers and 5.1 Dolby TrueHD soundtracks plus a Digital copy.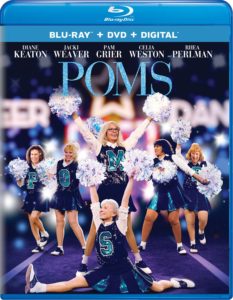 POMS Blu-Ray Combo Pack (91 mins., 2019, PG-13; Universal): It's a rough road these days at the movies when every non-franchise/sequel/retread seems to have a tough time at the box-office. It doesn't help, though, when those "mid-tier" studio efforts are comedies as mediocre as "Poms" – the "Geriatric Bring It On" starring Diane Keaton as a woman who moves to a Georgia retirement community, but quickly finds that her neighbor's (Jacki Weaver) desire to become a cheerleader proves to be an infectious quest. This STX release, admittedly, looked worse than it actually is – Keaton and Weaver are fun together and the supporting cast (Pam Grier, Celia Weston, Rhea Perlman) makes the 90-minute running time go by quickly, with lots of good intentions. The problem is that Shane Atkinson's script and Zara Hayes' direction do little but barely clear the bar. "Proms" isn't entirely unlikeable but it's also instantly forgettable, debuting this month on Blu-Ray and DVD from Universal (1.85, 5.1 DTS MA) featuring a Digital HD copy.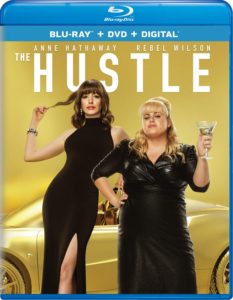 THE HUSTLE Blu-Ray Combo Pack (94 mins., 2019, PG-13; Universal): Limp, gender-switch remake of "Dirty Rotten Scoundrels" (and "Bedtime Story" before that) is fashioned as a vehicle for stars Anne Hathaway and Rebel Wilson, playing con artists with drastically different approaches who eventually team up to defraud a tech billionaire (Alex Sharp). JAC Schaeffer reworked Dale Launer's script from the 1988 Frank Oz-directed version but this is a slight and not very funny retread that has a difficult time getting into gear, ultimately failing to give either Hathaway or Wilson solid material to play with. Universal's Blu-Ray of the MGM release includes commentary from director Chris Addison, three behind-the-scenes featurettes, a 1080p (2.39) transfer, 7.1 DTS MA sound, a DVD and Digital HD copy.
MA Blu-Ray (100 mins., 2019, R; Universal): Another "micro-budget" hit for Blumhouse, "Ma" at least offers an entertaining star turn from Octavia Spencer, playing a woman in a small Ohio town who not only buys liquor for a teen and her friends – but even goes so far as to offer her basement for them to hang out in, provided they play by her "rules." This "Social Host" ultimately proves to be a nightmare, however, in a script by Scotty Landes that Tate Taylor effectively handles, mounting suspense, until all the wheels come off in a ridiculous final third. Spencer, though, is engaging in an atypical role, and powered this thriller to a $60 million domestic gross. Out on home video September 3rd, "Ma" comes to Blu-Ray (2.39, 5.1 DTS MA) featuring an alternate ending, deleted scenes, two featurettes and a Digital HD copy.
THE SUN IS ALSO A STAR DVD (100 mins., 2019, PG-13; Warner): Sincere yet ultimately mediocre adaptation of a popular "YA" novel by Nicola Yoon chronicles the star-crossed NYC romance between a college-bound American (Charles Melton) and a Jamaican girl (Yara Shahidi) who's also about to be deported. Ry Russo-Young helmed his Warner Bros./MGM co-production, which holds the dubious distinction of being one of the lowest-grossing "wide" (over 2000 screens) releases in cinema history. Warner's DVD is now available, featuring the "Love is a Universe" featurette, 16:9 (2.35) transfer and 5.1 Dolby Digital soundtrack.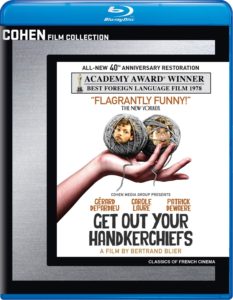 Cohen New Releases: The 1978 Oscar winner for Best Foreign film, GET OUT YOUR HANDKERCHIEFS (108 mins., 1978, R) likely couldn't be produced in today's climate. This free-wheeling look at the ever-fluctuating relationships between men and women also offers a 13-year-old boy who has a relationship with the wife (Carole Laure) of a befuddled spouse (Gerard Depardieu) – a taboo subject matter for the late '70s in American cinema, and pretty much everywhere given today's standards. Francophiles will be most appreciative of Cohen's remastered Blu-Ray of this arthouse hit, featuring a Georges Delerue score. The 1080p transfer and French audio are fine; extras include two trailers and an introduction from Richard Pena.
LEGO BATMAN – FAMILY MATTERS Blu-Ray/DVD/Digital (79 mins., 2019; Warner): When the vile Red Hood begins sending ominous notes off to our favorite Caped Crusader and friends, Batman and Robin – plus their associates, including Batgirl and Batwoman – head off to fight not just the mysterious bad guy but a rogue's gallery of Bat-villains (Penguin, Two-Face, The Riddler, etc.). Lego animated shenanigans perfect for kids in this feature-length effort, presented here on Blu-Ray (1.78, 5.1 DTS MA) from Warner. The combo pack includes a Digital HD copy, DVD, and a Lego "mini" ultimate Batmobile (84 pieces).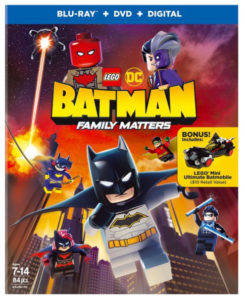 ANIARA Blu-Ray (106 mins., 2019, R; Magnolia): Swedish sci-fi finds a ship leaving Earth for Mars when it's thrown off-course after being damaged by debris. With its passengers facing certain death, it's up to a female crew member to give them a wish-fulfillment, computerized reenactment of their lives on Earth in this moody, downbeat effort. Magnolia's Blu-Ray (2.39, 5.1 DTS MA) includes a number of featurettes, galleries, the trailer, and 5.1 DTS MA sound.
PERCEPTION DVD (102 mins., 2018, Not Rated; Gravitas Ventures): Independent thriller charts the obsession that develops once a successful developer is given a way to reconnect with his deceased wife via a small-time physic. Illana Rein's film is new to DVD this month from Gravitas, featuring a 16:9 transfer and both 5.1/2.0 Dolby Digital sound.
NEXT TIME: Stallone in 4K with LOCK UP and RAMBO (2008)! Until then, don't forget to drop in on the official Aisle Seat Message Boards and direct any emails to our email address. Cheers everyone!