Shout! Factory's upcoming Autumn slate is their best yet, chock full of long-awaited Blu-Rays from the Paramount vaults ("Prophecy," "Body Parts," "The Fan") and one of the most exciting film restorations for genre buffs in years: the original theatrical color of the Frank Langella "Dracula" (1979), available for viewers to see in its widescreen dimensions for the very first time since its initial theatrical run. While some of us will be saving our pennies for Shout's forthcoming titles, the label has a number of new releases due this month including the Blu-Ray debut of VICE SQUAD (97 mins., 1982, R), a cable cult-favorite restored here in a 4K scan of original film elements.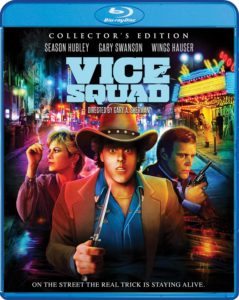 I had never seen "Vice Squad" before Shout's Blu-Ray, which makes it hard to fully gauge the movie's initial impact – these days this film plays like a grittier episode of "Law & Order: SVU," but back in the early '80s, the picture's frank depiction of Hollywood street walkers, pimps and assorted lowlifes had to have been far more shocking. Season Hubley stars as a hooker whose pimp (Wings Hauser) is a psychotic who brutally assaults one of his "girls" early on; determined cop Gary Swanson is on the case, trying to stop the physically imposing "Ramrod" from causing further damage, but as Hubley tells him in the movie's concluding moments, cleaning up the streets is a pointless endeavor.
Gary Sherman helmed this Sandy Howard production, which Howard co-wrote with Kenneth Peters and Robert Vincent O'Neil. The performances are all convincing and the mood is mostly humorless (save for two of Swanson's fellow cops being beaten up by an elderly Asian man), making "Vice Squad" a particularly glum, downbeat affair. This isn't an exploitation cheapie with unintentional humor (think "Savage Streets"), but rather the kind of hard-edged B-movie that relies on sexual frankness and violence for its overall impact.
Though I found the film somewhat off-putting and slow-going, fans of "Vice Squad" will still enjoy Shout! Factory's Blu-Ray. The 1080p (1.85) transfer captures all the nuances of John Alcott's cinematography with extras including a fresh commentary with Sherman and producer Brian Frankish; new interviews with Swanson, fellow actors Beverly Todd and Michael Ensign, plus Sherman and Frankish; an older DVD commentary with Sherman; trailers, TV spots, radio ads and a still gallery. The DTS MA mono sound is as effectively rendered as it can be.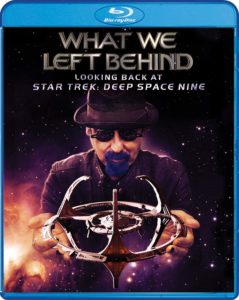 WHAT WE LEFT BEHIND Blu-Ray (116 mins., 2018; Shout! Factory): Celebrating its 25thanniversary this year is one of the most controversial of Star Trek series, "Deep Space Nine." A show that "never went anywhere," DS9 was viewed by some fans as one of the best of the Trek franchise, but by others as a cold fish that was hard to embrace. For the former group, "What We Left Behind" is a loving look back at DS9 from directors Ira Sreven Behr (showrunner for the series) and David Zappone – a feature-length look at a series that's been more widely accepted through the use of streaming and home video than it was upon its original run. Cast and crew interviews are included in Shout's Blu-Ray (1.78, 5.1 DTS MA), out August 6th with a number of extras: deleted scenes, featurettes, an introduction from the filmmakers, and more (note a 2-disc limited edition set is also available, direct from Shout's website).
PETER PAUL AND MARY: AT NEWPORT 1963-65 DVD and CD (Shout! Factory): Last year, PBS premiered this wonderful, hour-long look at Peter Paul & Mary and their celebrated performances at the Newport (RI) Folk Festival during the early/mid '60s. Shot in vivid B&W, these candid, unadulterated performances capture the essence of the era and the event – as well as the group at their best, performing hits "Blowin' In the Wind," "If I Had a Hammer," "Puff the Magic Dragon," and "The Times They Are A Changin'" – backed by wonderful shots of the Newport venue and surrounding area.
After airing on local PBS channels throughout the last year or so, Shout! brings the independent production to both DVD and CD this month. The DVD includes the original hour-long documentary, with 18 songs (there are appearances from Joan Baez among others), two bonus performances and interview with Yarrow at Newport circa 1963. For Peter Paul & Mary fans, the accompanying CD houses 19 tracks, enabling the group's musical artistry to be appreciated on its own.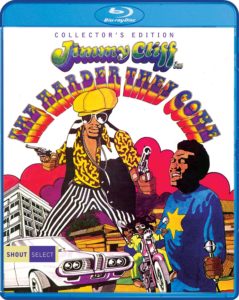 Shout! also has a much-awaited, music-oriented Blu-Ray Collector's Edition due out on August 20th – a spectacular, three-disc set of Jimmy Cliff's THE HARDER THEY COME (105 mins., 1972, R), the influential reggae film starring the genre legend as "Ivan Martin," an artist trying to make in Jamaica, and who eventually rises up the charts – at the same time he turns outlaw after being exploited by drug kingpins, corrupt preachers and even those who run the industry he wants to break into. The story line in director Perry Henzell's film plays second fiddle to Cliff's music (filled with his hits) and the overarching tone of the piece – this is a feisty little slice of independent cinema that has long attracted a cult following, and for good reason.
Shout's three-disc Blu-Ray set includes both 5.1 and mono DTS MA sound and a new 4K scan (1.66) from the original 16mm negative along with a fresh commentary from Cliff biographer David Katz. Previously-released extras include a number of featurettes, vintage interviews with Cliff and Henzell, plus an all-new restoration from the original negative of Henzell's next film – "No Place Like Home" – which was shot in Jamaica during the'70s but lost for decades. Recently discovered, the picture makes its debut here (1.85, DTS MA mono) plus offers its own spate of documentaries and an expanded edition of the feature "Perry Henzell: A Filmmaker's Journey."
CHARLIE SAYS Blu-Ray (110 mins., 2018, R; Shout! Factory): "American Psycho" auteur Mary Harron returns with another provocative film – this one focusing on the three women (played by Hannah Murray, Sosie Bacon and Marianne Rendon) who committed the Manson murders and their rehabilitation thanks to a graduate student (Merritt Wever). Ex-"Doctor Who" Matt Smith appears in flashback sequences as Charles Manson himself in this adaptation of Ed Sanders' book by Guinevere Turner. Shout's Blu-Ray includes cast/crew interviews, a 1080p (2.40) transfer and 5.1/2.0 DTS MA sound.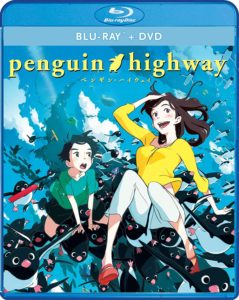 Also New From Shout! Factory: NBC's THE GOOD PLACE (6 hours, 2018) sends our human heroes back to Earth after successful arguing in front of a Judge (Maya Rudolph) gives them another chance to redeem themselves — in a new timeline where they never died to begin with. Kristen Bell, William Jackson Harper, Jameela Jamil, Manny Jacinto and, of course, Ted Danson all return for this third season of the popular, Emmy-nominated comedy from creator Michael Schur. Shout's DVD edition of "The Good Place"'s third season includes extended episodes, a gag reel, visual FX reel, 16:9 (1.78) transfers and 5.1 soundtracks….For younger viewers come a trio of new releases this August, led by the Japanese animated feature PENGUIN HIGHWAY (118 mins., 2018) — a delightful import worth watching for adults and kids (older ones especially), as it follows the unexpected arrival of penguins in a rural area hundreds of miles from the ocean. A 4th grader tries to uncover the mystery in an offbeat film, based on a popular book/magna series, from director Hiroyasu Ishida. Unlike some anime imports, this one is just eccentric enough to remain accessible for western audiences, offering humor and fun and a weird enough story to keep you guessing. Shout debuts the film in a BD/DVD combo pack sporting an interview with Ishida and author Tomihiko Morimi, a promo video, 1080p transfer (2.20) and both Japanese and English 5.1 DTS MA sound. Another anime series recommended by fans, RONJA: THE ROBBER'S DAUGHTER (aprx. 11 hours) hails from Studio Ghibli and director Goro Miyazaki — a rare long-form series adaptation for the studio, based on a novel by Astrid Lindgren, the creator of "Pippi Longstocking." This interesting, colorfully designed series features a similarly resourceful young heroine, who's born in the mountains to parents and a band of robbers and eventually learns about the surrounding forest's creatures as well as her family's rivals. Shout's multi-disc Blu-Ray set is out later month sporting 1080p (1.77) transfers and both English/Japanese DTS MA stereo audio; an interview with Miyazaki; a press conference; and Making Of featurette.
SESAME STREET: DANCE PARTY! (132 mins.) boats over two hours of fun from the long running series, with a focus on getting kids up and moving about. Irish dances, West African rhythms and more comprise "Dance Party!" with appearances from the likes of Nicole Kidman, Naomi Watts, Amy Ryan and others sprinkled about. The feature-length "Elmo's Music Magic" is included as an extra in Shout's DVD…THE JUNGLE BUNCH (97 mins., 2017) also drops on disc in early August from Shout. This is a French-produced animated feature (a spin-off from the series of the same name) that essentially puts a spin on "Kung Fu Panda," substituting a little yellow penguin for Po and placing him in charge of the jungle's justice warriors. An English 5.1 Dolby Digital soundtrack is included in Shout's DVD, which also sports a 16:9 (2.39) transfer.
---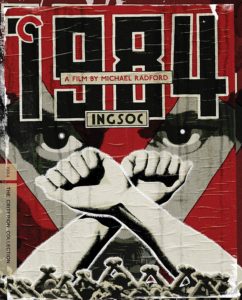 Criterion New Releases
NINETEEN EIGHTY-FOUR Blu-Ray (111 mins., 1984, R; Criterion): Michael Radford directed and adapted this vivid 1984 take on George Orwell's classic dystopian sci-fi novel, whose central messages seem to be more vital in our technologically-advanced age than ever. John Hurt plays Winston Smith, the low man on the totem pole who dares to take on Big Brother, with Suzanna Hamilton as a rebellious woman who briefly offers him an outlet and Richard Burton, in his final film, as O'Brien, a cog in the totalitarian regime.
Radford's film was strikingly shot by Roger Deakins using a process that drained color from the film in post-production. When the film was first released on DVD by MGM, however, Radford and Deakins' intentions weren't honored as the film took on a more saturated, natural tone. Deakins' original tinting was restored to Twilight Time's 2016 Blu-Ray, and now Criterion has gone one step further with a 4K digital restoration – supervised by Deakins himself – that offers an appreciably improved transfer over the older MGM master. The uncompressed PCM mono sound offerings, like the Twilight Time disc, include the original soundtrack featuring Dominic Muldowney's score, as well as a studio-imposed mix that melded Muldowney's music with tracks from the Eurythmics. Other extras include new interviews with Radford, Deakins, and Orwell historian David Ryan; behind-the-scenes footage; and the trailer.
More satisfying and powerful than Terry Gilliam's subsequent "Brazil," this "Nineteen Eighty-Four" has often been overlooked in comparison with the more bombastic, less thoughtful Orwellian riff from the former Monty Python member. Criterion's Blu-Ray restores Roger Deakins' original cinematography in a superior transfer than MGM's older master (seen on the Twilight Time release), making this a recommended package even if you owned the previous BD.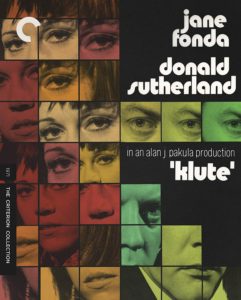 Also new this month from Criterion is the long-awaited Blu-Ray release of KLUTE (114 mins., 1971, R), the stylish and iconic '70s thriller from director Alan J. Pakula. Jane Fonda plays a prostitute wrapped up in an investigation involving a missing girl; Donald Sutherland is the title detective who becomes involved with her – and her frank sexuality – in a movie marked by striking Gordon Willis widescreen cinematography and memorable performances from both leads.
A new, restored 4K (2.39) transfer – supervised by camera operator Michael Chapman – and uncompressed mono sound grace Criterion's much anticipated Blu-Ray. There's also a new interview with Jane Fonda moderated by Illeana Douglas; a video program paying tribute to the film and Pakula featuring interviews with actor Charles Cioffi, archival Pakula interviews, and new comments from scholar Annette Insdorf and filmmaker Steven Soderbergh; a new interview with writer Amy Fine Collins about the visual design of the film; additional archival Pakula and Fonda interviews; and a vintage short about the production. Recommended!
---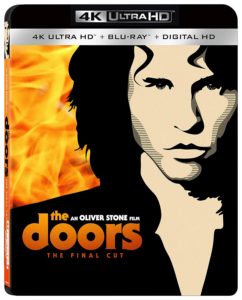 New & Noteworthy
THE DOORS 4K UHD Blu-Ray (***, 138/141 mins., 1991, R; Lionsgate): One of Oliver Stone's slickest and more entertaining films offers a compulsively watchable account of the rise and fall of Jim Morrison (one of Val Kilmer's finest performances) and The Doors. Stone's script, written with J. Randal Johnson, is fairly one-dimensional on the surface, offering little perspective on what made Morrison tick, and instead adheres to a rather basic point-by-point account of the band's turbulent history. It's glossy, stylish cinema that, when all is said and done, probably doesn't tell you much about The Doors than what you already knew, but the music still sounds great and Robert Richardson's cinematography comes across splendidly in Lionsgate's 4K UHD.
Offering both the 141-minute theatrical cut as well as Stone's 138-minute "Final Cut" (which excises a three-minute segment towards the end), this is a robust 4K UHD with Dolby Vision/HDR and Dolby Atmos sound. Lionsgate even produced two new interviews expressly for the UHD – separate conversations with Stone and sound editor Lon Bender, who discusses the new Atmos mix – while reprising the previous Anniversary release on the included Blu-Ray. BD-specific extras include Stone's commentary, a lengthy slate of deleted scenes, two trailers, and four featurettes: "The Doors in L.A.," "Jim Morrison: An American Poet in Paris," "The Road to Excess" production doc, and a vintage 1991 Making Of.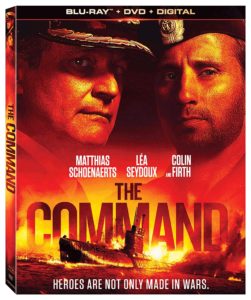 Also New From Lionsgate: New on Blu-Ray August 6th from Lionsgate is THE COMMAND (118 mins., 2018, PG-13), a dramatization of the sinking of the Kursk – a Russian nuclear sub that served as the Soviet flagship and sank to the bottom of the Barents Sea nearly 20 years ago, killing its entire crew. "Saving Private Ryan" writer Robert Rodat authored this taut and surprisingly good adaptation of Robert Moore's book "A Time to Die," with Thomas Vinterburg helming a fine cast (Mathias Schoenaerts, Lea Seydoux, Max von Sydow, even Colin Firth in a small role) and Alexandre Desplat supporting the film with an effective score. A single featurette graces this superior effort from Saban Films and Luc Bessin's troubled Europacorp, on BD from Lionsgate (2.40, 5.1 DTS MA) next week with a DVD and Digital HD copy…the Canadian production PROJECT ITHACA (85 mins., 2019, R) relays the claustrophobic story of a group of U.S. military types sent into an alien mothership to stop an extraterrestrial invasion. One of them is a half-human, half-alien hybrid whose motivations naturally become somewhat suspect in Nicholas Humphries' film, on Blu-Ray August 6th from Lionsgate featuring a 1080p (2.40) AVC encoded transfer, 5.1 DTS MA sound and a Digital HD copy…New on DVD from Lionsgate is Joanna Hogg's film THE SOUVENIR (120 mins., 2019), the story of a film student acclimating to her field while learning, the hard way, about the pitfalls of relationships with a charismatic but suspicious man (Tom Burke). Honor Swinton Byrne stars and gives a strong performance with her mother, Tilda Swinton, playing her (understandably protective) on-screen mother as well in this moody and interestingly told film (think fragments and memories as opposed to a conventional narrative). Due out August 6th, Lionsgate's DVD (1.66, 5.1) also contains a commentary with the director and a Making Of.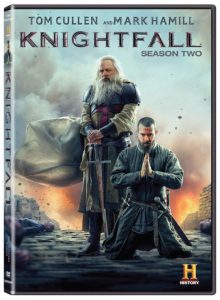 Season 2 of KNIGHTFALL (6 hours, 2019) is also new on DVD this month from Lionsgate. This History Channel dramatic series continues the chronicle of the Knights Templar and their battle against King Philip of France, climaxing with the fateful battle between Prince Louis and the Knights on Friday the 13th, 1307. Jeremy Renner is an executive producer of this gritty series whose second season co-stars Mark Hamill. On disc next week, "Knightfall"'s second season includes eight episodes (1.78, 5.1) on two discs…Finally, August 6th also brings a DVD release of History's JESUS: HIS LIFE (aprx. 7 hours, 2019), a fairly well-received and unique take on Jesus' life in that each episode is told through the perspective of the people surrounding him (Joseph, John the Baptist, Mary, Caiaphas, Judas Iscariot, Pontius Pilate, Mary Magdalene and Peter). The complete mini-series is collected on DVD in a Lionsgate release with a 16:9 (1.78) transfer and 2.0 stereo sound.
ALITA: BATTLE ANGEL 4K/3D/Blu-Ray Combo Pack (121 mins., 2019, PG-13; Fox/Disney): Years in the making but with little to show for it – beyond its ultimate fate as a footnote designating it as the final release of 20th Century Fox before the studio was sold off and consumed by Disney – "Alita: Battle Angel" is a big-budget adaptation of a Japanese graphic novel from writer/producer James Cameron (who toyed for years with directing the picture) and director Robert Rodriguez.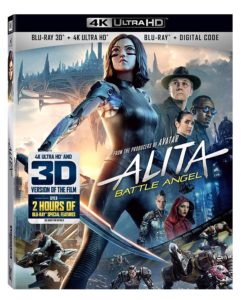 A performance-captured Rosa Salazar stars as the title hero – a female cyborg who can't remember her past but quickly finds herself being rehabilitated by a futuristic Geppetto of sorts (Christoph Waltz) and inserted into a dystopian future struggle between commoners and rich folks who live in a floating sky city above. There's plenty of visual razzle-dazzle in "Alita," but as many commented, this is a two-hour "origin movie" that plays like a set-up for a sequel – right down to the appearance of an A-list actor in its concluding moments (Edward Norton).
It might have been a better idea for Cameron and co-writer Laeta Kalogridis to focus on telling a compelling story right off the bat than plant "franchise seeds" for sequels we're likely never to see (didn't they learn anything from "The Mummy"?), but "Alita" didn't have the foresight to stay in its lane. The movie introduces us to a slate of characters played by the likes of Jennifer Connelly and Mahershala Ali, but does so in a perfunctory manner that plays second fiddle to the movie's technical elements. Perhaps Cameron himself would've been more effective in getting to the human components of "Alita" (then again, given "Avatar," perhaps not), but Rodriguez's direction doesn't bring anything fresh to the table – in spite of its popular source elements, "Alita" is a fairly rote viewing experience, competently made and watchable and also entirely forgettable.
A box-office underachiever last winter (and almost certain to be designated as a dud by Fox's new owner), "Alita" comes to home video in a combo pack sporting every conceivable presentation of the film. There's both Blu-Ray and 4K UHD options (the latter with Dolby Atmos and HDR/Dolby Vision), along with a 3D Blu-Ray. Though the latter format is clearly on the outs, it remains an important forum for Cameron, so viewers here have the rare option of seeing the film in whichever of the three forms they so choose. I checked out the UHD, which I found a little bit disappointing in terms of 4K pizzazz (much of the effects have a curiously flat appearance) though the sound is certainly immersive. There are also two hours of extras – interviews, Q&A sessions, behind-the-scenes materials – and a Digital HD copy.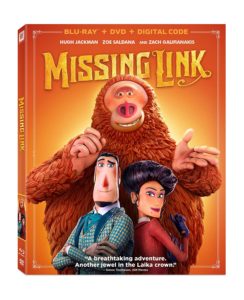 MISSING LINK Blu-Ray (94 mins., 2019, PG; Fox): The good folks at Laika Studios have struggled lately to find commercial success, most recently with the weak box-office performance of "Missing Link." This story of an intrepid adventurer's (voiced by Hugh Jackman) discovery of a creature that might become the world's greatest scientific breakthrough functions best as a family feature, with the oddly-drawn Link (voiced by Zach Galifanakis) lacking some of the more "charming" characteristics typically seen in animated heroes – yet if you can get past the sometimes obtuse design of the picture, Chris Butler's movie manages to be entertaining and appealing. Fox's Blu-Ray (2.39) includes Dolby Atmos audio, commentary from Butler, featurettes and a Digital HD copy.
UGLYDOLLS Blu-Ray/DVD Combo Pack (88 mins., 2019, PG; Universal): Amiable if totally by-the-numbers animated movie is set in a fantasy world where off-kilter "misfit" dolls are celebrated en route to being placed with appreciative kids – at least until they discover a world named "Perfection," where dolls are viewed through a strict set of standards. The expected morals of being true to one's self appear in this STX/Alibaba production, produced and co-written by Robert Rodriguez and peppered with voices mostly brought over from NBC/Universal entertainment properties (Kelly Clarkson and Blake Shelton from "The Voice" most notably). As it is, older kids and adults aren't likely to remember much of anything about "Uglydolls," but it's an OK feature for younger children, thanks mostly to its energy and upbeat soundtrack. Universal's Blu-Ray is out July 30th featuring a 1080p (1.85) transfer, 7.1 DTS MA sound, singalong options, featurettes, trailers, a DVD and Digital HD copy.
THE OUTSIDER Blu-Ray (86 mins., 2019, Not Rated; Cinedigm): Director Timothy Woodward Jr., a vet of action/western B-fare, returns with this tale of revenge in a blossoming western town. Country music star Trace Adkins plays a marshal trying to hold down the fort – and its corrupt underbelly – after a railroad worker (John Foo) endures a tragedy that drives him on a quest for vengeance. Sean Patrick Flanery and Danny Trejo co-star in Woodward's latest effort, on Blu-Ray August 6th from Cinedigm featuring a 1080p transfer, 5.1 DTS MA sound, and two behind-the-scenes featurettes.
THE FATE OF LEE KHAN Blu-Ray (106 mins, 1973; Film Movement): King Hu's 1973 follow-up to "A Touch of Zen" offers an all-female cast – including Li Lihua and Angela "Lady Kung Fu" Mao – in an energetic and entertaining widescreen period adventure. When a Yuan Dynasty general gets his hands on a Chinese rebel army battle map, an undercover girl-gang corners him at the Spring Inn. Punchy fight scenes from Sammo Hung makes this well-regarded "wuxia" effort highly recommended for martial arts aficionados, as Film Movement's Blu-Ray offers a 2K (2.35) restoration with 5.1 and 2.0 audio (Mandarin with English subs), a NFAFF discussion and essay from Stephen Teo.
DJANGO THE BASTARD Blu-Ray (99 mins., 1969, PG; Synapse): One of the many follow-ups to spaghetti western favorite "Django" was this well-received 1969 sequel starring Anthony Steffen as the ghostly title anti-hero, who steps into yet another small town, looking for vengeance. More of a supernatural bent is played up in Sergio Garrone's film, which sports the same no-nonsense story as its predecessor and a good array of atmosphere minus some of the violence that came to be associated with later Italian genre exercises. Synapse's fully restored Blu-Ray includes a new 2K san (2.40) from an original, pristine 35mm negative element; commentary from Troy Howarth; and newly translated subtitles. The 2.0 DTS MA English audio is the disc's sole language option.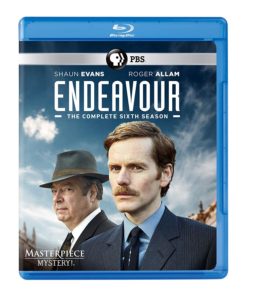 PBS New Releases
CHASING THE MOON Blu-Ray (aprx. 7 hours, 2019; PBS): It takes just a few minutes to figure out where director Robert Stone is going with his three-part, six-hour documentary "Chasing the Moon" – instead of opening with an inspiring account of America's early forays into the "space race" and the assorted trials and tribulations about the first astronauts, Stone instead shows us a group of African-American protesters discussing hunger, racism and poverty prior to the launch of Apollo 11.
A similar line runs through much of this lengthy but sadly disappointing account of NASA – and mankind's – first explorations into space and the eventual moon landing. Stone assembles many interviewees (Buzz Aldrin, Frank Borman, Bill Anders, Sergei Khruschev, Poppy Northcutt, Ed Dwight, etc.) and loads of archival footage (that would've been compelling by itself) for this American Experience documentary, but the heavy "historical context" (Nixon, Vietnam etc.) looms large in an effort that feels less triumphant than it does melancholy and even occasionally obnoxious, bogged down by a leaden, omni-present soundtrack.
PBS' Blu-Ray of the just-broadcast "Chasing the Moon" includes nearly a half hour of bonus features, including an interview with Stone and a behind-the-scenes look at the production, along with 1080p transfers and 5.1 surround across three discs.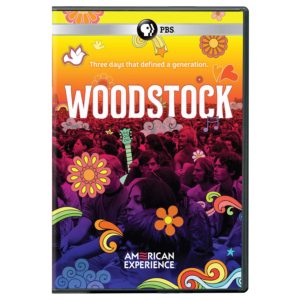 Also New from PBS: The 50th Anniversary of WOODSTOCK (95 mins., 2019) is celebrated in this feature-length American Experience portrait of the concert that defined the counter-culture movement. All three historic days of the event, held on an upstate New York dairy farm, are recounted from a historical perspective, with an emphasis on the event's impact as well as the near-disaster that occurred towards its conclusion. PBS' DVD of this recently-aired documentary is now available featuring a 16:9 transfer and 5.1 Dolby Digital sound…The terrific American Masters documentary ROBERT SHAW: MAN OF MANY VOICES (70 mins., 2019) profiles the life and times of the great choral conductor, from his upbringing in rural California through his pop-star status during the Great Depression, work with conductors like Arturo Toscanini, and championing of civil rights and international unity. Yo-Yo Ma, Sylvia McNair and Alice Parker appear among others to pay tribute to Shaw, with ample special features (interview outtakes, archival Shaw conversations from 1988 and 1994) adorning PBS' DVD.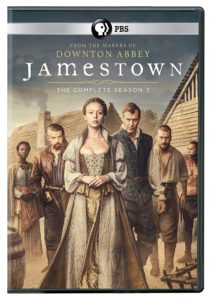 PBS Series Releases: Coming July 30th from PBS is the fourth season of popular Masterpiece Mystery series GRANTCHESTER (305 mins., 2019). In Season 4, Amanda's departure has left Sidney Chambers (James Norton) feeling lost until the arrival of an American civil rights activist (Rachael New) shakes things up – as does a new Vicar (Tom Brittany) who wants to make the town's parish his own. Fans of the series, based on James Runcie's novels, should delight in PBS' DVD (1.85, 5.1 Dolby Digital) package of its fourth season, presented here with a "Making Of" featurette…Now available on Blu-Ray is Season 6 of ENDEAVOUR (6 hours, 2018), the popular mystery series. Set now in 1969, the team is reunited after several murders – including the death of a young school girl – draw the interest of Endeavour (Shaun Evans), Thursday (Roger Allam) and the crew. With the death of George Fancy being a primary component, "Endeavour"'s sixth season debuts on BD and DVD featuring over 35 minutes of bonus video (interviews and featurettes), 1080p transfers and 5.1 sound across two discs…Finally, new on August 6th is the complete Third Season of JAMESTOWN (345 mins., 2018), the Sky UK series set in the 17th century English settlement on the cusp of the Virginia wilderness, where colonists, Native Americans and government officials are intertwined to varying degrees of integration. PBS' DVD includes two discs of uncut episodes (carrying a disclaimer that the series "may not be appropriate for younger viewers") in 16:9 widescreen with stereo soundtracks.
---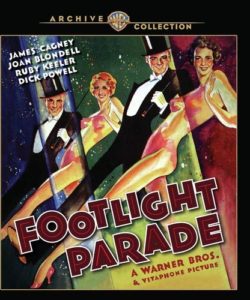 Warner Archive New Releases
One of the seminal musicals of the 1930s, FOOTLIGHT PARADE (103 mins., 1933) laid the groundwork for countless genre exercises to follow. Ruby Keeler stars as a stenographer who becomes a star with Dick Powell as a tenor and Jimmy Cagney the dancing producer who, along with Joan Blondell, puts on live stage shows for Depression-era "talkie" audiences. Busby Berkeley's lavish production numbers (Honeymoon Hotel, By a Waterfall, Shanghai Lil) dominate the New York City-set excitement of "Footlight Parade" – a robust variety affair with punchy dialogue and music that other films emulated for years (decades!) afterwards.
Warner Archive's wonderfully crisp Blu-Ray includes the retrospective featurette "Footlight Parade: Music For the Decades," two vintage featurettes (Rambling Round Radio Row #8 and Vaudeville Reel #1), four vintage cartoons, the trailer, a 1080p (1.33) transfer and DTS MA mono sound.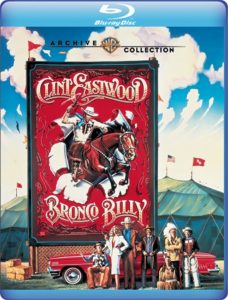 More vintage fare from the 1930s and 40s is on-tap in the Archive's first compilation of PETE SMITH SPECIALTIES – this "Best Of" first volume is a four-disc DVD set featuring over 700 minutes of Smith's wide-ranging shorts for MGM. Smith was appointed as the studio's publicity head in the '20s before showing talent in assembling short subjects – he eventually received his own specific series of shorts in the '30s, which were mostly comedic in nature and offered Smith himself providing commentary. This new Archive DVD box collects 75 of these shorts (produced from the 30s through the 50s when the short-subject was basically phased out) including the Oscar-winning 1937 short "Penny Wisdom," featuring the L.A. Examiner's advice columnist Prudence Perry.
Finally, it's hard to believe there was ever an ebb in Clint Eastwood's appeal, yet the early '80s were a strange time for the star – huge hits like "Every Which Way But Loose" and "Any Which Way You Can" rank as Eastwood's top-two box-office performers when adjusted for inflation. Yet sandwiched inbetween Clint's "monkey comedies" were commercial letdowns like "Honkytonk Man" and BRONCO BILLY (116 mins., 1980, PG). This is nevertheless a pleasant picture about a former New Jersey shoe salesman (you-know-who) who buys up a traveling Wild West show and tries to make it work along with its veteran run of performers. Sondra Locke stars in a film Eastwood directed and considers one of his personal favorites. In spite of its underwhelming commercial receipts, you might agree, especially if you take in Warner Archive's Blu-Ray which includes a lovely, recent-looking 1080p (1.78) transfer with 2.0 DTS MA stereo sound. Recommended!
---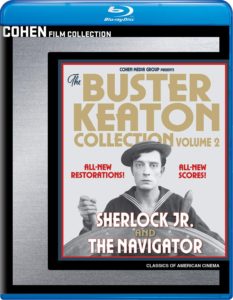 Quick Takes
Cohen New Releases: Cohen recently released a superb restoration of Buster Keaton favorites on Blu-Ray that's now been followed by a second volume, THE BUSTER KEATON COLLECTION VOLUME 2, featuring two of Keaton's all-time classics: "Sherlock Jr." and "The Navigator." Again sporting all-new digital restorations from Cohen, Cineteca Di Bologna and Ritrovata, the Blu-Ray houses all-new scores as well – "Sherlock Jr." from Timothy Brock and the Orchestra Del Teatro Comunale Di Bologna, and "The Navigator" from veteran silent film composer Robert Israel. Two featurettes on Keaton's legacy comprise the single-platter release with 5.1 and 2.0 DTS MA mono sound…Also new from Cohen this month is ASH IS PUREST WHITE (136 mins., 2018), a contemporary Hong Kong story of a woman (Zhao Tao) who's sent to prison for defending her mobster lover (Liao Fan) during a fight between warring gangs. Jia Zhangke's film is now on Blu-Ray from Cohen featuring 5.1 and 2.0 audio (Mandarin with English subtitles), a 1080p transfer and a "Director's Dialogue" with Zhangke recorded at NYFF56.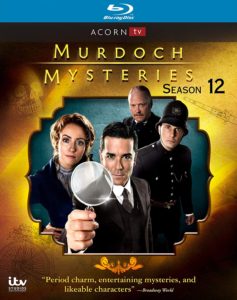 Acorn New Releases: Yannick Bisson returns as William Murdoch, Toronto's top detective in the 12thseason of the ever-popular period series MURDOCH MYSTERIES (791 mins.). In this latest season, Murdoch and his wife, the lovely Dr. Julia Ogden (Helene Joy), are no sooner newly moved into their modern home when they uncover a series of mysteries. Meanwhile, Constable Crabtree (Jonny Harris) helps Higgins (Lachlan Murdoch) prepare for his wedding while a myriad of cases takes the group on an investigation of a French diplomat's killing, an apparent invisible man – and a possible alien invasion! Acorn brings the fun, humor and appealing characters of this CBC series to Blu-Ray this week, with the four-disc BD set sporting all 18 episodes with 1080p transfers, 5.1 DTS MA lossless sound, a 65-minute "After Show" and 10 minutes of shorter featurettes…Another new and recommended new series from Acorn is VIDAGO PALACE (313 mins., 2017), an import from Portugal, set in 1936 where the Spanish Civil War sends a mix of characters over the border to the hotel's safety and opulence. The relationship between an aristocrat and the son of the hotel's concierge drives the romantic component of this acclaimed series, brought to DVD this month from Acorn in a two-disc set featuring a 16:9 transfer and Portuguese audio with English subtitles.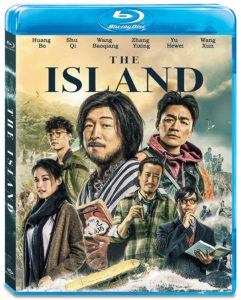 Well Go USA New Releases: Director Huang Bo's THE ISLAND (134 mins., 2018) is a Hong Kong comedic drama about an officer worker who harbors a crush on one of his colleagues – and holds a winning lottery ticket in his pocket…when a meteorite that's bound to hit the earth comes calling. When he's stranded alongside a motley assortment of coworkers on an island, Bo throws in some political allegories that turn this otherwise fun (if lengthy) exercise a bit serious before a rousing ending gets "The Island" back on-track. Well Go's Blu-Ray debuts the film for North American audiences this week, the disc sporting a 1080p transfer and 5.1 DTS MA Mandarin audio with English subtitles…Another mix of genres awaits viewers in THE SWINDLERS (118 mins., 2018), a Korean film featuring numerous stars from its native land (Yoo Ji-tae, Hyun Bin among them) in the story of disparate criminals who come together to ensnare a con man. Well Go's Blu-Ray is available this week featuring a 1080p transfer and 5.1 DTS MA Korean audio and optional English subtitles…Finally, coming August 13th from Well Go is SHADOW (116 mins., 2018), director Zhang Yimou's strikingly designed period adventure about a military commander who holds the power of a "shadow" doppelganger that he uses to fool both his enemies and a young, impetus King. The "wuxia" premise is familiar but the way the film is shot, utilizing a drab and near-monochromatic visual scheme with intense bursts of colorful blood, is at least striking — also nicely conveyed by Well Go in their Blu-Ray/DVD combo pack. The BD even offers Dolby Atmos sound, two featurettes and a trailer.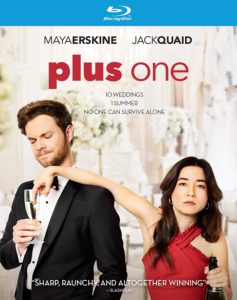 PLUS ONE Blu-Ray (99 mins., 2019; RLJ Entertainment): Maya Erskine and Jack Quaid play friends who find themselves single in their late 20s and attending a series of weddings for their friends – 10 of them, in fact, all set during the same summer. Erskine and Quaid develop a nice chemistry together but Jeff Chan and Andrew Rhymer's independent comedy is a little too tart and silly at times, coming to an expected resolution that seems to miss the obvious message. Maybe worth it just for Erskine's energetic turn, "Plus One" is now on Blu-Ray from RLJE featuring a 1080p (2.35) transfer, 5.1 DTS MA sound, deleted and extended scenes.
CMA AWARDS LIVE DVD (10 Disc Box Set, Time-Life): Deluxe, 10-disc Time-Life DVD set offers an amazing array of 127 performances from some 47 years of the Country Music Awards. Trace Adkins, Alabama, Jason Aldean, Barbara Mandel, Crystal Gale, Chet Akins, Roy Clark, Johnny Cash, Reba McEntire, The Judds, and others led a who's-who of performances and clips from decades of the CMA Awards. Time Life's box houses six discs in one case, and four discs in a second, with a booklet also on-tap.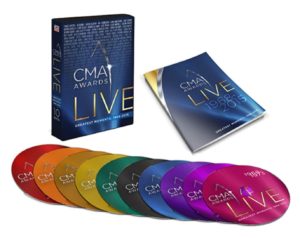 Magnolia New Reviews: HAIL SATAN? DVD (94 mins., 2019; Magnolia): Penny Lane's documentary follows members of the Satanic Temple who attempt to use religious liberty rhetoric as a basis for social and political justice. Food for thought with ample humor interspersed in "Hail Satan?," which bows this month on DVD from Magnolia (1.78, 5.1). The disc also features additional scenes/interviews and the theatrical trailer…Also new this month from Magnolia is BODY AT BRIGHTON ROCK (87 mins., 2019, R),Roxanne Benjamin's film starring Karina Fontes as a part-time state park employee who gets more than she bargained for when she signs up for a tough trail assignment and ends up stumbling upon a crime scene – as well as runs into a hungry bear. While it sounds exciting, this low-budget effort is weak in its delivery, and throws in a final twist that's telegraphed from miles away. Magnolia's Blu-Ray (1.85, 5.1 DTS MA) is available this week featuring commentary, featurettes, a photo gallery and trailers.
NEXT TIME: Twilight Time's newest releases! Until then, don't forget to drop in on the official Aisle Seat Message Boards and direct any emails to our email address. Cheers everyone!