Message Board (open 24 hours!)
Twitter - @andredursin (for everything else!)
Though not strictly classified as a horror movie, Universal's 1940 production of THE HOUSE OF THE SEVEN GABLES (89 mins.) fits comfortably alongside some of its strongest monster rallies. In fact, this Nathaniel Hawthorne adaptation falls somewhere between an A-grade studio project and a superior B-effort, sporting George Sanders as the conniving member of a colonial New England family who dreams of lost treasure laying about their ancestral home. Vincent Price, meanwhile, contributes one of his most sympathetic turns as Sanders' brother, framed for their father's death and sent to waste away in prison, leaving his beloved fiancée (Margaret Lindsay) behind.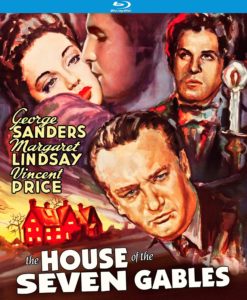 As you might expect, the Lester Cole-Harold Greene script is freely adapted from Hawthorne but functions well as a strong dramatic piece with appropriately gothic flair. Sanders serves up plum villainy with Lindsay a particular standout as Hepzibah, initially a young woman with unwavering devotion to her fiancée, who's hardened by years of heartbreak. Price, displaying a kinder and gentler side, shows flashes of "leading man" material that he would soon forgo for a career in screen villainy and director Joe May allows them all some delicious dialogue plus a few overheated moments, especially through its first two acts.
Tom Weaver's essential "Universal Horrors" book notes that "Seven Gables" doesn't offer much of a climax, but the picture is still very entertaining, well-performed, and an essential addition for any fan of the studio's output from that era. Kino Lorber's Blu-Ray is sourced from a superior Universal catalog master (1.37 B&W, DTS MA mono sound) with fine detail and a print generally in excellent shape. Troy Howarth's commentary, which he seems to be reciting, hits upon a lot of salient points but is presented in such a frantic manner that it's a bit hard to digest.
Another Universal-licensed catalog title, THE LAND UNKNOWN (78 mins., 1957), may be worth a view for '50s Monster fans, though this B-movie is a step down from the studio's better genre efforts – even of its time. Future Tarzan Jock Mahoney leads a Naval expedition to the Antarctic where a plume of warm water houses a tropical kingdom isolated from the rest of the world – that includes dinosaurs, even if they're just (mostly) regular-sized lizards dressed up for the anamorphic proportions of this studio programmer.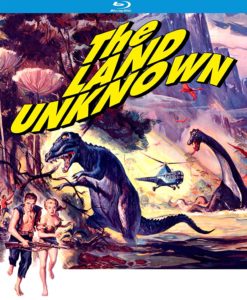 Under 80 minutes, "The Land Unknown" reportedly blew most of its budget on a mechanical dinosaur, resulting in a fairly threadbare production on the Cinemascope canvas. That said, the movie is fun, briskly paced and reasonably entertaining if one's expectations are dialed down, with Kino Lorber's Blu-Ray sourced from an acceptable 1080p (2.35) Universal catalog master. The presentation is solid if not quite as robust as "Seven Gables," with an animated image gallery and commentary from Tom Weaver and David Schecter on-tap. The DTS MA mono sound is fine, sporting a mostly unremarkable score from an uncredited Henry Mancini among others (Herman Stein, Hans J. Salter, and Heinz Roemheld).
Back during the heyday of Touchstone Pictures – that era when Disney produced movies for adults – the studio scored a coup when it reunited with "Dead Poets Society" helmer Peter Weir and French superstar Gerard Depardieu, making his first American movie, on GREEN CARD (107 mins., 1990, PG-13). The film received positive reviews and even earned Weir an Oscar nomination for Best Original Screenplay – kudos that, in hindsight, seem pretty much undeserved.
"Green Card" is a strangely claustrophobic romantic-comedy that, if you didn't know better, feels like it was adapted from a stage play. Though shot on-location in New York, the movie is mostly confined to interior sets and is strictly focused on both Depardieu and his co-star, Andie MacDowell, with minimal supporting characters of any consequence. And yet, Weir's script – following the blossoming relationship between a horticulturist who wants a prime greenhouse apartment in the city, and a Frenchman who needs a green card to stay in the states – offers scant enrichment of either character. The movie makes an odd choice to jump right into its central scenario without spending the time to establish either lead, and then offers little development of the duo as they find themselves having to stay together while, eventually, falling in love in the process.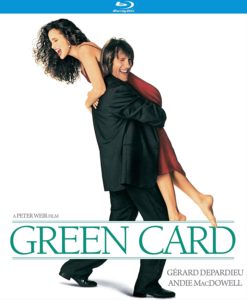 Part of the problem is that Depardieu and MacDowell fail to generate much chemistry together. Making his U.S. debut, Depardieu tries hard but needed a more outgoing female lead to play opposite (he seemed much more comfortable in his second Touchstone vehicle, "My Father The Hero"). MacDowell, who fared better opposite Bill Murray in "Groundhog Day," is fine here on her own merits, but the contrast between them isn't strong enough to overcome the thinly-drawn story. The movie feels frigid and distant, and the confined interior settings amplify that there's just something missing from the film, particularly from an emotional angle.
Still, whether it was the presence of Depardieu or Weir's stature, most critics of the day applauded "Green Card," which generated decent box-office in the winter of 1991. Kino Lorber brings the film to BD this month and it's unquestionably one of the best of their Disney-licensed titles in terms of its overall transfer – with nice detail, a lack of noise and natural colors, the 1080p (1.85) AVC encode bears all the hallmarks of a recent master. The 2.0 DTS MA stereo audio is a bit center heavy but pops into stereo whenever Hans Zimmer's sparse score appears.
For extras, a new 10-minute interview with MacDowell is included. The actress praises working with Weir and Depardieu, while lamenting that the film was one of the first to be "guided" by test screenings, resulting in the studio wanting a tidier ending. Weir fought against it and won the battle, at least as far as this film was concerned.
THE PINK PANTHER CARTOON COLLECTION Volume 5 Blu-Ray (153 mins, 1976-78; Kino Lorber): Volume 5 of Kino's superb retrospective of the classic DePatie-Freleng animated Pink Panther shorts showcases the series at a crossroads. These mid to late '70s shorts offer the final dozen or so Panther cartoons that were released in theaters in the U.S. before the series shifted to television, where it became Saturday morning fare for years to come.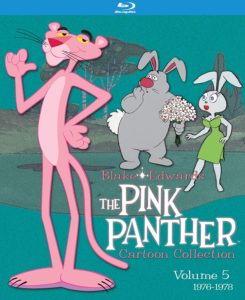 As a result, this newly-released Blu-Ray offers the end of the Panther's theatrical run and the start of his TV tenure, though these shorts were still produced in the same format and played theatrically overseas (many of them showed up in the U.S. as well, though usually after their initial broadcasts). Included here are Mystic Pink, The Pink of Arabee, The Pink Pro, The Pink Piper, Pinky Doodle, Sherlock Pink, Rocky Pink Therapeutic Pink, Pink Pictures, The Pink Arcade, Pink Lemonade, Pink Trumpet, Dietetic Pink, Sprinkle Me Pink, Pink UFO, Pink Lightning, Cat and the Pinkstalk, Pink Daddy, Pink SWAT, Pink and Shovel, Yankee Doodle Pink, Pet Pink Pebbles and The Pink of Bagdad.
Each short is presented in its original 1.33 format with mono DTS MA sound, via MGM transfers similar to Kino's previous Blu-Rays (good detail, some anomalies popping up in the source material). Extras include commentaries on numerous shorts by animation experts like Jerry Beck, Mark Arnold and Greg Ford, plus a segment with animator Art Leonardi and the animated title sequences from all eight of the Blake Edwards Panther films (no Steve Martin or Alan Arkin here!).
---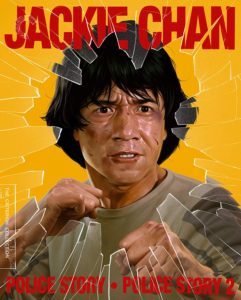 Also New & Noteworthy
POLICE STORY (100 mins., 1985)/POLICE STORY 2 (122 mins., 1988) Blu-Ray (Criterion): Marvelous new Criterion edition remasters two of Jackie Chan's best – the initial entries in his long-running "Police Story" series – in spectacular new HD transfers.
In the original 1985 "Police Story," Chan – who also directed both installments – plays Ka-kui, a Hong Kong cop sent undercover to take down a crime lord who, even after being apprehended, causes even more trouble in the bigger (though not necessarily better) 1988 follow-up for both the resourceful HK cop and his girlfriend (Maggie Cheung).
Of course, it's the manic Chan stunts – performed without the benefit of CGI enhancement – that give both "Police Story" entries their zest and enduring vitality, both as standalone entertainments and two of the finest features from the golden '80s heyday of Hong Kong cinema. Chan's widescreen antics are just as appealing, if not more so, today considering the endless, interchangeable effects sequences we see in contemporary fare – here are some actual stunts performed by real people, most of all Chan, whose acrobatic performances make revisiting both of these pictures a particular delight.
Criterion's Blu-Ray edition includes brilliant 4K transfers (2.35) of both films, and what a difference these digital restorations make compared to prior home video releases we've seen of these — and, unfortunately, too many of Chan's other pictures — in the past. A longer version of "Police Story 2," derived from a 2K transfer of a subtitled 35mm HK release print, also debuts in this set, while audio options include the original Cantonese mono audio (with English subtitles), a somewhat reworked 5.1 DTS MA Cantonese remix, or an English mono dubbed track. Extras include a new interview with filmmaker – and Chan fan – Edgar Wright, as well as a podcast interview between Wright and Chan; Grady Hendrix on Chan's screen persona and directorial/stunt techniques; an archival 1989 TV interview with Chan and Cheung; other archival interviews with Chan and stuntman Benny Lai, excerpts from a 1999 Chan-directed biography, a Chan stunt reel and numerous other goodies. Highly recommended!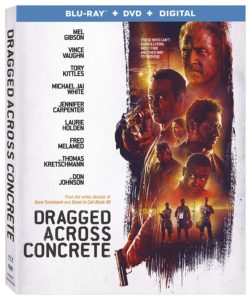 DRAGGED ACROSS CONCRETE Blu-Ray (158 mins., 2018, R; Lionsgate): Low-budget auteur S. Craig Zahler reteams with Vince Vaughn and adds Mel Gibson into the mix for this punishingly violent – and overlong – crime thriller. Gibson and Vaughn play veteran cops gone wrong while Tory Kittles co-stars as a comparatively more admirable felon who hooks up with their racist, greedy tendencies in a movie that, like Zahler's previous works, is a real slow burn. The question facing anyone endeavoring to see "Dragged Across Concrete" is whether or not you want to devote 2½ hours of your life to seedy and repellent characters – and writing that feels so forced at times (particularly in regards to comments about minorities) that contrived is an understatement. The performances are strong and there are sections where Zahler seems like a major talent – but then, just like his earlier outings, self-indulgence eventually puts the kibosh on such notions. Lionsgate's Blu-Ray of "Dragged Across Concrete" hits on April 23rd sporting a 1080p (2.39) transfer, 5.1 DTS MA sound, a Digital HD copy, and several featurettes.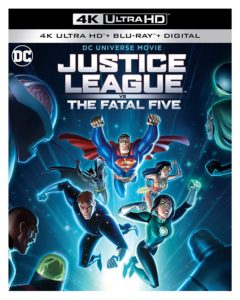 THE KID WHO WOULD BE KING 4K Ultra HD Combo Pack (120 mins., 2019; PG; Fox): Likeable kids flick from writer-director Joe Cornish overstays its welcome by at least 15-20 minutes, but still functions as an alright timekiller for children. Cornish's original story about an everyday British boy who uncovers Excalibur and trains under a modern day Merlin (Patrick Stewart) in order to defeat sorceress Morgana (Rebecca Ferguson) provides an appealing enough storyline with laughs and action to spare – it's just unnecessarily padded, with a message that's delivered with a sledgehammer, much less a sword, in its final half-hour. Fox's 4K Ultra HD combo pack includes an HDR presentation with 7.1 DTS MA audio, deleted scenes, numerous featurettes, the Blu-Ray and a Digital HD copy.
JUSTICE LEAGUE VS. THE FATAL FIVE Ultra HD Combo Pack (77 mins., 2019, PG-13; Warner): Fairly forgettable DC Universe animated movie finds Superman, Batman and Wonder Woman joining up with Jessica Cruz (the next Green Lantern) and newcomer Starboy as they take on the Fatal Five – bad guys including Mano, Persuader, and Tharok, who utilize an unwitting Cruz to bring Emerald Express and Valdius back to join in their villainy. PG-13 rated but loosely based on Bruce Timm's prior Justice League animated adventures, with familiar voices including Kevin Conroy (Batman), Susan Eisenberg (Wonder Woman) and George Newbern (Supes) on-hand. Warner's attractive 4K UHD package is now available featuring DTS MA 5.1 audio, commentary with Timm and other crew members, featurettes, two bonus DC vault cartoons, a Digital HD copy, Blu-Ray, and preview of the next DC animated feature, the anticipated "Batman: Hush."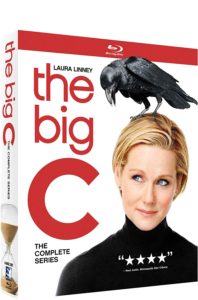 Mill Creek New Releases
THE BIG C – The Complete Series Blu-Ray (20 hours, 2010-13; Mill Creek): Laura Linney gives a winning performance as Cathy Jamison, a teacher in her early 40s who finds out that she has melanoma; her decision to deal with it in an upbeat frame of mind drove this Showtime series from creator Darlene Hunt, co-starring Oliver Platt as Linney's husband and, in Season 1, Idris Elba as a man whom Linney has an affair with and Gabourey Sibide ("Precious…") as a mouthy student in Linney's class. Things become somewhat more uneven in Season 2 – where Cathy undergoes an experimental treatment, strikes up a relationship with fellow patient Hugh Dancy and questions her oddball new doc (Alan Alda) – and its concluding seasons, though Linney remains steadfast in her performance throughout. Mill Creek's Blu-Ray is available this week featuring, for the first time, the series in HD (1.78, 5.1 DTS MA soundtracks).
THE TAKE (1974, PG)/BLACK GUNN (96 mins., R, 1972; Mill Creek): A "Soul Cinema" double feature from the Columbia Pictures vaults from Mill Creek also hits stores this week. "The Take" stars Billy Dee Williams as a New Mexico cop looking for a payoff in a corrupt department that finds other cops (Albert Salmi), corrupt business men (Vic Morrow) and hoods (Frankie Avalon) all vying for a piece of the pie. Jim Brown top-lines "Black Gunn," where the ex-football superstar plays a night club owner who goes after the mob goons who murdered his brother. Both films feature 1.85 AVC encoded transfers and DTS MA mono sound on a single disc.
---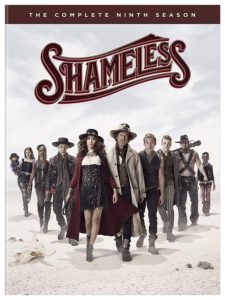 On DVD
THE HEART GUY Series 3 DVD (473 mins., 2018; Acorn/RLJ): Season 3 of the hit Australian comic-drama stars Rodger Corser as a brilliant and arrogant surgeon who gives up his Sydney job to head back to his rural hometown. In Whyhope, he learns he's inherited his family's farm and a lot of debt while still trying to navigate his relationship with local hospital boss Penny (the lovely Hayley McElhinney). RLJ's DVD of "The Heart Guy"'s third season is now available featuring 16:9 transfers and stereo soundtracks across three discs…Also new from Acorn this month is A PLACE TO CALL HOME: SEASON 6 (519 mins., 2018),the final installment of the award-winning Australian series that mixes period interest with soap opera elements with a distinctively Aussie style. Social components are also addressed in this late '50s set Seven network series, here concluding its DVD run from RLJ featuring its last 10 episodes with 16:9 transfers and 5.1 soundtracks.
SHAMELESS: The Complete Ninth Season (780 mins., 2018-19; Warner): William H. Macy and the departing Emmy Rossum star in the ninth season of Showtime's "Shameless." Here, politics pushes the Gallaghers into all kinds of activities on the South Side of Chicago, including Frank promoting a candidate with sketchy morals; Fiona investing in commercial real estate; and Debbie advocating extreme measures in pushing for equal pay. Warner's DVD, available April 23rd, includes 16:9 (1.78) transfers and 5.1 Dolby Digital sound along with unaired scenes for supplements.
CHARLEY PRIDE: I'M JUST ME DVD (80 mins., 2019; PBS): American Masters tribute to the pioneering black country singer from director Barbara Hall offers a chronicle of both Pride and the music genre itself. From his upbringing in the segregated Mississippi Delta to his induction in the Country Music Hall of Fame, Pride's triumphs over numerous adversities make for a compelling PBS documentary, here presented in an extended Director's Cut (the broadcast versions ran in an hour-long slot). Additional extras in PBS' DVD include CMA Award footage and additional unused segments, a 16:9 transfer and 5.1 sound. Recommended.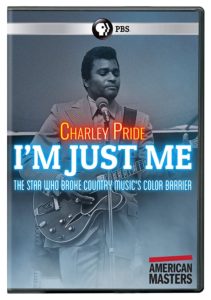 FARINELLI Blu-Ray (111 mins. 1994, R; Film Movement): The life and times of "castradi" opera singer Farinelli is chronicled in this French/Italian film from director Gerard Corbiau and producer Vera Belmont. Stefano Dionisi plays the singer with Enrico Lo Verso as his composer brother, who tour Europe in a film that apparently takes some major liberties with Farinelli's life and times but still functions as a pungent chronicle of the era. Film Movement's Blu-Ray (1.85) is based on a new 2K digital restoration and includes interviews, a Making Of featurette and French/Italian audio with English subtitles.
Magnolia New Releases: On DVD this month, TICKLED (91 mins., 2016) is a documentary from David Farrier and Dylan Reeve that chronicles the duo's strange quest to find out what's at the bottom of an online tickling-video scheme (yes) where its participants are tied up and paid to be tickled. They expose a strange underworld of criminality and harassment in this bizarre true-life doc, presented on DVD by Magnolia with a 16:9 (1.85) transfer and 5.1 sound…The documentary THE GOSPEL ACCORDING TO ANDRE (93 mins., 2019, PG-13) profiles Andre Leon Talley, influential fashionista, in Kate Novack's well-rounded look at Talley's life, from his upbringing in the Jim Crow South to his place at the top of his field. Magnolia's DVD (1.78, 5.1) is available alongside "Tickled" on April 23rd.
NEXT TIME: Twilight Time's April Blu-Rays, including MELVIN AND HOWARD. Until then, don't forget to drop in on the official Aisle Seat Message Boards and direct any emails to our email address. Cheers everyone!