It's been a phenomenal year for Warner Archive releases, with all kinds of films – and genres — treated to long-awaited high-definition renderings. This week alone perfectly showcases that mix with movie buffs able to wrangle with Dracula, swing along with Tarzan and Errol Flynn, belt out Broadway tunes and fly along with one of Robert Altman's stranger '70s odysseys, all on Blu-Ray for the first time.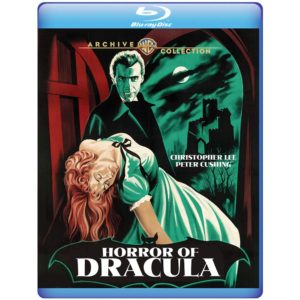 Hammer's Dracula series started off with a bang in the full-color HORROR OF DRACULA (82 mins., 1958), offering Christopher Lee in the first of his many appearances as the Count and Peter Cushing as the irrepressible Dr. Van Helsing. It later came to an inglorious end with 1973's THE SATANIC RITES OF DRACULA (88 mins., R). Both films are new to Blu-Ray in the U.S. ("Satanic Rites" is a worldwide debut) and in the case of "Horror of Dracula," Warner's new Blu-Ray presents its 2007 BFI restoration with reworked colors that are more accurate than recent transfers – by contrast, an older UK Blu-Ray offers essentially the same presentation in terms of detail and framing, but a cooler visual pallet some viewers felt was inaccurate to the picture's original cinematography.
The Terence Fisher film is one of Hammer's best – crisp, concise and a bit claustrophobic but still high on atmosphere, with ample liberties taken with Bram Stoker and as much sex and gore that you could find in a film from its time. This Warner Archive Blu-Ray offers none of the extras that accompanied the UK Blu-Ray – and is missing several seconds of added gore seen in Japanese prints – but for American fans who have long desired a domestic Blu-Ray, the 1080p (1.66) transfer is satisfying on its own terms, though the source materials aren't always pristine.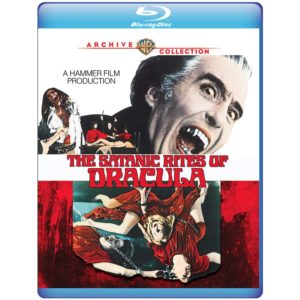 In 1973, following a handful of period sequels and the appealing enough "Dracula A.D. 1972," Hammer went to the well one last time just as the horror genre was shifting gears – soon "The Exorcist" would hit theaters and forever change the landscape for modern terror. Old-time monsters like Frankenstein and Dracula would fade away outside the occasional revival, making "The Satanic Rites of Dracula" a true last hurrah for a series that dated back to the late '50s and a character whose box-office appeal stretched even further to the days of Bela Lugosi.
"Satanic Rites," though, is sadly far removed from Hammer's glory days, even with Christopher Lee donning the cape again – this time with Drac pretending to be an industrialist with more on his mind than simply raising an army of the undead. Using modern science, he wants to recreate a black plague to wipe out the world altogether! Peter Cushing, of course, returns as Van Helsing, who works with Scotland Yard detectives in uncovering the nefarious plot, while Joanna Lumley is Van Helsing's resourceful granddaughter. It sounds fun – but it's not, with Don Houghton's script and Alan Gibson's direction both being as lively as a corpse. The picture is talky and often dull, finally waking up for a final third that's still a long way from the days of Hammer's early, and much better, period-set films, while Lee has disappointingly little screen time.
This final Hammer Dracula has both been easy to find over the years — thanks to a myriad of awful, often cut "public domain" releases — and difficult to appreciate due to those lackluster tapes and discs. Much of that stems from the fact that the movie was only released in 1974 in the UK, with Warner Bros. discarding the picture internationally. In the U.S., an independent distributor named Dynamite eventually gave the film a drive-in run — in 1979! – under the title "Count Dracula and His Vampire Bride."
There's no question Warner's Blu-Ray of "Satanic Rites" makes this problematic series finale watchable in a way no prior home video release ever has. The 1080p (1.78) AVC encoded transfer is wonderful – naturally grainy and in good shape, complete with the original Saul Bass WB logo, which was never attached to U.S. prints. The trailer is included in a release Hammer completists will find essential, even if the picture is basically just a tedious footnote in the series' run. (For even more Hammer madness, check out my review of Scream's new "Dracula, Prince of Darkness" Blu-Ray below)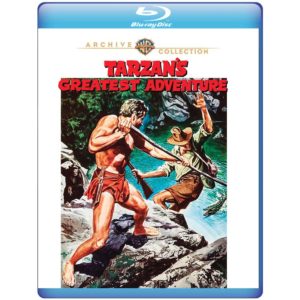 One of the best Tarzan adventures – and one of the all-time classic swashbucklers from Hollywood's Golden Age – also make their way to Blu-Ray this month from Warner Archive.
THE SEA HAWK (127 mins., 1940) needs little introduction for movie buffs – a memorable Warner Bros. seafaring adventure with Errol Flynn punctuated by one of Erich Wolfgang Korngold's greatest scores. Produced on an epic scale, this rousing, first-class entertainment represents one of the pinnacle efforts from the Hollywood studio system of its era, and the rich B&W cinematography (4:3) of the film has been preserved and enhanced here in a stirring Warner Archive Blu-Ray. The disc includes a featurette and the "Warner Night at the Movies" optional viewing feature, sporting Leonard Maltin introductions, a WB classic cartoon ("Porky's Poor Fish"), newsreel, trailers, and the short "Alice in Movieland."
Meanwhile, TARZAN'S GREATEST ADVENTURE (87 mins., 1959) wasn't the first series entry to star Gordon Scott as Edgar Rice Burroughs' jungle-swinging hero, but it's unquestionably the best. Producer Sy Weintraub attempted, and succeeded, here in injecting more realism into the long-running franchise while dialing back both its campier and humorous elements (there's scarcely any Cheetah to be found).
John Guillermin, who later helmed Dino DeLaurentiis' "King Kong" among other expensive projects, directed this tale of British diamond hunters – including Anthony Quayle and, yes, a young Sean Connery – who get more than they bargained for after the Lord of the Apes lands on their trail. While more violent (the thieves gun down peaceful villagers in an opening raid) than your typical Tarzan outing, "Tarzan's Greatest Adventure" is also more entertaining than its brethren. Location shooting and plenty of action make for a splendid Saturday Matinee adventure minus the camp factor that often dominated Tarzan films of that era, while Scott's portrayal – Tarzan not only speaks but has a larger vocabulary – gave a new dimension to the series.
Featuring another sparkling 1080p (1.78) AVC encoded presentation, the Archive has hit another home run here on Blu-Ray. The image hasn't been doused with DNR and looks pleasingly natural, with the source materials being in fine shape throughout.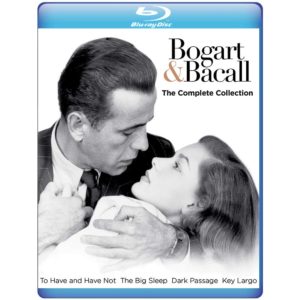 Folks looking for a terrific holiday gift for movie buffs would do well to check out BOGART & BACALL: THE COMPLETE COLLECTION, a new Warner Blu-Ray anthology that offers all four of the on-screen pairings of Humphrey Bogart and Lauren Bacall. Housed in a single BD case are four discs reprising the previously-released Blu-Rays of TO HAVE AND HAVE NOT (100 mins., 1944), THE BIG SLEEP (114 mins., 1946), DARK PASSAGE (106 mins., 1947) and KEY LARGO (100 mins., 1948). Extras include a Lux Theatre broadcast and vintage featurettes ("To Have And Have Not"); the alternate 1945 preview version of "The Big Sleep" and comparisons between the two versions; a Merrie Melodies cartoon and vintage featurette ("Dark Passage"); and just the trailer on "Key Largo."
THE THING FROM ANOTHER WORLD Blu-Ray (87 mins., 1951): For a long time, it didn't look as if this bona-fide '50s sci-fi classic was ever going to receive a Blu-Ray release. Thanks to the tireless efforts of Warner Home Video, however, the original "Thing" has been presented in a gorgeous new high-definition rendering at long last – and it looks surprisingly healthy for a film that's long been subjected to cuts and a myriad of uneven home video presentations across the RKO and Turner labels. This Howard Hawks favorite, "directed" by Christian Nyby, sports Dimitri Tiomkin's classic score and one of the creepiest movie monsters of all-time, now in a crisply detailed 1080p (4:3) B&W transfer that was worth the wait. The Blu-Ray also includes a standard-definition trailer and a Spanish-subtitled trailer newly remastered in HD.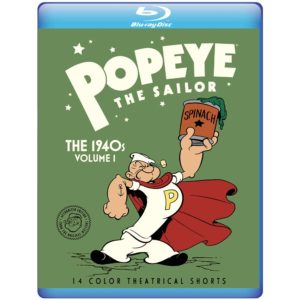 Also New on Blu-Ray: Jerry Herman's wonderful Broadway musicalization of MAME (131 mins., 1974, PG) offered Angela Lansbury a memorable stage role along with a number of great songs, including "We Need a Little Christmas," which gets regular workout on the radio at this time of year. The film version, regrettably, was one of those "ruined by Hollywood" affairs, mainly due to Lucille Ball's casting in the lead. Even playing opposite Bea Arthur (reprising her Broadway part) and Robert Preston, "Mame" is DOA as a film due to Lucy's miscasting and warbling voice, which sinks an otherwise attractively lensed widescreen affair. Warner Archive's Blu-Ray boasts an expectedly solid 1080p (2.41) transfer though it's surprising the film was recorded in mono given it being an A-grade WB musical extravaganza from its era…Robert Altman's long line of '70s films includes the eclectic BREWSTER McCLOUD (105 mins., 1970, R), which ranks along with "3 Women" at top of the list for the surreal. Bud Cort plays a strange bird who lives within the Houston Astrodome in a free-wheeling affair that ranges from the dark and depressing to the humorous and bizarre – all of it wrapped up in a consistently unpredictable Altman cinematic wrapper. For the director's devotees who will best appreciate the picture, Warner Archive's Blu-Ray provides a bravura 1080p (2.41) AVC encode that preserves the film's effective scope cinematography with 2.0 DTS MA mono sound.
Classic animation lovers also have a treasure-trove of Golden Age Popeye to savor on Blu-Ray thanks to what will hopefully be the first of a handful of releases to come. POPEYE THE SAILOR: THE 1940s, VOLUME 1 (99 mins.) hails from the Famous Studios era and presents the first 14 Technicolor cartoons starring Popeye, Olive Oyl, Bluto and even Popeye's rascally nephews Pipeye, Poopeye, Peepeye and Pupeye! These shorts are generally regarded as some of the funniest in the Popeye stable, and are being released here for the first time on home video — and not only that, but in spectacularly detailed 4K transfers with abundant clarity and color, especially compared to any television broadcast of these shorts you may have seen. More over, the shorts are uncut, which is substantial since these 1943-45 cartoons are certainly "politically incorrect" at times, juggling WWII-era jokes and some ethnic stereotypes that'll fly over the heads of young viewers who are likely to simply embrace their zany energy. For Popeye fans, it goes without saying that this is an essential Warner Archive release, and for animation buffs, it's a must-have not only for its entertainment value (and gorgeous transfers), but because future releases in this genre are very likely connected to its sales performance.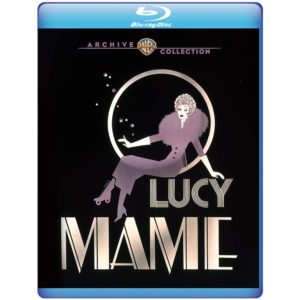 Finally, new on DVD from Warner Archive this month are a pair of new Double Feature DVD releases, including THE 13TH CHAIR. This archival package gives movie buffs the delectable chance to compare two different adaptations of the same play by Bayard Veiller about the death of an Englishman in Calcutta. Tod Browning's 1929 version was shot pre-Code and with Bela Lugosi as the inspector sent from Scotland Yard to uncover the culprit – one the victim's friend (John Davidson) hopes to use a fraudulent medium (Margaret Wycherly) in order to expose. MGM remade the property in 1937 with Lewis Stone as the Inspector, Henry Daniell as the victim's friend and top-billed Dame May Witty as the would-be psychic. This slicker (and shorter) studio production offers a fascinating companion piece to the earlier MGM release, with Warner pairing both efforts on a single disc with B&W transfers…Last but not least is JANIE/JANIE GETS MARRIED (102/89 mins., 1944-46), a Double Feature that starts off with Joyce Reynolds in the title role. In the 1944 "Janie," Michael Curtiz directs an adaptation of a hit Broadway play about a small town overrun by a camp of young army recruits and the sparks that fly between the daughter (Reynolds) of a local newspaperman (Robert Benchley) and one such GI (Robert Hutton). Hutton returned along with Benchley and Ann Harding for the 1946 sequel, though Janie was now played by Joan Leslie. Both enjoyable '40s Warner/First National "dramatic rom-coms" have been collected on an Archive DVD with 4:3 B&W transfers and mono sound.
---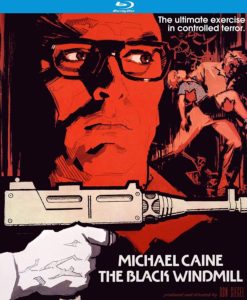 Kino Lorber New Releases
THE BLACK WINDMILL Blu-Ray (106 mins., 1974, PG; Kino Lorber): It's always a treat to check out an older film by a great director — in this case, Don Siegel, fresh off "Charley Varrick" – and with a terrific cast – anchored by Michael Caine – that's received very little play on television and home video. In fact, I'm not sure this 1974 Zanuck/Brown production was ever released on video in the U.S. until now – at the least, it never made to laserdisc or DVD.
Of course, there's often a valid reason for these sorts of omissions, and in the case of "The Black Windmill," it's because the film isn't so much bad as it is unremarkable. An adaptation of Clive Egleton's book by screenwriter Leigh Vance, "The Black Windmill" finds Siegel in charge of a British espionage affair with agent Michael Caine's son abducted by international gun smugglers run by a villainous John Vernon, hoping to score with a diamond ransom. Caine receives scant support from his superiors and is soon framed by the gang responsible, leading him to France and back again in an effort to save his son before time runs out.
Elegantly shot on-location and in widescreen by Ousama Rawi, "The Black Windmill" certainly starts off promisingly, yet instead of crisp action and mounting suspense, the film offers lots of scenes of its characters answering phones and running about to negligible dramatic effect. Caine was criticized for being overly dialed back here, and it's certainly a performance in keeping with the conservative tone of the entire film – it's well-constructed as you'd expect from a Siegel picture, certainly attractive to look at and flavorful, but it just never shifts into another gear, limping along to an anti-climax.
Filled with familiar faces in support – from Donald Pleasence to Clive Revill, Joss Ackland, Catherine Schell and John Rhys-Davies – "The Black Windmill" isn't a misfire yet doesn't click at the same time. Nevertheless, the picture is worth seeing for its locations and footage of an English Channel hovercraft in operation at Pegwell Bay, plus Rawi's flavorful cinematography.
Kino Lorber's welcome Blu-Ray offers a healthy, good-looking 1080p (2.35) transfer that must have been recently produced as it offers a high amount of detail compared to many Universal catalog masters (it's so clear you can plainly see a reflection of the boom mic in one shot). The mono sound is fine and boasts an appropriately workmanlike Roy Budd score, with extras including the trailer, an interview with Rawi and commentary from German film historian Mike Siegel.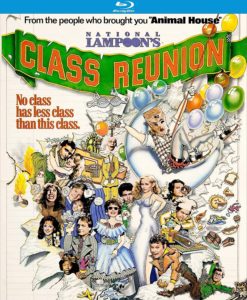 NATIONAL LAMPOON'S CLASS REUNION Blu-Ray (88 mins., 1982, R; Kino Lorber): ABC Pictures-produced, low-brow comedy attempted to send up slasher films and nostalgic reunion pictures, but managed to score only a few hits inbetween handfuls of blanks. The humor is definitely not P.C. and would never make it into a movie made these days, though that alone isn't enough to make "Class Reunion" abona-fide cult movie.
John Hughes's name is attached as screenwriter (his first feature-film credit), but either someone mucked with his script or director Michael Miller was waging a losing battle from the get-go with substandard material. Miller himself got the gig because of his work with Second City, whose alumni are sprinkled throughout an ensemble cast that includes Gerrit Graham, Stephen Furst, Miriam Flynn, Shelly Smith and Michael Lerner. Chuck Berry, meanwhile, shows up in a strange movie that marked National Lampoon's first feature since the success of "Animal House" – even though MGM/UA had already produced an even-worse bomb in 1981's "National Lampoon's Movie Madness" that sat on the studio shelves until well after "Class Reunion"s 1982 debut.
Still, this is a fascinating curio from the early '80s, particularly for Hughes, who would hit paydirt with his scripts for "National Lampoon's Vacation" and "Mr. Mom" the following year (along with one more misfire, the pirate adventure "Nate & Hayes" with Tommy Lee Jones).
Making its Blu-Ray debut, "Class Reunion" sports a clean, new master from a 4K scan of the original camera negative. The resulting 1080p (1.85) image is colorful and detailed, far more than MGM's prior DVD release. The DTS MA stereo soundtrack offers some occasional surround activity along with a score written by Peter Bernstein and Mark Goldenberg. A brief new interview with Gerrit Graham doesn't offer a lot of insight but the commentary with director Michael Miller, stunt coordinator Dean Raphael Ferrandini and moderator Douglas Hosdale is much more revealing. Miller doesn't seem overly enamored with the film or Hughes (who he describes as being far more adept at navigating the studio system than he was), making for a reasonably engaging chat.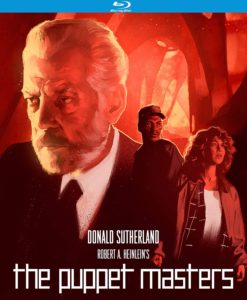 THE PUPPET MASTERS Blu-Ray (108 mins., 1994, R; Kino Lorber): Robert A. Heinlein's "The Puppet Masters" was one of the most influential sci-fi novels of all-time, having set the stage for countless imitators and rip-offs – both in print and on the big screen – for years to come. Unfortunately, by the time Hollywood Pictures produced the first-ever motion picture rendition of Heinlein's material decades after its publication, countless films had already covered similar terrain, particularly "Invasion of the Body Snatchers" and "Invaders From Mars."
The resulting "Puppet Masters" movie – a box-office wipeout in the fall of '94 – is a curiously watchable yet highly flawed film that's indifferently acted and occasionally quite funny on an unintentional level. The screenplay by Ted Elliott and Terry Rossio (who would later write the "Pirates of the Caribbean" films for Disney) and future Christopher Nolan collaborator David S. Goyer might have read better on paper, yet the film's execution is stilted and "off" – way, way off! Donald Sutherland stars as a "Men in Black"-type government agent investigating an extraterrestrial invasion that finds bat-shaped alien creatures binding themselves to the necks of human victims, thereby taking over their minds. Limp work from Eric Thal and Julie Warner (cute but completely unconvincing as a rocket scientist!) is partially off-set by veteran character actors (Will Patton, Yaphet Kotto, Keith David and Richard Belzer) with a better grasp of what they're doing, though even Sutherland himself seems out of it in a role that's a far cry from his turn in Philip Kaufman's "Body Snatchers."
Director Stuart Orme – whose career is mostly comprised of British TV credits – brings an overly placid, almost PBS-like approach to material that ought to crackle with suspense and horror. Instead, the movie's stone-faced, serious demeanor ends up becoming a near parody of itself – something that's accentuated by Colin Towns' earnest but likewise portentous dramatic score, which tends to punctuate some of the movie's more unintentionally hilarious moments (the entire opening where Warner tries to prove that there's something wrong because men aren't checking her out is worth the price of admission by itself).
Still, the movie – shot in Fresno by a U.S. studio with American actors but a mostly British crew — is far from a total loss: between its infrequent moments of comedy and the old-school (very old) special effects of the aliens flying about, "The Puppet Masters" proves to be watchable, old-fashioned sci-fi played so sincerely that fans of Golden Age fare are likely to be entertained by it, provided they can get into the right mindset. It's no "Lifeforce" but, then again, what is?
Kino Lorber has struck gold again with a super new Blu-Ray of "The Puppet Masters," commissioning a series of all-new special features. Orme and editor David Yardley provide a fresh commentary while interviews with Julie Warner, Keith David and Richard Belzer comprise an engaging set of retrospective conversations. A new doc, "Robert A. Heinlein: The Puppet Grand Master," sets out to profile the influential author with David Gerrold and other genre scribes admitting this film was far closer to Heinlein than Paul Verhoeven was in his "Starship Troopers" adaptation, while a segment on the movie's FX is also included plus an animated photo gallery, booklet notes and the trailer. Visually the 1080p (2.35) transfer looks on par with Mill Creek's out-of-print bargain Blu, but the audio options are more robust thanks to the inclusion of a 5.1 DTS MA track in addition to the original 2-channel stereo mix.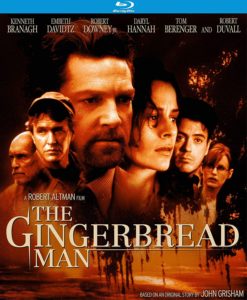 THE GINGERBREAD MAN Blu-Ray (114 mins., 1998, R; Kino Lorber): The combination of author John Grisham and director Robert Altman wouldn't seem to have been ideally suited to a cinematic marriage – and the ensuing film that resulted from that mix proved to an interesting failure on a number of levels.
A miscast Kenneth Branagh plays a Savannah lawyer who develops a relationship with a troubled woman (Embeth Davidtz) in fear of her alcoholic father (Robert Duvall) – but that's just the tip of the iceberg in a movie with a great cast (Robert Downey, Jr., Daryl Hannah, Tom Berenger) but an erratic pace and uncertain script more interested in peripheral details than its central plot. Unsurprisingly, Altman heavily reworked Grisham's original manuscript, utilizing the pseudonym "Al Hayes" in the screenplay credit — much to the chagrin of Polygram Pictures. The studio tried recutting the film after poor test screenings, reportedly only to have their version test even worse than Altman's. The finished picture, augmented with a Mark Isham score (Altman said he initially didn't want music at all – a tactic that apparently contributed to the dismal preview scores), ended up being unceremoniously dumped into a poorly promoted release before sinking mostly without a trace on home video.
"The Gingerbread Man" is not a great movie, and its opening third is so poorly executed that some may feel compelled to turn it off – yet the performances (both good and bad) are still compelling to watch, as is a director seemingly trying to make a commercial property while simultaneously retaining his distinctive filmmaking approach.
Kino Lorber's Blu-Ray is newly available featuring a fine 1080p (1.85) Universal-licensed 1080p transfer, DTS MA sound, the trailer and Altman's DVD commentary.
RACE FOR THE YANKEE ZEPHYR Blu-Ray (108 mins., 1981, PG; Kino Lorber): New Zealand-lensed action-adventure finds treasure seekers Ken Wahl, Donald Pleasence and Lesley Ann Warren out to retrieve the lost gold and other goodies in the sunken belly of a WWII era American cargo plane that went missing decades ago. George Peppard, however, plays a gangster also out to nab the missing goods in this Hemdale production that was written by Everett De Roche and intended to be directed by Richard Franklin. Once Franklin bowed out, Hemdale's David Hemmings took over, shooting the film in NZ in lovely mountain locales that help a slow-going story that stays afloat just barely due to its cast. Kino Lorber's debut Blu-Ray of the "Yankee Zephyr" has been mastered from a decent MGM catalog source (2.35) that stays "windowboxed" for nearly its first 10 minutes until the opening credits are done; interestingly, the film runs 108 minutes even though Kino's back cover lists its U.S. running time of 91 minutes. An HD trailer is also included.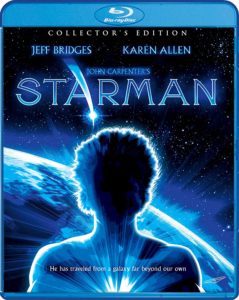 New From Shout! Factory
Filmed in the wake of "E.T.," STARMAN (115 mins., 1984, PG; Shout! Factory) represents one of director John Carpenter's most satisfying studio films, produced during a window in which the genre filmmaker was turning out big-budget horrors ("The Thing," "Christine") with the occasional step outside his comfort zone ("Big Trouble in Little China").
This Michael Douglas production from scribes Bruce A. Evans and Raynold Gideon ("Stand By Me") – though heavily overhauled by an uncredited Dean Riesner – offers an interesting variation on the 1982 Spielberg classic, with an extraterrestrial (Jeff Bridges), his ship having been shot down over the skies of Wisconsin, assuming the cloned body of Karen Allen's deceased husband. Allen ends up helping the "Starman" find his way to Arizona so he can get picked up by his mothership — and even falls for him as he assumes more human attributes — but time (he has only three days to get there) and a group of government agents stand in their way.
Bridges is just tremendous in "Starman," offering a truly memorable, unique – but not showy — performance that deservedly earned an Oscar nomination. Allen is also terrific in a dialed-down performance, while Charles Martin Smith is solid as a not-completely-unsympathetic government agent. Carpenter's trademark widescreen lensing and a fine Jack Nitzsche score – hampered only by the creakiness of '80s synths – make "Starman" one of the best sci-fi entries of the mid '80s, one which led to a short-lived, though fairly well-remembered, TV spin-off with "Airplane!"'s Robert Hays.
Shout Factory's welcome Collector's Edition Blu-Ray of "Starman" includes the U.S. debut of a commentary with Carpenter and Bridges that was included on various Region 2 DVD releases, but never (to my knowledge, at least) on an American disc. This is a fine and enjoyable track recorded somewhere between 1999-2000, and offers more production insight than Shout's 23-minute new retrospective featurette. This segment includes fresh interviews with Carpenter, Bridges, Smith and producer Sandy King (Carpenter), though there's not a lot of trivia here outside of how well everyone got along and how pleased everyone is with the finished product. An 11-minute vintage featurette, trailers, TV spots and a still gallery round out the disc, while the excellent 1080p (2.35) AVC encoded transfer and 5.1 DTS MA soundtrack look on-par with Sony's barebones 2009 Blu-Ray release.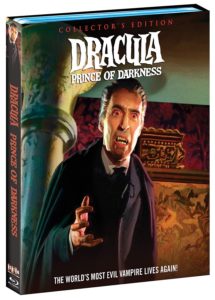 DRACULA, PRINCE OF DARKNESS Blu-Ray (90 mins., 1965; Shout! Factory): This 1965 entry in Hammer's popular Dracula series is not one of the more memorable films starring the Count, yet there's still plenty of stimulating atmosphere on-hand which made the Hammer name synonymous with genre craftsmanship, particularly in the '50s and '60s.
"Prince of Darkness" marked Christopher Lee's first follow-up appearance as the Count, although it's actually the third film in the Hammer Dracula series. Its predecessors – 1958′s "Horror of Dracula" (see above) and the terrific 1960 "Brides of Dracula" (on Blu-Ray in Universal's Hammer Horror box-set) – both starred Peter Cushing as Van Helsing and are far superior to this sequel, which finds a pair of upper-crust British couples blundering into Dracula's old mansion while honeymooning in the Carpathian mountains. An interminable amount of waiting ensues while the Count's zombie butler finally kills one of the husbands, whose blood is used to resurrect Drac himself. Things, predictably, perk up once Lee turns up with fangs in check, though the Count doesn't say a word in this outing, preferring instead to cast his gaze on the most repressed of the Brits, worrying wife Barbara Shelley, who is turned into a voluptuous vamp before the surviving couple discusses an appropriate course of action with Father Sandor (Andrew Keir, who does a good job substituting for Cushing's Van Helsing). The resolution is certainly unique!
The only Hammer Dracula to be shot in a widescreen process, "Prince of Darkness" looks creepy and atmospheric, with Terence Fisher's leisurely direction building up to the requisite scenes of the Count pursuing his victims. The problem is that the picture is awfully static for most of its running time; it takes forever to get the action going, and is standard issue material once it does. James Bernard's terribly bombastic score wears on the ears, though Shout's Blu-Ray isn't without its rewards – an audio commentary from Lee, Shelley, and co-stars Francis Matthews and Suzan Farmer is filled with nostalgic anecdotes, a "World of Hammer" program boasts highlights from Lee's tenure at the studio; and a documentary, "Back to Black," includes comments from historians like Marcus Hearn, giving their insight into the production of the film.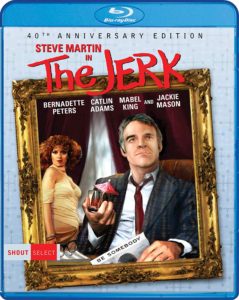 These supplements have been ported over from prior Blu-Ray releases, but Shout has also included new commentaries — one with historian Troy Howarth, another featuring Steve Haberman and Constantin Nasr — to accompany a new 4K scan of the U.S. theatrical cut. Regrettably, this is something of a "pick your poison" situation in terms of the disc's transfers, for although the 4K transfer of the U.S. cut offers more satisfying colors and brightness levels, the print is also in much rougher shape than the also-included, earlier 1080p transfer of the UK cut. This is the same, lackluster transfer that accompanied the earlier Blu-Rays of the movie, and is doused with excessive DNR. Fans may still have to wait, then, for a superior technical rendering of the picture, yet this Scream Collector's release is at least a partial improvement on what we've seen before.
THE JERK Blu-Ray (94 mins., 1979, R; Shout! Factory): Steve Martin's box-office breakthrough is still one of his funniest vehicles nearly four decades later (was it really released that long ago?), with the star essaying Navin Johnson, the adopted white son of a black farming family, who hits the road hoping to make it on his own. Martin, Carl Gottlieb and Michael Elias' script offers an abundance of gags, while Carl Reiner (helming the first of several Martin vehicles) utilizes his sage comic timing to craft an occasionally uproarious film that made a fortune in theaters and remains a viewer favorite. Shout! Factory's new 40th Anniversary edition includes a 2K-based, remastered transfer (1.85) with 5.1 and 2.0 DTS MA stereo mixes. A pair of terrific new extras includes a half-hour interview with Martin and Reiner discussing the film, and another talk with Martin's co-writers, Gottlieb and Elias. These entertaining and funny segments join other supplements from Universal's prior DVD and Blu-Ray releases ("Lost Film Strips of Father Carlos Las Vegas De Cordova," trailers) in a worthy upgrade for Martin fans (though we'll still have to wait to see the extra scenes from the TV version).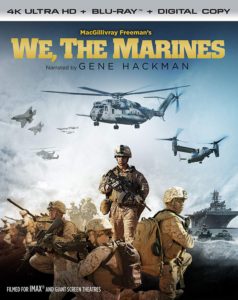 SILENT NIGHT, DEADLY NIGHT PART 2 Blu-Ray (88 mins., 1987, R; Shout! Factory):Remember all the controversy that spiraled out of control due to Tri-Star Pictures' 1984 "Killer Santa" slasher film? Beyond the headlines it generated, Charles E. Sellier's picture was nostalgic, junky '80s horror at its pulpiest, and ended up being followed by an especially lame 1987 sequel from director Lee Harry that recycles a large portion of its predecessor's footage. The follow-up isn't anywhere near as entertaining as its predecessor's modest charms, but has still been remastered by Scream Factory as a new Collector's Edition. A 2K scan of an archival print (1.85) presents the best-available transfer of the film along with brand new extras including commentary from Harry and cast members; a new documentary on the film; a look at the film's locations, and interviews with Ricky Caldwell and an interview with makeup artist Christopher Briggs. An older commentary with Harry is also present plus a DTS MA mono soundtrack.
WE, THE MARINES 4K UHD Combo Pack (45 mins., 2017; Shout! Factory): Gene Hackman — a former Marine himself — narrates this IMAX/large-format screen documentary, showcasing what it takes to become one of the Few…the Proud…who serve in our Marine Corps. Superb cinematography from MacGillivray Freeman — who specialize in these kinds of features — makes for a spirited production funded in association with Boeing and the Marine Corps Heritage Foundation. Shout! Factory's 4K UHD includes HDR and, for the first time that I've seen, HDR10+ capability — essentially providing Dolby Vision-like "dynamic" HDR for those with compatible sets and players. The image still looks sterling in standard HDR, with additional interviews and behind-the-scenes footage, a Blu-Ray and Digital Copy rounding out the release.
---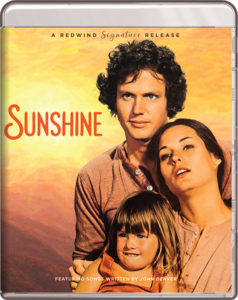 Also New & Noteworthy
Twilight Time co-founder Brian Jamieson's Redwind Productions has produced a sparkling high-definition restoration of one of the highest-rated TV-movies of all-time – the 1973 CBS-broadcast SUNSHINE (124 mins., 1973) – as its inaugural "Signature" Blu-Ray release.
A massively popular picture that was "suggested" by Jacquelyn Helton's journals, "Sunshine" tells the story of an 18-year-old hippie named Kate with an infant daughter who tragically finds out, shortly after giving birth, that she has bone cancer. Seeking to leave behind a legacy for her daughter, she records her thoughts onto tape cassettes while relating to her guitar-strumming husband (Cliff DeYoung), who isn't the baby's father but regards the little child as his own.
"Sunshine" was made at a time when TV movies could often be prestigious projects. Written by Carol Sobieski and directed by Joseph Sargent, "Sunshine" is a poignant portrait of the "free love" era and also how a family could be fostered through not just that period but also the incalculable sadness of Kate's diagnosis. Raines is terrific here, making it a shame she was thrust into so many lousy films afterwards (including the reprehensible "The Sentinel"), while DeYoung is both believable and plays off her splendidly. The cast also includes "Guest Stars" Meg Foster and Brenda Vaccaro plus Bill Mumy ("Lost in Space") in full-fledged hippie mode.
These days it's easy to trace "Sunshine" back to the "Love Story" era of "Disease of the Week" dramas that would permeate film and TV throughout the '70s. Yet this true story is told sincerely and movingly, capturing time and place through the conviction of its performances, strong direction by Sargent and the music of John Denver, who agreed to have his songs utilized in the project (Helton was a huge fan of Denver's music).
Redwind's Blu-Ray, available through Twilight Time's site, looks spectacular. This is no mere Universal catalog transfer from years back, but a superlative, detailed 4K-based restoration (1.33) from original film elements. Released in overseas theaters by Universal, "Sunshine" looks fresh and vibrant with equally clear 2.0 DTS MA mono sound. Extras include a booklet and the theatrical trailer from those overseas markets.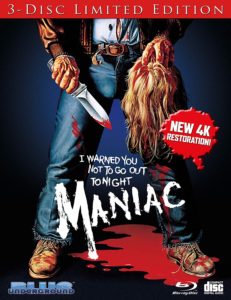 MANIAC Blu-Ray Limited Edition (88 mins., 1980, Not Rated; Blue Underground): I can't say I'm a big fan of "Maniac," William Lustig's controversial, seedy serial killer tale of a nutjob (Joe Spinell) who preys on young women, murdering and then scalping them for a place in his collection of mannequins.
Tom Savini's make-up effects are grizzly and effective, yet the story is sleazy, the violence disturbing and the performances off the wall, with Spinell being alternately unsettling and just plain nutty in the lead; Caroline Munro (Spinell's "Starcrash" co-star) gets a thankless role playing opposite him in a movie that's been alternately beloved by exploitation fans and chastised for its raw violence and repellent story line.
If you're an admirer, Blue Underground has done a tremendous job revisiting the title in a new three-disc Limited Edition. This 4K restoration trumps the label's 2010 Blu-Ray with a really impressive, detailed transfer (the 2010 disc was a 2K restoration and looked quite outstanding for its age). In addition to 7.1 and 2.0 DTS MA soundtracks, the disc houses two new special features: an outtake reel and an interview with Lustig. Numerous other extras reprieved from that release are a pair of commentaries offering Lustig, Savini and others, an interview with Munro, talk with Savini, interview with Jay Chattaway (who wrote an effective score for the picture), interview with songwriters Michael Sembello and Dennis Matkovsky, trailers, TV and radio spots, a "Maniac 2″ promo reel, a look at the film's controversy, "The Joe Spinell Story" and other goodies, with most all of the segments presented in high-def. A copy of Jay Chattaway's soundtrack CD is also included in the package along with a lenticular 3D slipcover.
---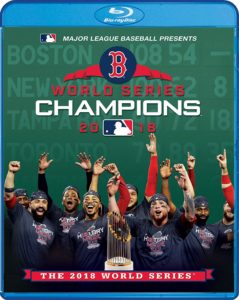 Aisle Seat Picks of the Week
Red Sox fans had reason to celebrate this fall thanks to their fourth World Series championship in 21st century – a stirring, record-breaking season that saw manager Alex Cora's team firmly established as favorites while they entered the post-season. The team managed to pull off a stunning achievement, running through the likes of the Yankees, defending champion Astros and the Dodgers to win a World Series that showcased several memorable games – coming down to the wire – even though the final outcome of each series appeared to show a rout.
Major League Baseball has brought two different releases to the home video market this Christmas for Sox fans – first, the superbly done 2018 WORLD SERIES CHAMPIONS (115 mins.)is a feature-length look at the team's run with brilliantly edited game footage. It's remarkable, again, how the WS turned on several pivotal moments and how the Dodgers looked like they would take advantage of a door being opened – only to have the Red Sox slam it shut with critical hits. This double-disc set includes a Blu-Ray (1080p, 5.1 DTS MA) and DVD and Digital Copy, along with ample bonus features like regular season highlights, the World Series parade, featurettes and other goodies.
The hardcore fan, though, may want to splurge for the 2018 WORLD SERIES COLLECTOR'S EDITION (22 hours), which includes the five World Series games in their entirety, along with the critical Games 4 and 5 ALCS victories in Houston against the Astros – the fourth game, in particular, is a classic. As with MLB's recent box-sets, a wealth of audio options include Fox's TV broadcast and both home/away radio feeds and Spanish language broadcast. The DTS MA sound and 1080p (1.78) transfers are better than what you watched on the tube, making this a must for die-hards as we go through the cold winter months ahead.
---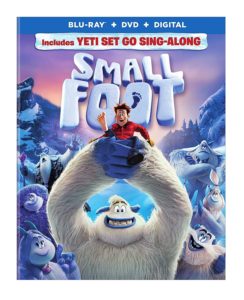 Also New & Noteworthy
SMALLFOOT Blu-Ray Combo Pack (96 mins., 2018, PG; Warner): Cute-enough animated kids comedy starts off well as it portrays Yeti culture from their point of view – one where the "smallfoot" (aka humans) are mythical creatures who aren't supposed to exist. One Yeti's (voiced by Channing Tatum) discovery of a living human, though, leads some in his community to worry about the world outside in a thinly-veiled commentary on prejudice and diversity. Outside the transparent life lessons, "Smallfoot" has its moments and the Karey Kirkpatrick-directed picture is bouncy and appealing for the most part, though seems overly extended beyond 90 minutes. Warner's Blu-Ray/DVD combo pack includes a Digital HD copy, mini-movie, "Yeti Set Go" sing-along, 1080p (2.41) transfer and 5.1 DTS MA sound.
THE HOUSE WITH A CLOCK IN ITS WALLS 4K UHD Combo Pack (105 mins., 2018, PG; Universal):Gore-meister Eli Roth tries his hand at something a little different – an Amblin Entertainment adaptation of John Bellairs' children's book about a 10-year-old (Owen Vaccaro) who goes to live with his eccentric uncle (Jack Black) who's really a warlock in a house filled with real witchcraft. Along with a next door neighbor who's also a witch (Cate Blanchett), Vaccaro's orphaned kid is introduced into the occult at the same time he struggles in school and accidentally summons an evil sorcerer (Kyle MacLachlan) in the process. Generating a decent box-office performance last fall (as opposed to Black's "Goosebumps 2," which sputtered commercially shortly thereafter), "House" is well-made but lacks a certain magic, no pun intended – its PG rating also seems unearned with several sequences coming off as too scary or intense for its young audience. Universal's 4K UHD edition of "House" offers several standout uses of HDR and Dolby Atmos audio along with a Blu-Ray, Digital copy and a slew of extras: alternate opening/ending, gag reel, featurettes, Roth's Director's Journals and more.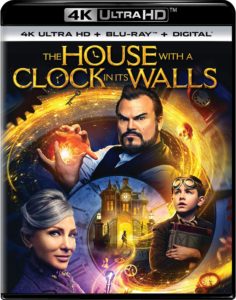 PEPPERMINT Blu-Ray (102 mins., 2018, R; Universal): "Taken" director Pierre Morel spun this weak "Death Wish"-wannabe with usually sunny Jennifer Garner in the Charles Bronson role. Garner plays a Mom whose husband and daughter are gunned down in a drive-by shooting; after the (mostly) corrupt police fail to bring justice, Garner's heroine becomes proficient in the art of action movie fisticuffs as she tracks down the responsible members of a drug cartel in a series of bland, boring shootouts. In an atypical role, Garner is believable enough, but "Peppermint" needed to be wackier and crazier – which it only hints at in a sequence where Garner goes after an obnoxious Girl Scout Mom who wronged her daughter – in order to score. As it is, "Peppermint" is predictable stuff, unlikely to satisfy anyone but undemanding genre buffs. Universal's Blu-Ray combo pack is now available sporting a 1080p (2.40) transfer, 7.1 DTS MA sound, a featurette, Morel's commentary, a DVD and Itunes digital copy.
THE HAPPYTIME MURDERS Blu-Ray (92 mins., 2018, R; Universal): Jim Henson had to have been rolling over in his grave once his son Brian signed on to direct this appalling, raunchy comedy that marks a sad low for the once-great Henson brand name. Also marking a career low (saying something given a few of her recent misfires) is Melissa McCarthy, who here plays a detective paired with a puppet investigating the murders of several former (Muppet) TV stars. After sampling some of the disgusting, sex-oriented gags seen in the movie's marketing, "Happytime Murders" offers little surprising in terms of its humor and runs out of material after just a few minutes. Universal's Blu-Ray combo pack of this STX box-office bust includes a DVD, Itunes digital copy, deleted scenes, Henson's commentary, plus VFX and brief behind-the-scenes featurettes. The 1080p (2.35) transfer and 7.1 DTS MA sound are fine – it's the movie that's the problem.
OPERATION FINALE Blu-Ray (123 mins., 2018, PG-13; Universal): Disappointingly convoluted story of how a dogged Israeli intelligence officer (Oscar Isaac) pursued infamous Nazi criminal Adolf Eichmann (Ben Kingsley) into Argentina during the 1950s. Chris Weitz directed Matthew Orton's original script, which begins in a cool, clinical manner and just never takes off – the material is so compelling that it's depressing how slow-moving and passionless "Operation Finale" feels. Universal's Blu-Ray is now available boasting Weitz's commentary, a featurette, 1080p (1.85) transfer, 5.1 DTS MA sound, a DVD and Digital HD copy of the MGM production.
THE HANDMAID'S TALE – Season 2 Blu-Ray (718 mins., 2018; MGM/Fox): Season two of this gripping adaptation of Margaret Atwood's novel continues the journey of Offred (Elisabeth Moss), still fighting to free her future child from Gilead's stifling society. Moss' performance anchors a tremendous cast in a show that reaches the end of Atwood's book but still sets the stage for a third season that's going to be "inspired" by the material. MGM's Blu-Ray, now available, includes two featurettes, 1080p transfers and 5.1 DTS MA sound.
'TIL DEATH DO US PART Blu-Ray (101 mins., 2017, PG-13; Gravitas Ventures): A woman (Annie Ilonzeh) fakes her own death in order to get away from her controlling, abusive husband (Stephen Bishop), only to have him eventually find her – even after she starts a new life with a new man (Taye Diggs). Christopher B. Stokes' film, which Diggs also produced, played to modest box-office during its 2017 theatrical run and comes to Blu-Ray this month from Gravitas Ventures. The no-frills disc includes a 1080p transfer and 5.1 DTS MA sound.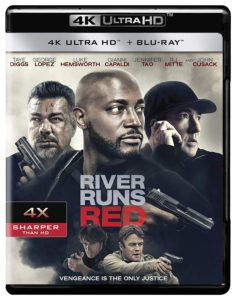 Diggs is also on-hand in RIVER RUNS RED (94 mins., 2018, Not Rated), a weak thriller about a pair of corrupt cops (Luke Hemsworth, Gianni Capaldi) who shoot the son of a respected judge (Diggs). Diggs then teams up with a mechanic (George Lopez!) — whose son was also victimized by the same cops — to take them down in an overwrought thriller co-starring a washed up John Cusack. Cinedigm's 4K UHD includes a HVEC encoded transfer but no HDR; the Blu-Ray is also on-hand in the combo pack, out this week.
THE EQUALIZER 2 Blu-Ray Combo Pack (121 mins., 2018, R; Sony): Four years ago, Denzel Washington and director Antoine Fuqua delivered an exciting albeit excessively gory take on the terrific '80s TV series starring Edward Woodward. This sequel – one of Washington's only big-screen follow-ups in a career lacking anything resembling an "action franchise" – bring back its star, director and writer (Richard Wenk) in a distressingly "more of the same" installment that features Robert McCall – after heading to Istanbul and Brussels – out to investigate and avenge the murder of his friend and government contact (Melissa Leo). Several subplots clutter the film, which really only gets the adrenaline going during a superbly-executed finale set on the Massachusetts coast in the midst of a Nor'Easter. Sony's attractive Blu-Ray includes Washington and Fuqua in conversation, discussing the picture in "Retribution Mode," along with 11 deleted scenes, a trivia track, additional featurettes, a 1080p (2.40) transfer, 7.1 DTS MA sound, a DVD and Digital copy.
A SIMPLE FAVOR Blu-Ray (117 mins., 2018, R; Lionsgate): Sold as a straight drama a la a Gillian Flynn adaptation, this Paul Feig-directed picture based on Darcey Bell's novel offers much more of a lighter touch than its ad campaign suggested. Anna Kendrick struts her stuff as a mom and online blogger who sets out to find her missing best friend (Blake Lively) in what sometimes uneasily straddles the line between a comic soufflé and a genuine thriller, but "A Simple Favor" still works because of its performances and some occasionally very funny moments. Lionsgate's Blu-Ray is available December 18th featuring three commentaries, a gag reel, deleted scenes, eight featurettes, a 1080p (2.00) transfer and 7.1 Dolby TrueHD audio.
THE SUPER Blu-Ray (89 mins., 2018, R; Lionsgate): Despite his decidedly supporting status, Val Kilmer's name is plastered on the top of this formulaic Saban Films production about a young widower (Patrick John Flueger) who faces a potential serial killer – putting his young daughters in jeopardy – while he works as a Superintendent of a Manhattan apartment building. Stephan Rick's film is reasonably entertaining and gets the job done in a tidy 90-minute running time, even though the ending is fairly limp. Lionsgate's Blu-Ray is out December 18th featuring a Making Of featurette, 1080p (2.40) transfer, 5.1 DTS MA sound and a Digital HD copy.
SUPPORT THE GIRLS Blu-Ray (90 mins., 2018, R; Magnolia): Winning sleeper provides Regina Hall with a rare leading role – the manager of a Hooter's-like sports bar where one day on the job entails jugging all kinds of precarious situations, from the comedic to the dramatic. Andrew Bujalski's film is finely observed, often funny and truthful to its mostly female ensemble without being heavy-handed, and Hall and Haley Lu Richardson (as a waitress) in particular are excellent. Magnolia's now-available Blu-Ray includes a 1080p transfer and 5.1 DTS MA sound. Recommended.
---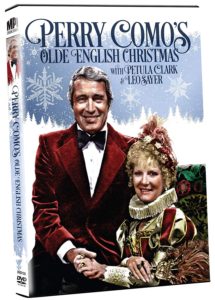 New on DVD
PERRY COMO'S OLDE ENGLISH CHRISTMAS DVD (75 mins., 1977; MPI): Hot on the heels of their recent Pat Boone vintage special DVD, MPI is back with this disc featuring the great crooner's 1977 network special. Joined by Petula Clark, Leo Sayer, "The Slipper and the Rose" star Gemma Craven and Olympic figure skater John Curry, Perry Como here croons a number of Christmas favorites plus duets with Clark on contemporary hits "There's a Kind of Hush" and Sayer's "When I Need You." MPI's DVD also includes bonus footage from other TV appearances and vintage commercial promos...also new from MPI is PICK OF THE LITTER DVD (81 mins., 2018), a wonderful documentary from Dana Nachman and Don Hardy that follows five puppies who are tabbed at birth to become guide dogs for the blind. The two-year process the canines undergo is chronicled in this look at how these dogs are trained and selected for an elite, vital task. MPI's DVD is now available featuring a 16:9 transfer and 5.1 Dolby Digital audio.
SHARP OBJECTS Blu-Ray (421 mins., 2018; HBO): Amy Adams delivers a terrific performance in this dense and downbeat HBO adaptation of Gillian Flynn's novel from director Jean-Marc Vallee, who scored a big hit with the terrific "Big Little Lies" for the channel a year ago. This drama about a journalist who returns to her fractured small town to investigate the death of two young girls is well-performed but really tough-going due to the subject matter and relentlessly dour narrative. HBO's Blu-Ray, which was released back on November 27th, includes a digital copy, 1080p transfers, 5.1 DTS MA sound and a featurette.
OUR CARTOON PRESIDENT – Season One DVD (8 hours, 2018; CBS): Stephen Colbert is an Executive Producer on this subtle (okay, not at all) animated comedy that grills the Donald, his entourage, and – just to give off the appearance of comedic neutrality – Democrats including a nutty Hillary Clinton. If you haven't gotten enough political humor from the nightly "comedy" shows, "Our Cartoon President" provides more of the same with mixed results. CBS' Season 1 DVD includes Colbert's intro, commentaries, table reads, on-camera "insights," 16:9 transfers and 5.1 soundtracks.
Also new from CBS is the complete first season of INSTINCT (9 hours, 2018), the TV crime procedural starring Alan Cumming as an ex-CIA operative who gets back in the game when the NYPD needs his help stopping a serial killer. Bojana Novakovic is the detective who uses his work as a template to her investigation in this semi-"Castle" like (at least in terms of its set-up) show created by James Patterson. "Instinct"'s first season has been brought to DVD this month with deleted scenes, a gag reel, 16:9 transfers and 5.1 soundtracks in CBS' four-disc set.
FAMILY GUY – Season 16 DVD (448 mins., 2017-18; Fox): Seth MacFarlane's long-running Fox comedy continues to roll along. In the 16th season of the show, Ian McKellen, Kristen Bell, Amanda Seyfried, Ty Burrell and others appear as Guest Voices as Brian ransacks Stewie's teddy bear, Meg loses it, and Quagmire drops his favorite body part in the #metoo era (good luck with that). Deleted scenes, an animatic with commentary, 16:9 transfers and 5.1 soundtracks adorn Fox's now-available DVD…Also new this week from Fox is Season 1 of THE ORVILLE (526 mins., 2017-18). Seth MacFarlane plays Captain Kirk in this odd comic take on old school "Star Trek," straddling the line between seriousness and spoof, as MacFarlane's Captain Ed Mercer steers an exploration-based starship with the help of his wacky crew. "The Orville" is funny in places but heavy-handed in others, in keeping with its star/producer's tastes — your tolerance for his self indulgence will dictate your enjoyment of this modestly entertaining series. Fox's DVD is now available sporting all kinds of featurettes and interviews, 16:9 transfers and 5.1 soundtracks.
Film Movement New Releases: On DVD from Film Movement are a pair of new releases. AN AFGHAN LOVE STORY (83 mins., 2018) is Barmak Akram's study of a relationship between a law student and a waiter in Kabul — when she gets pregnant and he refuses to marry her, she bears the brunt of their situation in a revealing commentary on life in the Middle East for women. Film Movement's DVD is now available sporting a 16:9 transfer (2.35) and 2.0 audio (English subtitled)…Christian Sonderegger's COBY (81 mins., 2018) is a French documentary about a young woman in the American Midwest transitioning to a man. Film Movement's DVD, also now available, includes deleted scenes, 5.1/2.0 sound and a 16:9 (1.78) transfer.
NEXT TIME: A Christmas & New Years Celebration! Until then, don't forget to drop in on the official Aisle Seat Message Boards and direct any emails to our email address. Cheers everyone!