It's a big month for 4K UHD enthusiasts, as multiple studios have launched a series of classics in the fledgling format. Most of these films need little introduction to fans, who are likely to wonder if they're worth plunking down additional funds for the umpteenth time. Thanks to the restoration of the movie's 6-track 70mm soundtrack, the answer for SUPERMAN: THE MOVIE (****, 143 mins., 1978, PG) fans, at least, is an unqualified "yes!"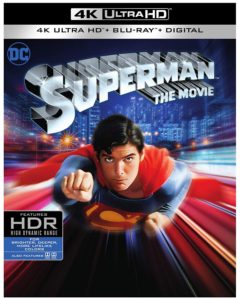 While also providing a more "filmic" presentation with appreciably neutral colors (Krypton is grey as opposed to blue) compared to past releases, the biggest asset of Warner's 4K UHD is the first-ever true restoration of the movie's six-track 70mm sound mix. The old Dolby Stereo track — presented on laserdisc, DVD and Warner's Blu-Ray box-set release of the theatrical cut – was often criticized for being too bright and unbalanced, with many, over the years, chalking up its inadequacies due to the early days of Dolby sound design.
This restored six-track mix – housed in the UHD's default 5.1 Dolby Digital track – should prove to be a revelation for fans. Discrete effects are audible in the rear channels throughout; dialogue is clearer, while the general balance between music/dialogue/effects is substantially improved. The entire track also boasts less of an "echo-plex" effect than the familiar two-channel mix, making for an audio upgrade as substantial as the transfer itself, one that seems to adhere more closely to director Richard Donner and cinematographer Geoffrey Unsworth's intended visual design. Details are appreciably enhanced in certain portions, while other segments retain Unsworth's trademark glossiness. The colors, as well, look more satisfyingly balanced and HDR usage is effective throughout (compare the richness of the Smallville sequences to the prior Blu-Rays, just for starters).
While the disc also has a terribly overpowered Dolby Atmos track of the 2000's "remix" (now with pumped-up LFE levels), the Dolby Digital 5.1 track is the best representation ever of the 1978 soundtrack and is reason enough to recommend the release – one which my wife and I played to a very enthusiastic 4-year-old who seemed completely enchanted with it (though occasionally, for the first hour, asking when Superman was "going to start fighting crime").
Warner's 4K UHD is bundled with a Digital HD copy as well as the Blu-Ray from the 2011 Anthology box-set. This disc preserves the theatrical cut exclusively in a superior AVC encode as opposed to Warner's first Blu-Ray (of the 151-minute "Special Edition"), though it's striking to go back to it after savoring the 4K UHD, which ranks as one of the most satisfying catalog releases in the format this year.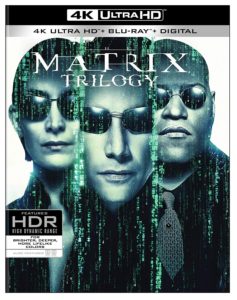 THE MATRIX TRILOGY 4K Ultra HD (138/138/129 mins., 1999-2003, R; Warner): Though the original "Matrix" was released on 4K UHD earlier this year, Warner's new Trilogy box-set houses the debut of sequels "Matrix Reloaded" and "Matrix Revolutions" in 4K, along with (most of) the extras ported over from Warner's old Ultra Collection box-set. That release boasted arguably the most comprehensive package ever assembled for a filmed trilogy on home video, adding new layers to the films with the addition of fresh commentary tracks and Making Of featurettes.
Of course, you'll have to be a Matrix enthusiast to mine the vast assortment of riches the set provides. The Wachowski then-Brothers wanted to have a pair of unconventional commentaries: one by philosophers (Dr. Cornel West and Ken Wilber), the other by film critics (Variety's Todd McCarthy, Vogue's John Powers, and author David Thomson). The idea, as the Wachowskis point out, wasn't to "suggest that one was right and one was wrong, rather the point was the juxtaposition of perspective so that in the implied dialogue that takes place between the tracks, the viewer would be offered reference points with which they might triangulate their own position."
The result, as the directors also go on to point out, is an oddball commentary track that runs throughout "The Matrix," "The Matrix Reloaded" and "The Matrix Revolutions," with the philosophers noting the spiritual/religious/theological elements that are infused throughout the pictures, and the critics often providing a dissenting view of why the trilogy ultimately doesn't work. It's an interesting, if lengthy, discussion that will provide literally hours of information for buffs to dissect.
More conventional features are found throughout the box, starting with "The Matrix Revisited," housing "The Music Revisited" (41 rock tracks selected by the Wachowski Brothers for the film), "Behind The Matrix" (five featurettes), and matching "Red Pill"/"White Rabbit" featurettes (11 in all), totaling 126 minutes. Other commentaries featuring the cast and crew, along with Don Davis' "Matrix" composer commentary/isolated music track, have also been included plus the Blu-Rays and a Digital copy.
The movies themselves look breathtaking – HDR with Dolby Vision support, and immersive Dolby Atmos audio – and further enhance a series that was, if nothing else, nothing short of groundbreaking in terms of its visual design. Even if the narratives mostly fail to measure up – the hugely disappointing third picture in particular – there's no denying their significance in the sci-fi/fantasy genre from a filmmaking standpoint.
---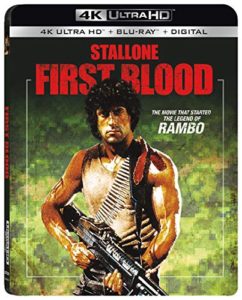 Also New on 4K UHD
Sylvester Stallone keeps on rolling, with "Creed II" headed our way in a couple of weeks and "Rambo V" reportedly about to wrap. While the latest adventures of John Rambo will be headed our way in 2019, Lionsgate has packaged the original "Rambo" trilogy on 4K UHD this month to mostly positive results with just a sole (albeit fairly major) caveat.
In the context of the entire series, easily the best of the bunch is Ted Kotcheff's 1982 introduction to the Rambo character, FIRST BLOOD (***½, 95 mins., 1982, R), which is lower-key and far more believable than the comic-book shenanigans that followed in its sequels. Here, Stallone plays Rambo as a disgruntled vet who drifts into a Pacific Northwest town overseen by a dictatorial sheriff (Brian Dennehy, in an excellent performance capturing both the character's antagonistic yet sometimes sympathetic traits). The two come to blows, but Rambo ultimately escapes from the sheriff's clutches and hides out in the woods, where Dennehy and company are treated to a display of Rambo's incredible survival skills and self-defense tactics.
Based on the novel by David Morrell, "First Blood" is just a dynamite action flick, backed by one of Jerry Goldsmith's greatest scores. Stallone's Rambo isn't so much a killing machine here but a survivalist, which Dennehy's team (including a young David Caruso) learn first-hand as Rambo dismantles the authorities one by one. William Sackheim and Stallone's script is well-written and allows Stallone, Dennehy, and Richard Crenna — as Rambo's sympathetic Army colonel — the ability to flesh out their characters while simultaneously enabling Kotcheff to carve out some terrific action set-pieces.
"First Blood" was written in the early '70s and was originally developed for a handful of actors and directors — from Steve McQueen to Sam Peckinpah and Sydney Pollock — as it passed through Hollywood development hell. Finally, in the early '80s, it fell into the lap of future Carolco heads Andy Vajna and Mario Kassar, who intended for the film to star Stallone and Kirk Douglas (in the Crenna role of Col. Trautman). Promotional campaigns vigorously promoted Douglas' starring role, but after being on the set for a few days, the actor insisted on extensive script revisions (namely, a different fate for Rambo!) and the filmmakers reluctantly showed Douglas the door.
The film's intriguing behind-the-scenes history is discussed in an excellent 2002 documentary included on the "First Blood" BD extras. Then-recent interviews with Stallone, Kotcheff, Crenna, and producers Vajna and Kassar are included, along with author David Morrell, whose excellent commentary track (one of my all-time favorites) from the first DVD is reprieved here, along with Stallone's commentary from a later release. Several deleted scenes including the original ending are also on-hand, plus a myriad of other featurettes, several of which are brand new to the U.S. market (these were included in Studio Canal's remastered Blu-Rays, which never made it stateside).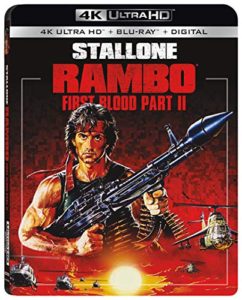 Though a favorite of action fans and a financial blockbuster, I've never been a big admirer of RAMBO: FIRST BLOOD PART II (**½, 97 mins., 1985, R), which takes Rambo, turns him into a one-man wrecking crew, and accentuates all of the outlandish comic-book elements inherent in the material while abandoning reality altogether.
The James Cameron-Stallone script (from a Kevin Jarre story) sends Rambo back to Vietnam to rescue a handful of living American POWs still interred in prison camps. With credibility and the strong characterizations of "First Blood" thrown out the window here, "Rambo II" is just a silly guilty pleasure all the way, sustained by Jack Cardiff's widescreen cinematography and another marvelous Goldsmith score. The maestro's kinetic action cues are stunning and represent some of his strongest work written during one of his most productive periods.
The movie's no-brain script notwithstanding, Rambo nevertheless became a cultural phenomenon thanks to the film, and that aspect of the character is addressed in another strong 2002 documentary with interviews with the cast and crew, which has been ported over here for the Blu-Ray release. The late George P. Cosmatos also provides a commentary that becomes a bit tedious, but will still be worth it for die-hard fans, while other extras – both archival and a few new additions – grace Lionsgate's combo pack.
The developments in Afghanistan and the world post-9/11 have given the underrated RAMBO III (***, 102 mins., 1988, R) a reason for rediscovery.
The troubled 1988 sequel (and box-office under-achiever) has Rambo venturing into war-torn Afghanistan in a one-man attempt to find Col. Trautman, who has been captured by the Soviets. In the Stallone-Sheldon Lettich script, Rambo allies himself with Afghan freedom fighters as he tracks down and wipes out the Russians — a story line that was already dated by the time the movie was released (with the U.S. and Russia having established a diplomatic line of communication), and is, of course, even more dated now, since the kind of freedom fighters portrayed here ended up becoming part of the Taliban regime many years later.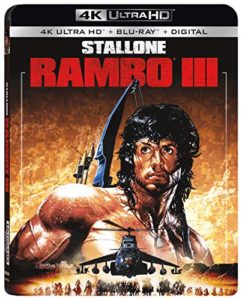 As purely a piece of action filmmaking, though, "Rambo III" is certainly no worse than its predecessor and is actually an improvement in terms of pacing. Russell Mulcahy ("Highlander") was the film's original director but was fired a few days into shooting, replaced by 2nd unit director Peter MacDonald. Despite the friction behind the scenes, and some haphazard editing (which does no favors for Jerry Goldsmith's heavily-truncated score), "Rambo III" is still solid entertainment, a nice farewell (or so it seemed) to the character and an unofficial end-of-an-era for one-man-wrecking-crew, '80s action filmmaking — a genre that would be altered, and revived, with the release of "Die Hard" a few months after the picture's opening.
The half-hour, 2002 documentary on "Rambo III" — thankfully carried over here — is excellent since it not only touches upon the logistical nightmares of the film's production, but also the historical aspect of the setting, featuring interviews with historians and professors, all of whom discuss how the 1988 film relates to Afghanistan in the 21st century. One professor talks about how none of the movie's Afghan accents are realistic, while there's some enlightening discussion about how the film's Afghan protagonists would have fit into the Taliban some time later. Peter MacDonald also contributes a commentary track ported over from prior releases, with a host of deleted scenes and other supplemental materials making the leap to a U.S. home video format for the first time since the DVD era.
All three titles are newly available in their own, separate 4K UHD/Blu-Ray combo packs with Digital HD copies from Lionsgate. While the Blu-Rays are all remastered (2.35 AVC encoded transfers, 5.1 DTS MA sound, new/additional supplements) in comparison with their sole, earlier Lionsgate U.S. Blu-Ray packages, the main draw, of course, will be the 4K UHD transfers with HDR (unlike most Lionsgate presentations, these lack Dolby Vision/Atmos for those with that capability).
Visually, at least, they are superb if not occasionally stunning: colors appear better balanced than prior transfers, details are pleasingly crisp, and in each case, the 4K transfers best their Blu-Ray counterparts on the whole. The downside are the limited audio options – in this instance, just the 5.1 DTS MA remixes for each film are included, which are center/front heavy, and appear to have had their dynamic range curtailed from their source elements. This pertains most specifically to "Rambo II," which is nearly monophonic in sections compared to its 2-channel source. The DVDs and the overseas Studio Canal Blu-Rays offered each picture's robust, original 2.0 stereo tracks, which, when played back in surround, employed plenty of activity across the entire sound field. No such luck exists with these 5.1 tracks, though it's less of an issue with the 1st and 3rd installments.
---
Also New & Noteworthy
THE BIG LEBOWSKI: 20TH Anniversary Limited Gift Set 4K UHD (****, 118 mins., 1998, R; Universal): Personal preference will dictate how much enjoyment you get out of the Coen Brothers' 1998 romp, but for me, "The Big Lebowski" ranks as one of the funniest movies of all-time.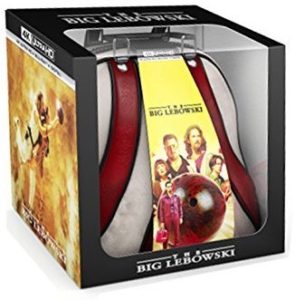 A brilliant mix of social satire, detective thrillers, and general observations on the human condition, "Lebowski" sends stoner bowler Jeff Bridges into a noir-ish mystery involving a millionaire daughter's missing toe and — more essentially — Bridges' stolen rug. The odyssey that follows is a hysterical, endlessly quotable adventure with Bridges joined by bowling cohorts John Goodman (never better than here) and Steve Buscemi as he attempts to uncover the truth and re-cover his beloved (and soiled) rug.
Having shown "The Big Lebowski" to a variety of viewers over the years, the reactions to this Coen effort have run from manic laughter to general disappointment. Yet I still haven't laughed so hard and consistently at a film since "Lebowski" was released in 1998 — some of the individual scenes are nothing short of uproarious, and it holds up just as well on repeat viewing.
Polygram originally released "Lebowski" on DVD in the fledgling days of the format, and a later Universal Collector's Edition was notably short on special features. This new 4K UHD Limited Edition gift set not only includes swag (a collectible bag, ball pencil holder, polishing cloth and sweater packaging!), but also a new HDR enhanced transfer that trumps the prior Blu-Ray. Like most Universal UHD catalog releases, it's not so much detail that's improved but a wider (here, warmer) color gamut with occasional splashes of HDR. DTS X audio is also on-tap along with ample extras (on BD) from previous releases: "The Dude's Life," "The Dude Abides: Big Lebowski 10 Years Later," a Making Of, and "Lebowski Fest" segment, making for a superior release for Dude fans.
BLACKkKLANSMAN 4K UHD Combo Pack (**½, 135 mins., 2018, R; Universal): Spike Lee's most provocative film in some time stars John David Washington as Colorado Springs' first black detective in the early '70s. Volunteering to expose the Klan, he teams up with a more experienced partner (Adam Driver) in a film based on a true story that's a bit unwieldy in its tone and running time, but boasts several strong performances and heavy political parallels to present-day Washington (no shocker). Universal's 4K UHD combo pack includes a Digital HD copy, a Blu-Ray, HVEC encoded HDR transfer, Dolby Atmos audio, a featurette and extended trailer.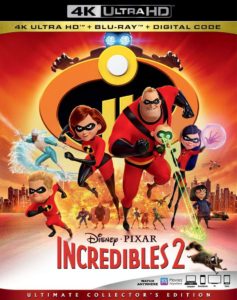 THE INCREDIBLES 2 4K UHD Combo Pack (***, 118 mins., 2018, PG; Disney): Great-looking, belated sequel to one of Pixar's biggest hits pretty much serves up more of the same, with the Supers roaring back on the scene in order to stop the nefarious "Screenslaver" even after the government puts the kibosh on the super-hero relocation program (shades of "Batman V Superman" in a PG-rated Disney form). Brad Bird returned to write and direct this genial continuation that's mostly content to rehash its predecessor's formula. As a result, "The Incredibles 2" isn't as fresh or fun – or really even necessary – but kids in particular will have a good time just the same. So, too, will 4K UHD owners, as Disney serves up a spectacular HDR enhanced UHD with Dolby Atmos audio. Colors basically leap off the screen here, while Disney's extras include 10 deleted scenes, featurettes, Pixar shorts, a Blu-Ray and Digital HD copy that all come highly recommended for fans.
PAPILLON Blu-Ray Combo Pack (**, 134 mins., R, 2017, Universal): Well-performed if rather pointless retelling of the life and times of Henri "Papillon" Charriere (Charlie Hunnam), a safecracker sent to die on Devil's Island – at least until he strikes up a friendship with a counterfeiter (Rami Malek) who finances his daring escape. Hunnam and Malek are fine here, but the memories of Steve McQueen and Dustin Hoffman are difficult to overcome in a picture that's fairly blah in its execution. Universal's now-available Blu-Ray includes deleted scenes, a 1080p (2.40) transfer and 5.1 DTS MA sound.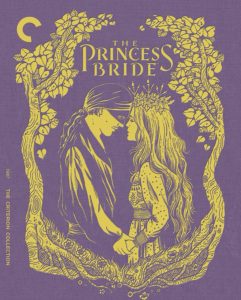 THE PRINCESS BRIDE Blu-Ray (**½, 98 mins., 1987, PG; Criterion): While not a personal favorite of mine (it's too soft to be an epic adventure and not funny enough to be taken as a spoof, capped by a lousy score by Mark Knopfler), "Princess Bride" fans should be pleased with Criterion's new Blu-Ray edition of the picture. Blessed with a fresh restoration and 5.1 DTS MA sound, this is as detailed and satisfying a transfer as the 1987 Rob Reiner film has received to date, with extras including the 1996 Criterion commentary with Reiner, author William Goldman, producer Andrew Scheinman and stars Billy Crystal and Peter Falk. There's also a 1987 audiobook (excerpted) read by Reiner, new programs about Goldman's script, archival interviews with the cast, programs about makeup, fencing and fairy tales, along with behind-the-scenes videos, the trailer and other goodies.
THE UNNAMABLE Blu-Ray (76 mins., 1988, Not Rated; MVD): Enthusiasm is the big draw to this low-budget 1988 horror outing, inspired by an H.P. Lovecraft story. When a group of college kids decide to spend the night at a haunted house, they (of course) unwittingly come face to face with a real monster in this indie production – the kind that adorned the shelves at video stores throughout the late '80s. Reasonably entertaining for B-movie buffs, MVD brings "The Unnamable" to Blu-Ray in a terrific Special Edition, capped by a restored 4K transfer (1.85) with DTS HD sound. Extras include commentary with director Jean-Paul Ouellette and the cast, video interviews with cast members, a photo gallery, trailers, and vintage audio track.
---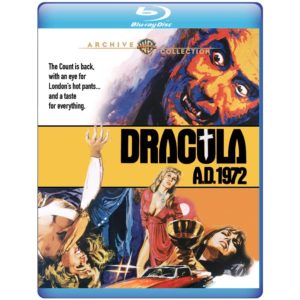 Warner Archive New Releases
DRACULA A.D. 1972 (***, 96 mins., 1972, PG; Warner Archive): With sagging box-office receipts driving a stake through the heart of Hammer's period Dracula films, the studio opted to bring The Count into the present day — a decision that paid off (to some degree) with this outlandish and entertaining "mod" piece.
A group of "hep cat" kids decide to revive The Count in swingin' early '70s London, including Professor Van Helsing's curvy young granddaughter (Stephanie Beacham, proudly displaying both of her strongest assets throughout). As it turns out, young Johnny Alucard is one Johnny Rotten, as Christopher Lee's Drac finds the groovy young British kids to be a tasty treat. Bewildered by the goings-on, Beacham turns to Grandpa Van Helsing (Peter Cushing) to save the day.
Hopelessly dated in many respects — but no less entertaining for being so — "Dracula A.D. 1972″ marked the first appearance of Lee's Count and Cushing's Van Helsing together in the same movie since the first Hammer release, 1958's "Horror of Dracula." Dramatically, "A.D. 1972″ isn't on the level with that earlier classic, but director Alan Gibson's movie is more accessible and arguably endearing than most of the Hammer Dracula films. With a touch of humor, a "mod" score by Mike Vickers, and engaging performances from both Lee and Cushing, "Dracula A.D. 1972″ provides irresistible fun.
Making its eagerly-anticipated Blu-Ray review, "A.D. 1972" looks terrific, the 1.78-framed, AVC encoded transfer preserving all of the film's crisp source materials in a good looking presentation. The hilarious theatrical trailer is also included.
Hammer's attempt at revitalizing their aging Dracula franchise didn't last for long as Lee and Cushing returned for just one more series entry: the dismal "Satanic Rites of Dracula," in which the participants appeared as if they wanted to be anywhere else (that one is also due out from Warner Archive later this month). Here, though, the stars look like they're having a grand time, and the movie offers plenty of entertainment for both series fans and newcomers alike. Good fun!
New on DVD: The 1944 noir thriller THE LAST RIDE (57 mins., 1944) is a briskly-paced B-affair starring Richard Travis as a cop tasked with stopping his brother (Charles Lang), a WWII-era bootlegger working for the mob and selling counterfeit tires. Eleanor Parker co-stars as the foster sister choosing between them both in this Warner-First National production, on disc from Warner Archive featuring a B&W transfer and mono sound…John Calvert, Ralph Morgan and Ann Cornell saddle up for GOLD FEVER (63 mins., 1952), a Monogram programmer set after the California Gold Rush, with its protagonists searching for a lost mine. Warner's DVD is now available featuring a crisp B&W transfer and mono sound.
---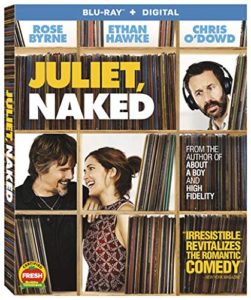 Also New From Lionsgate
Newly available from Lionsgate on 4K UHD is LAW ABIDING CITIZEN (109 mins., 2009, R/Unrated).Gary Gray's 2009 thriller is a well-played but ultimately unsatisfying yarn with Jamie Foxx as a cocky prosecutor forced into giving a light sentence to one of the killers of Gerard Butler's wife and daughter; this, naturally, does not sit well with Butler, who years later kills the man and quickly admits to being responsible. Solid performances from both Foxx and Butler make "Law Abiding Citizen" almost worth a viewing until the wheels fall off the wagon in its third act. Lionsgate's 4K UHD is a fine catalog release featuring both Dolby Vision/HDR and Dolby Atmos audio, plus both an Unrated Director's Cut of the movie as well as its R-rated theatrical version. Numerous extras have been ported from the Blu-Ray, including several featurettes and a commentary (on the theatrical version) from producers Lucas Foster and Alan Siegel.
Also new on Blu-Ray from Lionsgate: Rose Byrne, Ethan Hawke and Chris O'Dowd star in an adaptation of Nick Hornby's novel JULIET, NAKED (97 mins., 2018, R), a genial comic-drama about a long distance relationship between a rocker fanboy (O'Dowd) and his girlfriend (Byrne), complicated when the duo actually meet the elusive musician (Hawke) after a long-lost demo surfaces. Jessie Perez directed and co-wrote "Juliet, Naked," which didn't generate the revenue of past Hornby adaptations ("About a Boy" and "High Fidelity"), but is worth a look on Blu-Ray. Lionsgtate's BD includes a featurette, 1080p (2.39) transfer, 5.1 DTS MA sound and a Digital HD copy…Olga Krylenko slums in MARA (99 mins., 2018, R), a weak horror movie about a psychologist who investigates the death of a father whose eight-year-old daughter attributes his murder to a demon that kills victims in their sleep. Shot a couple of years back, "Mara" offers no surprises though Krylenko tries very hard in a decidedly non-glam performance. A featurette, 1080p (2.39) transfer and 5.1 DTS MA sound adorn Lionsgate's Blu-Ray along with a Digital HD copy…Another Saban product, FINAL SCORE (105 mins., 2016, R), is newly available from Lionsgate on Blu-Ray. Dave Bautista headlines this effort as an ex-soldier reluctantly drawn back into the game after terrorists abduct his daughter during a soccer match. The better-than-average supporting cast includes Ray Stevenson and Pierce Brosnan in an agreeable enough "Die Hard" knockoff, presented here on Blu-Ray by Lionsgate with numerous extras (commentary, deleted scenes, a featurette), a Digital HD copy, 1080p (2.39) AVC encoded transfer and 5.1 DTS MA sound…Available November 20th from Lionsgate, LITTLE ITALY (101 mins., 2018, R) serves up a formulaic rom-com with two childhood friends (Hayden Christensen, Emma Roberts) having to combat their respective families – and their dueling pizzerias – after they fall for each other. Donald Petrie, no stranger to the genre ("Miss Congeniality," "How to Lose a Guy in 10 Days"), serves up an okay time-waster co-starring Danny Aiello, Andrea Martin and Alyssa Milano, but there's not a ton of chemistry between the two leads. Lionsgate's BD includes a Digital copy, 1080p (2.40) transfer and 5.1 DTS MA sound.
THE CHILDREN ACT DVD (106 mins., 2018, R; Lionsgate): A24 production stars Emma Thompson as a British High Court Judge handling a case involving a dying young man whose religious beliefs prevent him from having a blood transfusion. Staney Tucci co-stars in this sensitive and finely acted film from the BBC directed by Richard Eyre. Lionsgate's DVD includes commentary with Eyre, writer Ian McEwan and producer Duncan Kenworthy, along with a 16:9 (1.85) transfer and 5.1 sound…BREAKING BROOKLYN (97 mins., 2018, PG-13) tells the story of two brothers with contrasting aspirations who find themselves being brought into the home of a dance instructor after their father is arrested. Lou Gossett, Jr., Vondie Curtis Hall, Colin Critchley and Nathan Kress star in Paul Becker's independent drama, on DVD this week from Lionsgate with a 16:9 (1.78) transfer and 5.1 audio...The Chinese kids animated film THE LADYBUG (76 mins., 2018, PG) has been imported by Grindstone Entertainment, enlisting the likes of Youtube star Lisa "Lisbug" Schwartz to voice the title character: a ladybug who escapes her laboratory cage and teams up with a dragonfly to find a magical kingdom. Norm MacDonald, Jon Heder and Haylie Duff also provide voices for this short concoction on DVD from Lionsgate boasting a featurette, 16:9 (2.40) transfer and 5.1 English audio.
---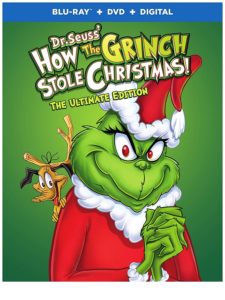 Also New & Noteworthy
DR. SEUSS' HOW THE GRINCH STOLE CHRISTMAS – The Ultimate Edition Blu-Ray (26 mins., 1966, Warner): With Illumination's new "Grinch" now in theaters (one can only hope it fares better than Jim Carrey's live-action abomination), Warner has updated their Blu-Ray of the original Chuck Jones animated special in the form of a new "Ultimate Edition." The AVC encoded 1080p transfer is as superb (1.33, despite the back cover claiming it's 1.78) as the prior release, and the Dolby Digital sound is perfectly fine given the source material.
The big draw, though, are the inclusion of two other Dr. Seuss TV specials in HD for the first time: "The Grinch Grinches the Cat in the Hat" and the seasonal effort "Halloween is Grinch Night," the latter sporting several pleasant Joe Raposo songs. Extras are bountiful, including a commentary with animator Phil Roman and voice artist June Foray, interviews with vocalist Thurl Ravenscroft and composer Albert Hague, a look at the production history and a Digital HD copy of all three specials.
TEEN TITANS GO TO THE MOVIES Blu-Ray (84 mins., 2018, PG; Warner): Fast-paced, funny extension of the goofy animated series for kids. Here, the Teen Titans want in on making their own film, which sends them off to Hollywood where they try to convince a director (Kristen Bell) to tackle their own feature-film adaptation. Musical numbers and humor typical of the small-screen series dominate this likeable lark, on Blu-Ray from Warner boasting a 1080p (1.85) AVC encoded transfer, 5.1 DTS MA sound, music videos, deleted scenes, featurettes, and a Digital HD copy for good measure.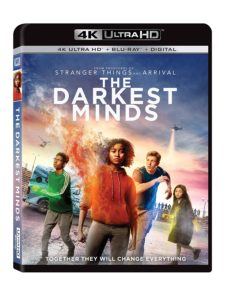 THE AMERICANS – Season 6 DVD (526 mins., 2018; Fox): One of the more memorable and strikingly original series in recent memory came to a fitting close last spring. Season 6 of "The Americans" tightens up the noose around Soviet spies Elizabeth and Philip Jennings, even as the duo continue to indoctrinate college-age daughter Paige into the mix. After six seasons, "The Americans" finally arrives at something of a full boil, though the climactic episode may not be quite as explosive as some viewers may expect. Overall, though, this was a superbly performed series on the part of Keri Russell and Matthew Rhys, and comes highly recommended despite a general unevenness (and too many Paige-centric storylines) in its later years. Fox's Final Season DVD of "The Americans" includes deleted scenes and a gag reel, a 16:9 transfer and 5.1 sound.
THE DARKEST MINDS 4K UHD Combo Pack (104 mins., 2018, PG-13; Fox): Adaptation of Alexandra Bracken's popular young-adult novel didn't make much noise at the box-office. Director Jennifer Yuh Nelson and writer Chad Hodge's film follows a group of teens who develop super powers and are wanted by the government after they, of course, portray them as a threat. It's possible the book wasn't just an "X-Men" wannabe but that's how this rote film adaptation plays. Fox's 4K UHD looks nice (and is something of a surprise release given how poorly the film performed at the box-office), while Dolby Atmos audio, the Blu-Ray, a Digital HD copy, and slew of extras (commentary, gag reel, featurettes) comprise the release.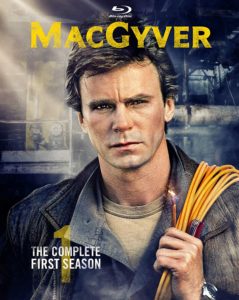 CHARMED Complete First Season Blu-Ray (CBS): It's good to see that the Blu-Ray market is still viable to support an "archival" (relatively speaking) HD release of the first season of the then-WB network hit. Offering Shannon Doherty, Holly Marie Combs and Alyssa Milano as the original trio of Halliwell sisters who find out they have supernatural powers, "Charmed" was a needed flagship show for the WB, running for nearly a decade (even minus Doherty, who left after Season 3) and becoming, behind "7th Heaven," the network's biggest hit. The debut of "Charmed" on Blu-Ray follows the series' recent revival on the now-CW network, with CBS' box-set featuring 1080p (1.78 framed from the original 1.33 broadcast aspect ratio) transfers and stereo sound. This is a no-frills but quality presentation well worth checking out for "Charmed" fans, who should support the release if they hope to see future seasons reach Blu-Ray…Also new on Blu-Ray from CBS is the Complete First Season of MacGYVER (18 hours, 1985-86), the Richard Dean Anderson network hit about a secret agent who relies on his brains and engineering ingenuity more than fisticuffs to save the day. CBS' set includes 1080p (4;3) transfers and mono sound – and like "Charmed," this is a surprising, welcome release that fans need to support in order to produce subsequent releases in HD.
New on DVD from CBS: Also new from CBS is Season 2 of THE GOOD FIGHT (11 hours, 2018). Here, Christine Baranski's Diane grapples with a growing threat, her marriage and constantly shifting politics while fellow Reddick, Boseman and Lockhart attorneys have to juggle a number of challenging cases. Deleted scenes, a gag reel, 16:9 transfers and 5.1 sound adorn CBS' Season 2 DVD of "The Good Fight," which is now available…Finally, Sacha Baron Cohen played provocateur in WHO IS AMERICA (3 hours, 2018), a Showtime series featuring Cohen in a number of guises, trapping familiar political faces into saying all kinds of outrageous (or sometimes not that outrageous) things. More successful at generating headlines than ratings, CBS brings the series to DVD this month featuring 16:9 transfers, 5.1 sound, extended interviews and deleted/unused scenes...Season 6 of ELEMENTARY (15 hours, 2018) opens with Sherlock Holmes (Jonny Lee Miller) facing the possibility he can no longer investigate after he's diagnosed with Post-Concussion Syndrome. As a result, he relies even more on Joan Watson (Lucy Liu) in this sixth season of the popular CBS prime-time procedural. All 21 episodes from the series' most recent season are compiled here on six DVDs along with deleted scenes, three featurettes, 16:9 transfers and 5.1 soundtracks.
---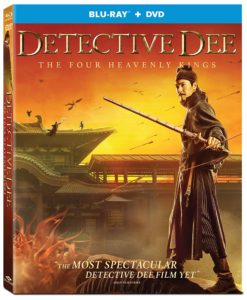 Quick Takes
DETECTIVE DEE: THE FOUR HEAVENLY KINGS Blu-Ray/DVD (132 mins., 2018; Well Go USA): Hong Kong action expert Tsui Hark is back with another entry in the popular franchise, with Mark Chao starring as the title detective – here accused of wrong-doing by Empress Wu while investigating a crime wave carrying supernatural connotations. Well Go's Blu-Ray/DVD combo pack is out this week featuring a 1080p transfer and DTS X audio, in Mandarin with English subtitles.
CAPRA GOES TO WAR Blu-Ray (310 mins., 1942-45; Olive Films): Superb retrospective of Frank Capra's WWII propaganda films covers his "Why We Fight" series, documenting the struggles of soldiers overseas as well as those left behind at home. "Prelude to War," "The Battle of Russia" Parts 1 and 2, "The Negro Soldier," "Tunisian Victory" and "Your Job in Germany" (written by Theodor Geisel, aka Dr. Seuss) are all included here in cooperation with the National Archives. Historian/author Joseph McBride is also on-hand to provide introductions to the films as well as an analysis of Capra's work.
AMERICAN DRESSER Blu-Ray/DVD (97 mins., 2018, Not Rated; Cinedigm): Enjoyable road-trip/character drama affords a veteran cast of familiar faces a nice chance to shine. Tom Berenger plays a Vietnam vet who hits the road along with his best friend (Keith David) while fulfilling a lifelong dream – along with uncovering a secret his wife left behind. Gina Gershon, Penelope Ann Miller, Bruce Dern and Jeff Fahey also appear in a film written and directed by Carmine Cangialosi, who also appears in the cast. A featurette, promo spots, the trailer, a 1080p transfer and 5.1 DTS MA sound are also included in Cinedigm's BD/DVD combo release.
BEYOND THE SKY Blu-Ray (82 mins., 2018, Not Rated; RLJ Entertainment): Ryan Carnes plays a man who doesn't believe in UFO abductions and sets out to prove it – only to meet a young woman (Jordan Hinson) at a convention who claims she's taken every seven years by extraterrestrials. Fulvio Sesito's independent film treads over familiar ground but does offer "special appearances" from Dee Wallace and Peter Stormare, along with a Don Davis score. RLJ's now-available Blu-Ray includes an interview with "Fire in the Sky" author (and alleged UFO abductee) Travis Walton, a 1080p (1.85) transfer and 5.1 DTS MA audio.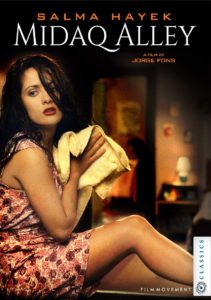 THE CIRCUS – American Experience DVD (249 mins., 2018; PBS): American Experience documentary takes viewers on a four-hour look at the history of the American circus – no, not politics, but the Big Top itself. From its origins and work of impresarios like Barnum and Bailey through its heyday and fading twilight in the 21stcentury, this is a lengthy and fascinating production from writer-director Sharon Grimberg. PBS' DVD is now available featuring a 5.1 soundtrack and 16:9 transfer.
Film Movement New Releases: New on Blu-Ray from Film Movement, MIDAQ ALLEY (140 mins., 1995) is a Mexican production starring Salma Hayek in an ensemble piece following the lives and loves of disparate individuals in present-day Mexico City. Naguib Mahfouz's acclaimed novel was adapted by Vicente Lenero and director Jorge Fons for this dramatic work, presented by Film Movement on Blu-Ray in a 1080p (1.85) digital restoration, in Spanish with English subtitles. Hayek and Fons provide introductions while behind-the-scenes footage and a new essay from Cinema Tropical's Carlos A. Gutierrez comprise the extras…Also new from Film Movement is LA BOYITA (89 mins., 2018), an Argentinian import about the relationship between a young girl and her lifelong friend harboring a "secret". Julia Solomonoff's film is new on DVD featuring a 16:9 transfer and 2.0 sound, in Spanish with English subtitles.
NEXT TIME: SLEEPWALKERS, Time-Life's Robin Williams DVD retrospective and more! Until then, don't forget to drop in on the official Aisle Seat Message Boards and direct any emails to our email address. Cheers everyone!