After producing the likes of "The Dead Zone," "Firestarter," "Cat's Eye" and "Silver Bullet," Dino DeLaurentiis lured in Stephen King with the promise of directing with MAXIMUM OVERDRIVE (97 mins., 1986, R) for this fledgling DEG studio. Now, I have to confess I have fond memories of seeing this picture in theaters – it was one of the first R-rated films I was allowed to watch, thanks to my friend's movie-buff dad, George Coombs, who reviewed movies on WKRI-AM in Warwick, RI. Mr. C received free passes to the local theater chains (General Cinema and Showcase), which allowed us to see loads of films together during my formative years, and "Maximum Overdrive" was – along with "Witness" and "Aliens" – one of my earliest R-rating movie-going experiences.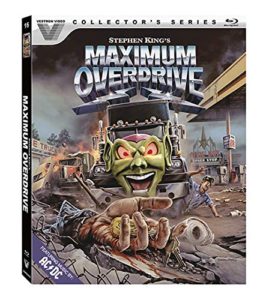 Regrettably, "Maximum Overdrive" hasn't aged into the guilty pleasure one would've hoped for, even if it's still superior to the bulk of King adaptations that followed in the late '80s. While the picture does include some fleetingly hilarious moments in its first-half hour as "the machines" first stage their revolt against the world (resulting in the unforgettable moment when a soda machine wipes out an entire little league team!), it soon settles into a tedious, character-driven drama with Emilio Estevez leading an unappealing group of survivors-of-the-comet-apocalypse holed up in a North Carolina gas station. This part of the film is nearly as much fun as hanging out in an actual rest area along I-95.
Things do perk up in time for a surprisingly upbeat ending, though "Maximum Overdrive" never quite fulfills its grandiose premise of a comet causing (?) technology to run amok. We can probably attribute the problems to King himself, who later admitted he had no idea what he was doing and was coked up for much of the production, shot on location at DeLaurentiis' Wilmington, N.C. studios.
Still a movie with a small cult following, "Maximum Overdrive" at last makes its way to Blu-Ray this Halloween as part of Lionsgate's Vestron Video Collector's Series. Though a movie Vestron itself had nothing to do with, the picture fits comfortably alongside the likes of past label favorites "Warlock" and "Waxwork." The 1080p (2.35) AVC encode has more appropriate black levels than prior international releases of the title, while AC/DC's soundtrack gets a major upgrade in the form of a pleasing 2.0 DTS MA stereo mix (an included 5.1 track is muffled and sends most of the directional activity into the center channel).
Special features are again where Lionsgate's release shines. Two commentary tracks include discussions from author Tony Magistrale on one channel (providing a broad overview of King-flicks) with actor/comedian Jonah Ray and Blumhouse's Ryan Turek on another. New interviews include conversations with producer Martha (Schumacher) DeLaurentiis, cast members Laura Harrington, Yeardley Smith and John Short, plus Holter Graham and make-up artist Dean Gates. Additional segments profile AC/DC's work on the picture with band expert Murray Engleheart as well as the Wilmington locales. Finally, archival extras include behind-the-scenes footage, the trailer and TV spots, all comprising a treat for King and '80s genre enthusiasts alike.
---
Shout New Releases
Shout's October slate includes several horror outings from their Scream imprint, including a new Special Edition of TRICK R' TREAT (82 mins., 2007, R), a stylish and thoroughly entertaining Halloween anthology from writer-director Michael Dougherty and producer Bryan Singer that was completed in 2007 but shelved and unceremoniously dumped on home video two years later.
Here Doughtery spins a delightfully ghoulish succession of vignettes all centered around an Ohio town celebrating October 31st, ranging from a girl just wanting to experience her "first time" (Anna Paquin) to a school principal (Dylan Baker) who enjoys carving a particular kind of jack o'lantern. The stories are deftly intertwined, the visuals by cinematographer Glen MacPherson and production designer Mark Freeborn are evocative of the season, while composer Douglas Pipes throws a nod to Herrmann with his brooding score. Add in a memorable creature anti-hero that's bound to become a cult favorite and you have the recipe for a jolly good time.
Gory but not needlessly explicit, with some enjoyable old-school moralizing (the film's victims, either juvenile or adult, tend to either be guilty of playing tricks or neglecting the true spirit of Halloween), "Trick 'R Treat" is a short and sweet, inspired horror ride that comes highly recommended!
Shout's Blu-Ray offers a fine 1080p (2.35) AVC encoded transfer with 5.1 DTS MA sound, plus two new major featurettes: "Tales of Folklore & Fright and "Sounds of Shock and Superstition," featuring interviews with Dougherty and composer Douglas Pipes among others. A smattering of other goodies from Warner's prior Blu-Ray (additional scenes, featurettes, the trailer) round out the single-disc release.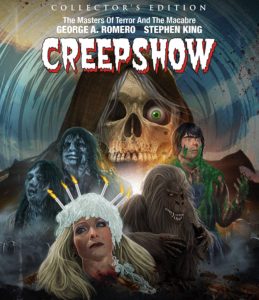 Another Warner production, CREEPSHOW (120 mins., 1982, R), scares up a new Blu-Ray Collector's Edition from Shout this month. Not as much fun as "Trick 'R Treat," this much-heralded collaboration between writer Stephen King and director George Romero offers riffs on E.C. Comics stories with an eclectic cast (Hal Holbrook, Adrienne Barbeau, Leslie Nielsen, Ted Danson, E.G. Marshall and King himself among them) serving up horror with genre-appropriate "just dessert" endings. Despite the names attached, this 1982 anthology offered little new in terms of storytelling but still satisfied fans of the genre – aficionados who should also be pleased with Shout's Blu-Ray.
A new 4K scan of the original camera negative, approved by cinematographer Michael Gornick (who directed the poor 1986 New World Pictures sequel), graces Shout's Blu-Ray along with three new featurettes and loads of other goodies carried over from various international releases – these include deleted scenes, audio interviews, make-up great Tom Savini's behind-the-scenes footage, and a deluxe slipcover.
CITY SLICKERS Collector's Edition Blu-Ray (114 mins., 1991, PG-13; Shout Factory): Remastered Shout Factory Special Edition of the 1991 blockbuster comedy, a hilarious western spoof with Billy Crystal, Bruno Kirby and Daniel Stern heading west to break up their typical middle-age existence by playing cowboys. They end up meeting a cow named Norman and Jack Palance as "Curly" in a hilarious, spot-on performance that won him an Oscar. Shout's new 4K-mastered Blu-Ray includes a remastered transfer (1.85) plus 5.1/2.0 DTS MA sound as well as a bevy of previously-released extras. These include a commentary with Crystal, Stern, and director Ron Underwood, plus three Making Of featurettes that revisit the production and several deleted scenes – the only hang-up being that they've been re-encoded at a jerky frame-rate, making them look like badly compressed Youtube videos (stick with the prior Blu-Ray instead for those).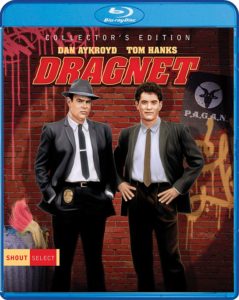 More comedy is on-tap in two other, welcome Shout Select releases.
It's hard to believe but one of Summer 1987's top box-office hits has only now generated a Blu-Ray release – and while we all continue to wait for Disney to release "Three Men and a Baby" in high-def, Shout has dusted off the delightful Dan Aykroyd romp DRAGNET (106 mins. 1987, PG-13) at long last.
Aykroyd co-wrote (with Alan Zweibel and director Tom Mankiewicz) this loving spoof/homage/updating of the Jack Webb series, reprising the late star's trademark delivery as nephew Joe Friday – a very by-the-book L.A. detective who teams up with freewhelming partner "Pep Streebek" (Tom Hanks) to stop a pagan cult.
Aykroyd gets the pacing of the old "Dragnet" right in a movie that's very '80s, obviously, in its delivery, right down to the preordained "action climax." That said, there's still much to enjoy here, between Aykroyd and Hanks' chemistry together, old pros like Harry Morgan (reprising his role from the Webb era), Christopher Plummer and Dabney Coleman on-hand in support, and the very welcome presence of young Alexandra Paul as "The Virgin Connie Swail." Mankiewicz didn't have an especially fruitful career as a director (turning out just one other feature – the John Candy box-office dud "Delirious") but he was a perfect match for "Dragnet"'s comic flair, a film that also functions as easily Aykroyd's best solo feature.
Shout's long-overdue Blu-Ray includes a satisfying 1080p (1.85) AVC encoded transfer with 2.0 DTS MA stereo sound. The movie's soundtrack was heavily derided at the time of the movie's release (Siskel & Ebert in particular chastised the film's pop songs), yet it's an agreeable mix with Ira Newborn reprising Walter Schumann's classic theme. A nice, lengthy interview with Alexandra Paul leads Shout's extras, plus an archival hour-long TV special, trailers, and a new commentary with Russell Dyball…Barry Sonnenfeld's GET SHORTY (105 mins., 1995, R) ranks as one of the best screen adaptations of Elmore Leonard's works: a smart adaptation by screenwriter Scott Frank with a terrific cast (John Travolta, Gene Hackman, Danny DeVito, Rene Russo) in an enjoyable, if somewhat overly self-conscious, effort that was later followed by the tepid 2005 sequel "Be Cool." Shout's Blu-Ray includes Sonnenfeld's commentary and a number of features from past MGM releases, along with a new 4K remastered transfer (1.85) and 5.1 and 2.0 DTS MA soundtracks.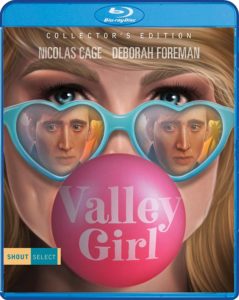 VALLEY GIRL (99 mins., 1982, R) also nets a new Blu-Ray from Shout Select later this month.
Nicolas Cage, in his first leading role, plays an L.A. punker who falls for cute Valley Girl Deborah Foreman after crashing a preppie party. They fall for each other, but Foreman's snobby friends (including Elizabeth Daily) and social status stand in the way of the couple staying together — not to mention her aging hippie parents (Colleen Camp, Frederic Forrest).
An entertaining, if predictable, romantic teen comedy ensues, with director Martha Coolidge ("Rambling Rose," "Real Genius") fortunately more interested in detailing time and place than adhering to idiotic hijinks. Sure, the movie has ample '80s period tunes and fashions to spare, but "Valley Girl" is surprisingly a lot smarter than you might anticipate. The relationships between the characters are more developed than usual, and the central performances of Cage and Foreman are both fresh and appealing.
Shout's Blu-Ray includes a 4K scan from the original negative (1.85) plus new featurettes sporting the participation of Martha Coolidge, co-stars EG Daily and Heidi Holicker, plus a look at the San Fernando Valley with Tommy Gelinas. Other extras have been ported over from MGM's Special Edition DVD which corralled all the cast and crew from this cult classic, with the notable (and glaring) absence of Foreman herself. It's a shame, too, since Cage is on-hand for both a lengthy chat with director Coolidge, as well as putting in an appearance during the disc's Making Of segment. Commentary, featurettes and plenty more round out the release.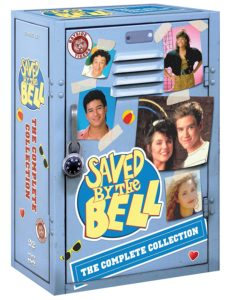 On DVD from Shout this month is a brand new edition of SAVED BY THE BELL. This COMPLETE COLLECTION of the late '80s/'90s NBC comedy offers Zach, Kelly, Screech and the gang growing up in a thorough, all-new retrospective of the program – this includes the series' often-neglected origins as "Good Morning, Miss Bliss," a Hayley Mills-driven Disney Channel program. Once that 1987 incarnation was axed, NBC – which produced the series – reworked it as "Saved By The Bell," a Saturday morning comedy that ran for the bulk of the '90s. Eventually, the kids moved on for a prime-time spinoff (while a new cast stepped in and ran for an even longer duration of the century), "The College Years," which was short-lived at NBC.
All 118 episodes have been collected here by Shout in a 16-disc set, comprised of the original "Saved By The Bell," "The College Years," "Miss Bliss" and a pair of TV movies that aired in 1992 and '94 (not included are the original "Miss Bliss" pilot, which offered Hayley Mills opposite a different cast of kids, and the 1993-2000, Zach-less episodes). Extras on a bonus disc include interviews with writer/producer Peter Engel, actress Lark Voorhies and others; a documentary short on the music of the series with composers Scott Gale and Rich Earnes; and bonus photo galleries and other assorted featurettes.
Finally, Shout brings a new Sesame Street DVD to families on November 6th: THE MAGICAL WAND CHASE (122 mins., 2018) is a delightful Elmo-centric adventure that was nominated for an Emmy. Shout has also included the full-length feature "Elmo's Alphabet Challenge" and the episode "The Golden Triangle of Destiny" on the disc along with a downloadable storybook.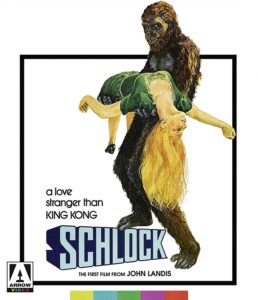 Arrow New Releases
John Landis' debut film, SCHLOCK (79 mins., PG) recently surfaced on Blu-Ray in a German release from Turbine Media – for those who didn't snag it, Arrow Video's domestic Blu offers a similar presentation: not only a terrific transfer but ample extras that should make it a banana-munching must-have for Landis aficionados.
Landis' 1972 comedy is a nutty spoof of monsters-on-the-loose B-pictures, focusing on the exploits of an ape named Schlockthropus (essayed by Landis in a suit designed by Rick Baker), who "terrorizes" southern California and falls in love with a high school girl (Eliza Garrett, Landis' high school classmate who later married Eric Roberts) whose sight has only recently been restored.
Admittedly, Landis' lampoon is a real hit-or-miss affair, often feeling like an extended home movie, but livened up occasionally by some bright, brainless gags, the best of which skewers "2001" with Schlock breaking into a convenience store to steal bananas – which he properly disposes by tossing them at a hippie sitting at a nearby picnic table! You can sense the genesis of the filmmaker's comedic talents at work here, especially in those moments, even if – and regardless of its thrifty running time – you may be reaching for the remote to get you through the slow spots.
Arrow's Blu-Ray includes the same, excellent 4K (1.85) restored transfer that graced that German import disc. The source elements are in good condition considering the film's low-budget roots, and detail is crisp and perfectly rendered throughout the film, with lots of natural grain visible, while the DTS MA mono sound is crystal clear.
Extras include a new, 41-minute interview with Landis that covers his background leading into and including "Schlock," plus a full run of trailers (the alternately-titled "Banana Monster" 1982 re-issue included), an interview with cinematographer Bob Collins, and an Arrow-exclusive conversation with critic Kim Newman.
The scene where Schlock eats an ice cream cake with a pair of toddlers and a dog is a gem, as is the before-mentioned "2001" parody. For Landis fans, those scenes alone are worth a look.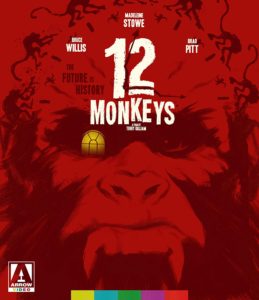 Also New From Arrow: Terry Gilliam generated one of his biggest domestic hits with 12 MONKEYS (129 mins., 1995, R), a reworking of Chris Marker's short "La Jetee" featuring Bruce Willis as a time traveler from the future who heads back to 1996 in order to prevent the outbreak of a virus that's going to wipe out most of humanity. Madeleine Stowe and an over-the-top Brad Pitt play opposite Willis in a gritty film – shot by Roger Pratt – that ranks as one of Gilliam's more accessible pictures. Arrow's Blu-Ray is highlighted by a superior new restoration of the original negative, produced in 4K by Arrow, along with 5.1 and 2.0 DTS MA soundtracks. Extras are mostly reprised from Universal's old release, including the Keith Fulton-Louis Pepe documentary; Gilliam and producer Charles Roven's commentary; a 1996 Gilliam interview with critic Jonathan Romney; a new appreciation from author Ian Christie; and the trailer…Italian director Sergio Martino flexed himself across numerous genres, but is best known for his giallo thrillers including the 1973 effort TORSO (90/94 mins.). With a sex maniac on the prowl in Perugia, three friends (led by Suzy Kendall) head off to a country villa to get away from the terror – only to have it follow them there! Viewed as a prototype of sorts for the American slasher, "Torso" is stylishly made and should offer ample appeal to giallo fans. Arrow's Blu-Ray is a new 2K restoration from the original camera negative, boasting both the 94-minute Italian cut and a 90-minute English release version, both with respective lossless soundtracks. A new commentary by critic Kat Ellinger, new video interviews with Martino, co-writer Ernesto Gastaldi, actor Luc Merenda and Martino's daughter, Federica, are on-tap; plus additional trailers and plenty more…Jim VanBebber's DEADBEAT AT DAWN (81 mins., 1988)celebrates its 30th Anniversary with a restored 2K Arrow transfer from original film elements. This low-budget cult picture about a gang leader who's roped into one last heist after the murder of his girlfriend also includes a new retrospective documentary; all-new commentary with VanBebber, actor Paul Harper and Cody Lee Hardin; a 1986 behind-the-scenes doc; outtakes, newly transferred in HD; four of VanBebber's shorts; a music video collection and plenty more goodies for fans…The International Critics' Prize winner at the 1988 Cannes Film Festival, DISTANT VOICES STILL LIVES (84 mins., 1988) is Terence Davies' semi-autobiographical account of living in Liverpool during the 40s and 50s, highlighted by a career-defining performance from Pete Postlethwaite. Arrow's Video includes a new 4K restoration (1.78) supervised by Davies; an interview with Davies; three vintage Liverpool films from the BFI; a new Q&A with the director; trailers; Davies' commentary and Mark Kermode's introduction.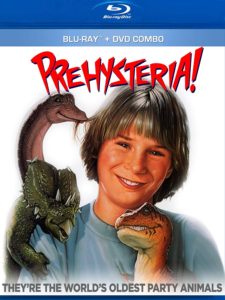 My four-year-old is a huge dinosaur fan – and the perfect audience, as it turns out, for PREHYSTERIA! (82 mins., 1993, PG; Full Moon), a Band family production that I had missed back in the '90s. Admittedly, most older viewers probably bypassed this "Moonbeam Entertainment" production as well, which Charles and Albert Band formed as a family-friendly sub-division of their Full Moon horror label. This is a breezy and quite appealing kid-flick – a good deal more fun than young star Austin O'Brien's other 1993 feature (the dismal Schwarzenegger dud "Last Action Hero") and featuring David Allen's terrific dinosaurs. Full Moon's Blu-Ray is remastered from the original 35mm camera negative and includes a vintage "Moonbeam Videozone," commentary from O'Brien and Charles Band, and 5.1/2.0 stereo sound. Recommended – especially if you've got a Jurassic-loving kid in your home as we do!
Also New From MVD: Terry Zwigoff's 2006 film ART SCHOOL CONFIDENTIAL (102 mins., 2006, R) is a step back from "Bad Santa" and more like a cousin of the generally over-rated "Ghost World." Max Minghella plays an idealistic new art student who finds that life among the eclectic and avant garde isn't all it's cracked up to be; some hilarious work from John Malkovich, Anjelica Huston, Jim Broadbent and Ethan Suplee nearly makes this offbeat concoction work, but the picture is sluggishly paced and loses its energy as it throws in a curve ball during the final third. Likely worth seeing for Zwigoff devotees, but your tolerance for "Ghost World" will likely dictate your enjoyment over this indie affair. MVD's Blu-Ray of "Art School Confidential" marks the film's format debut, including a 1080p (1.85) transfer, DTS MA 5.1 audio, deleted scenes, bloopers, and two featurettes (one examining the film's production, the other a look at its Sundance screening). Not entirely satisfying but not without its moments, either.
VCI New Releases: TELEVISION'S LOST CLASSICS, VOLUME TWO (120 mins.) contains four rare pilot episodes from television's golden age. Reed Hadley stars in "Case of the Sure Thing," which introduced the series "Racket Squad"; "Cool and Lam" hails from "Perry Mason" creator Earle Stanley Gardner; "The Life of Riley" includes Lon Chaney Jr. as Chester Riley, a role that ended up being filled by Jackie Gleason once the show actually went into production: and Rex Stout's "Nero Wolfe" is another one-shot pilot with Kurt Rasznar as Wolfe playing opposite a young William Shatner. A bonus CBS blooper reel hosted by James Arness is also included in VCI's now-available Blu-Ray…Giallo fans can also treat themselves to Mario Bava's early genre effort BLOOD AND BLACK LACE (1965), now on Blu-Ray in a packed special edition from VCI. A 2018 restoration in 2K (1.85) offers a crisp transfer with a fresh commentary featuring critic Kat Ellinger and another talk pairing historians David Del Valle and writer C. Courtney Joyner. Archival video interviews with Mary Dawne Arden and star Cameron Mitchell are also included plus trailers, an extensive photo gallery, isolated score by Carlo Rustichelli and a comparison of both versions.
---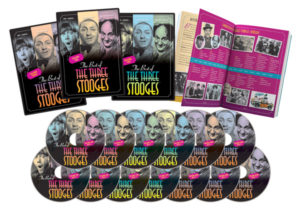 Vintage TV on DVD
BEST OF THE THREE STOOGES – Time-Life 13-Disc DVD Box Set (2018): Fans looking for a fairly comprehensive (as comprehensive as it can get given the team appeared in over 300 films and series) package of The Three Stooges' output should enjoy this new 13-disc DVD anthology from Time Life. This package runs the gamut from the group's classic original shorts to their feature films, documentaries (the multi-part "Hey Moe! Hey Dad!"), cartoons, even the 2000 TV-movie biopic. Though I was always more of an Abbott & Costello buff, this is a nice edition for fans, spanning the group's lengthy, multi-media career.
PAT BOONE AND FAMILY: CHRISTMAS & THANKSGIVING SPECIALS (MPI): Delightful compilation of prime-time specials featuring Pat Boone, wife Shirley and kids Debby (she of "You Light Up My Life" fame), Cherry, Lindy and Laury nets a DVD release just in time for the holidays. This compilation offers Christmas and Thanksgiving specials Boone taped in 1978-79, featuring a wide range of guest stars from the ABC spectrum, including "The Ropers" themselves (Norman Fell, Audra Lindley), Tom Bosley and Gavin MacLeod, plus Rosemary Clooney and Dinah Shore. Ample bonus extras include an interview with Boone, vintage numbers from Boone's "Chevy Showroom" (1957-60), a photo album and more.
---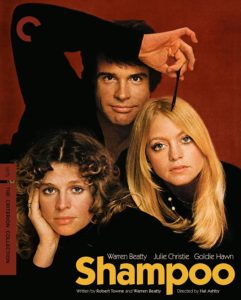 Quick Takes
SHAMPOO Blu-Ray (110 mins., 1975, R; Criterion): Acerbic '70s Warren Beatty vehicle – which he produced and wrote with Robert Towne – hasn't aged all that well. Beatty stars here as a hairdresser sleeping with a variety of women (Julie Christie, Goldie Hawn, and Lee Grant in an Oscar-winning turn) set against the 1968 Presidential election. Hal Ashby helmed this finely performed yet meandering picture, intended as a critique of the '60s but just as much of a '70s vanity project for its leading man. Nevertheless a cult favorite, "Shampoo" comes to Blu-Ray this month from Criterion offering a new 4K digital restoration licensed through Sony. Both the original mono audio and a 5.1 DTS MA remix are included though extras are on the light side for the label: a new conversation between critics Mark Harris and Frank Rich leads the way, while excerpts from a 1998 appearance by Beatty on "The South Bank Show" and a printed essay from Rich round out the package.
SORRY TO BOTHER YOU Blu-Ray/DVD (100 mins., 2018, R; Fox): Hip-hop artist Boots Riley aims for controversy and social commentary with this directorial feature debut, following Lakeith Stanfield as a young black man who navigates his way through a new position at an Oakland business. Tessa Thompson, Danny Glover, Terry Crews and Armie Hammer co-star in this off-the-wall film that's going to be for an acquired taste. Fox's Blu-Ray includes Riley's commentary, a featurette, Digital HD copy, 1080p (2.40) transfer, DVD and 5.1 DTS MA sound.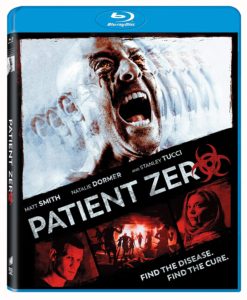 PATIENT ZERO Blu-Ray (87 mins., 2018, R; Sony): No way, it's yet another zombie movie! This one stars Matt Smith as a man who finds out he not only remains human after being bitten, but can communicate with the dead as well – and that includes a smart zombie (Stanley Tucci) with his own ideas about how the apocalypse should go down. Stefan Ruzowitzky's film is beyond played out, and basically throws away its semi-intriguing "Zombie Whisperer" premise with a routine climax. Sony's Blu-Ray is now available featuring a 1080p (2.39) transfer and 5.1DTS MA sound.
THE PADRE DVD (95 mins., 2018, R; Sony): Rote dramatic piece offers Nick Nolte as a hardened, retired lawman who, along with partner Luis Guzman, heads out to track down a con man (Tim Roth) posing as a priest in a small Colombian town. "The Padre" offers little evidence of what attracted its stars to the film, and even its brief 95-minute running time goes by slowly. Sony's DVD is out this week sporting 16:9 widescreen (2.39) and 5.1 Dolby Digital audio.
NEXT TIME: November releases fall in! Until then, don't forget to drop in on the official Aisle Seat Message Boards and direct any emails to our email address. Cheers everyone!