Message Board (open 24 hours!)
Twitter - @andredursin (for everything else!)
Fox went into the summer of '77 thinking THE OTHER SIDE OF MIDNIGHT (166 mins., R; Twilight Time) would be its top ticket, relegating a little movie named "Star Wars" to secondary status on the studio's promotional radar. What they got instead was a picture that has attained a certain level of affection among "Golden Turkey" fans, though truth be told, the movie is neither as campy or fun as its reputation suggests.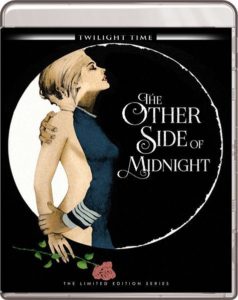 This so-bad-it's-watchable adaptation of Sydney Sheldon's novel by screenwriters Herman Raucher ("Summer of '42") and Daniel Taradash follows a tawdry WWII-era triangle between U.S. pilot John Beck (terrible), the French femme fatale (Marie-France Pisier) he has an affair with, and Beck's later American wife (Susan Sarandon). Aside from Sarandon far outclassing the other leads and Michel Legrand's dreamy, absolutely beautiful score, there's not much going on in "The Other Side of Midnight": the movie's plastic, non-anamorphic cinematography betrays its expensive budget, while director Charles Jarrott does little to enhance the already DOA performances by two of its three stars. There are a few salacious sex scenes and nice locations, but the big surprise watching "Midnight" isn't that it's trashy and campy – more that it's just a typical '70s soap given an uninspired cinematic treatment.
Nevertheless, fans ought to be pleased with Twilight Time's Blu-Ray edition, which includes a perfectly acceptable 1080p (1.85) AVC encoded transfer from the Fox vaults. As with certain Fox catalog titles that Twilight Time has released, two different audio options are included, though this time there's little difference between the 2.0 and 1.0 DTS MA mono mixes presented here. Extras are carried over from the DVD, including the trailer and a Laurent Bouzereau commentary which includes interviews with Jarrott, Sheldon, and producer Frank Yablans. The isolated score track is also worth a listen, just to hear how Legrand repurposes one big theme throughout the entire movie – and it never gets old! (In fact, I'd rank it with the best scores of the decade, and that's saying quite a lot).
Also among Twilight Time's limited-edition Blu-Rays this month are two '50s releases and one of John Boorman's least-seen, late-career works.
John Ford's THE LAST HURRAH (121 mins., 1958) may not have been highly regarded at the time of its release (not to mention was a commercial failure), but the picture has gained in stature over the years amongst the director's devotees. If nothing else, it provides a showcase for Spencer Tracy playing a New England mayor struggling through one last political campaign at a time when image and "the new media" (represented by Jeffrey Hunter as Tracy's journalist nephew) were on the rise, forever changing the country's political and media landscape.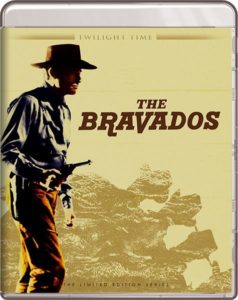 Essentially playing Boston's Mayor James Curley, Tracy is terrific acting opposite a slew of familiar faces, many from Ford's past works, including Pat O'Brien, Basil Rathbone, James Gleason, and Donald Crisp. Frank Nugent, meanwhile, adapted Edwin O'Connor's book, which is still timely with Election Day headed our way in a few weeks. While "The Last Hurrah" is a little long and heavy-handed, it's still worthwhile viewing.
Twilight Time's Blu-Ray includes a nicely detailed 1080p (1.85) B&W Sony-licensed transfer with a new commentary from TT's triumvirate of Lem Dobbs, Julie Kirgo and Nick Redman, plus the trailer and an isolated score track.
The downbeat Fox western THE BRAVADOS (97 mins., 1958) is a curiosity item – a reunion between star Gregory Peck and director Henry King, who previously collaborated on "Twelve O'Clock High" (1949) and "The Gunfighter" (1950). This Cinemascope affair didn't quite place in their company, with Peck playing a scorned rancher looking for revenge after the death of his wife. He targets a posse (Stephen Boyd, Albert Salmi, Henry Silva and Lee Van Cleef) but there are "complications" in a movie more interested in the psychological components of good and evil as opposed to rip-roaring genre action. "Atmospheric" but more memorable for the cast than its story, with Philip Yordan adapting Frank O'Rourke's novel, "The Bravados" boasts a superb 1080p (2.35) Fox licensed transfer with three different stereo audio options (5.1, 4.0 and 2.0 DTS MA). The score by Alfred Newman and Hugo Friedhofer packs a nice punch here, with an isolated score track, Fox Movietone news reels, and the trailer comprising the supplemental package.
Finally, John Boorman's IN MY COUNTRY (103 mins., 2004, R) mixes a mostly formulaic love story – between a poet (Juliette Binoche) and an African-American journalist (Samuel L. Jackson) – against South African location shooting, set during the country's Truth and Reconciliation hearings of the mid '90s. The time and place are more interesting than the story of the main characters, but Boorman devotees may want to give this sincerely-produced film a look nevertheless. Twilight Time's Blu-Ray premiere of "In My Country" includes a 1080p (1.85) Sony-licensed transfer, 5.0 and 2.0 DTS MA audio tracks, isolated score, deleted scenes, numerous interviews, the trailer, and a Boorman commentary.
---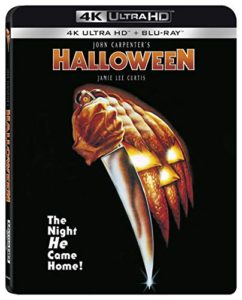 New From Lionsgate
John Carpenter's HALLOWEEN (***½, 91 mins., 1978, R; Lionsgate) has been released on home video more times than perhaps any genre film. Being independently produced and distributed (it's still one of the most profitable pictures ever made of its pedigree), "Halloween" is a landmark genre film that remains nearly as fresh and entertaining today as it did back when it was regionally distributed around the country to theaters during the late '70s.
For starters, Carpenter's film makes excellent use of Dean Cundey's cinematography and the director's own musical score, establishing mood and atmosphere instead of blood and guts gore. The film's look has never been duplicated, and even though the shocks (once you have seen the movie a handful of times) become routine at times, it's the overall environment of the piece that's creepy and always worth revisiting. Jamie Lee Curtis makes the most of her first starring role (admitting it was her best part until "True Lies" came along years later), while Donald Pleasance's perfectly pitched performance as Doctor Loomis remains one of his finest hours, finding the right note between heroic crusading and deranged lunacy.
And what's more, Carpenter's direction accentuates the unseen horrors as much as it does the on-screen violence: quite unlike its imitators and even its own sequels, most of the killings occur off-screen. Carpenter ends up getting more jolts out of sound effects and quick cutting than he would showing the various murders of Michael Myers on-camera, and it's a lesson that a lot of filmmakers should have taken into account when tackling similar material. It isn't the script so much as it is the execution that makes this movie the classic that it is.
Early home video releases of "Halloween" rarely did justice to the film. Back when I was a kid, we had to settle for Media Home Entertainment's ugly, out-of-focus, pan-and-scanned VHS cassettes (some of which erroneously contained the expanded TV version), which still managed to scare the heck out of any impressionable youngster. Things definitely changed when Criterion released their deluxe laserdisc in the mid '90s, which offered the very first letterboxed presentation of Carpenter's full Panavision frame. Seeing that Criterion disc, which was also packed with a handful of outstanding extras (including a terrific audio commentary), was like viewing "Halloween" for the very first time. A myriad of DVDs and Blu-Rays followed: some better than others, several with stronger colors, others with remixed sound.
Lionsgate's first 4K UHD release of "Halloween" offers something of a mixed bag as well – the good news is the HDR/Dolby Vision transfer allows for higher detail than any prior release of the film. Details do seem crisper and the superior compression results in the clearest "Halloween" available for home viewers ever. The color scheme, alas, is aligned with Dean Cundey's approved transfer from the 35th Anniversary release, meaning the film's overall look has clearly been desaturated from what most viewers are familiar with from prior versions.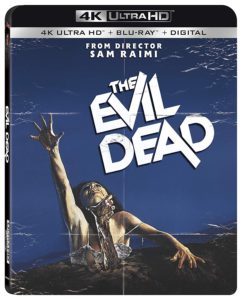 Still recommended for the heightened detail, Lionsgate's UHD also includes a 7.1 Dolby TrueHD track that's nicely done but will likely irritate purists as it contains many "revised" components – and what's worse, the mono mix included here is a fold-down from that track and not the original theatrical audio. Extras include the Carpenter-Curtis commentary, two featurettes, the trailer, radio and TV spots, and sequences shot for the TV version.
Also new from Lionsgate for horror fans this Halloween is a UHD presentation of THE EVIL DEAD (**½, 85 mins., Unrated). Sam Raimi's original Deadite gorefest, one which catapulted Bruce Campbell onto fame and fortune, is just fine, although I still prefer its sequels "Evil Dead 2″ and "Army of Darkness" over this film, which plays like the former without the laughs. That being said, Ash-fans should appreciate the 4K UHD Lionsgate has produced of the film, which is basically a port of their 2010 Blu-Ray, one where Raimi himself supervised the new HD transfer and also recorded an all-new commentary with producer Robert Tapert and Campbell, resulting in a listen that's more entertaining than the movie itself. The 16mm-shot film doesn't seem to gain much in the way of detail here, though the visual pallet seems marginally enhanced due to HDR and the superior HVEC compression of the UHD format. That earlier Blu-Ray and a Digital HD copy round out the package.
ASH VS. EVIL DEAD – The Complete Series Blu-Ray (15 hours, 2015-18; Lionsgate): Fans of Sam Raimi's "Evil Dead" movies are likely to enjoy this fun, if repetitive, Starz series that brings back Bruce Campbell as everyone's favorite Deadite-slaying Supermarket worker, who is tasked with once again trying to stop an invasion of zombies from taking over the world. This time out, Ash leaves Jacksonville for his home in Elk Grove, where – naturally – the dead have followed, causing trouble for Ruby, with whom Ash forms an uneasy alliance. Any episode of "Ash Vs. Evil Dead" is guaranteed to raise a smile, but stringing together several of these (repetitive) shows at any one sitting grows tiresome. If you're a Campbell buff and can consume "Ash Vs. Evil Dead" in small doses, you'll likely be satisfied – even with the just-concluded third season's cliffhanger leaving viewers with an unresolved series ending (the show has since been canceled). Lionsgate's Complete Series Blu-Ray is now available featuring 1080p (1.78) transfers and 7.1 Dolby TrueHD soundtracks plus all the extras from Anchor Bay's prior individual season releases (numerous featurettes, commentaries) and a Digital HD copy.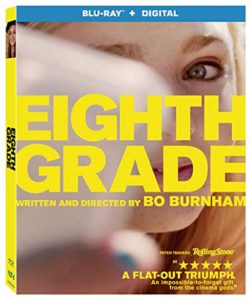 EIGHTH GRADE Blu-Ray (94 mins., 2018, R; Lionsgate): Bo Burnham's acclaimed film is highlighted by a convincing and "real" performance from teen Elsie Fisher, who narrates this tale of a graduating eighth grader struggling to look back over frustrating middle-school years of trying to fit in. Burnham's film is presented in a "fresh" and unaffected manner, though the subject matter is very familiar – the motherless girl trying to connect with her dad, being friendless and trying to fit in with more popular girls, and then being taken advantage of by older guys. The movie also plays out in a methodical and unsurprising manner, making its rave reviews somewhat baffling, despite some nice scenes and Fisher's performance. Lionsgate's Blu-Ray includes commentary from Burnham and Fisher, deleted scenes, a music video, featurette, 1080p (1.85) transfer and 5.1 DTS MA sound.
Also New From Lionsgate: "Twilight" author Stephenie Meyer optioned Lois Duncan's well-regarded '70s teen novel DOWN A DARK HALL (96 mins., 2018, PG-13) several years ago. Summit Entertainment, which struck gold with adaptations of Meyer's own novels, hoped this teen thriller would fare well as a commercial properly, but despite a cast including Annasophia Robb as the film's heroine and Uma Thurman as the mysterious "Madame Duret," the resulting Spanish/US co-production was barely released. Well shot though distressingly familiar in its delivery, "Dark Hall" debuts on Blu-Ray October 16th featuring a nice 1080p (2.39) transfer, 5.1 DTS MA sound, a featurette, deleted scene, and Digital HD copy…Frank Grillo teams up with Bruce Willis in REPRISAL (89 mins., 2016, R), Brian A. Miller's thriller about a man (Grillo) who gets in too deep after a brutal robbery. While trying to track down the suspect, he collaborates with his ex-cop neighbor (Willis) and tries to make some coin to help his diabetic daughter. Former Miss Rhode Island Olivia Culpo co-stars in this rote Lionsgate premiere, on Blu-Ray October 16thfeaturing a Making Of, cast/crew interviews, a 1080p transfer (1.85), 5.1 DTS MA sound and Digital HD…More action can be found in I AM VENGEANCE (93 mins., 2018, R), a Saban Films production starring Stu Bennett as John Gold, an ex-Special Forces soldier who heads to the hometown of his friend, who was murdered along with his parents. Searching for vengeance, he finds payback in this direct-to-video outing from director Ross Boyask. Lionsgate's Blu-Ray, out October 23rd, includes deleted/extended scenes, a 1080p (2.20) transfer, 5.1 DTS MA sound and a Digital HD copy….Young fans and nostalgic older viewers might get a kick out of MY LITTLE PONY: 30TH ANNIVERSARY EDITION, a Blu-Ray/DVD combo pack featuring both the 2017 "My Little Pony Movie" (99 mins., 2017, PG) as well as the original "My Little Pony: The Movie" (86 mins., 1986, G). The former is presented in 1080p (2.39) widescreen with 5.1 DTS MA sound while the latter includes a 1080p (1.33) encode with 2.0 DTS MA sound. DVDs round out the release, available October 16th.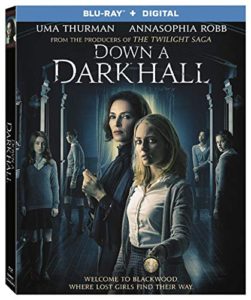 Joe Cole stars as boxer Billy Moore in A PRAYER BEFORE DAWN (117 mins., 2018, R). Moore was an English fighter who was imprisoned in Thailand, where he became a champ at Muay Thai tournaments that enabled him to regain his freedom. Shot on location in an actual Thai prison with real inmates, Jean-Stephane Sauvaire's film debuts on Blu-Ray this week. Lionsgate's BD includes a Making Of, Moore interviews, 1080p transfer and 5.1 DTS MA sound…On October 6th the Lifetime Original Movie HER STOLEN PAST (92 mins., 2018) also rolls out from Lionsgate. Shanice Banton plays a woman who finds the birth certificate of a kidnapped baby at her late mother's home – sending her on a journey to uncover the truth, as well as who was responsible for her mother's murder. Lynette Eason's Harlequin novel formed the basis of this affair, on DVD from Lionsgate featuring a 16:9 transfer and 5.1 Dolby Digital audio. Another Lifetime original, HARRY & MEGHAN: A ROYAL ROMANCE (100 mins., 2018), does an excellent job finding physical facsimiles for its title characters in this glossy TV-movie telling of the relationship between Prince Harry and Meghan Markle. Lionsgate's DVD is available October 16thsporting a 16:9 transfer and 5.1 sound.
Finally, two documentaries are also new from Lionsgate this month: GENERATION WEALTH (105 mins., 2018, R) is Lauren Greenfield's look at our materialistic culture in a rambling chronicle of the horrors of capitalism – or something. Greenfield provides a photo gallery in Lionsgate's DVD, out October 16th with a 16:9 (1.78) transfer and 5.1 Dolby Digital sound. Superior is Kevin MacDonald's documentary profile WHITNEY (120 mins., 2018, R), a look at the life, times, musical legacy and sad demise of pop songstress Whitney Houston. Produced in cooperation with Houston's estate, "Whitney" is filled with archival materials and family recollections, along with terrific music and a look at her depressing fall from the top and losing battle with drug use. Lionsgate's Blu-Ray is well worth a view for Houston fans and pop music lovers, with a sparkling 1080p (1.78) transfer, 5.1 DTS MA sound, a Digital HD copy, plus commentary and motion photo gallery compiled with the help of Houston's estate.
---
Also New & Noteworthy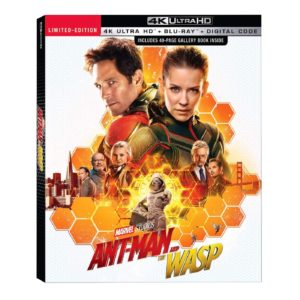 ANT-MAN AND THE WASP 4K Ultra HD/Blu-Ray Combo Pack (**½, 118 mins., 2018, PG-13; Marvel/Disney): Though branded as "inconsequential" by some comic book fans, this engaging if overstuffed summer-time diversion proved to be a nice change of pace from the usual apocalyptic Marvel shenanigans. Set prior to the events of the most recent "Avengers" epic, this lighter follow-up, at least, isn't shackled by being an origin story as Paul Rudd's everyman teams up with the Wasp (Evangeline Lilly) to find the whereabouts of the original costume-wearing heroine (Michelle Pfeiffer). Director Peyton Reed mostly goes for laughs instead of languishing on dire cosmic events, and Rudd and Lilly are a perfect match for the material.
It may not be memorable – and all of it goes on too long – but "Ant-Man and the Wasp" is ultimately more fun than "Infinity War," something confirmed by Marvel's 4K UHD combo package marked by Dolby Atmos audio and a gorgeous HDR transfer. The accompanying Blu-Ray predictably looks just nifty as well with its 1080p (2.39) presentation and 7.1 DTS MA sound. Extras include deleted scenes, a gag reel, Digital HD copy and numerous behind-the-scenes featurettes.
ARIZONA 4K UHD Combo Pack (83 mins. 2018, Not Rated; RLJE Films): Danny McBride's off-the-wall filmography runs the gamut from "Pineapple Express" to writing this month's anticipated revival of "Halloween" and a starring role in this thin, dumb comedy from writer Luke Del Tredici and director Jonathan Watson. Rosemarie DeWitt co-stars as a real estate agent whose client (McBride) abducts her during the housing crisis of 2009, setting off a would-be Tarantino clone that's more comedic than thrilling and mostly DOA in spite of its brief running time. RLJ's UHD, out October 16th, includes an HVEC transfer with HDR, a Making Of, photo gallery, and DTS MA 5.1 audio plus the Blu-Ray.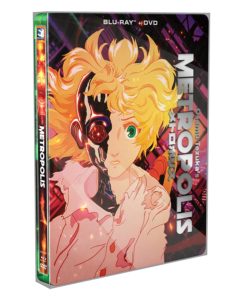 METROPOLIS Blu-Ray/DVD Steelbook (***½, 109 mins., 2001, PG-13; Mill Creek): Long overdue U.S. Blu-Ray offers an HD presentation of a vivid and marvelously realized 2001 animated fantasy from Japanese animator Rintaro (aka Shigeyuki Hayashi).
"Metropolis" is based on Osamu Tezuka's highly-regarded classic comic book from the late '40s, portraying a sprawling futuristic city not unlike the one Fritz Lang envisioned in his own "Metropolis," the silent classic from 1926. Buildings scale high into the sky, cars scuttle through the air and on the roads, and millions of residents move about like tiny ants. It's a quintessential science-fiction vision, and the movie — written by Katsuhiro Otomo of "Akira" fame — is an outstanding piece of animation, filled with a spectrum of colors, evocative visual design, and fascinating characters. "Metropolis" combines traditional anime, American sci-fi films, and even retro elements — particularly in Toshiyuki Honda's jazz-influenced score — in creating a movie that offers a feast for the eyes and ears.
Story wise, the movie offers a somewhat convoluted plot that viewers unfamiliar with the material may find difficult to follow: a Japanese detective and his nephew venture into the "Ziggurat" (Metropolis' largest structure), where the suspicious Duke Red and an insane scientist have created a machine that could control the destiny of the entire city, one in which robots and less fortunate humans currently live in the levels below, and shady political figures conspire to overthrow the current government regime (by using robots) on the levels above.
In order to power the device and ensnare control, Red needs an android replicant of his deceased daughter: the childlike Timo, whom improbably ends up on the run with Ken-ichi, the detective's nephew, from Duke Red's maniacal son. For non-Japanese audiences, "Metropolis" may be the most accessible anime produced, since it seems to have been heavily influenced by great genre films from the West (from Lang's "Metropolis" to Ridley Scott's "Blade Runner"). Its tale of technology run amok can be looked at as a futuristic updating of the "Frankenstein" story, while its depiction of humanity and morality in a technological society are more developed and interesting than similar themes Steven Spielberg posed (but failed to elaborate upon) in his film "A.I.," which opened around the same time.
Still, the visuals are the key in "Metropolis" with Rintaro's artwork and design complimented by a marvelous, acclaimed soundtrack by Toshiyuki Honda. Incorporating a lyrical main theme for the female robot, as well as a handful of cues meant to evoke jazz standards from the 1920's and '30s, Honda's expressive score is one of the film's chief assets, and its striking use of popular, vintage American songs in several scenes (especially Ray Charles' "I Can't Stop Loving You" over its apocalyptic finale) is also noteworthy. It's capped by one of the loveliest movie ballads you'll ever hear ("There'll Never Be Goodbye") that at another time and venue may have become a classic.
Mill Creek's Blu-Ray, available October 26th, includes a 1080p (1.85) transfer and multiple audio options – these include the English audio track (in 5.1 DTS MA) as well as the original Japanese audio (2.0 LPCM stereo) with the option of English subtitles. Though there's a little bit of noise in the transfer, the Sony-licensed master boasts nice color and detail, as well as a high bit-rate. Interestingly, the English track is much superior to its encoding on the old Sony DVD, so it's a viable alternative if you don't want to read subtitles and/or just savor the visuals. Extras are housed on the DVD, mostly rehashing the extra content from the 2001 Sony release, including a subtitled Japanese Making Of, interviews, concept art and other goodies. Highly recommended!
---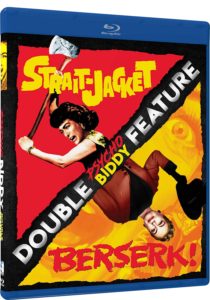 Horror Quick Takes
STRAIT-JACKET/BERSERK Blu-Ray (93/96 mins., 1963/1967; Mill Creek): Affordable, low-priced Joan Crawford double-feature couples the 1963 William Castle shocker "Strait-Jacket" with Crawford's later, British-shot Columbia thriller "Berserk!" Both titles include 1080p (1.85) Sony-licensed transfers and uncompressed PCM audio, making them a viable, more economical option to Scream Factory's recent Special Edition release of "Strait-Jacket."
BLOOD FEST Blu-Ray/DVD (93 mins., 2018, Not Rated; Cinedigm): Owen Egerton's slice of low-budget horror takes three teens and places them into the midst of a real genre experience involving a festival with a nefarious agenda. Cinedigm's Blu-Ray/DVD combo pack, out this week, includes commentary, featurettes, a 1080p transfer and 5.1 DTS MA sound.
SONG OF SOLOMON Blu-Ray/DVD (Unearthed/MVD): Stephen Bird directed this apparently crowd-funded film about an exorcism on a girl who represents the second coming of the Antichrist. A Catholic Church conspiracy is, of course, part of the insanity rolled out by Bird, who indulges in buckets of blood and practical effects – passable for those desiring that kind of experience, though lacking on the dramatic end. MVD's features-rich Blu-Ray includes two commentaries, a slew of interviews, outtakes, behind the scenes materials, a 1080p (1.85) transfer and 2.0 Dolby Digital sound.
THE WITCH FILES DVD (87 mins., 2018, Not Rated; Dark Sky/MPI): Familiar recycling of teen witchiness smacks of "The Craft," as a group of teenage girls, gathered together at detention, end up dabbling in the black arts. Soon, their entire high school is controlled by their coven, but when the fun starts to run out, they have to stop one of their own who doesn't want to rein in their powers. Dark Sky's DVD, available this week, includes commentary with director Kyle Rankin, a behind-the-scenes segment, the trailer, a 16:9 transfer and 5.1 sound…New from the Cohen Film Collection is Jacques Doillon's RODIN (119 mins., 2017), the profile of the pioneering artist whose Balzac became the benchmark for modern sculpture. Rodin's (Vincent Lindon) work and relationship with both his wife (Severine Caneele) and mistress (Izia Higelin) are the centerpiece of Doillon's well-reviewed film, now on Blu-Ray from Cohen. The disc includes a "Sculpting Rodin" featurette plus 5.1 DTS MA French audio with English subs and a strong 1080p transfer.
---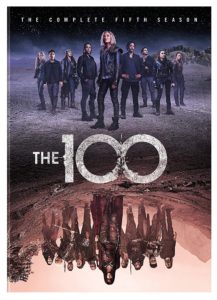 Quick Takes
THE 100 – Complete Fifth Season DVD (551 mins., 2018; Warner): Some six years after Earth's second nuclear apocalypse (wasn't one enough?), Bellamy's team of survivors is in space while Clarke is on the ground, with hundreds more trapped in a bunker below. With warring armies thrown into the mix, how can the human race survive? Season 5 of "The 100" attempts to answer these questions and more in the latest group of 13 episodes from the CW series. Warner's DVD includes 16:9 transfers, 5.1 soundtracks, the 2018 WonderCon pane, a gag reel and featurette.
BARRY – Complete First Season DVD (238 mins., 2018; HBO): Saturday Night Live's Bill Hader collaborated with "Silicon Valley"'s Alec Berg for this story of a lonely hitman from the Midwest who comes to L.A. to rub out a mark. In the process, he joins an acting class taught by brash Gene Cousineau (the terrific Henry Winkler), feels an immediate draw to a fellow classmate (Sarah Goldberg) while struggling to balance his mission with his newfound interests. "Barry" has its moments but I felt it became repetitive as it went along, the show mixing droll humor with predictably violent outbursts that became tedious over time. Your mileage, of course, may vary. HBO's Season 1 DVD of "Barry" is now available featuring an Ultraviolet copy, 16:9 transfer, 5.1 sound, and two featurettes.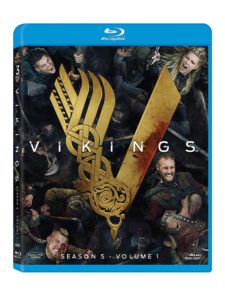 THE VIKINGS Season 5, Volume 1 Blu-Ray (543 mins., 2017-18; MGM/Fox): With Ivar the Boneless stamping his leadership of the Great Heathens and Lagertha reigning as the Queen of Kattegat, Ivar brutally murders his brother – setting the stage for a number of battles, backstabbing political intrigue and plenty of sex, violence and patented "Vikings" entertainment. MGM's first volume of episodes from "The Vikings"' fifth season includes extended versions of 10 episodes, commentary with creator Michael Hirst, featurettes, deleted scenes, 1080p transfers and 5.1 DTS MA sound.
THE RESIDENT: Complete Season 1 DVD (615 mins., 2018; Fox): Fox medical drama is mostly ridiculous Hollywood gloss, starring Matt Czuchry as a young doctor living through various trials and travails as he completes his residency. Emily VanCamp and Bruce Greenwood co-star in "The Resident," which managed to generate a second season and whose first season of 14 episodes is now on DVD. 16:9 transfers and 5.1 sound adorn Fox's three-disc set, which is now available.
Nickelodeon New Releases: Two new DVDs from the Nick Jr. line hit stores on October 16th from Paramount. SNOW AWESOME! (92 mins., 2016-18) is a holiday anthology featuring six Christmas-themed episodes from "Nella the Princess Knight," "Sunny Day" and "Shimmer and Shine." The series TOP WING (93 mins., 2017-18) lands on disc as well later this month, with the cadets from Team Top Wing soaring through 7 episodes. 16:9 transfers and 5.1 sound are included on each release.
THE REAL STORY: THE DA VINCI CODE DVD (45 mins., Smithsonian/PBS): Code breakers, historians and theologians join the hunt for the truth behind Dan Brown's bestselling novel and subsequent film series in this Smithsonian Channel episode from their "Real Story" series. PBS' DVD includes a 16:9 widescreen transfer and 5.1 Dolby Digital sound, and streets this week.
From Film Movement: Dieter Berner's EGON SCHIELE: DEATH AND THE MAIDEN (110 mins., 2018) stars Noah Saavedra as Egon Schiele, a provocative artist in early 20th century Vienna. With the Bohemian era coming to a close, he creates his masterwork "Death and the Maiden" while the outbreak of WWI looms, threatening his pursuits and his one true love, Wally. Film Movement's DVD of this Austrian production comes to home video this week featuring 5.1/2.0 stereo (German with English subtitles) plus Michelle and Uri Karnot's short "Nothing Happens" as a bonus feature.
NEXT TIME: Halloween thrills from Warner Archive and Kino Lorber! Until then, don't forget to drop in on the official Aisle Seat Message Boards and direct any emails to our email address. Cheers everyone!