Message Board (open 24 hours!)
Twitter - @andredursin (for everything else!)
Kicking off Kino Lorber's October releases, THE FLAMINGO KID (***½, 100 mins., 1984, PG-13) is a winning slice-of-life comedy from "Happy Days" creator Gary Marshall, starring Matt Dillon as a Brooklyn kid who gets a job as a cabana boy at a posh Long Island beach club during the summer of '63. Richard Crenna plays a car dealer and local card shark who tutors Dillon in the game and life itself, much to the consternation of Dillon's blue-collar dad Hector Elizondo, who is troubled by his son's fascination with people from a "higher class."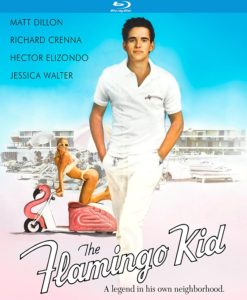 Co-written by Neal Marshall (no relation) with the director, "The Flamingo Kid" is a great coming-of-age picture, boasting many funny and quietly poignant sequences. The supporting cast includes early appearances by Janet Jones, John Turturro, Marisa Tomei, and Fisher Stevens, but it's the triangle between Dillon, Crenna and Elizondo that really sings, bringing a memorable and realistic dramatic angle to a super movie.
Culled from the ABC Pictures vaults, Kino Lorber's Blu-Ray marks the movie's first home video release since the DVD era. While the sometimes soft-looking master looks to be an older one, the 1080p (1.85) AVC encode is mostly pleasing and at least an enhancement on its previous edition. Though released in mono, both 5.1 and 2.0 DTS MA tracks are provided, with the latter offering more bass and a wider dynamic range in comparison to the very tinny 2-channel track. A commentary from Jim and Pat Healy is a welcome inclusion all around, detailing Matthew Broderick's original casting (he went off to make "Ladyhawke" instead) in a film that, for me, still holds up as Marshall's best film.
Prior to "Flamingo Kid," Marshall made his feature directorial debut with another ABC production, YOUNG DOCTORS IN LOVE (**½, 96 mins., 1982, R). Working from a script by "Serial" scribes Michael Elias and Rich Eustis, this "Airplane!"-esque send-up of soap opera medical dramas is usually funny and chock full of familiar faces – be it young actresses (Sean Young, Pamela Reed, Crystal Bernard), character actors (Marshall fave Hector Elizondo, Harry Dean Stanton, Dabney Coleman, Patrick Macnee), soap opera stars (Susan Lucci, Janine Turner, Michael Damian), stand-up comedians (Michael Richards, Taylor Negron), and unbilled turns from future stars (Demi Moore, Richard Dean Anderson). There's also Michael McKean who, along with Ted McGinley (then co-starring on Marshall's hit comedy "Happy Days"), play doctors in a spoof that opened and played moderately well at the box-office during the prolific summer of 1982 but – due to various distribution changes with the ABC back catalog – hasn't been widely available on home video in some time.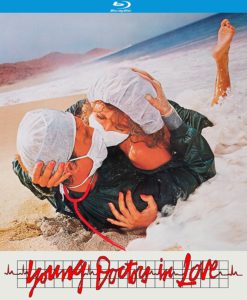 Kino Lorber's Blu-Ray sports a generally clean 1080p (1.85) transfer with DTS MA mono sound, the movie sporting the first of several Maurice Jarre "comedy scores" during the decade (in fact, Jarre would score "Top Secret!" for the Zucker/Abrahams/Zucker gang, who produced "Airplane!" itself, a couple of years later). Another commentary from KL regulars Pat and Jim Healy discusses the film's production, which managed to throw in an "E.T." joke even though it hit theaters just a month after that Spielberg classic opened!
AVANTI! Blu-Ray (***, 140 mins., 1972, R): One of Billy Wilder's more flavorful and satisfying late-career efforts, Wilder and I.A.L. Diamond's adaptation of Samuel Taylor's not-too-successful stage play finds harried American businessman Jack Lemmon flying to Italy after his father is killed in a car crash. There, he discovers the affair his dad had been carrying on with a British woman, whose own daughter (Juliet Mills) Lemmon forms an at-first abrasive relationship with. Lengthy but never dull, "Avanti!" isn't a laugh-out-loud movie, but more a bittersweet, character-driven picture with memorable turns from both Lemmon and Mills. Wilder shot the film on-location with an Italian crew, and the lovely locales and melancholy tone make for a fine picture that's certainly a cut-above Wilder's subsequent works. Kino Lorber's Blu-Ray boasts a standard 1080p (1.85) AVC encoded MGM-licensed transfer in generally very good shape and clear DTS MA mono sound, the movie sporting a pleasant adapted underscore that doesn't add much, ultimately, to the film dramatically. Extras include new interviews with both Juliet Mills and Clive Revill, reflecting on their experience working with Wilder, and the trailer.
CANNON FOR CORDOBA Blu-Ray (**½, 104 mins., PG-13): Watchable, modestly entertaining western should placate genre buffs. George Peppard plays a veteran American captain whose "Dirty Dozen"-like band of outcasts leads a mission, south of the border, to destroy six cannons before rebel leader Hector Cordoba (Raf Vallone) gets possession of them during the Mexican Revolution. Paul Wendkos' direction is pretty routine, as is Elmer Bernstein's competent yet mostly uninspired score, but for western fans there's enough familiar ingredients satisfactorily handled in "Cannon For Cordoba" to make it worth a view. The elements in the MGM master sometimes display their age here (especially the early, burnt-orange credit sequences) but the transfer (2.35) itself is fine in Kino's Blu-Ray. Extras include a Nathaniel Thompson-Howard Berger commentary and trailers.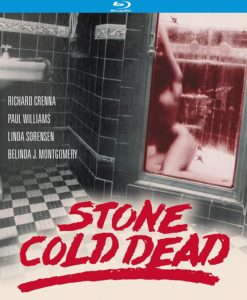 STONE COLD DEAD Blu-Ray (**½, 100 mins., 1979, R): Entertaining Canadian crime thriller with some sleazy (especially for the late '70s) elements gives viewers the once-in-a-lifetime teaming of Richard Crenna, as a hard-boiled detective hunting down a killer preying on prostitutes, and Paul Williams, playing a pimp who may just be a suspect. Linda Sorensen, Alberta Watson and Belinda J. Montgomery co-star in director George Mendeluk's wintry affair, boasting a twist ending as it adapts Hugh Garner's novel and offers both atmospheric locales and enjoyable performances. Fans of B-grade modern noirs should especially find "Stone Cold Dead" of interest, with Kino Lorber's Blu boasting an interview with Mendeluk, commentary from Nathaniel Thompson and Howard Berger, a satisfying 1080p (1.85) AVC encoded transfer and DTS MA mono sound.
ROLLING VENGEANCE Blu-Ray (**, 90 mins., 1987, R): Another Canadian-lensed production, "Rolling Vengeance" stars Don Michael Paul as a trucker whose sister and kids are killed in a crash by a gang and its leering "good o'l boy" thug leader, played by Ned Beatty in one of his most heavy-handed villainous roles. Seeking revenge, Paul constructs the ultimate monster truck which proceeds to cruise around on the backroads of Ontario. Lawrence Dane and Lisa Howard co-star in Steven Hillard Stern's punchy little action affair, which became a minor home video/cable TV favorite in the late '80s, and boasts some 65 cars totaled in its path of cinematic destruction. In addition to a nicely detailed 1080p (1.85) AVC encoded transfer, the disc also includes a commentary from Canadian exploitation authorities Paul Corupe and Jason Pichonsky, the trailer, and an interview with Dane.
RAWHEAD REX Blu-Ray (*, 89 mins., 1986, Unrated): Author Clive Barker wasn't reportedly happy with this early version of his work, which he scripted from one of his short stories – yet the cult of Barker fans who flocked to the likes of "Nightbreed" may still want to give this unintentionally funny 1986 monster opus a look. David Dukes plays an American historian who gets too close to the title creature while working in Ireland with his family, resulting in some shoddy FX even by low-budget standards and an ending that especially should generate some laughs. Kino Lorber's Blu-Ray is a full-fledged Special Edition, offering a new commentary by director George Pavlou and moderator Stephen Thrower, plus interviews with actors Henrich von Bunau and Ronan Wilmot, plus visual effects artists, camerman Sean Corcoran, and genre authority Stephen R. Bissette. A booklet essay, still gallery, DTS MA 5.1 audio and the trailer round out one of Kino Lorber's more features-packed releases with a slipcover and 1080p (1.85) AVC encoded, 4K-mastered transfer from the original camera negative!
---
Twilight Time October Releases
Leading the charge among Twilight Time's October Blu-Rays is the 1947 Darryl F. Zanuck/Technicolor classic CAPTAIN FROM CASTILE (***½, 141 mins.), an exceptional high-def debut for the Tyrone Power favorite which last surfaced a decade ago as part of Fox's "Tyrone Power Collection" DVD anthology.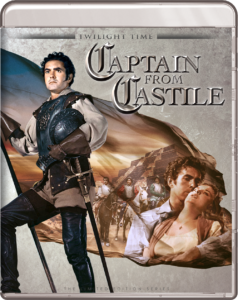 A lengthy but enjoyable '40s epic, "Castile" is great fun with a zesty supporting cast (Jean Peters, Cesar Romero, Lee J. Cobb and others) and plenty of action as it follows a Spanish aristocrat's adventures with New World explorer Hernan Cortez. The color cinematography and rousing Newman score make for spirited Golden Age studio entertainment.
As with the DVD edition, Twilight Time's Blu-Ray boasts DTS MA 2.0 and 1.0 sound offerings (here in lossless DTS MA), plus a remarkably clear isolated score of Alfred Newman's all-time classic soundtrack. Supplements include the previously-released commentary with Nick Redman and fellow historians Jon Burlingame and Rudy Behlmer, plus a featurette on Power's "Leading Ladies," the AMC Biography documentary "Tyrone Power: The Last Idol," and the original trailer. What's enhanced, appreciably, here is the detail in the Blu-Ray's 1080p (1.33) AVC encoded transfer, adding to director Henry King's pageantry and color.
Less satisfying – but still fun – swashbuckling of a different kind is on-hand in THE PIRATES OF BLOOD RIVER (**½, 87 mins., 1962), a Hammer production released by Columbia that was last seen on DVD in the 2008 Sony compilation "Icons of Adventure."
This 1962 production offers silly but good-looking pirate fun with Kerwin Mathews as an ostracized Huguenot who returns to the community that banished him along with a scalawag (Christopher Lee, wearing an eye-patch of course) searching for lost loot. Oliver Reed, Desmond Llewelyn and a host of familiar Hammer stock players (Andrew Keir among others) co-star in this spectacularly ridiculous but engaging Saturday matinee effort, presented on Blu-Ray with a strong 1080p (2.35) AVC encoded transfer from similar elements as that DVD, plus a DTS MA mono soundtrack. Extras here include a commentary with writer Jimmy Sangster, art director Don Mingaye and historian Marcus Hearn, an isolated music/FX track and the trailer.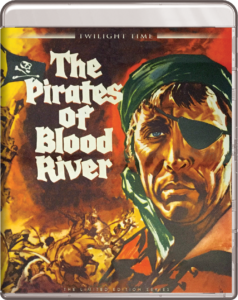 Walter Hill's filmography is a mixed bag littered with hits and misses, and the superbly cast WILD BILL (**, 98 mins., 1995, R) is regrettably one of the latter. A slow-going, talky affair scripted by Hill from two different sources (a book by Pete Dexter, a play by Thomas Babe), "Wild Bill" wastes Jeff Bridges in the title role, a fading though still fiery old codger living out his days in Deadwood. Calamity Jane is also on-hand in the form of Ellen Barkin, but things really heat up once David Arquette comes to town, searching for payback for Bill's relationship with his mother (Diane Lane) seen in black-and-white flashbacks.
Hill certainly assembled a major cast for this UA release, with John Hurt, Keith Carradine, Christina Applegate, Bruce Dern and assorted character actors (Marjoe Gortner, James Gammon, James Remar) supporting Bridges and Barkin. The resulting movie, alas, is a dreary affair that bombed at the box-office in Christmas '95, with MGM misleadingly marketing the film as a more action-oriented affair like the then-recent hit "Tombstone." One can't blame them though, as "Wild Bill" isn't very appealing from a story or aesthetic angle, and a far cry from Hill's own success in the genre, 1980's "The Long Riders."
Fans of the actors might still be compelled to check out Twilight Time's new Blu-Ray edition, which carries a fine 1080p (1.85) AVC encoded MGM-licensed transfer, though truthfully, I didn't much care for Lloyd Ahern's drab cinematography. An isolated music track (the film was scored by Van Dyke Parks) and the trailer round out the disc, with 5.1 and 2.0 DTS MA stereo tracks available for the picture itself.
Finally, Michael Caine reteamed with his "Harry Palmer" producer Harry Saltzman, then still involved with the James Bond pictures, for the cynical 1968 WWII adventure PLAY DIRTY (**½ , 118 mins., 1968). Here, Caine plays a British petroleum officer working for the British army in North Africa who's sent a series of criminals – including one played by Nigel Davenport — for a mission to knock out an African fuel depot.
"Play Dirty" was apparently rife with production issues, including the departure of Richard Harris, who was signed to play the Davenport role and reportedly quit several days into shooting, as well as director Rene Clement, who was replaced by journeyman Andre De Toth after Harris' exit. The resulting film has some well-executed action scenes but seems aloof and overly interested in punching across its ambivalent morality, not to mention the heavy-handed "ironic" soundtrack of cheery French tunes and "You Are My Sunshine," used to punctuate the bitter nature of its screenplay.
A movie that I've seldom seen aired on television over the years, "Play Dirty" boasts a perfectly acceptable MGM (2.35) catalog transfer with DTS MA mono sound. Michel Legrand's sparse score is isolated with effects, and the original trailer rounds out the release.
---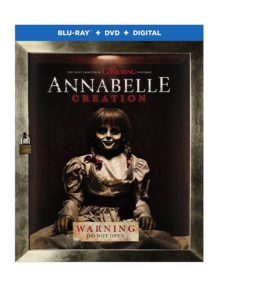 Halloween Hyjinks
ANNABELLE CREATION Blu-Ray Combo Pack (**½, 110 mins., 2017, R; Warner): Though partially sunk by a miserable ending, "Annabelle Creation" still managed to beat the odds of its pedigree – a prequel to a tepid horror spin-off both produced on lower budgets than their "Conjuring" franchise counterparts — and gross over $300 million worldwide on a thrifty $15 mil production budget.