Two very different films with "Summer" in their respective titles are part of Twilight Time's latest batch of limited edition Blu-Rays, timed to coincide with these dwindling (say it isn't so!) days of Summer 2017.
Paul Newman teamed up with director Martin Ritt and brilliant writers Irving Ravetch and Harriet Frank Jr. for the duo's first (of three) William Faulkner adaptations, THE LONG, HOT SUMMER (117 mins., 1958). A glossy Cinemascope drama, "Long, Hot Summer" compiled a trio of Faulkner stories into a single narrative centering around a drifter (Newman) named Ben Quick. Ben stumbles into a small Mississippi town run by a wealthy family and its bombastic patriarch (Orson Welles), who immediately takes a shine to him. Seeing in the up-and-coming young man the ambition lacking in his own son (Anthony Franciosa), Welles' domineering figure supports Quick's ambitions – as well as furthering along a prospective relationship between Quick and his daughter (Joanne Woodward) – even though there's mystery involving the drifter's past and possible history as a barn-burner.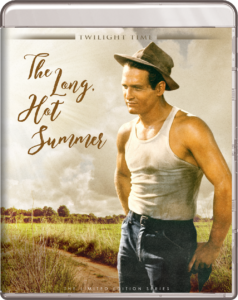 "The Long, Hot Summer" is an engaging soap opera expertly performed by a cast that also counts Lee Remick and Angela Lansbury among its legendary stars. Everything about the film reeks of class, from its widescreen lensing to Alex North's smoky jazz score. It's a product of its time, but an entertaining one if you like this kind of thing, though I have a personal preference for "The Sound and the Fury," a follow-up that reunited numerous personnel from this film, including Ritt, Ravetch and Frank, Woodward, North, and producer Jerry Wald (and which TT released on a now sold-out Blu-Ray several years back).
Twilight Time's Blu-Ray seems to have originated from a recent looking scan, boasting fine detail (2.35) as well as a color scheme dominated (perhaps intentionally) by yellowish hues. The stereo sound is delivered in both 5.1 and 2.0 DTS MA flavors, with an isolated score track, the trailer, Fox Movietone newsreel, and an AMC backstory on the film that offers plenty of compelling anecdotes, mostly involving the contentious relationship between Welles and his director.
A very different kind of "Summer" is present in the Columbia adaptation of Tennessee Williams' SUDDENLY, LAST SUMMER (114 mins., 1959), the controversial and downright sordid (for 1959) tale of a wealthy matriarch (Katherine Hepburn) who, in order to protect the good name of her late son Sebastian, tries to have his traveling companion cousin (Elizabeth Taylor) institutionalized and lobotomized. Thankfully, a young surgeon (Montgomery Clift) selected to perform the procedure is determined to find out the truth – one that ultimately involves Sebastian's sexual identity and lurid behavior, trickily presented by director Joseph Mankiewicz and screenwriter Gore Vidal.
"Suddenly, Last Summer" is overheated like most Williams works, but the film still functions today as a bizarre and disturbing piece with powerhouse performances from Taylor and Hepburn, both of whom earned Oscar nominations. The stark B&W cinematography works extremely well in sequences depicting Sebastian and his eventual demise, which is horrifyingly directed by Mankiewicz in a manner that had to have been shocking for 1959 – as well as its overall thematic material.
Like so many of Twilight Time's Sony-licensed Blu-Rays, the 1080p (1.85) AVC encoded transfer is dominated by fine grain and detail, and the DTS MA mono sound is perfectly acceptable (an isolated music/effects track is also included, along with the trailer).
The original "Kid Galahad" was a '30s Warner Bros. production starring Edward G. Robinson as a promoter whose sister falls in love with his top boxing prospect. In the 1962 KID GALAHAD (95 mins.), Elvis stars in the title role – a reluctant boxing star on the rise after being tapped by a promoter (Gig Young, in the Robinson role) with a gruff manager (Charles Bronson) also in the King's corner.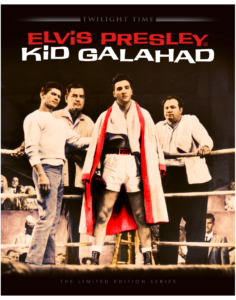 Elvis, naturally, performs some tunes in this Mirisch Company production, one that gives Presley top billing but is often carried by Young, no surprise since the role was the primary one in the original version. Though the songs didn't result in any classics, the film is still breezy and entertaining, especially for Presley fans, offering competent performances and direction from Phil Karlson that makes it one of the stronger dramatic vehicles Elvis starred in. Twilight Time's Blu-Ray includes a satisfying 1080p (1.85) transfer and 1.0 DTS MA mono sound, an isolated music/effects track and the original trailer.
8 HEADS IN A DUFFEL BAG (95 mins., 1997, R) is a labored farce from writer-director Tom Schulman. One of the hottest screenwriters of the late '80s/early '90s, Schulman won an Oscar for "Dead Poets Society" and worked on a number of other box-office hits, including "What About Bob?" and turning "Honey I Shrunk The Kids" into a Disney-fied comedy.
Schulman's one and only film as a director (and with good reason) was this 1997 comedy starring Joe Pesci as a hitman who's tasked with transporting a particular duffel bag containing severed heads back to a mafia boss for proof of their respective executions. Alas, the bags are switched with that of an ordinary young guy (the bland Andy Comeau) heading to Mexico for a family vacation with his girlfriend (Kristy Swanson) and parents (George Hamilton, Dyan Cannon).
There's not a lot to say about "8 Heads," which also sports David Spade in a supporting role as one of Comeau's buddies. Either you go with the film and find it funny or you don't, and despite the best efforts of a game cast, the movie was one of Pesci's numerous bombs made after his peak in "Goodfellas" and "My Cousin Vinny." It's a strained attempt at remixing "Weekend At Bernie's" with Scorsese mob cliches, and simply doesn't work. Twilight Time's Blu-Ray does look fine with its 1080p (1.85) AVC encoded transfer from the MGM vaults plus 5.1 and 2.0 DTS MA sound. An isolated score (with some effects sprinkled in) track and the trailer comprise the disc's supplements.
Finally, Twilight Time shifts gears entirely with the domestic debut of THE EMPEROR IN AUGUST (136 mins., 2015), a recent Japanese picture set in the waning days of WWII, where the country's war administration – from Hirohito (Masahiro Motoki) to its PM (Tsutomo Yamazaki) – debate surrender as well as the fallout from the Hiroshima and Nagasaki bombings. A remake of a '60s Japanese film named "Japan's Longest Day" (and released under that name in its native country), Twilight Time's Blu-Ray includes 5.1 and 2.0 DTS MA mixes (with English subtitles), a 1080p (2.35) transfer, isolated music track and original trailers.
---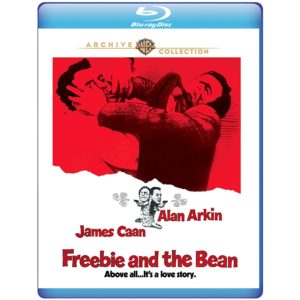 New From Warner Archive
One of the seminal "cop buddy" pictures, FREEBIE AND THE BEAN (**½, 113 mins., 1974, R) is nevertheless a loud, strained affair that's mostly dated – in a bad way. Robert Kaufman's script – based on a story by executive producer Floyd Mutrux — pairs unorthodox San Francisco cops Freebie Waters (James Caan) and "Bean" Vasquez (Alan Arkin) as they're forced to safeguard a mobster (Jack Kruschen) they're investigating after learning a hit man is out to take him down.
Mass chaos ensues in much of Richard Rush's film, including a quartet of extensive chase sequences that were intended to top prior genre hallmarks "Bullitt" and "The French Connection." On a technical level, "Freebie" is certainly impressive in the scope of its demolition, with Rush's action sequences making great use of the Panavision frame and the movie offering plenty of '70s atmosphere courtesy of its location lensing.
The issue is the story and its thin, at-times stereotypical characterizations – for example, Valerie Harper plays Bean's philandering Latina wife, in a role that kind of symbolizes the picture in general. Beyond the questionable ethnic portrayals, much of the humor in the film is reliant on the mileage one gets from its lead characters alternately bickering and yelling at each other. Rush turns up the energy and Caan and Arkin respond in kind, but the terrific stars are saddled with material they can elevate only so much. After sampling a few minutes and its impressive – if tedious – car chases, you might find the overlong, redundant "Freebie" to be a relic of its era that should've stayed there.
That said, for fans of the movie who do find the picture amusing – or viewers just nostalgic for Saul Bass' Warner logo and Dominic Frontiere's "'70s" score – Warner's Archive Blu-Ray is a beaut. The remastered 1080p (2.41) transfer is spectacularly detailed with a healthy DTS MA mono soundtrack and the trailer rounding out a technically faultless presentation.
New on DVD: Two vintage westerns join the ranks of the Warner Archive this month as well. In THE LION AND THE HORSE (84 mins., 1952), Steve Cochran has fun in a contemporary sagebrush saga as a wild-horse wrangler whose favorite new stallion, Wildlife, is sold to a conniving circus owner (Ray Teal) with a track record of animal mistreatment. This enjoyable programmer is enhanced by Max Steiner's score and color cinematography, presented here in a 1.37 full-screen Warner DVD…Also freshly released on DVD is COW COUNTRY (81 mins., 1953), an Allied Artists oater featuring Edmund O'Brien as a teamster caught in the midst of a Texas range war. Helen Westcott and Bob Lowry also appear in the black-and-white affair, notable for being one of its star's rare appearances in the genre. Warner's DVD boasts a 1.37 full-screen transfer and mono sound.
---