Michael Keaton, off the success of "Night Shift," is mostly the whole show in this formulaic affair as Jack Butler – a Chicago auto worker who's laid off with his cohorts (including Christopher Lloyd) by a not-entirely on the level boss (Jeffrey Tambor). With his wife (Teri Garr) shifting into the "breadwinner" role by taking a job at Ron Richardson's (Martin Mull) advertising agency, Jack has to jump through hoops to take care of their three kids and navigate the various in and outs of domestic life – including an overly friendly divorcee (Ann Jillian).
While the pirate flick "Nate & Hayes" went belly-up, Hughes' other Summer 1983 releases were huge hits: "National Lampoon's Vacation" was a bona-fide smash and "Mr. Mom" even outgrossed it by a hair, doing solid business with family audiences as the season came to an end. Seen today, it's awfully quaint, superficial stuff – constructed like a TV sitcom (and looking like one too), director Stan Dragoti avoids anything resembling cinematic flourishes as well as adult-oriented humor, save for Jillian's PG-level advances on Keaton. It actually makes all of Hughes' own, subsequent productions seem edgy by comparison.
Yet, for its lightness, the movie's central theme – paying tribute to parents who stay home and work at raising their kids – is still relevant today (as I've found out on many an occasion!). More over, Keaton is terrific, bringing an enormous amount of energy and appeal to scenes that might've needed a laugh track to underscore their comedy otherwise. He also bounces well off Garr and the duo's interaction with their on-screen kids is believable all the way through. The movie doesn't quite know what to do with its talented cast of comic pros like Mull, Tambor and Lloyd (who's only in a few scenes at the start), but "Mr. Mom" is nevertheless an entertaining if one-dimensional product of its time, sending both Hughes and Keaton on their way to bigger and better projects.
Making its Blu-Ray debut at long last on September 5th, Shout's "Select" presentation marks the movie's first widescreen presentation since its theatrical exhibition in a respectable 1080p (1.85) AVC encode from the MGM vaults, with the studio having absorbed all of Sherwood/Gladden Entertainment's output years back (Fox had released the film theatrically). The DTS MA mono sound is fine, and Lee Holdridge's mellow score includes a lyrical main theme and its own, festive arrangement of Bill Conti's "Gonna Fly Now," making one lament the absence of a soundtrack album.
The disc's main supplement of note is a new, 36-minute documentary on the production. Given that this is the first "Mr. Mom" retrospective to ever hit the marketplace, fans should be quite happy with this likeable if somewhat repetitive segment. Producer Lauren Shuler Donner, who worked with Hughes on several subsequent films, relays her remembrances of the picture with Ann Jillian, Miriam Flynn, and then-kid actors Frederick Koehler and Taliesin Jaffe also recalling what was apparently a very happy shoot, with a minimum (or complete absence) of conflicts among cast and crew. Given the good vibes turned out by the ensuing film, that likely shouldn't come as a big surprise.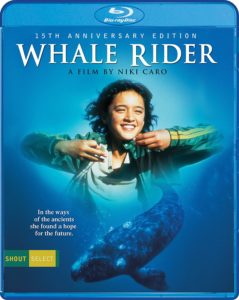 WHALE RIDER Blu-Ray (***, 101 mins., 2002, PG-13; Shout Factory): A young Maori girl — the only heir to the leadership of her tribe — tries valiantly to become her people's leader in this moving and enormously well-acted 2002 film from writer-director Niki Caro.
Shot on the New Zealand coast, Caro's "Whale Rider" is one of those critically praised movies that's actually as good as its reputation would lead you to believe. Based on a Maori novel by Witi Ihimaera, this is a picture that's both a tender coming of age story and a tale of ancient traditions being counterbalanced by the modern world. The latter aspect of the material is what gives "Whale Rider" a satisfying and compelling center, in how the grandfather of the young girl, Pai, struggles to accept her potential destiny and yet embrace her as his family at the same time. The relationship between the two — and the performances of Keisha Castle-Hughes as the girl and Rawiri Paratene as her grandfather — make this a more powerful, intelligent, and emotional journey than you'd expect from a story of this nature, while the Maori culture is treated with great care and respect by the filmmakers.
Complimenting the storytelling is outstanding filmmaking. There are rich, widescreen visuals courtesy of director Caro and cinematographer Leon Narbey – elements that really sing in Shout's Blu-Ray debut of the film — as well as a haunting score by Lisa Gerrard. "Whale Rider" may not sound like a traditional teenage story, and it's not: this is a serious and ultimately uplifting picture that's well worth viewing on disc.
The Shout Select Blu-Ray offers a satisfying 1080p (2.35) transfer with 5.1 and 2.0 DTS MA tracks and assorted extras that have been carried over mostly from the out of print Sony DVD. These include an excellent commentary track from Niki Caro that divulges her approach to the story, while a better-than-average Making Of profiles the production itself. A collection of deleted scenes are included with commentary, along with the original trailer and stills gallery.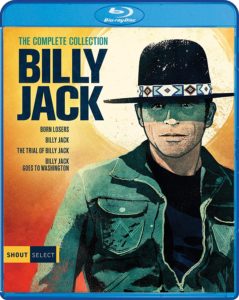 BILLY JACK: THE COMPLETE COLLECTION Blu-Ray (1971-77, Shout Factory): Tom Laughlin's character Billy Jack – a half-white, half-American Indian ex-Green Beret out to exact his own brand of social justice — made his debut in the AIP effort "Born Losers" (1967, 113 mins.) but only became an icon of '70s cinema with the release of Laughlin's "Billy Jack" (114 mins., 1971, GP) in 1971. Though highly dated today, Shout's four-disc Blu-Ray box-set compilation of Billy's four features offers a fascinating historical perspective on the era's social mores and tastes — it's amazing to think "Trial of Billy Jack" (1974, PG) broke box-office records back in the day, particularly at an unmanageable 171 minutes! Nevertheless, there's some fun to be found throughout all four movies, particularly the Elmer Bernstein-scored "Billy Jack Goes To Washington" (114 mins., 1977, Not Rated) co-starring future "Real People" hostess Sarah Purcell and the late, great Pat O'Brien.
Shout's "Select" Blu-Ray box-set reprises some extras from Ventura Distribution's out-of-print DVD box-set, including commentaries with Tom Laughlin, Delores Taylor and Frank Laughlin. Still galleries and trailers comprise the additional supplements with 1080p transfers and DTS MA mono soundtracks (stereo on "Billy Jack" itself) comprising the technical end of things. Fans should note, however, the set has some major drawbacks: "Trial of Billy Jack" was shot in scope and is only presented here at a cropped 1.85 for whatever reason, likely issues with Laughlin's estate which owns the "Billy Jack" sequels. There's also the removal of John Lennon's song "Give Peace a Chance" from the climax of the movie, which results in a jarring edit and several minutes of trimmed footage. Add in some jankiness present in the "Washington" transfer and you have a set that even fans may have a difficult time embracing.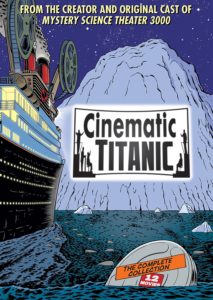 CINEMATIC TITANIC: The Complete Collection DVD (18 hours, Shout Factory): "Mystery Science Theater 3000" alumni Joel Hodgson, Trace Beaulieu, J. Elvis Weinstein, Mary Jo Pehl and Frank Conniff established a follow-up troupe in the wake of the series' conclusion. This superbly priced (under $30 currently in many outlets) anthology offers the entire DVD output of Cinematic Titanic, who riff on a series of flicks in MST3K-style – both in a mix of live performances and studio recordings. The movies that serve as the comedic centerpiece here include The Oozing Skull, Doomsday Machine, The Wasp Woman, Legacy of Blood, Santa Claus Conquers the Martians, Frankenstein's Castle of Freaks and Blood of the Vampires, with the live performances coming on East Meets Watts, The Alien Factor, Danger On Tiki Island, War of the Insects and Rattlers. "Between the Riffs" and a "Look Back With J. Elvis Weinstein" comprise the extras in this six-disc Shout package. Highly recommended for all MST3K fans!
Also New From Shout: Making its Blu-Ray debut after being included in one of Shout's low-priced DVD compilations, SCORCHY (99 mins., 1976, R) is a tepid American-International programmer about an undercover cop tasked with taking out a Seattle drug-smuggling ring (presided over by Cesare Danova). This exploitation affair might've been more fun had the likes of Pam Grier starred in the title role, but the honors here fell to Connie Stevens, who looks ill at ease with the typical shenanigans of an R-rated AIP effort present here, albeit one with long stretches of tedium only intermittently livened up by nudity and a couple of over-the-top action scenes (including a memorable dune buggy chase!). Shout's MGM-licensed Blu-Ray includes a 1080p (178) AVC encoded transfer in fine shape, though the soundtrack boasts an inappropriate synth rescore by Kendall Schmidt and not the original music (reportedly a library score) as has been the case with certain AIP titles. The electronic music doesn't fit the picture at all, making this otherwise good-looking and uncut version inferior to Shout's (cut) DVD edition, which did offer the original soundtrack.
---
Catalog Corner
THE GOOD, THE BAD AND THE UGLY 50th Anniversary Edition Blu-Ray (***½, 162/179 mins., 1966; Kino Lorber): Kino Lorber's double-disc Blu-Ray offers a new presentation of the seminal Spaghetti western, boasting an enhanced – if not improved in certain respects – package from MGM's prior 2014 Blu-Ray.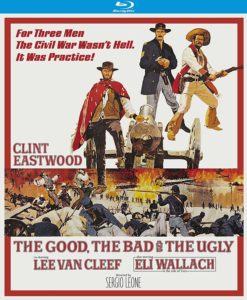 Needing little introduction for fans, "The Good, The Bad and the Ugly" completed star Clint Eastwood's association with Leone, the duo here signing off with the quintessential "spaghetti western" classic. MGM had previously brought the film to Blu-Ray twice: once in an acceptable albeit DNR'd 2009 Blu-Ray, then again in a 2014 release (available in the "Man With No Name Trilogy" set) that offered an impressive, if overly "golden," AVC-encoded transfer of this 1966 masterwork. However, that release was not flawless, boasting less noise reduction but more of a yellow tint to the entire picture which drew the ire of a few fans.
Kino's Blu-Ray rectifies the problem to a degree, notably toning down the yellow tint on both the 162-minute U.S. theatrical release (making its Blu-Ray debut here and first home video appearance in many years) as well as the 179-minute Italian restoration, which includes several sequences redubbed in 2003 by Eastwood and co-star Eli Wallach. This 4K restored transfer offers the same level of detail as MGM's 2014 Blu-Ray, but the color presentation is notably less yellow and a bit less vibrant overall. Personal preference will dictate whether one warms to this transfer, though how much it matches the original intent of Leone is anyone's guess at this point, given the myriad of releases of the picture around the world. Meanwhile, the soundtrack is unquestionably an advantage to Kino's disc, boasting not just a 5.1 DTS MA mix that offers a more modern (or revisionist, depending on how you look at it) blend of music and effects, but a restored DTS MA mono track including the original U.S. English audio, which previously only appeared in the 2014 standalone Blu-Ray release of the picture.
Extras are also terrific and enlightening. These are highlighted by a new commentary from Video Watchdog's Tim Lucas on the theatrical version that covers all the bases – it's a great listen and full of revealing background detail. Carried over from MGM's prior releases are additional commentaries by Richard Shickel and Christopher Frayling, deleted scenes, older MGM-produced featurettes (including a look at Ennio Morricone's classic score) that all suffer here from frame-rate stuttering, still galleries, and trailers that, overall, make for a recommended release for Eastwood/Leone completists.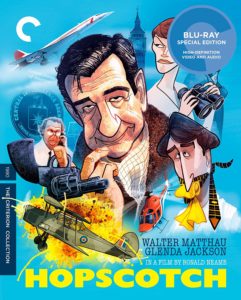 HOPSCOTCH Blu-Ray (***, 105 mins., 1980, R; Criterion): Making its Blu-Ray debut, the refreshing and entertaining "Hopscotch" affords Walter Matthau one of his most memorable roles: a grizzled CIA agent named Miles Kendig who learns he's about to be pushed to a desk job by his stuffy superior (Ned Beatty). Quickly heading out to find a former flame (Glenda Jackson) currently living in Austria, Kendig plays every side as he threatens the CIA with exposing their secrets in a memoir. In turn, Beatty's CIA op sends a more sympathetic, younger counterpart of Kendig's (Sam Waterston) after him.
This change of pace for "Death Wish" writer Brian Garfield — who scripted, with Bryan Forbes, from his novel — is a breezy, picturesque and highly enjoyable espionage comedy that coasts along on the vivacious performances of its stars. Matthau is terrific and spars wonderfully with Jackson (his "House Calls" co-star), Waterston, Beatty and Herbert Lom (the head of the KGB) in one of director Ronald Neame's more engaging works. Neame also recruited his "Scrooge" cohort Ian Fraser to adapt Mozart works for a score that gives an appropriately classy, light touch to a viewer favorite now on Blu-Ray for the first time.
Criterion's Blu-Ray boasts a 2K restored (2.39) AVC encoded transfer and mono soundtrack both in fine shape. A light array of extras include 2002 interviews, conducted for Criterion's prior DVD edition, with Garfield and Neame; trailers; and Matthau's 1980 appearance on "The Dick Cavett Show."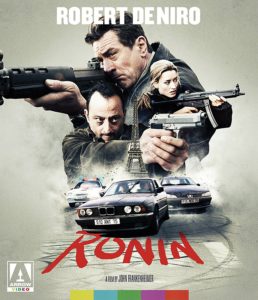 RONIN Special Edition Blu-Ray (***½, 121 mins., 1998, R; Arrow): Director John Frankenheimer's last great film, Arrow finally does justice to "Ronin" on Blu-Ray after MGM's meager, bare-bones format release from eight years ago.
As far as the movie itself goes, Frankenheimer's realistically filmed and impressively staged action sequences — which were a precursor to (and possible influence on) the "Bourne" pictures — were seldom more effective than they were in "Ronin," a low-key, taut, and decidedly old-fashioned thriller that enabled the director to concentrate on what he does best — provide excitement without padded exposition or reliance on visual effects. Nowadays in particular, it's refreshing to see a film that is fully satisfied to create a skillfully told, if leisurely, tale that wouldn't have been made any different thirty years before.
Robert DeNiro and Jean Reno are the principal leads in the simple, straightforward and uncluttered plot, co-written by David Mamet under a pseudonym, which could be best described as a more realistic rendition of the James Bond movies some years after the fact, in that the characters are former mercenaries and government employees, but seeking work in a world where the employers and secret packages are more suspect and deadlier than ever.
The performances of DeNiro, Reno, Natascha McElhone ("The Truman Show"), and Jonathan Pryce give the material the required nuance, double-crossing and deceit that it needs, but it's really Frankenheimer's show all the way. The French locales add immeasurably to the atmosphere and mood of the picture, while the car chase sequences — much discussed and lauded by critics and fans — deliver the goods in such a manner that you wonder why many contemporary auto pursuits are so bland by comparison. With crisp editing and a pounding pace, Frankenheimer illustrated that pure filmmaking beats CGI, blue-screen, and other modern forms of filmmaking trickery any day of the week. From Nice to the tunnels of Paris, Frankenheimer evokes favorable comparisons to the equally dizzying set-pieces of his more memorable films ("French Connection II," "Black Sunday") with the movie's two extended, masterfully executed car chases, which certainly rank as some of the finest action filmmaking of the '90s.
Arrow's Blu-Ray of "Ronin" doesn't have to go far to surpass its prior format release – an MPEG-2 encoded MGM BD that included no supplements of any kind, despite the fact that the label issued a Special Edition DVD in 2006. Arrow's superlative disc includes a new 4K restoration of the picture supervised by cinematographer Robert Fraisse and 5.1 DTS MA/LPCM 2.0 stereo options on the audio side. Copious extras include a new interview with Fraisse; a 1994 appreciation of DeNiro by Quentin Tarantino; Venice Film Festival interviews; archival featurettes carried over from MGM's DVD (interviews with composer Elia Cmiral, actress Natascha EcElhone and editor Tony Gibbs among others); the alternate ending; and the trailer round out an essential pick-up for fans of the film.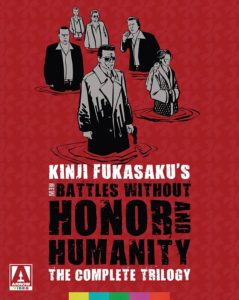 Also coming on August 29th from Arrow is Kinji Fukasaku's NEW BATTLES WITHOUT HONOR AND HUMANITY: THE COMPLETE TRILOGY, an elaborate retrospective of the Japanese director's "follow-up trilogy" to his five-film cycle "Battles Without Honor and Humanity," which Arrow already released in a definitive multi-format box-set a year ago.
This trilogy reunited Fukasaku with his "Battles" star Bunta Sugawara in three more Yakuza tales that, aside from their genre framework, bear no connection with the original "Honor and Humanity." Present here are "New Battles Without Honor and Humanity," its follow-up "The Boss's Head," and "Last Days of the Boss," all of which debut on home video in North America for the first time here. Uncompressed Japanese audio, English subs, corresponding DVD platters and supplements – including a new video appreciation from Fukasaku biographer Sadao Yamane; new interviews with writer Joki Takada, who scripted the second and third entries, plus trailers and a collector's booklet among other goodies – grace this extensive presentation that's another must-have for Fukasaku devotees.
Finally, Arrow bows Jean Gremillon's THE LOVE OF A WOMAN (104 mins., 1953) in a dual-format Blu-Ray/DVD release on August 22nd. The production was the French director's final film after an esteemed career, starring Micheline Presle as a young doctor who arrives on the island of Ushant, falls for a local engineer (Massimo Girotti) and battles prejudice from local residents used to her retiring predecessor. A 1969 feature-length documentary on Gremillon ought to be as compelling as the film itself for some Francophiles, while a 1080p (1.37) B&W transfer, LPCM French mono audio and a corresponding DVD package are also included in Arrow's release.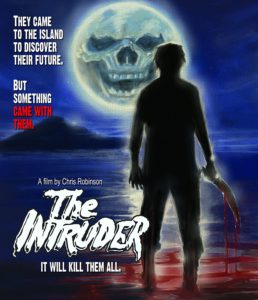 THE INTRUDER Blu-Ray (87 mins., 1975, Not Rated; Garagehouse): Those unflappable cinematic excavators at Garagehouse Pictures – Harry Guerro specifically — have brought us another long-lost feature, exhumed among a series of abandoned film prints which had been rotting away in a Mohave desert storage facility. Their discoveries have already led to Blu-Rays of "Ninja Busters" and "The Satanist," and now their efforts have brought us "The Intruder" – a 1975 feature from star/writer/producer/director Chris Robinson. This Florida-shot regional chiller offers Robinson leading an ensemble cast that acts out a "Ten Little Indians"-like plot, ending on a decidedly downbeat note like many films in the mid 70s. It's a minor movie, but one that holds a good amount of cult value due to its obscure origins and eclectic supporting cast that includes Mickey Rooney, Yvonne DeCarlo and Ted Cassidy.
"The Intruder" never had a home video master – in fact, Robinson himself said he never even saw the finished product. Garagehouse wasn't sure what they had stumbled upon when they found a print of the film, which they've now remastered in a 4K transfer (1.85) from that only existing print. The image is in pleasingly detailed condition given its vaulted elements, with mono audio sporting an overwrought Tommy Oliver score (the same Tommy Oliver who was the band leader on the "Face the Music" game show with Ron Ely, as memory serves from my childhood!). Extras include a wistful commentary from Robinson, a decade-old interview with Robinson at home in Arizona, optional subtitles and trailers for other Garagehouse releases.
---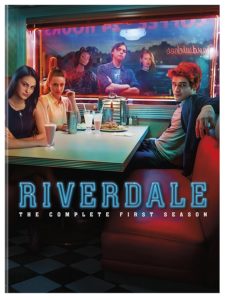 TV on DVD
RIVERDALE: The Complete First Season DVD (555 mins., 2017; Warner). WHAT IT IS: After years of false starts and stops, Archie Comics successfully relaunched their classic characters on-screen, here in the form of a well-written, if occasionally overly "edgy," reboot. No, don't expect a lot of wholesome messages as Archie begins this "Twin Peaks Lite"/"Veronica Mars"-esque series having an affair with his high school teacher (!) while the brother of Cheryl Blossom turns up dead in the local river. Betty and Veronica are, naturally, here as well, played by the respectively fetching Lili Reinhart and Camila Mendes, who are both easy on the eyes and provide an anchor that Archie himself (played by KJ Apa) sometimes is unable to do. More interesting than Arch is Cole Sprouse's Jughead, who becomes involved in the investigation into Jason Blossom's death and finds out his father (Skeet Ulrich) might be involved. Luke Perry (Archie's dad) and Madchen Amick (Betty's mom) are also around to lend adult support in a very entertaining series whose future prospects look bright, especially if the sometimes-strained "adult elements" are toned down. This isn't a Filmation cartoon, we get it! DVD BREAKDOWN: Warner's DVD offers all 13 episodes from "Riverdale" in fine 16:9 (1.78) transfers and 5.1 sound. Extras include unaired scenes, a gag reel, and five featurettes, a 2016 Comic-Con panel among them.
BLINDSPOT: The Complete Second Season Blu-Ray (943 mins., 2016-17; Warner): WHAT IT IS: Hits are hard to come by on the broadcast networks these days, which made the heavily-promoted NBC series "Blindspot" one of the few standouts of the 2015-16 season. This crime drama offers "Thor"'s Jamie Alexander as a female Bourne type: an amnesiac who awakens with plenty of physical prowess and no recollection of her past…save the tattoos that cover her body, pointing to an FBI agent (Sullivan Stapleton) and, of course, conveniently hinting at mysteries that tend to form the basis of each episode. This second season of the series continues to churn out revelations about this Jane Doe's identity and connection with the terrorist organization Sandstorm, plus lead her to become a triple-agent after escaping CIA custody. BLU-RAY BREAKDOWN: As with its first season, "Blindspot" is pretty much by-the-numbers from what I sampled, but the show is still well done for what it is, and Warner's Season 2 Blu-Ray includes seven all-new featurettes with behind-the-scenes material, a Comic Con 2016 panel, gag reel and unaired scenes to go along with high quality 1080p (1.78) AVC encoded transfers and 5.1 DTS MA soundtracks.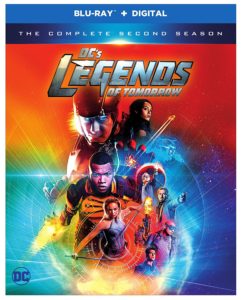 DC's LEGENDS OF TOMORROW: The Complete Second Season Blu-Ray (715 mins., 2016-17; Warner).WHAT IT IS: The wild and woolly CW comic book series fires up 17 more episodes of colorful, time-tripping shenanigans. With time aberrations occurring all over the spectrum, the gang, under the direction of White Canary, unites with new members Vixen and Citizen Steel as they take on the Legion of Doom…a vile group of nasties that include Malcolm Merlyn, Damien Darhk, Captain Cold and Reverse Flash. You really need to be a big comic book fan to follow the often convoluted story of "Legends of Tomorrow," or at least go along with its fanciful plot line. The hardcore, obviously, will be most pleased with the zaniness, which Warner brings to Blu-Ray next week. BLU-RAY BREAKDOWN: The "Epic DC Super Hero Crossover Event" with Arrow, The Flash and Supergirl, two featurettes ("Allied: The Invasion! Complex," 2016 Comic Con panel), unaired scenes and a gag reel comprise Warner's attractive Blu-Ray package. Digital HD copies, 1080p (1.78) transfers and active 5.1 DTS MA soundtracks are sure to rumble your living room.
NCIS NEW ORLEANS: The Complete Third Season DVD (17 hours, 2016-17; CBS). WHAT IT IS: Scott Bakula's Dwayne Cassius "King" Pride is back, helping keep New Orleans safe with an assist from sidekick Christopher Lasalle (Lucas Black) and unrelenting undercover cop Sonja Percy (Shalita Grant). Digital security authority Patton Plame (Daryl "Chill" Mitchell), medical examiner Dr. Loretta Wade (CCH Pounder) and forensics expert Sebastian Lund (Rob Kerkovich) are also on-hand to support NCIS New Orleans' latest cases, which here involve a rogue sniper and busting a local cartel – all the while being investigated by Tammy Gregorio (Vanessa Ferlito), an FBI agent whose allegiances shift sides throughout "NCIS: New Orleans"' season three. DVD BREAKDOWN; All 23 third-season episodes of NCIS NO's third season have been collected on DVD by CBS. Special features include an NCIS crossover episode; audio commentary on selected episodes; several featurettes; 16:9 transfers and 5.1 soundtracks.
Mill Creek New Releases: THE SECRET WORLD OF ALEX MACK (31 hours, 1994-98) starred Larisa Oleynik in a Hallmark-produced series that aired on Nickeoldeon for the balance of the 1990s. Alex was a typical teenager doused with chemicals that turned her into an early super-heroine, complete with telekinesis and other abilities – though powers that often popped up at inopportune moments. This fan-favorite teen series has never been released on home video in its entirety, making Mill Creek's DVD anthology a must for fans. The six-disc set houses all 78 episodes from the show's four seasons in 1.33 transfers and stereo soundtracks…Also new from Mill Creek is their SHEENA, QUEEN OF THE JUNGLE COLLECTION, another six-disc DVD set that includes the complete 2000-02 TV series starring "Baywatch"'s Gena Lee Nolin along with the campy 1984 Columbia movie with Tanya Roberts in the title role. "Sheena" has been issued on DVD already and while it would've been nice to have a Blu-Ray of John Guillermin's film, this presentation will have to suffice for now. Also on-hand are a few bonus episodes from the 1950s TV series starring Irish McCalla (available August 15th)
---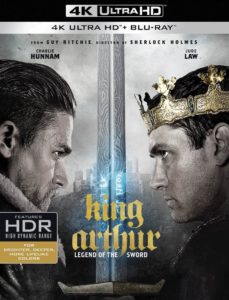 Also New & Noteworthy
KING ARTHUR: LEGEND OF THE SWORD 4K UHD Combo Pack (**, 126 mins., 2017, PG-13; Warner): One of the year's largest box-office casualties, this baffling Guy Ritchie take on the Arthurian legend struggles to find, much less maintain, a consistent cinematic vision.
Ritchie, Lionel Wigram and Joby Harold's wildly uneven script stars Charlie Hunnam as Arthur – here an orphaned son of a slain king (Eric Bana) whose conniving brother (Jude Law) has taken over Camelot. Arthur's uprising, with the help of a mage (Astrid Berges-Frisby), one of his father's seasoned warriors (Djimon Hounsou) and a virtual group of Merry Men — who seem like they belong in a Robin Hood movie – takes the fight of the common folks against magic-wielding sorcerers, with a few weird CGI creatures thrown in just because.
It's not hard to understand why "King Arthur" failed to generate an audience – this is one of those bizarre projects that seems to have been greenlit simply on the basis of Ritchie's clout. While it boasts some of the director's patented "dialogue bits" and humor, other scenes give off a "Warcraft" vibe with occasional, mostly fleeting appearances by CGI creatures and uneasy mix of fairy-tale revisionism and gritty violence. Hunnam has charisma to spare in the title role, and the cinematography is filled with splashes of color, but "King Arthur" ends up as loud, dumb and pointless as most of this summer's would-be tentpole fare, setting up a franchise that's never going to make it to a second installment.
Warner's UHD presentation, though, is marvelous: this 4K transfer (2.41) makes dynamic use of HDR and is highly satisfying on a visual scale. Colors, especially reds, bounce right off the screen, and blacks are deep and perfectly set, making for a surprisingly varied visual presentation. It's a disc one can forsee 4K owners using as a nice reference point for HDR, even if the film itself is lukewarm. Dolby Atmos audio (on both the UHD and standard Blu-Ray) is finely engineered if predictable in its rock 'n roll sound courtesy of Daniel Pemberton's score. Extras include a handful of behind-the-scenes featurettes and a Digital HD copy.
EVERYTHING, EVERYTHING Blu-Ray/DVD Combo Pack (96 mins., 2017, PG-13; Warner): Nicola Yoon's popular young-adult novel makes for a lukewarm teen romance. Amandla Stenberg plays a young woman with an auto-immune disease who can't leave her home; Nick Robinson is the kid who moves in with his family next door, and the duo fall in love, much to the chagrin of Stenberg's mother (Anika Noni Rose), a doctor who's harboring a dark secret. Stella Meghie's film is nicely acted by Stenberg and Robinson though "Everything, Everything" eventually goes down a predictable path with an ending that's really not as heartwarming necessarily as one might expect given the nature of the subject matter. Teens might still enjoy it, and it's a nice switch from most of this summer's fare, but the picture still doesn't entirely connect. Warner's Blu-Ray/DVD includes a fetching 1080p (1.85) transfer, 5.1 DTS MA sound, "Trapped In Love" featurette, deleted scenes, a DVD and Digital HD copy as well.
ONCE UPON A TIME IN VENICE Blu-Ray/DVD (94 mins., 2016, R; RLJ): Here's the good news: Bruce Willis is back, looking engaged as a Venice Beach private eye whose dog is stolen by a group of thugs. In order to get him back, Willis has to strike a deal with a local crime boss (Jason Momoa) and run a series of errands – including retrieving his stolen cocaine. The bad news, alas, is "Once Upon a Time in Venice" is pretty limp stuff otherwise, with this effort from Mark and Robb Cullen, who wrote/produced/directed, offering few laughs and a story that's overly familiar. Stranded along with Willis is a superb supporting cast including John Goodman (cast in a role that presumably was meant to evoke memories of "The Big Lebowski"), Famke Janssen, Thomas Middleditch and Christopher McDonald, who try hard but aren't supported by a weak screenplay. RLJ's Blu-Ray is out August 15th featuring a featurette, 1080p (2.40) AVC encoded transfer, 5.1 DTS MA audio and a DVD copy.
CHUCK Blu-Ray (98 mins., 2017, R; Paramount): New Jersey boxer Chuck Wepner's rise and fall is charted in this labor of love for star Live Schreiber. The actor starred, produced and co-wrote this adaptation of Wepner's own book, showcasing not so much the boxer's climb up the heavyweight ladder in the 1970s but his difficulty in staying straight, not to mention his outside-the-ring philandering with two of his wives, played by Elizabeth Moss and Naomi Watts. A gritty exercise from director Philippe Falardeau, "Chuck" is a bit messy in terms of its narrative yet boxing and sports fans might want to check out the picture for Schreiber's sincere portrait of this true-life "Rocky" inspiration just the same. Paramount's Blu-Ray is out next week offering a single featurette (fans who want to know more about Wepner would do well to track down an ESPN 30 for 30 documentary on his career), 1080p transfer and 5.1 DTS MA sound.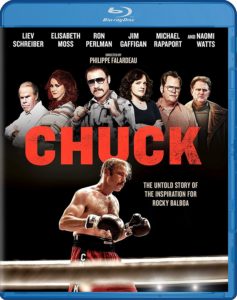 HICKOK 4K UHD Combo Pack (88 mins., 2017, Not Rated; Cinedigm): B-movie director Timothy Woodward, Jr. has typically specialized in mediocre action fare that makes for usually watchable home video premieres. "Hickok," though, aims a little bit higher – but regrettably stumbles more as a result – as it spins the story of "Wild Bill" (Luke Hemsworth) who tries to run from his past by taking up the job of marshal in Abilene, Kansas. Trace Adkins, Bruce Dern and Kris Kristofferson pop up with some lazy performances peppering this disappointing effort, debuting next week from Cinedigm on 4K UHD disc. The label's premiere UHD release includes a good looking transfer with three deleted scenes, a Making Of and 5.1 DTS MA audio comprising the 4K presentation – the standard Blu-Ray, also included, features a 1080p transfer that's also perfectly fine. It's the movie itself that feels as creaky as the film's dusty Old West settings.
KILL SWITCH Blu-Ray (92 mins., 2016, R; Lionsgate): Tepid action outing stars Dan Stevens as a former NASA pilot who's recruited to save two universes – our own, and a parallel shadow world – from a scientific experiment gone awry. At least, that's what he's told in Timsmit's (yes, that's the name) sci-fi thriller that offers an ample amount of first-person, video-game esque sequences. Lionsgate's Blu-Ray offers a visual FX featurette, commentary, 1080p (2.35) transfer, 5.1 DTS MA sound and a Digital HD copy.
WOLVES DVD (110 mins., 2017, R; IFC/MPI): Bart Freundlich's film finds Michael Shannon in a familiar place — playing a troubled, obsessive compulsive guy, this time with a gambling problem, whose behavior threatens the future of his basketball-star high school son (Taylor John Smith) and relationship with his wife (Carla Gugino). There's not much in "Wolves" you haven't seen before, with Shannon essaying the kind of "heavy" he's performed countless times before. IFC's DVD is now available sporting a 16:9 transfer (2.40) and 5.1 Dolby Digital sound.
WE THE PARENTS DVD (61 mins., 2017; Virgil Films): James Takata's documentary chronicles the efforts of a group of parents who take over a failing public elementary school using the "Parent Trigger" law – something that's presented in a colorful fashion by the director, who examines both sides of the issue and the complexity of this new law. Virgil's DVD includes a 16:9 transfer and stereo sound.
NEXT TIME: MY CHAUFFEUR from Vinegar Syndrome and more! Until then, don't forget to drop in on the official Aisle Seat Message Boards and direct any emails to our email address. Cheers everyone!