Message Board (open 24 hours!)
Twitter - @andredursin (for everything else!)
Like a lot of successful screenwriters who get their first crack at directing their own Hollywood movie, Oscar-winner John Patrick Shanley's romantic-comedy JOE VERSUS THE VOLCANO (***, 102 mins., 1990, PG; Warner Archive) turned out to be overly self-indulgent and too "out there" for many viewers. However, those who were able to buy into the film's light, fairy tale atmosphere were rewarded with a unique and engaging comic fantasy that has attracted a cult following since its original release.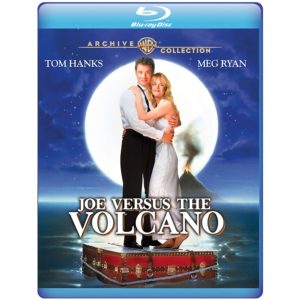 Marked by colorful, surreal images and exaggerated characterizations, Shanley's certainly one-of-a-kind epic stars Tom Hanks as an average Joe who is told by doctor Robert Stack that he's suffering from a terminal "brain cloud." Eccentric millionaire Lloyd Bridges then tells Joe that he'll let him live out his remaining days in extravagance, but only if he'll jump into the middle of a volcano on a tiny, unmarked island in the middle of the South Pacific. Meg Ryan – in one of her best performances – plays three different women whom Joe meets during the film, each one representing the woman he most needs at that moment in his life.
For the most part, "Joe Versus the Volcano" is really three movies in one: the first third satirizes contemporary working conditions, the second is a rags-to-riches story, and the third – well, it's kind of a goofy fantasy and love story with an ending that definitely comes out of left field. Despite the seemingly disparate elements, Shanley maintains a light touch throughout the movie – this is a modern fairy tale that's not meant to be taken too seriously, with appropriate "once upon a time" and "they lived happily ever after" title cards setting the proper atmosphere for the film. The last third of the movie is the least successful element in the film, but once you've seen it, it becomes easier to digest on subsequent viewing, while the performances of the two leads are quite appealing, and the supporting cast eclectic to a tee – what else can you say about a movie with Abe Vigoda as the king of a native island tribe? (And be on the lookout for Nathan Lane as Vigoda's top aide!)
Visually, I've always admired "Joe": Bo Welch's often evocative production design and Stephen Goldblatt's widescreen cinematography are two of the movie's strongest assets. They're complemented by a marvelous score by Georges Delerue, easily one of the late composer's finest soundtracks to grace an American film.
Warner Archive's long-overdue Blu-Ray should more than satisfy long-time fans of "Joe." First off, the 1080p (2.35) AVC transfer is just excellent, capturing the strong primary colors of Goldblatt's cinematography in its widescreen glory and enhancing it in a way we haven't seen since the theatrical release. The 5.1 DTS MA soundtrack is an improvement on the DVD's pinched audio, while a brief promotional documentary, where the actors amusingly try to explain what the film is all about, is included along with the original trailer and a music video of the song "Sixteen Tons.
"Joe Versus the Volcano" has been regarded as everything from a misunderstood gem to a gigantic mega-flop along the lines of other bloated star vehicles from the early '90s ("Hudson Hawk," anyone?). It is an acquired taste, but if you manage to get in the right frame of mind, it's an offbeat and highly romantic flight of fancy that manages to maintain its charm despite its flaws. Check it out.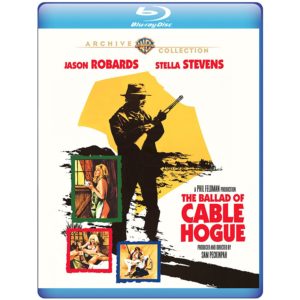 After setting the western genre ablaze with his revisionist classic "The Wild Bunch," Sam Peckinpah mellowed out somewhat, to mixed critical reaction and poor box-office, with his 1970 follow-up THE BATTLE OF CABLE HOGUE (**½, 1970, 121 mins., R; Warner Archive), starring Jason Robards as a straggler in the Old West who stumbles upon a well in the middle of the barren Arizona desert he's just been left to die in. David Warner is the well-meaning preacher who befriends Hogue, Strother Martin and L.Q. Jones are the conniving duo who nearly kill Cable in the opening, and Stella Stevens is the fresh-faced hooker who comes into Hogue's quiet life.
Though the movie has amiable characters and offers a superb commentary on the discrepancy between Cable's isolated outpost and the technological advancements of a nearby town, "Cable Hogue" is a rambling, at-times tedious tale with a few melodramatic missteps — not the least of which is a clumsy, downbeat ending that may be in-step with Peckinpah's world view, but comes across as inappropriate to this particular story. Jerry Goldsmith's flavorful but forgettable score isn't one of his best, with many dramatic passages dominated by Richard Gillis' over-used vocals. Though a personal favorite of the director, I didn't feel "Cable Hogue" was particularly satisfying, but others may warm to the picture's colorful characters and leisurely pace.
Warner's Archive Blu-Ray of "Cable Hogue" sports a dynamite 1080p (1.85) AVC encoded transfer and DTS MA mono soundtrack. This is a worthy enhancement on an already-strong DVD edition from Warner, and in addition to the original trailer, the Blu contains a 30-minute interview with Stella Stevens, recounting her work on the movie. Stevens looks great and has plenty of enthusiasm to spare, but – much like the movie – the talk runs a bit long.
Also New From The Archive: The first of many cross-country road racing pictures, THE GUMBALL RALLY (**½, 107 mins., 1976, PG) isn't as well known today as "The Cannonball Run" (inexplicably due for a remake!) despite being an appreciably more entertaining film. Michael Sarrazin leads a cast that also includes Gary Busey and Raul Julia in Chuck Bail's film about a madcap NYC-to-LA race with a script by Leon Capetanos (who later worked on many of Paul Mazurky's films) and fetching widescreen cinematography. It's not overly memorable but it's breezy and engaging enough for what it is. The Archive's 1080p (2.41) transfer is exceptionally strong with DTS MA mono sound and the trailer as the sole extra……Also debuting on Blu-Ray is RUNNING ON EMPTY (***, 116 mins., 1988, PG-13), a somewhat contrived but nevertheless compelling film about a pair of antiwar activists (Judd Hirsch, Christine Lahti) still on the run with their two children years after the fact, including an elder son (River Phoenix) who just wants to stay put…somewhere. Sidney Lumet directed Naomi Foner's original script for this Lorimar production, which boasts uniformly fine performances that help overcome a story that strains credibility at certain points. Warner's Archive Blu-Ray features a strongly detailed 1080p (1.78) AVC encoded transfer with 2.0 DTS MA mono sound…Making its return to DVD is John Waters' most "memorable" film, PINK FLAMINGOS (108 mins., 1972, NC-17), starring Divine in a distinctively bizarre Waters effort that became a '70s hit on the cult-arthouse circuit. Warner's DVD, a reprise of Fine Line's prior 25th Anniversary edition, offers commentary from Waters and deleted scenes with his introductions, a 16:9 (1.85) transfer and both stereo and mono soundtracks.
---
New & Noteworthy
Creature features weren't as prevalent in the mid '90s as they are today. Back then, when a movie like SPECIES (**½, 108 mins., 1995, R; Shout Factory) came around in the middle of summer, it was something of a novelty – a sexy sci-fi thriller that assembled an atypical A-list cast including Ben Kingsley, Michael Madsen, Alfred Molina, Forest Whitaker and future "CSI" star Marg Helgenberger. The movie was a sleeper hit, earned the venerated "Two Thumbs Up" from Siskel and Ebert and spawned a mini-franchise of its own, starting with an especially bad theatrical sequel in 1998.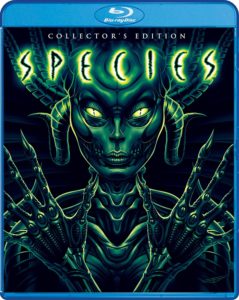 For cash-strapped MGM, "Species" was one of its few bona-fide hits from that era, and its uncanny premise of a frequently naked blonde alien walking around Los Angeles trying to procreate found a willing audience. In fact, between Dennis Feldman's fascinating premise – what if an alien signal sent from deep in space housed DNA instructions that scientists would use to breed an extraterrestrial being on Earth – and the creature designs of H.R. Giger, "Species" captivated adult viewers worn out on pedestrian summer-time fare like "Casper," "Congo," "First Knight" and "Batman Forever" (forget 2017 — 1995 was also a really bad summer at the movies!).
Kingsley plays the scientist who breeds "Sil" from that DNA strand – one that's been injected with some human attributes, resulting first in a young Michelle Williams, who quickly mutates into the nubile Natasha Henstridge once Sil escapes from a lab. With Sil hoping to mate with anyone and everyone on the L.A. singles scene, Kingsley assembles a crack team including hitman Madsen, anthropologist Molina, empath Whitaker and scientist Helgenberger to find her before she threatens all of mankind – not just those she's trying to sleep with.
I remember enjoying "Species" back at the time of its original release, but truth be told, the film has dated in a bad way, as have many films from that era. The overly serious script doesn't produce much in the way of humor (even of the camp variety) even while adhering to a standard horror framework, just with a larger budget than is usually found with this kind of material. The primitive CGI, however, was never impressive, even by its era's standards. That early digital work looks, unsurprisingly, even more inadequate today: Giger's designs basically fused the female body with the title creature from "Alien," yet there's a glut of CGI, especially at the climax, that fails to do justice to his concept and is poorly executed, particularly considering the pedigree of effects artist Richard Edlund.
Christopher Young's fine score gives "Species" a touch of class along with its central cast, but too much of this played like a leftover relic from a decade when the quality of summer blockbusters was already on a decline.
Shout Factory's Collector's Edition Blu-Ray offers a brand-new 4K scan of the movie's Interpositive (2.35). Given that MGM's US Blu-Ray was an early-format MPEG-2 transfer (it was released during that brief window when Sony was distributing MGM's home video releases), this is an appreciable enhancement with excellent detail. The 5.1 DTS MA soundtrack does a solid job replicating the theatrical audio, and extras are highlighted by a brand new 36-minute documentary on the film. The featurette includes interviews with Roger Donaldson, cinematographer Andrzej Bartokiwak, Christopher Young and numerous special effects/make-up artists, with much of the (technical) talk comprised of how the FX were put together. All the other extras have been housed elsewhere on MGM's "Species" DVDs (but were mostly left off the prior Blu-Ray), including an alternate ending, Making Of featurettes, two commentaries and trailers. Also ported over from the "Species II" Shout Factory Blu-Ray is a wide-ranging interview with Natasha Henstridge, recalling her work on both pictures.
Two tremendous Complete Series DVD box-sets are also new from Shout this month.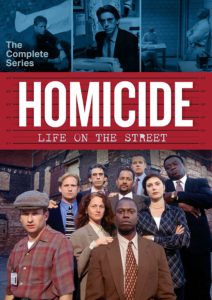 Though not a series I watched regularly, NBC's HOMICIDE: LIFE ON THE STREET (100 hours, 1993-99) was one of the most acclaimed series of its time – a groundbreaking police procedural set in Baltimore. Fueled by an ensemble cast (Richard Belzer, Andre Braugher, Yaphet Kotto, Melissa Leo, Ned Beatty among them) and numerous guest stars – from Robin Williams and James Earl Jones to Paul Giamatti and Bruce Campbell – "Homicide" profiled the work of a homicide unit in Baltimore's toughest neighborhoods. "Homicide" netted numerous Emmys and its acclaim enabled it to run throughout the bulk of the 1990s, setting the stage for subsequent shows like "The Wire," which not coincidentally, was also a Baltimore-set series based on a book by David Simon.
Shout's massive 35-disc DVD box-set collects all 122 episodes from the NBC series in a seven-season anthology with a bonus disc of extras. These include interviews with producers Barry Levinson and Tom Fontana, plus David Simon and many others; "Inside Homicide" featurettes with Simon and James Yoshimura; the feature-length doc "Anatomy of a Homicide"; commentaries on several episodes; a live panel discussion featuring Levinson, Fontana, Simon, and Yoshimura; "Law & Order" crossover episodes; and the 2000 follow-up, "Homicide: The Movie."
Meanwhile, aficionados of William Shatner are urged to run — much like its often sprinting hero — to Shout's long-awaited, Complete Series box of T.J. HOOKER (73 hours, 1982-86). Previous to this set's release, fans have had to live with a Season 1-2 DVD from Sony that only included the initial 27 episodes from the show's ABC run.
Launched as a TV-movie with different cast members (including David "Al" Hedison and Richard "Poltergeist" Lawson), this amiable, comic-book cop show was a lot more "ChiPS" than "Hill Street Blues." While the latter earned critical kudos for its comparatively honest depiction of life in the precinct, "T.J. Hooker" is nothing but an unabashed '80s prime-time slice of escapism. Shatner is at his best as the title hero: a recently divorced, dedicated-to-the-job detective who breaks in a new partner (Adrien Zmed) on the mean streets of L.A.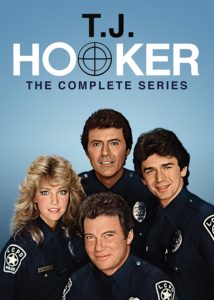 Hooker isn't, of course, your by-the-book cop — he's your typical break-the-rules '80s TV hero, who will stop at nothing to take down local scum, whether it's a pair of hoodlums in the pilot, or a bible-touting, mentally impaired nutcase in the series' second episode.
"T.J. Hooker" has some great chase sequences (Shatner looks surprisingly spry here), including the indelible moment in the second episode when T.J. leaps off a ledge, onto a school bus being commandeered by a psycho holding both a TV reporter and a group of nuns hostage. It's over-the-top but damn good stuff just the same! While you've just got to love some of Bill's dramatic gestures and pauses, he's also surprisingly good as T.J. The show works in a strong human element between T.J.'s relationship with his young daughters (one of whom is played by Nicole Eggert) and his marriage to his job, which takes its toll on his home life. There are even numerous references to Vietnam and other wars, and how combat can influence both battle-scarred cops like Hooker and Romano, his new partner (played by the overly charismatic Adrian Zmed).
After debuting as a mid-season replacement in the spring of '82, the series mixed it up a bit in its second season on ABC. Heather Locklear joined the show as cop Stacey Sheridan, while former "Moondoogie" James Darren was added to the cast as her partner in the fall of '82. The series ultimately fell into a formulaic TV pattern, but it's still highly entertaining for both its good AND dated elements, and what more can you say about Mark Snow's theme song, which is used incessantly throughout each and every episode? Also, Leonard Nimoy joins The Shat on the memorable episode "Vengeance Is Mine," essaying a fellow cop who wants payback after his daughter is raped.
"Hooker" ran for three seasons on ABC before CBS picked it up for a single season (helping Columbia sell the series in syndication as well), where it concluded its run in May '86. These later episodes included some Chicago-lensed shows and a feature-length TV movie, with many of them airing in CBS' "Crime Time After Prime Time" late-night block.
Shout's Complete Series set offers all 91 episodes from the series including the original pilot. Though the rarely-seen pilot seems to have been battered over the years (showing some discoloration and graininess in the print), the regular episodes look crisp and colorful, making for a must-have release for all Shatner addicts!
ADVENTURE TIME – The Complete Seventh Season DVD (286 mins., 2017; Warner): In the seventh season of the long-running Cartoon Network series, Jake the Dog and Finn the Human return along with the other inhabitants of Candy Kingdom. This time around, the exiled Princess Bubblegum tries to grow a new kingdom along the shores of Lake Butterscotch and Marceline decides she doesn't want to be a vampire, setting off a multi-part story arc. Also included among the 25 Season 7 episodes is the award-winning stop-motion episode "Bad Jubies," which became an instant fan favorite. Warner's DVD box includes 16:9 transfers and 2.0 stereo soundtracks along with minisodes, song demos, animatics, a "Making of Bad Jubies" featurette and other goodies for "Adventure Time" aficionados.
NEXT TIME: A 4K Rundown! Until then, don't forget to drop in on the official Aisle Seat Message Boards and direct any emails to our email address. Cheers everyone!