Message Board (open 24 hours!)
Twitter - @andredursin (for everything else!)
A box-office smash that succumbed to the ravages of both time and distribution woes, Shout Factory has at last resurrected the rambunctious rodent-revenge thriller WILLARD (95 mins., 1971, PG) as well as its quickly-produced sequel, BEN (94 mins., 1972, PG). The former stars Bruce Davison as a put-upon young man who tilts over the edge after his mother's (Elsa Lanchester) death, leaving him to cultivate a relationship with a nest of mice who follow his every command – both for friendship and, eventually, revenge. The latter was best known for spawning a hit song that climbed the charts all the way to #1 thanks to none other than a young Michael Jackson.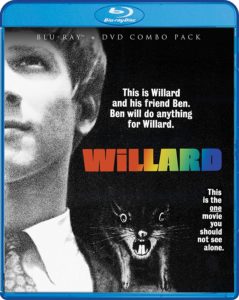 The last – and only – time I watched "Willard," the movie was playing on WLVI, Channel 56 Boston's "Creature Double Feature." Produced by Bing Crosby Productions and distributed by Cinerama Releasing, "Willard" hasn't made a home video appearance since the VHS era, with many having tried – and failed – to get their hands on it. Even Bruce Davison laments that he tried to produce his own remake to no avail years ago (New Line Cinema, unfortunately, did with their feeble 2003 version starring Crispin Glover).
This new Blu-Ray combo pack of the film marks the first opportunity fans have had to see "Willard" in decades, and the good news is that this crowd pleaser remains a macabre but pleasingly tasteful, PG-rated horror affair that's more quirky than scary. Much of the movie's appeal is due to Davison, who walks the fine line of being sympathetic and deranged throughout, and effectively plays opposite a strong cast of veteran actors including Ernest Borgnine as the obnoxious boss who gets his just desserts and Elsa Lanchester as Willard's domineering mother. There's also an early appearance by Sondra Locke as the quiet co-worker who eventually warms to Willard despite his eccentric nature – going so far as to buy him a cat for company (that, naturally, doesn't last long).
Director Daniel Mann paces the film perfectly, allowing for the audience to understand Willard's background and what could possibly lead him to lead a rat army that ultimately spins out of control. The film plays up the humor and its suburban setting extremely well, and even Alex North's score is surprisingly melodic and "upbeat" given the movie's premise. This makes for a "lighter" film than its comparatively more heavy-handed remake, but also a more effective and unpredictable one – "Willard" might look like it's taking place a few homes over from The Brady Bunch, but that only heightens the weirdness of its story.
"Willard"'s Blu-Ray includes a fresh 4K remastering in an AVC encoded 1080p (1.85) transfer that boasts rich colors and contrasts. The source materials are in healthy shape and the DTS MA mono sound is fine given its age, with North's solid score, again, being a lot warmer than one might expect given the subject matter. Extras include a lively Davison interview that leaves you wanting more; there's also a commentary with Davison and Mondo Digital's Nathaniel Thompson that's also a lot of fun. The trailer plus TV and radio spots round out one of the year's most satisfying genre Blu-Rays to date.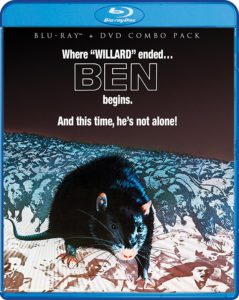 The success of "Willard" lead to an immediate sequel, BEN, which finds Willard's principal four-legged friend trying to exact revenge on the community after nearly being exterminated at the end of the original picture. This time out, Ben's friend is a young boy (Lee Harcourt Montgomery) with a heart condition being raised by a widowed mom and his older sister (Meredith Baxter). Montgomery manages to keep Ben away from the police as the authorities stage a house-to-house quest to exterminate the rats, who run amok, causing accidents and even trashing a grocery store (complete with discarded '70s brands – like Kleenex Paper Towels!). Fortunately, Montgomery is a Renaissance Man in training, staging his own marionette shows and composing tunes on the piano – the title theme among them, albeit in an awkward "spoken word" version William Shatner would be proud of – and stays one step ahead of the cops, led by a grizzled sergeant (Joseph Campanella) who doesn't have much to do but look concerned and smoke.
Much of "Ben"'s suspense is predicated on prior knowledge of its predecessor. Writer Gilbert Ralston, who also penned "Willard" (from a Stephen Gilbert novel), and director Phil Karlson try to make the viewer wonder if Ben is going to mend his murderous ways via a tugging of the heartstrings on the part of its kid protagonist. "Ben" is strange in a different way than its predecessor, too, interspersing some other songs by Don Black and composer Walter Scharf that nearly make you think you're watching a Disney film from the era – mixed in with comparatively lightweight "rat attack!" sequences. The net result isn't as potent as "Willard," and drags on forever in a listless final third, but as a direct sequel with an entirely different cast, at least it's not just a re-run of its predecessor. The ending also manages to put a satisfying, emotional bow on both pictures – complete with Jackson's youthful crooning memorably bringing "Ben" to a close.
Shout scoured the archives but could not find the original negative for "Ben," and had to rely on the best-surviving print they could find. It's an occasionally faded, speckled affair that doesn't have either the color or detail of "Willard"s impressive HD presentation, but it's still perfectly passable. In some way, the transfer's "drive-in" look likely approximates what audiences saw back in the day as well, and ultimately doesn't negatively impact the entertainment. Extras include another fun interview and commentary with Lee Montgomery, who recalls his work on "Ben" and other horror adventures, plus trailers and a stills gallery. (*** for "Willard," **½ for "Ben")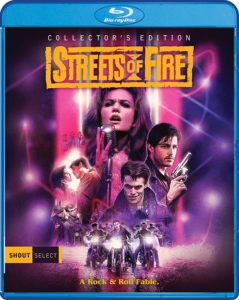 STREETS OF FIRE Blu-Ray "Shout Select" Collector's Edition (***, 93 mins., 1984, PG; Shout! Factory): Highly stylized musical/adventure from director Walter Hill functions comfortably as a companion piece to his equally surreal "The Warriors."
In a faux-'50s rundown metropolis, Michael Pare is recruited to find singer (and ex-flame) Diane Lane, who's been kidnapped by a group of tough guys lead by Willem Dafoe. Rick Moranis essays Lane's obnoxious manager and Amy Madigan is the tough girl with a good heart who helps out Pare. "Streets of Fire" bombed in theaters but has garnered a solid cult following over the years, both for its visual trappings (the film even opens with a title card stating "another time…another place") and its music, including a number of original songs written by the likes of Jim Steinman, Stevie Nicks, Bob Seger and others. Engaging performances (be on the lookout for Bill Paxton, Elizabeth Daily, Ed Begley, Jr. and "Warriors" alumni Deborah Van Valkenburgh and Lynne Thigpen) and crisp action sequences make this one of Hill's most satisfying films.
Debuting on Blu-Ray for the first time in the U.S., "Streets of Fire" has been treated to a new 2K scan of the interpositive by Shout that's light years ahead of its prior HD-DVD and comparable UK Blu-Ray releases. Colors, details, contrasts are more potent and appreciably more satisfying here, and with visuals being such an important part of Hill's picture, it's a presentation that fans should be thrilled with. The DTS MA audio is on-hand in both 5.1 and 2.0 flavors, sounding appropriately boisterous when called upon (which is often).
Extras are powered by a pair of feature-length documentaries. Shout's own, exclusive two-hour retrospective offers comments from Michael Pare, Deborah Van Valkenburgh, Amy Madigan, and writer Larry Gross, plus music editor Michael Tronick and film music guru Daniel Schweiger who have plenty to say about the movie's soundtrack (and a couple of words about James Horner's discarded score). An earlier doc, new to the U.S., from Fiction Factory boasts comments from Walter Hill so it's complimentary to Shout's efforts, which are included in a second Blu-Ray along with other goodies like trailers, music videos and archival EPK featurettes.
It's all style, but "Streets of Fire" is nevertheless a rockin' good time that finally gets a chance to shine on Blu-Ray, in a definitive new transfer that best represents its striking visual design. Great fun, especially if you find the '80s soundtrack appealing.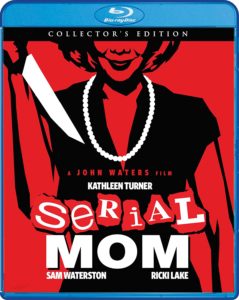 Another Shout Collector's Edition drops on Blu-Ray next week. John Waters' SERIAL MOM (94 mins., 1994, R) stars Kathleen Turner as a picture-perfect suburban do-gooder with a loving husband (Sam Waterston), a pair of kids (Waters staple Ricki Lake, Matthew Lillard), and a penchant for mass killing! Waters' black comic send-up offers a strong performance from Turner in a movie that's otherwise a hit-or-miss affair, even by Waters' standards. Fans of the director will be gratified to see the film on Blu-Ray for the first time – another Savoy Pictures affair that's now under the control of Universal, "Serial Mom" offers a satisfying 1080p (1.85) transfer with 5.1 DTS MA audio. Extras include a new interview with Waters and Turner; two commentaries; Making Of featurettes; and the original trailer.
Also New From Shout Factory: Also making its Blu-Ray debut this month is the generally reviled 1972 screen version of the classic Broadway musical MAN OF LA MANCHA (129 mins., PG). Despite having been adapted by the show's creator, Dale Wasserman, this flaccid screen rendition was DOA from the get-go due to the casting of non-singers Peter O'Toole – in the title role of Miguel de Cervantes – and Sophia Loren – as Dulcinea – in leading roles. There seems to be some debate over whether O'Toole was cast in a version that was going to strip most (if not all) of the songs out of the material – only to have them restored when director Arthur Hiller took over – but the end result was a box-office disappointment that's even phonier looking now in high-def. Shout's too-good-looking 1080p (1.85) transfer enhances the poor make-up on O'Toole so much that it becomes something of a distraction, though the DTS MA stereo sound at least does justice to Laurence Rosenthal's fine orchestrations (the songs, naturally, remain the project's highlight). Extras include a vintage featurette, the trailer, and a photo montage with Overture music...More satisfying musical entertainment from Shout hits Blu-Ray on May 30th. OKLAHOMA! (177 mins., 1999) offers a videotaped performance of the 1998 Trevor Nunn production of the Rodgers-Hammerstein classic, starring Hugh Jackman in the hugely acclaimed staging; while KISS ME, KATE (148 mins., 2003) boasts a London performance of the 1999 Broadway revival starring Brent Barrett and Rachel York in Cole Porter's masterful musical. Both discs include 1080p (1.78) transfers and 2.0 DTS MA stereo audio; "Oklahoma!" also offers a behind-the-scenes featurette.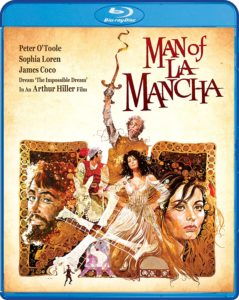 THE AUTOPSY OF JANE DOE (87 mins., 2016; Shout) is a superior indie horror effort starring Brian Cox and Emile Hirsch as father-son coroners tasked with taking care of the corpse of a young woman who displays no sign of trauma. Andre Ovredal's film surprises from there with a tense and weird story that ends somewhat unsatisfactorily – yet horror fans should groove to its shocks most of the way. Shout's Blu-Ray/DVD combo pack includes a 1080p (2.40) AVC encoded transfer, 5.1 DTS MA sound and is a Walmart exclusive (goes wide June 27th)…Another IFC Midnight/Scream offering, BEYOND THE GATES (82 mins., 2015, Not Rated), is a slender indie horror from director Jackson Stewart, offering a genre spin on "Jumanji" with a pair of estranged brothers discovering something evil in a VHS board game (remember those? My Mom once had jury duty with the guy who played "Colonel Mustard" in the VHS Board Game of "Clue"!). Shout's Blu-Ray boasts commentary with veteran star Barbara Crampton and Stewart, deleted scenes, featurettes, a 1080p (2.40) transfer and 5.1 DTS MA sound…Cubs fans still euphoric from their World Series championship can get their fix with COMPLETE GAME 7: CHICAGO CUBS VS. CLEVELAND INDIANS (5 hours), Shout's "Ultimate Edition" two-disc Blu-Ray set. Disc 1 features the complete Game 7 with four audio options (Fox's TV broadcast, Cubs and Indians radio calls, and Spanish language audio), while Disc 2 is chock full of the Cubs' 2016 post-season wins along with raw footage from the World Series Parade…New on DVD is DIGIMON ADVENTURE TRI: REUNION (96 mins., 2015), a follow-up to the popular Japanese animated series. Shout's DVD includes Japanese and English audio, interviews with the English voice cast, a look at the Reunion screening, a 16:9 transfer and 5.1 soundtracks.
---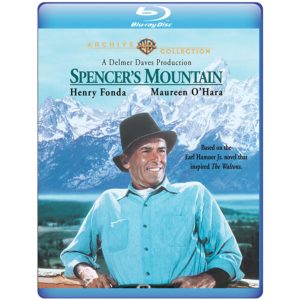 Warner Archive New Releases
SPENCER'S MOUNTAIN Blu-Ray (118 mins., 1963). THE MOVIE: Earl Hamner, Jr. wrote several memorable episodes of "The Twilight Zone" and created one of the most fondly remembered TV series of all-time in "The Waltons." However, few recall that his seminal CBS TV series was preceded by an early '60s Warner Bros. movie named "Spencer's Mountain," a Delmer Daves-directed adaptation of Hamner's book that offers a variation on the formula Hamner would perfect in his later TV program. This gorgeously shot studio product isn't as authentic, with the Grand Tetons substituting for the Appalachian mountains, and Henry Fonda heading its ensemble cast as a hard-loving, occasionally hard-drinking family man trying to hold it together during tough times. Maureen O'Hara co-stars with James MacArthur in Richard Thomas' "John Boy" role and Donald Crisp as the clan's elder statesman, a part more satisfyingly portrayed in "The Waltons" by Will Geer. Though overly melodramatic and glossy (in keeping with its era), "Spencer's Mountain" is still an entertaining enough "family film," even with its surprising amount of (implied) sexual content! ARCHIVE SPECS: Warner Archive's Blu-Ray is a stunner, featuring beautiful colors in a top-notch 1080p (2.35) AVC encoded transfer. The DTS MA mono sound is clean, featuring a pleasant Max Steiner score, while vintage interviews, the featurette "Grand Teton Premiere," and the original trailer are present on the supplemental side.
THE ROUNDERS Blu-Ray (84 mins., 1964). THE MOVIE: Another Henry Fonda starrer makes its way to Blu-Ray this month from the Warner Archive. The 1964 MGM western comedy "The Rounders" finds Fonda playing opposite Glenn Ford as aging modern cowboys spending their days rounding up cows when they're challenged to break a wild horse they can't tame – the duo subsequently challenge local rodeo riders to do the same, making a small fortune that, ultimately, doesn't last. Genre vet Burt Kennedy wrote and directed this adaptation of a 1940 Max Evans novel, and the chemistry of the stars is paramount to its entertainment. ARCHIVE SPECS: Another superlative Warner Archive 1080p (2.35) transfer adorns this new Blu-Ray of "The Rounders," along with DTS MA 2.0 mono sound, featuring a Jeff Alexander score. Well worth a look for genre fans.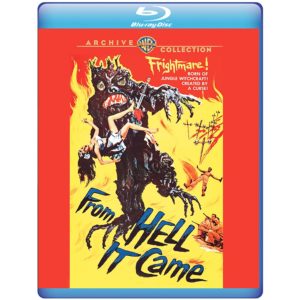 THE WHEELER DEALERS Blu-Ray (105 mins., 1963). THE MOVIE: Breezy albeit forgettable early '60s MGM comedy pairs James Garner – as a failed oil huckster trying to make amends in NYC – and Lee Remick, as an aspiring stock analyst who gets wrapped up in his, well, wheeling and dealing. If you are a huge Garner fan, you might enjoy "The Wheeler Dealers," but his overly broad performance is a bit much, and there isn't a lot of chemistry between him and Remick. Director Arthur Hiller works well with supporting stars like Phil Harris, Chill Wills and Jim Backus, but there admittedly isn't a whole lot here you haven't seen before – and executed better at that. ARCHIVE SPECS: Warner's superlative 1080p (2.35) AVC encode preserves the movie's fetching Panavision cinematography while the DTS MA mono sound houses a passable Norman Norell score.
FROM HELL IT CAME Blu-Ray (71 mins., 1957). THE MOVIE: Long regarded as one of the craziest, most awful shlockfests to emerge out of the 1950s, the Warner Archive has at last remastered "From Hell It Came" in all its high-definition glory. For the first time now in HD, you can see Tabanga the Tree Monster – a former prince sentenced to death by a witch doctor – stalk both island natives and American scientists visiting the South Seas, hoping to find the culprit behind radioactive tree sap. This Allied Artists production is terrible – and terribly straight-faced – but for sci-fi fans of the Atomic Age, it's easy to see why the film would carry the rep that it does as a "so bad it's good" classic. ARCHIVE SPECS: One of the Archive's inaugural DVD releases becomes a splendid Blu-Ray, backed by a finely detailed 1080p (1.78) transfer and DTS MA mono sound featuring an appropriately bombastic score by Darrell Calker. In the immortal words of "Creature Features Movie Guide" author John Stanley, "…and to Hell it can go!"
---
New From Universal
FIFTY SHADES DARKER 4K UHD Combo Pack (118/132 mins., 2017, R/Unrated; Universal): E.L. James' bestselling book series returns with a new director in James Foley, whose odd career counts the guilty-pleasure 1984 favorite "Reckless," the well-reviewed "At Close Range," the modern noir "After Dark My Sweet," David Mamet's film adaptation of his "Glengarry Glen Ross" and the early Mark Wahlberg thriller "Fear." There are, however, some clunkers along the way, including the dismal John Grisham drama "The Chamber" and now "Fifty Shades Darker," the sequel to "Fifty Shades of Grey" which offers Jamie Dornan's Christian Grey and Dakota Johnson's Anastasia trying to rebuild trust in their unconventional relationship. Meanwhile, Ana finds herself both fending off the advances of her editor boss (Eric Johnson) while trying to reconcile her current status with Christian's prior "relations," including Kim Basinger as the woman who introduced Grey to his, umm, sexually aggressive lifestyle. Will love eventually conquer all? Will there be more steamy sex scenes? You bet your asteroid, kid.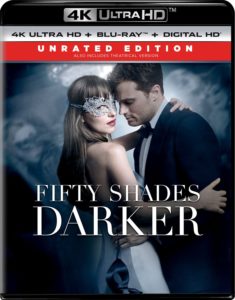 4K UHD Rundown: I'm not sure "Fifty Shades Darker" is the best application of 4K you can see at home, though strictly on its own merits, the HVEC encoded (2.40) transfer is very nicely handled. Much of John Schwartzman's elegant widescreen compositions are dominated by muted colors, especially in interior sequences housing the film's steamier moments. Flesh tones look natural and the image is finely detailed, but there are few opportunities for HDR to be fully employed. When there's an outdoor sequence such as Christian's near-fatal helicopter crash, or a scene utilizing a wider color pallet (a masquerade ball), one tends to notice the finer details in the 4K transfer over the Blu-Ray edition. The transfer is certainly excellent, though for the most part, there isn't a ton of difference between these particular transfers. For "Immersive Audio," the DTS X soundtrack contains a finely mixed blend of dialogue and Danny Elfman's unobtrusive score, with effects held at a minimum, no surprise given the material on-hand.
Blu-Ray Specs & Supplements: Deleted scenes, a sneak peek at "Fifty Shades Freed," and a number of featurettes (Writing Darker; A Darker Direction; Dark Reunion; The Masquerade; Intimate With Darker; New Threats) adorn the package's special features. Meanwhile, a Digital HD copy, a 1080p (2.40) AVC transfer that's fine in its own regard and DTS X audio also grace the Blu-Ray end of Universal's 4K UHD combo pack. The film is also on-hand in both its theatrical cut and an unrated version adding roughly 15 minutes of material on both discs.
A DOG'S PURPOSE Blu-Ray Combo Pack (***, 100 mins., 2017, PG; Universal): After being saddled with "fake news" controversy related to the alleged inhumane treatment of its on-screen canine star (which turned out to be a re-edited videotape, maliciously produced in order to disparage the film), "A Dog's Purpose" turned out to be a solid box-office performer after all. This Amblin-produced adaptation of W. Bruce Cameron's bestselling book is essentially an anthology told through the perspective of a dog (voiced by Josh Gad) and his various incarnations, along with an assortment of owners and one (portrayed as an adult by Dennis Quaid) in particular.
Director Lasse Hallstrom is no stranger to dog-centric cinematic chronicles, having shot the wonderful "Hachi" several years ago (well worth tracking down or streaming online – just bring your tissues). His sensitive, humane touch is the perfect one for this admittedly melodramatic film, one that manages to be consistently moving in spite of its sometimes overly-calculated script (credited to five different writers, including Cameron). Universal's Blu-Ray combo pack boasts a 1080p (2.40) transfer, 5.1 DTS MA sound, a DVD, Digital HD copy, and extras including deleted scenes, outtakes, and "A Writer's Purpose" and "Laughs, Camera, Woof!" featurettes.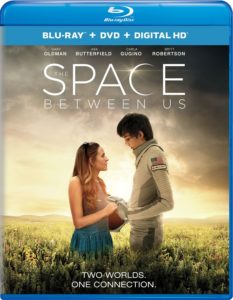 THE SPACE BETWEEN US Blu-Ray Combo Pack (**½, 121 mins., 2017, PG-13; Universal): Earnest performances and an intriguing premise nearly save this offbeat sci-fi/teen romance hybrid wherein a young man (Asa Butterfield) who's grown up on Mars seeks a journey to Earth in order to find the father he's never had – along with an interplanetary chat-room relationship he's established with an orphaned girl from Colorado (Britt Robertson). It sounds saccharine but this STX Entertainment production is at least refreshingly different from today's usual teen fare, and under the direction of Peter Chelsom, "The Space Between Us" manages some humanistic touches in between bouts of dubious science – mainly involving Butterfield's genetic structure and difficulty adapting to Earth's atmosphere. It's also overlong and narratively overstuffed, though worth a look due to the strong performances of the leads, who manage to be quite likeable, grounding the film's otherworldly premise as effectively as they can.
Out next week, Universal's Blu-Ray combo pack includes an alternate ending; deleted scenes; commentary with Chelsom; "Love Featurette"; a Digital HD copy, 1080p (2.40) AVC encoded transfer and 7.1 DTS MA sound.
---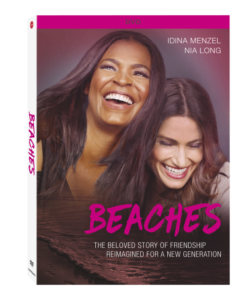 Lionsgate New Releases
New on DVD from Lionsgate: Lifetime, to their credit, did a decent job remaking the Bette Midler '80s hit BEACHES (88 mins., 2016), hiring director Allison Anders to give something of a harder edge to this tale of lifelong friends (Idina Menzel, Nia Long) whose friendship is put to the test through several life-changing events. Nikole Beckwith and Kate Lanier condensed Mary Agnes Donoghue's script (itself based on a novel) to cable-movie size in this well-acted and likeable drama on DVD May 9th. Lionsgate's DVD is a Walmart exclusive that includes a 16:9 (1.78) transfer and 5.1 sound…ALPHA AND OMEGA: JOURNEY TO BEAR KINGDOM (44 mins., 2017) brings back the gang from countless "Alpha and Omega" installments. This time, the entire forest crew is excited when Queen Bear and Princess Canue come to visit – and it's up to pups Stinky, Runt and Claudette to prevent them from being attacked by the Rogue Wolves. Kids again might enjoy this 44-minute feature, debuting on DVD May 9th from Lionsgate. The disc sports a 16:9 (1.78) transfer and 5.1 Dolby Digital sound…Eion Bailey from Showtime's "Ray Donovan" stars in the thriller EXTORTION (109 mins., 2017, R), the story of a family, on vacation at a Caribbean resort, who end up stranded on an island. A local fisherman tries to help ("Captain Phillips"' Barkhad Abdi) but then demands a ransom in this cautionary thriller that may force prospective vacationers to stick to dry land. Lionsgate's DVD is due out May 16th featuring commentary, a featurette, trailer gallery, 16:9 transfer (2.40) and 5.1 Dolby Digital sound.
Also New From Lionsgate: Also a Walmart exclusive, SHARK WEEK: SHARK 'N AWE COLLECTION (22 hours, 2015-16), is the latest DVD anthology from Discovery Channel's annual, and perennially high-rated, "Shark Week" series. This extensive collection, one of the longest yet seen on home video, includes 32 different programs encompassing over 22 hours of recent broadcasts seen over the last couple of "Shark Week" festivals. The six-disc set boasts 16:9 (1.78) transfers and 5.1 Dolby Digital soundtracks…Season 4 of ORANGE IS THE NEW BLACK (13 hours, 2016) offers more of the award-winning Netflix series based on Piper Kerman's best-selling, autobiographical tome. This time out, the Litchfield girls continue their struggle to make it through prison life with various racial and economic issues – plus the arrival of new inmates and guards often in over their heads – dominating the day. Taylor Schilling, Natasha Lyonne, and Uzo Aduba lead the terrific ensemble cast in this alternately funny and heartbreaking series with occasionally horrific moments. Lionsgate's Blu-Ray of the series' fourth season debuts May 9th, offering a gag reel, cast/crew commentaries and "Visitation: Set Tour" featurette. Digital HD copies, 1080p (1.78) transfers and 5.1 DTS MA soundtracks comprise Lionsgate's package…Coming shortly on DVD are DUCK DYNASTY: THE FINAL SEASON (aprx. 6 hours, 2016), a two-disc A&E release sporting the final 15 episodes from the Robertson family's previously top-rated reality series; and Caitlin Carmichael in A MERMAID'S TALE (92 mins., 2017, G), a family-friendly fantasy appropriate for kids co-starring Sydney Scotia, Jerry O'Connell, Barry Bostwick and Nancy Stafford. Lionsgate's DVD of the latter includes a 16:9 (1.78) transfer, 5.1 sound, behind-the-scenes featurette and trailer gallery; "Duck Dynasty" completes the show's run in 16:9 (1.78) transfers and 2.0 sound.
---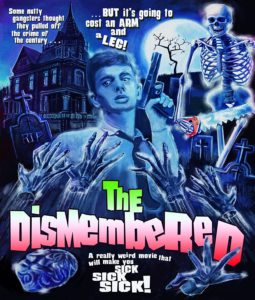 Also New & Noteworthy
THE DISMEMBERED Blu-Ray (65 mins., 1962; Garagehouse Pictures): Fans of '60s drive-in fare will be the most receptive audience to director Ralph S. Hirshorn's enjoyably goofy "The Dismembered." This quick, hour-long horror comedy was shot in and around the Philadelphia area in the early '60s, and posits a scenario wherein a trio of thieves try to seek safe harbor in a creaky old mansion – only to run afoul of restless spirits (in the house) and headless corpses (out in the cemetery nearby)!
Low-budget and quirky (Garagehouse's packaging calls it a "cross between Roger Corman and Casper the Friendly Ghost"), "The Dismembered" is a true "lost movie" that survives today only in a 16mm print owned by its director. That print has been scanned (in 4K!) for this exclusive limited edition Blu-Ray, which also houses a commentary with Hirshorn and Andrew Repasky McElhinney; an 11-minute 1959 short by Hirshorn, "The End of Summer," trailers, and liner notes by Dan Buskirk. The 1080p (1.66) B&W transfer and optically-remastered sound are both as potent as the source material allows.
Like prior Garagehouse releases, this one is available through DiabolikDVD and other select retailers.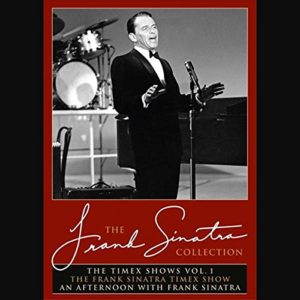 THE FRANK SINATRA COLLECTION – The Timex Shows Vol. 1 (119 mins.) And Vol. 2 DVD (118 mins., Eagle Vision): A quartet of network TV specials regarded as housing some of Frank Sinatra's finest small-screen work debut on DVD from Eagle Vision this month.
Volume 1 of "The Timex Shows" includes "The Frank Sinatra Timex Show" (October 19, 1959), with O'l Blue Eyes joined by Dean Martin, Mitzi Gaynor and Bing Crosby, plus a cameo from Jimmy Durante in the first of his ABC specials. The song list includes Martin, Gaynor and Crosby crooning "High Hopes" plus a Sinatra/Martin/Crosby/Durante finale touching upon "Start Each Day With a Song," "Inka Dinka Doo" and "Baby, Won't You Please Come Home." "An Afternoon With Frank Sinatra" followed on December 13th, 1959, and boasted a more eclectic guest list with Peter Lawford, Hermoine Gingold, The Hi-Lo's, the Red Norvo Quintet, dancer Juliet Prowse and Ella Fitzgerald alongside Sinatra.
Sinatra concluded his run of Timex Specials with two more hour-long offerings: "To The Ladies" (2/15/60) featured Lena Horne, Mary Costa, Barbara Heller, Juliet Prowse and guest star Eleanor Roosevelt. Fans may be especially intrigued by "Welcome Home Elvis" (5/12/60), marking The King's first TV special after his military tour of duty. Elvis performs "Fame and Fortune" while teaming up with Sinatra on "Witchcraft" and "Love Me Tender," while Nancy Sinatra, Sammy Davis, Jr. and Joey Bishop also appear in this archival TV treat. Eagle Vision's DVDs are mastered from the best-available sources and naturally display their age at times.
ICE – Season One DVD (525 mins., 2016; E One): Stylishly produced crime drama chronicles the exploits of a diamond-dealing family now working under the auspices of a crime boss, who pushes them further down the dark path into smuggling. Donald Sutherland, Cam Gigaandet, Jeremy Sisto, and Ray Winstone appear in "Ice," which was produced by Antoine Fuqua, who also directed one of the early episodes (he also recruited Simon Franglen, who arranged James Horner's "Magnificent Seven" themes, to write the music). E One's Season 1 DVD, out next week, includes interviews with Sisto and Gigandet, a music video and featurette, plus 16:9 transfers and 5.1 soundtracks.
SAVANNAH SUNRISE DVD (84 mins., 2016; Anchor Bay): A business-savvy woman (Shawnee Smith) and her more family-centric mother-in-law (Pamela Reed) are tossed together on a road trip from hell that offers plenty of lessons for both in "Savannah Sunrise." This family-friendly movie offers a nice showcase for veteran actresses Smith and Reed, given the opportunity to carry a lead role here for the first time in years. They're up to the task in this pleasant affair now on DVD from Anchor Bay. The disc, a Walmart exclusive, contains cast interviews, behind-the-scenes segments, the trailer, a 16:9 (1.78) transfer and 5.1 Dolby Digital sound.
IFC New Releases: Olivia Thirlby and Ben Feldman star in the relationship drama BETWEEN US (94 mins., 2016, Not Rated), Rafael Palacio Illingworth's story about a thirtysomething couple on the verge of settling down who end up on an unpredictable night out with possible other suitors (Adam Goldberg, Analeigh Tipton) offering new romantic pursuits for each. IFC's DVD is out this week with a 16:9 (1.66) transfer and 5.1 Dolby Digital sound….Another fine performance from Isabella Huppert drives the French import THINGS TO COME (102 mins., 2016, PG-13), Mia Hansen-Love's tale of a philosophy professor who finds out her husband of a quarter-century is leaving her. This introspective tale of her newfound freedom is bittersweetly told by Love. IFC's Blu-Ray includes a French 5.1 DTS MA track with English subtitles and quite solid 1080p (1.85) AVC encoded transfer.
NEXT TIME: More of the latest releases! Until then, don't forget to drop in on the official Aisle Seat Message Boards and direct any emails to our email address. Cheers everyone!