Message Board (open 24 hours!)
Twitter - @andredursin (for everything else!)
The New World Pictures vaults have opened up and B-movie fans have not one but two choice offerings thanks to Kino Lorber's Studio Classics line this month, including the memorable Tatum O'Neal/Irene Cara team-up CERTAIN FURY (87 mins., 1985, R) and Sybil Danning's oddball exploitation pic THEY'RE PLAYING WITH FIRE (96 mins., 1984, R). I remember seeing "Certain Fury" listed on a handful of "Worst of 1985″ lists, but was too young to actually sit through it. Decades later, all of us have that opportunity thanks to Kino Lorber's Blu-Ray and this insane exploitation picture – directed by Stephen Gyllenhaal (dad to Jake and Maggie) – does not disappoint.
In Michael Jacobs' script, tough girl Tatum O'Neal and student Irene Cara are forced to go on the lam after a court hearing turns into a violent massacre. This being the mid '80s, there's no surveillance equipment around to confirm the girls aren't the killers, so the police targets them in a manhunt – err, girlhunt – that sends both into O'Neal's dark world of hookers, losers and junkies, while the duo eventually form a tenuous friendship.
"Certain Fury" has some nasty violence – it takes just a couple of minutes before we're plunged into this movie's nightmarish world of bloody killings and urban decay, though Cara manages to look fabulous even while the duo are trampling over rats in the Vancouver sewer system. Throughout, the clunky dialogue results in some memorable exchanges between the ladies and the picture's abundant sex and violence undoubtedly mark it as a product of its time – as does the plodding electronic scoring by Bill Payne, Russ Kunkel and George Massenburg. Make no mistake, you need to be a fan of exploitation fare to really get a kick out of this, but for bad movie buffs, Gyllenhaal's movie does get the job done, and Cara manages to both outshine her stiff co-star and some occasionally (well, mostly) tasteless material.
Kino Lorber's Blu-Ray looks pretty decent thanks to a 1080p (1.85) AVC encoded transfer and DTS MA mono soundtrack. The original trailer is included along with an enjoyable commentary from the always informative Nathaniel Thompson, who's joined here by Tim Greer. Note the on-screen pop-up menu during the film erroneously states that the commentary is by David Del Valle and Nick Redman, requiring one to do a double take seeing as this film is as far afield from Twilight Time's usual fare as you could possibly imagine.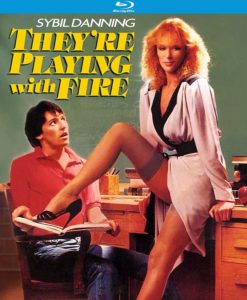 "They're Playing With Fire," meanwhile, combines the premise of a steamy film-noir thriller with the bodacious bod of Sybil Danning and the comedic stylings of a bad "Porky's" rip-off for a one-of-a-kind viewing experience. Dannng plays a college professor working with a fellow faculty member (Andrew Prine) to scare the pants off her in-laws in order to gain an inheritance. After Danning recruits one of her students (the quite awful Eric Brown from "Mama's Family" and "Private Lessons" fame) to carry out a prank, her elderly relatives turn out to have been murdered instead, leading the would-be criminal masterminds to figure out who the actual killers are.
There's not a lot of subtlety in "They're Playing With Fire," which from its overwrought John Cacavas score down to the weird clash of genres and broadly articulated performances, comes off as a very strange exercise in exploitation fare. Danning is frequently nude but there's next to no chemistry between her and Brown, who seems like he's starring in a different movie than every one else in the cast. Meanwhile, director Howard Avedis throws in some gross-out killings that nearly create a slasher vibe in a film that seems like it wants to cover every base – be it teen sexploitation fare, youth horror, murder-mystery and '80s comedy – but fails to do any of them well. The flat ending also diminishes the overall fun factor, but Danning enthusiasts still might want to check out Kino Lorber's Blu-Ray, especially for the actresses' candid interview about the film (she's not really a fan), the trailer, a 1080p (1.85) transfer and DTS MA mono sound.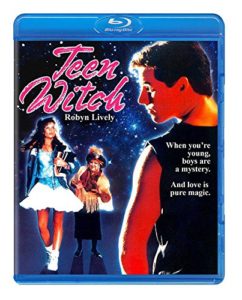 TEEN WITCH Blu-Ray (94 mins., 1989, PG-13; Kino Lorber): A silly albeit sweet youth picture which made its mark on home video and cable airings throughout the '90s, "Teen Witch" stars Robyn Lively as a nerdy misfit who harbors feelings for her high school's resident football jock (Dan Gauthier). Unable to fulfill her desires due to his popular-clique girlfriend (Lisa Fuller), Lively's Louise finds out from a local physic (Zelda Rubinstein from "Poltergeist") that she's a true descendant of Salem Witches, enabling her to gain a series of powers upon her 16th birthday. Naturally, Louise uses her newfound abilities to become popular – but at what price?
"Teen Witch" doesn't possess the wit of an '80s John Hughes comedy, but still plays out as a fairly agreeable, B-grade variation on a typical Hughes product – or, more over, "Carrie"/"Teen Wolf" meets "Can't Buy Me Love." Its characterizations are fairly broad and certain performances cartoonish, but Lively's genuinely likeable performance keeps the material grounded in enough reality that its positive messages still resonate past its questionable "PG-13″ elements (a love scene that comes off as odd and inappropriate given the film's overall tone) and dated aspects (those musical numbers!).
Kino Lorber's Blu-Ray has been produced with extensive extras from Walter Olsen's Scorpion Releasing, which are invaluable because they're often as much about the careers of the participants being interviewed as the specific project they're on-hand to discuss. The goodies here include a new commentary from Lively, Joshua Miller, Dan Gauthier and Mandy Ingber; fresh interviews with Lively, Gauthier, Ingber, Fuller and the Weir Brothers, who scored the picture (and unsuccessfully tried to launch a musical stage version over the years since); and the original trailer. The MGM licensed 1080p (1.85) transfer and DTS MA mono sound are both appreciable enhancements over the prior DVD edition.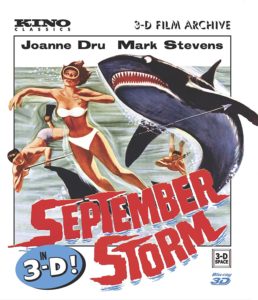 SEPTEMBER STORM 3D Blu-Ray (92 mins., 1960; Kino Lorber): Independent producer Edward L. Alperson ("Invaders From Mars") may have been late to the party when it came to the 3D fad of the 1950s, but there's something irresistibly entertaining about his newly remastered 1960 production "September Storm." This seldom-seen travelogue/adventure stars "Red River"'s Joanne Dru as a New York City model, on vacation in Majorca when she runs into an opportunistic local (Asher Dann) babysitting a yacht and Mark Stevens' treasure hunter, who gets them both involved in a search for sunken gold. Throw in sharks, jellyfish, and a rare off-season storm and you get a movie that's fairly humdrum in 2D Cinemascope – but here, remastered by the 3-D Film Archive, positively sings in the third dimension. Depth of field effects, even underwater, are superbly executed, making the routine – but sufficiently engaging – plot stay afloat far more effectively. It all makes for one of the better 3D Blu-Ray format releases in recent years, here preserved on Kino Lorber's Blu-Ray with a number of extras, including the short "The Adventures of Sam Space" (1960), which accompanied the film in theaters, and a previously lost British 3D short, "Harmony Lane." A 1995 interview with the latter's director, Lewis Gilbert, is on-tap with trailers and a 2016 interview with Asher Dann making for a marvelous release on all levels. The DTS MA mono sound is okay, and while the entire disc is viewable in 2D, 3D is clearly the only way to properly savor this early spring treat.
COMPULSION Blu-Ray (103 mins., 1959; Kino Lorber): Richard Fleischer's acclaimed Cinemascope production of the Leopold-Loeb case offers Orson Welles in the Clarence Darrow-patterned role of the attorney representing representing the two Chicago teenagers (Bradford Dillman, Dean Stockwell) on trial for committing "the perfect crime." The Cinemascope photography of William C. Mellor and the performances of the cast hold "Compulsion" up today as one of the better courtroom thrillers of the '50s, and its era-mandated restraint serves the subject matter well. DTS MA mono audio and a new, informative commentary from Tim Lucas make for a strong package, capped by a impeccable 4K restored transfer (2.35) making its debut on Blu-Ray.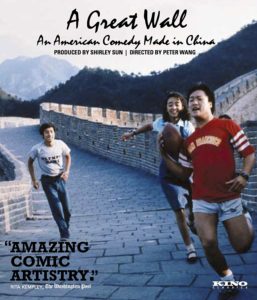 A GREAT WALL Blu-Ray (101 mins., 1985, PG; Kino Lorber): Peter Wang's terrific comedy stars the director as a San Francisco computer engineer who decides to head to Peking and reunite with his sister after he's turned down for a promotion. Once back in China, Wang finds out things aren't entirely the same, especially having lived in America – and with a very Americanized wife and Stanford-attending son who can't speak Chnese at all – for decades removed from his homeland. One of the great things about "A Great Wall" is that Wang does a terrific job establishing all of his characters – Wang and his family in the U.S., and his sister's family in China – over the first half-hour. This deliberate, leisurely open sets all of the players and their various predicaments in motion so that when the two families come together, it makes for an irresistible, and believable, cultural clash that's funny and poignant as well. Making its long-overdue Blu-Ray debut, "A Great Wall" includes booklet note comments from producer Shirley Sun and critic Oliver Wang, both of whom mention the movie's glowing review from Siskel & Ebert at the time of its release. The 1080p (1.85) transfer is generally fine though the source elements in the DTS MA mono soundtrack do tend to fluctuate from reel to reel.
---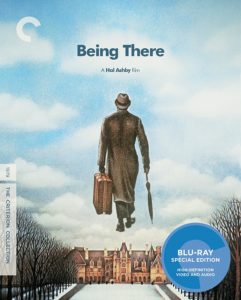 New From Criterion
One of the strong performances Dustin Hoffman beat out for his "Kramer Vs. Kramer" Oscar in 1979 – Peter Sellers as the gardener Chance in BEING THERE (***, 130 mins., 1979, PG) – has been newly remastered as part of the Criterion Collection this month on Blu-Ray.
Sellers is pitch-perfect in this droll, Hal Ashby-directed adaptation of Jerzy Kosinski's novel (scripted by the author for the screen), starring the comedian as a man who's lived his entire life in the house he was born in – as a gardener for an elderly man who bought him televisions which populate nearly every room of the spotless home he's left alone in. When Sellers' Chance is kicked out upon the man's death, he walks out into the real world for the first time – in the middle of a Washington, D.C. ghetto (to the strains of Deodato's "2001″ pop single), marking the first of many brilliant satiric touches in this memorable late '70s satire.
While the omnipresent influx of mass media is everywhere in "Being There" (the movie provides a virtual survey of TV series and commercials from its time), Kosinski's central message resonates loud and clear today – in fact, one could switch out television with the cellphone and "Being There" would be completely contemporary in 2017. The ironic – if entirely one-note – reaction people have to Chance's behavior and utterances also keep this on a more sophisticated level than its repeated comparisons to the fairy tale fantasy of "Forrest Gump," making for a funny and bittersweet film that marks some of Ashby's strongest work and one of its star's finest performances.
Warner previously released "Being There" on Blu-Ray several years back, and that effort has been surpassed here by Criterion. A new 4K mastered transfer is positively spectacular with its level of detail and enhances the work of cinematographer Caleb Deschanel – in fact, the increased resolution is most notable in background shots, which possess a near 3-D effect. The PCM mono sound is fine, and extras include deleted materials from the prior Blu-Ray; a brand-new Making Of documentary featuring Deschanel and others; a Kosinski interview from "The Dick Cavett Show," taped shortly before the film opened; appearances by Sellers on the Today Show from 1980; and an archival promo reel with Sellers and Ashby. Highly recommended!
---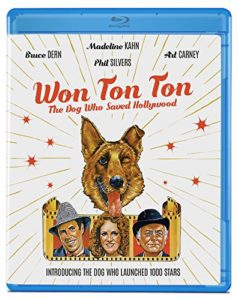 Olive New Releases
WON TON TON, THE DOG WHO SAVED HOLLYWOOD Blu-Ray (**, 92 mins., 1976, PG): Box-office disappointment tries to be a Bogdonavich-inspired period comedy with a pooch following Madeline Kahn to Hollywood, where he becomes an improbable movie star. Michael Winner's career became a losing one thanks to flops like this, but it's an okay, if not particularly funny, romp with a nice Neal Hefti score and a huge array of stars (Bruce Dern, Art Carney, Phil Silvers, Teri Garr, Ron Leibman) and cameos (Milton Berle, Edgar Bergen, Robert Alda, John Carradine) that read like a who's-who of Golden Age cinema. For that reason alone the film remains watchable, while Olive's 1080p (1.78) transfer and DTS MA mono sound are high-def enhancements over Legend's out of print DVD edition.
Also new from Olive this month is BLAST-OFF (119 mins., 1967), a loosely-inspired Jules Verne adaptation that stars Burl Ives as P.T. Barnum in a lightweight fantasy-adventure about man's race to the moon – at least in the Victorian era. This Don Sharp-directed outing is less "20,000 Leagues Under The Sea" and "First Men On the Moon" than it is a lower-grade variation on "Those Magnificent Men In Their Flying Machines" and other '60s-made period pictures; in fact, American International retitled the film "Those Fantastic Flying Fools" for the movie's original U.S. release, which also trimmed some 20 minutes out of its original cut.
In the UK, the film has always been known as "Jules Verne's Rocket to the Moon," and Olive's Blu-Ray preserves the original 119-minute running time of its international release (albeit with the on-screen title "Those Fantastic Flying Fools"). Buffs may enjoy seeing the primarily European cast assembled here, with Terry-Thomas and Lionel Jeffries joined by Gert Frobe and Daliah Lavi among others, though the film's appeal is pretty much limited to fans of that era and genre, with neither the writing nor its pace up to the level of its superior contemporaries.
Olive's Blu-Ray boasts an attractive 1080p (2.35) AVC encoded MGM-licensed transfer and DTS MA mono sound, the picture featuring an early score by John Scott.
---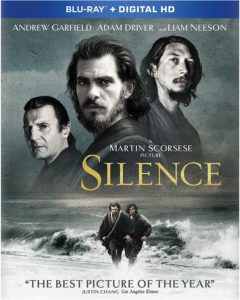 Also New & Noteworthy
SILENCE Blu-Ray (160 mins., 2017, R; Paramount): Martin Scorsese's latest film failed completely to find an audience in theaters, and no matter how you feel about "Silence," it makes sense that the movie's thematic material and glacial pacing may work best in a home video platform, removed from the multiplex. Truthfully, I found this film to be beautifully shot (kudos to Scorsese and DP Rodrigo Prieto) but interminably slow moving, as a pair of Jesuit missionaries (Andrew Garfield, Adam Driver) head to Japan in search of their mentor (Liam Neeson) who's shunned his vows, and do so by venturing through hostile territory where Christians are attacked, brutalized and murdered.
"Silence" was a pet project of Scorsese's, taking years for the director to finally realize its production. One can sense his intense interest in the material, but the picture is a lumbering, overlong meditation that's going to be best appreciated by his devotees and perhaps them alone. Garfield – so good in "Hacksaw Ridge" – seems out of his element here, especially as the picture unravels…listlessly…through its bloated running time. Paramount's Blu-Ray is tellingly light on extras, including just a single featurette. The 1080p transfer and DTS MA 5.1 audio are both top notch as you'd anticipate, with a Digital HD copy rounding out the disc.
WE GO ON Blu-Ray (89 mins., 2017, Not Rated; Lightyear Entertainment): As indie horror movies go, co-directors Andy Mitton (who also scripted) and Jesse Holland's "We Go On" is certainly one of the more thoughtful and compelling films of its kind I've seen recently. Clark Freeman gives a fine performance as a young man who's obsessed with death to the point where he's afraid to live; he places a newspaper ad and connects with a scientist, a medium, and an entrepreneur, all of whom find answers regarding the afterlife that he may, or may not, find to be worth the journey. Creepy but more thought-provoking than horrifying or gory, "We Go On" also boasts a strong turn from Annette O'Toole as Freeman's mother, and ends up with a satisfying conclusion, especially given its ambitious premise. Lightyear's Blu-Ray includes DTS MA 5.1 audio, a 1080p (1.78) transfer and commentary from Mitton and Holland.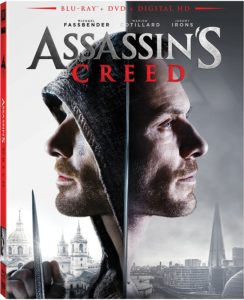 ASSASSIN'S CREED Blu-Ray (115 mins., 2016, PG-13; Fox): We all know that video games haven't translated well to the screen, though this good-looking Regency production of the Ubisoft historical game franchise at least tries harder than most of its genre brethren. Michael Fassbender here plays a man coerced into working for the mysterious Abstergo Foundation, which sends him back in time looking for the "Apple" which controls free will in mankind. Marion Cotillard, Jeremy Irons, Charlotte Rampling and Brendan Gleeson co-star in Justin Kurzel's film, which offers ample action for series fans (and a messy story for everyone else), but didn't translate to strong box-office given its budget – making for one more flop in a genre filled with them. Fox's Blu-Ray includes a five-part doc on the production, deleted scenes, an interview with Kurzel, a 1080p (2.39) AVC encoded transfer and 7.1 DTS MA sound.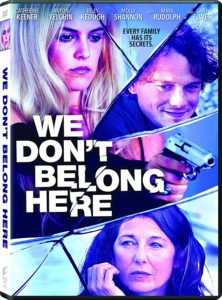 THE SWAN PRINCESS – ROYALLY UNDERCOVER DVD (79 mins., 2017, G; Sony): The long-running animated series from veteran animator Richard Rich made the leap to CGI a few years back. This latest installment focuses on the younger off-spring of Princes Odette as her daughter, Princess Alise, joins Lucas and friends in an undercover assignment, all to see if they can be trusted. J Bateman scored and also co-composed original songs for this colorful and amusing extension of the family franchise, now on DVD with a 16:9 (1.85) transfer and 5.1 Dolby Digital soundtrack…also new from Sony for kids is SPACEPOP: PRINCESS POWER (72 mins., 2016, Not Rated), an animated offering that finds five princesses disguising themselves as musicians and using their music to take down the evil Empress Gela. A trio of exended music videos, a 16:9 transfer and 5.1 Dolby Digital sound comprise Sony's DVD release.
Also Coming on DVD From Sony: Joel David Moore's YOUTH IN OREGON (105 mins., 2016, R) stars Frank Langella as an elderly man who drives to Oregon in order to be legally euthanized, and Billy Crudup as the son-in-law who tries to convince him otherwise. Christina Applegate, Josh Lucas and Mary Kay Place lead a superb supporting cast that deserved better than this treacly indie Sony brings to DVD on April 4th, sporting a 16:9 transfer and 5.1 Dolby Digital soundtrack…WE DON'T BELONG HERE (89 mins., 2015, R) offers one of Anton Yelchin's final roles, as the son of a family matriarch (Catherine Keener) whose secrets come to light after he disappears and his sister (Kaitlyn Dever) goes off in search of him. Peer Pedersen's Massachusetts-lensed indie drops on DVD April 4th from Sony, offering a 16:9 transfer and 5.1 soundtrack.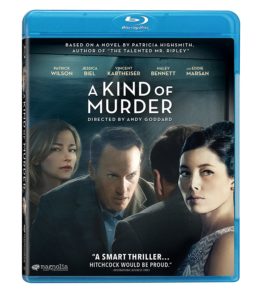 A KIND OF MURDER Blu-Ray (95 mins., 2015, R; Magnolia): Patricia Highsmith's novel forms the basis for this 1960s-set film noir about a seemingly happily married man (Patrick Wilson) whose wife (Jessica Biel) ends up dead – and his relationship with a man (Eddie Marsan) convicted of killing his own wife. This independent production set in the "Mad Men" era even adds that show's alumnus Vincent Kartheiser to the cast, and fans of mystery-thrillers – as well as Highsmith's "The Talented Mr. Ripley" – might find sufficient entertainment here. Magnolia's attractive 1080p (1.85) transfer and 5.1 DTS MA stereo sound are both top notch with extras including three featurettes.
NEXT TIME: Twilight Time's latest! Until then, don't forget to drop in on the official Aisle Seat Message Boards and direct any emails to our email address. Cheers everyone!