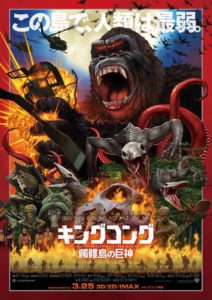 All of those mostly misfired adventures make KONG: SKULL ISLAND a solid monster romp that fans will likely savor – very much a modern studio concoction that's light on things like character development and heavy on what most will want to see out of the premise, including Kong battling an assortment of prehistoric/mythical beasties that populate the title locale.
This companion piece to Legendary Pictures' 2014 "Godzilla" sends an overpopulation of characters to Skull Island during the mid '70s, including a pair of "Monarch" scientists (John Goodman, current "24″ hero Corey Hawkins) who want to utilize the mission to prove giant monsters exist. Accompanying their journey are a tracker (Tom Hiddleston), a pretty photographer (Brie Larson) fresh from working in Vietnam, and an overzealous military colonel (Samuel L. Jackson) and his men, uncertain of the dangers lurking ahead. Once on the island, the group very quickly runs into the island's big primate, a guardian protecting its native people – and an American pilot (John C. Reilly) stranded on the island since WWII – from horrors that stretch beyond giant bananas.
With ILM's special effects triumphantly rendering a new Kong, "Skull Island"'s hero is brilliantly articulated and impressive to behold, towering above the human characters as he takes on a giant octopus and weird, reptile-like beasts. The monster mayhem is entertaining and convincingly animated, particularly where scale is concerned – an area that greatly improves upon Peter Jackson's conception of the character, as none-too-subtle dialogue lines are dropped here and there that Kong's not done "growing" yet (setting us up for the inevitable rematch with Godzilla in 2020).
If only the human element was as satisfying: with a brisk, sub-two hour running time, there's not enough room to develop the movie's vast array of characters, with one getting the feeling that scenes are often missing (i.e. no introductions between certain people, side characters who just show up). Case in point is Tom Hiddleston's character, who could've been digitally removed from the movie at no cost. Who is he? Why is he there? The character serves almost no purpose – and yet he's your top billed "lead"!
Much like "Star Wars: Rogue One," the characters fall completely into paper-thin "types" – the crazy military colonel, the attractive photographer, the nerdy scientist – and you walk out of the theater being completely unable to recall any of their names. John C. Reilly's character is also an odd duck, starting off as what feels like comic relief before morphing into the movie's heart, soul and moral compass – but it would've been more effective if the character wasn't portrayed so broadly, and more emotion had been developed as part of his performance.
These days, though, things like "heart" are held to a minimum in order to sell these blockbuster behemoths to foreign markets – and the bottom line is "Kong: Skull Island" does get the job done. Director Jordan Vogt-Roberts, whose only other feature credit is the amiable 2013 indie film "The Kings of Summer," harbors none of "Godzilla" auteur Gareth Edwards' pretentiousness, and delivers the goods right out of the gate in so far as unveiling Kong himself and letting fans enjoy what they paid to see. Make no mistake about who's King in this cinematic dojo. (***, 118 mins., PG-13)
---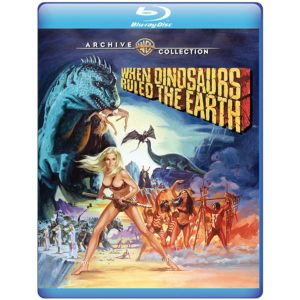 Warner Archive New Releases
Fans looking for more prehistoric adventure can venture on over to Warner Archive's splendid Blu-Ray of Hammer's WHEN DINOSAURS RULED THE EARTH (***, 100 mins., 1970, Not Rated).
The second in the British company's essentially unconnected "Cave Girl" series (third if you count "Prehistoric Women," which doesn't really fit with its counterparts) that began with "One Million Years B.C." (1966, recently out on Blu from Kino Lorber) and finished up with "Creatures The World Forgot" (1971, awaiting an HD release), "When Dinosaurs…" is a wild and woolly fantasy that fans should find to be sufficiently amusing.
Shot on a reduced budget from "One Million Years B.C." but in some ways more entertaining, director Val Guest's film – based on a story treatment by future "Empire of the Sun"/"Crash" author J.G. Ballard – offers former Playboy playmate Victoria Vetri as a blonde cavegirl who's about to be sacrificed due to her fair features. After escaping to a nearby tribe, Vetri's Sanna quickly sandwiches herself between Tara, one of the local cavemen (Robin Hawdon), and his brunette squeeze (Imogen Hassall), who quickly wants to dispose of her new competition. When the tribe that wants Sanna dead shows up onshore looking for her, Sanna retreats into the jungle with Tara, the tribal leaders, and a slew of creatures in hot pursuit – including a dinosaur who thinks Sanna may be its offspring!
There's just something irresistible about "When Dinosaurs Ruled the Earth." The movie keeps moving from one exciting sequence to the next, with its human characters running into everything from a prehistoric snail (which enables Sanna to briefly get a new hairdo) to terrifying pterodactyls, water-dwelling behemoths, and a towering triceratops. Throw in lovely Canary Islands locales, a cavegirl-catfight, and a memorable tidal wave finale, and you've got one of the best films of its genre, capped with Jim Danforth's tremendous, Oscar-nominated stop-motion effects. Danforth, who worked with Ray Harryhausen on "One Million Years B.C.," created a series of memorable creations for "Dinosaurs," all of them impressively animated and detailed – most especially Tara's run-in with a flying beast. The dinosaurs also have, if anything, more personality than Harryhausen's work on the film's predecessor, including a baby dinosaur that attaches itself to Sanna.
Lots of fun from start to finish – and more freewheeling than "One Million Years B.C." – Warner's Archive Blu-Ray of "When Dinosaurs Ruled the Earth" offers a finely detailed 1080p (1.85) AVC encoded transfer of the movie's full, 100-minute uncut version. This includes additional nudity which parents may find to be a little bit over the top for a film's that's otherwise pretty much acceptable for kids (I'll probably have to skip over the added material when I eventually show this to our dinosaur/train-captivated toddler down the line!). That said, most guys certainly may not mind the additional glimpses of Vetri, whose weird career included appearances in assorted TV shows and "Invasion of the Bee Girls" among others; more recently, she was convicted of attempted voluntary manslaughter in 2011 and sentenced to 9 years in state prison!
The DTS MA mono audio houses a Mario Nascimbene score that's more romantic and satisfying than the composer's work on "One Million Years B.C.," while the original trailer rounds out the package. Akita! Akita!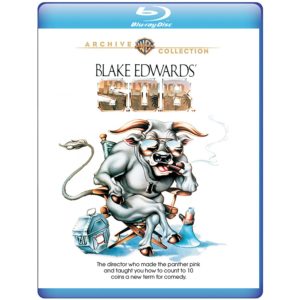 Also New on Blu-Ray: Two more terrific Blu-Ray catalog releases are also available from Warner Archive, each offering big stars, top directors and vibrantly detailed 1080p HD transfers.
One of the last major studio musicals, Warner Bros.' FINIAN'S RAINBOW (145 mins., 1968, G)came at a crossroads in Hollywood as it mixed the old-fashioned charm of Fred Astaire with a young director in Francis Ford Coppola, representing Hollywood's auteur-driven '70s future. It's certainly a bit of a strange coupling with the antiquated plot of the '40s Broadway show coming off as dated, especially considering the era in which the film was shot, though enough charm is generated by Burton Lane and E.Y. Harburg's songs – which included the hits "How Are Things in Glocca Morra?," "Look to the Rainhow," "If This Isn't Love" and "Old Devil Moon" – to make it worthwhile. The film's wide Panavision cinematography is superbly preserved in Warner's Archive Blu-Ray, the colors and clarity of the anamorphic image being enhanced immeasurably by the HD presentation. 5.1 DTS MA stereo audio robustly conveys the Ray Heindorf-supervised score with extras including an archival featrette, introduction and commentary from Coppola carried over from the DVD.
The late Blake Edwards isn't with us to provide a commentary on S.O.B. (121 mins., 1981, R), but one wishes he had done so years back. This black comic look at the Hollywood studio system is packed with familiar Edwards faces – including wife Julie Andrews (shedding her Mary Poppins image), William Holden, Richard Mulligan, Robert Webber, Robert Preston and others – in what many felt was the director's response to the troubles he endured making "Darling Lili" in the early '70s. It's also a bit of a mess, with scenes alternating between funny and bitter, and sometimes both. Despite its unevenness, the film is well worth a look for Edwards' devotees and admirers of that cast regardless, with the Lorimar production (Paramount released it theatrically) making its HD debut via the Archive's wonderful 1080p (2.41) transfer. There's not much for Henry Mancini to do here, regrettably, but the DTS MA mono sound is crisply conveyed just the same.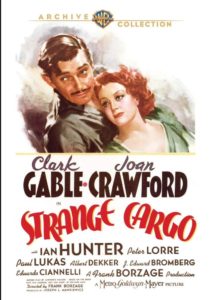 New on DVD: Warner Archive has also tapped a pair of vintage Joan Crawford vehicles for release on DVD this month, just in time for the debut of the highly-anticipated FX series "Feud," starring Jessica Lange as the actress opposite Susan Sarandon's Bette Davis.
A WOMAN'S FACE (106 mins., 1941) is a wild remake of a Swedish drama starring Ingrid Bergman, with Crawford starring in the latter's role of a woman, changed into a beauty by a dozen plastic surgeries, vying for the love of an aristocrat (Conrad Veidt ) who later asks her to commit murder. Melvyn Douglas also stars in George Cukor's polished MGM production, debuting on DVD with ample special features, including a vintage short "You Can't Fool a Camera," the cartoon "Little Cesario," the trailer, and two radio adaptations featuring Davis in one and Ida Lupino in the other. The B&W transfer and mono sound are both fine.
Crawford also starred in an earlier MGM vehicle opposite Clark Gable, STRANGE CARGO (113 mins., 1940),which also makes its DVD debut this month from Warner Archive. Here, Crawford and Gable teamed for the eighth – and final – time as a group of Devil's Island cons and a tough hooker make their way towards freedom. This Joseph L. Mankiewicz production has been released here with a handful of extras including the "Gable & Crawford" featurette, the vintage short "More About Nostradamus," the cartoon "The Lonesome Stranger" and the trailer, plus a 4:3 B&W transfer and mono sound.
---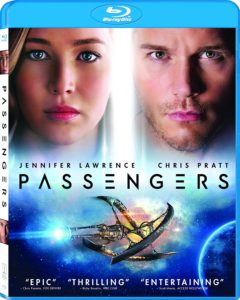 Also New & Noteworthy
PASSENGERS Blu-Ray (116 mins., 2016, PG-13; Sony): Though initially dismissed by critics and overbudgeted, this long-in-development sci-fi drama is at least a refreshing change from the usual tentpole bombast. Jennifer Lawrence and Chris Pratt play the title roles – a pair of passengers on a ship transporting them from Earth to a colony on a distant planet when they're awakened not long after their century-long hypersleep sojourn begins. Their developing relationship is the best part of Jon Spaihts' screenplay, comprising over half the film before director Morten Tyldum succumbs to a silly and disappointing climax. Until that point, "Passengers" isn't at all bad, and Pratt and Lawrence establish solid chemistry together. Flawed but worth a look. Sony's attractive Blu-Ray includes a slew of featurettes (On the Set with Chris Pratt; Casting the Passengers; Creating the Avalon; Outtakes From the Set; Book Your Passage) plus format-exclusives like deleted scenes and a VFX featurette. The 1080p (2.39) transfer and 5.1 DTS MA sound are both up to the label's usual high standards.
COLLATERAL BEAUTY Blu-Ray (97 mins., 2016, PG-13; Warner): Maudlin drama proved to be one of several "adult-themed" box-office flops earlier this winter. Despite returning star Will Smith to the confines of an emotional, character-driven drama, "Collateral Beauty" barely skimmed the surface of, say, "The Pursuit of Happyness"' commercial performance, its dismal story involving a grieving advertising exec (Smith), still reeling from the death of his young daughter, and his co-workers' collective attempts to have him removed from heading their agency. As if that wasn't enough, Smith's would-be friends hire an investigator and a trio of actors to embody Love, Time and Death, while"Death" herself is possibly on-hand in the form of an all-knowing sage played by Helen Mirren, who has tricks of her own up her sleeve.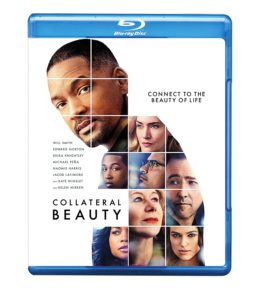 Director David Frankel and writer Allan Loeb pack an awful lot of characters – most with their own personal problems – into the slight 97-minute running time of "Collateral Beauty," but it's doubtful most viewers are going to leave wanting to see more of this misfire. A handful of fine actors, from Edward Norton to Kiera Knightley, Kate Winslet and Naomie Harris, are wasted in a treacly story that's borderline offensive in how it portrays legitimate mental illness, not to mention wholly transparent and contrived in its dramatic development.
Warner's Blu-Ray of "Collateral Beauty" is already in stores, featuring a 1080p (2.39) AVC encoded transfer, 5.1 DTS MA sound, a Digital HD copy, and a single Making Of featurette.
LIVE BY NIGHT Blu-Ray (129 mins., 2016, R; Warner): Another one of this past year's biggest cinematic fumbles, "Live By Night" marked a major misstep for actor/writer/director Ben Affleck in nearly every conceivable department.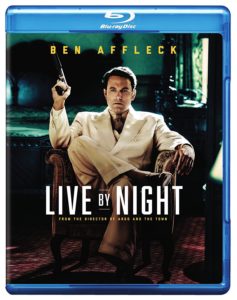 In this unsatisfying adaptation of Dennis Lehane's period novel, Affleck plays a WWI vet, the son of a Boston cop (Brendan Gleeson), who returns from the war wanting to be a gangster. He finds the right avenue for his aspirations when he falls in love with the mistress (Sienna Miller) of a big-time local mobster, but loses her after the duo flee to California. Affleck's Joe Coughlin eventually heads down to Florida during the prohibition era, working for an Italian crime boss, meeting a sheriff (Chris Cooper) and his aspiring actress daughter (Elle Fanning) and falling for the daughter (Zoe Saldana) of a Cuban businessman.
Never entirely convincing in its portrayal of time and place, "Live By Night" is a limp and often rambling wreck that marks Affleck's weakest work as a director by far. The film is heavy on pretentious dialogue and Affleck the director does Affleck the actor no favors with the star turning in a self-indulgent, heavy-handed lead performance that likewise ranks with some of his most ineffective in some time. All dressed up with nowhere to go, "Live By Night" rightly ranks as one of 2016's most disappointing films.
Warner's Blu-Ray combo pack is available this week sporting a 1080p (2.39) AVC encoded transfer, 5.1 DTS MA audio, a Digital HD copy, and a number of extra features, from Affleck's commentary to deleted scenes and four featurettes.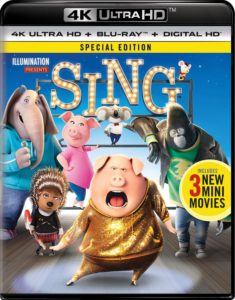 SING 4K UHD Combo Pack (110 mins., 2016, PG; Universal): Illumination Entertainment, the animators behind the smash hit "Despicable Me"/"Minions" franchise , branched out in 2016 with a pair of other big performers: the dismal but successful "Secret Life of Pets" and the much more satisfying, amiable "Sing." Though overlong, "Sing" offers a basic and tuneful tale of a koala bear/would-be musical entrepreneur (voiced by Matthew McConaughey) who offers to hold a singing competition with a $1,000 prize – winnings that accidentally (due to a printing error) spiral out to $100,000 and engage a variety of entrants from across the animal world. With its upbeat pop soundtrack, broadly drawn animation and appealing story, "Sing" is a crowd-pleaser that performed well for Illumination and Universal this past Christmas, and is poised to find further fans now on home video. Universal's attractive 4K UHD platter is predictably a dazzler, with its digital source appearing just splendid with HDR enhancements, though truthfully, there's not a ton of difference between this master and its corresponding Blu-Ray edition (also included). The 7.1 Dolby TrueHD/Atmos audio is fine, and extras include three new "mini-movies," a handful of shortish featurettes and a Digital HD copy.
ELLE Blu-Ray (131 mins., 2016, R; Sony): Paul Verhoeven's up-and-down career swings the wrong way with this vehicle for actress Isabella Huppert, who's terrific as a business woman attacked in her own home – she eventually tracks down the culprit, but falls for him, in a very strange and overstuffed film that's part pseudo-sexual thriller, mystery, psychological drama and generally a mess no matter what it's trying to do. Writer David Birke's script, based on a Philippe Sijan novel, is all over the map, introducing story elements that never pay off and offering Verhoeven's sometimes-rambling directorial flourishes that here tend to accentuate the project's weaknesses. Sony's Blu-Ray of "Elle" includes an AFI Tribute to Huppert and a Making Of, plus a 1080p (2.40) transfer and 5.1 DTS MA French audio with English subtitles.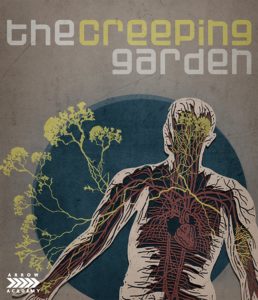 THE CREEPING GARDEN Blu-Ray Combo Pack (81 mins., 2014, Not Rated; Arrow): The subject of plasmodial slime wouldn't seem to be ripe for a major cinematic experience, but the unusual, offbeat "creative documentary" "The Creeping Garden" is just that. A weird and visually captivating look at the organism utilizing time-lapse photography with comments from scientists and artists that work with it, filmmaker Tim Grabham and author/critic Jasper Sharp profile the slime's rise and usage in everything from robot engineering to "unconventional" computing – even in a "biocomputer music system" that features a dialogue between man and the slime mould. Jim O'Rourke scored the film and Arrow's superb three-disc set includes his soundtrack on a separate CD with a DVD and Blu-Ray packed with extras. In addition to a 1080p transfer and uncompressed PCM audio, Arrow's disc includes commentary by Grabham and Sharp, Grabham's short "Biocomputer Music," "Return to the Fungarium" and "Feeding Habits of Physarum" featurettes, plus three "cinema iloobia" shorts and Angela Mele's "animated slime moulds."
---
Lionsgate New Releases
PATRIOTS DAY 4K UHD/Blu-Ray Combo (***, 133 mins., 2016, R; Lionsgate): Despite a major central shortcoming, this is a moving, occasionally gut wrenching, at times rousing account of what transpired on Marathon Monday back in 2013 in Boston – and the harrowing days that followed afterwards. Peter Berg has done, overall, a sensational job distilling everything about that week – from the horror of the bombing, to the manhunt, to the "Boston Strong" rallying of the community and its police officers – into a two hour film that is remarkably powerful in certain moments.
There is, however, an admitted issue with Mark Wahlberg's fictional Boston cop, an audience surrogate who just weaves in and out of the movie — his entire presence (as well as Michelle Monaghan's worthless appearance as his wife) just doesn't seem to be necessary, because the rest of the film works even better without him. The interrogation of the older Tsarneav brother's widow, Katherine Russell, is positively chilling, and the entire sequence where Chinese student Dun Meng is carjacked by the bombing brothers is riveting and phenomenally well done. When you're on the edge of your seat despite knowing exactly what happened, that's the sign of superior filmmaking.
Throughout, Berg uses real locations and actual footage in conveying the mood of that week, how the entire city was shut down, as well as the emotional outpouring that followed – including a certain slugger's unforgettable words to the Fenway faithful after it ended. Even if Wahlberg's made-up hero rides his white horse too many times through the picture, this is still an otherwise strongly rendered picture that's worth a look.
Lionsgate's superb 4K UHD presentation of "Patriots Day" debuts on March 28th. The HDR enhanced presentation is potent, as is the standard 1080p (2.40) AVC encoded Blu-Ray platter. DTS X audio, a Digital HD copy, and three Making Of featurettes are included on both platters.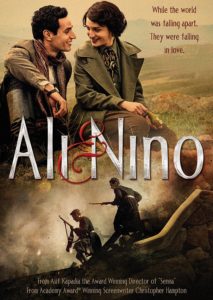 Also New on Blu-Ray From Lionsgate: Mike Mills' acclaimed indie 20TH CENTURY WOMEN (117 mins., 2016, R) stars Annette Bening as Dorothea Fields, a single mother raising her son (Jade Zumann) in Santa Barbara during the end of the "Me Generation." Her adopted family in SoCal includes an early punk artist (Greta Gerwig), a teen neighbor (Elle Fanning) and a bohemian handyman (Billy Crudup) in a nicely acted character study written and directed by Mills. Lionsgate's Blu-Ray of the A24/Annapurna production includes a commentary with Mills, two featurettes, a 1080p (2.00) AVC encoded transfer and 5.1 DTS MA sound…"Entourage" star Adrien Grenier has apparently joined the club of ex-A listers now working exclusively in the realm of direct-to-video. In ARSENAL (92 mins., 2017, R), Grenier appears with former stars Nicolas Cage and John Cusack in the story of a mobster (Cage) who makes a businessman (Grenier) pay a ransom in order to save his brother (Johnathon Schaech). Steven C. Miller's movie routinely plays out through its 92 minutes but it's watchable enough for the picture's B-level drama. Lionsgate's Blu offers commentary with Miller and Schaech, extended cast/crew interviews, a featurette, a 1080p (2.40) AVC encoded transfer, 5.1 DTS MA sound and a Digital HD copy.
On DVD: Asif Kapadia, the director of "Senna," and Oscar winning writer Christopher Hampton's new effort, ALI & NINO (101 mins., 2015, Not Rated), debuts on DVD this month from IFC and MPI. Set in Azerbaijan circa 1918, Kapadia's film looks at the unlikely romance that breaks through various political, religious and geographic divides between a Muslim man (Adam Bakri) and a Christian woman (Maria Valverde) who meet and fall in love prior to the outbreak of WWI. Mandy Patinkin and Connie Nielsen co-star in this adaptation of Kurban Said's novel, available now from IFC with a 16:9 (1.85) transfer and 5.1 Dolby Digital sound.
NEXT TIME: Kino Lorber March Madness with COMPULSION and much more! Until then, don't forget to drop in on the official Aisle Seat Message Boards and direct any emails to our email address. Cheers everyone!