Message Board (open 24 hours!)
Twitter - @andredursin (for everything else!)
Twilight Time's quartet of February releases offer a fantastic Fox film noir, a return trip to Woody Allen territory, a Columbia Cinemascope vehicle starring Cornel Wilde, and a moody 1979 "anti rom-com" that's the kind of film major studios wouldn't touch these days.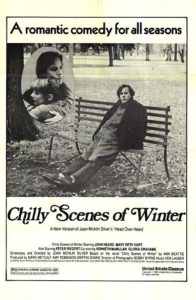 At the top of the list is CHILLY SCENES OF WINTER (95 mins., 1979, PG), a film that charts the on-again/off-again relationship between a Utah office worker (John Heard) and a fellow clerk (Mary Beth Hurt) who's engaged in an unhappy marriage. Joan Micklin Silver adapted Ann Beattie's novel for this 1979 drama filled with comedic elements and sharp chemistry between its leads, with Heard sporting one of his strongest roles as Charles, a guy who is haunted entirely by the charms of Hurt's discombobulated Laura, who's in some ways the living embodiment of the "Me Generation."
Released as "Head Over Heels" in 1979, this United Artists release was atmospherically lensed in the wintry Salt Lake City landscape it's set in and offers a uniformly fine ensemble cast, with Peter Riegert being notably on-point as Charles' best friend, Sam. The movie didn't initially fare well at the box-office, but was re-released under the original title of Beattie's book in 1982 and found appreciably more commercial success at the box-office via the art house circuit (check out this archival New York Times piece for a story on the re-issue).
What's most interesting about the movie's re-release was that Silver excised the movie's final three minutes which – as executed – came off as being at odds with the rest of the picture. In fact, while offering what was conventionally seen as a "happy ending," the original finale actually played out as more of a nightmare for Charles, making its "harder," more realistic new conclusion actually more hopeful in most respects.
That cut of "Chilly Scenes" – which Micklin Silver feels is the one that audiences truly embraced – has made its way to Blu-Ray in a warmly recommended Twilight Time limited-edition. The 1080p (1.85) AVC encoded transfer looks to be derived from an older MGM master, with some sections appearing softer than others, while the DTS MA 1.0 mono sound is passable. An isolated score track houses Ken Lauber's jazzy underscore, and extras include the trailer and a fine new commentary featuring Silver and producer Amy Robinson. (Note: the original ending can be seen on Youtube here via a tape of an old HBO broadcast)
One of those small gems that's likely to go overlooked, "Chilly Scenes of Winter" is a film I warmed to during a Turner Classic Movies airing back when I was in college in the '90s. It's a unique and interesting "slice of life" picture that they don't make anymore, and its preservation on Blu-Ray makes it one of TT's most appealing recent releases.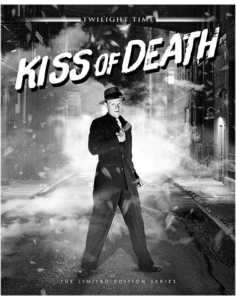 What's likely to be the most robust seller from Twilight Time's new group is KISS OF DEATH (99 mins., 1947), a seminal film noir about a thief (Victor Mature) who, after being caught in his latest robbery, decides to take his prison sentence and not squeal to authorities about his accomplices. However, after being told by his attorney that his wife and kids would be taken care of, Mature's Nick Bianco finds out his wife has committed suicide and his children are in an orphanage – elements that push him over the edge. Eventually released, with his children returned and his sister-in-law (Coleen Gray) having fallen for him, Nick is tasked by the DA (Brian Donlevy) to get information on a psycho (Richard Widmark) whom Bianco eventually puts behind bars…at least until he's acquitted for murder.
An impressive Henry Hathaway film shot on location in New York – both its locations and interiors – "Kiss of Death" is crackling good, from Ben Hecht and Charles Lederer's script to its powerful performances. Widmark launched his career with an absolutely memorable turn as one of the screen's vilest noir villains, who sends the elderly mother of one of Bianco's ex-accomplices to her death in a moment that's still horrifying to watch. Entertaining from start to finish, "Kiss of Death" remains one of the genre's all-time highlights, unsurpassed by its later remake or ample imitators and wannabes.
Fox's 1080p (1.33) AVC encoded transfer of "Kiss of Death" is sparkling and detailed, and its DTS MA 2.0/1.0 audio options are surprisingly robust for the film's vintage, sporting David Buttolph's supportive score. Extra features include a breezy and engaging commentary with Julie Kirgo and Nick Redman, along with the trailer, isolated score track, and older DVD commentary featuring historians James Ursini and Alain Silver.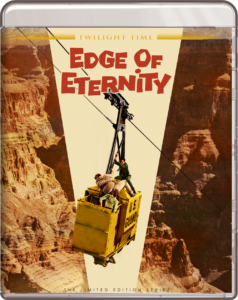 A Columbia release shot in Cinemascope, EDGE OF ETERNITY (80 mins., 1959) is a moderately entertaining mystery-adventure starring Cornel Wilde as an Arizona deputy investigating a rash of deaths most likely related to an abandoned gold mine at the bottom of the Grand Canyon, and a family carrying a history that dates back generations with the property. Among the latter is Victoria Shaw's heroine, whose memories of her family's work is as vast as her blossoming relationship with the local cop with his own complicated past.
Prolific director Don "Donald" Siegel spins a fairly conventional '50s drama for the bulk of "Edge of Eternity"'s tidy running time, but its climax, at least, is sensational: a death-defying actual series of stunts involving a "bucket car" suspended high over the Canyon itself. This ending is worth the price of admission itself, along with Burnett Guffey's wide Cinemascope lensing of the Canyon and its surrounding locales.
Twilight Time's superior 1080p (2.35) Sony-licensed transfer is vibrant and clear, with 1.0 DTS MA mono sound featuring a score by Daniele Amfitheatrof. An isolated score track and commentary from Nick Redman and C. Courtney Joyner puts the film into the proper perspective for Siegel and Wilde enthusiasts. Recommended most strongly for '50s cinephiles.
Likewise, Woody Allen fans will be the target audience for INTERIORS (92 mins., 1978, PG), film that marked Allen's first complete foray into directorial drama. Allen's script centers around a woman (Geraldine Page) whose husband (E.G. Marshall) leaves her and the various reactions of their three grown daughters (Diane Keaton, Kristin Griffith, Mary Beth Hurt) with respective issues of their own. This is a challenging but dense drama that plays out by intercutting sequences from the past with the present, showing the family's show disintegration – and especially that of Page's lead character, with the actress turning in a particularly fine performance.
Richard Jordan, Sam Waterston and Maureen Stapleton co-star in "Interiors," a movie that was atmospherically shot by the great Gordon Willis and marked a major change of pace, to put it mildly, for Allen. A precursor to some of Allen's later, "heavier" films, "Interiors" isn't going to be for everyone, but it's an important work in the director's oeuvre and Twilight Time's Blu-Ray preserves it with a satisfying 1080p (1.85) MGM catalog transfer with 1.0 DTS MA mono sound and the original trailer rounding out the disc.
As always, titles are limited to 3,000 copies and are available both through Screen Archives and Twilight Time's own site.
---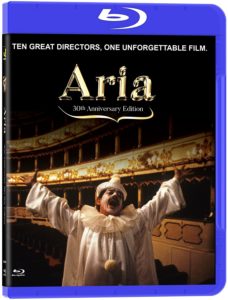 Also New & Noteworthy
ARIA Blu-Ray (86 mins., 1987, R; Lightyear Entertainment): A highly uneven anthology of short movies told, mostly, without dialogue and with a series of operatic arias supporting them, the 1987 release "Aria" makes its Blu-Ray debut on March 7th from Lightyear Entertainment.
The movie is not, really, at all a film for opera lovers – instead, it's more like an attempt by a series of directors to produce MTV-like music videos with the novelty of opera as opposed to pop music appearing therein. For the most part, the arias have little (if anything) to do with the action on-screen, though there are a few exceptions: a particularly beautiful Erich Wolfgang Korngold selection from "Die tote Stadt" is "performed" by a nude Elizabeth Hurley and Peter Birch in a Bruce Beresford-directed film set in Bruges, and sections of "Rigoletto" make for a comedic vignette by Julien Temple with Buck Henry, Anita Morris and Beverly D'Angelo starring.
Other sections of the movie, though, either come off as brazenly bizarre – like Ken Russell's weird take on "Nessum Dorma" from "Turnadot," or a Jean-Luc Godard film with a pair of gorgeous (mostly naked) cleaning women working alongside body-builders to Jean-Baptiste Lully selections – or strike-out altogether, such as Robert Altman's weird portion involving asylum inmates attending the opening of a Parisian theater, or framing sections with John Hurt that culminate in an embarrassing performance of "Pagliacci." Meanwhile, a young Bridget Fonda and Tilda Swinton also appear with Theresa Russell starring in her husband Nicolas Roeg's opening segment, while other sections are helmed by the likes of Bill Bryden, Derek Jarman, Charles Sturridge and Franc Roddam.
"Aria" hasn't been seen a whole lot since its original 1987 release, which generated mixed reception among critics on this side of the pond. It's certainly not a cohesive viewing experience, relying on the self-indulgent whims of its various directors to carry it forward, but devotees of '80s cinema as well as any of the individual filmmakers may find it to be worth a solitary viewing.
Lightyear's Blu-Ray includes an attractive 1080p transfer that shows its vintage at times but is generally acceptable. The LPCM stereo audio is okay, but because the operatic selections originated from pre-existing RCA Red Seal recordings, the fidelity of the music is surprisingly limited in scope. The trailer and a photo gallery round out the disc (a UK DVD edition did feature a commentary as well as a documentary).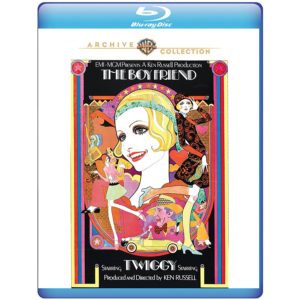 Warner Archive New Releases
Ken Russell's THE BOY FRIEND (136 mins., 1971, G) was an old-fashioned expansion of Sandy Wilson's musical, which itself provided a star-making vehicle for leading lady Julie Andrews when the British show made its way to Broadway in the mid '50s.
By the time Russell produced his film version, the movie musical was on a downward spiral – a genre that had been hit hard by expensive flops like MGM's "Goodbye Mr. Chips," Fox's "Star" (with Andrews), and numerous other failures. So perhaps it was no surprise that "The Boy Friend" didn't do all that well upon its initial release, especially in the U.S. where MGM added insult to injury by cutting Russell's original version down to under two hours.
Warner Archive's Blu-Ray — an HD upgrade on their 2011 DVD edition — of "The Boy Friend" offers the director's original 136-minute cut in its full Panavision splendor, and fans should be delighted with the presentation: this dated but charming "show within a show" musical offers ample homages to Busby Berkeley, a tuneful score and Twiggy as an assistant who gets the break of a lifetime in a small stage production when leading lady Glenda Jackson suffers an injury. The movie is a bit long but musical aficionados still ought to savor Warner's vibrant 1080p transfer (2.39), which upgrades previous releases with its gorgeous visuals and a new 5.1 DTS MA soundtrack. A vintage featurette and a freshly scanned original trailer round out the package.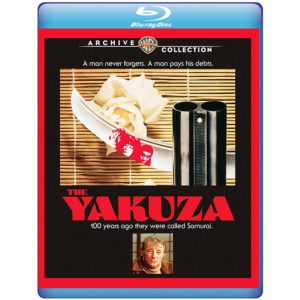 THE YAKUZA Blu-Ray (112 mins., 1975, R). WHAT IT IS: American PI Harry Kilmer (Robert Mitchum) returns to Japan at the behest of a friend (Brian Keith) whose daughter has been kidnapped by the Yakuza. There, he meets an old flame, works reluctantly alongside her brother (Ken Takakura), and engages in various cultural traditions to find the girl's whereabouts – while uncovering a number of twists and turns along the way. This slick and great-looking mid '70s Warner Bros. release was stacked with talent in front of and behind the camera, boasting Sydney Pollack's direction, a script by Paul Schrader ("Taxi Driver") and Robert Towne ("Chinatown"), a Dave Grusin score and Kôzô Okazaki's elegant Panavision cinematography. Truthfully, though, "The Yakuza" is a bit tedious, offering some action and a noir-ish plot, but a very leisurely pace that can be frustrating to sit through. Certainly worth a look, but not a great film. BLU-RAY SPECS: The Archive's superb 1080p (2.41) AVC encoded transfer is flawlessly delivered, once again giving HD enthusiasts a notable upgrade on the movie's prior DVD edition. The DTS MA mono sound is fine and an archival featurette and Pollack commentary return from its older standard-def counterpart.
LOVE IN THE AFTERNOON Blu-Ray (130 mins., 1957). WHAT IT IS: A May-December romance that's long been regarded as one of director Billy Wilder's weaker films, "Love in the Afternoon" has nevertheless been resurrected, remastered and brought back to life thanks to the Warner Archive. Wilder and long-time associate I.A.L. Diamond adapted Claude Anet's book for this 1957 story of a conservatory student (Audrey Hepburn) who falls for a wealthy American (Gary Cooper). Maurice Chevalier co-stars in an engaging enough concoction that seems prolonged with its two-plus hour running time, not to mention the strange coupling of Hepburn and Cooper, which doesn't entirely come off. For Wilder/Hepburn/Cooper completists only. BLU-RAY SPECS: The Archive's 1080p (1.85) AVC encoded transfer and DTS MA mono sound are both fine. The trailer is the disc's sole extra.
---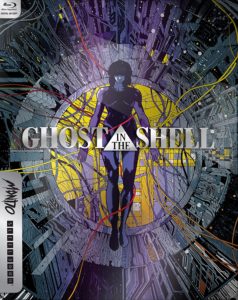 Quick Takes
GHOST IN THE SHELL Mondo Steelbook Blu-Ray (82 mins., 1995, Not Rated; Anchor Bay): Mondo Steelbook packaging graces this new edition of the anime classic. As I wrote in my original review of Anchor Bay's initial Blu-Ray, "one of the seminal films of the anime generation, 'Ghost in the Shell' has received a good-looking Blu-Ray transfer from Anchor Bay. Shirow Masamune's original magna is regarded as a cyberpunk classic, with government cyborg agents working to take down the sentient being known as "The Puppet Master" that threatens the world with a virus that can possess human hosts. A violent and thought-provoking film that's long captivated genre fans, Anchor Bay's 1080p (1.78) transfer is generally clean with strong colors. The movie's Japanese audio is here mixed in 2.0 Dolby Digital while the English track receives a stronger 5.1 DTS HD mix. Despite the lack of extras, this is a fine catalog release from Anchor Bay and well worth tracking down for anime buffs." The new Mondo Steelbook also houses a Digital HD copy ahead of the forthcoming Dreamworks live-action remake.
FULLER HOUSE: The Complete First Season DVD (359 mins., 2016; Warner): DJ Tanner (Candace Cameron Bure) is back in this revived version of "Fuller House," which quickly disposes of the original "Full House" cast – save for sporadic cameos by the likes of Bob Saget, John Stamos and company – in lieu of a cliched story of widowed veterinarian DJ trying to raise her own three kids with the help of friends both new and old (sister Jodie Sweetin, lifelong pal Andrea Barber). "Fuller House" debuted to massive viewership on Netflix last year, but even by the standards of 90s sitcoms, this is pretty desperate stuff, weakly written and performed – but then again, so was its predecessor. If you're a fan, Warner's DVD of "Fuller House"'s first season is available with all 13 episodes in 16:9 transfers and 5.1 Dolby Digital soundtracks. A second season is now streaming on Netflix.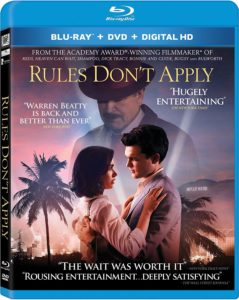 RULES DON'T APPLY Blu-Ray Combo Pack (127 mins., 2016, PG-13; Fox): We at least have to give Warren Beatty some kind of credit – if you're going to be involved with the greatest Oscar gaffe in history, at least do it a few days ahead of the home video release of your new movie. Granted, nobody went to see "Rules Don't Apply" in theaters – with the movie ranking as one of the biggest bombs of the last few years – but the timing was at least ideal. This unsatisfying and at times disconnected film finds Beatty playing Howard Hughes to a young couple (Lily Collins, Alden Ehrenreich) working for him in a movie chock full of familiar stars – but lacking a coherent plot. As fragmented as Warren's own Oscars appearance, "Rules Don't Apply" flounders as it leaps from one vignette to the next, some more entertaining than others, but never rises above its overall tedium. Fox's Blu-Ray, out this week, offers a 1080p (1.85) AVC encoded transfer, 5.1 DTS MA sound, a featurette, music video, photo gallery and Digital HD copy.
RESISTANCE DVD (92 mins., 2010, Not Rated; Film Movemenet): Weird adaptation of Owen Sheers' novel posits what would happen if the Germans won D-Day and Britain is under Nazi occupation. However, instead of favoring action, Amit Gupta's film takes a strange, pseudo-poetic approach to its premise, framing it through the viewpoint of a farmer's wife (Andrea Riseborough) whose husband is off fighting for the resistance, with much of the film occupied by her relationship with a German commanding officer ("Game of Thrones"' Tom Wlaschiha). Michael Sheen co-stars in "Resistance," just making its American DVD debut this month from Film Movement. The disc includes a 16:9 (2.40) transfer and both 5.1 and 2.0 soundtracks.
---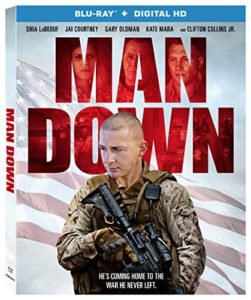 Lionsgate New Releases
On Blu-Ray: Shia LaBeouf's weird off-camera demeanor has taken some of the spotlight away from his recent on-screen work, including his turn as a Marine who finds himself trying to piece together the whereabouts of his wife and son once he returns from Afghanistan in MAN DOWN (90 mins., 2016, R). A fairly involving, if offbeat, take on familiar material from director Dito Montiel, "Man Down" – which co-stars Gary Oldman, Kate Mara and Clifton Collins, Jr. – streets on March 14th from Lionsgate. The Blu-Ray includes a commentary with Montiel and military consultant Nick Jones, Jr., a 1080p (2.40) transfer, 5.1 DTS MA sound and a Digital HD copy…a more realistic take on American soldiers is on-hand in SIX (6 hours, 2016), a History series that follows members of the vaunted Seal Team Six and their pursuit of an Afghan terrorist leader who's being aided by an American citizen. Writer William Broyles and his brother, David, created and produced this series with the Weinstein Company and History involved – it's certainly a watchable production, especially when it comes to military matters, but tends to succumb to superficiality when it showcases the characters in their home lives. Lionsgate's Blu-Ray, available March 15th, includes a Digital HD copy, 1080p (1.78) AVC encoded transfers and 5.1 Dolby Digital soundtracks.
On DVD: Kids might enjoy ROBO-DOG: AIR BORNE (88 mins., 2017, G), a follow-up adventure starring the title canine, who ventures off and has his chip erased after running away from his inventor (Patrick Muldoon) and family. Jonathan Silverman stars in this family-friendly title hitting DVD in March from Lionsgate with a featurette, 16:9 (1.78) transfer and 5.1 Dolby Digital soundtrack…Also coming March 14th is POWER RANGERS DINO SUPERCHARGE: VOLUME 2, EXTINCTION (2015) featuring 10 episodes from the Saban live-action series: Love at First Flight, Catching Some Rays, Recipe For Disaster, Silver Secret, Wings of Danger, Freaky Frightday, Worgworld, The Rangers Rock, Edge of Extinction and End of Extinction. The two-disc set contains 16:9 transfers and 5.1 Dolby Digital sound…out March 7th is THE LEGEND OF CHUPACABRAS (83 mins., 2016, PG), a Mexican animated production about a boy named Leo who, along with freedom fighters and a group of imaginary friends, search for the truth behind the mythical beasts while holed up in a monastery. Lionsgate's DVD includes a colorful 16:9 transfer and 5.1 soundtrack (Spanish) or 2.0 (English dub).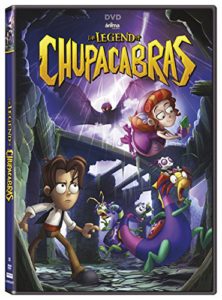 Indie Releases
WE ARE THE FLESH Blu-Ray (110 mins., 2016, Not Rated; Arrow): Emiliano Rocha Minter's Mexican import follows a brother and sister who take up residence in a strange hermit's shelter; there, he makes them act out depraved acts in an apocalyptic, nightmarish world. This unsettling effort goes to some gross places and certainly isn't going to be for most viewers. For those compelled to check it out regardless, Arrow's Blu-Ray of "We Are The Flesh," out this week, includes 5.1 and uncompressed stereo audio; a new video essay from critic Virginie Selavy; new interviews with Minter and the cast; two shorts by Minter; and the trailer.
BLOODRUNNERS Blu-Ray/DVD (95 mins., 2016; Speakeasy Pictures): Ice-T plays a prohibition-era gangster (!) in this independently-produced horror-actioner from director Dan Lantz. Here, Michael McFadden stars as a cop shaking down bootleggers when he comes across an undead hood (Ice-T) with designs on infiltrating the booze business and turning locals into vampires. McFadden also co-wrote this moderately-budgeted outing, which looks fairly decent given its pedigree and offers enough action for fans to get by, along with a refreshing sense of humor. Despite a weak ending, "Bloodrunners" is pretty good for what it is. The Blu-Ray/DVD combo pack is filled with extras, including a gag reel, deleted scenes, extended scenes, commentary, a trailer, a 1080p transfer (1.85) and 5.1 Dolby Digital sound. Available exclusively through the movie's official site (bloodrunners-store.com)
Magnolia New Releases: Creepy is the word to describe Nicolas Pesce's THE EYES OF MY MOTHER (76 mins., 2016, R), the weird tale of a young woman (Kika Magalhes), raised by a ex-surgeon mother on a farm, who indulges in all kind of morbid behavior when left to her own devices. Haunting black-and-white cinematography graces this very strange film that might be worth a look for horror devotees. Magnolia's Blu-Ray, out this week, includes a photo gallery, interview with director Pesce, the trailer, a 1080p (2.35) transfer and 5.1 DTS MA sound...now available on Blu-Ray from Magnolia is M. Shawn Crahan's hyper-stylized OFFICER DOWNE (90 mins., 2016, R), the story of an L.A. policeman whose unrelenting power is explained by his continual resurrection from the dead! This is a low-budget Frank Miller wannabe based on a graphic novel that's perhaps tolerable for those with an appetite for excess, but others are advised to stay far away. Magnolia's Blu-Ray offers an interview with star Kim Coates, the trailer, a behind the scenes featurette, 1080p (2.40) transfer and 5.1 DTS MA sound.
NEXT TIME: Shout unspools ROBOCOP 2 & 3! Until then, don't forget to drop in on the official Aisle Seat Message Boards and direct any emails to our email address. Cheers everyone!