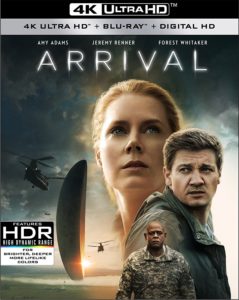 Understanding the aliens' motives and what they are attempting to say is priority number one for Adams' Louise Banks, teamed with a physicist (Jeremy Renner) under the command of a stalwart American colonel (Forest Whitaker) who tries to balance their scientific approach with the suspicious intentions of a CIA operative (Michael Stuhlbarg).
"Arrival" is, unquestionably, a tight, well-acted, compelling film. Adams is convincing and keeps you interested from start to finish in her character's plight, the movie bouncing back and forth from the scenes of her daughter's life and death to what's transpiring in the present. Eric Heisserer's script, adapted from Ted Chiang's story "Story of Your Life," has some issues, however, in extending the core drama out to feature length, opting to add a throwaway "suspense" element via a trigger-happy soldier trying to sabotage the scientist's efforts, as well as the entire component of the aliens on the brink of being exterminated by foreign powers. These superficial dramatics stand in stark contrast to the believable scenes of Adams and Renner working to translate the strange sounds and language structure of the visitors, and are given so little development that you can just feel them being shoehorned into the script in order to give the movie more "tension."
Ultimately, they detract a bit from what's an otherwise solidly constructed – if surprisingly downbeat – picture that's also reliant on a "big reveal twist" that's part Shyamalan, part soap opera. Your mileage may vary, as they say, once Villenuve gets there, but while it makes sense and is fairly effective as a storytelling device, it also ends up becoming the main thrust of the film — not so much mankind's first contact with extraterrestrials, leaving awe and inspiration to take a backseat to a maudlin Lifetime Movie message.
Paramount's attractive 4K UHD presentation bests their regular Blu-Ray presentation, though not by much: the movie's cinematography leans on the dark side, and vibrant colors are at a minimum throughout, making HDR unnecessary to appreciating its visual pallet. Both discs include 7.1 DTS MA audio plus a handful of featurettes, a Digital HD copy and 1080p AVC encoded Blu-Ray presentation that also boasts a handful of featurettes. (**½, 116 mins., 2016, PG-13; Paramount)
---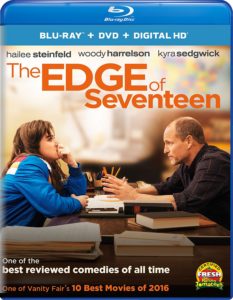 THE EDGE OF SEVENTEEN Blu-Ray (**½, 105 mins., 2016, R; Universal): Kelly Fremon Craig's well-received teen drama provides a plum role for Hailee Steinfeld, playing a high schooler whose placement at the bottom of the social food chain is compounded when her best friend (Haley Lu Richardson) starts dating her more popular, seemingly perfect older brother (Blake Jenner). While life at home following this predicament disintegrates, her relationship with an understanding teacher (Woody Harrelson) and a fellow classmate (Hayden Szeto) who holds a crush on her provides some stability – even if Steinfeld's heroine Nadine doesn't recognize it.
"Edge of Seventeen" is appealingly performed but comes off, ultimately, as being awfully familiar: from Nadine's relationship with an equally awkward soul mate she can't see, to her inability to connect with her widowed mother (Kyra Sedgwick), the older brother harboring his own emotional pain, and the best friend who gains entrance into a popular clique, there's nothing in Craig's film you haven't seen before. It's also a film that netted an R rating just for a few, fleetingly raunchy lines of dialogue, as the picture is otherwise appropriate for younger teens and likely should've been released with a PG-13 (not unlike another STX release from last year, "Bad Moms"). It's all pleasant and entertaining – backed by Steinfeld's lead performance – but also forgettable.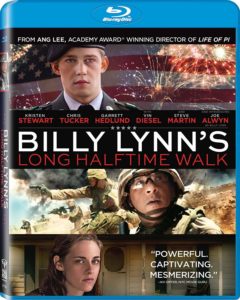 Universal's Blu-Ray combo pack, out this week, includes deleted scenes and a gag reel, a 1080p (1.85) AVC encoded transfer and 7.1 DTS MA sound plus a Digital HD copy and DVD.
BILLY LYNN'S LONG HALFTIME WALK Blu-Ray (*½, 113 mins., 2016, R; Sony): One of 2016's big disappointments was Ang Lee's high-tech, high-frame rate offering "Billy Lynn's Long Haltime Walk." This strange, bizarrely cast drama stars Joe Alwyn as the title character: a young soldier whose accomplishments on the battlefield are told in flashback while he's celebrated at the half of a pro football game. Naturally, what's being pushed in terms of PR doesn't entirely reflect the harrowing experience of Billy Lynn and his Bravo Squad mates, as Lee and writer Jean-Christophe Castelli – adapting Ben Fountain's novel – clumsily mix war, domestic drama and what could be best described as satire, even if next to none of it comes off.
Among the eclectic cast are Chris Tucker as an agent, Vin Diesel as one of Lynn's superiors, and Steve Martin as the owner of the Dallas Cowboys (no, not Jerry Jones), while Kristen Stewart – as Billy's sister – does her best to anchor quieter, introspective "family scenes." None of it, alas, amounts to much, with the stilted dramatics, conventional "war scenes" and unfunny, contrived comedy failing to mesh into a cohesive viewing experience.
It's possible Lee was more hung up on the film's technical attributes than the story, and perhaps the film plays better in 4K or 3D. Having seen neither (I was only sent the regular Blu-Ray for review), all I can say is there's precious little here to recommend. Sony's Blu-Ray also includes a digital HD copy, deleted scenes, 5.1 DTS MA sound, and a slew of featurettes.
---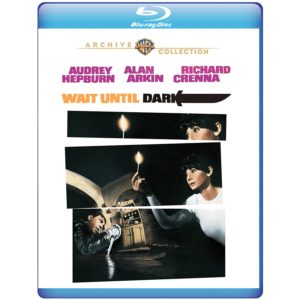 Warner Archive New Releases
Two new Warner Archive Blu-Rays should warm the hearts of movie buffs on a cold February night.
WAIT UNTIL DARK (108 mins., 1967) is a taut filming of Frederick Knott's stage play, offering Alan Arkin as a master thief looking for a doll filled with heroin that's been left in the home of a blind New York housewife (Audrey Hepburn). Richard Crenna and Jack Weston are the other cons who become mixed up in the sadistic manuevering of Arkin's "Roat," while Efrem Zimbalist, Jr. is Hepburn's husband, who inadvertently gains possession of the doll after coming home from the airport.
The tension in "Wait Until Dark" takes a little while to gain traction, with director Terence Young sticking to the stage-bound confines of the source material, scripted by Robert and Jane Howard-Carrington for the screen. Eventually, the movie overcomes a slow start – and a menacing, if overly "theatrical," performance from Arkin – by delivering a payload of suspenseful moments as it reaches its memorable climax. Henry Mancini's off-kilter score adds a further assist.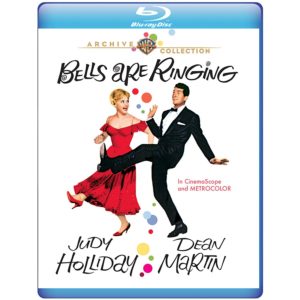 The Archive's Blu-Ray offers one of those seemingly ideal catalog presentations Warner has become famous for. Details are crisp, noise is minimal, colors appear natural and the DTS MA mono audio delivers the film's original sound design flawlessly. Extras from its older DVD edition include trailers and a retrospective featurette with Arkin and producer Mel Ferrer discussing the production.
Musical fans, meanwhile, can sing and dance their way over to BELLS ARE RINGING (126 mins., 1960), a frivolous but watchable '50s musical that earned Judy Holliday a Tony Award for her performance as the "Susanswerphone" switchboard op Ella Peterson. Holliday reprised her role in the MGM filming of the Jule Styne/Betty Comden-Adolph Green show, which offers an expectedly silly story but a few memorable songs ("The Party's Over," "Just In Time") and engaging performances from both Holliday and Dean Martin under the direction of the great Vincente Minnelli.
The Cinemascope-shot production, one of the last major musicals shot during MGM's heyday, doesn't offer a ton of chemistry between its two leads, but for musical fans, it's enjoyable enough escapism given a beautiful 1080p AVC encode by the Archive. This is a marvelous Blu-Ray transfer and the robust 5.1 DTS MA audio supports Andre Previn's strong arrangements of the original score. Extras include a DVD featurette sporting archival footage of Comden and Green, plus deleted/alternate scenes and the trailer.
---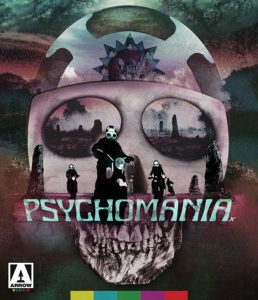 Catalog Corner
PSYCHOMANIA Blu-Ray (91 mins., 1972, Not Rated; Arrow): You'll be forgiven if you live in the US and haven't experienced this oddball mix of "Easy Rider" counter-culture biker flick and zombie horror, punctuated by John Cameron's groovy orchestral score.
The British-produced "Psychomania" stars Nicky Henson as Tom, a biker gang leader who discovers the secret of immortality and whose mom is a dear old Satan worshipper. Hoping that killing himself will give him unlimited power, Tom soon begins recruiting his fellow gang members to join the other side in a movie that's likely, in the final analysis, a lot tamer than you might expect from that plot description. With George Sanders and Beryl Reid in the supporting cast, "Psychomania" is something of a "stately" Brit exploitation picture, weird and at times tedious, though absolutely worth a look for genre fans.
Arrow's superlative Blu-Ray/DVD combo pack, out next week, includes a 2K restoration from preservation negatives; uncompressed mono audio; a new interview with Nicky Henson; an archive featurette sporting interviews with Henson and co-stars Mary Larkin, Denis Gilmore, Roy Holder and Rocky Taylor; an archive interview with John Cameron; an archival talk with "Riding Free" singer Harvey Andrews (sadly, the song did not become a chart-topper!); a new featurette on the film's costumes; another new segment on its restoration; the trailer; and a collector's booklet.
THE PASSION OF THE CHRIST Blu-Ray (****, 126 mins. [120 mins. "Recut" version], 2004, R; Fox): Without dissecting the movie's religious and historical elements (which I assume will either compel or disinterest you, dependent on your own beliefs), Mel Gibson's worldwide 2004 box-office hit is a film of enormous power simply from a filmmaking standpoint.
Gibson's vivid cinematic portrayal of the final hours of Jesus was tossed around every cable talk show and editorial column to no end after its original release, receiving polarized reactions from pundits on all ends of the religious and cultural spectrum. Charges of anti-Semitism, excessive violence, and a lack of spiritualism were leveled at the movie, and it seems that many critics approached the movie not reviewing the film so much, but rather how Gibson's beliefs and the picture's politics match up with their own views.
All I know is that, for me, "The Passion" is one of the most powerful and artistic pieces of filmmaking of the last decade. Neither as unrelentingly grim or excessively violent as some have made it out to be — nor lacking in the spiritual elements some have claimed it is — Gibson's beautifully, painfully rendered movie is so compelling you can't take your eyes off the screen.
Caleb Deschanel's vivid cinematography, John Debney's evocative music, and Gibson's conviction behind the lens collaborate to make an inspired work, while performances by Jim Caviziel as Jesus, Maia Morgenstern as Mary and a fine supporting cast (including Monica Bellucci as Mary Magdalene) support Gibson's carefully articulated evocation of the Stations of the Cross. This is a movie that looks like it would have cost well over $100 million by usual Hollywood standards, but was stunningly made for a fraction of that cost (a reported $30 million).
Fox's Blu-Ray, the second release of the film in the format, adds both English and Spanish dubbed audio to what's otherwise a reprise of the previous edition. The AVC encoded transfer gives home viewers a true approximation of the scope of Deschanel's cinematography, far more than either of the prior DVD editions, and the result is impressive indeed. The DTS Master Audio sound is powerful, while extras from the "Definitive Edition" include insightful commentary tracks from Gibson and numerous theologians, though a standard def DVD of other extras has been dropped from this edition. Both the original theatrical cut and its shortened "Recut" version are also present on the 50GB dual-layer BD platter plus a Digital HD copy.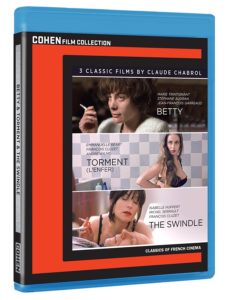 3 CLASSIC FILMS BY CLAUDE CHABROL Blu-Ray (Cohen Film Collection): One of France's top directors is celebrated in a three-disc Blu-Ray anthology from the Cohen Film Collection, offering a trio of Claude Chabrol's works from the 1990s.
In "Betty" (103 mins., 1992), Marie Trintignant plays a woman whose alcoholism has finally tilted her life in the wrong direction; she regrains her footing under the care of an older woman (Stephane Audran) with a similar background, though a different set of issues ensue. Henri-Georges Clouzot, meanwhile, provided the script for Chabrol's 1994 drama "Torment" (L'Enfer), with Francois Cluzet starring as a young husband who runs a country hotel along with his sultry wife (Emmanuelle Beart) whose flirtations are causing trouble – or are they? Finally, Isabelle Huppert and Michel Serrault star in "The Swindle" (105 mins., 1997) as a pair of con artists looking for the next big score in the form of a naive financial courier (Francois Cluzet again).
Cohen's transfers are impeccable, with 2.0 PCM lossless audio, English subtitles, a 40-minute interview with Francois Cluzet, and commentaries from critics Wade Major and Andy Klein on the latter two features.
---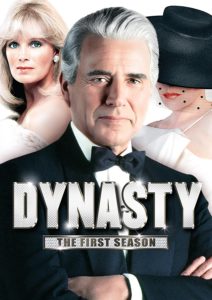 CBS New Releases
PENNY DREADFUL – Complete Series Blu-Ray (2014-16; CBS): A more satisfying take on mashing up genre literary characters than "The League of Extraordinary Gentlemen," creator-writer John Logan's Showtime series offers sophisticated horror fare for buffs. In "Penny Dreadful," set in Victorian England, washed-up American actor Josh Hartnett is recruited by Timothy Dalton and the mysterious Eva Green to find Dalton's daughter, Mina, who's been abducted by soul-sucking vamps. Run-ins with Victor Frankenstein and Dorian Gray are among the ingredients in Logan's production, which offers a fair amount of blood and guts but also a compelling mystery that plays out with superior performances. It's well-done and entertaining, with CBS' Blu-Ray including numerous featurettes from all three seasons, 1080p transfers, Dolby TrueHD 5.1 audio and bonus episodes from "Ray Donovan."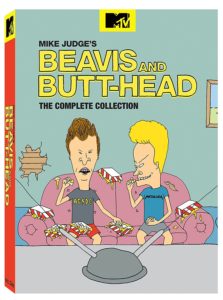 BEAVIS AND BUTT-HEAD The Complete Collection DVD (1041 mins., Paramount): Mike Judges' cackling animated heroes became pop-culture icons, spawning a series of animated shorts, music videos, and the theatrical release "Beavis and Butt-Head Do America." All of them have been collected in a 12-disc Paramount anthology, out this week, that's been personally curated by Judge himself, sporting 5.1 and 2.0 audio, full-screen transfers (16:9 on the movie), and uncut presentations of the MTV characters' decades-plus exploits. Recommended for fans.
Also on DVD from CBS: Season 1 of DYNASTY (1981, 12 hours) didn't entirely click with viewers – the arrival of Joan Collins and Heather Locklear would do the trick in the series' second season – yet fans of the seminal '80s prime-time soap should be delighted by CBS' DVD release of the show's initial go-around. Al Corley and Pamela Sue Martin profiles and a featurette are included in the four-disc set with 4:3 transfers and mono soundtracks in a set that's already available in stores (fans should note Season 1 was previously released in a Season 1 & 2 combo pack from Fox many years back)…The 1999 TV movie SABRINA DOWN UNDER (87 mins.) sends Melissa Joan Hart's teen witch off to help a mermaid colony in need of her powers in Australia. Paramount's DVD is now available boasting a stereo soundtrack and a 4:3 framed transfer.
---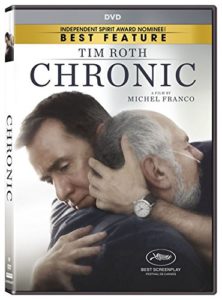 Quick Takes
Lionsgate New Releases: Tim Roth gives a bravura performance in the depressing CHRONIC (93 mins., 2016, R) as an in-home nurse with as many issues as some of the terminally ill patients he cares for. Mexican diector Michel Franco's film tries to say more without dialogue, hinting at the past of Roth's character and how the pain he deals with masks (or parallels) the patients he sees in the present, but it's a tough film to watch at times, despite the conviction of its performances. Lionsgate brings "Chronic" to DVD February 28th in a 16:9 (1.78) transfer with 5.1 audio and a single Making Of featurette.
TELETUBBIES: BIG HUGS DVD (75 mins., 2017; Sony): New DVD compilation of episodes from the still-popular kids series features the shows Making Friends; Watering Can; Up and Down; Favorite Things; Babies; Hiding, plus a "Big Hugs" song, and Meet the Characters: Po and Meet Daniel Rigby featurettes. Colorful 16:9 transfers and 5.1 audio ensure an appealing visual pallet for youngsters.
NEXT TIME: Kino Lorber's sizzling Studio Classics line bows ONE MILLION YEARS B.C. and more on Blu-Ray! Until then, don't forget to drop in on the official Aisle Seat Message Boards and direct any emails to our email address. Cheers everyone!