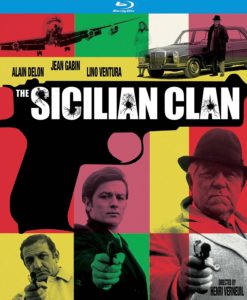 Delon plays a dashing thief who engages the notorious Manalese crime family – overseen by patriarch Gabin – to help him escape from prison. While incarcerated, Delon's Roger Sartet uncovered information from a fellow inmate about a diamond exhibition that, as the group finds out, proves too difficult to plan a robbery around. Instead, a daring plan is concocted including hyjacking the plane carrying the diamonds to the U.S., all the while the group is tailed by an irrepressible local cop (Ventura).
"The Sicilian Clan" is stylishly shot in widescreen and memorably scored by Ennio Morricone. Kino Lorber's Blu-Ray, available this week, looks spectacular with both a 4K restored transfer of the movie's U.S. version and a 2K restoration of its French release print on-hand. The latter runs several minutes longer, the result of the movie having been slightly trimmed for its English language version, which although mostly dubbed as well, was shot a second time, specifically in English (among the stars, only Delon's actual voice reportedly appears).
Under the direction of Henri Verneuil, "The Sicilian Clan" is marked by European craftsmanship, almost to a fault: there are times the film proves fully captivating, but others when far too much time is exhausted on introducing a litany of supporting characters. The pacing, as a result, never really develops a head of steam, though fans of the actors – and the genre – should still be sufficiently interested in the material, which is heightened here by Kino Lorber's superb HD presentation. Extras include a commentary with Nathaniel Thompson and Howard S. Berger, an hour-plus featurette from 2013, trailers, an image gallery and a tribute to the film by Fred Cavaye.
---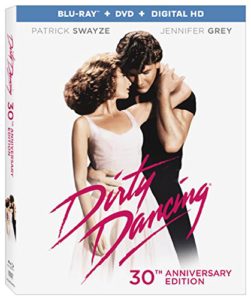 Lionsgate New Releases
DIRTY DANCING: 30th Anniversary Blu-Ray (***½, 1987, 105 mins., PG-13, Lionsgate):Lionsgate's third Blu-Ray release of the 1987 classic "Dirty Dancing" pretty much reprises the contents of its 2010 sophomore effort in the format, while adding a couple of new extras.
Back in 2010, fans of the Patrick Swayze-Jennifer Grey box-office smash had good reason to upgrade for the disc's remastered picture and sound alone. An appreciable improvement on the 2007 Blu-Ray, Lionsgate's then-new AVC encode was remastered and freed from the heavy noise-reduction and "jaggies" that plagued its earlier release. All-new 7.1 DTS Master Audio sound, meanwhile, complimented the superior transfer, while an abundance of extras, both new and re-issued from prior editions, was also on-hand.
Among the inclusions was a tribute to Swayze, a trip back to the Virginia locations used in the film, a never-before seen photo gallery and fan reel. Carried over from earlier releases, meanwhile, were deleted, extended and alternate scenes; cast audition footage; a pop-up trivia track; two commentaries (one from writer Eleanor Bergstein, another with various crew members); vintage music videos; outtakes; and the trailer in HD.
Nearly all of these goodies have been brought back for this new 30th Anniversary release, which adds never-before-seen segments from Swayze's last "Dirty Dancing" interview, plus conversations with "celebrity fans" and Eleanor Bergstein. A Digital HD copy and DVD are also included, while the film, at least to my eyes, appears comparable to its prior Blu-Ray edition. Ultimately, this likely isn't worth a re-purchase for fans who already own that version, but is worth a consideration, at least, for viewers new to the picture on Blu-Ray.
LEONARD COHEN: I'M YOUR MAN Blu-Ray (103 mins., 2016, PG-13; Lionsgate): Fans of the recently passed Canadian artist will be certain to appreciate Lian Lunson's documentary portrait of Leonard Cohen, offering a well-rounded chronicle of the songwriter/poet/cultural icon. Produced by Mel Gibson, "I'm Your Man" debuts this week on Blu-Ray from Lionsgate, incorporating additional Cohen performances not seen in the film, plus a talk with Cohen, a commentary with Lunson, a 1080p (1.78) transfer and 5.1 DTS MA sound along with a Digital HD copy.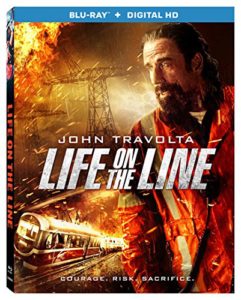 LIFE ON THE LINE Blu-Ray (98 mins., 2016, R; Lionsgate): Plenty of ex-A listers topline this run-of-the-mill story about electrical line workers – including John Travolta's veteran "Beau" and his niece's boyfriend – racing against time to replace miles of cable before an impending storm. Kate Bosworth, Devon Sawa, and Sharon Stone also appear in this workmanlike effort from stars who have mostly seen better days, compounded by a predictable and weak script. Lionsgate's Blu includes cast interviews, a music video from Fiona Culley and Darius Rucker, a 1080p (2.40) transfer, 5.1 DTS MA sound and a Digital HD copy.
Also Available From Lionsgate: Season 1 of GRAVES (5 hours, 2016) stars Nick Nolte as a former two-term President of the United States who decides to travel the country, righting some of his administration's wrongs in an engaging series that provides Nolte with one of his strongest roles in some time. Lionsgate's DVD, out this week, includes a gag reel, two featurettes, 16:9 transfers and 5.1 soundtracks…Alexandre Aja's eclectic THE 9TH LIFE OF LOUIS DRAX (108 mins., 2016, R) offers Jamie Dornan as a scientist trying to figure out why a nine-year-old boy suffers from near-fatal accidents, but forever manages to escape death intact. Sarah Gadon co-stars in this supernatural thriller, out this week on Blu-Ray with a Making Of featurette, Digital HD copy, 1080p (2.39) ransfer and 5.1 DTS MA sound.
AMERICAN PASTORAL Blu-Ray (108 mins., 2016, R; Lionsgate): Like too many directorial debuts by actors, "American Pastoral" is a messy, well-acted but impenetrable story of a couple (Ewan McGregor, Jennifer Connelly) from different social strata who seemingly have it all but find their world crumbling after their daughter (Dakota Fanning) vanishes after setting off a bomb. Framed against the changing social climate of the mid-20th century, McGregor's adaptation of Philip Roth's novel is just an uneven mess, unable to distill its source material's themes into a coherent motion picture and leaving its fine cast floundering. Barely released to theaters, "American Pastoral" checks in on Blu-Ray February 7th from Lionsgate. The disc includes commentary from McGregor, two featurettes, a 1080p (2.40) AVC encoded transfer and 5.1 DTS MA sound, sporting an Alexandre Desplat score.
Coming February 21st on DVD from Lionsgate is HEAVEN SENT (90 mins., 2016, Not Rated), a Lifetime movie with a strong, faith-based bent from director Michael Landon, Jr. Christian Kane and Marley Shelton star as a couple about to divorce when a precocious eight-year-old (Mallory James Mahoney) comes into their life. Lionsgate's DVD boasts a 16:9 (1.78) transfer and 2.0 stereo sound.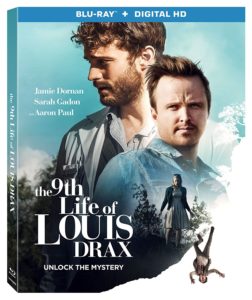 JOHN WICK 4K UHD Combo Pack (***, 101 mins., 2014, R; Lionsgate): Punchy Keanu Reeves vehicle stars the actor in the title role – a former assassin who can't be left alone by bad guys that have no idea, clearly, what they're getting themselves into. Chad Stahelski directed David Leitch's original script for this vibrantly shot action vehicle, short on substance, perhaps, but long on excitement and superior cinematic craftsmanship, all punctuated by a capable cast, with Reeves playing off Michael Nyqvist, Adrianne Palicki, Ian McShane, John Leguziamo and Willem Dafoe. Lionsgate's 4K UHD presentation takes great advantage of the HDR enhancements afforded by the format, besting the standard Blu-Ray in terms of its original potency. Dolby Atmos audio and other extras include commentary from the writer and director, Making Of segments and a Digital HD copy.
TYLER PERRY'S BOO! A MADEA HALLOWEEN Blu-Ray (103 mins., 2016, PG-13; Lionsgate)
TYLER PERRY'S MADEA ON THE RUN: THE PLAY Blu-Ray (134 mins., 2016; Lionsgate): Fans of Madea (they know who they are) have ample reason to rejoice this week with a pair of new Lionsgate Blu-Ray combo packs.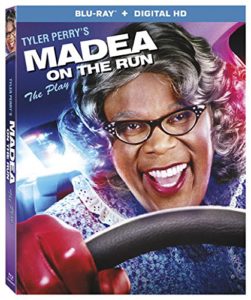 One of 2016's most surprising box-office hits, "Boo! A Madea Halloween" delivers precisely what the title delivers – the story of Madea and her friends staying home on October 31st in order to watch Brian's teenage daughter, only to strike up all kinds of shenanigans. The stage-bound "Madea on the Run," meanwhile, finds Madea hanging out with Bam and family, only to lay down the family smackdown in an original work from the writer/director/producer/star.
Both Lionsgate Blu-Ray combo packs include 1080p (1.85) transfers, 5.1 DTS MA soundtracks, and Digital HD copies. "Boo!" also offers a pair of short featurettes (Why We Love Madea!, Boo! From the Crew).
On DVD: POWER RANGERS: DINO CHARGE THE COMPLETE SEASON offers all five individual volumes from the newest live-action Power Rangers series; Unleashed, Resurgence, Breakout, Rise and Hero. Lionsgate's compilation boasts 16:9 transfers and 5.1 audio – check the Aisle Seat archives for individual details of these releases…THE CROOKED MAN (86 mins., 2016, Not Rated)stars Michael Jai White in the tale of a demonic spirit conjured up by teens reciting his rhyme at a sleepover (did they learn nothing from "Candyman"?). Jeese Holland directed this horror outing on DVD February 14th from Lionsgate with a 16:9 transfer (1.78) and 5.1 sound…the History double-feature FRANKENSTEIN: THE REAL STORY includes a series of Frank-related documentaries (In Search of the Real Frankenstein; It's Alive: The True Story of Frankenstein) from 1995 and 2008, while THE REAL WOLFMAN offers the 2009 documentary of the same name in one Lionsgate DVD edition…SHAUN THE SHEEP: SEASONS 3 & 4 (6 hours, 2012-13) is a must for fans of the international hit series. Lionsgate's DVD compilation gives fans over 50 episodes, six total hours, in a multi-disc set with 16:9 transfers and 2.0 stereo audio for the first time in the U.S.
---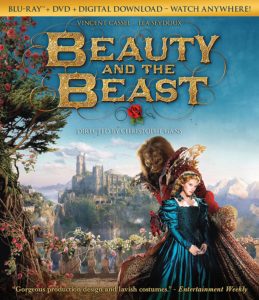 Shout Factory New Releases
ANTIBIRTH Blu-Ray Combo Pack (95 mins., 2016, Not Rated; Shout Factory): Bizarre, unsatisfying story of a drugged-out young woman (Natasha Lyonne) who finds herself unexpectedly pregnant with something that may or may not be of this earthly plain. Danny Perez's directorial debut is colorfully and eclectically presented, but doesn't come together to form a cohesive whole. It's good to see Lyonne top lining a film again and her humor is welcome, but the picture – which she also produced – goes nowhere. Shout's Blu-Ray boasts Psychedlic Shorts, Storyboards and the trailer, a 1080p transfer, 5.1 DTS MA sound and a DVD.
BEAUTY & THE BEAST Blu-Ray Combo Pack (112 mins., 2014, PG-13; Shout Factory): Christophe Gans' viscerally impressive retelling of the fairy tale stars Vincent Cassel as the cursed Beast and Lea Seydoux as his Belle, taking her father's place as a servant in the haunted
castle of the once-human Prince. Gans' strengths – cinematography, atmosphere – are on full display in a movie that doesn't offer a lot of surprises, but should satisfy Gans-fans, with Patrick Tatopoulos' creature design likewise being an asset. Released internationally over the last couple of years, Shout's Blu-Ray debuts the picture in the U.S. via a combo pack. The 1080p (2.35) transfer and 5.1 DTS MA sound – in either English dubbed or its original French – are both fine, with a DVD, digital download, and cast/director interviews on-hand for extras.
---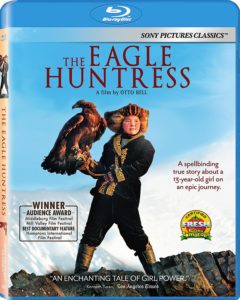 Also New & Noteworthy
THE EAGLE HUNTRESS Blu-Ray (88 mins., 2016, G; Sony): Fascinating and spectacularly filmed documentary follows Aisholpan, a 13-year-old Mongolian girl, as she becomes the first female in generations of her family to be trained as an eagle hunter. Director Otto Bell and his crew became entrenched in the far reaches of Mongolia for this vividly realized, inspiring picture – narrated in part by Daisy Ridley – that's worth it for older kids and adults, though some of the animal violence, even if it's not excessive, might be a bit much for younger kids (and sensitive viewers in general). Though the locations are exquisitely captured, Sony's 1080p (1.85) AVC encoded transfer is marred by video-based source elements that often display their limitations, with commentary from Bell, one featurette, and DTS MA sound also on-hand.
THE HANDMAIDEN DVD (145 mins., 2016, Not Rated; Sony): Park Chan-wook, the director of "Oldboy" and "Lady Vengeance," returns with this sleek and well-executed change of pace crime drama. Park's film tells the story of two women – a young Japanese woman living on an estate, and a Korean woman hired as her handmaiden, but has other designs including plotting with a con man to defraud her of an inheritance. Sarah Water's British novel "Fingersmith" served as the inspiration for "The Handmaiden," which is now on DVD from Sony featuring a 16:9 transfer and 5.1 audio in Korean with English subtitles.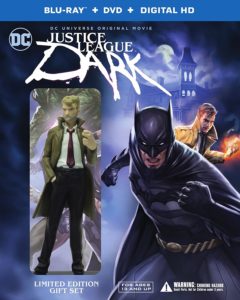 Also on DVD From Sony: Ian Olds' oddball BURN COUNTRY (104 mins., 2016, Not Rated) stars Dominic Rains as Osman, an Afghan political refugee who's tapped to write a column for the local newspaper in a small California town. Unfortunately for Osman, when a wacky local (James Franco) goes missing and a dead body shows up, prejudice rears itself. Melissa Leo co-stars in a movie that preaches instead of provides a satisfying story, ending up a mess. Sony's DVD of the Samuel Goldwyn Films release includes a 16:9 transfer and 5.1 sound…More entertaining is SPIRIT OF THE GAME (98 mins., 2016, PG), the true story of DeLyle Condie, a University of Utah basketball player who follows his mission to Melbourne, Australia. There, he helps form Australia's first Olympic basketball team in a faith-based picture starring Aaron Jakubenko and Kevin Sorbo, one that's solid enough for family audiences. Sony's DVD, also out this week, includes a behind-the-scenes featurette, 16:9 (1.78) transfer and 5.1 Dolby Digital audio.
JUSTICE LEAGUE DARK Blu-Ray Limited Edition Gift Set (76 mins., 2017, R; Warner): The increasing grittiness of DC Comics movies extends to their animated stable with this violent adaptation of the graphic novel. Here, the Justice League, and Batman in particular, seeks out the help of occult specialist John Constantine after a rash of supernatural occurrences lead innocent citizens of both Metropolis and Gotham City to commit nightmarish crimes. The duo subsequently form a team of superheroes and quasi-villains with an ethereal bent, including Zatanna, Deadman, Etrigan the Dragon and others, to combat the crime. Definitely not for kids, "Justice League Dark" should please older comic fans and winds its way to Blu-Ray this week from Warner. "The Story of Swamp Thing" and a handful of featurettes are included along with a 1080p (1.78) AVC encoded transfer, 5.1 DTS MA sound, a Digital HD copy, DVD, and – for those who pick up the Limited Edition Gift Set – a Commissioner Gordon action figure.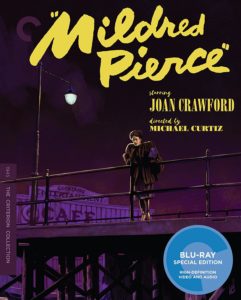 MILDRED PIERCE Blu-Ray (111 mins., 1945; Criterion): Michael Curtiz's splendid 1945 dramatization of "Postman Always Rings Twice" writer James M. Cain's novel offers an Oscar-winning turn from Joan Crawford. In one of her seminal roles, Crawford plays the fiercely determined single mother determined to provide for her two daughters. Evolving from a waitress to the proprietor of a chain of eateries, Crawford's Mildred Pirce finds her efforts being soundly rejected by her ungrateful eldest daughter (Ann Blyth), culminating in a murder that implicates both of them.
Ernest Haller's rich black-and-white cinematography and Max Steiner's score heighten this melodramatic affair, presented on Blu-Ray by Criterion in a brand-new 4K digital restoration. Available February 21st, the disc includes PCM mono sound and extras that include a new conversation with critics Molly Haskell and Robert Polito; a Crawford interview from a 1970 David Frost program; a 2002 documentary on Crawford, "Joan Crawford: The Ultimate Movie Star"; an Ann Blyth Q&A from 2002; a 1969 "Today Show" segment featuring James M. Cain; and an essay from critic Imogen Sara Smith.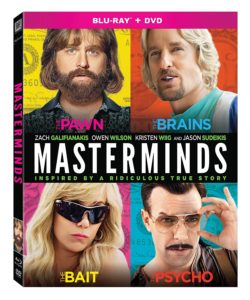 MASTERMINDS Blu-Ray Combo Pack (94 mins., 2016, PG-13; Fox): Intermittently funny farce stars Zach Galifianakis as an armored truck driver coaxed into committing a robbery by his work crush (Kristen Wiig) and fellow cohort (Owen Wilson), only to have the incident entirely blamed on him. Jason Sudeikis plays a hitman with fellow SNL castmates Kate McKinnon and Leslie Jones also along for the ride in Jared Hess' comedy, which didn't strike up much of a following at the box-office last year. Fox's Blu is poised to perhaps earn a few more fans, with a 1080p transfer and 5.1 DTS MA sound presented, along with a DVD, in the studio's now-available combo pack.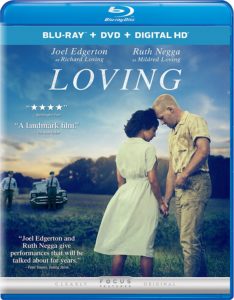 NERDLAND Blu-Ray (83 mins., 2016, Unrated; Sony):Disappointing animated feature from "Metalocalypse" animators Titmouse finds Paul Rudd and Patton Oswalt essaying soon-to-be-thirtysomethings trying to make it in the entertainment industry. The duo decide to generate as much fame as possible in a short time frame, eventually getting them into trouble after witnessing a high-profile criminal case. "Nerdland" generates a couple of chuckles but it's mostly a losing proposition, with Sony's no-frills Blu– out this week – sporting just a 1080p (2.35) transfer and 5.1 DTS MA sound.
LOVING Blu-Ray Combo Pack (123 mins., 2016, PG-13; Universal): Strongly acted film tells the true story of Richard Loving, a white construction worker (Joel Edgerton) in Virginia, who falls in love with Mildred Jeter (Ruth Negga) during the late '50s. They decide to marry but run into problems when they run afoul of Virginia's anti-miscegenation laws, forcing them to move to Washington, D.C. and causing them to be arrested several times as they grow their family. Jeff Nichols directed and wrote "Loving," with both Negga and Edgerton believably cultivating a pair of real people who eventually took their case to the Supreme Court. Though the movie is a bit flaccid at times, it's still worth seeing for its performances, with Universal's Blu-Ray combo pack including a commentary with Nichols, several featurettes recounting the actual case and the film's production, a DVD, Digital HD copy, 1080p (2.40) transfer and 5.1 DTS MA sound.
---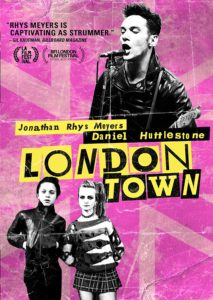 Quick Takes
LONDON TOWN DVD (93 mins., 2015, R; IFC/MPI): Daniel Huttlestone plays a teenager whose life is changed when he first hears the music of The Clash. He eventually falls for rebellious Nell Williams while striking up a relationship with Joe Strummer (Jonathan Rhys Meyers) himself in Derrick Borte's '70s coming of age tale, set against London's punk underground. MPI's DVD includes an interview with Rhys Meyers, a 16:9 (1.85) transfer, 5.1 Dolby Digital sound and the trailer.
LOOK AT US NOW, MOTHER DVD (84 mins., 2015; Virgil Films): Emmy-winning filmmaker Gayle Kirschenbaum profiled her mother's efforts to push her daughter into having a nose job several years ago in the short "My Nose." This feature-length expansion of their relationship chronicles their banter across continents as the duo bond after the death of Gayle's father. Virgil's DVD, available this week, includes 16:9 transfer and 5.1 sound.
THE POWERPUFF GIRLS: TIARA TROUBLE DVD (182 mins., Warner): Bubbles, Blossom and Buttercup take down evil in the form of Mojo Jojo, Manboy and others in this latest compilation of episodes from the Cartoon Network series. Episodes: Man Up, Escape From Monster Island, Princess Buttercup, The Stayover, Bubbles of the Opera, Painbow, Tiara Trouble, Viral Spiral, Horn Sweet Horn, Strong Armed, Little Octi Lost and Man Up 2: Still Man-ing, all in 16:9 transfers with 2.0 stereo sound. (Available February 14th)
NEXT TIME: ARRIVAL Beams Down on 4K UHD & Blu-Ray! Until then, don't forget to drop in on the official Aisle Seat Message Boards and direct any emails to our email address. Cheers everyone!