www.andyfilm.com (new columns debut here first!)
email: mailbag @ andyfilm.com (remove spaces!)
Message Board (open 24 hours!)
Twitter - @andredursin (for everything else!)
Do you like trailers? Are you a fan of '80s horror? Can you occasionally hear the dulcet tones of Percy Rodriguez dancing about in the air? It's early, sure, but I believe I've already seen my favorite Blu-Ray of 2017. It's Garagehouse's latest endeavor: TRAILER TRAUMA 3: '80s HORRORTHON, an outstanding anthology of over 250 trailers on two Blu-Ray platters, housing 4K-mastered original trailers for virtually every single genre exercise produced between 1980-89. Everything one could possibly imagine is contained in this spectacular release, both major studio exercises and low-budget affairs from a decade chock full of classics – cult and otherwise.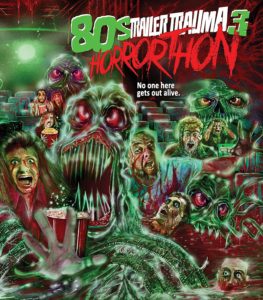 The prior "Trailer Trauma" releases, which I covered last year, were full of trailers for entertaining exploitation fare with some studio films sprinkled within. This time, there's no shortage of major studio features – whether it's "Poltergeist," "The Shining," the "Halloween" or "Friday The 13th" pictures, as they used to say in the Prego commercials, "it's in there!" The ads are wisely grouped chronologically so one can easily chart the progression between the '70s holdovers, be it "Jaws" ripoffs (the litigation-ravaged "Great White") or series sequels ("Final Conflict," "Amityville 3-D"), to '80s slashers and more elaborate sci-fi/horror hybrids like "Aliens" and John Carpenter's "The Thing."
There are numerous gems to be found. I don't recall ever seeing the trailer for "Something Wicked This Way Comes Before," but it's on-tap, right along with a scope trailer for "Twilight Zone: The Movie," which sold itself entirely on the basis of its "wunderkind" producers Steven Spielberg and John Landis. Irritated that Universal's releases of "An American Werewolf in London" perpetually leave off the trailer? "Trailer Trauma 3″ addresses that omission. I don't ever remember seeing an ad for "King Kong Lives," or so many "Red Band" (R-rated) trailers, before, but they're all part of the fun.
The really exciting element of these trailer compilations, however, is their inherent ability to generate interest in titles that may be unfamiliar. The must-be-seen-to-be-believed trailer for Michael Winner's "Scream For Help," a 1984 Lorimar movie that was apparently unreleased due to its inherent inanity, immediately made me seek it out (it's not on DVD, but is available for streaming on services like Vudu). You might think you're seeing the trailer for a laugh-riot comedy, as this hysterical trailer is proof positive they don't make 'em like they used to – and that even extends to trash.
Garagehouse assembled all of these trailers in genuine HD, understandably displaying the age of the source materials and the occasional abrupt splice, such as the lack of the "Presented in 70mm and Six-Track Dolby Stereo!" line during "The Keep" trailer. For the large majority of the trailers, though, the nicks and scratches only enhance the viewing experience, especially when you factor in that so many trailers on Blu-Ray are often standard-def ports, lifted off their respective DVD releases. And it's stunning how many are voiced by Rodriguez – I'd estimate a good quarter of these ads are all narrated by the Canadian actor.
Only 1500 copies of "Trailer Trauma 3″ – which also houses commentary tracks running throughout – are being pressed, and are available now at DiabolikDVD with my highest recommendation.
---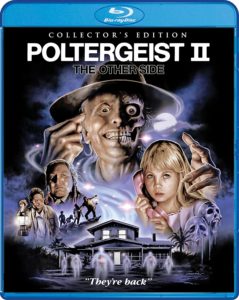 New From Shout Factory
Kicking off Scream Factory's January Blu-Rays are Collector's Editions of the "Poltergeist" sequels, which vary in quality nearly as much as the drop between Steven Spielberg's – err, Tobe Hooper's – 1982 horror classic and its first follow-up, the generally underrated 1986 sequel POLTERGEIST II: THE OTHER SIDE (***, 90 mins., 1986, PG-13).
This belated successor to Steven Spielberg's 1982 horror hit didn't include the participation of its predecessor's producer, yet it did reunite its original surviving cast members (Craig T. Nelson, JoBeth Williams, Heather O'Rourke, Oliver Robins, Zelda Rubinstein) in a film written and produced by Spielberg's original co-writers, Michael Grais and Mark Victor.
While a decided step down from the first "Poltergeist," "The Other Side" still boasts a number of effective set-pieces as "The Beast" tracks down little Carol Anne Freeling in the form of creepy preacher Julian Beck, who's scarier than any of Richard Edlund's special effects as Reverend Kane. The cast is still likable and Will Sampson is a nice addition as Taylor, a medicine man sent by Rubinstein's physic Tangina to help the Freelings. Even though the picture was reportedly shortened in the editing room (eliminating most of Geraldine Fitzgerald's scenes as Williams' mother) and went through its share of production difficulties (including H.R. Giger's creature designs being cut down due to budgetary issues), this is a slick follow-up – a rare horror sequel that's entertaining and worthy of its predecessor – boasting another fine Jerry Goldsmith score, a sense of humor that's always an asset, and an appealing set of main characters who are immeasurable to its effectiveness. In a genre short on quality sequels, "The Other Side" has long been worth a trip.
"Poltergeist II" was previously released in a good-looking, but no frills, Blu-Ray from MGM and Fox back in 2011. Scream's Blu-Ray offers a gorgeously rendered, 2K mastered transfer from the interpositive, as well as the original 2-channel stereo surround soundtrack, that bests even that attractive release (a 5.1 DTS MA mix seems to have been lifted directly off the prior Blu-Ray). This is a crisp and superbly detailed transfer showcasing the film's A-budget and FX, and is unadulterated, minus overt DNR. Meanwhile, the audio is even more satisfyingly delivered in its 2-channel mix, especially when played back in its intended Dolby Surround format, with a wider dynamic range than the 5.1 track.
Special features are likely to be devoured by "Poltergeist" fans, though one senses some of the participants skirting around their true feelings for the movie's production. This is especially apparent in a commentary with writer-producer Michael Grais and moderator Michael Felsher, who does a valiant job trying to get Grais to discuss some of the oft-discussed behind-the-scenes issues with the movie. It's not always an easy battle, as Grais initially says MGM left the producers alone to shoot their movie – and gushes over its director, Brian Gibson – but eventually contradicts his earlier sentiments. Among the revelations are Grais saying that Gibson was basically a problem and "didn't get it," constantly butting heads with Richard Edlund, having to reshoot the movie without him (it was also Grais who worked with Jerry Goldsmith, not Gibson), and needing to "punch up" the movie with stinger shocks after initial test screenings were "soft" and alarmed studio executives.
One of Grais' more jaw-dropping revelations is that the creepy sequence in which Kane tries to overpower Steve Freeling was made even more effective by having to reshoot part of the sequence six months after the production. The sunken eyes and more horrifying appearance of Julian Beck wasn't due to make-up – his own body had regressed so much inbetween the respective shoots that his failing health alone enhanced the film's most memorable sequence.
Whether or not Grais' memory isn't entirely sharp, it's still a sometimes frustrating listening experience, as although many fascinating anecdotes are revealed, one gets the feeling the producer was holding back in terms of delivering the truly tasty stories, especially where Gibson was concerned.
A secondary commentary from "Poltergeist" fan site webmaster David Furtney might be worth a go for the hardcore with other extras including a fresh interview with Oliver Robins, who details the differences between working for Spielberg, who welcomed his improvisation, and Gibson, who didn't; new interviews with FX designers Richard Edlund, Steve Johnson and Screaming Mad George; a talk with H.R. Giger confidant/agent Les Barany; the trailer, TV spots, still galleries, and vintage EPK featurettes. Highly recommended!
"Poltergeist II" isn't a classic yet in a genre often bereft of quality follow-ups, it's a movie that tends to be overlooked – or at least unfairly grouped in with its far-worse sequel. Its tidy 90-minute running time serves it well, delivering a mix of silly '80s horror-fantasy with some legitimately effective scares, an unforgettable villain, and another outstanding Goldsmith score. That alone is enough to warrant a recommendation.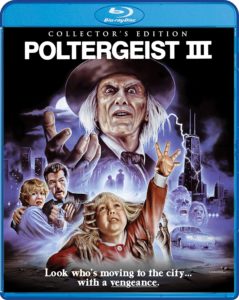 That's not the case, alas, with POLTERGEIST III (*½, 98 mins., 1988, PG-13). Despite the second film's commercial success, Michael Grais and Mark Victor turned down the third film, which was produced on a notably reduced budget. Instead, "Buddy Holly Story" director Gary Sherman was recruited to write (with Brian Taggert) and direct "Poltergeist III," working with new locations (Chicago), new leads (Tom Skerritt and Nancy Allen, in for Craig T. Nelson and JoBeth Williams, respectively), and new FX artists that favored practical, on-set work.
The lower-budgeted "III" is a far cry from both of its predecessors, starting off on the wrong note thanks to Joe Renzetti's leaden synth score, as far a comedown from the outstanding work of Jerry Goldsmith as could possibly be imagined. The story places a notably ill-looking Heather O'Rourke as Carol Anne in the care of her aunt and uncle (Allen and Skerritt, delivering his lines with all the intensity of an Aleve commercial) while still being stalked by the Reverend Kane.
With Julian Beck having passed, this means Kane appears in the guise of a mute, hilariously attired older gentleman who's nearly as scary as Ronald McDonald. Also far from horrifying is the smoke-and-mirrors FX work in general, which are notably less flashy than Edlund's work, and rely on old-fashioned practical scares to function. Unfortunately, with Renzetti's music either telegraphing all of the scares or punctuating them with a sledgehammer, none of the film comes off, the various characters screaming "Carol Anne!" as the tepid script needed reshoots to generate a PG-13 (the original cut was actually PG).
Shout's Collector's Edition Blu-Ray does boast a handful of intriguing supplements, including a frank commentary from Gary Sherman that discusses the challenges involved with the production (another commentary with "Poltergeist" website guru David Furtney is also on-hand) . New conversations with Brian Taggert, Nancy Allen and FX artist John Caglione, Jr. each give off their own respective comments about the film's flawed nature, with the trailer, TV spots and a vintage EPK featurette also included.
Once again, the Shout Blu-Ray boasts a brand-new, beautifully detailed 2K transfer from the interpositive, besting an already-attractive Blu-Ray MGM/Fox released a few years ago. The 2.0 DTS MA stereo sound is, again, more robust than the previously-released, also-included 5.1 track, broadening the stereo stage and offering clearer detail for dialogue and effects. Slipcovers are also on-tap for both discs.
---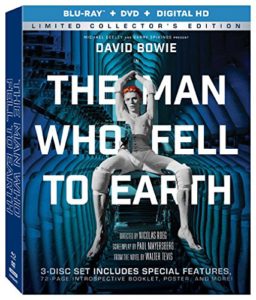 More Recent Cult Titles
THE MAN WHO FELL TO EARTH Special Edition Blu-Ray (139 mins., 1976, R; Lionsgate): It's great to see Lionsgate tapping into some of the Studio Canal Collection releases that have been widely available in Europe. This month the label celebrates Nicolas Roeg's 1976 sci-fi cult favorite, starring David Bowie as an alien from an ailing planet who comes to Earth searching for water to bring back to his home – including his wife and son. Unfortunately, his experience is colored by both the positive and negative components of this world, with Bowie eventually succumbing to the temptation and superficial components of life in a weird, at-times captivating, mostly slow-going film whose visuals tend to linger in the memory more than its story.
This Limited Collector's Edition Blu-Ray box-set contains a 72-page booklet, a poster, Blu-Ray, DVD and Digital HD copy as well. The supplements are configured differently than Criterion's older laserdisc/DVD releases, sporting a Bowie interview from French TV circa 1977; a new interview with costume designer May Routh; a talk with stills photographer David James; recent conversations with producer Michael Deeley, fan Sam Taylor-Johnson; older interviews with co-star Candy Clark, Nicolas Roeg, cinematographer Tony Richmond, and writer Paul Maysberg; and the fresh featurette "The Lost Soundtracks," sporting interviews with Paul Buckmaster and author Chris Campion. The 1080p (2.35) transfer seems a little "digitized" at times but generally looks good, with 2.0 DTS MA audio rounding out a package that's a must for Bowie buffs.
BLACK SOCIETY TRILOGY (Arrow): Fans of Japan's Takashi Miike will want to check out Arrow's three-disc Blu-Ray package of his career-changing "Black Society Trilogy," comprised of "Shinjuku Triad Society," "Rainy Dog" and "Ley Lines." The trio are a thematically similar series of crime dramas, produced in disparate settings (Tokyo, Taiwan, and both rural and urban areas of the former) that marked Miike's first theatrical outings and also the initial features that brought him international acclaim after making his name in scattershot, bloody TV movies. The three films, produced in two year gaps from 1995 to 99, are all included here in digital HD transfers (1.85) with uncompressed PCM Japanese stereo audio. Extras include new interviews with Miike and actor Show Aikawa, who starred in the latter two films; fresh commentaries across all three features by biographer Tom Mes; trailers; and artwork by Chris Malbon with reversible art sporting the original poster designs.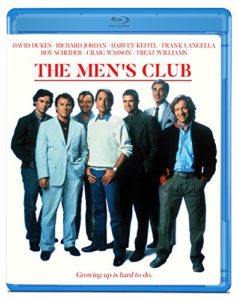 Olive New Releases: You can be forgiven if you think THE MEN'S CLUB (102 mins., 1986, R) was based on a stage play, as this mid '80s drama about the ails of machismo offers an outstanding ensemble cast – Roy Scheider, Harvey Keitel, Frank Langella, Richard Jordan, Treat Williams, Craig Wasson and David Dukes – indulging in some often "theatrical" performances. This 1986 Atlantic Releasing effort, directed by Peter Medak and scripted by Leonard Michaels based on his book, starts slowly but eventually turns into an over-the-top exercise in broadly interpreted performances, especially Scheider and Keitel as two members of an informal male support group in Berkeley, California. Some unintentional laughs, a jazzy score by Lee Holdridge and "Wives and Girlfriends" support from the likes of Stockard Channing and Jennifer Jason Leigh might make this worth a look for curious buffs. Olive's attractive 1080p (1.85) transfer and DTS MA mono sound are unadorned by noise reduction and a trailer is also on-tap…Also new from Olive this month on Blu-Ray is one of Bopb Hope's more ridiculous outings, BOY, DID I GET A WRONG NUMBER! (99 mins., 1966), as Bob's real estate agent calls a Hollywood starlet (Elke Sommer) by mistake, setting off a wild chain of mostly-strained comic shenanigans. Phyllis Diller, Cesare Danova and Marjorie Lord co-star in this 1966 UA release, now on Blu-Ray with an acceptable 1080p (1.85) AVC encoded transfer and DTS MA mono sound.
---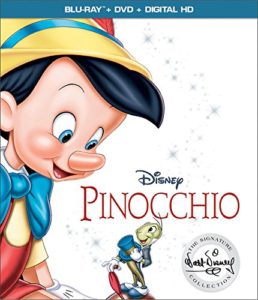 Disney New Releases
New this week from Disney is the second Blu-Ray trip for PINOCCHIO (***½, 88 mins., 1940, G),which previously graced the high-definition format in 2009.
For those who might've missed that package, this edition boasts a spectacular HD rendering of Walt's 1940 classic in its proper 1.33 Academy ratio, with 7.1 DTS MA audio and extras, most of which have been recycled from its prior release. Those include a fascinating audio commentary with Leonard Maltin, Eric Goldberg and J.B. Kaufman, recounting the project's history and enduring legacy in the Disney canon. Deleted scenes and an alternate ending, a comprehensive documentary and other goodies compliment the BD, while new features include a fresh version of the Oswald short "Poor Papa," a Digital HD copy amid other bonuses.
Visually, the picture is stunning: the standard DVD transfer is excellent (also included), but the AVC encoded Blu-Ray presentation really shows off the meticulous restoration Disney went through on this picture, and the 7.1 DTS Master Audio sound is likewise satisfying. Though not listed on the back cover, the original "restored" mono soundtrack has also been included.
Also new from Disney is the well-acted and satisfying Mira Nair film QUEEN OF KATWE (124 mins., 2016, PG), the true story of a Ugandan girl (Madina Nalwanga) living in poverty who develops an affinity for winning at chess under the guidance of her local coach (David Oyelowo). Lupita Nyong'o co-stars in this authentically shot and thoroughly appealing film – a formula type of picture handled in Nair's typically colorful, character-driven style. Disney's Blu-Ray includes a Digital HD copy, commentary from Nair, deleted scenes and a handful of featurettes, along with Nair's short film "A Fork, A Spoon, and a Knight."
---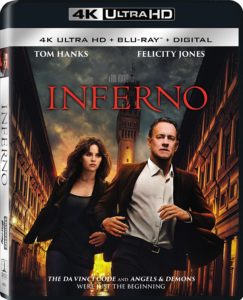 Also New & Noteworthy
SOMETHING WILD Blu-Ray (113 mins., 1961; Criterion): Not to be confused with Jonathan Demme's terrific 1986 Jeff Daniels-Melanie Griffith comic-thriller of the same name – itself a Criterion Collection release – this groundbreaking 1961 B&W drama stars Carroll Baker as a college student in pieces after a sexual assault. After trying to commit suicide, Baker's heroine is taken in by a (seemingly) understanding mechanic (Ralph Meeker) who proceeds to hold her captive in a stark independent drama that was startling for its era in terms of its subject matter and atmospheric NYC location shooting.
Criterion's Blu-Ray edition of Jack Garfein's film (the director was married to Baker at the time) boasts a 1080p 2K-derived transfer (1.66), DTS MA mono audio of Aaron Copland's score, a conversation between Garfein and Kim Morgan; a new talk with the 85-year-old Baker; a conversation with scholar Foster Hirsch on the legacy of the Actor's Studio; and a 2014 recording of the director's "Master Class" lecture on acting.
INFERNO 4K UHD Combo Pack (122 mins., 2016, PG-13; Sony): Belated third installment of Dan Brown's bestsellers brings back Tom Hanks as symbologist Robert Langton, thankfully minus the mullet haircut. This time around in director Ron Howard's latest effort, Langdon wakes up with amnesia in Italy and works with a doctor (Felicity Jones) to uncover his memories and knowledge of a virus that could infect, and kill, half of the world's populace.
Few cinematic series have seen the massive downturn that these Howard-directed pictures have: after enjoying robust returns for "The Da Vinci Code" ($758 mil worldwide) and even "Angels and Demons" ($458 million), "Inferno" crashed and burned, mustering only $34 million in the U.S. en route to a paltry $220 million in-take internationally. Thankfully for Sony, the film's production budget was less than half of its immediate predecessor, but that didn't help the finished project, which lacks the scope of the first two films (such as they were) and is likely to interest only fans of the books.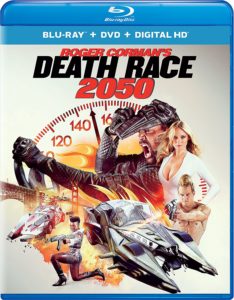 Sony's 4K UHD package does look fabulous, at least: the HDR-enhanced transfer offers the expected color boost over the regular Blu-Ray, which also includes deleted/extended scenes and many behind-the-scenes featurettes. The Dolby Atmos audio is superbly engineered, featuring a by-the-book Hans Zimmer score.
DEATH RACE 2050 Blu-Ray Combo Pack (93 mins., 2016, R; Universal): Roger Corman returns with this enjoyably silly remake of his '70s cult classic "Death Race 2000," employing Malcom McDowell as an over-the-top "Chairman," presiding over yet another violent cross-country road race. Frankenstein is also back in a movie decidedly less serious than the recent Jason Statham remake, with Corman serving as producer and his New Horizons banner gracing this Universal direct-to-video project. Universal's 1080p (1.78) transfer and 5.1 DTS MA sound are both fine, with a Digital HD copy, DVD, deleted scenes and several featurettes also included in the studio's combo pack.
---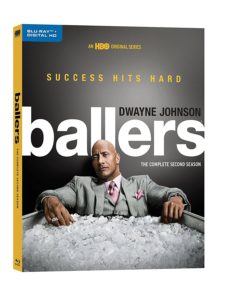 HBO New Releases
BALLERS – Season 2 Blu-Ray (358 mins., 2016; HBO): Though not entirely well received, "Ballers" returned for its second season with Dwayne Johnson reprising his role of Spencer Strasmore. Here, the ex-sports star working as a financial manager butts head with big man Andre Allen (Andy Garcia) in another year of sunny shenanigans set in Miami. HBO's Season 2 package of "Ballers" nets on January 31st, sporting 10 "Inside the Episode" bonus segments, complete with interviews with Johnson, executive producer Evan Reilly and other cast/crew members, along with Digital HD copies, 1080p (1.78) transfers and 5.1 DTS MA soundtracks.
Coming February 7th from HBO is VICE PRINCIPALS: The Complete First Season (269 mins., 2016), starring Danny McBride and Jody Hill as the title characters: a pair of would-be power players struggling to win the top spot in a southern high school presided over by a veteran principal (Bill Murray) who suddenly retires. Fans of McBride and Hill's prior collaboration, "Eastbound & Down," might best appreciate this occasionally funny, if strident, new HBO comedy. Season 1 of the series includes deleted scenes, a blooper reel, nine commentaries, 1080p transfers, 5.1 DTS MA soundtracks and Digital HD copies.
---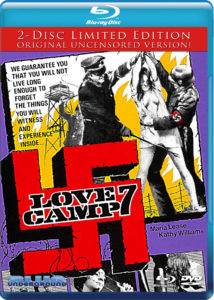 Indie Round-Up
LOVE CAMP 7 Blu-Ray Limited Edition (96 mins., 1969; Blue Underground): Two American WAC officers (Maria Lease, Kathy Williams) infiltrate a Nazi "Love Camp" in an effort to find and rescue an inmate in R.L. Frost's low-budget indie from the late '60s. Lovingly restored by Blue Underground, this early "Nazisploitation" film launched a series of imitators throughout the '70s and became one of the infamous UK "Video Nasties" – one of dozens of films still banned in England. Blue Underground's two-disc Limited Edition combo pack includes the doc "Nazithon: Decadence and Destruction," the trailer, still galleries, a full booklet featuring Paolo Zelati's "The History of Nazi-Exploitation," a 1080p (1.66) transfer and DTS MA mono sound on a 50GB dual-layer disc, with a DVD also contained within. Available later this month.
COME WHAT MAY Blu-Ray (114 mins., 2015, R; Cohen Film Collection): Well-intentioned but mawkish WWII French drama about a Scottish officer ("The Americans"' Matthew Rhys) who's paired with a German father (August Diehl), hiding from the Nazis, as they trek across France in search of home – and Diehl's son – in a Christian Carion film heavy on melodrama and average special effects. Ennio Morricone scored "Come What May," coming to Blu-Ray from Cohen on February 7th. The Blu-Ray includes a commentary with Carion, an interview with Carion and Richard Pena, a Morricone featurette, the trailer, a 1080p transfer and 5.1 DTS MA sound in French, German and English with subtitles.
GIMME DANGER DVD (109 mins., 2016, R; Sony): The life, times and music of Iggy Pop and the Stooges is recounted in this documentary from independent filmmaker Jim Jarmusch. Iggy, Dave Alexander, Ron and Scott Asheton and James Williamson are all profiled here with uncensored anecdotes, archival clips, new interviews, and, naturally, the music from "The Stooges," who generated a trio of groundbreaking albums before things fell apart. Sony debuts "Gimme Danger" on DVD this week offering a no-frills 16:9 (1.78) transfer and 5.1 Dolby Digital sound. Highly recommended for music buffs.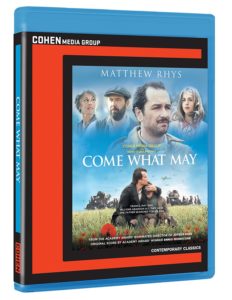 FROM DUSK TILL DAWN Season 3 Blu-Ray (448 mins., 2016; E One): The Gecko brothers are back, fighting their way through culebras – vampire-snake creatures running empires in both Texas and south of the border – in this third season of the El Rey channel series. This time out, the brothers encounter the world of Santanico in a bar filled with varying levels of scum and villainy, plus team up with an array of allies to stop Hell from making it to Earth. Fans of the series will enjoy E One's Blu-Ray package, out February 7th with extensive extras, a deleted scene, cast/crew commentaries, trailers, 1080p transfers and 5.1 DTS MA soundtracks.
Quick Takes: Jeff Ferrell's independent western DEAD WEST (114 mins., 2015, Not Rated) finds a would-be modern western Lothario murdering his way through a series of lovers. A brother of one of his victims tails him in this leisurely paced production, out on DVD February 7th from RLJ. The disc includes commentary with Ferrell, actor Brian Sutherland and composer Semih Tareen, a Making Of, 16:9 (2.35) transfer and 2.0 Surround…Well Go beams down veteran stuntman Brian Ho's debut starring feature, the blandly-titled BEYOND REDEMPTION (89 mins., 2016, Not Rated), onto Blu-Ray also on February 7th. Ho stars as an undercover cop trying to prove loyalty to a gang leader (fellow stuntman Don Lew) in this Canadian-lensed production. Well Go's Blu-Ray includes two featurettes, trailer, 1080p transfer and 5.1 DTS MA sound.
NEXT TIME: More of the latest reviews! Until then, don't forget to drop in on the official Aisle Seat Message Boards and direct any emails to our email address. Cheers everyone!