www.andyfilm.com (new columns debut here first!)
email: mailbag @ andyfilm.com (remove spaces!)
Message Board (open 24 hours!)
Twitter - @andredursin (for everything else!)
Ben Affleck's tenure as Batman may have already hit something of a snag – with the star/director apparently unenthusiastic over helming the next standalone film starring the Dark Knight – but in 2016, he starred in an odd thriller named THE ACCOUNTANT (**, 128 mins., 2016, R), which bows on Blu-Ray this week from Warner.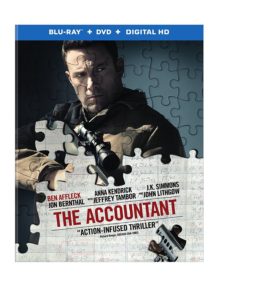 This interestingly cast and intermittently entertaining film stars Ben Affleck as Christian Wolff, a high-functioning autistic genius with an interest in a lot of things: being a CPA, reading comic books, collecting fine art, training in martial arts, and also disposing of "internal problems" within the mob and other shady organizations. With a Treasury Department agent (JK Simmons) on his trail, Wolff takes a case involving a clerk (Anna Kendrick) who's uncovered suspicious activity at a legitimate robotics firm, leading to revelations involving his past while mounting waves of action unspool in the present.
Gavin O'Connor helmed "The Accountant" from an original script by Bill Dubuque, and Affleck fits comfortably in a stoic lead role that's satisfyingly developed (and the supporting cast, including Jon Bernthal, John Lithgow and Kendrick is superb). This isn't just another "Bourne" knockoff, though the film still feels as if it's pulling everything out of the kitchen sink -- struggling to say something meaningful about autism while simultaneously functioning as a hard-nosed thriller. The ultimate effect is watchable, well-crafted and yet disturbing, and I'm not sure that's what O'Connor was going for.
Warner's Blu-Ray includes a 1080p (2.40) transfer, DTS MA 5.1 audio, several featurettes, a DVD and a Digital HD copy.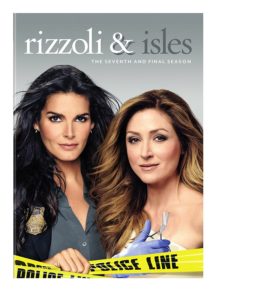 Also New From Warner
RIZZOLI & ISLES: The Seventh and Final Season DVD (547 mins., 2016; Warner): Picking up from where its sixth season ended, the final go-around for "Rizzoli & Isles" chronicles the aftermath of its predecessor's season-finale shooting. Here, Boston detective Jane Rizzoli and medical examiner Dr. Maura Isles once again team up to find the elusive "Alice Sands," all the while pursuing a wide range of other cases, including zombies, ghosts, a crazy mortician, and balancing romantic pursuits. This final season of the hit TNT series comes to DVD on January 17th, sporting 16:9 enhanced transfers, 5.1 soundtracks and a gag reel.
LEGO NEXO KNIGHTS: BOOK OF MONSTERS Season 2 DVD (220 mins., 2016; Warner): The Knighton knights remain under siege as Jestro, "the Book" and their monsters continue to empower the villains. Tasked with finding the lost magical Books that will give the Knights hope for their kingdom, the Nexo Knights set out to save their medieval realm in this second season of the popular cable series. Warner's DVD of "Book of Monsters"' sophomore frame includes all 16 episodes in 16:9 transfers with 5.1 soundtracks on two discs. Available January 17th.
---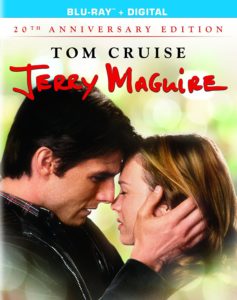 Also New & Noteworthy
JERRY MAGUIRE: 20th Anniversary Edition (***½, 139 mins., 1996, R; Sony): Cameron Crowe's insightful, funny, and at-times moving 1996 treatise on sports agents and personal relationships remains in many ways his best film – and is certainly representative of some of the best work Tom Cruise and Cuba Gooding, Jr. have done.
Sony's second Blu-Ray edition of "Jerry Maguire" serves up an excellent 1080p transfer with DTS MA audio (the prior disc boasted TrueHD) and 90 minutes of new extras. These include a fresh retrospective doc on the film featuring new interviews with Cruise and Crowe, nearly an hour of previously unseen deleted/extended scenes, a photo gallery and the trailer. Also included are extras culled primarily from the 2002 Special Edition DVD, including a commentary with Crowe, Cruise, Gooding, and Renee Zellweger, plus additional deleted scenes, the best of which involves a near five-minute, hysterical improvisation by Jay Mohr (remember him?). You also get brief rehearsal footage, shot on Crowe's camcorder, of the movie's "Show Me The Money" routine, plus Bruce Springsteen's music video "Secret Garden," the original making-of featurette, trailers, a photo gallery, and a few assorted odds and ends.
A Digital HD code rounds out the release along with a copy of the soundtrack CD, bundled within for a limited time.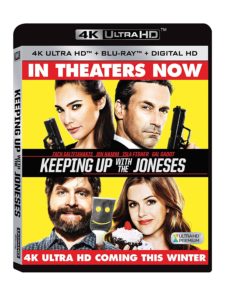 KEEPING UP WITH THE JONESES 4K UHD Combo Pack (**, 105 mins., 2016, PG-13; Fox): Breezy if instantly forgettable comedy – which failed to find an audience at the box-office – pairs Zach Galifianakis as a regular surburbanite with Jon Hamm as his neighbor, who's actually a top-secret spy. Eventually, Galifanianakis and his significant other (Isla Fisher) are teamed with Hamm and his wife (Gal Godot) on a standard-issue adventure that makes you wonder what attracted all of the top-line talent "Joneseses" has to offer. "True Lies" this isn't, though if you're a fan of Hamm or Galifianakis, the movie offers just enough of a pulse to warrant a rental. Fox's 4K UHD disc sports a sharp, pleasing transfer with a standard Blu-Ray (1080p, 2.40) also on-hand. The 7.1 DTS MA audio is fine on both platters with extras including deleted scenes, featurettes, and a Digital HD copy in Fox's UHD combo pack, streeting on January 17th.
SLEEPY HOLLOW: Season 3 DVD (783 mins., 2015-16; Fox): One of the big disappointments on TV in recent years has been Fox's "Sleepy Hollow," which strands the terrific Tom Mison and his endearing portrayal of Ichabod Crane in a distressingly convoluted series of plot strands that have, over time, alienated even the most devout viewers of the series. The third season of the show doesn't help matters, continuing down an incoherent path that leads to a dismal finale that says goodbye to arguably the show's strongest character outside Crane. Loyal viewers still might want a look at "Sleepy"'s third season in preparation for its fourth year (apparently greenlit, despite declining ratings, for syndication purposes), and Fox's DVD is now available, sporting 16:9 transfers, 5.1 audio, deleted scenes and a gag reel.
Also new from Fox on the TV front is Season 11 – the penultimate year – of BONES (962 mins., 2015-16), which finds Booth (David Boreanaz) going missing after he and Bones (Emily Deschanel) left their jobs to start over. Needing a distraction – and with 22 episodes left to fill – Bones takes on a series of new cases, including a crossover with "Sleepy Hollow" and stars Tom Mison and Nicole Beharie. Betty White and Kim Raver also co-star across "Bones"' eleventh season, now on DVD from Fox sporting a 16:9 (1.78) transfer, 5.1 sound, a gag reel and deleted scenes.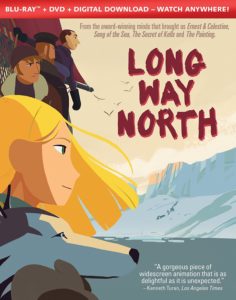 LONG WAY NORTH Blu-Ray Combo Pack (81 mins., 2016, PG; Shout Factory): Gorgeously old-fashioned cell animation backs this period-set – yet very contemporary – story of a 15-year-old Russian girl who breaks from the planned marriage her aristocratical parents have laid out for her. Eschewing their traditions, she sets out on a voyage to the North Pole in order to find her grandfather, a scientist who's gone missing during an expedition.
This French/Danish co-production boasts lovely scope visuals and a story that offers, as one of the critic quotes on the back jacket proclaims, "a strong statement of girl power." Sound familiar to anything Disney has produced recently? For that reason, "Long Way North" fits comfortably alongside recent feminist stories like "Frozen" and "Moana," and should enchant kids while holding their parents' attention through its animation – if not its predictable story.
Shout's Blu-Ray/DVD combo pack includes animatic storyboards, interviews, a conceptual short, filmmaker interviews, a strong 1080p (2.35) transfer, 5.1 DTS MA sound in English or French (subtitled), a DVD and digital downloadable copy.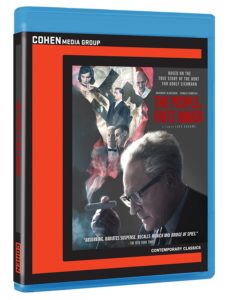 THE PEOPLE VS. FRITZ BAUER Blu-Ray (105 mins., 2015, R; Cohen Film Collection): Compelling German film tells the (mostly) true story of how Attorney General Fritz Bauer worked tirelessly to track down infamous Nazi Adolf Eichmann. Bauer eventually finds him living in Buenos Aires, but has trouble convincing the German government to extradite him in a film from director Lars Kraume. Cohen's Blu-Ray debuts this week sporting five deleted scenes, the trailer, a featurette, a 1080p transfer and DTS MA sound in German with English subtitles.
TRAIN TO BUSAN Blu-Ray (118 mins., 2016, Not Rated; Well Go USA): Zesty if ultimately underwhelming Korean import sends a father and his young daughter out on a bullet train while a zombie apocalypse breaks out. This shrewdly commercial thriller – undoubtedly due for an English language remake – offers pockets of action involving hordes of the undead trying to stop the train before it arrives at a presumed safe zone, but stumbles when it indulges in social "class commentary" that's predictable and deflating. Genre fans will get the most mileage out of "Train to Busan," which bows on Blu-Ray from Well Go featuring a 1080p transfer, 5.1 DTS X audio in Korean or English (dubbed), two featurettes, and the trailer.
---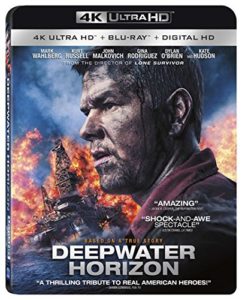 New From Lionsgate
DEEPWATER HORIZON 4K UHD/Blu-Ray Combo Pack (**½, 107 mins., 2016, PG-13; Summit/Lionsgate): Mark Wahlberg and director Peter Berg, who gave us the box-office hit "Lone Survivor," failed to generate similar box-office sparks with the over-budgeted "Deepwater Horizon." This true-life story features Wahlberg as a crewman on an ill-fated BP oil rig, drilling off the coast of Louisiana in 2010 when one of the worst man-made disasters in American history occurred.
Berg, working from a script by Matthew Michael Carnahan and Matthew Sand, has produced another suspenseful true story that never loses sight of its human component inbetween splashes of convincing special effects, though the film – as laid out – plays like a traditional "disaster movie," despite its basis in fact. Technically the film is impressive, and Wahlberg is backed by a strong supporting cast (Kurt Russell, John Malkovich, Gina Rodriguez, Kate Hudson, Dylan O'Brien) in a film that should reignite ire at BP oil execs for their role in the disaster.
Perhaps due to find more of an audience on home video, Lionsgate's 4K UHD presentation of "Deepwater Horizon" is flawlessly delivered, scoring points for colors and contrasts, and coming out ahead of its standard Blu-Ray disc (also provided here). Extras include five featurettes and the hour-long "Beyond the Horizon" doc, Dolby Atmos audio and a Digital HD copy.
Also New From Lionsgate: In Season 7 of SWAMP PEOPLE (9 hours, 2017), star Troy Landry finds him tackling friends and foes alike while trying to preserve his Cajun way of life. Fans will note the return of favorite Bruce Mitchell and the debuts of Frenchy Crochet and Gee Singleton in this seventh season of the History series. Lionsgate's DVD includes 13 episodes on three discs with exclusive bonus features, 16:9 transfers and 5.1 soundtracks…POWER RANGERS: DINO SUPERCHARGE ROAR (2 hours, 2015) boasts 10 episodes from the Saban franchise (When Evil Stirs; Forgive and Forget; Nightmare in Amber Beach; A Date With Danger; Roar of the Red Ranger; Forged Under Fire; Home Run Koda; Riches and Rags; Besties 4Eva!; and Gone Fishin') on a single DVD with 16:9 transfers and 5.1 Dolby Digital sound…Aaron Paul of "Breaking Bad" fame muddles his way through the lousy COME AND FIND ME (112 mins., 2016, R), a tepid thriller about a guy trying to track down the woman he loves (Annabelle Wallis), who mysteriously disappeared. Zack Whedon's script made the "Black List" of supposedly great unproduced Hollywood screenplays, but there's little evidence of what components garnered that kind of attention on-hand in Whedon's own directed product. Lionsgate's Blu, out January 17th, includes commentary from the director, a Making Of, a 1080p (2.39) transfer, 5.1 DTS MA sound and a Digital HD copy.
---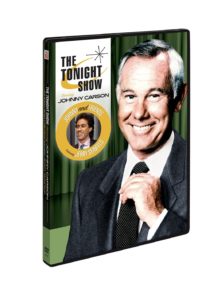 Quick Takes
THE TONIGHT SHOW STARRING JOHNNY CARSON: JOHNNY & FRIENDS FEATURING JERRY SEINFELD DVD (157 mins., Time Life): Single-disc DVD from Time-Life contains three original episodes from The Tonight Show archives, complete with original commercials: a June 27, 1985 show featuring Jerry Seinfeld and the classic "Mr. Rambo's Neighborhood" sketch; a February 21, 1986 episode with Seinfeld and Oprah; and a terrific June 9, 1988 gathering of Seinfeld, Arnold Schwarzenegger and Andre Agassi. Highly recommended, classic comedy from the Carson archive.
THE LION GUARD: LIFE IN THE PRIDE LANDS DVD (115 mins., 2016; Disney): Top-rated Disney Junior series returns to DVD this week with a new compilation. "Life in the Pride Lands" follows the adventures of Kion and their friends as they safeguard the Circle of Life under the guidance of King Simba and company. Episodes in the single-disc package include The Rise of Makuu; The Kupatana Celebration; Bunga and the King; Never Roar Again; and The Imaginary Okapi. Two music videos and six shorts are included along with 16:9 (1.78) transfers and Dolby Digital stereo sound.
ZERO DAYS DVD (114 mins., 2016, PG-13; Magnolia): Digital warfare is at the center of Alex Gibney's new documentary, chronicling how a cyber-attack from the US and Israel against an Iranian nuclear facility created "Stuxnet," a malware virus that spread far beyond its original intention. Gibney's alarming cinematic account is new to DVD this month from Magnolia offering a trailer and interview with the director, a 16:9 transfer and 5.1 Dolby Digital sound.
NEXT TIME: Kino Lorber warms up the movie buff with new Studio Classic releases! Until then, don't forget to drop in on the official Aisle Seat Message Boards and direct any emails to our email address. Cheers everyone!