www.andyfilm.com (new columns debut here first!)
email: mailbag @ andyfilm.com (remove spaces!)
Message Board (open 24 hours!)
Twitter - @andredursin (for everything else!)
A film that unexpectedly frightened the daylights out of me, Richard Fleischer's THE BOSTON STRANGLER (***½, 116 mins., 1968, R) is that rare thing: a Hollywood-produced film made at an odd time when the business of moviemaking was beginning a radical change, shifting away from the mostly sanitized studio product of the '50s and towards the more explicit "realism" of the 1970s. In fact, "The Boston Strangler" can be looked upon as a turning point in Hollywood, a crackerjack and disturbing thriller that clearly influenced director William Friedkin in his later works.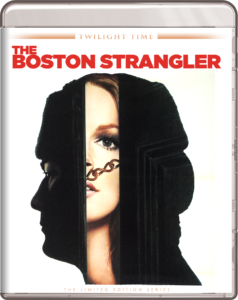 Making its Blu-Ray debut this month from Twilight Time, Fleischer's film profiled the real-life efforts of the Boston Police Department, during the early '60s, in apprehending a serial killer preying upon young women. Their culprit, eventually, is Albert DeSalvo, a seemingly ordinary father and blue collar worker housing a split personality.
Though Edward Anhalt's script, adapted from Gerold Frank's novel, was reportedly inaccurate in depicting several components of the case, the film is a thoroughly compelling cinematic work on its own merits. Fleischer and cinematographer Richard H. Kline's use of split-screen and widescreen was pioneering for its time, functioning not as a gimmick but as a storytelling tool that instantly separated "The Boston Strangler" from its peers. The director also received stellar work from his cast – fleshed out by Henry Fonda, George Kennedy and Murray Hamilton as a few of the authorities perplexed by the case, but most notably Tony Curtis as DeSalvo. This is unquestionably one of Curtis' best performances, and his final scene is chillingly delivered, leaving you with the impression that "The Boston Strangler" was ahead of its time in terms of its cinematic "language" and adult-oriented approach to a police procedural.
Twilight Time's Blu-Ray offers a sterling 1080p (2.35) transfer that easily trumps Carlotta Films' French import, which carried a higher bit-rate but appeared to be mastered from a comparatively unrestored source. The film's stereo soundtrack is encoded in both 3.0 (left/center/right) and 2.0 DTS MA configurations, and an isolated/music effects track highlights the movie's sparse score by Lionel Newman. Extras include a couple of featurettes from Fiction Factory that were part of the Carlotta release, among them an interview with William Friedkin, who discusses the film's influence, plus a general retrospective sporting interviews with co-star Sally Kellerman among others. An AMC Backstory conveys more historical background information on the film, while trailers, a Fox Movietone newsreel, and an exclusive commentary with David Del Valle and Steven Peros round out a must-have Twilight Time release.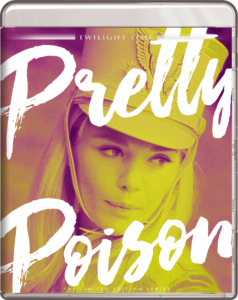 Another Fox release from that same year, PRETTY POISON (***, 1968, 89 mins., R), was an acid-black comic thriller from director Noel Black and writer Lorenzo Semple, Jr. (adapting a Stephen Geller novel). A perfectly cast Anthony Perkins stars as an arsonist who gets out of a mental institution, only to meet a cheerleader (Tuesday Weld) who's really as unhinged as he is. Weld and Perkins are marvelous in this highly amusing, unpredictable tale shot in the Berkshires (western Mass.) and later remade as a weak television film.
Once again Twilight Time's Blu-Ray benefits from an exceedingly well detailed 1080p (1.85) Fox transfer with 1.0 DTS MA mono sound, sporting a Johnny Mandel score (isolated on a separate channel with effects). The movie's problematic shoot is recounted in a commentary by the late director Noel Black, which makes its U.S. debut here (it was previously heard only in overseas DVD releases), as well as a new commentary with TT's Lem Dobbs and Nick Redman chatting with executive producer Lawrence Turman. The trailer and a discussion of a deleted script sequence make for another strong package from Twilight Time.
Fans have also been eagerly awaiting Twilight Time's Blu-Ray of MOBY DICK (***, 116 mins., 1956), the John Huston adaptation of the Herman Melville novel that was co-scripted by Ray Bradbury.
The movie is always interesting if somewhat uneven, a mix of effective – and less than effective – sequences starring Gregory Peck as Captain Ahab – forever chasing the elusive White Whale – while the crew of his New Bedford whaling vessel, The Pequod, include the likes of Richard Basehart as Ishmael, Harry Andrews, and Austrian actor Friedrich von Ledeburg as the tattooed cannibal Queequeg. Huston shot the movie not in authentic New England locales, but overseas in Ireland (and elsewhere) instead, something that does give the film a less than faithful appearance, though Huston and Bradbury were able to distill many of Melville's themes into a seafaring adventure that's still admirable in its ambitions and occasionally exciting.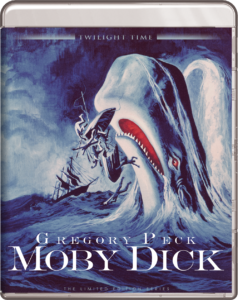 Huston and the great cinematographer Oswald Morris also designed a specific "color style" for "Moby Dick," re-tinting the Technicolor negative for a desaturated appearance that was meant to evoke old paintings of the era. Prior MGM releases of the film on home video were struck from the negative – before the adjustments were made – so they've been warmer and more colorful than the film was intended to appear.
To better approximate the film's intended look, Twilight Time employed colorist Greg Kimble, who viewed 35mm prints from the Library of Congress and retinted MGM's existing HD master accordingly. As Nick Redman points out in his commentary, this is not a full-blown restoration from the ground up – something that would've cost exponentially more – but Kimble's work will still give viewers the opportunity to better understand what Huston and Morris were trying to achieve here.
That said, the transfer is hampered somewhat by the condition of MGM's elements. Some sequences boast grain while others look smoothed over in their appearance with some filtering having been applied. The color itself isn't always consistent from shot to shot, but all of that being said, it's unlikely viewers will ever get as close to seeing a theatrical print of "Moby Dick" on home video unless a pricey restoration is undertaken one day.
TT's Blu-Ray also boasts an isolated score track of Philip Sainton's score, a brief featurette on Kimble's work, the trailer, and commentary with Julie Kirgo, Paul Seydor and Nick Redman.
Robin Williams delivered one of his career performances in Paul Mazursky's MOSCOW ON THE HUDSON (**½, 118 mins., 1984, R), a gentle comic drama about a Russian saxophonist (Williams) who opts to defect while touring Bloomingdale's. In the US, he's warmly embraced by a company security guard (Cleavant Derricks) who offers his apartment for lodging, and a counter clerk (Maria Conchita Alonso) whom he strikes up an instant connection with.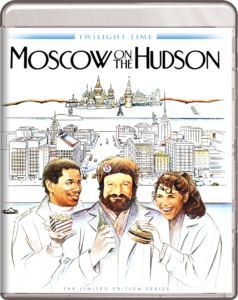 Like some of Oliver Stone's work, "Moscow on the Hudson" was one of many films in the 1980s that seemed to be reviewed by some critics as much, if not more, for its social messaging than its dramatic content. Despite its celebration of the American Immigrant experience, this is an often aimless movie that never really seems sure of its dramatic footing – all the while missing out on hitting often obvious comedic targets. Mazursky's career output offered some highs and lows, as well as a few buried gems (I've always been partial to "Moon Over Parador"), but his script with frequent collaborator Leon Capetanos here doesn't come off as being fleshed out – the first third deals with Williams' life in Russia, the second (its strongest) with the defection, and the concluding portion a rambling mess of unfinished ideas and concepts with Williams' Vladimir Ivanoff bouncing from one profession to another, almost like a pilot for an unsold TV series.
What anchors the movie is, of course, Williams' performance. One of the comedian's first dramatic sojourns, he's warm and winning in a film that really could have been a classic with a tighter, funnier, even simply more observational script. As it is, "Hudson" has become almost a forgotten film over the years, despite the much-heralded praise it received at the time of its original release.
Twilight Time Blu-Ray – its first release in the format – is mastered from a sparkling Sony licensed 1080p (1.85) transfer. The 2.0 and 5.1 DTS MA sound options house one of the film's other positive assets: a lovely score by David McHugh, who sadly became typecast as a composer of fluffy '80s comedies. The trailer, isolated score track and two commentaries – one with Mazursky, and another with Julie Kirgo and Nick Redman that pays proper tribute to Williams' genius – round out the package.
One of Shelley Winters' more memorable performances can be found in GRAN BOLLITO (112 mins., 1977, R), director Mauro Bolognini's tale of an insane woman who goes to great lengths – including murder – to ensure the safety of her only son (Antonio Marsina). This delusional pact with death includes the murder of three transvestites, one of whom is played by Max Von Sydow! Bolognini's film – based on a real-life Italian serial killer, Leonarda Cianciulli – is doused with depravity and is going to be one of those films that's going to appeal to a very specific audience. For those adventurous viewers, Twilight Time's Blu-Ray offers a 1080p (1.85) AVC encoded transfer of the uncut version of the film plus 1.0 DTS MA mono sound (in Italian with English subs), the trailer, and a commentary with historians Derek Botelho and David Del Valle.
Finally, Robert Wise's I WANT TO LIVE (121 mins., 1958) provides Susan Hayward with her signature, Oscar-winning role of Barbara Graham, a girl from the proverbial wrong side of the tracks, whose trials and tribulations eventually lead her to become involved with a man who commits the murder of an elderly woman. With Graham pegged for the murder, she ends up on death row, and only the efforts of a journalist (Simon Oakland) can save her from the gas chamber.
While Wise's film leans heavily on Graham's innocence, the actual case wasn't reportedly as cut and dried. Either way, this is a potently performed and compelling '50s thriller from Wise, superbly performed by Hayward in a tough yet sympathetic performance. Twilight Time's Blu-Ray includes a 1080p (1.85) AVC encoded transfer, mono DTS MA sound, the trailer, and an isolated score track of Johnny Mandel's smoky jazz soundtrack with sporadic comments from Mike Matessino.
---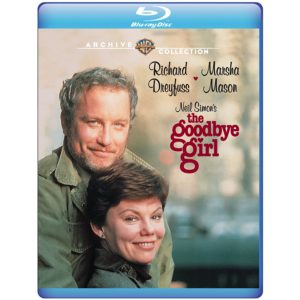 Warner Archive New Releases
One of the biggest hits of 1977 wasn't a super-hero fantasy, a sci-fi tentpole or an animated kids movie. Instead, it was Neil Simon's THE GOODBYE GIRL (***½, 110 mins., PG), a genial relationship comedy that pairs Marsha Mason's single-mom actress with an aspiring thespian (Richard Dreyfuss) about to make his New York debut in a (very) Off-Broadway take on "Richard III."
Simon's work may not have ever worked in the cinema in the 21st century, but back in the '60s and '70s, there was an audience appetite for a comedy-drama that was more adult than what viewers were accustomed to seeing on broadcast television. While not all of Simon's output worked, or translated to the screen properly, there's still plenty to savor in the best adaptations of his writing, especially "The Goodbye Girl," which the playwright wrote expressly for the screen. Under the direction of Herbert Ross, this is an unpretentious and often quite funny look at actors hanging on the fringe with relationships that parallel their working conditions. Mason, Simon's then-wife, and Dreyfuss develop a tremendous chemistry together in a movie that would be out-grossed only by "Star Wars," "Smokey and the Bandit" and "Close Encounters of the Third Kind" at the box-office that year.
A co-production between MGM and Warner Bros., "The Goodbye Girl" makes its Blu-Ray debut from Warner Archive this month. The traditionally high bit-rate 1080p (1.85) transfer and DTS MA mono sound are both far above prior video releases of the picture, restoring the film's cinematic attributes – and making it seem less "sitcomy" – in the process. A theatrical trailer that gives away nearly the entire film is also included.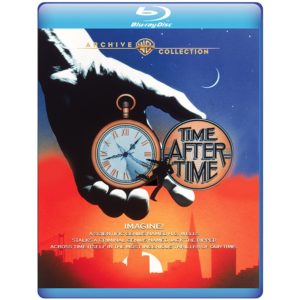 Also new this week from the Archive is a most welcome Blu-Ray of Nicholas Meyer's TIME AFTER TIME (***, 112 mins., 1978, PG), the sci-fi/fantasy that posits Malcolm McDowell's H.G. Wells as a time traveler on the trail of David Warner's Jack the Ripper, with Mary Steenburgen the modern '70s woman caught in the middle. Meyer's well-constructed script is graced by engaging performances and a gorgeous Miklos Rozsa score that Warner Bros. was reportedly unsatisfied with, leading to Meyer famously taking out a full-page ad in Variety, praising the music as a pre-emptive strike to the studio throwing it away.
Thankfully, they didn't, and "Time After Time" remains a zestfully entertaining film from its era. Warner's Archive Blu-Ray is beautifully presented, backed by nicely saturated colors and an active 2.0 DTS MA stereo soundtrack. The trailer and a DVD commentary with McDowell and Meyer, who seem to alternate between speaking together and separately (at least that's how it comes off), are also included. Highly recommended.
---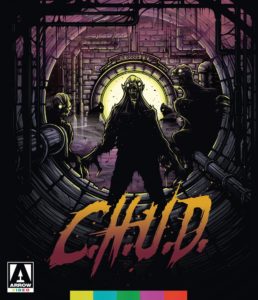 New & Noteworthy
A New World '80s cult classic, C.H.U.D. (*½, 88 mins., 1984, R), has found its way to Blu-Ray courtesy of Arrow this month.
A hilarious piece of horror trash with slumming stars John Heard and Daniel Stern (prior to their collaboration on the box-office phenomenon that was "Home Alone" years later), C.H.U.D. also features John Goodman and Kim "Brazil" Griest in a touching tale of Cannibalistic Humanoid Underground Dwellers having lunch, dinner, and breakfast at the expense of unsuspecting New Yorkers.
The movie is a howl but even more entertaining is the older DVD commentary track (thankfully reprieved here) with Heard AND Stern — plus the director and screenwriter — producing a high quotient of laughs at the expense of their own movie. At one point, they even start making fun of the composers ("I never even met him," says director Douglas Cheek). It's as close to MST3K as you can get without seeing Joel and the 'bots actually on-screen, and the movie is best appreciated with the commentary track selected.
Meanwhile, the 1080p (1.85) transfer and PCM mono soundtrack are both as finely rendered in HD as any mid '80s low-budget horror movie can be. The movie's 96-minute "Integral Cut" – seen in an earlier Anchor Bay DVD release – is on-hand here along with a recreation of the hacked-up New World Pictures theatrical version, albeit minus some soundtrack overdubs that were intended to add more humor to the film. Other extras include brand-new crew interviews, the trailer, and Arrow's customarily superb booklet notes.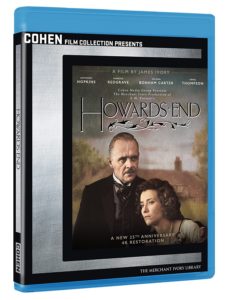 One of Merchant-Ivory's best films, HOWARDS END (***½, 142 mins., 1992, PG) returns to Blu-Ray as a Special Edition from the Cohen Film Collection.
Emma Thompson earned an Oscar for her role as Margaret Schlegel, an intellectual in 1910 England whose relationship with a rich upper-class family (Anthony Hopkins and dying wife Vanessa Redgrave) forms the core of this adaptation of E. M. Forster's novel.
Helena Bonham Carter, James Wilby and Samuel West co-star in this delicately told, visually rich Merchant-Ivory piece, scripted as usual by Ruth Prawer Jhabvala from Forster's novel and augmented by vivid Tony Pierce-Roberts cinematography. It's a period piece with rich emotional passages and wonderful performances that easily ranks with the finest Merchant-Ivory productions; in fact, it's my favorite film of their lengthy cinematic collaboration.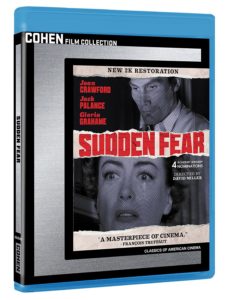 Out of print for some time, Cohen's Blu-Ray offers a 1080p (north of 2.35) transfer that looks quite excellent save for a seemingly too-tight framing (shot in Super 35, there's actually less picture area on display here in comparison with Criterion's Blu-Ray); a different configuration of extras include new director/cast interviews, featurettes and documentaries, a new commentary, 2016 on-stage Q&A, trailers, and a collector's booklet with essays and stills.
Coming From the Cohen Film Collection on December 13th is SUDDEN FEAR (110 mins., 1952), David Miller's noir that's been restored for this superb Cohen release. Joan Crawford, who received a Best Actress nomination for her work here, plays a playwright who never wishes she married a downtrodden actor (Jack Palance) harboring a dark secret. Palance also nabbed an Oscar nomination (Supporting) for his work here, with Charles Lang's likewise celebrated B&W cinematography making for a delicious treat for film noir buffs – along with Elmer Bernstein's smoky early score. Cohen's Blu-Ray boasts a crisp 1080p (4:3) transfer with commentary from historian Jeremy Arnold and a re-release trailer.
---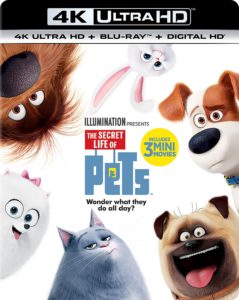 New Release Round-Up
THE SECRET LIFE OF PETS 4K UHD and Blu-Ray (**, 87 mins., 2016, PG; Universal): Lackluster effort from the Minions crew manages to be almost entirely unappealing, clumsily written and dull. Though a box-office hit, this heavily-promoted animated feature – about a pair of mismatched household dogs who find themselves part of a pet revolution led by a white bunny (voiced by Kevin Hart) who wants to overthrow their human overlords – is one of the worst of its kind I've had to endure yet. Plot-heavy and charmless. About midway through, our two-year-old started asking for Thomas the Tank Engine. Can't say I disagreed with his sentiments (Mommy and Daddy are teaching him well already!).
A box-office smash nevertheless, Universal brings "Secret Life of Pets" to Blu-Ray and 4K UHD on December 6th. The HDR-enhanced UHD platter is spectacular, boasting vivid colors that surpass the traditional, though still exceptional, Blu-Ray presentation (1.85 on both pictures). Dolby Atmos audio is included on both movies along with BD format exclusive featurettes, three additional mini-movies, a Digital HD copy, and the mediocre Minions short that preceded the film in theaters.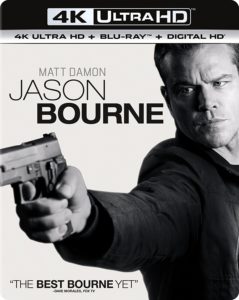 JASON BOURNE 4K UHD/Blu-Ray (**½, 124 mins., 2016, PG-13; Universal): Did Matt Damon really wait all this time between "Bourne Identity" sequel installments – for this? That's the most interesting question you can come up with after sitting through Bourne 5, but only the fourth featuring Damon's Jason Bourne after Jeremy Renner didn't produce enough fireworks (or fisticuffs) in his "Bourne Legacy" kinda-sequel/sorta-spinoff. You wonder, though, why Damon bothered, seeing as "Jason Bourne" basically is – yes – the same chase all over again, with Bourne's new identity and whereabouts compromised after documents are unearthed regarding his past and his father's role in the dreaded Treadstone program. Tommy Lee Jones, Alicia Vikander, Vincent Cassel and a returning Julia Stiles are on-hand along with director Paul Greengrass, who apparently had little better to do here than recycle his playbook from his prior two series entries. Still, considering the big hit Damon just enjoyed with "The Martian," you wonder why someone couldn't have at least produced a more deserving screenplay for Bourne to break out of the shadows. Universal's UHD combo package is a beaut, at least, with its HDR enhanced transfer which also benefits from a powerhouse DTS X soundtrack. The standard Blu-Ray, also included, is perfectly fine for 1080p (2.40) owners with extras including a number of Making Of featurettes and a Digital HD copy.
DON'T BREATHE Blu-Ray (**, 88 mins., 2016, R; Sony): What does it say about our current movie-going climate that this low-budget home-invasion thriller became one of the most well-reviewed movies of 2016 and a sleeper smash – all the while including (spoiler alert!) a moment when a man spits out his own semen from a turkey baster? Yes, "Evil Dead" remake director Fede Alvarez is back with an equally horrifying – though appreciably less satisfying – tale of three young break-in experts (including "Evil Dead"'s Jane Levy) who pick the wrong, barren Detroit home to rob – one belonging to a blind Gulf War vet (Stephen Lang) who's reportedly sitting on a fortune from an accident settlement.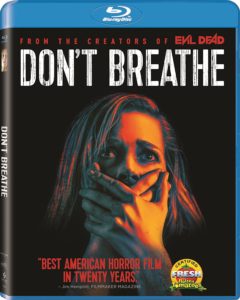 The first half of "Don't Breathe" is effective and well-executed by Alvarez, though even in its early stages, the film seems to think it's being smarter than it actually is. Once the kids eventually run into Lang's naturally-more-adept-than-he-appears home owner, "Don't Breathe" goes south, falling back on a near-comical assort of modern horror tropes – women being degraded, needless gore and the before-mentioned bodily fluid encounters – that end on a distressingly predictable note.
Sony's Blu-Ray does boast a strong 1080p (2.40) transfer plus eight deleted scenes, commentary with Alvarez and company, and a series of featurettes. The 5.1 DTS MA sound is effective enough and a Digital HD copy is also included.
PETE'S DRAGON Blu-Ray (**½, 103 mins., 2016, PG; Disney): Radically different Disney remake of their bloated '70s live-action/cartoon musical reworks – of all things – their "Jungle Book" formula (already?!) by focusing on a 10-year old boy named Pete who's been reared in the woods by a benevolent dragon named Elliot. A kindly forest ranger (Bryce Dallas Howard) tries to get to the bottom of his predicament in David Lowery's reimagining of the original film, which frankly, I was never all that enchanted with, even as a kid. This new version is fairly entertaining and Pete himself is well designed by Weta Digital, though the picture doesn't have a lot of surprises and the "Mowgli" element seems creatively bankrupt. Disney's Blu-Ray includes a commentary with the director and writer, two music videos, bloopers, "lost" scenes and Making Of featurettes, a 1080p (2.40) AVC encoded transfer and 7.1 DTS MA sound plus a Digital HD/Itunes copy.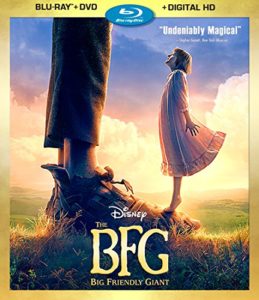 Also new from Disney is THE BFG (**, 118 mins., 2016, PG), a tedious, disappointing adaptation of Roald Dahl's children's fantasy that marks one of director Steven Spielberg's least satisfying works. Eschewing any semblance of reality for an overly stylized, CGI-rendered visual pallet, "The BFG" doesn't play to Spielberg's strengths, as this tale of a young orphan (Ruby Barnhill) who meets a massive, kindly Big Friendly Giant (Steven's latest cinematic binky, Mark Rylance) is devoid of charm. Mostly, it just sits there and lumbers along with little appeal – a shockingly banal reunion for Spielberg with his "E.T." writer, the late Melissa Mathison. Even John Williams' score, pleasant as it is, lacks memorable thematic material. Disney's Blu-Ray is expectedly colorful and clear, including an AVC encoded 1080p (2.39) transfer, 7.1 DTS MA sound, a tribute to Mathison, half-hour fluffy Making Of, and a smattering of short featurettes. A digital HD/Itunes copy rounds out the package.
THE HOLLARS Blu-Ray (88 mins., 2016, PG-13; Sony): Actor John Krasinski's second directorial outing finds the star erssaying John Hollar, a NYC artist failing to make it big who reluctantly heads back to his small town where problems, of course, reside everywhere: from his dysfunctional family to his high school ex-rival, a former flame and his pregnant current girlfriend (Anna Kendrick). Krasinski recruited an ace supporting cast – Richard Jenkins and Margot Martindale as his parents, plus Charlie Day and Sharlto Copley – but Jim Strouse's script is only halfway successful at achieving the disparate emotions the material is aiming for. A nice try, at least. Sony's Blu-Ray offers commentary with Krasinski and Martindale, two featurettes, an LA Film Festival Q&A, Digital HD copy, 1080p (1.85) transfer and 5.1 DTS MA sound.
---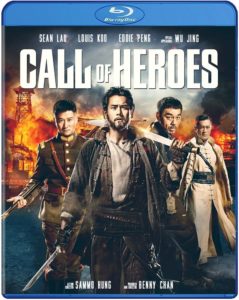 Quick Takes
CALL OF HEROES Blu-Ray (120 mins., 2016, Not Rated; Well Go): Director Benny Chan and "action director" Sammo Hung collaborated on this period epic. Louis Koo stars as a warlord whose General father threatens to kill the residents of a village unless he's released. Eddie Peng, Wu Jing and Sean Lau star in this Hong Kong import that should provide sufficient fireworks for fans of Asian action cinema. Well Go's Blu-Ray includes a 1080p transfer, 5.1 sound in Cantonese or Mandarin with English subtitles, a Making Of and the trailer.
THE GREAT GILLY HOPKINS DVD (99 mins., 2014, PG; Lionsgate): Veteran director Stephen Herek helmed this family film about a precocious teen who's been bounced around the foster care system, and who concocts a plan to thwart her new foster mother's (Kathy Bates) loving environment. This adaptation of Katherine Paterson's book is appealingly played by Sophie Nelisse ("The Book Thief") in the lead role, with Bates, Julia Stiles, Octavia Spencer and Glenn Close lending solid support. Lionsgate's DVD includes a Making Of featurette, 16:9 (2.40) transfer and 5.1 Dolby Digital audio…Also New From Lionsgate on DVD is DECOMMISSIONED (80 mins., 2016, R),a slight actioner from the prolific Timothy Woodward, Jr., who spins this tale of a retired CIA agent forced to participate in a Presidential assassination in order to save his kidnapped wife and son. Johnny Messner, Vinnie Jones, Estella Warren, Michael Pare and James Remar star in this mediocre affair, out on DVD from Lionsgate sporting a 16:9 transfer and 5.1 sound…CHRISTMAS ALL OVER AGAIN (79 mins., 2016, PG) is a kid-friendly tale of a teenager (Sean Ryan Fox) who doesn't get the pair of sneakers he hopes will impress the girl next door. Soon, Eddie ends up in a time loop where he continuously lives Christmas without getting presents – even worse than "Groundhog Day"! Lionsgate's DVD includes a 16:9 transfer (1.78) and 5.1 sound.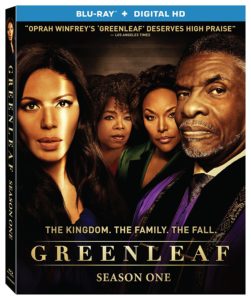 Also new from Lionsgate this week is Season 1 of GREENLEAF (9 hours, 2016), the story of a disillusioned preacher (Merle Dandridge) who returns to her estranged Memphis home after two decades following the mysterious death of her sister. There, she becomes part of her parents' (Keith David, Lynn Whitfield) large ministry and finds out quickly that their pious exterior is just a facade for the sinful and deceitful. This production of Oprah Winfrey's OWN TV channel is unique in its setting and offers strong ensemble performances. Lionsgate's Blu-Ray includes a gag reel, music sessions, two featurettes (incuding Oprah interviews), a 1080p (1.78) transfer, 5.1 DTS MA sound and a Digital HD copy….The Discovery Channel original mini-series HARLEY AND THE DAVIDSONS (236 mins., 2016) is a handsomely mounted, surprisingly good mini-series recounting the formation of the Harley-Davidson enterprise at the turn of the century. A good, old-fashioned production that's a throwback to the kinds of TV mini-series we'd routinely see on the networks, with an obvious historical component as well. Lionsgate's Blu-Ray boasts a featurette, a "Biketacular" special, 1080p (1.78) AVC encoded transfer, 2.0 DTS MA stereo sound and a Digital HD copy...Steven Seagal is back at it again in END OF A GUN (87 mins., 2016, R), a Parisian-set affair with Seagal as a former DEA agent who saves a woman from her abusive boyfriend, then challenges him to split $2 million from a car being guarded by the police. Standard stuff hitting Blu-Ray on December 13th from Lionsgate, featuring a Digital HD copy, 1080p (1.78) transfer and 5.1 DTS MA sound.
JENNIFER LOPEZ: DANCE AGAIN DVD (84 mins., 2016; Anchor Bay): Documentary mixes musical performances with a behind-the-scenes look at J. Lo's personal and professional life off the stage, as Lopez prepares to go on tour with two kids joining her. Fans of Lopez would do well to check out "Dance Again," which hits DVD from Anchor Bay sporting a 16:9 (1.78) transfer with 5.1 Dolby Digital sound on December 6th.
THE UNSPOKEN DVD (96 mins., 2016, Not Rated; Anchor Bay): In 1997, a family vanished from their home with their bodies never found. Flash forward to the present, when a babysitter manages to unlock a connection with a mother and young boy, leading to horrific revelations in director Sheldon Wilson's slightly above-average horror story. Jodelle Ferland and Neal McDonough star in this Canadian-lensed production, coming to DVD December 6th from Anchor Bay with a 16:9 transfer and 5.1 Dolby Digital sound.
---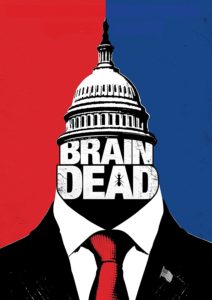 CBS New Releases
BRAINDEAD: The Complete Series DVD (9 hours, 2016; CBS): Executive producers Ridley Scott and David Zucker brought this wacky summer series to CBS last year but folks paying attention to the Trump-Clinton Election didn't notice. In hindsight, they may have been more entertained if they had, as "Braindead" serves up a zany political sci-fi comic thriller (yes, it's all of those things, and then some) about aliens infiltrating members of Congress, laying eggs – and the groundwork for a full-blown invasion. While in some regards it's unfortunate "Braindead" didn't generate much of an audience, the series is so offbeat that it's unlikely a second season would have worked at all. Fortunately, the program comes to a most satisfying end after 9 episodes, all of which are included in CBS' DVD with a handful of featurettes, a gag reel, 16:9 transfers and 5.1 sound. Refreshingly fun and entertaining, as crazy as it often is, with star Mary Elizabeth Winstead leading the way.
BEAUTY & THE BEAST: The Final Season DVD (9 hours, 2016; CBS): A homicide detective (Kristin Kreuk) falls for a doctor (Jay Ryan) with a horrifying secret in this reworking of the CBS series that starred Linda Hamilton and Ron Perlman. This CW take is much grittier and "realistic" – and decidedly less fairy-tale esque – but found enough of an audience to generate a final set of 13 episodes, now collected in this CBS box set. Deleted scenes, a gag reel, "Closing a Chapter: A Fond Farewell" and "Season in Review: Farewell to the Beast" featurettes are all included in the four-disc set with 16:9 transfers and 5.1 soundtracks.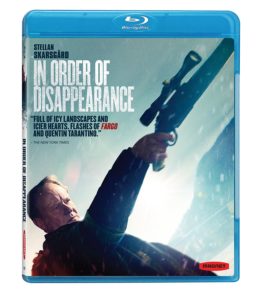 Magnolia New Releases: Stellan Skarsgard plays a father driven to revenge in the Swedish import IN ORDER OF DISAPPEARANCE (118 mins., 2016, R), a taut, visual stylish thriller about a man who wants to find his son's killers and will do so at any price. The snowy, wintry vistas are as much a part of the film's appeal as Skarsgard, who gives a fine performance, in Magnolia's Blu-Ray, boasting a 1080p (2.35) transfer, 5.1 DTS MA sound, an interview with Skarsgard, a talk with director Hans Petter Moland, and the trailer…Coming December 13th from Magnolia is LITTLE MEN (85 mins., 2016, PG), an Ira Sachs film about a 13-year-old whose life becomes complicated when his grandfather dies, sending he and his family off to his dad's Brooklyn home. Their relationship with a Chilean mother who lives below them – and the teen's relationship with her son – fuels this likeable, emotional film on DVD next week from Magnolia. Extras include a Making Of, two casting sessions, the trailer, 16:9 transfer and 5.1 Dolby Digital sound.
NEXT TIME: DREAMSCAPE, BLACK CHRISTMAS, new 4K discs and more! Until then, don't forget to drop in on the official Aisle Seat Message Boards and direct any emails to our email address. Cheers everyone and Happy Thanksgiving!