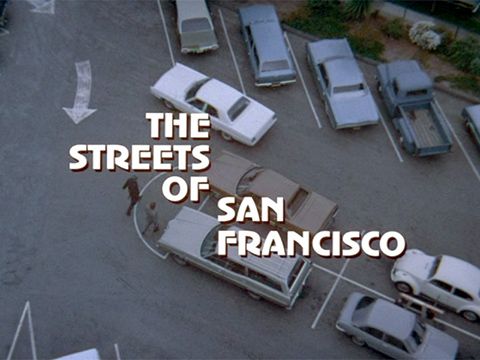 We're going to focus on the contents of the pilot with a complete overview and finish off the cue-by-cue analysis of the previous Part I.
≡ THE CREW
production crew opening credits
executive producer QUINN MARTIN
producers ARTHUR FELLOWS and ADRIAN SAMISH
writer EDWARD HUME
based on the novel "Poor, Poor Ophelia" by CAROLYN WESTON
director WALTER GRAUMAN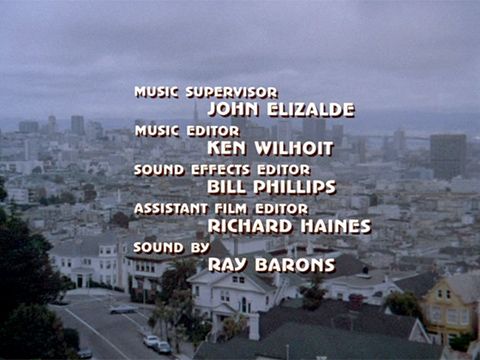 production crew end credits
associate producer HOWARD ALSTON
assistant to the executive producer JOHN CONWELL
director of photography WILLIAM W. SPENCER (A.S.C.)
production manager DICK GALLEGLY
unit production manager JOHN WILSON
assistant director PAUL WURTZEL
film editor RICHARD BROCKWAY
Notes
I only mention on purpose the main production crew end credits.
≡ THE OVERVIEW
The pilot is very fancy and lasts 98 minutes and doesn't feature the opening and end titles and the Acts titles from the series. It plays like a mini film with good sociological and character's studies and cinematographer Spencer uses a lot of cinematic vertical crane shots, some zoom shots and even a wide angle lens mounted on a hand-held camera. The pilot follows a trend of San Francisco cop feature films initiated in the late 1960's and it is its mainstream equivalent; the gruesome and realistic detail of the medical examiner showing a dead body at his office is a veiled reference to Peter Yates' Bullitt (1968) and try to replace the duo Lt. Frank Bullitt and Delgetti by Lt. Mike Stone and Keller. For the anecdote, character-actors Paul Genge, Don Gordon, Felice Orlandi, Pat Renella and Vic Tayback will appear on the series.
Like Inspector Harry Callahan from Don Siegel's Dirty Harry (1971) who had to deal with sado-maso hippie freak sniper Scorpio, Stone and Keller face their kook too with master of disguise Gregory Praxas. Because of his incriminating karate ability (i.e., green belt), the story first focuses on attorney David J. Farr who is the blatant wrong man during the first two thirds of the investigation—sometimes the story drags a little because of Farr's intimistic past and we tend to loose sight of the case—then the real criminal pops up in a sparse way from the end of chapter 6 and makes his extravagant coming out in front of Farr from chapter 8. The grand finale from chapter 9 is fantastic: playing the grim reaper, megalomaniac Praxas is about to cut off the head of Lt. Stone with a scythe. Still, we don't know the precise motive of the psycho killer but, according to Praxas' film (Angel of Death, 1957) he used to play, we can assume that he truly believes in his part. Just read the outline of the film: "Diamond hunters encounter a jungle tribe who worship a strange and powerful white man they believe to be the indestructible Angel Of Death".
The cast is typical (Edward Andrews, Tom Bosley, Andrew Duggan) and fabulous (Lawrence Dobkin, Robert Wagner). The cop tandem works well from the start despite the generation, economical and cultural gap: they develop a warm but respectful father and son relationship. Stone is a traditional 1950's working class cop with a Slavic background (see chapter 5 when he speaks Russian with a suspect at the bureau) unlike Keller who is a rich college-educated hipster ("A real smart cop, huh? College grad, fancy degree in criminology", says Lt. Stone) who occasionally drives a Porsche when he is off duty and from the actual series; for the reference, actor Karl Malden used to play a police Lieutenant at the start of his career in Otto Preminger's Where The Sidewalk Ends (1950). Without the heavy bitterness, Lt. Stone walks on the path of Inspector Harry Callahan who is the first to pull the leg of his young and fresh partner when he exclaims: "Just what I need. It's a college boy" or "Sociology! Oh, you'll go far. That's if you live".
The many faces of actor Gregory Praxas ≡ The dummy of actor Gregory Praxas

Lt. Stone calls Insp. Keller by his popular moniker "buddy boy" for the first time during chapter 5! From chapter 8, Lt. Stone returns home and we see a lonely man reading a dining note from his daughter named Joan—it will be changed to Jeannie in the actual series—when he discovers the name of the karate killer by comparing the same two TV weekly magazines; he even mentions the death of his wife—like Inspector Harry Callahan—in front of Farr during chapter 4. The character of Steve Keller is very rough and unsteady and keeps on antagonizing the first suspect (David Farr) and his partner Lt. Stone tries to tame him. First during chapter 2 when they argue about the drug issue at Lt. Stone's office ("That's the trouble with cops like you Keller, you equate three joints of marijuana with the hard stuff!") then during chapter 3 at Farr's apartment, when they deal with the identity of a mysterious man tailing him to the motel. From chapter 8, Lt. Stone knocks at the door of Insp. Keller, hears a woman calling Steve and Stone exclaims with a sarcastic tone: "Oh, yes. Come on, lover boy."
Even though a big guest star like Robert Wagner is omnipresent, the best performance is by actor Lawrence Dobkin who builds a fascinating unreachable man in the shadow/man with many faces character who masterminds a series of unsolved murders and poses as the uncle of Holly Jean and Delbert Berry. The home of the madman is a Latin American house containing an exotic garden that fakes and emulates the style of a tropical jungle (Cf. the outline of the 1957 film: "Diamond hunters encounter a jungle tribe…") and the interior is decorated with his mementos and disguises but deep down lies an obscure concrete basement leading to a secret cult room where he worships the figure of the grim reaper. Dobkin's baldness makes him look like a bonehead. The most ironic scene with his Praxas character occurs when he lies to the two cops about the nature of the noise created by tied up Farr: "I'm keeping a cat for a neighbor and he turns out to be quite a rascal." The theme of the maniac will become central during all seasons. For the record, Dobkin will direct two season 1 episodes: "A Trout in the Milk" and "Act of Duty". Back to actor Robert Wagner: typecasted as a swinger after his part for the Universal series It Takes a Thief, he made some telefilms (Cf. Crosscurrent and Killer by Night) and, here again, he's a dude character "but" with a bad conscience that is well-encapsulated by landlord Saretti ("… sharp dresser. Talked nice.") which gives details about his get-up ("You know, English-like, big white tie. He had long hair, but neat, like he'd just come from the beauty parlor.") and his girlfriend Holly Jean Berry calls him a "mouthpiece".
Many actors will return in the next seasons: Tom Bosley, Brad David, Andrew Duggan, Lou Frizzel, Robert Mandan, Victor Millan, Bill Quinn, John Rubinstein. Two police official characters will be changed and become semi-regulars from the first season: Chief of Inspectors Malone will be replaced by Captain Rudy Olsen (actor Robert F. Simon) and the un-named black ballistic expert by Charlie Johnson (actor Hari Rhodes and then actor Vince Howard). Late Fifties director Walter Grauman starts with Quinn Martin from Day One—way back to The Untouchables for Desilu—and dominates the season with ten episodes from the pilot to the series as well as composer Pat Williams, as stated in Part I. Grauman gives a dense, serious and robust movie made for television that emphasizes on atmospheres and locations. Grauman shows us a series of flashbacks executed with a fade to blur, a lot of night scenes and has the knack to present the criminal by using a palette borrowed from German expressionism: see the chiaroscuro lightings in the old ice house during chapter 7. Graphic design-wise, the logo of the series was based on German-born and Chicago typeface designer Robert Wiebking's late Art Nouveau-oriented sans serif font Advertisers Gothic (1917). Last but not the least: like most series done in that era, it is always initiated with a lush pilot and you can't help yourself but cross-linking that telefilm with the original 1972 The Night Stalker and what will happen next with the actual series.
For reference, read the following book which contains a chapter (from page 134 to page 146) about the making of The Streets of San Francisco:
Quinn Martin, Producer – A Behind-the-Scenes History of QM Productions and Its Founder
by Jonathan Etter
Foreword by Walter Grauman
(McFarland, 2003, 222 pages, ISBN 0-7864-1501-0)
≡ THE CUES
≡ CHAPTER VI
→ Description #1 ("The Television News Car")
Scene: A television news car arrive at the marina and two reporters come out and run to the harbor while Insp. Keller leaves Farr's boat with the yellow belt and Lt. Stone questions the dockmaster about Farr.
Cue: A wah wah style series theme.
→ Description #2 ("The Cookie Duster")
Scene: Lt. Stone turns round after explaining the meaning of a "cookie duster" to Insp. Keller while David Farr drives his yellow Jaguar to Kenji Karate Studio.
Cue: A slow-moving moody piece with flute and brass.
→ Description #3 ("Stone drives to Kenji's")
Scene: Once alone in front of Malone's door, Insp. Keller thinks for a minute and later on and at night, Lt. Stone drives to Kenji Karate Studio.
Cue: Another fast-paced variation of the series theme with hand percussions.
→ Description #4 ("Back to the Grass Roots")
Scene: David Farr drives back to the Grass Roots club to have a talk with drummer Lindy who softly hits his crash cymbals.
Cue: Ominous music dominated by an electric guitar, brass, hand drums and claves.
→ Description #5 ("Forcing the Drummer")
Scene: David Farr doesn't like the silly answer given by Lindy and twists his wrist to order him.
Cue: Ominous music with brass and an electric guitar.
→ Description #6 ("Out of the Grass Roots")
Scene: Farr and Lindy come out of the Grass Roots and drive away when a mysterious black car in the shadow starts and tails them.
Cue: Funky dark music with brass, a double bass, claves, percussions and an electric guitar.
→ Description #7 ("The Mustache Stranger")
Scene: The yellow Jaguar stops at an abandoned ice house, located at Samson and Lombard, and the two men head to the place when the black car arrives, stops and a man with a mustache come out to observe them at a remote distance.
Cue: A frightening piece executed by crash cymbals and a filtered electric guitar, a bass guitar, a double bass, timpani, the screaming brass.
—Inspector Keller: "All right, what's bothering you? The guy with the mustache?"
—Lt. Stone: "You bet he bothers me. He was seen at Holly's place posing as her uncle and now a man with the same description is seen with Farr's keys posing as a buyer for his boat."
At the Grass Roots, David Farr forces Lindy to talk ≡ Praxas observes Farr and Lindy at the ice house

≡ CHAPTER VII
→ Description #1 ("Follow Lindy")
Scene: Lindy leads David Farr to the cold room where junky and livid Delbert Berry rests and pays Lindy who splits fast.
Cue: Frightening piece executed by haunted brass and ended by an electric guitar.
→ Description #2 ("The Mustache Killer")
Scene: Out of the blue, the real killer pops up in the shadow and moves slowly to neck chop junky Delbert Berry.
Cue: Grim piece executed by an electric guitar and screaming brass and an echo coda.
→ Description #3 ("Farr Out")
Scene: After tipping off Insp. Keller, David Farr leaves the phone booth and heads to his car when the mustache killer watches him, tracks him down, neck chops him and installs him in the trunk of the yellow Jaguar.
Cue: Suspenseful piece with claves, a guiro, drum, an electric guitar, a double bass, the dual siren brass, the screaming brass.
→ Description #4 ("The Police Arrives at the Ice House")
Scene: A patrol car arrives fast at the ice house when the mustache killer drives out of the place in a hurry and leaves his back car. A total of three police cars stop at the place for a check.
Cue: Action-packed music with a flute, a piano, a drum, brass, electric guitar.
"I've given you everything you need, Keller. The name of the game was blackmail. But the game backfired. I'm hanging up now."
—Attorney David Farr over the phone to Insp. Keller.
At the ice house, David Farr makes junky Del Berry talk ≡ Gregory Praxas stares at Del Berry to kill him
≡ CHAPTER VIII
→ Description #1 ("The Brown Car Arrives")
Scene: The brown car of Stone and Keller arrives at the scene of the crime. Insp. Keller examines the neck of the late Delbert Berry in the cold room.
Cue: Series theme with an electric piano, electric guitar with a wah wah pedal and brass.
→ Description #2 ("Cops on the Move")
Scene: The medical examiner learns that Delbert was the brother of Holly Jean Berry. Lt. Stone asks a report about the black car and an average policeman informs him about the traffic on the closed Golden Gate bridge. Insp. Keller drives his colleague. Lt. Stone drives to his house.
Cue:A mysterious piece followed by a slow variation of the series theme with a muffled sax, an electric piano and a syncopated drumbeat (drum and hand drum).
→ Description #3 ("The Death Cult Room")
Scene: Tied up and gaged, David Farr awakes lying on the floor of the death cult room and sees the killer worshipping and staring at the traditional figure of the grim reaper standing on top of the room.
Cue: A grim piece with screaming brass and timpani that ends with an electric guitar riff.
→ Description #4 ("Gregory Praxas, profession: killer")
Scene: Lt. Stone observes the driving id of Gregory Praxas on a police teletype machine while the killer forces Farr to wake up and removes the white tape from his mouth.
Cue: A moody subdued brass piece that ends with an electric guitar riff.
→ Description #5 ("Picking Up Buddy Boy")
Scene: The morning after, Lt. Stone drives to the house of Insp. Keller to pick him up despite his insisting girlfriend.
Cue: A slow-moving and soft rendition of the series theme with brass, a drum, an electric piano, maracas and a gentle flute.
→ Description #6 ("Stopping at Praxas' House")
Scene: The brown Ford car pulls up to the curb near the home of actor Gregory Praxas at 21 Ocean Bluff Drive.
Cue: A low-key funky piece with an electric piano, hand drums, bass guitar and brass.
→ Description #7 ("Leaving the Cult Room")
Scene: Killer Gregory Praxas hears the bell ringing, closes his secret box, moves towards Farr to gag him back and leaves the death cult room when Farr slightly gets up.
Cue: A grim closing piece with screaming brass, a double bass and an electric guitar.
—Attorney David Farr: "Who are you?"
—Actor Gregory Praxas: "The first question. 'Who?' "
—Attorney David Farr: "What do you want with me?"
—Actor Gregory Praxas: "Excellent. What and who? But shouldn't you be asking why, Mr. Farr?"
Tied up David Farr observes the grim reaper ≡ Gregory Praxas worships the figure of the grim reaper

≡ CHAPTER IX
→ Description #1 ("Here comes Praxas")
Scene: Gregory Praxas comes out of his house, crosses his exotic garden and stops at the main entrance.
Cue: A suspenseful piece dominated by percussions (timpani, crash cymbals) and brass.
→ Description #2 ("Praxas escapes from the Cops")
Scene: Lt. Stone corners Gregory Praxas with his phony statement about last night drive so the actor closes the door behind and runs in a hurry. Lt. Stone climbs up the little wall of the main entrance while Insp. Keller takes the back side. Lt. Stone breaks in the lounge, crosses it, discovers Praxas' collection of postiches and cinema mementos in the hallway. Praxas takes refuge in the death cult room when Farr jumps him but he succeeds in neutralizing Farr and locking the door. Lt. Stone gets down to the basement when Insp. Keller breaks in through the stained glass window and points his handgun at Praxas using Farr as a hostage.
Cue: A brief suspenseful bit to an intense and sinister action-packed one dominated by timpani, filtered electric guitar, maracas, drum, crash cymbals, screaming brass and dual police siren brass.
→ Description #3 ("Keller Counterattacks")
Scene: Farr frees himself from Praxas' grip, Insp. Keller gives a punch to Praxas who fights back and eventually neck chops him. Lt. Stone guns down the lock of the door, steps into but Praxas launches a low flaming torch to make the old cop loose his balance and grabs the scythe of the grim reaper.
Cue: The sinister action-packed continues with a low-end piano and the same instruments.
→ Description #4 ("The Death of Praxas")
Scene: Praxas tells Lt. Stone he is indestructible and moves towards him with his scythe. Lt. Stone fires a shot as a warning but Praxas carries on walking. Lt. Stone aims and shoots at Praxas who stands still. Lt. Stone is scared stiff when Praxas falls towards him and he moves off center. Lt. Stone gets up and watches the bullet hole on Praxas' chest.
Cue: A grim and satured piece with screaming brass, electric guitars and timpani.
→ Description #5 ("The Death Box")
Scene: Chief of Inspectors Malone, Lt. Stone and Insp. Keller open up the death box and discover items that belong to the victims of Praxas. Lt. Stone takes a golden medaillon and opens it, passes it to Insp. Keller who stares at a little picture of the Berrys and the quote: "California or Bust".
Cue: A sad piece performed by a clarinet followed by Farr's previous melancolic piece.
→ Description #6 ("Driving to the Ice House")
Scene: Lt. Stone drives both Insp. Keller and Chief of Inspectors Malone to the old ice house.
Cue: An upbeat rendition of the series theme.
→ Description #7 ("The Car Trunk of Praxas")
Scene: Lt. Stone unlocks the trunk of Praxas' black car and discovers the other kid's red cowboy boot. At the hospital, wounded David Farr is resting in his bedroom.
Cue: A brief low-key terrifying piece.
→ Description #8 ("Pictures of Holly Jean Berry")
Scene: Lt. Stone and Insp. Keller leave the bedroom and Farr is staring at the four pictures of Holly Jean Berry taken from the photo booth.
Cue: A brief gloomy closing piece.
"It's really rather touching, you know, all the television exposure of these old films has made celebrities of Hollywood's relics like me."
—Actor Gregory Praxas about his social status.
Gregory Praxas personifies the Angel of Death ≡ Lt. Stone fires at possessed Gregory Praxas
≡ CHAPTER X
→ Description #1 ("Leaving the Hospital")
Scene: Seen from the top of a building, Lt. Stone and Insp. Keller return to the brown Ford car and drive out of the hospital while the onscreen credits appear. The camera follows the trail of the car and pans up and zooms in to the city's remote buildings.
Cue: Same series theme from chapter 1.