12CD Box Set
Film Score Monthly presents one of the most important series of film score recordings of all time: Elmer Bernstein's Film Music Collection. From 1974 to 1979 legendary composer Elmer Bernstein financed his own series of classic film score LPs which he distributed through a mail order club. Though a few of the albums were reissued on LP—and one on CD—the entire series has long been out-of-print and a "Holy Grail" for film music aficionados.
This 12-disc boxed set is the definitive CD presentation of the Film Music Collection. The series features classic scores by Max Steiner, Franz Waxman, Miklos Rozsa, Bernard Herrmann (including the unused Torn Curtain score), Alfred Newman, Alex North, Dimitri Tiomkin, and Bernstein himself (including the sublime To Kill a Mockingbird).
The albums were all conducted by Bernstein in England, many with the Royal Philharmonic Orchestra. (For contractual reasons, one of the 14 FMC LPs—Scorpio by Jerry Fielding—is not included, as it was an original soundtrack album and not a Bernstein re-recording.)
The 13 Bernstein-conducted FMC albums are presented on 11 CDs in the box set, with the two Bernstein-composed albums (The Miracle/Toccata for Toy Trains and To Kill a Mockingbird) and two Tiomkin-composed albums (Land of the Pharaohs/Gunfight at the O.K. Corral and The High and the Mighty/Search for Paradise) combined. (Most of the FMC recordings are over 40 minutes and could not be further consolidated.)
As a special bonus, the final disc in this box set features Bernstein's never-before-released 2003 Prague re-recording of his score for Kings of the Sun—a 1963 Mayan adventure starring Yul Brynner. The album was meant to be released on Bernstein's Amber Records label, but never came out.
Unfortunately, one of the recording venues Elmer Bernstein used for the Film Music Collection—Olympic Studios in London—subsequently closed its doors and threw out the irreplacable master tapes. For this reason, five albums comprising four CDs in this FMC box set—Wuthering Heights, Viva Zapata!/Death of a Salesman, Madame Bovary, and both Dimitri Tiomkin albums—have been mastered from sealed LPs. FSM has meticulously transferred numerous copies of the vinyl to present high-quality transfers far superior to any home clean-up. (All other discs are mastered from the original 1/4" source tapes.)
The FMC box set is packaged as follows: the 12 discs come in three "butterfly" or "clamshell" cases—the kind which used to be commonplace for 2CD sets—with each case holding four discs. The three "butterfly" cases go into a larger, hard-cardboard box along with a 136-page hardcover book containing all of the original LP liner notes as well as new material: an overview by Jon Burlingame, an essay by Jay Alan Quantrill (one of the original liner note authors), reissue producer's note by Lukas Kendall, and new commentary for Kings of the Sun including a remembrance by Prague orchestra contractor James Fitzpatrick. The book is chock-full of written musical examples as well as archival photographs, many of which have never been seen.
Elmer Bernstein's Film Music Collection is one of the most significant film music album series ever undertaken, with a major film composer conducting his own performances of his and others' works. While some of these scores have since been released from their original soundtracks, several others are lost and will never be released—or exist only in monaural sound, while the entire FMC is in stereo. In the 1970s, these LPs were lights in the darkness for film music fans, and the recordings became treasured entries in film music collections. The historical albums are finally preserved on CD in this loving collection.
For contractual reasons, there are currently no plans to release these albums separately, and some of them may never be otherwise available. The box set is limited to 2,000 copies—first-come, first-served.
From the liner notes, pp. 16-17:
Reissue Producer's Note
by Lukas Kendall
The box set that you hold in your hands has long been a Holy Grail for soundtrack collectors. Elmer Bernstein was asked by many people over the years to release or license his Film Music Collection on CD and he always declined. Those of us in the "soundtrack-producing community" assumed that he intended to issue the albums himself, but it never happened. In producing this box set we encountered what were likely the issues that held up Elmer's own plans for the Collection.
The central problem was that Elmer only had masters for the first five albums: Helen of Troy/A Summer Place through Young Bess. These he had on the original 1/4" stereo tapes. The later albums were recorded at Olympic Studios and the masters discarded (along with a good deal of the history of rock music) when the studio closed its doors. (Artists were supposed to be notified to pick up their masters, but Elmer—and many others—got word too late.)
Fortunately, three of these "lost" albums were reissued by Warner Bros. Records in 1978 during a shortlived deal to broaden the FMC's distribution. Warner Special Products graciously allowed us to use their 1/4" stereo masters for The Thief of Bagdad (BSK 3183), To Kill a Mockingbird (BSK 3184) and Torn Curtain (BSK 3185).
In reviewing the contract for these three LPs, we discovered that this was not a term license—Elmer sold the albums' distribution rights in perpetuity. (Viva Zapata!/Death of a Salesman was to have been the fourth FMC title reissued by Warner Bros., but this never transpired.) Fortunately Elmer retained for himself one key right: that of distribution by mail order, which we are using for this box set. Otherwise the three FMCs handled by Warner Bros. are the domain of that company forever, and further distribution of the Collection is that much more complicated.
There are five albums for which masters no longer exist: Wuthering Heights, Viva Zapata!/Death of a Salesman, Madame Bovary, Land of the Pharaohs/Gunfight at the O.K. Corral and The High and the Mighty/Search for Paradise. The only choice has been to master the CDs from the vinyl. Fortunately, Elmer had many sealed copies of each LP still in storage, and John Davis at Precision AudioSonics has carefully broken the precious seals to make the best possible transfer of each side. Combined with the denoising in Sonic Solutions by Doug Schwartz at Mulholland Music, this is the best resolution to an imperfect situation.
This box set was originally to contain only the FMC albums from the 1970s, with the exception of Scorpio by Jerry Fielding (FMC-11), which was the only album issued from the original soundtrack and not re-recorded by Elmer. A fine score, it was included on a limited-pressing CD in 1991 by Bay Cities, Jerry Fielding 2. (The only "true" FMC title to be released on CD was The Ghost and Mrs. Muir, which Elmer licensed to Varese Sarabande in 1985 [VCD-47254].)
When it became clear that mastering from vinyl was unavoidable for five of the albums, we decided to "sweeten" this box set with a treasure from Elmer's glory days that he had re-recorded at the end of his career: Kings of the Sun, which he had intended to release on his own Amber Records label. James Fitzpatrick, the orchestral contractor for the City of Prague Philharmonic Orchestra, kindly volunteered his time to assemble the final disc in this box set from the edit-plan Elmer made of the sessions. While not literally an FMC recording, it is both the spiritual descendent of the series and the coda to Elmer's remarkable professional life.
All of us who love film music have been grateful to Elmer for his diverse and wonderful scores. Unlike any other film composer, Elmer went far beyond being grateful to the profession for which he was so ideally suited. He opened his heart and his pocketbook, and he dedicated himself to the livelihood and well-being of the art form. He cherished film music, as we cherish him. Thank you, Elmer.
Don't forget to accent your new film music collection with this special publication from FMS!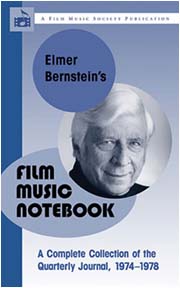 Click on Elmer Bernstein's Film Music Notebook for more information from the Film Music Society on this special release.
Here are images of the LP covers contained within this collection: