Kicking off this month's Twilight Time limited editions is THE SEVEN-UPS (103 mins., 1973, PG), a follow-up of sorts to "The French Connection" that reunites most of the production personnel from that Oscar-winning smash — producer Philip D'Antoni (who also served as director here), composer Don Ellis, and stars Roy Scheider and Tony LoBianco — and sports a story authored by detective Sonny Grosso, the inspiration for "Popeye Doyle," himself.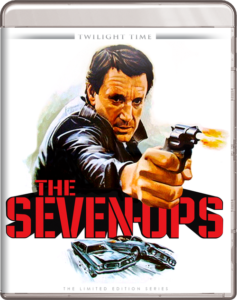 The results are an entertaining, albeit somewhat routine, police procedural about a group of hardened NYC detectives trying to take down a pair of thugs (including a young Richard Lynch) who begin to kidnap mob bosses around the Big Apple.
Authentic atmosphere and a dynamite car chase help sell "The Seven-Ups,", though the Albert Ruben-Alexander Jacobs script isn't on the level of its predecessor in terms of overall dramatic impact. More of a by-the-book police procedural than the William Friedkin classic, this flavorful outing is still a stronger companion piece than its own later sequel, with Scheider capably filling the lead role and giving Steven Spielberg evidence he could carry off Chief Brody a short time later in "Jaws."
"The Seven-Ups"' prior Fox DVD had something of a strange transfer with occasional instances where the image seemed "flattened" like an old Cinemascope transfer, even though it was shot at 1.85. Twilight Time's new 1080p transfer is a huge improvement, looking properly framed, a bit darker and with richer colors – and far more detail – over not only that DVD but other foreign Blu-Rays that used Fox's older master. The DTS MA mono sound offers a brooding Don Ellis score (replacing a Johnny Mandel outing – both of them are isolated here on secondary tracks) while a generous assortment of extras, included in the UK Second Sight release and presented here in the U.S. for the first time, should delight buffs.
In addition to historian Richard Harlan Smith's commentary, the disc includes an introduction and interview with D'Antoni, conversations with Tony Lo Bianco and technical adviser Randy Jurgensen, the archival featurette "Anatomy of a Chase," a lobby card/still gallery, Jurgesen's scrapbook, and theatrical trailers. Highly recommended if you're a fan of gritty '70s NYC films, "The French Connection," Scheider, or awesome cinematic car chases!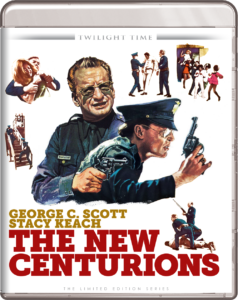 Another entry in the genre of early '70s police thrillers, THE NEW CENTURIONS (103 mins., 1972, R) has also been tapped for Blu-Ray this month by Twilight Time.
Joseph Wambaugh's bestsellers produced a variety of results on the big-screen, running the gamut from effective, low-key character-driven affairs ("The Black Marble," "The Onion Field") to outright duds like "The Choirboys." The first, and pretty much the best, film derived from one of Wambaugh's novels was "The New Centurions," a straight-ahead albeit downbeat story of rookies in the LAPD (Stacy Keach, Scott Wilson, Erik Estrada) who meet a variety of daily challenges while working the beat.
The emotional toll the job takes on both them as well as a weary veteran (George C. Scott) is chronicled in Stirling Silliphant's screenplay, which meets with somewhat mixed results in Richard Fleischer's direction. The standard, almost clinical approach Fleischer brought to some of his best films (including "The Boston Strangler," which Twilight Time released a year ago) gives the material a hard-edged realism, though the more dramatic character beats are met with the same kind of emotional detachment. The result is a film that keeps the viewer at an emotional distance – an issue when the movie turns bleak in its final third.
Fleischer does receive a fine performance from Scott and a superb roster of supporting players (Jane Alexander, Rosalind Cash, James Sikking, Clifton James). Keach, however, is less successful embodying a character whose idealism is squashed by the harsh reality of working the streets, losing pretty much everything in the process. That transition doesn't play to Keach's limited strengths in a role that required an actor with a wider range to carry off.
Twilight Time's Blu-Ray offers a marvelously detailed 1080p (2.35) AVC encoded Sony-licensed transfer. Two new commentaries lend insight into the production, one with Nick Redman and co-star Scott Wilson, the other with historians Lee Pfeiffer and Paul Scrabo. The trailer and an isolated score of Quincy Jones' soundtrack round out the release.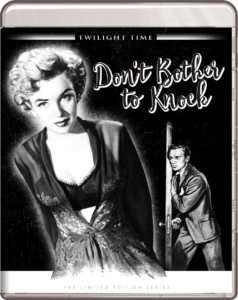 DON'T BOTHER TO KNOCK (76 mins., 1952) is a fascinating Fox release from early in Marilyn Monroe's career. In fact, watching Monroe convincingly play a mentally unstable woman hired as a babysitter at her uncle's hotel, it's surprising her career took the more glamorous track it did. Richard Widmark plays a pilot whose girlfriend (Anne Bancroft) puts the brakes on their relationship; subsequently, Widmark and Monroe cross paths – only to have Monroe's increasingly batty behavior take hold – in a movie that serves as an interesting forerunner to the "Fatal Attraction" and "Mad ____ From Hell" movies of the late '80s and '90s. Roy Ward Baker's direction makes this tidy little noir well worth a look, backed up by Twilight Time's crisp 1080p (1.33) B&W transfer, mono sound, two fine AMC Biography specials on Monroe and Widmark, the trailer, and an isolated Lionel Newman score track.
Finally, Samuel Fuller fans will want to check out UNDERWORLD US.A. (99 mins., 1961), a taut gangster film about a teenager who watches as his father is killed by thugs. After following them for years – and being consumed with revenge – the young man (Cliff Robertson) compulsively tries to get even at any cost. Fuller's film is vividly shot in black-and-white by Hal Mohr – splendidly replicated in a 1.33 AVC encoded transfer here from the Sony vaults – and should appeal to noir buffs as well as, obviously, Fuller aficionados. Twilight Time's Blu also includes an isolated track of Harry Sukman's score, two featurettes (Sam Fuller Storyteller and Martin Scorsese on Underworld U.S.A.), and a mono DTS MA soundtrack.
---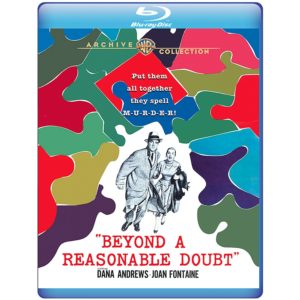 Warner Archive New Releases: Film Noir & More
Director Fritz Lang's final two American films receive the Blu-Ray treatment from the Warner Archive this month. While neither is regarded as a classic, both RKO productions should be of interest for the director's fans and '50s aficionados in general.
BEYOND A REASONABLE DOUBT (80 mins., 1956) is a downbeat, if well-acted thriller starring Dana Andrews as a reporter whose publisher wants him to frame himself for murder in order to expose the injustices of a corrupt District Attorney. When the publisher (Sidney Blackmer) dies, the evidence meant to clear Andrews' name vanishes along with him in Douglas Morrow's screenplay, which heavily relies on its twist ending to carry it through a plot that's not very exciting – especially considering its brief running time. Warner's Blu-Ray includes a 1080p (2:1) transfer with DTS MA mono sound, the image looking well-composed (shot in "Superscope") and with fine detail. A similar presentation is on-tap in the superior WHILE THE CITY SLEEPS (99 mins., 1956), which assembles Andrews again, George Sanders, Rhonda Fleming, Vincent Price, Thomas Mitchell and Ida Lupino. Casey Robinson's script posits a New York City stalked by "The Lipstick Killer" and how the son (Price) of a recently-deceased NYC media mogul announces an editorial promotion to anyone who can reveal the killer's identity on his staff. With another effective 2:1 AVC encoded 1080p transfer, "While The City Sleeps" offers solid HD benefits for film noir lovers, while the film itself manages to be cynical in its depiction of a bloodthirsty media horde while more entertaining than "Beyond a Reasonable Doubt."
New on DVD, meanwhile, from the Archive is DANGER SIGNAL (76 mins. 1945), a Warner-First National noir starring Faye Emerson and Zachary Scott. Under the direction of Robert Florey, this low-budget outing has generated a cult following over the years and Warner's DVD preserves the original 1.33 B&W image as well as the source material allows.
---
Also New & Noteworthy
THE AMERICANS – Season 5 DVD (585 mins., 2017; Fox): Disappointing fifth season of the acclaimed FX series meanders around with a complicated, and not very interesting, central plot involving Russian crops. Meanwhile, the Jennings (Matthew Rhys, Keri Russell) continue to bicker over utilizing their church-going daughter (Holly Taylor) as an espionage recruit – a contrived plot device that seems wholly unbelievable and yet has become one of the central focuses of the series, much to its detriment. Fox's DVD contains 16:9 transfers and 5.1 soundtracks, coinciding with the premiere of the series' sixth and final season on FX…I can't say I was particularly impressed with the first season of LEGION (384 mins., 2017), the highly anticipated FX series that coupled Marvel Comics' moody X-man with creator/producer Noah Hawley of "Fargo" TV series fame. The ensuing marriage is a really slow-going, frustrating affair that plays to Hawley's most self-indulgent tendencies. If you can stick through it (I couldn't), fans seem to indicate it improves, but the show from what I sampled would've been entirely worthless if not for Dan Stevens' performance in the lead role. Fox's Season 1 Blu-Ray of "Legion" is a deluxe affair sporting seven featurettes, a Making Of segment, deleted scenes, and top drawer 1080p (1.78) transfers and 5.1 DTS MA soundtracks.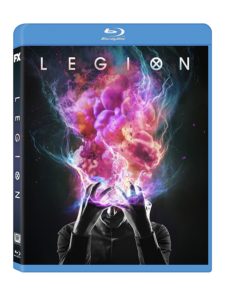 Also new from Fox is yet another repackage of THE SANDLOT (***, 101 mins., 1993, PG), the fan-favorite family hit from writer-director David Mickey Evans. This latest Fox release includes exclusive Topps trading cards and a new slipcover, but the disc itself is the same encode previously seen on Blu-Ray twice already, with an OK AVC encoded transfer, 5.1 DTS MA sound, the trailer, TV spots and a single promo featurette.
TWILIGHT PEOPLE Blu-Ray/DVD (81 mins., 1972; VCI): It's Filipino horror on a low-budget – and unintentionally funny – scale as skin-diver John Ashley is captured and taken to the lab of a Moreau-like psycho trying to breed a scientifically-spliced group of animal-human hybrids. Short but slow-moving at the outset, "Twilight People" is an exploitation affair through and through, co-starring Pam Grier in an early, wordless role as "The Panther Woman." Recommended for those who like this sort of thing, VCI's Blu-Ray/DVD combo pack sports a new 2K remastered transfer – framed for the first time in widescreen – along with commentary from David Del Valle and David Decoteau, an interview with director Eddie Romero, the trailer and TV spots.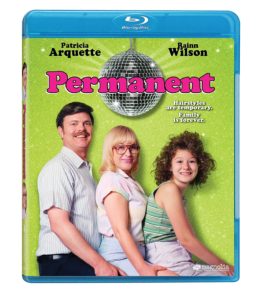 Lionsgate New Releases: Giorgio Serafini's THE EXECUTIONERS (93 mins., 2018, R) stars Jemma Dallender, Natalie Burn, Anna Shields and Rachel Rosenstein as four friends whose stay at a lakeside mansion results in the group being attacked by a trio of masked men. The girls turn the tables on their assailants, but to what end? Lionsgate's DVD of this now-available shocker includes a 16:9 transfer and 5.1 sound…Coming April 10th on DVD is Enzo D'Alo's Italian animated rendering of PINOCCHIO (84 mins., 2012, PG), one which draws more inspiration from Carlo Collodi's original story than the familiar Disney version. Grindstone Entertainment redubbed the film for the English market, bringing in Johnny Orlando and Jon Heder to provide voices though the film does not seem to have been overhauled in terms of its running time. Lionsgate's DVD includes a 16:9 transfer and 5.1 English audio, plus a featurette on the English track's recording…Also on April 10th Lionsgate unleashes GONE ARE THE DAYS (100 mins., 2018, R), a gritty western starring Lance Henriksen as a dying, grizzled gunslinger who finds his daughter working in a brothel, in a town presided over by a sadistic (of course) sheriff played by Tom Berenger. It's great seeing old pros Henriksen and Berenger joined here by Danny Trejo and Steve Railsback in Mark Landre Gould's independent feature – one that's fairly predictable yet well-executed on its modest scale. Lionsgate's Blu-Ray/DVD combo pack boasts a featurette, cast/crew interviews, a 1080p (2.40) AVC encoded transfer and 5.1 DTS MA sound.
PERMANENT Blu-Ray (93 mins., 2017, PG-13; Magnolia): Extremely forced attempt at crafting something along the lines of a female "Napoleon Dynamite" generates a few laughs – but far more awkwardness and embarrassment in Colette Burson's tale of a 13-year-old girl (Kira McLean) whose hair style difficulties are contrasted with the misadventures of her wacky parents (Patricia Arquette, Rainn Wilson). Sexually suggestive material and some crude jokes mostly misfire in "Permanent" before the movie regains some semblance of a nice ending – but it's rough going for the most part. Magnolia's Blu-Ray is out this week sporting deleted/alternate scenes, the trailer, two featurettes, a 1080p (1.85) transfer and 5.1 DTS MA audio.
NEXT TIME: Shout! New Releases! Until then, don't forget to drop in on the official Aisle Seat Message Boards and direct any emails to our email address. Cheers everyone!