Message Board (open 24 hours!)
Twitter - @andredursin (for everything else!)
A movie that's often cited as being both boldly influential as well as dated and overpraised, Tony Richardson's TOM JONES (128 mins., 1963; Criterion) is a picture that's hard to classify. Is it a legitimate classic that served as a springboard to a renaissance of British cinema during the 1960s – or is it a silly, overlong confection that holds more relevance to its era than it does today? Criterion's painstakingly restored Blu-Ray conveys that it's a little bit of both, though its legitimacy is certainly enhanced by a transfer that does this Best Picture Oscar winner justice on home video at last.
Freewheeling and unquestionably entertaining, "Tom Jones" undoubtedly broke the mold for its genre, spinning a dizzying adaptation of Henry Fielding's novel about a foundling (Albert Finney) who can't quite seem to connect with his true yearning, the lovely Sophie Western (Susannah York). After being thrown out by his surrogate father, the Squire Allworthy (George Divine), Tom Jones' misadventures take him across the picaresque English countryside and into mostly comic confrontations with an assortment of colorful characters.
Richardson's direction was unique for its time, embracing silent film homages and fourth-wall breaking nods to the audience – as well as a bawdy tone that may have been risqué for its era but seems as benign as an episode of Benny Hill does today. In fact, it may be difficult for contemporary viewers to understand what's so special about "Tom Jones," requiring the audience to take a trip back in time to the early '60s and compare the film with other, more stately and restrained costume dramas from that period. Viewers had seldom seen a cinematic world so realistically depicted and also vibrantly alive in terms of its filmmaking – the much-celebrated sequence in which Tom and Mrs. Walters wolf down a tavern meal is both overtly sexual and hilariously funny at the same time, and Richardson maneuvers his way through the material with a similarly freewheeling approach throughout.
There is, admittedly, a certain one-note component to the film that makes it hard to completely embrace, while dramatically, the picture doesn't amount to much of anything. Once you get past Richardson's approach, "Tom Jones" is a fairly superficial piece as far as character development and emotional investment goes. What it is, though, is a film that's enjoyable for its cinematic inventiveness, enthusiastic spirit, and its performances – Finney doesn't have to do much but wink and look dashing, but he does it so well the film kickstarted his career, while York and both British veterans and newcomers (David Warner, Julian Glover) alike provide ample support. It's all graced by Walter Lassally's naturalistic cinematography and John Addison's energetic score.
Long awaited by fans, "Tom Jones" has been fully restored in Criterion's new double-disc Blu-Ray release. With the rights to the film licensed through Richardson's Woodfall Films, Criterion scoured a number of sources to produce a 4K restored transfer that's absolutely stunning compared to past home video releases. The lush greens and rolling hillsides boast a texture and vividness absent from any release of the film I've seen over the years – that especially includes dim looking transfers both HBO (laserdisc) and MGM (DVD) produced in the past. Watching the film in this Criterion transfer (1.66) enables those of us who never saw the film theatrically to savor its visual design in a way never before possible, and it immeasurably enhances the picture as a result. The transfer also has a bountiful amount of film grain present, with only some sections marred by less than pristine source elements (as Criterion noted, a myriad of sources were used to reconstruct the film, followed by extensive work in matching those disparate elements together).
Both the original, Oscar-winning 128-minute theatrical cut of "Tom Jones" as well as Richardson's 121-minute Director's Cut are included on their own Blu-Ray platters – the latter of which was widely dismissed by both critics and fans, as it attempted to improve the film's pacing while tossing out some comedic asides. That 1989 re-issue also included a new stereo soundtrack that was intended to enhance the film's overall sound design – but between Criterion's restoration of the theatrical mono audio and the 1989 track's inherently hollow-sounding music "rechanneling," whatever advantage it may have once held over the original mono has basically been negated here.
Criterion's supplements are split between the two discs. New interviews are included with Walter Lassally, another talk features editor Robert Lambert discussing his work on Richardson's controversial 1989 edit, while there are also conversations with historian Duncan Petrie on the film's place in British cinema and Vanessa Redgrave discussing her marriage to Richardson. Archival pieces include an audio interview with Addison and a brief Dick Cavett Show excerpt featuring Finney.
---
4K Corner
LARA CROFT, TOMB RAIDER 4K UHD Combo Pack (**½, 100 mins., 2001, PG-13; Paramount)
LARA CROFT, TOMB RAIDER: THE CRADLE OF LIFE 4K UHD Combo Pack (**, 117 mins., 2013, PG-13; Paramount): Back on-screen shortly in a new reboot, "Tomb Raider" was first brought to the screen in two unfortunately ho-hum adaptations of the popular video game franchise, basically coming across in live-action form as a watered-down version of "The Mummy" — itself, of course, a watered-down version of Indiana Jones.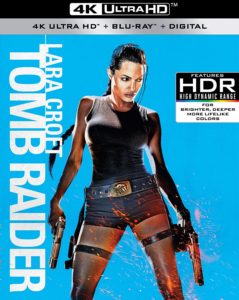 What saves the films from total disaster are Angelina Jolie's lively performances as Lara Croft, the shapely adventuress whose travels take her to the far reaches of the globe in search of fame, fortune, and saving the world.
The original "Tomb Raider"'s messy plot finds Lara embroiled in an astronomical convergence (don't ask me how or where this is happening) and a "cosmic clock" that holds the key to being able to control time. A ruthless bad guy (Iain Glen) responsible for the death of her father (Jolie's real dad, Jon Voight) is in hot pursuit of the gadget, which takes Lara to Venice, Cambodia, and points far south in the hopes of attaining the power to the device before it falls into the wrong hands.
There's nothing especially inventive about the plot, visual design, or direction of "Lara Croft"– it's all pretty much by the numbers. Simon West's direction relies upon many of the generic technical hallmarks of Ridley Scott (the disco-esque lighting) and assorted Jerry Bruckheimer productions (quick cutting that almost renders entire action scenes incomprehensible), which means it's slick and good-looking but will remind you in every sequence of something else.
The Patrick Massett-John Zinman script, meanwhile, clearly resembles the story architecture of a video game as well, rarely bothering to establish character development outside of the relationship between Lara and her late father. It also, predictably, leaves behind a raft of bland uninteresting supporting characters in its wake — Lara's cohorts don't have much to do, Glen doesn't make much of an impression as the villain, and Daniel Craig is particularly miscast as a former American flame of Lara's.
As you would expect in a movie of this sort, the production design is lavish and the special effects of top quality, but aside from a statue that briefly comes to life, there's not much in the way of epic fantasy stuff in "Tomb Raider," either.
Why the movie works at all is because of Jolie, whose athletic, physical prowess and sense of timing are perfect for the part. West concentrates on long, luxurious close-ups of his star, and Jolie proves to be up to the task of single-handedly carrying the weight of the film on her shoulders. (He doesn't do her any favors, though, by ending the movie with a hysterically bad, final freeze-frame shot that looks like something out of a mid '70s kung-fu opus).
"Tomb Raider"'s initial financial success (it took in an excellent $150 million in the U.S. alone) quickly ensured a sequel, one that – as I originally wrote in 2001 – "you would hope will surround Jolie with a more interesting story and supporting characters than this only moderately engaging first go-around."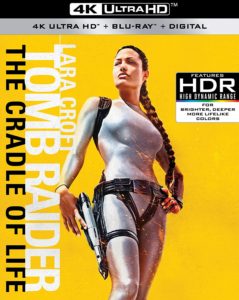 Alas, that didn't happen: though the original "Tomb Raider" all too obviously felt like a "product" doubling as the beginning of a "franchise," at least it was also still moderately entertaining to watch, which is one thing that its 2003 sequel, THE CRADLE OF LIFE, rarely is. Though the movie plays more coherently and attempts to further develop its characters than its predecessor did, it's also awfully tired and disappointingly dull, once again failing to surround its cinematic heroine with a plot or supporting cast worthy of its potential.
This time out, Lara (Jolie) stumbles upon Pandora's Box after infiltrating an underwater tomb belonging to Alexander the Great. An evil scientist (Ciaran Hinds) makes off with the device, leading Lara to recruit her jailed former partner (Gerald Butler), in an attempt at retrieving it before Hinds unleashes its power on mankind.
Jan DeBont has made some spectacularly successful films in his time ("Speed," "Twister"), and even when his movies aren't so good ("The Haunting"), they're at least watchable and well-made. That's why the lack of energy in "The Cradle of Life" is so surprising: everything about the movie, from its plot to its characters and visual design, is thoroughly uninspired. Jolie again gives it her all, but Butler isn't very interesting as her former lover, and the movie's drawn-out 117 minute running time will end up trying the patience of even the most die-hard Lara Croft fan. Even Alan Silvestri's soundtrack — written late in the game as a replacement for Craig Armstrong's initial work — comes off as a watered-down pastiche of his "Mummy Returns" score.
4K UHD Rundown: Making their debuts on 4K UHD combo packs ahead of the Alicia Vikander MGM remake, "Tomb Raider" 1 & 2 each receive competent HDR-enhanced, Dolby Vision-encoded HVEC transfers from Paramount. Both transfers offer the expected uptick in color pallet and contrast over their standard Blu-Rays, pretty much par for the course as far as most UHD catalog releases we've seen from the label so far.
Extras are reprieved from their prior Blu-Rays. "Tomb Raider" 1 director Simon West might have had his movie re-cut behind his back before release, but obviously he got over it since he provides an adequate commentary track. Separate featurettes (13 of them!) touch upon the production and Jolie's physical conditioning, along with the history of the video game franchise, stunt work, and special effects. Deleted scenes (including an alternate opening sequence), the trailer, and a music video round out the "traditional" supplements, while the throbbing 5.1 DTS MA soundtrack features an unremarkable Graeme Revell score.
"Cradle of Life," meanwhile, also looks solid in its UHD presentation, and Blu-Ray special features are abundant, including a commentary track with DeBont and five Making Of featurettes consisting of "Training," "Vehicles and Weapons," "Stunts," "Visual Effects," and "Scoring." The latter offers a solid five-minute segment profiling Alan Silvestri, who discusses his approach to the movie, noting how late he came on- board (obviously he makes no mention of Armstrong's score being dumped). There's ample recording session footage on-hand here in a segment that Silvestri fans will definitely want to check out. Other extras include some nine deleted/alternate scenes, including a slightly different ending; music videos; and Butler's screen test. Digital HD copies are also included.
---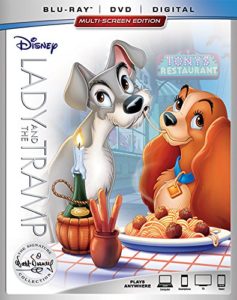 Catalog Corner
LADY AND THE TRAMP Blu-Ray Signature Collection (****, 76 mins., 1955; Disney): Disney's latest Signature Collection celebrates one of the studio's all-time greats. I could write for page upon page about how I grew up with "Lady and the Tramp," how it has been one of my lifelong favorite animated movies, and particularly how well the movie has stood the test of time — suffice to say, most of you have seen it, or are aware of "Lady and the Tramp," and there's not much I can add that hasn't already been stated about the picture. It's a classic and deserves a place in any Blu-Ray library – though if you already owned Disney's earlier Blu, this Signature set is not a required purchase by any means.
In fact, Disney's Signature pack – which also includes a DVD and Digital HD copy – pretty much reworks the 2012 Blu, which boasted a restored picture and remixed soundtrack, with the 2.55 transfer ranking as nothing short of breathtaking, and at the very least a major upgrade on both the previous DVD issues. On the audio side, Disney included a remixed 7.1 DTS MA track, which is quite satisfying and has more of a presence than the restored original 2.0 audio mix (also included here), which is acceptable but demonstrates the limitations of a mid '50s stereophonic recording.
The set also includes some lightweight new extras (a segment on Walt's dogs; "Stories From Walt's Office"; and a segment on "making meatballs" with young Disney Channel stars) plus a wealth of supplements mostly carried over from the Platinum set, though most of these are relegated to digital streaming only. "Lady's Pedigree: The Making of 'Lady and the Tramp'" offers a basic, interesting overview of the movie, its conception as being one of Walt's pet (no pun intended) projects, the work of composer Oliver Wallace and songwriters Peggy Lee and Sonny Burke, and lasting legacy as part of the Disney canon. Additional deleted scenes, galleries and storyboards from an aborted 1943 version of "Lady and the Tramp" are also on tap, though again, not on the disc itself.
HELL OR HIGH WATER 4K UHD Combo (***, 102 mins., 2016, R; Lionsgate): Strong performances fuel this well-made, if somewhat predictable, story of bank-robbing farmer brothers (Chris Pine, Ben Foster) whose seemingly sloppy heists mask a smartly motivated series of crimes that nevertheless fail to fool a veteran Texas Ranger (Jeff Bridges) whose time on the job is, of course, coming to an end. "Sicario" writer Taylor Sheridan's script doesn't offer a whole lot of surprises, and while director David Mackenzie seems intent on channeling the Coen Brothers and "No Country For Old Men" in his general approach, "Hell or High Water" works because of the conviction of its performances, most especially Pine, whose sympathetic father finds himself involved in a series of crimes that turn potentially more tragic for all involved. A bit overpraised but still worth seeing, with fine character turns chipped in from a variety of sources, including Katy Mixon as a waitress who gets a big tip (and doesn't want to return it). Lionsgate's Blu-Ray looked fine and some of their 4K UHD releases have been up and down in terms of quality; this 4K edition looks really nice with its HDR enhancements, though the touted Dolby Atmos audio is nowhere to be found (the mix is the same DTS MA soundtrack found on the Blu-Ray). The Dolby Vision-capable UHD is paired with a copy of the Blu-Ray which includes boasts several featurettes, a Digital HD copy, its own attractive 1080p (2.40) transfer and 5.1 DTS MA sound.
---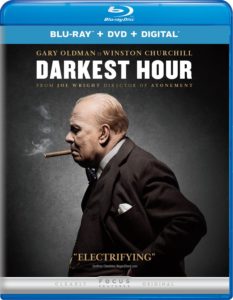 Also New & Noteworthy
DARKEST HOUR Blu-Ray/DVD (125 mins., 2017, PG-13; Universal): I'm not sure if Gary Oldman is going to win the Best Actor Oscar but he certainly deserves it for his portrayal of Winston Churchill in Joe Wright's "Darkest Hour." This somewhat predictably-drawn story relays how Churchill took over for Neville Chamberlain while dealing with the evacuation of Dunkirk and the "War Cabinet Crisis" which also involved Lord Halifax (Stephen Dillane), the ailing Chamberlain (Ronald Pickup) and King George VI (Ben Mendelsohn).
"Darkest Hour" provides the political context for a narrow window of time, and also fills in the backdrop of Christopher Nolan's "Dunkirk" picture in an oddly complimentary bit of filmmaking. Both Wright and writer Anthony McCarten adhere to an increasingly formula "history biopic" blueprint as seen in "The King's Speech" and elsewhere – opening up with a standard, lightly comic first half-hour where Churchill's eccentric personality is on full display (putting heavy doubt into viewers' minds about his competence) before moving into headier historical territory. When that time comes, Oldman takes full command and manages to outshine a few unbelievable sequences that come off as contrived, such as when Churchill rides the Underground and tears up after talking to the "common folk" about guiding England's future against the Nazi threat. Scenes like that keep "Darkest Hour" from being a great movie, but as flawed as it occasionally is, the picture does boast a truly commendable performance from Oldman that's well worth seeing.
Universal's combo pack is out February 27th featuring a very strong 1080p (1.85) Blu-Ray transfer with Dolby Atmos audio. Extras include two featurettes and a commentary from Wright, plus a Digital HD copy and DVD.
THE STAR Blu-Ray/DVD (86 mins., 2017, PG; Sony): Amiable, good-hearted animated film tells the story of Christmas through the eyes of the stable animals who come to be involved with the birth of Jesus. That means plenty of colorful but inoffensive humor with ample star voices (Keegan-Michael Key, Anthony Anderson, Kelly Clarkson, Kristin Chenoweth, Christopher Plummer, Oprah Winfrey, Tyler Perry, Tracy Morgan) supporting a feel-good film co-produced by Sony and Jim Henson Productions that's unafraid to display its faith elements. Best enjoyed by young kids, "The Star" performed modestly at the box-office last holiday season and should find a wider audience on video. Sony's Blu-Ray/DVD combo pack, out this week, offers an attractive 1080p (1.85) AVC encoded transfer with 5.1 DTS MA sound and a Digital copy, plus sing-along elements and videos by Mariah Carey, Fifth Harmony and others.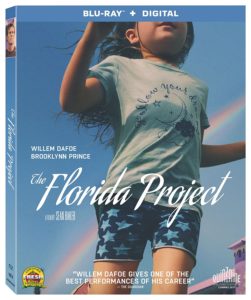 Lionsgate New Releases: Hailed in some quarters as one of the top films of 2017, Sean Baker's THE FLORIDA PROJECT (111 mins., 2017, R) is a laudable attempt to capture the difficult lives of characters living on the edge at the same time their children live out a life of relative innocence, dreaming of Disney World but mostly shackled to their fleabag Orlando motel. Willem Dafoe's performance as the motel's manager is superb, as is the work of young Brooklyn Kimberly Prince as the six-year-old "Moonie," in a mostly plotless and simultaneously joyful/depressing film that's nevertheless well-directed and effective for what it's trying to do. Not for every taste, Lionsgate brings "The Florida Project" to Blu-Ray in a 1080p (2.40) transfer with 5.1 DTS MA sound, a Digital HD copy, deleted scenes/outtakes, cast interviews and a featurette.
20 or 30 years ago, would you have expected Al Pacino to be leading the way in run-of-the-mill, direct-to-home video fare? Alas, we've reached that stage with Lionsgate's release of HANGMAN (99 mins., 2017, R), a mediocre whoduneit following Pacino's grizzled detective as he tracks down a serial killer using the kids' game of hangman as his blueprint. If you think Pacino is slumming, so too are Karl Urban (a criminal profiler) and Brittany Snow (intrepid journalist) as part of a cast that deserved better than Johnny Martin's mundane procedural gives them. Lionsgate's Blu-Ray is out next week featuring two featurettes, a 1080p (2.40) AVC encoded transfer, 5.1 DTS MA sound and a Digital HD copy…Available February 27th on DVD is Season 1 of the new MacGYVER (15 hours, 2017), CBS' revival of the Richard Dean Anderson chestnut that stars Lucas Till as a young, inexperienced Angus "Mac" MacGyver. Much like his '80s counterpart, Mac utilizes an endless amount of gadgets in saving the day, while his rag-tag team (George Eads, Tristin Mays, Justin Hires) offers as much support as possible. "MacGyver" seems to be generally well-liked by fans though what I sampled from the series seemed to fall in the realm of most bland CBS prime-time programming fare. As they say, "YMMV" when Lionsgate releases the series on DVD next week boasting 16:9 transfers and 5.1 soundtracks.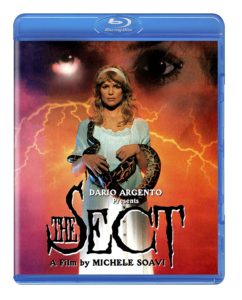 THE SECT Blu-Ray (117 mins., 1991, Not Rated; Scorpion Releasing): Michele Soavi's 1991 supernatural chiller puts Kelly Leigh Curtis (yes, Jamie's sister) through her family's "scream queen" paces, here as an American schoolteacher working in Germany. When she hits a seemingly benign elderly man (Herbert Lom), she unwittingly starts off a chain of events that prove the incident was no accident – and that Lom wants Curtis as part of a diabolical satanic plot. Dario Argento produced this Italian horror outing, which is stylishly directed by Soavi with some disturbingly effective dream sequences on tap and a Pino Donaggio score adding to the entertainment. As with most Italian horrors, the film's an acquired taste but it's better than average for what it is. Scorpion's restored Blu-Ray is out February 27th, featuring a new 2K scan from the original negative, an exclusive interview with co-star Tomas Arana, an interview with Soavi and stereo audio.
THE GIRL WITHOUT HANDS Blu-Ray Combo Pack (76 mins., 2016, Not Rated; GKids/Shout Factory): Dazzling animation by Sebastian Laudenbach makes for an offbeat, visually spellbinding rendition of a Brothers Grimm tale, wherein a girl is sold by her greedy father to the Devil – in exchange, he removes her hands, though her journey to redemption and goodness cannot, eventually, be denied. This French production is marked by handdawn animation that renders its characters effectively against backgrounds more suggestive than anything else – the result is strange and dream-like, effectively sustaining its 76-minute run time. GKids' Blu-Ray is out February 20th featuring a Making Of, Laudenbach's short films and an interview with the director, plus a 1080p (1.85) transfer, 5.1 DTS MA French audio with English subtitles, and a DVD copy…Coming March 13th from Gkids/Shout Factory is BIRDBOY: THE FORGOTTEN CHILDREN (76 mins., 2016), an offbeat tale of a mouse named Dinky who tries to get off an island in a post-apocalyptic world inhabited by demonic monsters – all with the help of pal "Birdboy," who's ostracized himself from their nightmarish world. An interesting stylistic effort from director Alberto Vazquez, "Birdboy" includes a 1080p transfer, 5.1 DTS MA sound in either English or Spanish, the original "Birdboy" short, interview from the filmmakers, the trailer, and Vasquez's short "Decorado."
RESOLUTION SONG DVD (88 mins., 2017, Not Rated; Sony): Antonio James' picture stars Lester Speight as a teenager who falls for his next door neighbor, reopening a flood of old grief and pain in the process. Suitable for the whole family and offering a nice, warm story, "Resolution Song" is now on DVD featuring a 16:9 transfer and 5.1 Dolby Digital sound.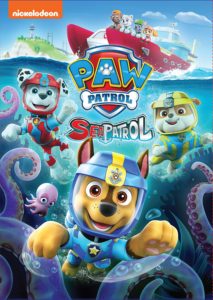 PAW PATROL: SEA PATROL DVD (95 mins., 2017; Nickelodeon/Paramount): Young fans of the hit Nickelodeon series (our three year old is not yet one of them – notice I said "yet") should be pleased with Nickelodeon's latest DVD anthology of episodes, due out March 6th. The DVD includes Pups Save a Baby Octopus; Pups Save a Shark; Pups Save the Pier; Pirate Pups to the Rescue; Pups Save a Frozen Flounder; and Pups Save a Narwhal, each in 16:9 widescreen with 5.1 Dolby Digital sound.
PBS New Releases: The Nova special DAY THE DINOSAURS DIED (60 mins., 2017) provides a solid, hour-long primer on the cataclysmic event that wiped out most life on Earth 66 million years ago – an asteroid that ended the time of the dinosaurs. A worldwide search from New Jersey to Patagonia seeks to provide the definitive answer as to the dinos' extinction, which is profiled in a well-rounded documentary coming to DVD on March 20th from PBS featuring a 16:9 transfer and 2.0 stereo sound…the fascinating life and art of Guangzhou-born, American artist Tyrus Wong are profiled in TYRUS (80 mins., 2017), a superb documentary from Pamela Tom that chronicles the Hollywood sketch artist whose work on "Bambi" and countless other classics was augmented by his drawing on everything from Hallmark Christmas cards to WPA paintings. Tyrus' battles with poverty and racism are also a part of this excellent piece, which was completed shortly after his passing in 2016, at the age of 106! PBS' disc is now available featuring stereo sound and a 16:9 transfer plus additional supplemental material…Season 5 of MOVEABLE FEAST WITH FINE COOKING (4 hours, 2018) is available March 6th from PBS. The double-disc set is co-hosted this time around by chefs Pete Evans and Curtis Stone, plus guest chef Michelle Bernstein, as the group travel the world from Dijon and Turin to San Luis Obispo, serving up regional cuisine and offering suggestions on how viewers at home can reproduce their efforts.
Film Movement New Releases: Coming March 6th from Film Movement is the French import THE PARIS OPERA (111 mins., 2018), a highly entertaining documentary from director Jean-Stephane Bron that looks behind-the-scenes at the world's greatest cultural institution at matters both big and small. Commentary and an interview with Bron are included plus Clement Cogitore's short "Les Indes Galantes," with Film Movement's DVD also boasting a 16:9 transfer with 5.1 and 2.0 French sound (English subtitles).
NEXT TIME: Twilight Time and Arrow new releases roll in. Until then, don't forget to drop in on the official Aisle Seat Message Boards and direct any emails to our email address. Cheers everyone!