The writers of "Unforgiven" and "The Fugitive." The director of "Rambo: First Blood Part II." A cast comprised of Peter Weller, Richard Crenna and Hector Elizondo. Music by Jerry Goldsmith. Cinematography from Oscar-nominee Alex Thomson. Creature design by Stan Winston. Add it all up and what do you get? The laughably bad 1989 MGM turkey LEVIATHAN (*½, 98 mins., R), which surfaces from the depths as a Shout Factory Blu-Ray just in time to bid adieu to the summer of 2014.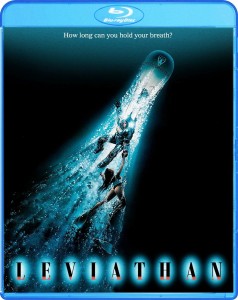 One of three big-studio underwater movies to hit theaters in 1989, "Leviathan" was second out of the gate, following producer Sean S. Cunningham's not-bad winter release "Deepstar Six," and prior to James Cameron's big-budget fantasy "The Abyss." A straight-ahead monster movie, "Leviathan" is a shameless pastiche of "The Thing" and "Alien," following a group of deep-sea miners – including Weller, Elizondo, Daniel Stern, Ernie Hudson and Amanda Pays – who talk like truck drivers (sound familiar?), are comprised of men and a pair of women (getting warmer?), and who encounter an unknown terror that slithers its way onboard, just in time to infect the crew before they reach the surface. Gooey special effects lifted (borrowed?) from Rob Bottin's work on John Carpenter's 1982 favorite and Ridley Scott's 1979 classic are bottom of the barrel for Stan Winston's studio, with a final creature that – in Hudson's own words – resembles a chicken that ends up being blown apart by Weller in unquestionably the picture's highlight.
"Leviathan" had so many talented artists involved in its production – including Ron Cobb's conceptual design – that it's truly surprising the finished product is so utterly limp. The script doesn't have an ounce of originality, with stock characterizations giving the actors little to work with. You never care about the characters or their predicament, and most of the film is dull as George P. Cosmatos – not exactly instilling the picture with the crackling pace of "Rambo II" – does little but move from one clunky monster or gore effect to the next while upping the body count.
Visually, at least, the film is polished courtesy of Thomson's sleek scope lensing, and Goldsmith's score is solid as well given the picture's limited dramatic component (his end title is especially nice), yet even as bad genre films go, "Leviathan" fails to make the grade. Outside of its satisfying final 10 minutes, the movie is tedious and unappealing – and I would go so far as to rank it as one of the genre's biggest disappointments of the 1980s considering the talent who worked on it.
For fans of the movie and hardcore sci-fi/horror buffs, Shout has produced a terrific Blu-Ray for "Leviathan," highlighted by a 40-minute interview with members of Winston's production team, including Alec Gillis and Tom Woodruff, Jr. The talk is lively and fun, with the participants more or less admitting to the creature's shortcomings and working with the larger-than-life Cosmatos. Ernie Hudson and Hector Elizondo also contribute some entertaining comments in separate interview sessions conducted specifically for Shout's release, with Elizondo detailing Stern's general anger on the set and Hudson skirting around Cosmatos' politically uncorrect behavior. The trailer is also on-hand, with a good looking 1080p (2.35) AVC encoded transfer and matching 5.1/2.0 DTS MA soundtracks on the technical side. Similar to Shout's recent Blu-Ray of "Raise the Titanic," the 5.1 mix runs a little "hot" with too much bass, making the 2.0 stereo track the preferred choice.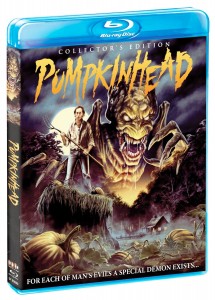 According to the interview with Winston's team, the effects artist likely vetoed working on Cameron's "The Abyss" – and selected "Leviathan" instead – in order to prep his directorial debut on PUMPKINHEAD (**½, 86 mins., 1988, R). This barely-released 1988 United Artists "backwoods horror" vehicle stars Lance Henriksen as a sheriff who attempts to exact revenge for the death of his son by raising a mystical creature. Soon the creepy Pumpkinhead stalks the teens (including former young Clark Kent, Jeff East), whose carousing accidentally claimed the life of Henriksen's kid, in an atmospheric (kudos to cinematographer Bojan Bazelli) tale that's short on compelling characters.
"Pumpkinhead" is a fairly minor movie but it does offer a marvelous creature designed by the late F/X guru, and primarily for that reason alone, has generated a small cult following (as well as a number of poor small-screen sequels). Shout's Blu-Ray pays tribute to Winston's creation with a features-packed supplemental section – a mix of new and previously-released goodies from MGM's prior DVD Special Edition. Commentary from creature creators Tom Woodruff, Jr and Alec Gillis and screenwriter Gary Gerani is reprised from the latter, along with several featurettes recounting the production and behind-the-scenes footage, plus the trailer. New to the disc are recent interviews with Lance Henriksen, Brian Bremer, producer Richard Weinman, actor John Di'Aquino, plus members of Winston's special effects team including Gillis, Woodruff and Shannon Shea. As with their "Leviathan" comments, the group offers an engaging talk on the production and the creation of Winston's monster. The 1080p (1.85) transfer is excellent with 2.0 DTS MA stereo audio – boasting a fine Richard Stone score – rounding things out.
Three other genre cult faves receive the deluxe treatment this month from Shout: WITHOUT WARNING (**, 89 mins., 1980, R) is another "rural" horror offering, boasting a premise that somewhat resembles "Predator" (alien camps out for the weekend terrorizing locals). Jack Palance and Martin Landau topline Greydon Clark's low-budget indie affair, which offered a chance for upstarts Dean Cundey (cinematography) and Greg Cannom (make-up effects) to hone their craft, while letting its veteran leads generate a few unintentional yucks with bombastic performances. MGM produced a spiffy new HD master of the film a couple of years ago, and that 1080p (1.85) transfer has been carried over to Shout's BD package. Also on-hand: commentary from Clark, interviews with Cundey, Cannom, actor Chris Nelson, co-writer Daniel Grodnick, plus the trailer and DTS MA mono audio.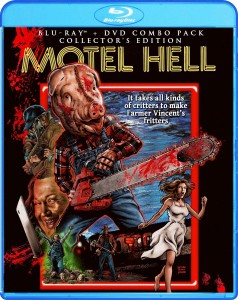 MOTEL HELL (**½, 101 mins., 1980, R) stars Rory Calhoun as the proprietor of a roadside motel that serves up a special kind of "secret sauce" in writers Robert and Steven-Charles Jaffe's black comic thriller. Though its mix of horror and comedy was unique for the late '70s and early '80s, some of the novelty in "Motel Hell" has worn off over the years. The film is certainly still amusing but doesn't offer a lot of surprises – these days, it's more of a nostalgia trip for the aficionados of the era than anything else. A new commentary with director Kevin Connor is included here along with fresh interviews with Connor, the Jaffes and actor Marc Silver. There are also supplements carried over from Arrow's UK release including a retrospective on Ida Smith's frightful protagonist, conversations with actors Paul Linke and Rosanna Katon, plus the trailer, a 1080p (1.85) transfer and DTS MA 2.0 soundtrack.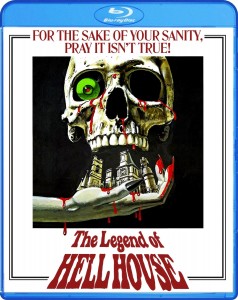 Saving the best for last, THE LEGEND OF HELL HOUSE (***, 95 mins., 1973) has a similar set-up to Robert Wise's "The Haunting" but has been criminally overlooked over the years in comparison with its better-known predecessor. In Richard Matheson's adaptation of his novel "Hell House," a team of investigators is hired to show evidence of life after death in an abandoned mansion that was home to a nutcase entrepreneur with an interest in the demonic. A nubile Pamela Franklin and Roddy McDowall (a terrific performance that ranks with his best) are the mediums representing the parapsychological side; Clive Revill and wife Gayle Hunnicutt are the more scientifically-driven in director John Hough's taut, compelling haunted house chiller that's let down only by a poky electronic score by Brian Hodgson and Delia Derbyshire. Shout's 1080p transfer (1.85) is derived from the Fox vaults and shows more detail than its earlier DVD and laser releases, though the image still seems a bit faded with bland, orange fleshtones. The mono DTS MA audio is fairly basic, with extras including a lengthy new talk with Hough, an intermittent audio commentary with Franklin, and the original trailer.
For TV on DVD releases, Gabe Kaplan's seminal '70s sitcom WELCOME BACK, KOTTER also makes its long-overdue Complete Series set with Shout's release of the smash ABC sitcom's entire run on DVD next week. Until now, fans have had to live with only a DVD of the series' inaugural 1975-76 season to date, and that package (from Warner Home Video) was released way back in 2007.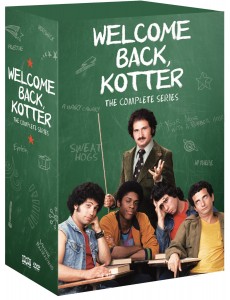 This James Komack-produced program was one of the most memorable of all situation comedies that aired in a decade filled with unforgettable series, thanks mainly to the fact that it's actually funny. Kaplan's dry delivery as a teacher and former "Sweathog" from Brooklyn who returns to his school to instruct the new generation of kids pegged as under-achievers (led by Vinnie Barbarino himself, John Travolta) forms the centerpiece of the show, while the chemistry between the cast and the quality of the writing keeps the material fresh and amusing even today.
Having grown up on the series via re-runs in the '80s, it's gratifying to see "Kotter" finally on DVD in an excellent package from Shout. The box offers all four seasons of the series, three of which debut on disc here – these include the inferior final year of the show, where Kaplan is seen only sporadically (due to behind the scenes bickering and contract issues) and Travolta pops up as a "Special Guest Star" for a few episodes. Since the series was videotaped, these 4:3 transfers are as good as the series can look, and two extra features are on-hand: a 23-minute retrospective offering interviews with Kaplan, co-stars Ron Palillo, Marcia Strassman, Lawrence Hilton-Jacobs and Robert Hegyes, plus screen tests of the stars.
Season 4 of NEWHART (8 hours, 1985-86) finds the Bob Newhart CBS sitcom in its prime. Here, Bob splits his time between the Stratford Inn and as host of "Vermont Today," with Joanna, George, Stephanie and Michael, and "Larry, Darryl & Darryl" offering their share of support and/or comedic hyjinks. All 24 episodes have been included here in 4:3 transfers with mono audio on three DVDs…THE MEN FROM SHILOH (1829 mins.) is also the final season of the long-running western "The Virginian," set 10 years after the program's prior season concluded. James Drury and company return in this full-color goodbye to their characters, which Shout has released in a remastered set with all 24 episodes having been fully restored. Extras include interviews with Drury, L.Q. Jones, Roberta Shore and L.Q. Jones.
---
While it's hopefully not the end of an era, it's entirely possible Warner's LOONEY TUNES: PLATINUM COLLETION VOLUME 3 will be, if nothing else, the final retail Blu-Ray anthology of classic Looney Tunes and Merrie Melodies shorts.
Slimmed down to two discs (its predecessors offered three platters), this assortment of 50 mostly-great WB cartoons is primarily comprised of material culled from the prior DVD "Golden Collection" releases.
On-hand here are the Bugs Bunny shorts Hiawatha's Rabbit Hunt; A Corny Concerto; Falling Hare; Little Red Riding Rabbit; Hair-Raising Hare; Acrobatty Bunny; Big Snooze; A Hare Grows in Manhattan; Easter Yeggs; Slick Hare; Gorilla My Dreams; High Driving Hare; Hillbilly Hare; Bunny Hugged; Operation: Rabbit; Bully For Bugs; Knighty Knight Bugs; and Honey's Money (a Yosemite Sam cartoon making its home video debut). Also included on Disc 1 are the first Looney Tunes color short, "The Hep Cat"; "Pigs in a Polka," "Ham in a Role," "Dog Gone South," "A Bear For Punishment," and "Steal Wool." Disc 2 spotlights Daffy Duck in war-time cartoons "Scrap Happy Daffy," "Plane Daffy" and "Daftree Daffy," as well as "The Stupid Cupid," "Nasty Quacks," and "The Stupor Salesman." Porky Pig stars in "Porky Pig's Feat," "Wholly Smoke," and "Swooner Crooner," with ample Sylvester & Tweety fun represented by "Life with Feathers" (first time on DVD), "Canary Row," "Tree For Two," "Sandy Claws," "Dog Pounded," "Satan's Waitin'," "Birds Anonymous," "Mouse and Garden," "The Pied Piper of Guadalupe" and "A Gruesome Twosome." There are just a pair of Road Runner shorts ("Guided Muscle" and "Beep Prepared"), with a solo Foghorn Leghorn 'toon ("Walky Talky Hawky,") and a trio of delightful musical shorts – "Rhapsody in Rivets" and Chuck Jones' "High Note" and "Nelly's Folly" – that cap the release.
There are commentaries on half of the shorts from the likes of historians Jerry Beck and Daniel Goldmark, a few isolated music/effects tracks, and a number of documentaries, including "Mel Blanc: The Man of a Thousand Voices" and a CBS '70s special, "The Boys From Termite Terrace," which profiles Chuck Jones, Friz Freleng, Bob Clampett, Mel Blanc and more of the geniuses who created these timeless shorts. The 1080p AVC encoded transfers display more detail than their DVD counterparts – especially if you have a larger set – though the audio is standard 2.0 Dolby Digital. Here's hoping more releases in the series will follow – even if they end up originating from the Warner Archive.
Speaking of which, the Archive's August releases are highlighted by a trio of short-lived sci-fi/fantasy TV series.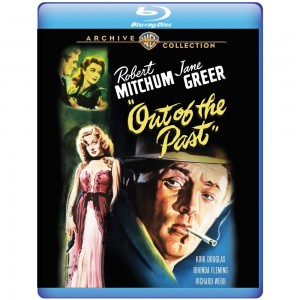 BEYOND WESTWORLD premiered March 5th, 1980 on CBS. Two weeks later the series was axed even with episodes left in the can that never aired. That's no surprise when you see this pedestrian mid-season replacement, which follows the action in "Westworld" and "Futureworld" with the automatons from the Delos Company sent out to cause trouble in the real world after being reprogrammed by a psychotic computer genius. One of "Quincy"'s producers – Lou Shaw – was partially responsible for this uninspired affair, whose lasting legacy was launching the career of Connie Selleca – future "Greatest American Hero" heroine and Mrs. John Tesh. Warner's Archive release contains all five episodes in full-screen transfers and mono sound.
Much more festive, though only somewhat more successful, was WIZARDS AND WARRIORS (387 mins., 1983), another CBS mid-season replacement series that attempted to parlay the success of "Excalibur," "Time Bandits" and other early '80s fantasies onto the small screen. With a robust sense of humor, "Wizards and Warriors" follows Jeff Conaway as good Prince Erik, who alongside sidekick Marko (Walter Olkewicz), takes on the dastardly Prince Dirk Blackpool (Duncan Regehr) in a silly but entertaining show that offered the same kind of fun as "Bring 'Em Back Alive" – another CBS series with Bruce Boxleitner that aired around the same time. It's also particularly amusing to see future "Newhart" cohort Julia Duffy on-hand here played a real princess instead of the pampered princess Stefanie she would memorably essay on that long-running CBS sitcom. Warner's Archive boasts the entire eight-episode run of the series on two discs in 4:3 transfers and mono soundtracks.
A more recent genre misfire, ALMOST HUMAN (558 mins., 2014), stars current Dr. McCoy, Karl Urban, as a detective who's paired with an artificial intelligence for a partner in a formulaic, futuristic police procedural co-starring Lili Taylor and co-produced by J.J. Abrams and his "Fringe" staff. Warner's DVD includes all 13 episodes in 16:9 (1.78) transfers with 5.1 Dolby Digital sound. Extras include unaired scenes, a gag reel, and 2013 Comic Con Panel footage.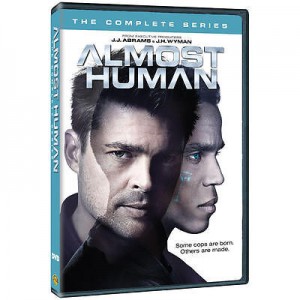 Also newly available from the Archive: OUT OF THE PAST (***½, 97 mins., 1947) is one of the great film noirs, starring Robert Mitchum, Kirk Douglas and Jane Greer in what's justifiably viewed as a genre hallmark. Warner's Blu-Ray release of the cracking good RKO release is one of the year's most exciting catalog titles, boasting a crisp and efficient 1080p AVC encode that looks dazzling, far more detailed than I recall the film being on its last DVD release. Extras are limited to James Ursini's commentary from that disc, but all Golden Age buffs and film noir aficionados ought to rejoice over the quality of the presentation alone…One of the more popular literary characters around the turn of the century, RAFFLES the gentlemanly thief didn't entirely reach the same level of notoriety on-screen. Samuel Goldwyn tried twice to launch the character as a cinematic franchise, first in 1930 with Ronald Colman, then again in 1939 with a strapping David Niven in the lead. Both titles have been included in a Warner Archive double-feature DVD. Niven also stars with Teresa Wright inENCHANTMENT (101 mins., 1948), a romantic fantasy reissued by the Archives on DVD (a previous MGM release has been out of print for some time).
BRONCO (1029 mins., 1958-1959) stars Ty Hardin as Bronco Layne, a former Confederate officer who travels the west exacting his own brand of justice. Hardin's Bronco originally filled in for Clint Walker on "Cheyenne" and became a huge hit as he alternated with Will Hutchin's "Sugarfoot." Warner's Archive DVD offers the complete first-season of the series, which retains its references to "Cheyenne" in titles and theme music seeing as it was originally part of the program…Theo James starred in the short-lived CBS series GOLDEN BOY (553 mins., 2013) as a police officer who rises through the ranks after a heroic act. Chi McBride co-stars in Greg Berlanti's cop drama which didn't last long after it debuted last fall. Warner's Complete Series DVD includes 16:9 (1.78) transfers and 5.1 soundtracks…Finally, a number of vintage outings starring '30s box-office draw Joe E. Brown have been released by the Archive, including YOU SAID A MOUTHFUL (70 mins., 1932), a comedy co-starring Ginger Rogers. The Archive's B&W (1.33) transfer and mono sound are as strong as anticipated given the archival nature of the production.
---
BLENDED Blu-Ray Combo Pack (**, 117 mins., 2014, PG-13; Warner): Adam Sandler and Drew Barrymore previously starred in a pair of popular box-office hits: the endearing "The Wedding Singer" (still Sandler's best film for my money) and the less-appealing, though financially more successful, "50 First Dates."
Their third teaming proved to be anything but a charm as "Blended" – one of Sandler's rare starring turns made for a studio outside Columbia Pictures – failed to find much of an audience this May. That said, this isn't a completely unfunny farce, as single parents Sandler and Barrymore – with their respective kids – find themselves unable to separate while on an African safari. Kevin Nealon and Terry Crews provide a few laughs in support of the leads, working again under the directorial supervision of "Wedding Singer"'s Frank Coraci. The real issue, in addition to a mixed array of gags (some of which are too adult for a family comedy), is the bloated running time, which might send anyone other than Sandler die-hards to the remote long before the picture concludes.
Warner's Blu-Ray combo pack boasts a DVD and Ultraviolet copy, a 1080p (1.85) transfer, 5.1 DTS MA audio, and numerous extras including the requisite gag reel, deleted scenes and numerous behind-the-scenes featurettes.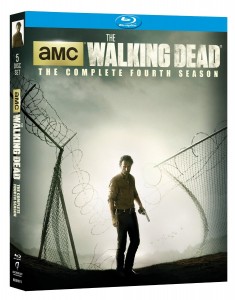 THE WALKING DEAD: Complete Fourth Season Blu-Ray (696 mins., 2013-14; Anchor Bay): Prison becomes a haven for some of the remaining human survivors in this fourth season of the hit AMC series – at least for a while, before zombies and in-fighting inside the walls take their toll on the populace. Anchor Bay's Season 4 Blu-Ray of "The Walking Dead" offers the expected 1080p (1.78) transfers and 5.1 lossless Dolby TrueHD soundtracks, and as with prior releases of the series, ample extras are on-hand that will stimulate fans. These include commentaries on Episodes 1, 5, 9, 12 and 14, as well as extended episodes on 9, 14 and 15 that add footage unused on its original cable broadcast. Deleted scenes are also on-tap in addition to a number of featurettes: "Inside the Walking Dead," "The Making of The Walking Dead," "Drawing Inspiration," "Hershel," "The Governor is Back," "Society, Science & Survival," "Inside KNB FX," and "A Journey Back to Brutality." A digital Ultraviolet copy rounds out the disc.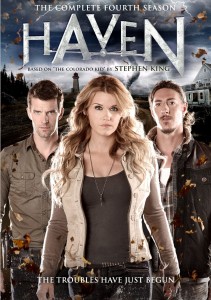 HAVEN: Complete Season 4 Blu-Ray (572 mins., 2013; E One): Emily Rose's Audrey Parker is back, and along with local Haven, Maine residents Nathan Wuornos (Lucas Bryant) and Duke Crocker (Eric Balfour), attempts to solve a series of mysteries involving the town and their own place within it. Though based on a Stephen King story, this Syfy Channel series is more entertaining than the comparatively more popular CBS series "Under the Dome," anchored by appealing characters and an involving story line – which here wraps up certain threads that have been dangling since its debut season. E One's Blu-Ray is packed with extras: Comic Con highlight panels, three cast interviews, six commentaries, 13 "Inside Haven" featurettes, a deleted scene, blooper reel and plenty more. The 1080p (1.78) transfers and 5.1 DTS MA soundtracks are superb. Also new this week on DVD from E One is REVELATION TRAIL (108 mins., 2013, R), a low-budget horror outing from director John Gibson that – at last – places zombies in the Old West. A handful of extras include commentary, bloopers, outtakes, featurettes and Making Of materials along with a 16:9 (1.78) transfer and 5.1 Dolby Digital sound.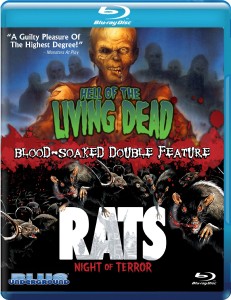 HELL OF THE LIVING DEAD/RATS: NIGHT OF TERROR (99/97 mins., 1980/1984; Blue Underground): Italian horror fans will be sure to get a few kicks out of Blue Underground's appealing double-feature of Bruno Mattei spaghetti chillers. "Hell of the Living Dead" offers a Goblin score and buckets of gore; the story, following a SWAT team that arrives in New Guinea to investigate a rapidly expanding virus, is silly and just serves as a vehicle for the make-up mayhem, which the movie provides in spades. "Rats," meanwhile, is an outrageously funny outing set in a none-too-convincing post-apocalyptic world. Bad movie fans ought to rejoice by seeing this one on Blu-Ray at last, with Blue Underground's disc including trailers, still galleries, an interview with Mattei, and a featurette on "Hell of the Living Dead" with new interviews with co-director Claudio Fragasso and various cast members. The 1080p (1.85) transfers are perfectly acceptable, as are the DTS MA mono soundtracks.
MPI/IFC New Releases: Francois Ozon's YOUNG AND BEAUTIFUL (93 mins., 2013, Not Rated) stars Marine Vacth as a 17-year-old who goes from losing her virginity to becoming a call girl in a most European coming-of-age story. IFC's DVD includes a 16:9 transfer with 5.1 French audio and English subtitles...the German horror flick BLOOD GLACIER (97 mins., 2013, Not Rated) also generates a U.S. domestic release courtesy of MPI and IFC's Midnight label. Marvin Kren's import functions like a gory, overseas riff on Carpenter's "The Thing" (I know, you've heard that before!), and comes to DVD with a 16:9 transfer and 5.1 soundtracks in both German (with English subs) and English (dubbed)...Rebecca Hall and Alan Rickman star in A PROMISE (98 mins., 2014, Not Rated), a period drama from director Patrice Leconte, adapted from the novel "Journey to the Past" by Stefan Zweig. The trailer is the sole extra on IFC's DVD, which contains a 16:9 transfer with 5.1 Dolby Digital sound.
---
CHICAGO FIRE: Season 2 DVD (aprx. 16 hours, 2013-14; Universal)
CHICAGO P.D.: Season 1 DVD (aprx. 12 hours, 2014; Universal): Prolific TV producer Dick Wolf ("Law & Order") continues his run of successful NBC dramas with a pair of moderately popular new series. "Chicago Fire"'s second season continues to portray the everyday lives of Firehouse 51, its firefighters, rescue squad and paramedics – in and out of burning buildings. Universal's Season 2 release includes the digital series "I Am a Firefighter," plus the "Chicago P.D." pilot and crossover episode "8:30PM," as well as a behind-the-scenes featurette. 16:9 transfers and 5.1 Dolby Digital soundtracks are on-tap for all 22 episodes.
"Chicago P.D.," meanwhile, stars Sophia Bush and Jason Beghe in a more traditional police procedural. All 15 episodes of the series – which is coming back on NBC this fall along with its sibling – are included in Universal's DVD with extras including the "Chicago Fire" crossover "A Dark Day" and a bonus "Chicago Fire" episode "Professional Courtesy." 16:9 transfers and 5.1 soundtracks round out the disc, which streets along with "Chicago Fire" on September 2nd.
PORTLANDIA: Season 4 DVD (242 mins., 2014; VSC):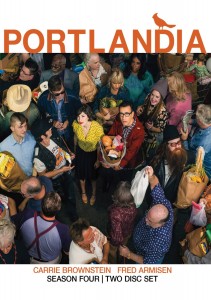 Season 4 of the hit IFC comedy series reunites Fred Armisen and Carrie Bronstein with an impressive array of guest stars (Ed Begley, Jr., Jeff Goldblum, Jason Sudeikis, Gus Van Sant, Kirsten Dunst, k.d. lang, Michael Nesmith, Nick Swardson and Olivia Wilde among others). VSC's DVD includes all 10 episodes from the series in 16:9 transfers and 5.1 soundtracks.
BBC Home Entertainment New Releases: David Haig stars as author Rudyard Kipling with Daniel Craig as his son Jack in the powerful MY BOY JACK (94 mins., 2007), an impressive Irish/BBC co-production co-starring Carey Mulligan and a dressed-down Kim Cattrall in the true, heartbreaking story of Jack Kipling's commission to the Irish guards in WWI. Interviews with Radcliffe, Haig (who also wrote the script), and Cattrall are included along with deleted scenes and featurettes in BBC's new DVD edition, topped with a 16:9 (1.85) transfer and 2.0 stereo audio.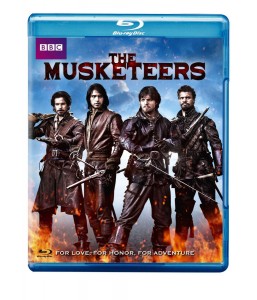 Also newly available in commemoration of WWI are ROYAL COUSINS AT WAR (120 mins., 2014), a two-part mini-series focusing on the three monarchs who presided over European powers at the outbreak of WWI: Tsar Nicolas II of Russia, Kaiser Wilhelm II of Germany and England's King Goerge V. Their respective stories are impressively rendered in this two-hour production, which streets in a few weeks. Now available is CHURCHILL'S FIRST WORLD WAR (93 mins., 2013), starring Adam James in a story of the 39-year-old Churchill enlisting in the British Army following the Battle of Gallipoli. BBC's DVD includes the 93-minute docu-drama in a 16:9 (1.85) transfer with 2.0 stereo sound.
Available this week is THE MUSKETEERS (578 mins., 2014), starring Luke Pasqualino, Tom Burke, Howard Charles and Santiago Cabrera in yet another adaptation of the Dumas novel. This BBC production, which aired domestically on BBC America, offers flavorful period detail, humor and action freely derived from the book. BBC's three-disc Blu-Ray set includes 1080p transfers and 2.0 DTS MA stereo soundtracks. Four featurettes comprise the supplemental end.
Lionsgate New Releases: Tyler Rabine, from the late series "Reaper," tries his hand again at an unconventional genre series in DEADBEAT (220 mins., 2014), playing a medium trying to make good on his paranormal powers by helping less-than-scary ghosts complete their earthly pursuits. Several featurettes and a digital Ultraviolet copy comprise Lionsgate's Season 1 DVD release with 16:9 (1.85) transfers and 5.1 soundtracks. The disc is currently a Target exclusive…75 YEARS OF WWII (5 hours, 2008-14) is a two-disc History Channel commemorative package including the new two-part mini-series "D-Day in HD" along with "Bloody Santa Cruz," "Enterprise Versus Japan" and "Ultimate WWII Weapons" documentaries on its second disc. 16:9 transfers and 2.0 stereo soundtrack round out the technical specs…RIVER OF SKULLS (100 mins., 2013, R) stars Kelly Nixon in a low-budget western as a girl who takes arms with an outlaw seeking his father during the Gold Rush. Lionsgate's DVD includes a Making Of, trailers, digital UV copy and a 16:9 (1.78) transfer with 5.1 Dolby Digital sound.
TWO: THE STORY OF ROMAN & NYRO DVD (70 mins., 2013; Virgil Films): Moving documentary about the journey of songwriter/record producer Desmond Child and partner Curtis Shaw, and their relationship with the woman who carried their twin sons. A nice and positive story from director Heather Winters brought to DVD by Virgil on September 2nd. The disc includes a number of outtakes, extended interviews and music videos, plus a 16:9 transfer and 5.1 soundtrack.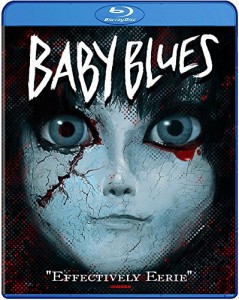 From Well Go: The creepy Hong Kong import BABY BLUES (92 mins., 2013) profiles a woman who loses one of her twin babies at birth, and is subsequently stalked by a freaky doll while suffering postpartum depression. Weird stuff and decidedly more effective than some of the recent HK genre offerings I've seen, Well Go brings "Baby Blues" to Blu-Ray September 2nd in a 1080p transfer with 5.1 DTS MA audio in Cantonese with English subtitles…Coming September 9th is VICTIM (86 mins., 2012), a British thriller about an East Londoner who takes of his sister by day and robs the wealthy at night. His ways are challenged by his sister's teacher (David Harewood) and a girl "from the other side of the tracks" (Ashley Madekwe from "Salem" and "Revenge"). Well Go's Blu-Ray includes a 1080p transfer and 5.1 DTS MA soundtrack.
Cinedigm New Releases: The popular Playstation game HEAVENLY SWORD (85 mins., 2014) becomes a fairly pedestrian animated movie in this straightforwardly-rendered feature, one that nearly resembles a group of the game's cut scenes strung together. Cinedigm releases "Heavenly Sword" on Blu-Ray next week with a 1080p transfer, 5.1 DTS MA soundtrack and a Making Of featurette.
REGULAR SHOW: RIGBY PACK DVD (176 mins., Warner): Streeting September 9th, "Rigby Pack" includes 16 episodes from the successful Cartoon Network series: Bank Shot, Don, Fortune Cookie, Rigby in the Sky with Burrito, Return of Mordecai and the Rigbys, Wall Buddy, Survival Skills, One Pull Up, Temp Check, Trash Boat, A Bunch of Full Grown Geese, Journey to the Bottom of the Crash Pit, The Heart of a Stuntman, Fool Me Twice, Sandwich of Death and Rigby's Body, all in 16:9 (1.78) transfers with stereo sound.
NEXT TIME: More of the latest reviews! Until then, don't forget to drop in on the official Aisle Seat Message Boards and direct any emails to our email address. Cheers everyone!