Overstuffed with villains, bombastic action and quite possibly one of the most obnoxious music scores ever written for the genre, THE AMAZING SPIDER-MAN 2 (**, 141 mins., 2014, PG-13; Sony) spins a web of mediocrity that might test the patience of even the most ardent fan of Your Friendly Neighborhood Webslinger.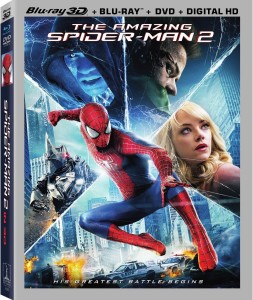 Andrew Garfield returns as Peter Parker, whose Spider-Man is now a mainstay in New York City, performing everyday chores like nailing bank robbers, saving would-be victims from spectacular accidents, and doing it all with his trademark humorous quips. Peter's still romantically involved with Gwen Stacey (Emma Stone), though he's haunted by the death of her police captain dad (Denis Leary, who reappears in ghostly form) and the advice that he should leave Gwen alone, lest her become involved in his daily super-hero activity. Things, though, go downhill quickly for our protagonists once an Oscorp janitor (Jamie Foxx) is electro-fied into super-villain Electro and Peter's pal Harry Osborn (Dane DeHaan) takes injections that turn him into the Green Goblin – thereby creating a pair of villains who want nothing more than to take down Spidey.
Director Marc Webb's odd 2012 "Amazing Spider-Man" wasn't widely embraced to begin with, though the picture had some good elements in it – namely, the appealing relationship between Peter and Gwen, and a fine James Horner score. "Amazing Spider-Man 2″ gives us a little bit of the former while dispensing completely with the latter, offering instead a blaring Hans Zimmer score augmented by his so-called "Magnificent Six featuring Pharrell Williams and Johnny Marr," which results in an almost comical collage of "Electro whispers" when Foxx's transformation takes hold. For the rest of the score, the music is non-stop and lacks any semblance of musical structure. It's the modern equivalent of Mickey Mouse underscoring, so incessant that it actually undermines the already-chaotic nature of the film.
One would have anticipated that this sequel Sony had so much riding on would've cleaned up some of its predecessor's shortcomings and been a more coherent, polished product. Instead, ASM2 is even more bloated and schizophrenic, bearing both the creative stamp of its director (scenes involving Parker and Osborn have a handheld "indie" type of feel similar to Webb's hit "(500) Days of Summer') and its writing/producing tandem of Roberto Orci and Alex Kurtzman. The latter throw in elaborate action sequences into the middle of the story, seemingly for no reason other than keeping ADD-riddled children occupied. Subsequently, the pacing feels like one of their "Transformers" pictures, while the digital effects work is often so cartoony that it clashes with the "real world" New York that Webb more distinctively designed in his prior outing.
Garfield seems more relaxed here, at least, and Stone – his real-life girlfriend – generates a good amount of chemistry with him. Alas, their scenes are surrounded by material that's often bombastic and dumb, starting with Foxx's initially comic janitor who becomes a glowing blue, feasting off the city's electricity and turning all mean and nasty – a simplistic bad-guy missing the "sympathetic antagonist" element that Sam Raimi's Spidey villains often possessed. DeHaan's villainy is more believably rendered, though he suffers from immediate comparisons to James Franco's interpretation of Harry – like the first ASM, this material feels too well-worn and still fresh in the mind to work effectively. Through it all, there's just no sense of cohesion to the picture, while the film runs on and on – with Zimmer's grating music punctuating every moment with the subtlety of a sledgehammer – for nearly 2½ hours.
It's no surprise that, despite its $700 million worldwide gross, Sony has pushed back the third installment in the series to 2018, hoping to rehabilitate the franchise in the interim with a planned "Sinister Six" movie and an untitled "female super-hero" picture instead. While that plan might seem to be a prudent course of action, I'm not sure a film focusing entirely on Jamie Foxx's Electro and Paul Giamatti's The Rhino (seen briefly here) is going to be the antidote to fixing this ill-conceived "reboot" of Marvel's most popular hero.
Sony's 3D Blu-Ray combo pack of "Amazing Spider-Man 2″ arrives in stores August 19th. The 1080p MVC encoded 3D transfer is exceptionally good, layered with depth-of-field effects and a clear, virtually "ghost"-free visual pallet. The 1080p AVC encoded 2D transfer is also excellent, with extras including commentary, four deleted scenes, a music video, and over 100 minutes of behind-the-scenes featurettes. There are also nine additional deleted sequences exclusive to the Blu-Ray, including a meaty, five-minute "Peter Meets His Father" excised bit that gives Campbell Scott more to do in the film's concluding moments. Regrettably, none of Shailene Woodley's much-discussed excised scenes as Mary Jane are on-hand, though the producers ultimately did the actress a favor by keeping her out of this summer-time turkey.
---
Fritz Lang's visually impressive MAN HUNT (***, 102 mins., 1941) kicks off Twilight Time's August releases with a bang.
Lang and screenwriter Dudley Nichols adapted Geoffrey Household's novel "Rogue Male" for this 20th Century Fox production, which stars Walter Pidgeon as Alan Thorndike, a British big game hunter captured by the Nazis after having Hitler set in his sights. Pidgeon's Alan Thorndike is subsequently tortured – disturbingly so, just off-camera – but improbably manages to escape from his Nazi captors on a ship bound for England, where he's aided by Roddy McDowall's young cabin boy. Back in Britain, Thorndike finds that he's still a wanted man, pursued ruthlessly by Gestapo agents like John Carradine and George Sanders as Thorndike's equivalent hunter on the German side. Once again, Thorndike manages to get help from an unexpected ally – a floozy played by Joan Bennett who's really a prostitute but isn't referred to as such. Her unrefined ways mask a beating heart that pines for Thorndike, though their relationship is never consummated as the noose begins to tighten around our hero even in his home country.
Released just before the attack on Pearl Harbor, "Man Hunt" makes scant attempt to cover its disgust for Hitler and the Nazis – something that was rare for an American studio film produced during a period in which "Neutrality Acts" were supposed to curtail such criticism in Hollywood productions. By the time a Congressional investigation was supposed to be launched into the film, the U.S. was unexpectedly drawn into the global conflict and "Man Hunt" managed to escape further punishment for its unavowed, effective propaganda, which climaxes in a patriotic push for fighting the German forces.
It's an exciting film with some dry stretches, starting off on the slow side with lengthy interplay between Thorndike and Sanders' Quive-Smith, before picking up with Thorndike's escape through German swamps and subsequent passage out of the country on a British vessel. There's a rightfully celebrated chase sequence with Carradine tailing our hero through the London Underground, which is surrounded by somewhat drawn-out bits between Thorndike and Bennett's Jerry Stokes. Bennett certainly looks the part, but her faux accent comes off as silly in what's ultimately the film's weakest element.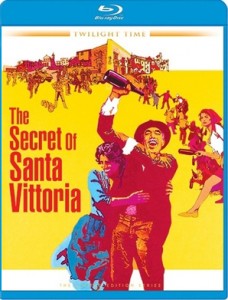 Certainly worth a view for Lang aficionados, "Man Hunt" makes an impressive debut on Blu-Ray. The 1080p (1.33) AVC encoded transfer is derived from what was reportedly a fairly recent restoration – it's no surprise, then, that the image is crisp and attractive, with deep blacks and little use of DNR on display. Extras include an isolated score track of Alfred Newman's musical contribution (which makes extensive use of the standard "A Nightingale Sang in Berkeley Square"), commentary with author Patrick McGilligan, the trailer, and a featurette from the film's prior DVD edition.
Stanley Kramer's 1969 film, THE SECRET OF SANTA VITTORIA (***, 140 mins., 1969, PG-13), sports a larger-than-life performance from Anthony Quinn, playing the larger-than-life mayor of a small Italian village during WWII that attempts to conceal their large stash of wine from treacherous nazis, including commander Hardy Kruger. William Rose and Ben Maddow adapted Robert Crichton's novel for this overlong work which is alternately charming and melodramatic in places, but also feels somewhat uneven in tone, as if the freedom filmmakers had with the new ratings system in the late '60s made an impact on Kramer (indeed, the film was recently re-rated PG-13 by modern standards for some language and mild sexual content).
It results in a film that's a bit more "adult" than the old-fashioned fare you may anticipate it being, with strong performances and marvelous scope cinematography from Giuseppe Rotunno adding the icing to the cake. Twilight Time's Blu-Ray offers a solid 1080p AVC (2.35) encoded transfer licensed from MGM, with the original mono soundtrack encoded in DTS MA 1.0, sporting a fine score by Ernest Gold that's also isolated on a separate mix.
Before Gary Busey himself became a long-running joke, the actor burst upon the scene with an Oscar nominated performance in the 1978 bio-pic THE BUDDY HOLLY STORY (***½, 113 mins., PG). This straight-ahead look at the Texas rock 'n roll pioneer and his rise to national popularity thanks to hits like "That'll Be the Day," "Peggy Sue," and "Maybe Baby" is filled with solid recreations of his songs, performed by the actors – at times live – which gives the film a raw energy.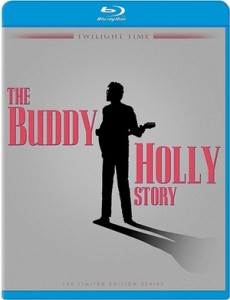 Joe Renzetti adapted the music (and copped an Oscar for his efforts), Steve Rash directed and Robert Gittler's script manages to tell Holly's story in a no-nonsense, believable manner with Don Stroud and Charles Martin Smith co-starring as members of "The Crickets." Sony's 1080p (1.85) AVC encoded transfer, licensed exclusively to Twilight Time, appears natural and properly detailed; the 5.1 DTS MA stereo audio is effectively mixed with extras including an isolated score track, the trailer, and a commentary ported over from the DVD with Rash and Busey.
2 BY KEN LOACH includes a pair of films from English filmmaker Ken Loach: RIFF-RAFF (96 mins., 1991)starring Emer McCourt, Robert Carlyle and Ricky Tomlinson, and RAINING STONES (91 mins., 1993), a Cannes Jury Prize winner, starring Bruce Jones as a man who will do anything to buy his daughter's First Communion dress. Ricky Tomlinson and Julie Brown co-star, with both movies presented in 1080p transfers (1.33 on "Riff-Raff," 1.66 on "Raining Stones") with DTS MA audio (1.0 on "Riff-Raff," 2.0 on "Raining Stones") and isolated music-and-effects tracks included for both.
Finally, Elvis fans ought to enjoy the HD premiere of FOLLOW THAT DREAM (109 mins., 1962), a UA release that most critics rank with the best of Presley's big-screen outings. Here, Presley plays the son of vagabond pop Arthur O'Connell, who along with babysitter Anne Helm and company, travel down to Florida where they make a home on unincorporated beach property. Music (pleasant though forgettable), laughs, and a charming story comprise this Gordon Douglas-directed Elvis vehicle, scripted by Charles Lederer from Richard Powell's novel "Pioneer, Go Home!". The 1080p (2.35) MGM licensed transfer is excellent with 1.0 DTS MA mono audio, an isolated score track and the trailer rounding out Twilight Time's 3000-copy limited editions for August.
---
TIE ME UP! TIE ME DOWN! Blu-Ray (***½, 102 mins., 1990, Unrated; Criterion): Pedro Almodovar's controversial 1990 Spanish language import received a great deal of buzz concerning its sexual content when Miramax released the film in the U.S. These days, while the movie may not seem "quaint," it's hard to envision "Tie Me Up! Tie Me Down!" generating the same level of controversy.
Separated from the hubbub, this is one of Almodovar's sexiest and most entertaining films, even with its plot of an off-kilter, former mental patient (Antonio Banderas) who kidnaps a former porn star actress (the bewitching Victoria Abril) and forces her to fall in love with him. The story doesn't play out entirely as you might expect in Almodovar's follow-up to his big hit "Women on the Verge of a Nervous Breakdown," and Abril and Banderas generate a palpable amount of heat together.
Criterion's Blu-Ray boasts a 2K digital restoration supervised by the director with 5.1 DTS MA audio; a documentary on the making of the film featuring interviews with Almodovar, Banderas, Abril, co-stars Loles Leon and Rossy DePalma; an interviews with Almodovar's collaborator Michael Barker; a 2003 talk with Banderas and the director; footage from its 1990 premiere party; and extensive booklet notes, including a conversation between critic Kent Jones and Wes Anderson.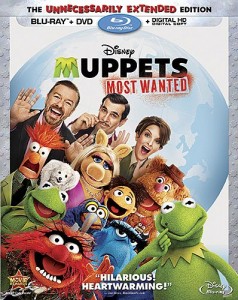 MUPPETS MOST WANTED Blu-Ray Combo Pack (**½, 107 mins./119 mins. [extended], 2014, PG; Disney):Mild and occasionally quite funny sequel to the acclaimed 2012 "Muppets" reunion dispenses with its predecessor's human leads (Jason Segel and Amy Adams, who are nowhere to be found here) and turns the focus back on Kermit and the gang. This time out, the Muppets are coerced by the vile villain Dominic (Ricky Gervais) and Constantine – a dead-ringer for Kermit who takes his place while the Muppets embark on a world tour, which is just a cover for the dastardly duo to steal priceless jewels around the globe. Kermit, meanwhile, is sent to Siberia where he's imprisoned at the hands of commandant Tina Fey and works with his fellow inmates (including Ray Liotta) to stage an escape.
Director James Bobin and his co-writer, Nicholas Stoller, repeat their duties from the prior picture, and Bret McKenzie reprises his Oscar-winning musical chores with several very funny songs. "Muppets Most Wanted" certainly has its moments and is thoroughly appealing if nothing else – Constantine's disco-like ode to Miss Piggy is uproarious, and the cameos are spread throughout the picture fairly effectively. The problem is the running time – at 107 minutes, "Most Wanted" is far and away the longest of all the Muppet films, and unsurprisingly feels bloated. It's also constantly "zany" while lacking its predecessors' heart, which may be an issue with Disney's hands-on involvement in the franchise. Whatever the case may be, the film performed moderately at the U.S. box-office but poorly overseas, leading one to wonder whether or not we'll ever see the gang on-screen again anytime soon.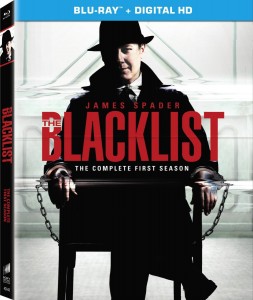 Disney's combo pack of "Muppets Most Wanted" includes the theatrical cut plus an (overly) extended 119-minute version that only makes things worse. A blooper reel, music video, "Rizzo's Biggest Fan" featurette and a brief Statler & Waldorf "Cut" round out the special features while a 1080p AVC (1.85) encoded transfer, 5.1 DTS MA audio, DVD and digital copy are also on-hand.
Also new this week from Disney is TOY STORY OF TERROR! (22 mins.), the engaging Halloween TV special starring the Toy Story gang, who run into some mysterious goings-on after Mr. Potato Head disappears at a roadside motel. Three bonus Toy Story shorts (Small Fry, Hawaiian Vacation, Partysaurus Rex) are included along with vintage toy commercials, deleted scenes, commentary, a 1080p (1.78) widescreen transfer and 7.1 DTS MA audio.

THE BLACKLIST Season 1 Blu-Ray (939 mins., 2013-14; Sony): NBC's big new hit from the fall of 2013, "The Blacklist" is a formulaic but engaging series that stars James Spader as Raymond "Red" Reddington, a former FBI agent turned fugitive who reappears on the scene after years in hiding. Mysteriously surrendering to officials and desiring only to work with a young agent (Megan Boone), Red offers to spill the beans on a number of top criminals and take down crime while pushing his own agenda – whatever it may be. Delectably performed by Spader, "The Blacklist" ought to be prime viewing for folks who enjoy modern TV crime dramas, and Sony's Season 1 Blu-Ray set offers 1080p (1.78) AVC encoded transfers with DTS MA 5.1 audio and an Ultraviolet digital copy. Extras include commentary on the pilot, "Anslo Garrick Part 1″ and "Berlin Conclusion," behind-the-scenes segments, and BD exclusive Character Dossiers, Rogues Gallery, and "Inception: Making the Pilot" extras.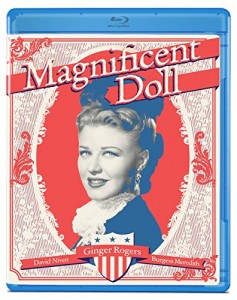 MAGNIFICENT DOLL Blu-Ray (96 mins., 1946; Olive)
THAT'S MY MAN Blu-Ray (99 mins., 1947; Olive): Two of Olive's newest releases resurrect a pair of forgotten dramas from the 1940s, each directed by Frank Borzage.
In "Magnificent Doll," Ginger Rogers stars as Dorothea "Dolly" Payne, a woman who has to choose between Aaron Burr (David Niven), Thomas Jefferson's Vice President, and James Madison (Burgess Meredith), soon to be "Father of the Constitution." Irving Stone of "The Agony and the Ecstasy" fame penned this admittedly inaccurate historical romance which is nevertheless engaging for its lead performances and subject matter.
Borzage's "That's My Man" is a film that's seldom been screened in its original 99-minute release version. Working from archival film elements, Olive has fully unearthed the long version of a movie – starring Don Ameche as a bookkeeper with a dream of owning a race horse and Catherine McLeod as his skeptical wife – that's been essentially unseen by the public in 60 years.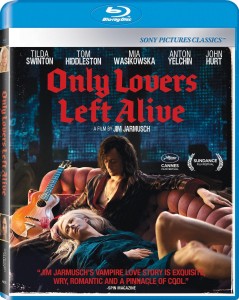 Both films receive crisp 1.33 AVC encoded 1080p transfers and mono soundtracks, and arrive in stores on the 19th.
ONLY LOVERS LEFT ALIVE Blu-Ray (123 mins., 2013, R; Sony): Jim Jarmusch returns with a film about vampires – literal ones, in the form of intellectual bloodsuckers Adam (Tom Hiddleston) and Eve (Tilda Swinton), who over the centuries, have become disillusioned and withdrawn. Adam spends his time in Detroit as a reclusive musician, while his estranged counterpart only returns when she learns of his depression. Once Eve's sister (Mia Masikowska) appears on the scene, however, all bets are off, with the duo's lifestyle and history threatened by her more outwardly vampiric behavior. Fans of the filmmaker will best appreciate the leisurely paced, character-intensive "Only Lovers Left Alive," which received mostly positive critical response upon its release last year. Sony's Blu-Ray boasts a Jarmusch featurette, deleted/extended scenes, a music video, 1080p (1.85) transfer and 5.1 DTS MA sound.
---
From Lionsgate: Zoe Saldana's presence is the sole distinguishing element in the TV mini-series remake ofROSEMARY'S BABY (170 mins., 2014, Not Rated), a by-the-numbers re-do of the Ira Levin novel that was famously brought to the screen in the late '60s by producer William Castle and director Roman Polanski. This new version isn't much different than the old one, substituting Paris for New York under the guidance of veteran filmmaker Agnieszka Holland, but dragging on to satisfy the requirements of a three-hour, two-part TV running time. Lionsgate's Blu-Ray includes a 1080p (1.78) transfer, 5.1 DTS MA audio, two featurettes, and a Digital HD Ultraviolet copy…Also new from Lionsgate on the scare-front is THE QUIET ONES (98 mins., PG-13, 2014), another disappointing supernatural chiller from the recently resurrected Hammer Films. John Pogue's film stars "Mad Men" vet Jared Harris as a college professor who wants to disprove the supernatural, and does so by inviting his student researchers to profile a ghostly young girl who actually has powers from beyond. Moody but unsatisfying. Lionsgate's Blu-Ray includes deleted scenes, outtakes, two featurettes, commentary, a digital Ultraviolet copy, 1080p (1.78) widescreen and 5.1 DTS MA audio.
Steven Seagal may have seen better days, but that's not stopping him from starring in more direct-to-vid dreck like A GOOD MAN (103 mins., 2013, R)as a former special-ops agent who tries in vain to live a quiet life as a handyman. After some of his tenants are taken by a Russian gangster, Seagal's title character finds himself in the middle of a battle between Chinese and Russian gangs. Lionsgate's DVD includes a 16:9 (1.78) transfer, 5.1 audio and an Ultraviolet streaming copy.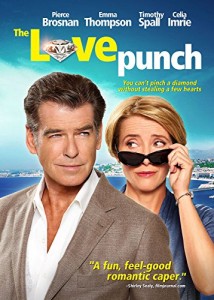 TRUST ME DVD (89 mins., 2013, R; Anchor Bay): Everyone's favorite SHIELD agent – Clark Gregg – steps behind the camera for his directorial debut in the amiable if uneven "Trust Me." Gregg also stars as Howard Holloway, a washed-up agent for child actors whose fortunes change when he finds a precocious young teen actress (Saxon Sharbino) who could be his ticket to the big time. Amanda Peet, Felicity Huffman, Allison Janney, William H. Macy and Sam Rockwell co-star in Gregg's ensemble film, filled with good performances and a compelling, if not always satisfying, script. Anchor Bay's DVD includes a 16:9 (2.35) transfer and 5.1 Dolby Digital soundtrack.
THE LOVE PUNCH DVD (95 mins., 2013, PG-13; Ketchup Entertainment): Divorced couple Pierce Brosnan and Emma Thompson team up to get back at the French businessman (Laurent Lafitte) who defrauded them in Joel Hopkins' breezy but slight comedy. Timothy Spall and Celia imrie provide a few laughs as the duo's neighbors, who join in a plot to steal a $10 million diamond Lafitte purchased for this fiancee. Pretty lightweight stuff considering the cast on-hand. Ketchup's DVD includes just a 16:9 transfer and 5.1 Dolby Digital soundtrack.
THE MINDY PROJECT Season 2 DVD (aprx. 8 hours, 2013-14; Universal)/PARKS AND RECREATION Season 6 DVD (aprx. 10 hours, 2013-14; Universal): I give my wife credit: she's been a fan of "The Mindy Project" since it launched, and has repeatedly told me the series has improved immeasurably since its uneven debut season. The second season of the Fox show, which arrives on DVD this week, shows evidence of the turnaround, as it received widespread acclaim with pitch-perfect writing, wacky performances and amusing supporting turns from guest stars Chloe Sevigny, Bill Hader and James Franco. Universal's DVD includes deleted scenes, a gag reel, 16:9 (1.85) transfers and 5.1 Dolby Digital soundtracks.
Also new from Universal this week is the penultimate season of the NBC comedy "Parks and Recreation," starring Amy Poehler as Leslie Knope with an eclectic sort of guest stars including Kristen Bell, Henry WInkler, Lucy Lawless and Sam Elliot among them. Universal's DVD includes all 22 episodes from the series' sixth season with extensive extras: deleted scenes, 100th episode feature, gag reel, music videos, 16:9 (1.85) transfers and 5.1 sound.
A BRONY TALE DVD (79 mins., 2014, Not Rated; Virgil Films):"Friendship is Magic" – and so is "My Little Pony" for some adult men, who take their fandom to absurd levels in this documentary on the oddball phenomenon of grown men who love the colorfully animated children's series. Virgil Films' DVD includes several extras, commentary and a segment on voice talent Ansleigh Ball, who appears in the doc, plus a 16:9 (1.78) transfer and stereo sound.
E One New Releases: William Shatner's GET A LIFE (60 mins., 2012, Not Rated) is "The Shat"'s inside look at Trekkers (we used to call them Trekkies, but that's no longer politically correct apparently), with Shatner heading out on the road to interview fans at conventions around the country. Not bad, but not nearly as much fun as you might have hoped. E One's DVD includes several featurettes, a 16:9 (1.78) widescreen transfer and 2.0 stereo audio.
Coming from the Cohen Film Collection on August 26th is a dynamic Blu-Ray edition of QUEEN MARGOT (159 mins., Not Rated), the alternately searing, romantic and horrifying adaptation of Alexandre Dumas' novel starring Isabella Adjani, Daniel Auteuil, and Vincent Perez. The disc includes 20 minutes of footage unseen in the U.S. release, plus a commentary by NY Film Festival director Richard Pena, the 2014 re-release trailer, 5.1 DTS MA soundtrack and a good looking 1080p transfer.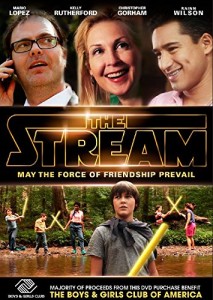 Cinedigm New Releases: Mario Lopez, Kelly Rutherford, Christopher Gorham and Rainn Wilson top line THE STREAM (85 mins., 2013, PG), yet another '80s nostalgia trip about a group of young "Star Wars" fans who find their makeshift lightsaber broken in half by the local bully. The Boys and Girls Clubs will receive 20% of the profits from Cinedigm's DVD sales of "The Stream," which streets on August 26th. The DVD includes a 16:9 transfer, 5.1 soundtrack, PSAs, trailers, two featurettes and a music video by Joan Jett and the Blackhearts…Coming August 26th are a pair of Hallmark Channel original movies: LUCKY IN LOVE (87 mins., 2014) stars Jessica Szohr as a young woman with an idealistic view of a "perfect life" while Rachel Blanchard and Cameron Mathison star in MY GAL SUNDAY (88 mins., 2013) as newlywed private-eyes in an adaptation of Mary Higgins Clark's novel (the latter was intended as a pilot for a series that wasn't picked up). Both DVDs include 16:9 (1.78) transfers and 5.1 Dolby Digital soundtracks.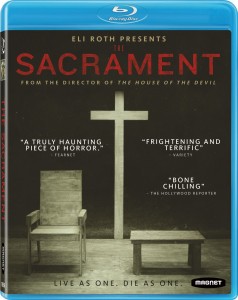 THE SACRAMENT Blu-Ray (99 mins., 2014, R; Magnolia): Ti West, who scored a minor success with "House of the Devil," takes a step backwards with this pedestrian "found footage" tale of two journalists who try to uncover what happened to their friend's sister – who's become part of a maniacal religious cult. "The Sacrament" lacks the visual appeal of West's prior pictures and offers scant surprises in a film that's unlikely to generate the same response as its filmmaker's earlier efforts. Magnolia's Blu-Ray includes a 1080p (1.78) transfer, 5.1 DTS MA audio, commentary, featurettes and an AXS TV look at the film.
AFTERMATH Blu-Ray (92 mins., 2012, R; Image/RLJ): Edward Furlong, Monica Keena and CJ Thomason star in this grim tale of survivors in a post-apocalyptic world where zombies lurk outside their farmhouse cellar. Peter Engert directed this low-budget affair and makes the most of its modest trappings, though the Christian McDonald story is awfully familiar. Still worth a look for indiscriminating horror fans. RLJ's Blu-Ray, out August 26th, includes a 1080p (1.78) transfer and 5.1 DTS MA audio.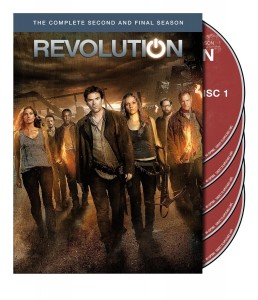 Well Go New Releases: A trio of young friends join the Hong Kong Triads in Daniel Chan's TRIAD (92 mins., 2013, R), a short drama that follows the young men as their relationships break apart as greed, girls and guns enter their lives. Well Go's DVD, out August 26th, includes a 16:9 transfer and 5.1 audio in Cantonese with English subtitles.
REVOLUTION Season 2 DVD (943 mins., 2013-14; Warner): JJ Abrams produced this disappointing NBC series which ended its run after two seasons on the air. Set three months after the end of "Revolution"'s first season, Charlie, Rachel and Miles find themselves in Willoughby, Texas, with Tom Neville and his son searching for Julia and the Patriots bent on running what's left of the country. All 22 episodes from "Revolution"'s second season are on-hand in 16:9 (1.78) transfers and 5.1 Dolby Digital soundtracks. Extras include four featurettes, deleted scenes and a gag reel.
NEXT TIME: Shout Summer Wrap with WELCOME BACK KOTTER, WITHOUT WARNING, and LEVIATHAN, plus Warner Archives new releases and more! Until then, don't forget to drop in on the official Aisle Seat Message Boards and direct any emails to our email address. Cheers everyone!