Disney fans hoping the studio would open up their back catalog more frequently have a quartet of new releases to choose from this week, all in respectable Blu-Ray transfers.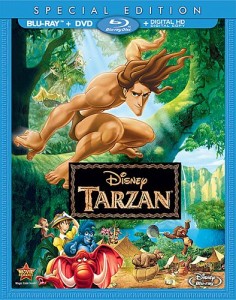 Thanks to TARZAN (***½, 88 mins., 1999, G; Disney), the Lord of the Jungle got Disney's animation unit back on track in the '90s after a pair of modestly entertaining animated films ("Hercules," "Mulan") that weren't classics, and a dark animated outing in "The Hunchback of Notre Dame" that wasn't as warmly embraced as its prior Alan Menken/Howard Ashman collaborations.
While not quite a masterpiece on its own terms, the studio nevertheless crafted a marvelously drawn, often thrilling animated adaptation – the biggest Disney animated hit since "The Lion King" at the time – of Edgar Rice Borroughs' famed hero, sticking fairly close to its literary (and past cinematic) origins while adding just a bit of traditional juvenile humor along the way.
Set to Phil Collins's surprisingly energetic songs, "Tarzan" opens with an amusing though derivative first half-hour that feels a bit too much like "The Lion King" for comfort. After a shipwreck strands his family (subsequently killed off-screen by a jungle predator), the infant Tarzan is raised by his adopted family – a band of gorillas – and learns the ways of the natural world through trial and error. The beginning feels familiar, in part because we have seen the story told so often, though the trappings themselves feature obvious standbys of its backing studio: there are domineering father figures (voiced by Lance Henriksen), sympathetic mothers (Glenn Close), and wacky sidekicks (including Rosie O'Donnell), and while all of this is fine for kids, too much of it feels like cutesy kidstuff, drawing off formulas and Disney cliches.
Thankfully, things pick up once Tarzan grows into a Wisemuller-esque young man swinging from vine to vine, clad in his loin cloth and ready to protect a British expedition searching for the gorillas of Africa. Once he realizes that the foreigners resemble him, and not his gorilla clan, Tarzan experiences an identity crisis–and also a romantic one when he meets Jane (voiced by Minnie Driver), the charming young lass who somehow connects with the jungle man despite his decided lack of experience in communicating with humans. It may not be Wisemuller and Maureen O'Sullivan, but hey, it's close.
The second half of the movie is so good, in fact, that "Tarzan" quickly goes from being an entertaining exercise in late '90s Disney animation to one of the best efforts the studio turned out in the wake of "Beauty and the Beast." There's plenty of action, a great fight onboard a steamship (which looks so close to live-action that you think, at times, that it IS real), gorgeous character design, and a succession of classy montages that propel the story forward thanks to Collins's story-intensive songs.
With the relationship between Tarzan and Jane unexpectedly poignant and charming, "Tarzan" really does have something for everyone, and after a slow start, it's yet another triumph for its studio – and one of its highest-grossing animated features in a very prolific decade.
"Tarzan"'s Blu-Ray presentation is strong: the 1080p AVC encoded (1.85) transfer is colorful and clear, the 5.1 DTS MA audio is engaging, and selected supplements (deleted scenes, a couple of featurettes, one music video) have been retained from prior releases.
Also new on the animated catalog front from Disney this month is HERCULES (***, 93 mins., 1997, G), the tuneful yet lightweight John Musker/Ron Clements adaptation of the mythological hero. The story, which tries to infuse some "Aladdin"-like humor into the mix to varying degrees of success, is pretty straightforward, and Hercules himself isn't all that interesting as a character. More effective is James Woods' wacky interpretation of bad guy Hades, as well as Alan Menken/David Zippel's tuneful songs, several of which reprise the (literal) Greek Chorus from Menken's classic "Little Shop of Horrors," while introducing one memorable ballad ("Go the Distance") along the way. "Hercules"'s Blu-Ray is as barebones as its initial DVD release, including a Making Of and Ricky Martin music video, but that's it on the supplemental side. The 1080p (1.85) Blu-Ray transfer is up to snuff, at least, as is the 5.1 DTS MA audio.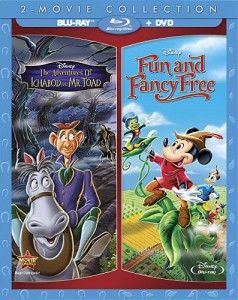 THE ADVENTURES OF ICAHBOD AND MR. TOAD/FUN AND FANCY FREE Blu-Ray (68/73 mins., 1947/1949, G; Disney): Golden Age fans will be most interested in this double-feature pairing of "Ichabod and Mr. Toad" and "Fun and Fancy Free," capped by a full HD presentation of the 1941 "behind the scenes" Disney feature "The Reluctant Dragon."
"Ichabod and Mr. Toad" combines a delightful adaptation of "The Wind and the Willows" with the studio's classic version of "The Legend of Sleepy Hollow." The 68-minute program was released as a single feature but, over the years, has often been cut in half, with Disney showing either the first part or the second half of the picture separately. The Blu-Ray presents the original theatrical cut of the production in a colorful print (1.33) with an effectively remixed 5.1 DTS MA stereo soundtrack as well.
While the "Willows" is undeniably a charming work, the film's more memorable portion is the Sleepy Hollow half of the double-bill, narrated by Bing Crosby in a superlative piece of Disney Americana. The wonderfully articulated characters and justifiably acclaimed climax (the most renowned element of the picture) have long since become Halloween staples, but what's often forgotten are the charming songs and marvelous work of Crosby, who vocalizes some of his narration in what ought to be essential viewing for any lover of October 31st.
The original 1.33:1 framing is here preserved in a terrific 1080p AVC transfer, and I also enjoyed the reprocessed-for-stereo DTS MA 5.1 soundtrack, which throws the dialogue into the center channel with a general, stereophonic presence detectable in the musical underscore. While there's definitely some digital clean-up involved in the transfer (as we've seen frequently in Disney's older animated releases in the format), there's enough detail and color on-hand to rank as a solid upgrade from DVD.
Adding immeasurably to the set's value is the presence of "Fun and Fancy Free" – the 1947 animated feature that offers a pair of stories in "Bongo" and "Mickey and the Beanstalk" – as well as the 1941 release "The Reluctant Dragon." This mix of live-action and animation utilizes a bridging story with Robert Benchley wandering around the Disney studios, and has only been sporadically released in its full, uncut form on home video. This 1080p presentation is nicely done, though there's ample DNR added to the animated sequences, making for a bit of an uneven appearance. Still, a nice value-added feature on a strong catalog release all told.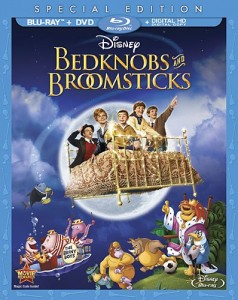 BEDKNOBS AND BROOMSTICKS Blu-Ray (***, 117 mins., 1971, G; Disney): Eschewing a reconstruction produced by Scott MacQueen in the mid '90s, Disney has released the theatrical cut of "Bedknobs and Broomsticks" – its 1971 musical-fantasy starring Angela Lansbury as a witch doing her part to take on the German forces in a quaint English village during WWII – on Blu-Ray.
An obvious attempt to craft a vehicle similar to "Mary Poppins," Robert Stevenson's film offers supporting turns from "Poppins" vet David Tomlinson, Roddy McDowall, and Sam Jaffe, along with a tuneful score by the Sherman Brothers and several goofy animated sequences (including a notorious soccer game that the Shermans weren't all that fond of!).
The behind-the-scenes history of the film is in many ways more interesting than the movie itself. Originally intended to be Disney's big, "roadshow" release during Christmas '71, the movie was cut from over 140 minutes down to 117 – losing a good deal of its story and pacing along the way. Despite decent critical notices, the movie was never embraced by audiences or critics the way the producers thought it would, something the filmmakers lament was directly related to the movie's hack-and-slash editing (which reportedly included a drastic reduction in McDowall's role). A later re-release at 98 minutes didn't help any.
In the mid '90s, historian MacQueen set out to fully restore the film, and came close to uncovering all of the deleted scenes. His 139-minute cut (available on both prior DVD releases) restored several songs and dance sequences, along with upping McDowall's screen time and making more sense out of the Bill Walsh-Don DaGradi script. Only one song, Lansbury's introductory number ("A Step in the Right Direction"), could not be found, so MacQueen opted to include the song as a supplement, using the film's surviving audio tracks with still-frame photographs. The restoration, however, was somewhat hampered by the loss of dialogue in certain sections, requiring new looping involving only some surviving members of the original cast.
Disney's decision to release only the theatrical version of "Bedknobs" is a curious one, especially when you consider all the extended/deleted scenes from the longer version are present here in supplemental form – and all in HD at that. A wiser decision by the studio would have enabled viewers the choice between the theatrical and reconstructed cuts via seamless branching, but let's not forget Disney is the same studio that dropped "When Love is Gone" from "The Muppet Christmas Carol," never (apparently) to be seen again on anything other than its prior DVD and laserdisc releases (and the same with "If I Never Knew You" from "Pocahontas," which was dropped from being included in the Blu-Ray release).
That regrettable decision aside, the theatrical version of the movie does have its strengths: the pace is much more palatable, and for children who grew up in the '70s, this is the version they would be most familiar with. The 1080p AVC encoded transfer (1.66) is crisp and detailed, and the 5.1 DTS MA audio is pleasantly rendered.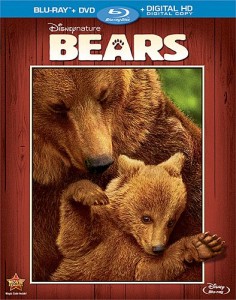 Curiously, although the film doesn't use Scott MacQueen's restoration, his efforts are still examined in full detail in a "Music Magic" featurette including interviews with Lansbury, the Sherman brothers, and MacQueen. For a Disney Channel production, this older program does a surprisingly adept job at covering the movie's turbulent post-production process. Other features include theatrical trailers and a brief, PR-like "recording session" snippet with Tomlinson, plus an eight-minute "Wizards of Special Effects" featurette from the movie's most recent DVD edition. Finally, 33 minutes of discarded scenes are included from the longer Roadshow edit, in full 1080p – making one wonder, again, why Disney didn't just include both versions of the film on the disc.
DISNEYNATURE BEARS Blu-Ray Combo Pack (***, 78 mins., 2014, G; Disney): Another strong entry in the "Disneynature" series of wildlife documentaries, "Bears" is one of the best in the franchise: a beautifully rendered, occassionally heart-tugging story of an Aalaskan bear and her cubs foraging for food in the wilderness as winter ends. John C. Reilly's narration is right on-target and the project perfectly suited for kids, with gorgeous photography that ought to captivate adults as well. Disney's combo pack includes a splendid 1080p transfer, 5.1 DTS MA sound (sporting a fine George Fenton score), several featurettes and a DVD copy for good measure.
---
DIVERGENT Blu-Ray Combo Pack (**½, 139 mins., 2014, PG-13; Summit): Yet another popular young-adult novel comes to the screen. Veronica Roth's bestselling books are set in a post-apocalyptic world where surviving humans have been broken up into different factions based on their "talent" levels – young Tris (the always terrific Shailene Woodley), however, threatens the reigning government's classifications by possessing abilities in multiple categories.
"Divergent" the movie is apparently faithful to its source, which is both a blessing for fans of the books but a problem in terms of the movie's standalone effectiveness: the set-up takes an awfully long time to get through, leaving the unbalanced concluding portions to come off like an afterthought. Naturally, most of the picture is just an introduction to the series and a set-up for a sequel, which (of course) is filming now and due out next spring – reminiscent of the first "Hunger Games." All that being said, director Neil Burger's movie is well-crafted and entertaining, and Woodley's central performance was enough to keep me watching through its bloated running time.
Summit's Blu-Ray edition of "Divergent" includes two commentaries, deleted scenes, a documentary, marketing gallery, and "Faction Before Blood" BD exclusive featurette. The 1080p (2.35) transfer and 7.1 DTS MA audio are both excellent, though the Junkie XL score – "executive produced" by Hans Zimmer – is standard fare. A digital copy rounds out the release.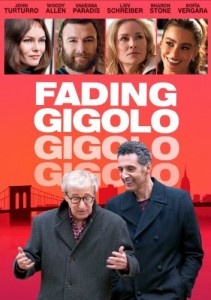 THE RAILWAY MAN Blu-Ray (***, 108 mins., 2013, R; Anchor Bay): A strong performance from Colin Firth grounds this true story of Eric Lomax, a British officer who spends years in a Japanese POW camp. There, he works on the Thai-Burma Railway and is tortured by an officer (Hiroyuki Sanada) whom, years later, he tracks down in order to get emotional closure after having endured physical and psychological torment. Jonathan Teplitzky's film, scripted by Frank Cottrell Boyce and Andy Paterson from Lomax's autobiography, is sincere and pitch-perfectly performed by Firth, as well as Nicole Kidman as his understanding wife and Stellan Skarsgard as his best friend. Anchor Bay's Blu-Ray includes a commentary from Teplitzky and Patterson, a Making Of documentary, 5.1 DTS MA audio, Ultraviolet copy and a 1080p (2.40) AVC encoded transfer.
FADING GIGOLO Blu-Ray (**½, 90 mins., 2013, R; Millennium): Actor John Turturro wrote and directed this uneven tale of a New York City bookseller (Woody Allen) who becomes a pimp in order to generate much-needed income. His dermatologist (Sharon Stone) is the catalyst and pal Fioravante (Turturro) becomes the reluctant gigolo in the center of a strange film that offers Allen in a rare acting role outside of one of his own pictures. The trouble is that the aging filmmaker doesn't have the comic energy he once did, though he and Torturro at least generate chemistry together – it's just too bad it couldn't have been utilized in a more satisfying or engaging story. Co-starring Vanessa Paradis, Sofia Vergara and Liev Schreiber, "Fading Gigolo" comes to Blu-Ray August 19th from Millennium. Commentary from Turturro and deleted scenes comprise the disc's supplemental package with a 1080p transfer and 5.1 Dolby TrueHD audio on the technical end.
---
Warner Archive New Releases
Chad Everett and James Daly are back in the fifth season of the hit network drama MEDICAL CENTER (1200 mins., 1974-75) as Chief of Su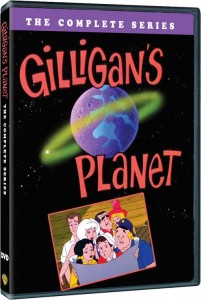 rgery Joe Gannon and Chief of Staff Paul Lochner, respectively. With topical subjects like repressed homosexuality, racial intolerance, and even the plight of soldiers returning from Vietnam, "Medical Center" followed its course through another 24 episodes featuring guest star appearances by Julie Harris, Stockard Channing, Jill Clayburgh, Celeste Holm, Meg Foster, Stefanie Powers, Martin Sheen and others.
Numerous sitcoms became improbable animated series when I was growing up, whether it was "Happy Days" or "Laverne & Shirley Join the Army." One of the nuttier, later attempts in the genre was GILLIGAN'S PLANET (292 mins., 1982-83), which ran on CBS on Saturday mornings for a single season. The plot offers the unbelievable premise that the stranded crew of the SS Minnow were able to leave their deserted island for, yes, outer space, where the group becomes stranded on an alien planet. The original cast sans Tina Louise returned to voice the series (Dawn Wells does double duty as both Mary Ann and Ginger) which ought to provide fairly entertaining nostalgia for "Gilligan" buffs. Warner's Archive DVD collects the complete series on two discs in reasonably good full-screen transfers with mono audio.
Two Alan Ladd programmers hit DVD for the first time this month from the Archive: THE DEEP SIX (108 mins., 1958)is a crisp WWII adventure starring Ladd as an artist – and pacifist – who's stationed as a gunnery lieutenant in a film directed by noted cinematographer Rudolph Mate. William Bendix, Keenan Wynn, James Whitmore, Efrem Zimbalist, Jr. and Dianne Foster co-star in this "Warnercolor" spectacular brought to DVD this month in a 16:9 (1.78) transfer with mono audio. Ladd also saddles up for adventure in GUNS OF THE TIMBERLAND (91 mins., 1960), a routine western co-starring Jeanne Crain, Frankie Avalon, Noah Beery and Regis Toomy, adapted from a Louis L'Amour novel and produced by future TV mogul Aaron Spelling. Warner's Archive DVD includes a fine 16:9 (1.78) transfer with mono audio…a pair of late '40s programmers also debut on DVD this month from the Warner Archive: THE HUNTED (84 mins., 1947) stars Preston Foster and Belita, making the first of her three pictures for Allied Artists/Monogram. STAGE STRUCK (84 mins., 1948) follows a trio of young women who hit Broadway determined to make it in the Big Apple, only to find one of them dead. Ralph Byrd, Audrey Long and Kane Richmond star in the Monogram production, which arrives – as does "The Hunted" – in a full-screen B&W transfer with mono sound.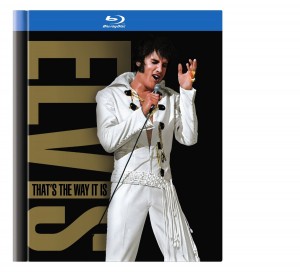 VIVA LAS VEGAS 50th Anniversary Blu-Ray (85 mins., 1963; Warner)
ELVIS: THAT'S THE WAY IT IS Blu-Ray (95/108 mins., 1970, G/PG; Warner): The 50th Anniversary of the classic Elvis musical "Viva Las Vegas" has generated a deluxe Digibook release for both the 1963 MGM production as well as the legendary Elvis concert film "That's The Way It Is."
Elvis' big-screen career may have been successful at the box-office, yet yielded only a few decent movies. Certainly "Viva Las Vegas" was one of them, as Elvis teamed with Ann-Margret for a zesty mix of songs, frivolous plot (involving Elvis' race car driver "Lucky Johnson"), and director George Sidney's excellent utilization of the wide scope frame. Warner's Blu-Ray includes a sensational 1080p (2.40) transfer, Dolby TrueHD audio, commentary from Elvis historian Steve Pond, the trailer, "Kingdom: Elvis in Vegas" featurette, and a deluxe 40-page book featuring photographs and promotional materials from the release.
"Elvis: That's The Way It Is" was the thrilling concert filming of Elvis' performances at the International Hotel in Las Vegas circa 1970. A restoration featurette, song and outtakes, the trailer, and a dynamic 1080p (2.40) transfer are included on the Blu-Ray presentation of "Elvis: That's The Way It Is," with the 1970 theatrical version also included on an accompanying DVD platter. The DTS MA 5.1 audio is effectively remixed from the original mutli-track stereo masters.
---
Lionsgate New Releases: Tom Hardy gives a bravura performance in LOCKE (**½, 84 mins., 2014, R), a British drama about an average guy who finds his life in the midst of a turning point both personally and professionally. He ends up dealing with his issues while driving in a one-character piece that's made compelling entirely by Hardy's believable performance. The story, as written and directed by Steven Knight, isn't entirely satisfying, however, once you get used to its central conceit. Lionsgate's Blu-Ray includes a brief featurette and commentary with the director, a 1080p (2.35) transfer, 5.1 DTS MA audio and Ultraviolet streaming copy.
Halle Berry places a go-go dancer with DID – "Dissociative Identity Disorder" – in the odd FRANKIE & ALICE (101 mins., 2014, R), a film co-starring Stellan Skarsgard as the therapist who treats her disease. This Canadian-lensed film credits – appropriately enough – no less than seven (!) different screenwriters and hits DVD this week from Lionsgate offering a Making Of and digital copy, plus a 16:9 (2.40) transfer and 5.1 Dolby Digital soundtrack…Peter O'Toole makes his final screen appearance in DECLINE OF AN EMPIRE (106 mins., 2014, R), a low-grade "Gladiator" knock-off – filmed as 'Katherine of Alexandria" – starring Edward Fox, Joss Ackland, Steven Berkoff and Nicole Kernheart. Lionsgate's DVD includes a 16:9 (2.40) transfer and 5.1 audio, along with a behind-the-scenes featurette and digital copy…ROMANCE CLASSICS is an A&E compilation offering the sublime Colin Firth-Jennifer Ehle mini-series of "Pride and Prejudice," plus "Victoria & Albert" and "Edward & Mrs. Simpson," in one affordable DVD package. Transfers and soundtracks appear to be identical to their prior DVD releases.
Season 1 of the History reality series THE LEGEND OF SHELBY THE SWAMP MAN (176 mins., 2014) washes down on DVD this week from Lionsgate. The two-disc set includes eight episodes of the program along with two bonus episodes and eight featurettes exclusive to the disc (80 minutes of bonus footage in all)…POWER RANGERS MEGAFORCE: A BATTLE TO THE FINISH (92 mins., 2013) includes four episodes from the kid-centric series: Staying on Track, The Human Condition, The Messenger and End Game, each in 16:9 (1.78) transfers and stereo soundtracks…BASEBALL'S SEASONS: THE 1980s (aprx. 8 hours) is comprised of 10 episodes from the popular "Baseball's Seasons" series on the MLB Network, taking a close look at each season in a supremely memorable decade for the game (and, given its steroid issues and the lockout, arguably its last "golden" decade altogether). The three-disc set contains 16:9 (1.78) transfers and 2.0 stereo sound.
Cinedigm New Releases: The second entry in the Kickstarter-funded adaptations of "The Paladin Cycle" books,THE CROWN AND THE DRAGON (91 mins., 2014, Not Rated) follows the adventures of Elenn, a noble woman escorting her aunt on a mission to return an ancient relic to the king. Dragons, political intrigue and low-grade action mark this indie adventure brought to Blu-Ray this week by Cinedigm featuring a 1080p transfer, DTS MA 5.1 audio and the trailer.
HBO New Releases: Season Four of BOARDWALK EMPIRE (720 mins., 2013) picks up eight months after the conclusion of its third season, with Nucky Thompson having survived an overthrow by fellow Atlantic City mobster Gyp Rosetti. Up next: a battle with a Harlem mobster, a confrontation with his brother Eli, and a growing set of opportunities in Florida in this penultimate season of Terence Winter's series starring Steve Buscemi, Kelly MacDonald, Michael Shannon and Gretchen Mol. HBO's Blu-Ray box-set, available August 19th, includes "Boardwalk Chronicle" and "Scouting the Boardwalk" featurettes, along with a recap of prior seasons, a look at the "Onyx Club" set, a PaleyFest roundtable with Winter and cast members, an interview with Jack Huston, six commentaries and a look at new cast members. The 1080p (1.78) transfers and 5.1 DTS MA soundtracks are all superb, and a digital Ultraviolet copy is also included.
Now available, JA'MIE: PRIVATE SCHOOL GIRL (180 mins.) stars Chris Lilley – yes, a forty-something Australian comedian – as a vicious high school girl in this ribald import from Down Under. HBO's DVD includes the complete series with a behind-the-scenes segment, deleted scenes, bloopers, 16:9 transfers and 5.1/2.0 soundtracks…Available later this month, THE NORMAL HEART (143 mins., 2014) is an adaptation of Larry Kramer's play focusing on the outbreak of the AIDS-HIV crisis in the '80s. Mark Ruffalo, Mat Bomer, Taylor Kitsch, Jim Parsons, Alfred Molina and Julia Roberts star in this adaptation of Kramer's work, scripted by the playwright, and directed by "Glee"'s Ryan Murphy. A behind-the-scenes look at the production, 1080p (1.85) transfer and 5.1 DTS MA audio grace HBO's Blu-Ray release.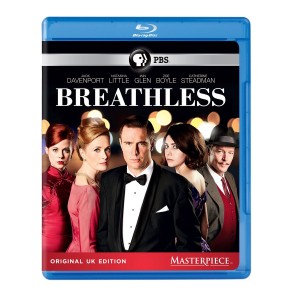 PBS New Releases: Now available on DVD, ITALY'S MYSTERY MOUNTAINS (56 mins.) explores the geologic story of Italy, from its volcanoes to earthquakes, the clash of tectonic plates and the development of mountains that were the bedrock for the country's artistic triumphs. The hour-long special offers gorgeous cinematography in 16:9 widescreen with stereo audio…Also now available,AMERICA'S WILD WEST (aprx. 10 hours, 2006-12) includes eight episodes from American Experience: Annie Oakley, Billy the Kid, Buffalo Bill, Butch Cassidy & The Sundance Kid, Custer's Last Stand, Jesse James, Kit Carson and Wyatt Earp, all in 16:9 widescreen with 5.1 and 2.0 Dolby Digital audio…Coming August 19th, SECRETS OF THE DEAD: THE MONA LISA MYSTERY (60 mins., 2014)examines a 1913 painting of a "younger" Mona Lisa and whether or not it's an earlier, legitimate version of da Vinci's masterwork. Scientific analysis and historian interviews mark this compelling documentary narrated by Jay O. Sanders. The 16:9 transfer and stereo soundtrack are both top notch…Available August 26th, BREATHLESS (aprx. 4.5 hours, 2013) stars Jack Davenport as a surgeon in a London hospital's OB/GYN unit circa 1961. His relationship with his wife (Nathasha Little) and the various professional predicaments he finds himself in form the basis of this ITV series co-starring Iain Glen, Zoe Boyle, Catherine Steadman and Joanna Page. PBS' two-disc Blu-Ray includes 1080i transfers and 2.0 Dolby Digital soundtracks.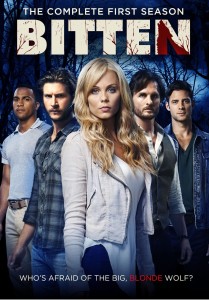 From E One: Laura Vandervoort has long been an Aisle Seat favorite, and it's particularly nice to see her land her first solo-starring gig in the Canadian lensed series BITTEN (572 mins., 2013). Broadcast on Syfy Channel domestically, this routine series stars the ex-Supergirl as Elena, a female werewolf who's called back to her ancestral home in order to track down a rogue wolf committing a series of murders. Soap opera intrigue involving Elena's romantic entanglements and political infighting in her "pack" comprise the action in "Bitten"'s 13 episodes, brought to Blu-Ray by E One in 1080p transfers (1.78) with 5.1 DTS MA soundtracks. Extras include deleted scenes, a behind-the-scenes featurette, split-screen stunt choreography, and commentary with Vandervoort and the producing team.
IFC/MPI New Releases: Kristen Wiig tries something a little different in Liza Johnson's indie drama HATESHIP LOVESHIP (102 mins., 2013, R), which offers the ex-SNL comedienne a dramatic role as a housekeeper who cares for an aging Nick Nolte and his granddaughter (Hailee Steinfeld). Guy Pearce plays Steinfeld's troubled father, whom becomes involved in a prank relationship with Wiig that's staged by his daughter. Well acted though not entirely satisfying, "Hateship Loveship" garners a DVD release this week from IFC boasting a 16:9 (2.40) transfer and 5.1 soundtrack; the sole extra is a trailer…Zach Parker's PROXY (122 mins., 2013, Not Rated) is a ghoulish and way overlong tale of a woman, beaten during her pregnancy, who joins a support group for grieving parents. There she meets a woman with a similarly difficult background – or so she claims – in what spins into a wild and not particularly satisfying thriller. IFC's Blu-Ray includes behind-the-scenes segments, featurettes, interviews, the trailer, a 1080p (2.35) transfer and 5.1 DTS MA audio.
Well Go New Releases: In SWELTER (118 mins., 2013, R), Alfred Molina and Jean-Claude Van Damme play second fiddle to a bank robbing team that, 10 years after pulling off a $100 million Vegas heist, gathers together looking for the buried cash. Lennie James stars in Keith Parmer's film that reaches Blu-Ray on August 12th sporting a 1080p transfer with 5.1 DTS MA audio.
---
PERRY MASON MOVIE COLLECTION Volume 3 DVD (CBS): Six more NBC TV movies starring Raymond Burr as Perry Mason, Barbara Hale as Della Street and William R. Moses as Ken Malansky comprise CBS' third volume of "Perry Mason: Movie Collection" DVD box-sets.
In volume three, the six telefilms produced in 1990-91 are included here on three discs: "The Case of the Poisoned Pen," "The Case of the Desperate Deception," "The Case of the Silenced Singer," "The Case of the Ruthless Reporter," and "The Case of the Maligned Mobster" are all on-tap, each in full-screen 4:3 transfers and stereo soundtracks. Well worth a look for series fans.
BATMAN: ASSAULT ON ARKHAM Blu-Ray Combo Pack (76 mins., 2014, PG-13; Warner): DC's latest Batman animated production takes its cue from the hugely successful "Arkham Asylum" video game series. Here, the Dark Knight has to reluctantly work with a government strike team lead by Gotham's underworld (including Harley Quinn, Killer Frost and King Shark) in order to recover evidence from Arkham Asylum. Kevin Conroy voices Batman in this nicely animated feature produced along the same lines as past Bat-video flicks. Warner's combo pack includes BD-exclusive commentary and a featurette, along with four bonus cartoons, a Harley Quinn featurette, and a look at the next DC animated film, "Justice League: Throne of Atlantis." The 1080p (1.78) AVC encoded transfer and DTS MA 5.1 audio are fine, and a DVD and Ultraviolet copy are also included.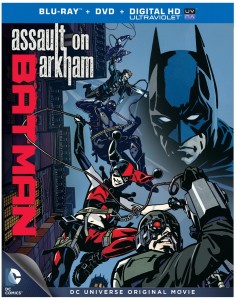 JARHEAD 2: FIELD OF FIRE Blu-Ray/DVD Combo Pack (103 mins., 2014, R/Unrated; Universal): Stephen Lang and Esai Morales provide the veteran support to a young cast of unknowns in this direct-to-vid follow-up to "Jarhead." Here, a Navy SEAL unit has to fight its way out of Afghanistan without tanks or air support. Universal's Blu-Ray combo pack includes a DVD, digital copy, deleted scenes, and both R-rated and unrated versions of director Don Michael Paul's picture.
TOP GEAR 21 DVD (300 mins., 2014; BBC Home Entertainment): Jeremy Clarkson, Richard Hammond and James May are back in the latest season of the BBC staple. This time out, the trip take a road trip across the Ukraine (talk about timing) while reliving the '80s in "classic" hot hatchbacks. There's also a look at the Alfa 4C sports car, the McLaren P1 and a six-wheeled Mercedes test-driven in the desert. A bonus "Burma Special" is also on-hand in BBC's three-disc DVD set, which boasts 16:9 (1.78) transfers and 2.0 stereo soundtracks.
KILIMANJARO DVD (80 mins., 2014, Unrated; Virgil Films): Brian Geraghty stars in Walter Stratford's unusual film as a beleaguered guy, stuck in a one-way job and relationship, who opts to climb to the top of Mt. Kilimanjaro in order to find personal fulfillment. Jim Gaffigan and Chris Maruqette co-star in "Kilimanjaro," which Virgil Films releases this week on DVD sporting a 16:9 (1.85) transfer and stereo sound.
BREATHE IN Blu-Ray (97 mins., 2013, R; Cohen Media Group): A music teacher (Guy Pearce) gets more than he bargained for when his family – including wife Amy Ryan and daughter Mackenzie Davis – welcomes a foreign exchange student (Felicity Jones) into their home…where dear o'l pop immediately takes a shine to the youngster. Jones' actual age is a major hang-up in "Breathe In" (she's at least a decade older than the character calls for), but this is a watchable and well-acted tragi-drama otherwise. Cohen's Blu-Ray includes a 1080p transfer and 5.1 DTS MA soundtrack.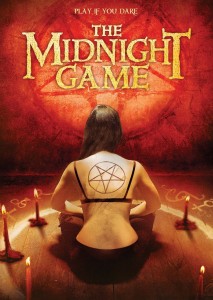 THE MIDNIGHT GAME DVD (74 mins., 2013, R; Anchor Bay): Slim horror outing stars busty Renee Olstead as a teen who, along with her friends, decides to recite an ancient pagan ritual dubbed "The Midnight Game." This, of course, raises a demonic spirit who proceeds to haunt the unsuspecting kids in a by-the-numbers if fairly well-executed film from A.D. Calvo, who wrote the film with Rick Dahl. Anchor Bay's DVD of this extremely short picture lands in stores this week sporting a 16:9 (2.35) transfer and 5.1 Dolby Digital sound.
VARSITY BLOOD DVD (87 mins., 2014, Not Rated; Image/RLJ): Jake Helgren wrote and directed this indie slasher focusing on a football team and a group of cheerleaders who find themselves fighting for their lives when a killer stalks them after the Halloween football game. Talky and pretty pedestrian fare, a cut below even for the genre. RLJ's DVD, out August 19th, includes a 16:9 (1.78) transfer and 5.1 Dolby Digital sound.
GETTING GO, THE GO DOC PROJECT DVD (90 mins., 2014, Unrated; Wolfe Video): Gay indie drama about a college guy (Tanner Cohen) who shoots a documentary about "Go" (Matthew Camp) in a film from writer-director Cory Krueckeberg. Wolfe Video's DVD is filled with extras, including a Q&A with the director, a slideshow, the trailer, 16:9 transfer and 5.1 Dolby Digital soundtrack.
NEXT TIME: More of the latest releases! Until then, don't forget to drop in on the official Aisle Seat Message Boards and direct any emails to our email address. Cheers everyone!