A pair of new Blu-Ray anthologies offer retrospectives on the unique careers of filmmakers Jacques Demy and Werner Herzog. Given the overall lack of foreign film content in the high-definition format domestically, these two packages from Criterion and Shout Factory, respectively, rank as two of the format's finest of the year.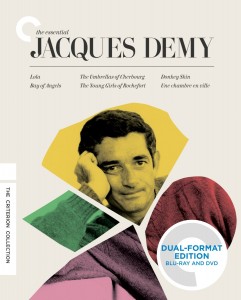 THE ESSENTIAL JACQUES DEMY is a delightful Blu-Ray/DVD dual-format compilation from Criterion celebrating the core works of the French filmmaker, best known for his dreamy collaborations with composer Michel Legrand. The box offers fully restored presentations of six of Demy's films, including:
LOLA (88 mins., 1961), a stark, widescreen black-and-white drama set in Demy's hometown of Nantes, where a collection of characters – the title character, a dancer played by Anouk Aimee; her lovelorn childhood friend (Marc Michel); her lost former flame; and a young American sailor – find their lives intersecting over a period of several days. "Lola"'s visual design, coupled with Michel Legrand's superb score (augmented with classical works), is striking, though sadly, the loss of the original negative necessitated that this restoration originated from elements that vary in their condition. Adding to the lack of visual clarity is a DNR sheen that must have been used to bring some consistency to the 2.35 image, though robs it of greater detail. On the whole, though, "Lola" is still an essential introduction to Demy's world, as it includes thematic material involving relationships made and broken, connections established and then lost, as well as certain characters who run through the director's work.
Jeanne Moreau's performance as a compulsive gambler who becomes involved with an earnest young bank clerk (Claude Mann) is one of the more memorable elements in BAY OF ANGELS (84 mins., 1963). This straightforward Demy drama is captivating for its portrayal of time and place, having been shot in actual casinos in Nice in the early '60s. Jean Rabier's evocative B&W cinematography and another fine Legrand score distinguish "Bay of Angels" as one of Demy's most compelling films, which boasts a strong 1.66 transfer from a 2K French digital restoration in Criterion's Blu-Ray.
THE UMBRELLAS OF CHERBOURG (92 mins., 1964) is, naturally, the picture that catapulted Demy onto the international stage. This brightly colored musical, entirely sung without spoken dialogue, is actually a sequel to "Lola," as it brings back Marc Michel's character – older and perhaps a bit wiser – in a secondary role to the starstruck lovers played by Catherine Deneuve and Nino Castelnuovo. Despite their best efforts, the young couple fail to keep their love for one another burning against the wages of time apart from one another, leading to a devastatingly beautiful ending that's aptly described in Criterion's booklet notes as "the happiest sad ending" in cinema history. Legrand's music is grandly dramatic in places, jazzy and wistful in others; it's also repetitious at times, though yielded a pair of commercial hits in melodies that became the standards "Watch What Happens" and "I Will Wait For You." Criterion's digital 2K restoration (1.85) originates (as do all the films in the set) from a French print that's dazzling in detail and color, with 5.1 DTS MA audio having been remixed from original elements and Legrand's personal tapes.
More effervescent and less melancholy than its predecessor, THE YOUNG GIRLS OF ROCHEFORT (126 mins., 1967) was Demy's full-blown tribute to American musicals: a sumptuous, sunny and more optimistic – if occasionally bittersweet – tale that intersperses dialogue through Legrand's pleasant, jazzy score. The story is a fluffy tale of two sisters (Catherine Deneuve and her real-life sibling, Francoise Dorleac) and the "just missed" connections involving their mother; her former lover; a sailor; a pair of guys (George Chakiris, Grover Dale) staging a local show; and an American performer (Gene Kelly) just passing through France. The plot serves mainly as a stage for Legrand's beautiful score, which is even more infectious than his work in "Cherbourg," packed with breezy melodies that perfectly match the sun-drenched cinematography of Ghislain Cloquet. Criterion's transfer (2.35) is spectacular in its color and clarity, and the 5.1 DTS MA sound is a joy.
The other two films in Criterion's box are likely less familiar to American audiences: DONKEY SKIN (90 mins., 1970) stars Catherine Deneuve in a weird adaptation of a French fairy tale co-starring Jean Marais and Jacques Perrin. Michel Legrand contributed a handful of songs to this unusual picture that captivated French viewers and apparently befuddled others – it's as close to a "family" picture Demy produced, albeit with a weird premise involving a King (Marais) who wants to marry his daughter (!) after the death of his wife, and the girl's attempts to find another solution to the predicament (who can blame her?). For no apparent reason a helicopter shows up in the closing moments of a period film that's likely best appreciated by Demy aficionados and French cinephiles. Criterion's 2K (1.66) restored transfer is nicely rendered with DTS MA 5.1 audio rounding out the release.
The collection concludes with UNE CHAMBRE EN VILLE (93 mins., 1982), by far the weakest picture – a film from later on in Demy's career, which had sagged commercially and critically by the '80s. This downbeat drama tries to evoke memories of "Cherbourg" with its portrayal of a doomed couple (Dominique Sanda, Richard Berry) set against a workers' strike in Nantes during the late '50s. The picture is entirely sung, albeit with Michel Colombier music that lacks the dramatic impact of Michel Legrand's earlier efforts, and the drama is limp – as is the flat cinematography that nearly resembles a television production. Once again the transfer has been derived from a French 2K restoration (1.66), but the film isn't nearly as accomplished cinematically as the director's earlier works, and the 2.0 DTS MA stereo sound is similarly weak.
Supplements abound throughout the BD/DVD dual-format set: "Lola" boasts a 2012 interview with Aimee and Demy's widow, filmmaker Agnes Varda; a conversation with Varda from 2012 about "Lola's song"; and four short films by Demy (1951-62). "Bay of Angels" includes an archival French TV interview with Moreau about the film and a talk with journalist Marie Colmant about Demy. "Umbrellas of Cherbourg" includes a 2008 documentary on the film, a 1964 French TV interview with Demy and Legrand, audio recordings of Deneuve and Legrand at the National Film Theatre in London, and a talk with scholar Rodney Hill. "Young Girls"' supplemental slate offers a 1966 French TV interview with Demy and Legrand; a conversation with Demy biographer Jean-Pierre Berthome and costume designer Jacqueline Moreau; an episode from the 1966 TV series "Behind the Screen" on the film; and Varda's 1993 documentary "The Young Girls Turn 25″ on Blu-Ray (the DVD carries it on a separate platter). "Donkey Skin" boasts a French TV interview on the set of the film with cast and crew; a 2008 program on the numerous versions of Charles Perrault's fairy tale; another 2008 program on the themes of the film; and a Q&A from the AFI circa 1971 with Demy. Finally, "Une Chambre En Ville" includes a visual essay from critic James Quandt; a 1987 Q&A with Demy; Varda's 1995 documentary "The World of Jacques Demy"; and a restoration demo. All discs also include the trailer.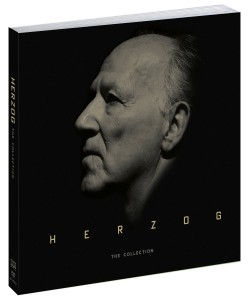 HERZOG: THE COLLECTION, meanwhile, is one of Shout Factory's most ambitious and satisfying releases in the format to date. Superbly packaged in a hardbound case, the retrospective works its way through the filmmaker's most important documentaries and features, encompassing no less than 13 Blu-Rays – all with 1080p AVC encoded transfers – and new special features. Included in the set are:
1. EVEN DWARFS STARTED SMALL (96 mins., 1970) with commentary with Herzog and actor Crispin Glover, moderated by Norman Hill.
2. LAND OF SILENCE AND DARKNESS (85 mins., 1971) and FATA MORGANA (76 mins., 1971), with commentaries again featuring Herzog, Glover and Hill.
3. AGUIRE, THE WRATH OF GOD (94 mins., 1972), the director's classic, sporting two commentaries: a new track with Herzog, and a German language track with Herzog and Laurens Straub (with English subtitles).
4. THE ENIGMA OF KASPA HAUSER (109 mins., 1974) sporting a commentary from Herzog and Hill.
5. HEART OF GLASS (94 mins., 1976) with a Herzog and Hill commentary.
6. STROSZEK (107 mins., 1977) with Herzog/Hill discussing the picture.
7. WOYZECK (82 mins., 1979) features "In Conversation: Werner Herzog and Laurens Straub" (in German with English subtitles).
8. NOSFERATU THE VAMPYRE (107 mins., 1979, PG), a reprise of Shout's new Blu-Ray release, reviewed here. Extras include two commentaries (one in English, one subtitled), a vintage featurette and the trailer.
9. FITZCARRALDO (158 mins., 1982, PG) boasts commentary with Herzog and producer Lucki Stipetic, moderated by Hill; a Herzog-Straub German commentary (with English subtitles); and the trailer.
10. BALLAD OF THE LITTLE SOLDIER (45 mins., 1984) and WHERE THE GREEN ANTS DREAM (105 mins., 1984), with the latter including a commentary from Herzog and the trailer.
11. COBRA VERDE (110 mins., 1987) includes a Herzog commentary plus another "In Conversation" Herzog/Straub interview (in German with English subs) and the trailer.
12. LESSONS OF DARKNESS (50 mins., 1992) and LITTLE DIETER NEEDS TO FLY (74 mins., 1997).
13. MY BEST FIEND (100 mins., 1999) rounds out the disc, including the original trailer.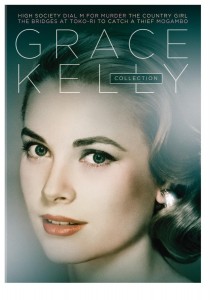 Stephen J. Smith, Chris Wahl and Brad Prager include extensive synopses of each film in the glossy, oversized hardbound book package – a must for Herzog aficionados and, again, a marvelous release from the label.
Also new from Criterion this month is THE BIG CHILL (105 mins., 1983, R), Lawrence Kasdan's big-studio reworking (of sorts) of John Sayles' "Return of the Secaucus 7." Kasdan and Barbara Benedek's script gathers a group of thirtysomething friends and their respective significant others (Tom Berenger, Glenn Close, Jeff Goldblum, William Hurt, Kevin Kline, Mary Place Place, Meg Tilly, JoBeth Williams) after the suicidal death of one of their classmates (Kevin Costner as a corpse). Kasdan's film was a big hit upon its initial release but it's a tedious, talky affair that's best appreciated today for its collection of stars in – or just before – their prime. Criterion's Blu-Ray/DVD dual-format edition boasts a newly restored 4K transfer approved by Kasdan and cinematographer John Bailey, with mono and 5.1 DTS MA audio; a new interview with Kasdan; a reunion of the cast/crew at the 2013 Toronto International Film Festival; the movie's 1998 DVD documentary; deleted scenes; and the trailer.
Another new compilation, GRACE KELLY COLLECTION (Warner), is a seven-disc DVD set comprised of several of Kelly's classics: "Mogambo," "The Bridges at Toko-Ri," "Dial M For Murder," "The Country Girl," "To Catch a Thief," and "High Society," all culled from previously-released transfers from the Warner and Paramount vaults. Though there's not much cinematically new here, this is the first time Kelly's pictures have been packaged together in one box-set, and Warner's bonus seventh disc includes the documentary "Princes Grace De Monaco: A Moment in Time," which features the last televised interview with the Princess. Art cards and a reproduction of a personal letter to Kelly from Bing Crosby round out a fine anthology from Warner.
---
PHANTOM OF THE PARADISE Blu-Ray (***, 92 mins., 1974, PG; Shout! Factory): Brian DePalma's deliriously entertaining early '70s musical – a rock amalgamation of "Faust" and "Phantom of the Opera" – at last spins its way onto Blu-Ray courtesy of Shout! Factory's Scream imprint.
DePalma wrote the script for this off-the-wall tale of the unfortunate Winslow Leach (William Finley), whose tunes are stolen by a record producer (Paul Williams) and is promptly left for dead. Eventually, the disfigured Winslow terrorizes Williams' Swan and attempts to help a young ingenue (Jessica Harper) from suffering the same fate by bargaining with the devil.
Williams' songs are tuneful and work across a variety of genres, from his typical '70s singer-songwriter material to a parody of '50s and '60s tropes ("The Juicy Fruits" and "Beach Bums") and an interesting precursor to the kinds of wacky, heavy metal-like performance artists the decade would later become renowned for. The score is terrific, and the whole movie is energetic, fun and crazy – one of DePalma's earliest features, and, for my money, still one of his best.
Shout's Blu-Ray is a winner across the board. The transfer (1080p AVC, 1.85) is a bit lighter/cooler in tint than Arrow's Blu-Ray package from earlier this year, and the 5.1 DTS MA audio bests the Arrow's sound offerings (PCM and a muddy 4.0 DTS MA mix). Special features include a mix of Arrow's supplements (an hour-plus Williams interview conducted by Guillermo Del Toro, a documentary on the film, alternate takes, outtakes, trailers) mostly found on the accompanying DVD platter, with some terrific new goodies exclusive to the Shout release. These include a lengthy talk with Williams, who discusses the film and singles out the scoring work of George Aliceson Tipton; a recent chat with Brian DePalma; interviews with effects artist Tom Burman, producer Edward S. Pressman and drummer Gary Mallaber (the latter two on DVD only); and two new commentaries: one featuring Jessica Harper and co-stars Gerrit Graham, Archie Hahn, Peter Elbling and Jeffrey Comanor; and another with production designer Jack Fisk.
PING PONG SUMMER Blu-Ray (**, 93 mins., 2014, Not Rated; Millennium): A coming-of-age flick set in the '80s ought to be right up my alley. Unfortunately, this limp independent tale of a teen who has to take on a pair of bullies – yes, on the ping pong table at a local arcade – while on vacation with his parents (Lea Thompson, John Hannah) is a disappointment. Writer-director Michael Tully seasons his story with numerous '80s references (boom boxes, vintage hip-hop tracks), but the picture is slow-going and lacks the charm one would anticipate from the material – it's not funny enough to work as a comedy, and too lightweight to function as a drama. In either case, there's just not enough energy in the film to overcome its shortcomings, not even with Susan Sarandon appearing as the boy's Mr. Miyagi. Millennium's Blu-Ray looks fine with a 1080p (1.85) transfer; the disc includes commentary and a Making Of featurette along with Dolby TrueHD audio.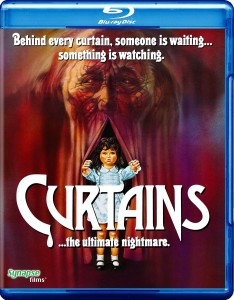 CURTAINS Blu-Ray (**, 90 mins., 1983, R; Synapse Films): A minor slasher that became a film fondly remembered by certain genre fans, Synapse has resurrected the Farley-Jensen release "Curtains" as their latest Blu-Ray endeavor – and it's a dandy for buffs.
John Vernon stars in the picture as a shlock director looking for the right actress to fill the role of "Audra," a deranged lunatic that sends the director's last leading lady (Samantha Eggar) to the asylum for some method acting. Alas, someone wearing a freaky mask soon starts to off the other actresses vying for the part – making one wonder who's to blame for the deaths.
Director Richard Ciupka (Styker's name is used on the packaging!) fashioned a wild and woolly, if not particularly memorable, outing here with some deranged kill sequences that are far and away the picture's highlight. Synapse's Blu-Ray includes all kinds of goodies, starting with a new 2K master from original vault materials; a new 5.1 DTS MA mix; a 2014 retrospective offering comments from Cuipka, composer Paul Zaza and many others; a vintage documentary short about Ciupka; a commentary with stars Lynne Griffin and Lesleh Donaldon; an alternate audio track comprised of vintage interviews with Eggar and producer Peter R. Simpson; and the trailer.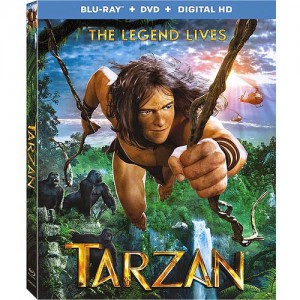 TARZAN Blu-Ray Combo Pack (**, 94 mins., 2013, PG; Lionsgate): Germany's Constantin Film produced this low-grade – though not entirely unwatchable – new animated adventure featuring Edgar Rice Borroughs' hero. Here, Tarzan starts off as young "JJ Greystoke," whose parents perish in the jungle while trying to track down the remnants of a meteor that may have extinguished life in the prehistoric age. After being nursed back to health by a group of apes, the boy, naturally, grows into Tarzan and attempts to save the universe from his human family's corporation exploiting the meteor rock for profit. Slow-going and overly plotty, this "Tarzan" boasts adequate animation but little more – however, young kids might enjoy it just the same, particularly once Tarzan takes center stage and the story (finally) gets going. Lionsgate's Blu-Ray combo pack is a Walmart exclusive and includes a trio of featurettes, a 1080p transfer (2.40), 5.1 DTS MA soundtrack, digital Ultraviolet copy and a DVD.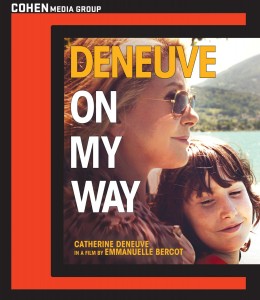 Cohen Film Collection New Releases: Abbas Kiarostami's THE WIND WILL CARRY US (118 mins., 1999) is an interesting picture about a film crew hired to shoot a funeral in small Kurdish village, and who eventually become familiar with the town's decidedly unique way of life. Cohen's Blu-Ray includes a conversation between Kiarostami and Richard Pena; a commentary with historian Jonathan Rosenbaum and scholar Mehmraz Saeed-Vafa; the 2014 re-release trailer; a 1080p transfer and 2.0 PCM soundtrack in Farsi with English subtitles…Available this week, Catherine Deneuve's performance in ON MY WAY (113 mins., 2014, Not Rated) is the central reason to check out Emmanuelle Bercot's drama-edy about a former beauty queen who heads out on a road trip after her lover leaves and her family restaurant faces an uncertain future. Laid back and enjoyable enough, though the picture seems to meander on a bit before reaching its final destination. Cohen's Blu-Ray boasts deleted scenes, an interview with Deneuve, a 1080p transfer and DTS MA audio…another Cohen Film Collection release, FAVORITES OF THE MOON (105 mins., 1984),streets on August 12th. This Otar Iosseliani picture was a favorite on the art-house circuit back in the '80s, with a script by Iosselliani and Gerard Brach that follows a pair of objects from one owner to the next. A commentary with critic Philip Lopate, a new essay from critic Giovanni Vimercati, a 2014 re-release trailer, a 1080p transfer and 2.0 PCM soundtrack round out the release.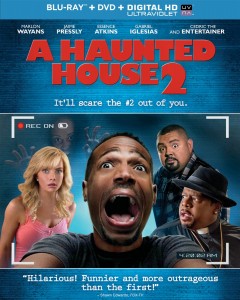 A HAUNTED HOUSE 2 Blu-Ray Combo Pack (*, 87 mins., 2014, R; Universal): Tepid sequel to a moderate box-office hit, "A Haunted House 2″ brings back Marlon Wayans for more brainless, raunchy comedy as he settles into yet another home plagued with demons. Jamie Pressly and Cedric the Entertainer provide a few mild chuckles but this is desperate stuff, and, indeed, worse than its predecessor (as evidenced by its poor box-office returns). Universal's Blu-Ray, available August 12th, includes deleted/extended scenes; commentary with Wayans, co-writer Rick Alvarez and director Michael Tiddes; a 1080p (1.85) transfer and DTS MA 5.1 soundtrack; and a DVD and Ultraviolet streaming copy.
NEED FOR SPEED Blu-Ray (**, 131 mins., 2014, PG-13; Touchstone/Buena Vista): Good-looking but otherwise tedious, predictable attempt to cash in on the "Fast and the Furious" pictures. "Breaking Bad"'s Aaron Paul stars as a garage owner who's framed for the death of one of his drag-racing buddies, and years later, sets out on a cross-country trek to clear his name and win a race staged by an elusive millionaire. Overwrought performances from Paul, Michael Keaton, and Dominic Cooper provide the sole human interest in this Dreamworks adaptation of the well-known Electronic Arts video game franchise. The visual effects are spiffy and some of the racing scenes are compelling enough, but at over two hours, I'd have rather spent the time actually playing the game than sitting through this silly picture from director Scott Waugh. Touchstone's Blu-Ray is packed with "Supercharged Extras," including deleted scenes, outtakes and a slew of featurettes. The 1080p (2.35) AVC encoded transfer and 7.1 DTS MA soundtrack are both impressive, with a digital Ultraviolet copy also included.
RAGE Blu-Ray/DVD (98 mins., 2014, R; Image/RLJ): Yet another tired direct-to-video/on-demand offering starring Nicolas Cage isn't nearly as nutty as you might expect (or hope). Cage here stars as a businessman whose teenage daughter is abducted, leading him and his entourage to get her back "by any means necessary" (of course!). That's literally part of the plot description in this Paco Cabezas-directed affair, which plays like a row-rent "Taken" without any of the Liam Neeson hit's energy – or production value. A shame, particularly considering the decent supporting cast (Rachel Nichols, Peter Stormare, Danny Glover) that was assembled here. Image's Blu-Ray/DVD combo pack includes deleted scenes, an alternate ending, a Making Of featurette, 1080p (2.35) transfer, 5.1 DTS MA soundtrack, and a DVD copy. Available August 12th.
---
LAST TANGO IN HALIFAX The Complete Season 2 DVD (347 mins., 2013; BBC Home Entertainment): The second-season of the popular series finds Alan and Celia (Derek Jacobi and Anne Reid) opting to marry after the former's near-fatal heart attack. How their daughters react – and the development of their own relationships – comprises a good amount of the storyline in the series' sophomore frame, which aired to strong viewership on PBS stations over the past year. BBC's DVD edition doesn't offer extras but does include 16:9 transfers and 2.0 stereo soundtracks.
Also new from BBC is DALZIEL & PASCOE: Season 10 (502 mins., 2014), which continues the investigations of Superintendent Andy Dalziel and his comparatively more buttoned-down partner, Inspector Peter Pascoe. The tenth season offers five new cases: Houdini's Ghost, Glory Days, Wrong Time Wrong Place, Guardian Angel, and A Death in the Family, each in 16:9 transfers and stereo soundtracks.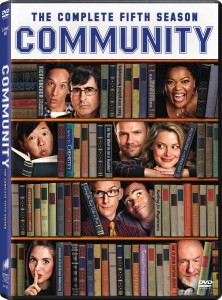 COMMUNITY: The Complete Fifth Season DVD (278 mins., 2014; Sony):Just when you think it's canceled, somehow Dan Harmon's cult comedy series "Community" finds a way to keep going. This 13-episode fifth season of the NBC comedy proved to be its last on the network airwaves – but Yahoo has since renewed the ribald series with Joel McHale, Gillian Jacobs, Alison Brie, Ken Jeong and Danny Pudi for another year, relegating it to "web exclusive" status…though "Community" fans will be sure to take more episodes no mater how they can get them. Sony's DVD includes uncensored special features: cast/crew commentaries on every episode; outtakes; "Re-Animating the '80s" and another featurette, plus 16:9 transfers and 5.1 Dolby Digital soundtracks.
LOW WINTER SUN: The Complete Series DVD (430 mins., 2014; Anchor Bay): AMC's adaptation of the British series "Low Winter Sun" transplants its predecessor's storyline to Detroit, where a dirty cop is slain by a pair of his fellow detectives (Mark Strong, Lennie James). The fallout from their deed pulls them into the Detroit underworld in this gritty drama scored by Tyler Bates with episodes directed by Ernest Dickerson among others. Anchor Bay's three-disc DVD set preserves the program's entire run with a number of extras (Making Of, episode featurettes, deleted scenes) rounding out the package; the 16:9 (1.85) transfers and 5.1 Dolby Digital soundtracks are all up to par.
Also new from Anchor Bay is the complete first season of THE BIRTHDAY BOYS (230 mins., 2014), the IFC comedy featuring Bob Odenkirk and the L.A. comedy group The Birthday Boys in a Ben Stiller-produced sketch program. As with any of these blackout comedy series, your mileage will vary with this type of humor, though I did find "The Bithday Boys" pretty funny from what I sampled. Anchor Bay's DVD includes commentaries, bonus videos, featurettes, promos, 16:9 (1.85) transfers and 2.0 stereo soundtracks.
---
New From Lionsgate: Tyler Perry's THE SINGLE MOMS CLUB (111 mins., 2014, PG-13) finds a handful of single moms, struggling to make financial and emotional ends meet, banding together to form a support group. Nia Long, Amy Smart, Cocoa Brown, Wendi McLendon-Covey and Zulay Henad star with Perry and Terry Crews leading the male supporting cast. Lionsgate's Blu-Ray includes two behind-the-scenes featurettes, a 1080p (2.35) AVC encoded transfer, 5.1 DTS MA audio and an Ultraviolet digital copy…Horton Foote adapted his play THE TRIP TO BOUNTIFUL (90 mins., 2014, Not Rated) as a made-for-TV film starring Cicely Tyson, Vanessa Williams, Blair Underwood and Keke Palmer. The material previously earned Geraldine Page an Oscar back in the mid '80s for the superior film version, though this well-acted Lifetime movie – shot in Canada – is still worthwhile. Lionsgate's DVD includes a 16:9 (1.78) transfer and 5.1 sound…TEENAGE MUTANT NINJA TURTLES: COWABUNGA CLASSICS (220 mins.) fights its way onto DVD just in time for the release of the new live-action film. This Lionsgate release includes 10 fan-favorite classic episodes (Planet of the Turtleoids, Night of the Rogues, Cowabunga Shredhead, Superhero for a Day, Turtles at the Earth's Core, Curse of the Evil Eye, The Turtles and the Hare, The Big Blow Out, My Brother the Bad Guy and Shredder & Splintered) in their original 1.33 aspect ratios. Bonus extras include "The Turtles: A Ninjastatic Look Back," exclusive artist interviews and a fan featurette…Dolph Lundgren and Scott Adkins star in LEGENDARY (92 mins., 2013, PG-13) concerning a hunt for a primeval monster named the "Shocate." Lionsgate's DVD includes bonus interviews with the stars, a Making Of, Ultraviolet copy, 16:9 (2.39) transfer and 5.1 Dolby Digital soundtrack.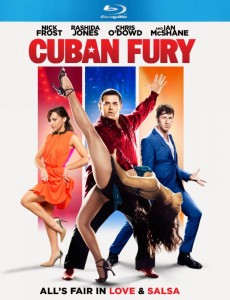 E One New Releases: Nick Frost nabs top billing in the amiable comedy CUBAN FURY (98 mins., 2013, R) as an average guy who unleashes his innermost "Dirty Dancer" in a cute vehicle for the star with a fair amount of laughs. Rashida Jones, Chris O'Dowd and Ian McShane co-star in James Griffith's comedy, written by Jon Brown from an original concept by Frost. E One's Blu-Ray includes behind-the-scenes featurettes, a "How to Dance Salsa with Nick Frost" segment and Q&A with the star, along with a 1080p (2.40) transfer and 5.1 DTS MA sound…GERONIMO STILTON (92 mins., 2014) includes four episodes from the kids cartoon: Going Down to Chinatown, Tea Story, Hypno Tick Tock, and Clean Sweep, all in 16:9 (1.78) transfers with 2.0 stereo audio…another kids release, BABAR AND THE ADVENTURES OF BADOU (90 mins., 2010) boasts eight episodes from the Nelvana co-produced animated series: Gone Wild, Operation Secret Spy Suitcase, Spy Trap, Sneazles, Monkey Camp, Bad Bounce, Copy Cat and Heropatamus. The single-disc includes 16:9 (1.78) transfers and 2.0 stereo soundtracks.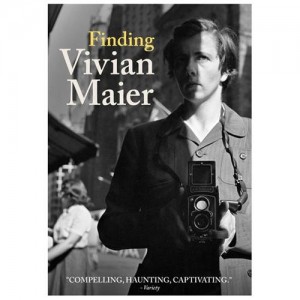 MPI/IFC New Releases: FINDING VIVIAN MAYER (84 mins., 2013) offers a fascinating look at the life – and photographic work – of a "mysterious nanny" who took secret photographs that have since earned her a reputation of being one of the top "street photographers" of the 20th century. John Maloof and Charlie Siskel's documentary includes hundreds of Mayer's shots – thousands of which went unseen during her lifetime – along with interviews and a number of extras in IFC's DVD (Super 8 footage, Maier audio recordings, photo gallery, the trailer, plus a 16:9 transfer and 5.1 soundtrack)…THE FRENCH MINISTER (114 mins., 2013, Not Rated) is a French comedy from veteran filmmaker Bertrand Tavernier, following a Minister of Foreign Affairs (Thierry Lhermitte) in a wacky farce based on a graphic novel by former government speech writer Abel Lanzac. The Sundance Selects DVD includes a Making Of, French soundtrack in 5.1 with English subtitles, and a 16:9 (1.85) transfer.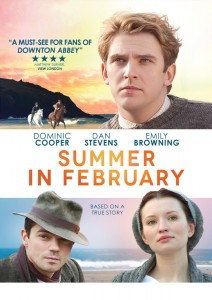 From Cinedigm: The French feature ELEANOR'S SECRET (80 mins., 2009) focuses on a young boy who encounters a handful of famous fairytale characters after he begins to read from a magical library. This well-received import has been released on DVD in the US by Cinedigm featuring an English soundtrack as well as its original French dialogue with subtitles…Another animated feature, WRINKLES (89 mins., 2014), hails from Spain and proclaims itself as "'One Flew Over the Cuckoo's Nest 'in an old folks' home." Cinedigm's DVD includes an English track featuring the voices of Martin Sheen and Matthew Modine, as well as the original Spanish dialogue with subtitles. A full-feature animatic and behind-the-scenes clips are also on-hand plus a 16:9 transfer of a film for adult audiences only (not kids!)…a Bohemian artist colony on the coast of pre-War England is the setting for SUMMER IN FEBRUARY (100 mins., 2013, Not Rated), a true story surrounding painter Sir Alfred Munnings (Dominic Cooper) and his relationship with pal Gilbert (Dan Stevens). Emily Browning co-stars in this good-looking tragic romance Cinedigm brings to DVD on August 12th sporting a 16:9 transfer and 5.1 soundtrack. Extras include an interview with Stevens.
NEXT TIME: DIVERGENT and more! Until then, don't forget to drop in on the official Aisle Seat Message Boards and direct any emails to our email address. Cheers everyone!