Sturdy and entertaining, DAWN OF THE PLANET OF THE APES (***, 130 mins., PG-13) finds ape and man – what's left of it in a post-plague San Francisco – existing tenuously in this worthy sequel to 2011′s surprising "Rise of the Planet of the Apes."
Caesar (Andy Serkis), the leader of the advanced p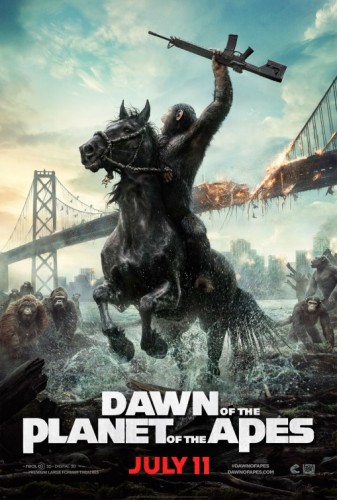 rimates, has established an evolving ape colony in the forests outside Frisco – when director Matt Reeves' film opens, humans haven't been seen in a few years, enabling the apes to set family roots and lay the groundwork for their own world. Eventually, humans do cross their paths – led by the understanding Malcolm (Jason Clarke), his wife (Keri Russell) and son (Kodi Smit-McPhee). Part of a dwindling society holed up inside the city, Malcolm tells Caesar that the humans need access to a dam that will generate power for the surviving populace. Despite hesitation on the part of suspicious apes that recall their imprisonment and scientific experimentation in "Rise," Caesar sets a truce that enables the humans to carry out their work – but both sides find peace difficult to attain.
Taking a cue from its predecessor, "Dawn of the Planet of the Apes" is rich with characterizations, and the Mark Bomback/Rick Jaffa/Amanda Silver script plays out on a refreshing course that's ultimately unexpected (one hot-headed human character proves to be a red herring for the movie's main turn of events). It's a credit to the filmmakers that the movie manages to convey a number of social messages without becoming overly preachy – something that marred the original "Apes" films back in the '60s and '70s.
Reeves integrates the motion-captured primates with his human cast – used here as supporting characters – as effectively as Rupert Wyatt did in "Rise," once again relying on Serkis' strengths to create a leading character in Caesar whom audiences can root for and identify with. Most of the apes use sign language instead of speech, and the film's opening set-piece is rousingly executed without dialogue. Human performers like Clarke and Russell, meanwhile, fare well with what they have to work with, though the movie feels a bit incomplete with a few of their subplots left unresolved (or simply neglected) by the picture's end (perhaps Reves' announced extended cut will alleviate some of those issues).
When the bleep hits the fan in the final third, "Dawn" turns up the special effects and action sequences, and while they're reasonably well-done, this proves to be the least compelling segment of the film. Despite having a larger budget and more elaborate FX, "Dawn"'s added bombast doesn't add up to a whole lot emotionally, whereas its predecessor told a more poignant story on a smaller scale. I was also surprised at how little the film's overall "world" is advanced by the time the movie is over, with "Dawn" ending just a step or two ahead of where it starts – promising even more "war" to follow in the already-announced 2016 sequel. After the finely-crafted characterizations and more intimate drama established in "Rise of the Planet of the Apes" – as well as the first two-thirds of this film – I hope the filmmakers resist the temptation to simply "turn up the apocalypse" in future installments.
"Dawn of the Planet of the Apes" isn't a masterwork – in this flaccid summer of soulless Hollywood offerings, it's all too easy to overrate the picture (I confess I may have liked the film even more had portions of it not sounded like an episode of "Lost," with Michael Giacchino doing his usual piano chord progressions to generate an "emotional" effect. Suffice it to say the score is one of the film's weakest elements). And outside of a plot that recycles certain elements from "Battle For the Planet of the Apes," the film – unlike its predecessor – eschews any references to the original APJAC "Apes" pictures, even in sequences that occur late in the film that would have been a perfectly fitting place to pay homage.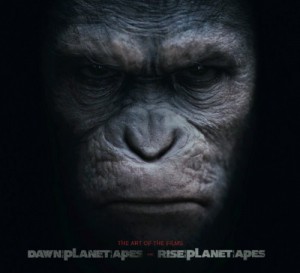 Still, it's an impressively rendered sequel – and this year, that's more than enough to make it the top banana at the summer box-office.
Titan Books' THE ART OF THE FILMS: DAWN OF THE PLANET OF THE APES & RISE OF THE PLANET OF THE APES makes for a highly recommended read for Apes fans. This gorgeously produced coffee-table book includes page after page of glossy photos, production art work, storyboards and preliminary special effects footage.
The 176-page tome is split evenly into two segments: the opening section on "Rise" offers a fascinating glimpse at the creative process, enabling readers to gain a perspective on the motion-capture work of Serkis and the supporting cast – from pre-production through filming in British Columbia. There are also stills from the movie's original ending, which was reshot late in the game, and to date hasn't been seen by viewers.
"Rise" offers tantalizing stills from the picture's comparatively more evocative visual scope, though it's curious how the finished picture – filmed in New Orleans and Vancouver – isn't as elaborately designed as the conceptual artwork (one would've anticipated more establishing shots of the depleted future Earth than what appears on-screen). Comments from Matt Reeves and Mark Bomback are included throughout, adding weight to the text that runs through the splendid artwork. Recommended!
---
New From Shout!
The word spoof doesn't tend to mean anything these days, since most critics who see a monster movie couldn't care one way or the other if the movie is being serious or not. Case in point is LAKE PLACID (**½, 83 mins., R), a goofy 1999 lark from then-red hot TV producer David E. Kelley, who wrote and produced a film that attempts to do for crocodiles what "Jaws" did for sharks and "Alligator"did for…well, you know.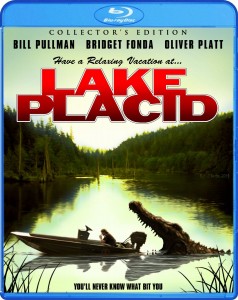 Not that "Lake Placid" is a great movie by any stretch, but taken on its own terms as a joke (most likely an excuse for Kelley and the cast to take a vacation on scenic lake vistas), and the film comes off as a pleasing summer diversion.
Bill Pullman, wasted for the most part, plays a Maine wildlife expert called to the scene of a boating accident when small-town sheriff Brendon Gleeson witnesses an environmentalist's death while diving in the lake. Along with Pullman comes Bridget Fonda, a museum aide sent packing by ex-lover Adam Arkin to take a glimpse at the mysterious goings-on. Once Croc expert Oliver Pratt decides that this the work of no dinosaur, but rather a 30-foot crocodile, the group sets out to trap the Croc before…well, since nobody else lives on the lake except batty o'l Betty White, there's no big pressing need to dispose of the creature except that the movie has to end before the 90 minute mark.
Directed efficiently by Steve Miner and with some competent digital effects work turned in by Stan Winston's group, "Lake Placid" is pretty much of a throwaway joke: the dialogue is often amusing, as is the interplay between the various characters. Gleeson tends to get most of the good lines, but even Pratt's whiny spoiled brat – the sort of character Kelley wrote endlessly on his hit "Ally McBeal" at the time of the film's production – has his moments. None of it, though, is quite as funny as it sometimes thinks it's being, and there's little suspense in the picture as much of it takes its derivative set-pieces straight from "Jaws" and "Jaws 2."
John Ottman's score is usually sufficient, particularly in its establishing opening themes, but each time the movie stops to establish a relationship between Fonda and Pullman, it becomes clear that the composer's forte is not underscoring romantic sequences (any warmth supposed to be generated by the two leads is squashed by the fact that Ottman's music just isn't lyrical or melodic enough to work with). The cinematography by Daryn Okada, though, is excellent and on a wide theater screen "Lake Placid" is like taking a fun trip up to the lake for the weekend – with the added excitement of seeing a crocodile swimming around looking for tasty tidbits on the side.
Shout's Blu-Ray of "Lake Placid" offers a new retrospective look at the making of the film, boasting comments from Miner, Okada and Pullman among others. The film was shot for relatively little and did quite well upon its theatrical run, with the participants clearly understanding the type of offbeat, goofy film they were making. Other extras include a vintage featurette, TV spots, the trailer, a respectable 1080p AVC encoded transfer (no repeat of the "Ravenous" mess here), and 5.1 DTS MA audio.
Also new from Shout! are a pair of "backwoods" thrillers, starting with Walter Hill's SOUTHERN COMFORT (**½, 105 mins., 1981, R). This obvious commentary on the Vietnam war finds a group of Louisiana National Guardsmen (including Keith Carradine, Fred Ward and Powers Boothe), unfamiliar with the terrain they're fighting in and with few resources at their disposal, in an unexpected conflict with swamp residents who don't take to their brand of humor.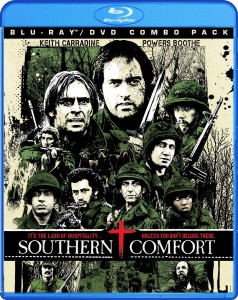 Written by Hill, David Giler and Michael Kane, "Southern Comfort" is often linked with John Boorman's "Deliverance," a far superior film with richer characterizations and suspense. "Southern Comfort" offers a mostly unappealing slate of obnoxious yahoos who unwittingly trigger a conflict with backwoods Bayou locals (Brion James among them) and are subsequently picked off one by one. It's something of a messy film that only gets its act together in the final third, once the survivors make their way into a Cajun village to try and stay alive – a thrilling set-piece that ranks with the best work Hill ever committed to film.
A cult favorite that failed to find an audience upon its initial release, "Southern Comfort" debuts on Blu-Ray in a satisfying 1080p AVC encoded transfer. Some digital manipulation seems to have been used here, but the presentation – licensed from Millennium Entertainment – is nevertheless an appreciable enhancement from its last release on an MGM DVD. Another fine Shout retrospective featurette reassesses the production with comments from Boothe, Carradine, Giler and Hill (the latter two via Skype). The trailer rounds out the release, with the promised "Outtakes" – mentioned on the back cover – failing to materialize.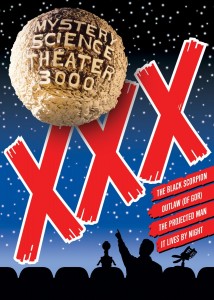 THE FINAL TERROR (**, 1983, 82 mins., R) likewise arrives on Blu-Ray in a DVD/BD combo package from Shout. This minor horror outing launched the career of future "Fugitive" helmer Andrew Davis, as well as boasts early starring turns for Rachel Ward, Daryl Hannah, Adrian Zmed and Joe Pantoliano. Outside of those attributes, this Samuel Z. Arkoff production – which the B-movie mogul sat on apparently for a couple of years while Ward and Hannah's careers took off – is forgettable stuff, as a group of campers run afoul of a forest killer who (like the Bayou baddies in "Southern Comfort") knows the terrain. Davis did a fine job here technically under severe budgetary constraints, but "The Final Terror" isn't all that exciting, with a surprisingly low body count considering its genre.
Long thought to have been lost forever, Shout reconstructed "The Final Terror" from a myriad of prints supplied by collectors. The end result shows the expected wear and tear at times, but it's a crisp and good looking presentation in terms of the mastering, with extras including a new commentary from Davis, a look at the reconstruction and the production backed by conversations with Zmed, Lewis Smith, composer Susan Justin and production supervisor Allan Holzman among others.
Coming July 22nd is a Special Edition of GINGER SNAPS (108 mins., 2000, R), the Canadian chiller about a sixteen-year-old (Katharine Isabelle) who turns into a werewolf and her younger sister's (Emily Perkins) efforts to try and save her. Karen Walton's script mixes the horror and teen angst dramas fairly well until a disappointing final act, but "Ginger Snaps" still has its share of fans. Shout's Blu-Ray/DVD combo pack boasts new interviews with Perkins, composer Mike Shields and others; a "Women in Horror" panel; commentary with director John Fawcett and Walton; cast auditions; the trailer; TV spots; a new 1080p transfer and 5.1 DTS MA soundtrack.
Finally, available July 29th is MYSTERY SCIENCE THEATER: VOLUME XXX, featuring four favorites from the classic series: The Black Scorpion, Outlaw of Gor, The Projected Man and It Lives By Night. I don't recall any of these episodes being "elite" but "Outlaw of Gor" is still pretty funny, and MSTies will be happy, naturally, just to see these shows on DVD for the first time. Extra features – packaged outstandingly once again by Shout – include interviews with John "Bud" Carlos, Harry Alan Towers, featurettes on "The Black Scorpion" and "The Projected Man," mini-posters by Steve Vance and plenty more.
---
Olive Films New Releases
A trio of interesting new catalog releases comprise part of Olive's summer slate.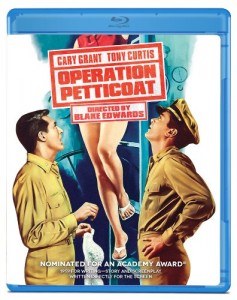 Nunnally Johnson's MR. PEABODY AND THE MERMAID (**½, 99 mins., 1948) is a slight, enjoyable enough comedy with fortysomething family man Mr. Peabody (William Powell) encountering a fetching beauty from the deep (Ann Blyth) while on vacation in the Caribbean with his wife (Irene Hervy). Johnson, who scripted the picture from Guy and Constance Jones' novel "Peabody's Mermaid," works in relatively light dramatic elements involving Peabody's concerns over aging and his relationship with his understanding spouse, and the comedy is likewise mild in nature, with the film feeling a bit bloated at nearly 100 minutes. Still, fans of the stars and the era might take to the film, which makes its Blu-Ray debut in a crisp B&W transfer in good condition with mono audio.
A seldom-screened adaptation of Henry James' "The Aspern Papers," THE LOST MOMENT (**½, 89 mins., 1947) is an intriguing, if not altogether successful, attempt at "gothic noir" with American publisher Robert Cummings pursuing the love letters of a 19th century poet. He ends up meeting the 105-year-old lover (Agnes Moorehead) of the bard as well as her unhinged niece (Susan Hayward) in a moody, atmospheric film shot in B&W by Hal Mohr. Olive's 1080p HD transfer offers the expected nicks and scratches from time to time, but the presentation is remarkably strong given the film's lack of circulation.
Finally, OPERATION PETTICOAT (***, 122 mins., 1959) serves up laughs on the high seas with a WWII tale of a dilapidated American sub – commandeered by Cary Grant – that's manned by a motley crew and eventually spruced up by the arrival of a handful of nurses. Tony Curtis, Joan O'Brien, Dina Merrill, Gene Evans, Dick Sargent, Arthur O'Connell, and future "Love Boat" co-stars Gavin MacLeod and Marion Ross populate this somewhat bloated but highly entertaining film from director Blake Edwards, working from a script by Stanley Shapiro and future "Inspector Clouseau" co-creator Maurice Richlin, who scored another hit together in 1957 with the Doris Day-Rock Hudson comedy "Pillow Talk." Olive's 1080p AVC encoded transfer is again quite satisfying, with mono audio featuring a romantic score by David Rose.
---
THIS IS AMERICA, CHARLIE BROWN (1988-89, 194 mins., Warner): Highly enjoyable Peanuts offering was noteworthy for being the first animated "mini-series" to air in the U.S.
This eight-part series (which CBS broadcast at infrequent times during 1988 and '89) offers an engaging assortment of history lessons for kids with Charles M. Schulz's beloved characters working their way into each segment. The episodes include "The Mayflower Voyagers" (also available on the "A Charlie Brown Thanksgiving" BD/DVD), "The Birth of the Constitution," "The Wright Brothers at Kitty Hawk," "The NASA Space Station," "The Building of the Transcontinental Railroad," "The Great Inventors," "The Smithsonian and the Presidency" and "The Music and Heroes of America,"all 30-minute segments spread across the two discs in Warner's DVD. This is an easy recommendation for all Peanuts fans and kids in particular, with Warner's DVD essentially reprising the older, OOP Paramount disc.
---
New From PBS
A number of exciting new releases on both DVD and Blu-Ray comprise PBS' July roster of titles.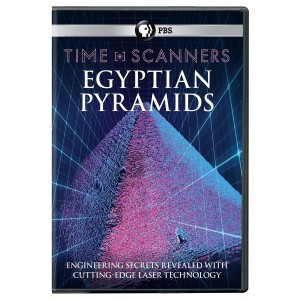 Three episodes from PBS' popular series TIME SCANNERS are among them: Egyptian Pyramids, Petra, and St. Paul's Cathedral find structural engineer Steve Burrows and his team of laser-scanning experts traveling to landmarks around the globe. With their high-tech equipment, they map out new 3D models of the respective structures in an effort to better understand how they were constructed. Fascinating stuff, with PBS' DVDs each offering widescreen transfers and stereo soundtracks.
Christopher Kimball and the cooks at AMERICA'S TEST KITCHEN return for a 14th season (13 hours, 2014) of the immensely popular cooking series. As always, the series runs the gamut from variations on fancy meals to everyday favorites, with themed shows including "From an Italian Bakery," "Meat and Potatoes with Panache," "Great American Sandwiches" and "Easy Summer Supper" (which is particularly apropos these days). PBS' four-disc set includes stereo soundtracks and 16:9 transfers of the complete 14th season, with printable versions available for all 52 recipes…FREDRICK LAW OLMSTED: DESIGNING AMERICA (60 mins., 2014) looks at the man who designed the U.S. Capitol Grounds and created park systems across America. The hour-long documentary from Lawrence Hott and Diane Garey is new to DVD and offers a bonus half-hour program, "Olmsted's Enduring Legacy."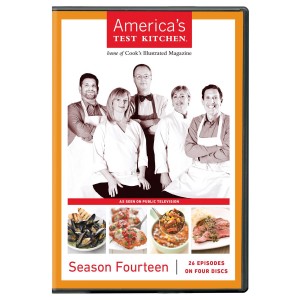 SECRETS OF THE DEAD: THE LOST GARDENS OF BABYLON (60 mins., 2013) goes digging for the legendary garden with Dr. Stephanie Dalley leading the way. The fact that the dig takes her to Iraq – in material shot over a year ago – adds a particularly melancholy element to this "Secrets of the Dead" episode, now available on DVD from PBS with a widescreen transfer and stereo soundtrack…FRONTLINE: UNITED STATES OF SECRETS (3 hours) is a three-part examination of the NSA's collection of "private" data, from its genesis post-9/11 to Edward Snowden's leaks and the link between the NSA and Silicon Valley. Available July 29th, the PBS documentary includes a widescreen transfer and stereo soundtrack…NATURE: THE GATHERING SWARMS (60 mins., 2014) chronicles the phenomena of wildlife swarm intelligence, be it fish, foul or insects, in footage shot around the globe. A splendid Nature documentary also now available on DVD from PBS. NATURE: LEAVE IT TO BEAVERS (60 mins., 2014), meanwhile, offers a fascinating glimpse at beavers in North America, from their near-extinction to their current rise in numbers…Three D-Day documentaries have also been newly released by PBS: DAY OF DAYS: JUNE 6, 1944 (52 mins, 2014) commemorates the 70th anniversary of the invasion of Normandy featuring interviews with survivors; D-DAY 360 (60 mins., 2014) is a technical examination of the invasion via forensic laser scanning and 3D computer models; and NOVA: D-DAY'S SUNKEN SECRETS (60 mins., 2014) chronicles the first-ever survey of the seabed bordering the legendary French beachheads. All three discs include stereo sound and widescreen transfers, with "D-Day: June 6, 1944″ also including a trailer and a newsreel about the Normandy invasion.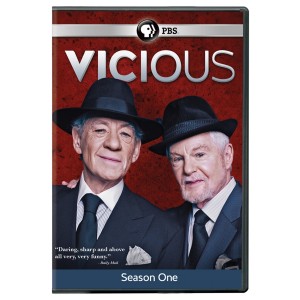 VICIOUS: Season 1 (210 mins., 2013) is the witty new series from writer Gary Janeti that probes the lengthy relationship between two gay men (Ian McKellen and Derek Jacobi) and the younger man (Iwan Rheon) who enters into their life. Frances de la Tour, Marcia Warren and Philip Voss co-star in "Vicious," which is now available as a Season 1 DVD set from PBS. Cast and crew interviews are included on the supplemental side…THE ESCAPE ARTIST (180 mins., 2013) stars David Tenant as Will Burton, a junior barrister who gets the creepy Liam Foyle (Toby Kebbell) off on a murder charge, only to see him set his sights on killing again. Sophie Okonedo and Ashley Jensen co-star in this Masterpiece Mystery broadcast now available on Blu-Ray offering the complete three-hour production. Bonus interviews with Tenant and writer David Wolstencroft are on-hand along with 1080i HD video and 2.0 stereo sound…Available this week, THE WIPERS TIMES (90 mins., 2013)brings to light the true story of British soldiers who printed an irreverent newspaper on the front lines of WWI. Ben Chaplin, Michael Palin and Ben Daniels star in the BBC feature from writers Ian Hislop and Nick Newman, with Andy De Emmony directing. PBS' DVD offers a 16:9 transfer and stereo soundtrack.
---
Lionsgate New Releases: Scarlett Johansson is the prime – and basically only – reason to take a sojourn UNDER THE SKIN (108 mins., 2014, R), director Jonathan Glazer's adaptation of Michel Faber's novel, profiling an alien (Scarjo) who cruises the lonely highways of Scotland looking for male victims. Weird, slowly paced, and not altogether satisfying at all as a narrative, but the cool visuals and the lovely Johansson might keep certain viewers glued just the same. Lionsgate's Blu-Ray includes a 1080p AVC encoded transfer, DTS MA 5.1 audio, a Making Of featurette, and Ultraviolet copy…Whoopi Goldberg and Ving Rhames star in A DAY LATE AND A DOLLAR SHORT (90 mins., 2013), a Lifetime Original movie based on the novel by Terry McMillan. Stephen Tolkin directed the film with a sterling supporting cast (Kimberly Elise, Mekhi Phifer, Anika Noni Rose and Tichina Arnold) that arrives on DVD this week from Lionsgate offering a 16:9 transfer and 5.1 Dolby Digital soundtrack…Ridley Scott co-produced KATE MOSSE'S LABYRINTH (180 mins., 2012), a TV mini-series adapted from Mosse's novel by writer Adrian Hodges and director Christopher Smith, that aspires to be a Dan Brown-esque historical-fiction thriller involving the Holy Grail and two time frames. The cast is attractive (Jessica Brown-Findlay and Vanessa Kirby are both easy on the eyes) but the end result was criticized as being flaccid by many of the book's fans. Lionsgate's DVD includes a featurette, 16:9 transfer and 5.1 Dolby Digital soundtrack…HERCULES: HERO, GOD, WARRIOR (135 mins., 1995-2009) is comprised of three History/Bio specials: Hercules: Power of the Gods, Clash of the Gods: Hercules, and In Search of History: The Greek Gods. Full-screen 1.33 transfers and 2.0 stereo soundtracks comprise Lionsgate's DVD. Another History compilation, 100 YEARS OF WWI (5 hours, 2004-14), includes the entire series The History of WWI: The First Modern War, plus a trio of bonus specials from Modern Marvels and Dogfights, on two DVDs...Eric Roberts and Olivier Gruner headline SECTOR 4: EXTRACTION (90 mins., 2013, R), a direct-to-vid programmer about a group of mercenaries caught behind enemy lines. Lionsgate's DVD includes a 16:9 transfer, 5.1 audio, and an Ultraviolet copy…MUMFIE'S QUEST: THE MOVIE (108 mins., 1994) follows the little elephant in a feature-length animated movie based on the story by Britt Allcroft, creator of "Thomas & Friends." Lionsgate's DVD includes a 1.33 transfer and stereo sound.
Coming on July 22nd, CESAR CHAVEZ (102 mins., 2013, PG-13) offers a profile of the civil rights activist with Michael Pena in the lead role. America Ferrera, Rosario Dawson and John Malkovich co-star in Diego Luna's film, which Lionsgate brings to Blu-Ray offering a 1080p transfer with 5.1 DTS MA audio…Robin Williams tries for another "Patch Adams"-esque blend of humor and pathos in THE ANGRIEST MAN IN THE WORLD (84 mins., 2014, R), a slight, unsuccessful film about a man who finds out he (apparently) has just 90 minutes left to live. Williams' Henry Altmann proceeds to spend it attempting to repair fractured relationships in a picture that leaves you saddened at what's become of prior A-lister Phil Alden Robinson ("Field of Dreams"), who directed. Lionsgate's Blu-Ray package includes a featurette and gag reel, 1080p transfer, 5.1 DTS MA audio and Ultraviolet copy…Finally, Mark Wahlberg's family is the focus of the genial A&E reality series WAHLBURGERS (220 mins., 2014), a highly enjoyable romp with Mark's mom and brothers cavorting around Boston, attempting to run chef Paul's local restaurants. Laid back to such a degree it's hard to envision this being scripted, and quite entertaining as cinematic fluff food. All nine first-season episodes are included in Lionsgate's DVD alongside bonus featurettes in 16:9 transfers.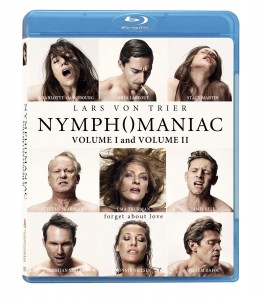 Magnolia New Releases: Lars Von Trier's NYMPHOMANIAC: VOLUME I AND II (117 and 124 mins., 2013, Not Rated) stirred up a lot of controversy last year – from its explicit sexual content down to its laughable advertising campaign, which offered a "Brady Bunch"-like grid of its stars (including Shia Labeouf, Willem Dafoe and Christian Slater) in various expressions of orgiastic pleasure. What the movie didn't generate were a lot of positive reviews, though for the adventurous, Magnolia has brought the film to Blu-Ray offering both "Volumes" in 1080p transfers and DTS MA soundtracks…Allie MacDonald stars in STAGE FRIGHT (88 mins., 2014, R), a watchable black comic thriller about a teenager stalked by a killer at her stepfather's performing arts camp. Minnie Driver co-stars as her diva mom with Meat Loaf as MacDonald's proud papa in Jerome Sable's offbeat "horror musical" now available on Blu-Ray from Magnolia. The 1080p transfer and DTS MA 5.1 audio are both top notch, and ample extras include deleted scenes, a Making Of, interviews, commentary and other goodies.
New From Cinedigm: $ELLEBRITY (90 mins., 2012) includes interviews with Jennifer Aniston, Elton John, Jennifer Lopez, Salma Hayek, Sarah Jessica Parker and Kid Rock in a documentary chronicling the price of fame and the profitable paparazzi industry. Cinedigm's DVD includes a "History of Photography" featurette, 16:9 transfer and 5.1 Dolby Digital sound…Coming on July 22nd, ANTBOY (77 mins., 2013, PG) is a lightweight super hero flick for kids from Denmark, dubbed in English and available on DVD from Cinedigm. The disc includes a 5.1 soundtrack plus a 16:9 transfer.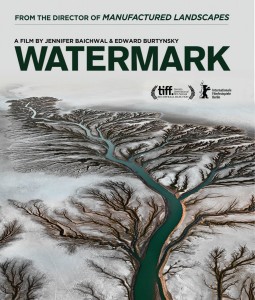 New From E One: Filmmakers Jennifer Baichwal and Nick de Pencier collaborated with photographer Edward Burtynsky for WATERMARK (92 mins., 2013, PG), a fascinating documentary that examines human's relationship with water – through the centuries to today, where it's a depleted resource in far too many locales. Gorgeously composed shots dominate "Watermark," which makes for a splendid HD presentation in E One's Blu-Ray. Ample extra features include a Making Of, deleted scenes, picture gallery narrated by Burtynsky, and interviews with the filmmakers. The DTS MA audio is just fine, sporting original music by Martin Tielli and Roland Schlimme…Season 3 of HELL ON WHEELS (412 mins., 2013) continues the western action and intrigue of the AMC series, which has slowly but surely grown in viewership since its debut. E One's three-disc set follows the fallout from Lily's death with extras including nearly a dozen featurettes, a behind-the-scenes look, recap of Season 2, 16:9 transfers and 5.1 soundtracks on DVD.
IFC/MPI New Releases: Everyone seems to be interested in the apocalypse these days. THE LAST DAYS (103 mins., 2013) is Spain's contribution to the genre, detailing the journey of two guys trying to find their respective loved once after a plague overtakes mankind. IFC's DVD, out this week, boasts 5.1 Spanish audio with English subtitles and a 16:9 transfer…Kore-Eda Hirokazu's LIKE FATHER, LIKE SON (121 mins., 2013) is a powerful Japanese drama about a couple who find out their son was switched at birth. MPI's DVD boasts a 5.1 soundtrack in Japanese with English subtitles, a 16:9 transfer and the original trailer.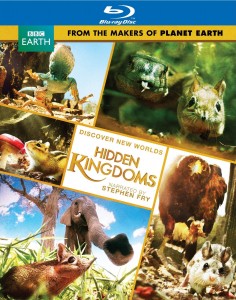 BBC Home Entertainment New Releases: The World Cup has come to an end, but locals are undoubtedly hoping the country gets a tourism boost from its exposure on the world stage. WILD BRAZIL: LAND OF FIRE AND FLOOD (178 mins., 2014) certainly won't hurt, either, as this new BBC documentary includes nearly three hours of glorious footage, shot up-close and with a remote-control octocopter, in 4K UltraHD. BBC's DVD doesn't offer a HD presentation, sadly, of the production, but it's nevertheless a good-looking disc with 5.1 Dolby Digital sound…the makers of "Planet Earth" were responsible for the BBC Earth series HIDDEN KINGDOMS (177 mins., 2014), a cute profile of tiny creatures around the globe and how they survive in their respective habitats. Stephen Fry narrates, with BBC's Blu including a 1080p transfer and DTS MA 5.1 audio. Extras include a look at the creation of the score, an extended scene, storyboards, and introduction from producer Mike Gunton.
ORPHAN BLACK Season Two Blu-Ray (435 mins., 2014; BBC Home Entertainment): Tatiana Maslany remains an actress you can't take your eyes off in this second season of the hit BBC series, airing domestically on BBC America. This time around, Sarah – one of Maslany's identities – tries desperately to find her missing daughter, while running afoul of Rachel and other clones likewise portrayed by Maslany. A bit hard to follow for newcomers, but fans should be satisfied with "Orphan Black"'s second season, brought to Blu-Ray by BBC in a terrific package. Deleted scenes, numerous behind-the-scenes featurettes, a talk with Wil Wheaton, 1080p transfers and 5.1 DTS MA soundtracks are all on-hand.
Well Go New Releases: It's hard to figure that director Bernard Rose once helmed "Paperhouse," "Candyman" and "Immortal Beloved" when you watch SX_TAPE (85 mins., Not Rated), yet another found-footage would-be thriller about a girl who becomes possessed while she and her artist boyfriend decide to play around in an abandoned hospital. Rose opens the film by stating up front what happens to the lead characters – not a good recipe for success – and wallows in gore and horror only during the final half-hour. Pretty desperate stuff from a one-promising filmmaker, with Well Go's Blu-Ray boasting a 1080p transfer, DTS MA audio and a Making Of…Available July 22nd, the well-received THE SUSPECT (137 mins., 2013, Not Rated) is a thriller from South Korea about a North Korean agent whose wife and daughter go missing, leading him to become a fugitive in his own country. Well Go's Blu-Ray includes the original Korean soundtrack in a 5.1 DTS MA track with English subtitles.
---
BLUE RUIN Blu-Ray (90 mins., 2014, R; Anchor Bay): Jeremy Saulnier's acclaimed thriller follows a disheveled man (Macon Blair) who returns home to exact vengeance but ends up having to fight just to keep his family protected. A "rural noir" of offbeat charms co-starring Eve Plumb (from the Brady Bunch) in a movie that's gory and a bit repellant but oddly watchable, and certainly visually well-crafted. Anchor Bay's Blu-Ray, out next week, offers commentary from Saulnier and Blair, a Making Of, deleted scenes, camera test, 1080p transfer and 5.1 DTS MA audio.
THE ROAD TO PALOMA Blu-Ray (90 mins., 2014, R; Anchor Bay): Actor Jason Momoa makes his directorial debut in a predictable road movie. Starring as "Wolf," a Native-American out to avenge his mother's murder, Momoa travels the open road for vengeance, ultimately finding more answers inside himself than from a cliched assortment of possible suspects. Sarah Shahi, Lisa Bonet and Wes Studi co-star in "The Road to Paloma," now available on Blu-Ray from Anchor Bay. The 1080p transfer and Dolby TrueHD 5.1 audio are both excellent, though extras are limited to a single deleted scene.
HOW THE WEST WAS WON Season 2 DVD (900 mins., 1978; Warner): Small-screen adaptation of the '60s MGM Cinerama western stars James Arness as the head of the Macahan clan, who heads west in the post-Civil War era, along with eldest son Bruce Boxleitner. Warner's DVD release includes the complete second season of the series with guest stars including Ricardo Montalban (who capped an Emmy here) and new cast members like Fionnula Flanagan. The 4:3 transfers are just fine.
ADVENTURE TIME: PRINCESS DAY DVD (176 mins., 2014; Warner): It's "Princess Day in Ooo!" in this latest release from the Cartoon Network series, which here -- for the first time -- debuts an episode on home video before it airs on TV. 15 other episodes are also included in the single-disc Warner release along with 16:9 transfers, 2.0 stereo soundtracks, and the special feature "Little Did You Know." (Available July 29)
NEXT TIME: NOAH, SABOTAGE and more! Until then, don't forget to drop in on the official Aisle Seat Message Boards and direct any emails to our email address. Cheers everyone!