Described quite accurately in its earliest blurbs as a sci-fi variation on "Groundhog Day," the latest Tom Cruise futuristic adventure EDGE OF TOMORROW (***, 113 mins., 2014, PG-13) is another sturdy, entertaining addition to the star's growing roster of genre outings.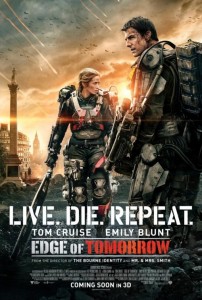 The plot, concocted by Christopher McQuarrie, Jez Butterowrth and John-Henry Butterworth (based on a Japanese young adult novel), stars Cruise as a U.S. military PR person who's improbably swept up in the battle against an extraterrestrial invasion. Despite having no combat experience, the international "United Defense Force" commander (Brendan Gleeson) assigns Cruise's William Cage right to the battlefront in an effort to blitz the aliens through France. Unfortunately, the military's plan is squashed from the outset, and Cage seemingly dies in the fight after encountering an advanced "Mimic" (tentacle-laden creatures that burrow through the ground) – only to wake up and relive the exact same day over again. Cage ultimately discovers that he's gained the extraterrestrials' upper-hand – the ability to consciously relive time, thereby adjusting to its enemy's behavior – and seeks out the help of a decorated soldier (Emily Blunt) who once had the same ability.
"Bourne Identity" director Doug Liman seems right at home in "Edge of Tomorrow," which offers the regulation battle sequences and special effects, albeit with a twisty, if straightforward, story that truly does mimic (no pun intended) the 1993 Bill Murray comedy. Cage relives each day, remembering every moment and attempting to adjust his actions accordingly, while trying to persuade – often futilely – his superiors that he knows how the enemy is able to consistently win each battle. He – much like Murray's beleaguered weatherman – also runs the gamut of emotions, from fascination to depression over being unable to advance the clock forward, though his connection with Blunt's Rita Vrataski ultimately gives him just enough motivation to keep going.
It's a film that's naturally repetitive, but Liman does a good job mixing up the various scene reprisals with an effective alteration in camera work and good humor. This isn't a comedic film by any stretch, but it's also one that doesn't take itself overly seriously. Cruise is engaged and charismatic as his character grows from a pampered official to a genuine force on the battlefront as believably as such a premise allows, while Blunt is likewise strong as humanity's only prior victor against the creatures.
Eventually, "Edge of Tomorrow" wears itself out with a dreary climax set under the Louvre where our heroes have just one chance at saving the planet. With the action taking place in a dank, murky setting, I lost count – and interest – in the resolution of Cage and his team, as Liman's shaky-cam and excessively rapid-fire editing pushed this viewer's tolerance level one too many times. It's a bit of a disappointment, but not enough to put a damper on what's an otherwise well-constructed and satisfying piece of summer escapism.
---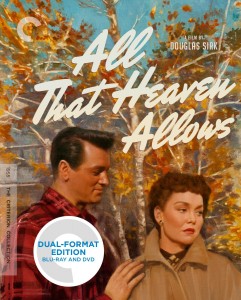 Aisle Seat Blu-Ray Pick of the Week
Douglas Sirk melodramas would seem to be an ideal fit for Blu-Ray, and Criterion brings one of his most memorable – the 1955 Universal release ALL THAT HEAVEN ALLOWS (***, 89 mins.) – to high-definition this week for the first time.
Jane Wyman stars in this Ross Hunter production as Cary Scott, a New England widower who falls in love with her handsome younger gardener (Rock Hudson). At first Cary seems content in just having a fling with Hudson's Ron Kirby, but as their relationship grows, his interest in her leads him to propose – causing a rift between Cary and her country-club friends (including Agnes Moorehead), unsympathetic children (William Reynolds, Gloria Talbott), and a social strata that looks down on Hudson's Thoreau-reading Man of the Earth.
With its melodramatic passages and Lizst-ian score by Frank Skinner, "All That Heaven Allows" is a firmly a product of its time. However, Sirk's direction and Russell Metty's cinematography elevate the picture with a spellbinding use of light and color. The visuals of Cary looking out at a snowy New England winter in Ron's mill-house, the use of shadow and harsh lighting when Cary's son excoriates his mother for "disgracing his father's memory," and a memorable shot of Cary looking back at herself – in the frame of a TV, the family's just-purchased Christmas present – linger in the mind long after the picture has finished. It's an effective and surprisingly sophisticated film in terms of its filmmaking, and one that's highly recommended for all Golden Age fans on Blu-Ray.
Criterion's HD presentation sports a well-detailed, warmly rendered 1080p AVC encoded transfer with DTS MA mono audio. Extras include a commentary with film historians John Mercer and Tamar Jeffers-McDonald; a 1992 visual essay "Rock Hudson's Home Movies" by Mark Rappaport; a 1982 French TV interview with Sirk; excerpts from a 1979 Sirk BBC documentary; a 2007 interview with William Reynolds reflecting on his work with the director; the trailer; and a DVD copy as well.
---
A remake of a movie that its creators seemingly didn't care for to begin with, the strange, stoic 2014 version ofROBOCOP (**, 117 mins., PG-13; MGM/Fox) offers pretentious satirical components and a slow-going, downbeat story that's surprisingly light on action.
Josh Zetumer's script (the Verhoeven picture scribes, Edward Neumeier and Michael Miner, are also credited) is set in the year 2028. Taking a cue from today's use of drones in the military, "Robocop"'s future sees a world where wars can be waged entirely by remote control. The movie's resident "evil corporation" Omnicorp wants their robotic warriors to be able to function inside the U.S., and not just overseas, but voters – worried that a robot doesn't have a soul – shun their best efforts to expand their military might. In an attempt to change the populist view, Omnicorp's head (Michael Keaton) has his top scientist (Gary Oldman) develop a new program wherein a human and machine are melded together. They find their candidate in a Detroit cop (Joel Kinnaman) on life support after being shot in an undercover bust gone wrong, and promptly turn him into a mostly-mechanical fighting machine.
Despite its PG-13 rating, this "Robocop" is anything but a film for kids. In fact, it's hard to tell exactly who this movie was intended for. Director Jose Padilha opens the film with a deadly 10-minute parody of "The O'Reilly Factor" where commentator "Pat Novak" (Samuel L. Jackson) delivers a "Talking Points" segment that not only relays the film's transparent messages but also threatens to put the viewer to sleep. It takes far too long for the story to kick into gear, and when Robocop does make his appearance, he has to muddle through a tedious military-conspiracy story played out in such a dour, humorless manner that it's hard to imagine what MGM saw in this audience-unfriendly treatment – or that they vetoed a proposed version from director Darren Aronofsky and writer David Self years ago before settling on producing this. The cast – with Abbie Cornish as Robocop's wife (though the movie errs by having the character aware of her husband's identity right from the get-go), Jackie Earle Haley and Jennifer Ehle co-starring – is superb, but the movie is sterile, dull and curiously detached.
MGM's Blu-Ray includes a few minutes of deleted scenes, two featurettes, a DVD, digital copy, 1080p transfer and 5.1 DTS MA soundtrack featuring a score by Pedro Bromfman that opens with a quote from Basil Poledouris' original score before settling into a typical modern array of musical cliches.
Also new this week from Fox is SON OF GOD (**½, 130 mins., 2014, PG-13), a well-meaning if vanilla retelling of Christ's life, reworked from footage shot for producer Roma Downey and Mark Burnett's hugely successful TV mini-series "The Bible." Less graphic – and thereby more appropriate for children – than "The Passion of the Christ," Fox's Blu-Ray includes four featurettes, a 1080p transfer, 5.1 DTS MA soundtrack, DVD and digital copy.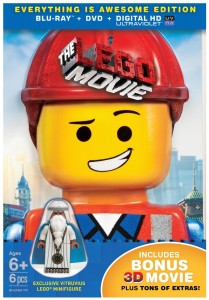 THE LEGO MOVIE "Everything is Awesome" Blu-Ray Edition (***, 101 mins., 2014, Warner): Rich in visual invention and with a surprising story that actually makes sense in terms of its overriding message, directors Phil Lord and Chris Miller's spring box-office hit comes to Blu-Ray and DVD next week.
Grossing $255 million domestically, "The Lego Movie" is also as effective an advertisement for Legos that one could possibly imagine. Packed with gags featuring characters from WB's licensed properties (DC Comics, etc.) as well as cameos from Star Wars and other outside sources, Lord and Miller use the Lego world as a sandbox for a free-wheeling – if decidedly chaotic – picture that never stops moving…so much that its inherent nature limits it from having any kind of dramatic engagement. It's wild, frantic fun, but never much more than that, despite its logical conclusion which offers a satisfying explanation for the ridiculous, ever-changing story.
Warner's Blu-Ray is, as you might expect, a delight: the digital transfer captures all the color of the movie along with an active 5.1 DTS MA soundtrack. The 3D version in particular benefits from depth-of-field effects that add an additional layer to the visual universe created by the filmmakers. Extras are in abundance (making of featurettes, outtakes, director/cast commentary, an "Everything is Awesome!" sing-along) while a DVD, digital copy, and both 3D and 2D BD versions are included in the oversized box – along with "Vitruvius" Lego minifigure. Sure to be a big hit among kids everywhere this summer on home video.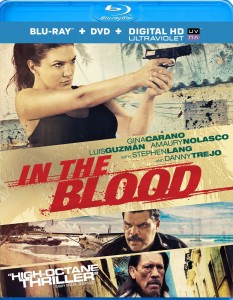 IN THE BLOOD Blu-Ray (108 mins., 2014, R; Anchor Bay): Gina Carano has all the right moves as an action heroine. Sure, her physicality trumps her acting ability, though truth be told, Carano has a bit of on-screen charisma as well. While her future in the genre seems much brighter than the likes of, say, Bridgette Nielsen and others before her, Carano's latest effort – "In the Blood" – is a formulaic, disappointing affair.
Director John Stockwell ("Blue Crush") actually reprises elements from his previous thriller "Touristas" as he spins a predictable yarn about a young bride (Carano) on her honeymoon with husband Cam Gigandet. The Dominican Republic offers all kinds of pleasures: surf, sand, and, of course, a cartel that ends up kidnapping dear husband for nefarious purposes. Carano is on the case, but the local cops (including chief Luis Guzman) offer no support, leading our leading lady to undertake a one-woman crusade to get him back by any means necessary.
"In the Blood" captures sufficient local color but it's a drawn-out, tedious affair – in fact, the movie seems to want to end around the 90-minute mark, but Stockwell throws in a protracted chase sequence that extends the film by an extra 15 minutes. The characters aren't particularly likeable and the digital-video, mostly handheld cinematography curtails the effectiveness of the action choreography.
Anchor Bay's Blu-Ray and DVD editions of "In the Blood" include a behind-the-scenes featurette, with the BD also offering a digital copy, 1080p transfer and 5.1 Dolby TrueHD soundtrack.
TIM'S VERMEER Blu-Ray (80 mins., 2013, PG-13; Sony): Offbeat, and quite entertaining, documentary from magicians Penn & Teller (directed by Teller, produced and narrated by Penn) chronicles the efforts of Texas inventor Tim Jenison as he attempts to replicate the photo-realism of painter Johannes Vermeer, who worked 150 years before photography was invented. Jenison heads to Holland, Buckingham Palace and meets with other artists – along with Penn and Martin Mull – in a comedic and enlightening odyssey that might be best appreciated by those with an interest in the subject matter, but is still accessible to the mainstream. Sony's Blu-Ray, out this week, includes commentary from the gang, deleted/extended/alternate scenes, a Toronto Film Festival Q&A, a 1080p transfer and DTS MA soundtrack offering a fine score by Conrad Pope.
13 SINS Blu-Ray (92 mins., 2013, R; Radius/Anchor Bay): Mark Webber stars in Daniel Stamm's latest thriller as a social services coordinator about to be married to Rutina Wesley despite their constant, and mounting, financial problems. Before the wedding, Webber receives a phone call that he's been tabbed to star in a hidden camera reality series, and if he can compete just 13 tasks, he'll receive a million-plus cash prize. What those tasks are, of course, become increasingly violent and demented in this new picture from the director of "The Last Exoricsm." Anchor Bay's Blu-Ray, out June 17th, includes commentary from Samm, Webber, and co-stars Ron Perlman and Devon Graye; a Making Of; alternate ending; a deleted sequence; "Anatomy of a Meltdown"; 1080p AVC encoded transfer and 5.1 DTS MA audio. (Michelle, Falcoink)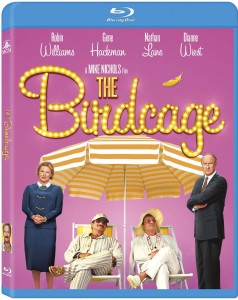 Also New From Fox: THE BIRDCAGE (***, 119 mins., 1996, R) remains one of MGM's biggest box-office hits in recent decades. Director Mike Nichols and writer Elaine May reworked "La Cage Aux Folles" as a vehicle for Robin Williams and Nathan Lane as the gay couple who pretend they're straight for a conservative politician (Gene Hackman) and his wife (Dianne Weist) whose daughter (Calista Flockhart) their son is marrying. Funny stuff with the cast in top form, though MGM's BD disc is bereft of extras. The 1080p transfer and 5.1 DTS MA soundtrack are both perfectly fine, but you'd expect this commercial success to have warranted more than a no-frills edition…THE RINGER (**, 94 mins., 2005, PG-13) offers Johnny Knoxville as a slacker who tries to fix the Special Olympics in a strained farce from producers the Farrelly Brothers. Fox's BD includes 16 deleted scenes, commentary, a Making Of, 1080p transfer and 5.1 DTS MA soundtrack…KISSING JESSICA STEIN (**½, 97 mins., 2002, R) earned some critical kudos as it traveled along the indie circuit over a decade ago. Fox's Blu-Ray is filled with extras (two featurettes, deleted scenes, outtakes, a featurette, the original trailer) plus a 1080p transfer and 5.1 DTS MA soundtrack…The USA series GRACELAND (547 mins., 2013) hails from the creator of "White Collar" and concerns an FBI agent (Aaron Tveit) who's assigned to an L.A. beachfront property along with other agents, including a veteran (Daniel Sunjata) he's assigned to secretly investigate. Fox's Season 1 DVD includes all 12 episodes in 16:9 transfers with deleted scenes, a gag reel and featurette on-tap in the three-disc set.
---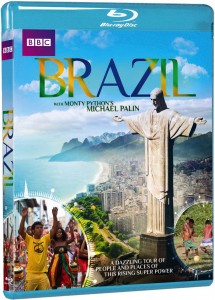 BBC Home Entertainment New Releases
Just in time for the 2014 World Cup, BRAZIL WITH MICHAEL PALIN (227 mins., 2014) is an enjoyable – if decidedly upbeat – look at the world's fifth largest country with Palin offering his astute observations and commentary. It's as much a tourism video as it is a profile of the region, but it's still fun, and the 1080p Blu-Ray transfer captures all the local color as Palin travels from Amazonia to Rio and Sao Paolo, with 2.0 DTS MA stereo audio.
Coming on June 17th, BBC brings Season 1 of DCI BANKS (270 mins., 2011) to DVD in North America. Broadcast domestically on PBS, the series follows Detective Chief Inspector Alan Banks (Stephen Tompkinson) and his partner Annie Cabbott (Andrewa Lowe) as they investigate a trio of crimes in mysteries based on Peter Robinson's novels. No extras are included – just 16:9 transfers with 2.0 Dolby Digital soundtracks.
DEATH IN PARADISE Season 1 (466 mins., 2011) stars Ben Miller as British cop Richard Poole, who's assigned to investigate a murder on the lovely island of Saint Marie. This offbeat and enjoyable series makes its North American DVD debut on June 17th in a two-disc set featuring 16:9 widescreen transfers and 2.0 stereo soundtracks.
Finally, SCOTT & BAILEY (270 mins., 2011) offers a pair of female detectives (Suranne Jones, Lesley Sharp) working on various murder cases while trying to balance their respective domestic lives: one as a feisty single woman, the other as a wife and mother. BBC's DVD double-disc set includes 16:9 transfers and 2.0 Dolby Digital audio.
---
Cinedigm New Releases: The charming French animated feature ERNEST & CELESTINE (80 mins., 2012, PG)reaches American shores on June 17th. The story follows a mouse named Celestine who strikes up a relationship with a burly bear named Ernest, and the fallout that stems from their unlikely friendship. Forest Whitaker, Megan Mullaly, Mackenzie Foy, Lauren Bacall, Paul Giamatti and Nick Offerman voiced the newly-produced English track here, though viewers can also choose the original French audio with English subtitles. A Making Of, interview with director Benjamin Renner, a DVD, 1080p transfer and DTS MA 2.0 stereo audio comprise Cinedigm's Blu-Ray edition…METH HEAD (108 mins., 2012, Not Rated) stars Lukas Haas in the true story of a thirtysomething accountant who escapes into a world of drug-fueled insanity. Based on the life of John W. McLaughlin, Cinedigm brings "Meth Head" to DVD also on June 17th with a 16:9 transfer and 5.1 Dolby Digital soundtrack...SOME VELVET MORNING (82 mins., 2013, Not Rated) is the latest from Neil LaBute, profiling the fractured relationship between Stanley Tucci's Fred and his mistress Velvet (Alice Eve), after the former shows up on her doorstep years after they parted. Cinedigm's DVD includes interviews with the cast and LaBute, a 16:9 transfer and 5.1 Dolby Digital soundtrack.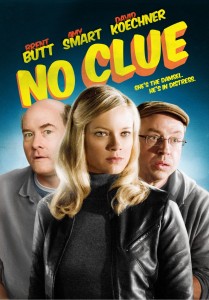 MPI/IFC New Releases: John Cusack stars as an alcoholic poet who becomes the object of interest from a recent college grad (Emma Roberts) who works at a sex shop in Scott Coffey's ADULT WORLD (93 mins., 2012), an indie comedy-drama co-starring Evan Peters. IFC's DVD includes deleted and alternate scenes, the trailer, a 16:9 transfer and 5.1 soundtrack…JIMMY P: PSYCHOTHERAPY OF A PLAINS INDIAN (117 mins., 2013, Not Rated) boasts Benicio Del Toro as Jimmy Picard, a Native American WWII veteran profiled by French anthropologist Georges Devereux (Mathieu Almalric) in this interesting character drama from director Arnaud Desplechin. IFC's DVD includes interviews, a Making Of, the trailer, a 16:9 transfer and 5.1 Dolby Digital soundtrack.
E One New Releases: Brent Butt (real name?) wrote and stars in NO CLUE (96 mins., 2013, Not Rated), a detective mystery spoof co-starring Amy Smart as a woman trying to track down her missing brother. Alas, Smart unwittingly hires a hapless advertiser who works across the hall from the real detective she meant to employ. David Koechner and Kirsten Prout co-star in Carl Bessai's film, coming to DVD on June 17th from E One with commentary, a featurette, 16:9 (2.35) transfer and 5.1 Dolby Digital sound… THE WHEELS ON THE BUS: A DAY AT THE FARM (36 mins., 2013) includes three episodes from the series intended for ages 1-5, and featuring the voice of Roger Daltrey as Argon the Dragon.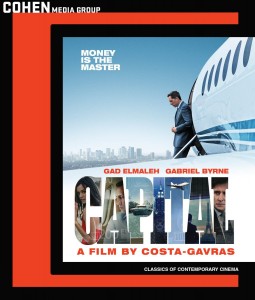 Cohen Film Collection New Releases: Costa-Gavras' CAPITAL (114 mins., 2013) looks at the banking crisis through the prism of a young executive (Gad Elmaleh) who takes over as the CEO of a major French bank – only to suffer through a power struggle from within his own corporation as well as an American hedge fund wiz (Gabriel Bryne) bidding for a hostile takeover. Cohen's Blu-Ray includes a 1080p transfer in English and French, a DTS MA audio track, and interviews with the cast and crew. "Capital" is being released alongside another Costa-Gavras picture, AMEN (132 mins., 2002), an adaptation of Rolf Hochluth's play "The Deputy," starring Ulrich Tukur as a Nazi chemist who turns to the Vatican for help when he learns about the Final Solution. Mathieu Kassovitz co-stars as a Jesuit priest who attempts to aid Tukur in this 2002 picture, brought to Blu-Ray this month from Cohen offering a commentary from the director, a 2014 re-release trailer, and a BBC documentary "Pope Pius XII: The Pope, the Jews, and the Nazis."
From RLJ: Two couples (Nadine Ellis, Darrin Dwewitt Henson, Michelle Krusiec, Gabriel Olds) decide to spice up their tired sex lives by fooling around – with one another – in the independent drama FOUR OF HEARTS (99 mins., 2013, R). Arriving on DVD this week, the disc includes a 16:9 (1.78) transfer with 5.1 Dolby Digital sound.
New From Lionsgate: The Thai martial arts adventure BRAWL (92 mins., 2013, R) profiles a former boxer who moves to Thailand and joins an underground fight club in order to survive. Lionsgate's DVD includes a 16:9 (2.35) transfer, 5.1 Dolby Digital sound (in English) and Ultraviolet digital copy...POWER RANGERS MEGAFORCE: ULTRA DEFENDERS (92 mins., 2013) includes four episodes from the popular series: Dream Snatcher, Gosei Ultimate, The Human Factor, and Rico the Robot. A character gallery is the single disc's only extra, with 16:9 and 5.1 soundtracks completing the package…Jennifer Morrison stars in ALPHA ALERT (84 mins., 2013, R), an independent thriller about a trio of military veterans stuck in an elevator while a terrorist attack occurs in Washington, D.C. Lionsgate's DVD includes interviews with the cast and director Matthew Thompson plus a digital copy, 16:9 transfer and 5.1 soundtrack.
---
MAMA'S FAMILY Season 4 DVD (590 mins., 1987-88; Starvista): "Mama's Family" was the down-home spin-off – of sorts – from "The Carol Burnett Show," featuring Vicki Lawrence's matriarch Mama Harper in a standardized sitcom format. Mama's curmudgeonly behavior drives most of the laughs in the series, which co-starred Ken Berry as her hapless son Vint, Dorothy Lyman as his sexpot new wife Naomi, and Rue McClanahan as tentative sister Fran. The first two seasons were broadcast on NBC from 1983-85, with Harvey Korman appearing as the Alastair Cooke-like "Alistair Quince" in introductions seen only during the series' network run. Guest star appearances from Burnett herself (as daughter Eunice) and Betty White (other daughter Ellen) add some fun to the formulaic plots, with Imogene Coca, Jack Gilford, Jerry Reed, Fred Willard, and old "Carol Burnett Show" co-star Korman (also playing Ed Higgins) popping up from time to time as well.
The series was canceled in 1985 but moved (like fellow sitcoms "Charles in Charge" and "Too Close For Comfort") to first-run syndication in the fall of 1986, where "Mama's Family" would enjoy an even longer run. These later episodes found Mama, Vint and Naomi moving to Florida after Fran's passing (Rue McClanahan had taken up residence on "The Golden Girls" after the NBC run concluded) but with more of the same kind of "rural" laughs involved.
Starvista has already released a Complete Series set of "Mama's Family" (check the Archives) as well as standalone editions of Seasons 1-3. Season 4 will be released on June 24th, including the "Jeopardy!" episode with Alex Trebek, a featurette "Mama's Family Tree: The Neighbors," an interview with Beverly Archer, and a Mama's Family Cast Reunion.
BIBLE QUIZ DVD (86 mins., 2014; Virgil Films): Nicole Teeny's independent documentary "Bible Quiz" follows a 17-year-old as she attempts to memorize individual books of the Bible in preparation for her entry in the National Bible Quiz Championship. Nicely done, with likeable personalities populating an earnest and nonjudgmental piece of documentary filmmaking. Virgil's DVD includes a 16:9 transfer and 2.0 stereo soundtrack.
REGULAR SHOW: The Complete Third Season DVD (440 mins., 2014; Warner): A top-rated Monday night show amongst kids 9-14, the third season of the Cartoon Network series lands on DVD June 17th. Featuring all 40 third-season episodes starring Moredecai, Rigby and friends, Warner's DVD set also includes a bounty – over seven hours – of extras, from commentaries to featurettes, 16:9 transfers and stereo soundtracks.
THE ADVENTURES OF BATMAN DVD (377 mins., 1968; Warner): Wild Filmation fun with the Not-So-Dark Knight and Robin comprise this two-disc set from Warner. Featuring all 34 shorts that were first broadcast as part of "The Batman/Superman Hour" in 1968, both young viewers and nostalgia geeks should be sufficiently entertained by Warner's DVD set, now available in stores.
CURIOUS GEORGE – Complete Seventh Season DVD (aprx. 2 hours, 2013; Universal): The popular PBS kids animated series returns to DVD with this Emmy-winning series' seventh season. Featuring all 12 episodes in 16:9 (1.78) transfers with 2.0 stereo audio and two original songs, kids should be entertained by the show's life lessons and general good cheer.
NEXT TIME: More of the latest releases! Until then, don't forget to drop in on the official Aisle Seat Message Boards and direct any emails to our email address. Cheers everyone!