It's curious how some of Steven Spielberg's movies are occasionally dumped on because of the director's past successes. "Empire of the Sun" contained lyrical, powerful moments that still rank with Spielberg's most indelible cinematic images, yet many critics came down hard on the movie in the wake of the inferior "The Color Purple," which managed multiple Oscar nominations and widespread critical praise. The same phenomenon happened again after the release of "Schindler's List," where many critics seemed unnecessarily harsh on AMISTAD (***½, 155 mins., 1997, R; Paramount), Spielberg's underrated 1997 film that rode a storm of "controversy" over the changing of factual events and a plagiarism lawsuit that was ultimately withdrawn.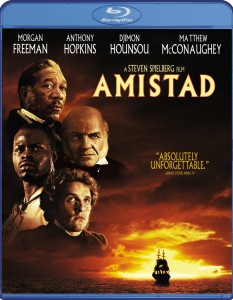 Not that the drama – centering on a real 1839 slave ship mutiny and the subsequent trial of those slaves in New England after their vessel, "La Amistad," lands in American waters – is without its flaws, but the fact is that "Amistad" is a well-acted, compelling, and thoroughly entertaining account of early American history. In fact, I'd rank it among Spielberg's best films from the later portion of his career.
Spielberg does a masterful job in juggling the local Connecticut trial of the slaves and their leader, Cinque (the dynamic Djimon Hounsou) – who are defended by ragged, inexperienced lawyer Roger Baldwin (Matthew McConaughey) – with the national interest in the case, as represented by President Martin Van Buren (Nigel Hawthorne) and ex-President John Quincy Adams (Anthony Hopkins). The slaves' plight, as they go through trial after trial in court, is effectively retold through flashbacks which illustrate the Gold Coast trading as few films have done before; just as adept is Spielberg and screenwriter David Franzoni's illustration of how pressure from Spain, England, and the Southern states all factor into the national U.S. debate on what was, relatively speaking, a minor incident at the time.
For the sake of illustrating all of these incidents, Spielberg's film takes some liberties with specific facts, but they never alter the historical relevance of the actual events, and, in fact, make many worthwhile points about slavery, politics, and even religion along the way. Most surprising is how the movie avoids heavy-handed parallels to modern life, often believably conveying various characters instead of portraying them as broadly painted stereotypes. If some of the protagonists, such as Van Buren and Morgan Freeman's fictitious abolitionist Theodore Joadson, are given short-shrift in relation to the other characters, it's most likely because Spielberg had to trim the running time down to a manageable 2½ hours, which nevertheless goes by quickly in the final cut.
Filmed extensively in Newport and Providence, R.I., as well as Boston and Mystic, Ct., the movie has a flavorful location atmosphere akin to the filmmaker's earliest efforts, complimented nicely by Janusz Kaminski's often evocative cinematography. John Williams's excellent score usually enhances the drama, though Anthony Hopkins's climactic court summation is overscored to the point of irritation (try, the music doesn't stop once during its 11 minute duration!). We know how noble Quincy Adams was in his intentions, so the music adds absolutely nothing to the sequence – even in its restrained trumpet lines (performed by Tim Morrison), Williams's score here is something of an annoyance, since it continually punctuates "this is important" thematic passages. The sole detriment to an otherwise superb Williams score, it's the only heavy-handed element in an often poetic and satisfying picture.
Making its Blu-Ray debut from Paramount, "Amistad" has been treated to a fine 1080p AVC encoded transfer with 5.1 DTS MA audio. Extras include the trailer and a half-hour vintage Making Of.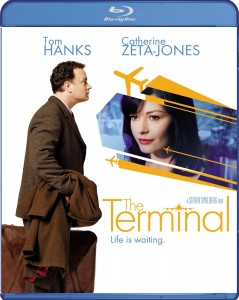 Another Spielberg Dreamworks production makes its Blu-Ray debut this week from Paramount: THE TERMINAL (**½, 129 mins., 2004, PG-13), generally regarded as one of the director's weakest films.
Not the total disaster some chalked it up to be, this alternately charming and credibility- straining drama-edy stars Tom Hanks plays Viktor Navorski, a European traveler who becomes stranded at JFK Airport in New York when war breaks out in his homeland. Faced with a legal loophole with no clear solution, the airport's uncaring Homeland Security director (Stanley Tucci) opts to keep Navorski in the international lounge for weeks on end, which enables Viktor to make friends with some of the airport's zanier characters and have a nice, casual dinner with stewardess Catherine Zeta-Jones.
Spielberg's third teaming with Tom Hanks failed to recapture the magic of "Saving Private Ryan" and "Catch Me If You Can." The latter was able to balance comedic elements with dramatic passages far more effectively than "The Terminal," which even in its first half-hour awkwardly shifts from broadly-drawn characterizations (including Tucci's unbelievably over-the-top antagonist) to dramatic moments, including Viktor's horrific realization of his country's plight. Thereafter, the movie becomes essentially a light, almost Blake Edwards-esque comedy with a few amusing gags and a dose of completely unnecessary romance with Zeta-Jones offering eye candy and little else in the Sacha Gervasi-Jeff Nathanson script, which was based on a story by Andrew Niccol ("The Truman Show," "Gattaca").
Through it all, Hanks does an admirable job, and John Williams' underrated score is delightful – one of the composer's best from the prior decade. It's just hard to fathom what drew Spielberg and all this talent to "The Terminal": the movie isn't funny enough to be classified as a comedy, isn't serious enough to be digested as a dramatic experience, and feels downright dated, like it could have been produced by a filmmaker like Edwards back in the '60s. It's a fluffy, forgettable picture that may be worth a one-time viewing but little more.
Paramount's Blu-Ray repeats the extras from Dreamworks' Special Edition DVD, including multiple Making Of featurettes directed by Spielberg associate Laurent Bouzereau (these include a segment on Williams' scoring), plus a photo gallery and trailers in HD. The 1080p transfer is pleasing to the eye and the DTS MA 5.1 audio perfectly sufficient.
One of the big hits of '86, CROCODILE DUNDEE (***½, 97 mins., PG-13) also makes its way to Blu-Ray for the first time from Paramount, in a double-feature package with its inferior 1988 sequel CROCODILE DUNDEE II (**½, 111 mins., PG). Hogan's laid back charm carries the original "Croc," with the fetching Linda Kozlowski as the American reporter who tracks down the legendary Aussie who can handle any beast living in the Outback. The 1988 sequel reverses the surroundings – opening in NYC and then moving Down Under for a satisfying climax – and is still entertaining, yet comes off as a manufactured product to a film that didn't demand a follow-up. Each film is included on its own Blu-Ray disc with matching 1080p AVC encoded transfers and 5.1 DTS MA soundtracks. The transfers are a bit grainy but generally look untouched with processing; extras include trailers and a behind-the-scenes featurette on the sequel.
Finally, the Dreamworks animated offering SPIRIT: STALLION OF THE CIMARRON (***, 83 mins., 2002, G; Paramount) gallops onto Blu-Ray on May 13th. This offbeat children's picture follows a wild horse across the Old West in an episodic story narrated by Matt Damon as the title character and written by "Young Guns" scribe John Fusco. The movie's a bit on the P.C. side (United States calvary = bad, kindly Native Americans = good), and the Hans Zimmer/Bryan Adams soundtrack is often heavy-handed, but kids should still enjoy the picture and its lead character. Dreamworks' Blu-Ray includes a lovely 1080p transfer, Dolby TrueHD audio and extras from the DVD (commentary, Making Of materials, etc.).
---
Jerry Goldsmith's beautiful score and Fred Koenekamp's cinematography are the highlights ofISLANDS IN THE STREAM (**½, 104 mins., 1977, PG), Franklin J. Schaffner's uneven 1977 adaptation of Ernest Hemingway's final novel. The film, previously available on an out-of-print Paramount DVD, has been re-issued as part of the Warner Archives manufactured-on-demand program.
George C. Scott plays an artist estranged from his wife and children in the Caribbean during WWII. His sons later pay a visit to Scott's secluded, beautiful coastal home, leading "Thomas Hudson" to re-examine his commitment to family and one of his ex-wives (Claire Bloom), as well as attempt to help a group of refugees and allude the Cuban Coast Guard.
Denne Bart Petitclerc's script admirably attempts to capture Hemingway's prose, though the result is a somewhat fragmented, disjointed film that never quite reaches the heights of its aspirations. The final third is particularly odd, failing to match the movie's most eloquent passages in its opening hour.
Nevertheless, "Islands in the Stream" is certainly worth a view for Scott's performance and the aesthetic pleasures Schaffner's film offers: Goldsmith's score swells like the sea itself, offering a beautiful pallet of themes, and Koenekamp's Panavision lensing of the picture's locales results in a movie that improves on repeat viewing.
Warner's Archive re-issue of the prior Paramount disc offers a crisp, good-looking 16:9 transfer in the movie's full anamorphic aspect ratio. The print looks to be in generally healthy condition, though it's disappointing that the movie's weak theatrical soundtrack wasn't overhauled for the DVD. The 2-channel mono track doesn't pack much of a presence, failing to do justice to Goldsmith's magnificent music.
New on Blu-Ray from the Archives is HIT THE DECK (***, 116 mins., 1955), a thoroughly enjoyable, frivolous MGM musical that offers a trio of sailors (Tony Martin Vic Damone, Russ Tamblyn) hitting the town on shore leave and dancing 'n singing up a storm with ladies Jane Powell, Debbie Renolds and Ann Miller. Not to be confused with superior, similarly-themed musicals "Anchors Aweigh" and "On the Town," "Hit the Deck" is still good fun with pleasant Vincent Youmans songs and a Cinemascope frame that greatly benefits from the 1080p HD treatment given to the picture here. The 5.1 DTS MA audio is also top notch. Highly recommended for MGM musical buffs!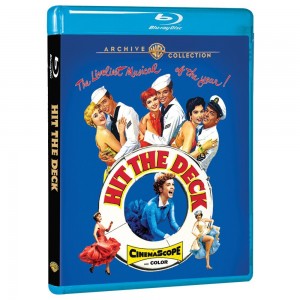 Also New from the Archives: James Garner saddled up to reprise his role as BRET MAVERICK (678 mins., 1981-82) in a short-lived revival of his career-launching role. Here, Bret settles down in the lazy town of Sweetwater and joins ex-sheriff Tom Guthrie (Ed Bruce) in running the local saloon. "Bret Maverick" ran through the full 1981-82 season and reportedly generated decent ratings. In fact, Garner's original co-star Jack Kelly appears late in the year in what was supposed to be a set-up for Season 2, but the series was canceled before it had a chance to make wholesale changes. Fans of the program – which re-aired on NBC in 1988 and again in 1994 – should enjoy Warner's Complete Series DVD set, offering full-screen color transfers (not the B&W indicated on the back cover!) and mono soundtracks.
The recent passing of Mickey Rooney makes the new Warner Archive release of A SLIGHT CASE OF LARCENY (71 mins., 1953) a perfectly fitting tribute. This enjoyable 1953 comedy stars Rooney and Eddie Bracken as gas station owners trying to match the prices of a new, corporately-run station that's sprung up across the street. Warner's disc includes a 4:3 B&W transfer with mono audio…Fay Wray managed to escape the clutches of King Kong, only to butt heads with criminals causing all kinds of trouble on the Los Angeles freeway in the 1940 RKO B-movie WILDCAT BUS (64 mins.), starring Wray as the manager of the Federated Bus Lines. Charles Lang and Paul Guilfoyle co-star in Frank Woodruff's programmer, presented here in B&W and mono audio from the best surviving elements…Carleton Carpenter, Jan Sterling and Keenan Wynn top line SKY FULL OF MOON (73 mins., 1952),starring Carpenter as a cowboy who gambles on Vegas, and wins the heart of Sterling in the process. This 1952 MGM production receives a B&W 4:3 transfer here from the Archives and a passable mono soundtrack.
---
REVENGE OF THE NERDS Blu-Ray (***, 90 mins., 1984, R; Fox)
BACHELOR PARTY Blu-Ray (**, 105 mins., 1984, R; Fox): A pair of '80s favorites find their way onto Blu-Ray this week from Fox.
"Revenge of the Nerds" remains one of the legendary '80s dumb-fun comedies of its type. Although a 2007 remake was canned just a couple of weeks into filming (perhaps we should be thankful), the picture still maintains a solid fanbase that ought to be pleased with Fox's BD presentation. The 50gb dual-layer offering boasts all the extras from the "Panty Raid" DVD edition of the film (complete with deleted scenes, commentary and a 35-minute documentary). There's also a hideous, videotaped 1991 Fox pilot with Rob "Mr. Belvedere" Stone and Robbie Rist (aka Cousin Oliver from "The Brady Bunch"), a fine 1080p transfer and 1.0 DTS MA mono soundtrack. Good fun for all nostalgic '80s teen movie fans!
The comedy is just a bit lower brow in 1984′s BACHELOR PARTY, an independent production which Fox wisely decided to pick up on the notion of scoring a hit with the "Police Academy" crowd. Smart thinking there, as the picture reaped solid grosses back in the days when some R-rated comedies were actually funny as opposed to simply being gross.
Certainly Tom Hanks' attachment to the film ignited a long run of silly '80s comedies in which he starred, and although it would take him virtually a decade to break out of the mold, there's still something to be said for his zany performances from the days of "Splash" and "The Man With One Red Shoe" (notice I'm NOT talking about Nicholas Meyer's "Volunteers," still one of the all-time unfunniest comedies to come out of that decade).
"Bachelor Party" is not a comedy classic, even of the over-the-top, '80s kind. But it does have its moments of inspired lunacy courtesy of the Neal Israel-Pat Proft script — not nearly enough to sustain its prolonged 105-minute run time, but still enough so that you're guaranteed a few laughs if you've never seen it before.
Fox's Blu-Ray looks pretty solid, boasting a perfectly acceptable 1080p transfer, the original mono soundtrack in DTS MA 1.0, a trailer, and vintage promo material.
THE DEVIL'S DUE Blu-Ray/DVD (*½, 89 mins., 2014, R; Fox): It's been a rough year for the horror genre. After hitting a high with last summer's mainstream smash "The Conjuring," it's been a struggle for new thrillers in 2014, with many bombing out altogether. Fox's "The Devil's Due" was one of the many horror casualties so far in '14, though the movie itself didn't do any favors for its commercial performance: this routine and utterly predictable picture follows a couple (Allison Miller, Zach Gilford) who run afoul of black magic on their Dominican Republican honeymoon, leading to an early pregnancy with sinister overtones. Routine and unimpressive, even considering its very modest budget ($7 million) for a studio picture. Fox's Blu-Ray includes commentary, deleted scenes, featurettes, a 1080p transfer, DTS MA soundtrack, DVD and digital copy.
GREAT EXPECTATIONS Blu-Ray (***, 128 mins., 2013, PG-13; Fox): Solid, if unspectacular, take on Charles Dickens' classic from director Mike Newell, who receives fine performances from Helena Bonham Carter and Ralph Fiennes, in turn supporting young stars Jeremy Irvine and Holliday Grainger. Fox's Blu-Ray includes a 1080p transfer, DTS MA soundtrack, digital copy, premiere featurette and the original trailer.
THE SUSPECT Blu-Ray (98 mins., 2013, Not Rated; RLJ Entertainment): Mekhi Phifer and William Sadler topline this laughable direct-to-video crime drama with an admittedly unusual premise: a pair of college professors decide to rob a small-town bank, just to see how they're treated since they're African-Americans. Things, of course, don't go as planned in this weird attempt to mix race relations with a sub-Tarantino pulp crime drama – needless to say, it doesn't work. RLJ's Blu-Ray includes extended scenes, commentaries, a featurette, 1080p transfer and 5.1 DTS MA soundtrack.
---
PBS New Releases: On May 13th, PBS brings the terrific documentary THE DAVE CLARK FIVE: GLAD ALL OVER (aprx. 4 hours, 2014) to Blu-Ray in a two-disc set. This portrait of the British group – whose rise to fame and fortune occurred at the same time as the Beatles – is packed with archival performances, remembrances from a variety of celebrities (Paul McCartney, Elton John, Bruce Springsteen to name just a few), and two hours of bonus extra interviews and rare footage. 1080i transfers and 5.1 DTS MA audio make for a must-have for DC5 enthusiasts.
GENERATION LIKE (60 mins., 2014) is a follow-up to Frontline's documentary "The Merchants of Cool" from writer-correspondent Douglas Rushkoff. Examining the rise in social media and how corporations are utilizing children for marketing purposes, "Generation Like" chronicles the tenuous relationship between teens and merchandizing, in a fascinating hour-long production brought to DVD this week from PBS in a 16:9 transfer with stereo sound…RUBEN SALAZAR: MAN IN THE MIDDLE (60 mins., 2013) profiles the life and death of the journalist who became a supporter of the late '60s Chicano movement after a life spent as a mainstream reporter. Phillip Rodriguez's feature includes interviews with friends, colleagues and family members, and is also available this week from PBS.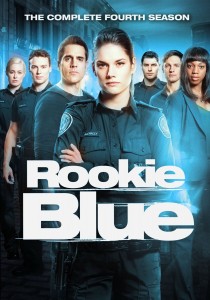 Lionsgate New Releases: SURVIVAL CODE (88 mins., 2013) cranks out the action in a future-set 2045 where the earth's oceans have frozen after flooding major cities. David Frazee's low-budget affair checks out on DVD May 6th from Lionsgate with a digital copy, 16:9 transfer and 5.1 Dolby Digital soundtrack…Robin Thicke and Jaime Pressly topline MAKING THE RULES (78 mins., 2013, R), a feeble indie offering with Thicke making his feature-film acting debut as the ex-boyfriend of Pressly, who's out on a work-related injury for the summer and reflecting on her marriage to dull husband Tygh Runyan. Lionsgate's DVD includes deleted/extended scenes, an interview with writer-director Jimbo Lee, a 16:9 transfer and 5.1 Dolby Digital soundtrack.
Coming From E One: Season 4 of the popular Canadian import ROOKIE BLUE (aprx. 553 mins., 2013)includes five Making of featurettes, "In Session" webisodes, and all 13 episodes from the series' fourth season. With a fifth season due to air later this summer, fans can get caught up with the soap opera/crime procedural starring Missy Peregrym when E One releases the DVD this week. 16:9 transfers and 5.1 Dolby Digital soundtracks comprise the four-disc set…POPPY CAT: TREASURE AND OTHER ADVENTURES (80 mins., 2014)includes a number of animated adventures from the children's series: Birthday Treasure, Bad Robot, Magic Show, Sunken Ship, Bumble Fumble, Cheese Mountain and Marshmallow Mines, all in 16:9 transfers and 2.0 stereo soundtracks.
Well Go New Releases: Donnie Yen stars in SPECIAL ID (99 mins., 2013, R), a Chinese thriller starring Yen as Detective Chen Zilong, an undercover operative known in the criminal underworld as the enforcer "Dragon" Chen. When rival gangs begin to clamp down and Chen's world starts to collapse, he has to rely on a new partner (Jing Tian) in order to get out alive. Well Go's Blu-Ray, available May 13th, includes a Making Of featurette, the trailer, a 1080p transfer and 5.1 audio in both Chinese and an English dubbed track.
HOT GUYS WITH GUNS DVD (105 mins., 2014, Not Rated; Wolfe Video): First-time director Doug Spearman's action-comedy brings a gay twist to the well-worn detective genre. "Hot Guys…" stars Marc Anthony Samuel and Brian McArdle as a modern-day, same-sex Nick and Nora Charles, here tasked with solving a group of gay "sex party robberies." Wolfe Video's DVD includes a 16:9 transfer, 5.1 soundtrack, blooper reel and the trailer, and streets May 6th.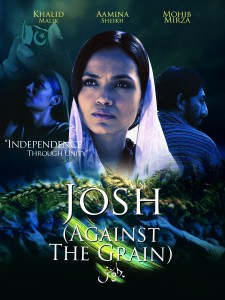 Shelter Island New Releases: Coming May 13th, AMERICAN JESUS (67 mins., 2014) is a documentary from Aram Garriga that looks at Christianity and its role in the modern world. Shelter Island's DVD includes a Making Of featurette, additional interviews, a 16:9 transfer and stereo soundtrack…SHELTER ISLAND (77 mins., 2014) profiles Shelter Island, New York resident and "outsider" artist Harald Olson and his patron Jimmy Olinkiewicz, a gas station owner who sold roadside paintings that became a phenomenon, leading to a showing at a Manhattan art gallery. Shelter Island's DVD includes a montage of Olson's paintings, a short film by Olinkiewicz about his autistic son, a 16:9 transfer and stereo soundtrack.
JOSH (AGAINST THE GRAIN DVD) DVD (104 mins., 2013, Not Rated; Virgil Films): A Pakistani woman tries to find out what happened to her Nanny in this import from Virgil Films. "Josh," originally titled "Against the Grain," offers a look at how young people fight against the feudal system still in place in Pakistan, with Virgil's DVD offering its original Urdu/English soundtrack with English subtitles and a 16:9 (1.78) transfer.
NEXT TIME: HER, WIND AND THE LION and more! Until then, don't forget to drop in on the official Aisle Seat Message Boards and direct any emails to our email address. Cheers everyone!