While I apologize for the delay in getting out this edition out, I'd also like to kick off this week with a special announcement.
The day before my wife's birthday we received word that a baby boy had been born in Texas and, this time, after much waiting, had our name on it! We literally took a plane to Houston the next day to meet our son – and then (after waiting several days for legal clearances to be ironed out) drove him home to RI, passing through Baton Rouge, La., Fairburn, Ga., Christiansburg, Va. and Hazleton, Pa. on overnight stops. It was a wild trip – and we were away for over two weeks – but our new arrival is at last home at our Aisle Seat offices and we couldn't be happier!
As a result of this unexpected adventure, things got a little backlogged here in terms of new releases, so this is going to be a "rapid fire" Aisle Seat edition catching you (and me!) up on some of the latest Blu-Rays and DVDs from the last couple of weeks. Excelsior!
---
Twilight Time's March releases offer an eclectic array of titles from the '40s, '70s and '90s. Chief among them – particularly considering it inexplicably never generated a DVD release – is CONRACK (106 mins., 1974, PG), a somewhat underwritten but flavorful Martin Ritt film that follows the autobiographical tale of bestselling novelist Pat Conroy. Before he penned "The Prince of Tides," Conroy taught a group of impoverished African-Americans who lived on a remote South Carolina island (Daufuskie Island, here dubbed Yamacraw Island). His efforts to reach out to them despite a system that frowned upon Conroy's creativity in the classroom ultimately prove bittersweet, with the teacher running into interference both from the island's principal (future "Trapper John" cast member Madge Sinclair) and the stuffy district superintendent (Hume Cronyn).
Written for the screen by the great tandem of Irving Ravetch and Harriet Frank, Jr., "Conrack" beautifully captures time and place as so many of their pictures do. The widescreen lensing of John A. Alonzo is essential to appreciating the surroundings, and Voight is superb and engaging as the frustrated but constantly upbeat teacher. This is one of Voight's best performances, capturing the intensity of Conroy and his love of teaching the kids, but also his inner frustration with the situation he's been handed. The movie does have its shortcomings – namely, a slew of supporting roles that seem as if they were drastically trimmed in the editing room. Paul Winfield, for example, nets second billing for his role of a drunken local, but his role has no payoff and shows every sign of having been excised from the film. Perhaps there was a good reason for it, but there does seem to be something "missing" from the final cut, despite the strong atmosphere, moving story and Voight's central performance.
"Conrack"'s 1080p Blu-Ray transfer will come as a revelation for the movie's fans. Though AMC and Fox Movie Channel have broadcast the film in letterbox format over the years, this first home-video release of the movie in its proper Panavision aspect ratio (and first of any kind since a CBS/Fox "Playhouse" VHS release!) is really the first time viewers have had to appreciate the picture since its original theatrical run, and the transfer is detailed and satisfying. The somewhat muddy DTS MA mono sound is as good as the source material allows, offering a relatively sparse John Williams score that one wishes played more of a role, while the trailer, an isolated score track, and a thoughtful commentary with Nick Redman and Paul Seydor detail the film's strengths and weaknesses.
Also newly available as part of Twilight Time's 3000-copy limited edition Blu-Ray releases is EQUUS (137 mins., 1977, R), Sidney Lumet's adaptation of Peter Shaffer's play about an troubled stable boy (Peter Firth) who blinds horses and the weary psychiatrist (Richard Burton) who attempts to treat him – and uncover the root of his madness. "Equus" literalized Shaffer's play by using real horses, which adds a nasty, graphic component to the picture that's also likely to turn off (needless to say) animal lovers. Beyond that, the movie is a bit stilted and I can only imagine it works better on stage than on-screen, though Firth is dynamic and Burton – while far from his prime at this point – nevertheless delivers a solid performance in the same year that he appeared in the hilariously inept "Exorcist II: The Heretic." Culled from the MGM vaults, Twilight Time's Blu-Ray includes a fine 1080p transfer with agreeable extras: a full 1988 documentary, "In from the Cold: The World of Richard Burton," reflects on the actor's legacy; an isolated score track of Richard Rodney Bennett's sensitive musical contribution to the film; the trailer; and a new commentary from Julie Kirgo and Nick Redman explores the picture's production and its thematic material.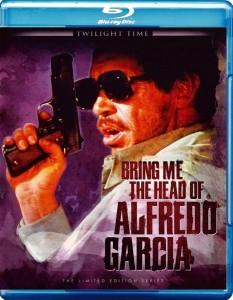 Sam Peckinpah fans will be delighted with a robust package produced for his 1974 cult favorite BRING ME THE HEAD OF ALFREDO GARCIA (112 mins., R), a narcissistic tale of a beaten-down ex-army officer – now tending bar in Mexico City – who tries to collect a bounty on the head of Alfredo Garcia, a man who knocked up a crime boss' daughter and now is the most wanted man south of the border. Peckinpah's harsh picture offers strong performances from Warren Oates as the unfortunate Bennie and Isela Vega as his doomed lover, as well as a fine Jerry Fielding score. Twilight Time's transfer is effectively rendered and as satisfying as the gritty cinematography allows, and extras are in abundance: two commentaries dive into where the movie fits in the context of Peckinpah's body of work (one track features writer-producer Gordon Dawson and Nick Redman; the other features Redman along with Paul Seydor, Garner Simmons and David Weddle); "Passion & Poetry: Sam's Favorite Film" and "A Writer's Journey: Garner Simmons with Sam Peckinpah in Mexico" offer added insight; and a promo gallery, isolated score track, TV spots and the trailer put the finishing touches on the disc.
The original British version of Nick Hornby's novel FEVER PITCH (102 mins., 1997, R) stars Colin Firth as a teacher who can't give up his sports obsession (here it's soccer instead of the U.S. remake's baseball as a focal point) even after he meets his match in Ruth Gemmell's attractive yet comparatively placid colleague. Much more appealing than the Jimmy Fallon-Drew Barrymore remake, "Fever Pitch" is a witty and entertaining film thanks to Firth's central performance. TT's Blu-Ray is nicely composed, boasting an isolated score track, solid 1080p transfer and commentary from Julie Kirgo and Nick Redman.
Finally, ALL THE KING'S MEN (109 mins., 1949) is Robert Rossen's adaptation of Robert Penn Warren's Pulitzer Prize winner with Broderick Crawford delivering a powerhouse, Oscar-winning performance as the ill-fated political candidate Willie Stark. With a beautiful B&W transfer from the Sony vaults, "All the King's Men" looks dyanmic here on Blu-Ray, and is complemented by an isolated score track of Louis Gruenberg's music and the original trailer.
---
The forthcoming "Godzilla" movie has lead a number of labels to dust off the Big G in a series of catalog Blu-Rays with Universal among them.
For fans of the Golden Age Kaiju flick, you can't get much more entertaining than KING KONG VS. GODZILLA (96 mins., 1963), the sumptuous widescreen Toho production that brought together Godzilla and King Kong – albeit with a goofy "man in a giant suit" makeover here. Universal's '63 Americanized version of the film cut down on the original version's comical elements, and apparently did no favors to Akira Ikufube's score, but it's still nostalgic fun made all the more appealing by Universal's AVC encoded 1080p transfer. The movie's grain has been kept intact – as well as the imperfections of the source elements.
Universal reportedly didn't make as many editorial changes to KING KONG ESCAPES (96 mins., 1967), another appealing frolic that enabled Toho to re-use their King Kong suit in a lighthearted adventure from director Inoshiro Honda derived from the Rankin/Bass animated TV series. This is one of the best entries from the tail end of the original Toho '60s "Giant Monster" cycle, with an engaging, comic book storyline and satisfying miniature effects. As with "King Kong Vs. Godzilla," Universal's no-frills Blu-Ray includes a nicely detailed AVC encoded transfer that hasn't been restored in any way – scratches, dirt and other flaws occasionally pop up here and there, though that only added to the appeal for this viewer who grew up on the "Creature Double Feature."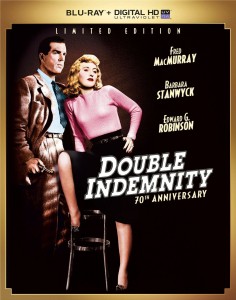 New this week are a pair of film noir classics: Orson Welles' troubled but essential 1958 thriller TOUCH OF EVIL (96, 109 and 111 mins.) and Billy Wilder's genre landmark DOUBLE INDEMNITY (108 mins., 1948).
Orson Welles' convoluted but brilliantly shot film noir with Charlton Heston, Janet Leigh and Welles himself receives a full-blown Limited Edition treatment here: no less than three different edits of the movie are included, each with their own, highly informative commentary track and 1080p AVC encoded (1.85) transfers. A retrospective documentary and a featurette on the myriad versions of the movie are on tap, while a mini-reproduction of Welles' 58-page memo to Universal – touching upon the constant sparring the two entities had over the film's editing – puts the finishing touches on a must for the picture's aficionados. A digital copy rounds out the package.
"Double Indemnity," meanwhile, offers a pair of commentaries (one from Nick Redman and Lem Dobbs, another with Richard Shickel), along with a Making Of featurette, introduction from TCM's Robert Osborne, the 1973 TV-movie remake, a digital copy, and poster and lobby card reproductions. Another Ultraviolet copy is also included in what Universal is advertising as a Limited Edition package.
Also new this week from Universal: RIDE ALONG (100 mins., 2014, PG-13) struck box-office gold earlier this winter. Essentially, this Tim Story-directed action-comedy functioned as this year's "Identity Thief" – a poorly-reviewed, but audience-friendly, vehicle for a blossoming comic star (instead of Melissa McCarthy, here it's Kevin Hart) that entertained viewers to the tune of over $130 million. Universal's Blu-Ray of the Hart-Ice Cube comedy includes a wealth of extra features (BD exclusives like deleted scenes, an alternate ending and multiple featurettes; additional goodies including a gag reel, commentary and other extras), a 1080p transfer and 5.1 DTS MA soundtrack on the BD side and a DVD and digital copy for good measure…Open Road's THE NUT JOB (86 mins., 2014, PG) is a low-rent animated feature following a squirrel trying to pull of a heist of nuts from a health food store before winter. Will Arnett, Brendan Fraser and Liam Neeson provided some of the voices in this moderate box-office hit, which already has a sequel in production. Universal's Blu-Ray includes format-exclusive deleted scenes, storyboards plus bonus animated shorts, a DVD and digital copy, plus a colorful 1080p transfer and DTS MA 5.1 soundtrack.
---
Warner Archives New Releases
Warner's recent Archive releases run the gamut from TV faves to small-screen telefilms and three new Blu-Rays for good measure.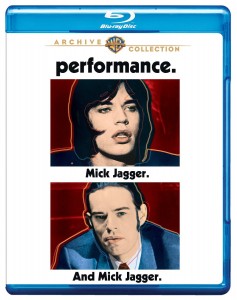 For cinephiles, Donald Cammell and Nicolas Roeg's PERFORMANCE (105 mins., 1970, R) carries the most weight: the strange and memorable '70s tale of a crime boss (James Fox) whose world is turned upside down when he meets a reclusive rock star (Mick Jagger). Anita Pallenberg co-stars in this vividly shot psychological thriller brought to Blu-Ray here with a pair of featurettes (Influence and Controversy; Memo From Turner), a 1080p (2.35) transfer and DTS MA mono audio rounding out a strong new title from the Warner Archives.
Also new on Blu-Ray is THE AMERICANIZATION OF EMILY (115 mins., 1964), Paddy Chayefsky's acclaimed and highly entertaining comedy – with a decided satirical bent typical of its screenwriter – starring Julie Andrews, James Garner, James Coburn and Melvyn Douglas. Commentary from director Arthur Hiller, a vintage featurette and the trailer join a nicely rendered 1080p transfer with Dolby Digital 2.0 stereo audio. Finally,GREEN LANTERN: THE ANIMATED SERIES (572 mins.) is the appealing Bruce Timm-produced adaptation of the DC Comics character. Far more entertaining than the disastrous Martin Campbell-helmed feature film, the animated adventures of Hal Jordan and his fellow Lantern Corps receive a no-frills but satisfying Blu-Ray package with 1080p transfers (1.78) and DTS MA 2.0 stereo soundtracks. Well worth it for DC fans.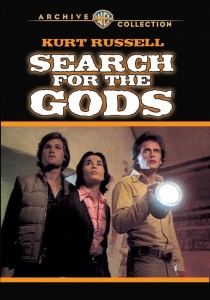 On DVD come a slew of terrific new TV-on-DVD Warner Archive releases: SEARCH FOR THE GODS (93 mins., 1975)is an entertaining, pre-Indiana Jones adventure with Kurt Russell and Stephen McHattie as unlikely partners searching for a medallion that might house evidence that extraterrestrials came to Earth in ancient times. Victoria Racimo ("Prophecy"), Ralph Bellamy and Raymond St. Jacques co-star in a silly but watchable '70s relic brought to DVD for the first time from the Archives…THE GIRL IN THE EMPTY GRAVE (91 mins., 1977) stars Andy Griffith in what would be the first of several TV films starring the former sitcom great as small-town Police Chief Abel Marsh. Though Griffith never took Marsh to series, this TV mystery is entertaining and filled with memorable supporting stars, including James Cromwell, George Gaynes and Hunter Von Leer among others…THE CHILDREN NOBODY WANTED (92 mins., 1981) offers Michelle Pfeiffer in an early role as a girlfriend to Fred Lehne's Tom Butterfield – a college freshman who gets involved with an orphaned boy, and subsequently starts a revolution that would change his life in this sensitive, well-acted TV film based on true events…On the series front, new Archive releases include the Complete Fifth (and final) season of EIGHT IS ENOUGH (1093 mins., 1980-81), which bids adieu to the Bradford clan – but not before adding Ralph Macchio into the cast as Abby's nephew Jeremy. Also newly available is a repressing of MEDICAL CENTER: The Complete First Season (1300 mins., 1969-70) in a six-disc, 26-episode DVD package starring Chad Everett and James Daly. A more contemporary series, THE CLASS (418 mins., 2006-07),stars Jason Ritter, Jon Bernthal, Jesse Tyler Ferguson and Lizzy Caplan in a short-lived comedy from "Friends"' David Crane and "Mad About You"'s Jeffrey Klarik. Warner's DVD includes its complete series in 16:9 transfers and stereo soundtracks.
For Golden Age fans, there's a pair of Norma Shearer vehicles landing on disc for the first time: the late '20s talkie THE LAST OF MRS. CHEYNEY (94 mins.), which co-stars Basil Rathbone, and the 1942 Robert Taylor rom-com HER CARDBOARD LOVER (93 mins.), a George Cukor farce that ended up as Shearer's cinematic swan song. Western fans, on the other hand, will want to track down TIM HOLT: WESTERN CLASSICS COLLECTION Volume 4, a three-disc, nine-film collection offering the early '40s/'50s sagebrush programmers Wagon Train; The Fargo Kid; Cyclone on Horseback; Riding the Wind; Land of the Open Range; Thundering Hoofs; Red River Robin Hood; Overland Telegraph and Trail Guide.
---
GRUDGE MATCH Blu-Ray/DVD (113 mins., 2013, PG-13; Warner): Watchable if decidedly lightweight comedy – which fizzled at the holiday box-office – pits former "Raging Bull" Robert DeNiro against the Italian Stallion, Sylvester Stallone, in a low-concept Warner release faintly resembling "Grumpy Old Men With Boxing Gloves." Peter Segal's film moves listlessly at times as ex-champs DeNiro and Stallone decide to spar in the ring one more time, though there are a few laughs to be found in Tim Kelleher and Rodney Rothman's script, and Kevin Hart generates much-needed energy as the boxing promoter who brings the no-longer-dynamic duo together. Warner's Blu-Ray combo pack includes an alternate opening, two alternate endings, featurettes, a DVD and digital copy, and a good looking 1080p transfer with DTS MA audio. Not great – but as a rental choice, not half-bad either.
AUGUST: OSAGE COUNTY Blu-Ray (121 mins., 2013, R; Anchor Bay): Tracy Letts' stage play provides a powerhouse acting showcase for Meryl Streep and Julia Roberts as members of the Weston family, who specialize in dysfunction in this satisfying adaptation of Letts' source material. Veteran "ER" director John Wells juggles the various acting styles of Streep, Roberts, Juliette Lewis, Margo Martindale, Abigail Breslin and Julianne Nicholson effortlessly in "August: Osage County," while a robust male supporting cast (Ewan McGregor, Chris Cooper, Benedict Cumberbatch, Dermot Mulroney and Sam Shepard) struggles to hold their own against the fiery interplay of their female counterparts. It's stagy – as you'd expect – but nevertheless an effective dramatic piece brought to Blu-Ray this week from Anchor Bay. The single-disc Blu-Ray includes commentary from Wells and cinematographer Adriano Goldman, along with a Making Of and interview with Letts. The 1080p AVC encoded transfer is just fine and 5.1 DTS MA rounds out the disc along with a digital copy.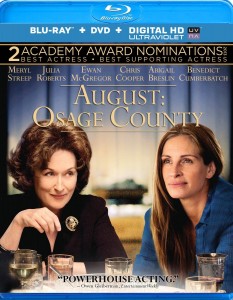 MAYBERRY R.F.D. Season 1 DVD (667 mins., 1968-69; Warner): When Andy Griffith decided it was time to leave "The Andy Griffith Show," plans were put in place to keep the rural, down-home humor of the series intact with a new family at its core. As a result, Ken Berry joined the cast during the series' final year as a widower – with an Opie-like son – who traveled to Mayberry where they'd be tended to by none other than Aunt Bee herself. The following season brought the spin-off series, "Mayberry R.F.D.," which retained many of the series' supporting characters along with occasional appearances by Griffith and the same, genial tone as its predecessor. Warner's Season 1 DVD edition of "Mayberry R.F.D." includes all 26 episodes from the series' first season in colorful full-screen transfers and mono soundtracks.
THE CAROL BURNETT SHOW: CAROL'S CRACK UPS DVD (17 hours; Starvista/Time Life): 17 unedited episodes from the classic comedy series comprise this six-disc set from Starvista, offering classic Carol sketches "The Family," "Alice Portnoy," "The Charwoman" and "The Old Folks," plus plenty of TV commercial parodies and guest stars ranging from Carl Reiner to Charo, Ruth Buzzi, Roddy McDowall and countless others. Over two hours of extras include five featurettes, a Tim Conway interview and more.
Sally Field's Oscar-winning performance as NORMA RAE (114 mins., 1979, PG; Fox) is the main reason to revisit this 1979 tale of a Southern millworker who gets involved in unionizing her fellow employees while choosing between a co-worker (Beau Bridges) and the Union rep (Ron Leibman) who's arrived from New York to recruit her involvement. As with "Conrack," "Norma Rae" works because of its widescreen lensing and commitment to time and place – director Martin Ritt reunited with writers Irving Ravetch and Harriet Frank, Jr. as well as cinematographer John A. Alonzo to tell the film's somewhat one-dimensional dramatic story, and it's powerfully brought home by a terrific Field performance. Fox's Blu-Ray boasts an exceptional 1080p transfer of this anamorphic (2.40) picture, with DTS MA mono audio and an AMC "Hollywood Backstory" episode included as an extra. Also new from Fox: Danny Trejo and Danny Glover star in BAD ASS 2: BAD ASSES (91 mins., 2014), a direct-to-vid action adventure co-starring Andrew Divoff. Fox's Blu-Ray offers a digital copy and Making Of, along with a 1080p transfer and 5.1 DTS MA soundtrack.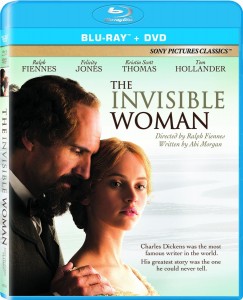 THE INVISIBLE WOMAN Blu-Ray/DVD (111 mins., 2013, R; Sony): Ralph Fiennes' compelling drama looks at the darker side of Charles Dickens, with the actor directing – and starring – as the famous author, who falls for a younger woman (Felicity Jones) and subsequently fights to maintain their secrecy. Kristin Scott Thomas and Tom Hollander star in this good-looking and moving picture, well shot by Rob Hardy and scored by Ilan Eshkeri, that Sony has released in a superb Blu-Ray package: the 1080p transfer is excellent, and ample extras include commentary from Fiennes and Jones, a Toronto Red Carpet premiere featurette, SAG conversations with the stars, and a press conference from the Toronto International Film Festival. Recommended.
PHILOMENA Blu-Ray (98 mins., 2013, PG-13; Anchor Bay): Judi Dench's terrific performance as Philomena Lee – an elderly woman who gave up her son to adoption decades before, and sets out on an adventure to find him – is the highlight of Stephen Frears' drama, scripted by the movie's co-star, Steve Coogan, with Jeff Pope from Lee's true story. Emotionally charged and colored with comic relief, "Philomena" works entirely due to Dench's performance, though how accurate the film – which was "inspired" by Philomena's journey – is in relation to the truth is debatable. Either way, the film comes off as somewhat overpraised given the accolades it received, with a running time that feels a bit abbreviated. Anchor Bay's Blu-Ray, out this week, includes a conversation with Dench, a featurette on the real Philomena Lee, a Q&A with Steve Coogan, commentary with Coogan and Pope, a digital copy, 1080p transfer and 5.1 DTS MA audio.
---
PARANORMAL ACTIVITY: THE MARKED ONES Blu-Ray Combo Pack (84 and 100 mins., 2014, R/Unrated; Paramount): Yet another entry in the now-endless line of supernatural chillers tries to spin off the material with a "Latino flavor." Here, a 17 year-old Los Angeles teen is possessed by demons from the other side, leading to the same sorts of cheap scares and handheld camera footage made popular by director Oren Peli's predecessors. Christopher Landon helms the film as competently as the other "Paranormal Activity" sequels, with Paramount's Blu-Ray offering both the 84-minute theatrical version and a much meatier unrated cut running 16 minutes longer. Additional "Found Footage," a DVD and digital copy round out the release along with a 1080p transfer and DTS MA 5.1 soundtrack.
NURSE 3D Blu-Ray Combo Pack (84 mins., 2013, R; Lionsgate): Utterly bizarre attempt at recapturing the trashy charm of a '70s exploitation picture proves to be a film for acquired tastes – to put it mildly. Paz de la Huerta stars as Abby, a seemingly benign, caring nurse who turns into a literal man killer at night, picking up unsuspecting victims and torturing them before squeezing out an assortment of gory 3D effects. Katrina Bowden is the innocent new nurse on the staff who befriends Abby but soon becomes suspicious of her behavior. Judd Nelson and Kathleen Turner pitch in cameos in this David Loughery-Doug Aarniokoski written B-movie which Lionsgate brings to Blu-Ray in a combo pack featuring both 3D and 2D Blu-Ray versions, a DVD and digital copy. Extra features include a commentary by Aarniokoski, Video Diaries and a Making Of featurette.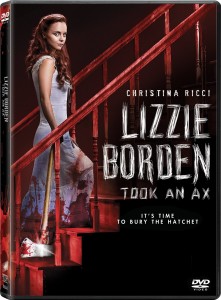 LIZZIE BORDEN TOOK AN AXE DVD (87 mins., 2014, Not Rated; Sony): Disappointing Lifetime TV movie tries hard – too hard – to bring an edge to the oft-told period tale of New Bedford, Mass. spinster Lizzie Borden (a frail looking Christina Ricci) and the infamous murders of her parents which appeared to have been committed by the Sunday school teacher. Clea Duvall plays Lizzie's sister in a movie that starts well enough, with a dash of black humor and loud, anachronistic rock music, but falls flat in its second half once the trial gets underway. Sony's DVD looks fine with Canadian locales subbing for New England.
DEATH DO US PART DVD (89 mins., 2012, R; Anchor Bay): Director Nicholas Humphries' pic sends couple Julia Benson and Ryan Benson on a bachelor/bachlorette party gone horribly wrong when members of their wedding party are picked of after hubby-to-be decides to book a remote cabin in the woods (a great idea for any "Jack and Jill" party, right?). Anchor Bay's DVD, available this week, includes a behind-the-scenes featurette, 16:9 transfer and 5.1 soundtrack.
---
Criterion New Releases: I'm not the biggest fan of Lars von Trier, but if I had to choose one of his films to watch, BREAKING THE WAVES (159 mins., 1996) is the one that immediately comes to mind. The picture, which launched the controversial Dutch director's career, stars Emily Watson as a quiet newlywed in a small Scottish village whose husband (Stellan Skarsgard) is soon paralyzed in an oil rig accident. Skarsgard subsequently implores her to have sex with local men since he can no longer "perform" for her – something that begins von Trier's strange personal portrait of a woman trying to reconcile her relationship with God with a release of repressed desire.
Fully restored in a new 4K transfer approved by von Trier, with 5.1 DTS MA audio, "Breaking the Waves" isn't an easy film to "like," but between Watson's stellar performance and the movie's stark cinematic vision, it's nevertheless a memorable, unique viewing experience. Criterion's Blu-Ray/DVD edition also includes a selected-scene commentary with von Trier, editor Anders Refn, and location scout Anthony Dod Mantle; a new interview with filmmaker Stif Bjorkman; recent conversations with Watson and Skarsgard; a 2004 interview with Adrian Rawlins; excerpts from Watson's audition tape; deleted and extended scenes; a Cannes Film Festival promo reel; and other extras available in both formats.
Also new from Criterion is RIOT IN CELL BLOCK 11 (80 mins., 1954), a tough Allied Artists film that helped to propel Don Siegel's lengthy directorial career. Shot on location at Folsom State Prison, this gritty, vividly shot tale of a prison uprising stirred by inmates Neville Brand and Leo Gordon is a memorable '50s B-movie on every level. Criterion's dual-format Blu-Ray/DVD discs are both culled from the same 2K digital restoration with extras including a new commentary from historian Matthew H. Bernstein; excerpts from Siegel's 1993 autobiography and Stuart Kaminsky's book about Siegel; extracts from a 1953 NBC radio series; and extensive booklet notes. The 1080p (1.37) B&W transfer is top notch and mono sound completes the package.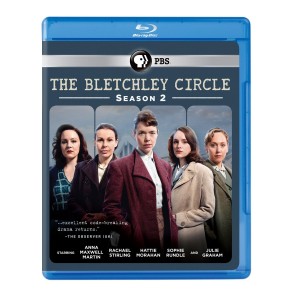 New From PBS: The superb drama THE BLETCHLEY CIRCLE (135 mins., 2012) stars Anna Maxwell Martin, Rachael Stirling, Sophie Rundle and Julie Graham as intelligence agents who worked during WWII at the top-secret Bletchley Park, helping to crack German military codes. Years later, the quartet reunited to solve a series of murders (in the series' first season), and here have to defend one of their former colleagues (Hattie Morahan) after she's put on trial for a crime she didn't commit. Over 25 minutes of bonus cast/crew interviews are included in PBS' Blu-Ray release which boasts 1080i transfers and 2.0 stereo soundtracks…"Secret Garden" author Frances Hodgson Burnett's THE MAKING OF A LADY (96 mins., 2012) is a twisty period piece starring Lydia Wilson, Joanna Lumley, Linus Roache and James D'Arcy. PBS' Blu-Ray includes a 1080p transfer and stereo audio, and streets this week.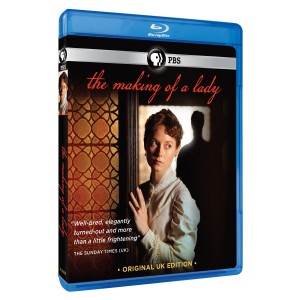 Upcoming DVDs from PBS include a terrific American Masters profile of BILLIE JEAN KING (90 mins., 2013), offering interviews with current and past tennis greats including Venus and Serena Williams, Chris Evert and others…KILLER TYPHOON: THE AFTERMATH OF CYCLONE HAIYAN (60 mins., 2014) is a Nova documentary chronicling the destruction caused by Typhoon Haiyan in the Philippines last November…The two-disc set SUPER SKYSCRAPERS (240 mins.) follows the creation of four new skyscrapers from conception to completion…Stephen Fry hosts RUSSIA'S OPEN BOOK (60 mins.), a profile of six popular Russian authors with animated sequences playing over Fry's reading of their works in English…THE HIDDEN ART OF ISLAM (60 mins., 2012) finds host Rageh Omaar tracing the effect of Muslim beliefs on its corresponding visual culture, from Arabesque floral designs to art found in mosques…and Michael Murphy narrates THE LAST OUTLAWS: BUTCH CASSIDY AND THE SUNDANCE KID (60 mins., 2014), a compelling American Experience documentary that profiles the real Butch & Sundance.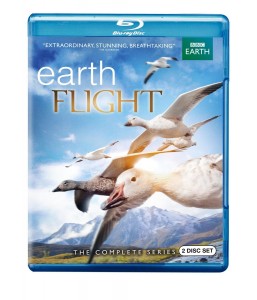 BBC Home Entertainment New Releases: EARTH FLIGHT (370 mins., 2013) is a glorious nature series following the flight paths of birds over multiple continents. Spectacular photography and narration by David Tennant that's thankfully not incessant make for one of the better series of its type I've seen in some time. BBC's 1080p BD transfers and 2.0 DTS MA stereo soundtracks add the icing on the cake. Also available isWINGED PLANET: AN EARTH FLIGHT FILM (94 mins., 2013), an edited-down, feature compilation of the program that kids might enjoy more than the standard series. BBC's DVD edition includes a 16:9 transfer and 5.1 Dolby Digital soundtrack…RIPPER STREET: Season 2 (485 mins., 2014) continues the investigations of Inspector Reid and his deputies in the Whitechapel district of London's east end. Even with the Jack the Ripper case having concluded, there's no shortage of murders and assorted mayhem in this second season of "Ripper Street," brought to Blu-Ray this week from BBC Home Entertainment in top-notch 1080p transfers and 5.1 DTS MA soundtracks.
New From Sundance Selects/MPI: Vincent Lindon and Chiara Mastroianni star in Claire Denis' BASTARDS (100 mins., Not Rated, 2013), a French thriller about a sailor (London) who tries to save his sister and niece from a wealthy businessman – whose wife (Mastroianni) he's also sleeping with. MPI's DVD includes the trailer, a 5.1 French soundtrack and 16:9 transfer…EVERYDAY (90 mins., 2012) is director Michael Winterbottom's latest, starring John Simm as a man whose relationship with his wife and children is forever shattered when he's sent away for drug smuggling. MPI's DVD includes deleted and extended scenes, the trailer, a 16:9 transfer and 5.1 Dolby Digital soundtrack.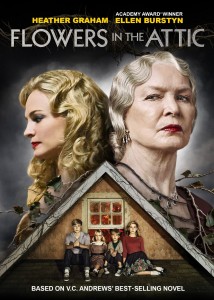 Also New From Lionsgate: FLOWERS IN THE ATTIC (90 mins., 2014; Not Rated) more faithfully renders V.C. Andrews' bestseller than the failed '80s New World theatrical film. This Lifetime production stars Heather Graham as the weak mother of four children who infamously locks them in her own mother's attic; Ellen Burstyn essays the nasty grandma who tries to do away with them in a surprisingly frank production that doesn't skirt the incest element that wglossed over in its prior cinematic rendering. Lionsgate's DVD includes a behind-the-scenes featurette, 5.1 soundtrack and 16:9 transfer…DATE AND SWITCH (91 mins., 2013, R) stars Nicholas Braun and Hunter Cope as high school seniors who try to "score" before Senior Prom – only to find out that one of them is gay. Chris Nelson's comedy never received a wide theatrical release but will attempt to find more of an audience on home video this week when Lionsgate brings the film to Blu-Ray. Extra features include commentary with Nelson and writer Alan Yang, two featurettes, deleted scenes, a 1080p transfer, DTS MA soundtrack and digital copy…Volume Three of ANGER MANAGEMENT (528 mins., 2013) offers more episodes from the FX comedy starring Charlie Sheen as a therapist specializing in (what else?) anger management. Selma Blair, Shawnee Smith and Martin Sheen co-star with Lionsgate's three-disc BD set including all 24 episodes in 1080p transfers and DTS MA soundtracks. Extras include a digital copy and a gag reel…Jean Dujardin plays a Russian spy in MOBIUS (108 mins., 2014, R), a flaccid French thriller co-starring Cecile De France and Tim Roth. Lionsgate's Blu-Ray, available this week, includes a Making Of featurette, extended interviews with director Eric Rochant and the cast, a trailer gallery, 1080p transfer and DTS MA 5.1 audio in English.
Magnolia New Releases: BIG BAD WOLVES (110 mins., 2013, Not Rated) is a wild Israeli thriller hitting Blu-Ray April 22nd from Magnolia in a deluxe HD package: a Making Of, AXS TV special and the trailer are all included along with a 1080p transfer and 5.1 DTS MA audio (in English dubbed or the original Hebrew).
Well Go New Releases: The Korean thriller CONFESSION OF MURDER (120 mins., 2012, Not Rated) profiles a young man who steps forward to take responsibility for a series of murders after their statute of limitation had expired. Slickly produced and tense action drives Jung Byung-Gil's 2012 picture, brought to Blu-Ray by Well Go this month in a single-disc edition with 5.1 DTS MA audio (in Korean with English subtitles) plus behind-the-scenes content, interviews and the trailer…Sammo Hung toplines the Hong Kong reworking of Kurosawa's "Seven Samurai," SEVEN WARRIORS (86 mins., 1989),brought to Blu-Ray for the first time on April 22nd by Well Go. The 1080p transfer is respectable with 5.1 Cantonese audio and English subtitles on tap…In CAVEMEN (87 mins., 2013. R; Well Go), Skylar Astin plays an L.A. playboy who aspires to eschew the singles scene and find true love – which, predictably, isn't as easy as he believes. Camilla Belle and Chad Michael Murray co-star in Herschel Faber's rom-com which hits Blu-Ray this week from Well Go in a 1080p transfer with 5.1 DTS MA audio.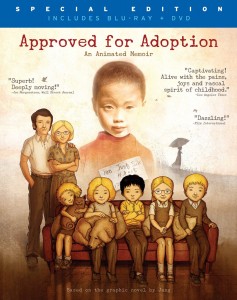 Cinedigm New Releases: Jung and Laurent Boileau's APPROVED FOR ADOPTION (75 mins., 2012) is a moving, mostly-animated film that adapts Jung's autobiographical tale of a young, and troubled, Korean boy who was adopted into a Belgian family at age 5, and the cultural issues he encountered trying to fit in. Cinedigm's Blu-Ray includes over 30 minutes of bonuses – a Making Of among them – along with the original French audio track with English subtitles, the trailer, a 1080p transfer and DTS MA 2.0 English audio…NORMAN ROCKWELL'S SHUFFLETON'S BARBERSHOP (87 mins., 2013) stars Austin Stowell as a country singer who returns to the small town where he grew up in a pleasant Hallmark Channel movie co-starring Kayla Ewell and Danny Glover. Cinedigm's DVD includes a 16:9 transfer and 5.1 soundtrack…Catherine Bell returns in THE GOOD WITCH'S GARDEN (87 mins, 2009), one of the early Hallmark Channel movies that's become one of the network's staples (a weekly "Good Witch" series is due next year). Cinedigm's DVD boasts a 16:9 transfer and 2.0 stereo soundtrack.
---
Family Finds
THE GABBY DOUGLAS STORY DVD (86 mins., 2014; Sony): Lifetime Channel biopic of the Olympic champion gymnast is pretty much standard fare, albeit well acted by Regina King (as Douglas' mom) and S. Epatha Merkerson with a cameo appearance from Douglas herself. Sony's DVD, available this week, includes a 169 transfer and 5.1 Dolby Digital soundtrack, and ranks as passable entertainment for the whole family.
HOT WHEELS BATTLE FORCE 5: FUSED (Cinedigm) is a futuristic kids animated series that Cinedigm has brought to DVD in a pair of individual Season 2 releases. Each disc contains approximately two hours of episodes from the series' second season with 16:9 transfers and stereo soundtracks. Also new from Cinedigm is SHURIKEN SCHOOL: THE NINJA'S SECRET(75 mins., 2011), a wacky animated series from director Pascal Morelli. Cinedigm's DVD includes 75 minutes of nuttiness from the series with stereo soundtracks and widescreen transfers.
BELLA SARA: EMMA'S WINGS DVD (75 mins., 2014; E One): Adaptation of the popular children's books sends a young human girl, Emma, into the "North of the North" where the villainous Ivenna is out to steal the magic from hordes of fantastical horses. Colorful animation makes this fantasy worthwhile for young viewers. E One's DVD includes a 16:9 transfer and 5.1 Dolby Digital soundtrack.
NEXT TIME: GET CARTER, new Shout! Factory releases and more! Until then, don't forget to drop in on the official Aisle Seat Message Boards and direct any emails to our email address. Cheers everyone!