Robert Redford's performance as a sailor on a solo voyage in the Indian Ocean anchors – no pun intended – ALL IS LOST (**½, 106 mins., 2013, PG-13; Lionsgate), writer-director J.C. Chandor's epic tale of survival.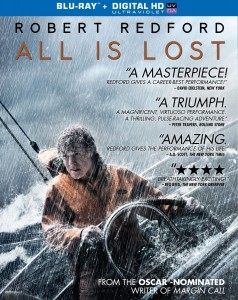 With little dialogue, Redford gives a weary, low-key performance as a man trying to hold his sailboat, the Virginia Jean, together after a dislodged cargo container crashes into its hull. With watering pouring into the cabin, ruining all of his electronics, Redford's sailor has to mend the vessel from sinking – all before a major storm thunders across the sea, forcing Redford to meet the wrath of Mother Nature head-on with rain, wind and waves.
"All is Lost" is a movie that requires a major suspension of disbelief – it's hard to imagine any seasoned sailor, much less one on what looks like a trip around the world, not having more emergency devices at his disposal (no waterproof emergency radio? backup GPS? automatic bilge pump? radio distress beacon? backup smartphone?). Meanwhile, Redford is able to patch what would ordinarily be a crippling hole in the side of his boat with relative ease – making for a movie that is likely to be frowned upon by anyone with a little maritime familiarity.
What the film is effective enough in conveying is the struggle of man against nature, and particularly an individual against the elements with fewer and fewer resources at his disposal. Redford's performance is tremendously convincing and the picture compelling in spite of its shortcomings – with more authenticity, and a more satisfying ending (the film gives us one of those "open for interpretation" conclusions that feels at odds with its otherwise straight-ahead survival premise), "All is Lost" could have packed even more of a punch than it does.
Lionsgate's Blu-Ray offers a 1080p transfer of this modestly-budgeted picture with DTS MA 5.1 audio. Extras include a commentary from Chandor and a number of brief featurettes along with a digital copy.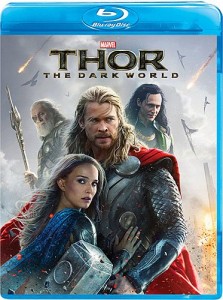 THOR: THE DARK WORLD Blu-Ray (**½, 112 mins., 2013, PG-13; Marvel/Disney): Competent if uninspired sequel to Kenneth Branagh's colorful Marvel hit brings back the God of Thunder (Chris Hemsworth), fighting off an old foe previously thought to have been vanquished by his father. At stake is the future of the universe itself, with the "Dark Elves" trying to bring about a "Convergence" that impacts both Asgard and Earth simultaneously.
The script by Christopher Yost, Christopher Markus and Stephen McFeely is awfully busy considering the film's sub-two hour running time, with the characters spinning about from one plot point to the next. In addition to the movie's bland bad guys there's also Thor's troublemaker sibling Loki (the delightfully conniving Tom Hiddleston), who reluctantly joins forces with his brother, plus the Norse God's relationship with Earthbound love Jane Foster (Natalie Portman), not to mention the funeral of a pivotal character and more action for Thor's "merry men" of Asgardian warriors. "Game of Thrones" director Alan Taylor tries to make sense of it all, but while the film is still highly entertaining in spite of its chaotic nature, it lacks the passion of Branagh's original, and could've used some room to breathe as numerous moments of narrative significance pass by without sufficient time to reflect on them.
Disney's Blu-Ray of "Thor: The Dark World" includes a few deleted scenes, requisite behind the scenes segments and a goody Marvel "One Shot" focused on Ben Kingsley's "Iron Man 3″ character. The 1080p transfer and 5.1 DTS MA soundtrack are both top notch as expected.
JUSTICE LEAGUE: WAR Blu-Ray/DVD (79 mins., 2014, PG-13; Warner): Batman, Superman, Wonder Woman, Green Lantern, Flash, Shazam and Cyborg team up to take on Darkseid after his massive forces invade Earth in this latest Warner animated production. Based on DC Comics' The New 52 graphic novel, "War" puts a fresh stamp on well-worn Justice League material, with the same quality animation and voice-over work we've seen in recent DC direct-to-video offerings.
Warner's Blu-Ray/DVD combo pack includes an exclusive featurette "Creating Heroes: The Life and Art of Jim Lee" plus four vintage cartoons from the DC vault, an "Animatic to Pencil Test" segment, "Deconstructing War with Jay Olivia and Jim Lee," a sneak peek at the next DC animated movie ("Son of Batman"), plus a vivid 1080p transfer, 5.1 DTS MA soundtrack and digital copy.
AUSTENLAND Blu-Ray (*½, 97 mins., 2013, PG-13; Sony): Keri Russell plays a single New Yorker who's obsessed with all things Jane Austen, and decides to spend all of her life savings by taking a trip to London, where "Austenland" has just opened. Yes, it's "Westworld" for Jane Austen fans, where guests can live out their Regency era fantasies and court the opposite sex if the mood strikes them.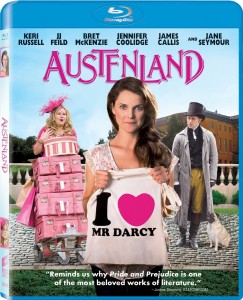 What should've been a premise ripe for laughs turns into a muddled, unfunny and silly picture from "Napoleon Dynamite" co-writer Jerusha Hess, who directed and co-adapted "Austenland" from the book by Shannon Hale. Russell is game and Jennifer Coolidge effortlessly generates a few laughs, but this is a labored strike-out for the most part across the board.
Sony's Blu-Ray includes commentary with Hess and producer Stephenie Meyer along with a cast Q&A, 1080p transfer and 5.1 DTS MA soundtrack.
LIFE OF A KING Blu-Ray (101 mins., 2013, PG-13; Millennium): Sincerely produced tale of Eugene Brown (Cuba Gooding, Jr.), a man incarcerated for nearly two decades. After being released from prison, Brown works to establish the Big Chair Chess Club in an effort to help troubled kids get off the streets and work towards a brighter future in Washington, D.C. Lisa Gay Hamilton, Richard T. Jones and Dennis Haysbert co-star in this Jake Goldberger-directed drama brought to Blu-Ray by Millennium. The studio's 1080p transfer is solid as is the Dolby TrueHD audio. No extras are included.
ROMEO & JULIET Blu-Ray/Ultraviolet (**½, 118 mins., 2013, PG-13; Fox): Opulently filmed but rather flat new adaptation of the Shakespeare classic, with Hailee Steinfeld ("True Grit") and Douglas Booth as the doomed young lovers. "Downton Abbey"'s Julian Fellowes penned this version, which Carlo Carlei shot in gorgeous Verona locales – but something is just missing from the finished product, which takes some liberties with the source material in an effort to make it more streamlined for modern viewers. However, I didn't have an issue with that so much as the picture just never catches fire (a lack of chemistry between the leads being one reason for the latter), despite good intentions from all involved. Fox's Blu-Ray boasts a highly attractive 1080p AVC encoded transfer, 5.1 DTS MA soundtrack and a number of short behind the scenes featurettes.
BAGGAGE CLAIM Blu-Ray (*½, 96 mins., 2013, PG-13; Fox): …available this week from PBS is SPIES OF MISSISSIPPI (60 mins., 2013), a look at the battle between segregationists and the civil rights community during the "Mississippi Freedom Summer" of '64, and in particular, the efforts by the Mississippi Governor and his staff to secretly infiltrate the movement with black operatives. PBS' widescreen transfer and stereo soundtrack are both perfectly fine. Paula Patton plays a flight attendant who wants to get engaged in time for her younger sister's wedding – cue her co-workers, who decide that Patton needs to meet up with her ex-boyfriends in order to find Mr. Right. Patton tries hard but "Baggage Claim" is a terrible movie, cliched and unbelievable, with strained comedic situations. Writer-director David E. Talbert adapted his book (!) and recruited a terrific cast (Derek Luke, Taye Duggs, Djimon Hounsou) for one of 2013′s worst films. Fox's Blu-Ray includes deleted scenes, promo featurettes, commentary and behind the scenes with Talbert, a 1080p transfer, 5.1 DTS MA soundtrack, DVD and digital copy.
---
THE JUNGLE BOOK: Diamond Edition Blu-Ray/DVD (***½, 78 mins., 1967, Disney): Disney's latest "Diamond Edition" Blu-Ray is a marvelous, two-disc set offering a brand-new restored transfer of the 1967 classic, in HD for the first time. The AVC encoded 1.75 transfer looks like it's been cleaned up a good deal – there's not a lot of grain in the image – but there's still enough detail, along with strong colors, to make it an appreciable upgrade from prior DVD releases. On the audio side, Disney has included two soundtracks: a 7.1 DTS MA track as well as the movie's original 1.0 mono mix for purists.
Loads of extras include a segment with Richard M. Sherman and Diane Disney Miller along with respective introductions to the film from the duo. A recently rediscovered alternate ending, in storyboard form, is included here along with a "Hangin' Out at Animal Kingdom" featurette and sing-along function. Most of the extras from the DVD release have also been ported over, with a DVD and digital copy also on-tap. Highly recommended!
ROBOCOP Unrated Director's Cut (***, 103 mins., 1987, R; MGM/Fox): Following MGM's satisfying "Terminator" Blu-Ray re-issue from a year ago, "Robocop" has made a second visit onto the HD platform in a presentation with both superior video (remastered 4K transfer that easily trumps the ancient MPEG-2 master of its previous Blu-Ray) and ample extras – some of which are brand-new to this affordable release.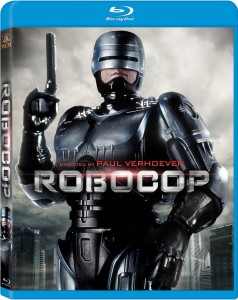 The uncut version of the film, which makes the early board room scene a bit more graphic — but also funnier at the same time – is present here along with extras both carried over from the Special Edition DVD (four deleted scenes; a "Making Of" segment and vintage on-set featurette; commentary from Verhoeven, producer Jon Davison and writer Edward Neumeier, trailers and TV spots) and newly shot for this release (the best of the latter batch is a 40-minute 2012 Q&A with the filmmakers, plus Peter Weller and Nancy Allen).
Given that none of the extras were contained in the 2007 Blu-Ray, this inexpensive Blu-Ray – currently under $10 at Amazon – is worth it for the supplements alone. Add in a remastered transfer and you've got an early candidate for top catalog release of '14.
FRANKENSTEIN CREATED WOMAN Blu-Ray (**½, 92 mins., 1966; Millennium): Fourth film in Hammer's Frankenstein series boasts a slightly more perverted story than its predecessors. Here, Baron Frankenstein (Peter Cushing, appearing slightly more empathetic this time around) revives a young woman (Susan Denberg) who's drowned herself after her suitor is framed and executed for the death of her innkeeper father. Frankenstein resurrects young "Christina" in an even more perfect form than before – with a lighter hair color and even eliminating a scar on the side of her face – but gets more than he bargained for when her ex-lover's soul awakens inside her, wanting revenge.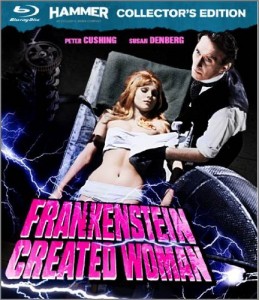 John Elder's script puts an interesting twist on the Frankenstein mythos with the "creature" here a more physically ideal specimen than its previous body. Under the direction of series veteran Terence Fisher, "Frankenstein Created Woman" has some interesting ideas, but its 1966 release date hampers it from really going bonkers with its vaguely transsexual premise of the slain lover's spirit revived in his lover's new body. Either way, the resulting film is sturdy but slow-going, with the "new" Christina appearing at exactly the one-hour mark, leaving little time for the kind of bloody mayhem Hammer fans know and love.
Millennium's Blu-Ray presentation of "Frankenstein Created Woman" has a highly pleasing, 1080p AVC encoded transfer that offers a high level of detail. Whatever shortcomings there are exist in the occasionally faded source material, but it's still far superior to the prior Blu-Ray of "Dracula: Prince of Darkness." Extras range from a 45-minute new "Hammer Glamour" documentary that interviews numerous Hammer leading ladies plus a commentary with Derek Fowlds, Robert Morris and Jonathan Rigby, along with the trailer and two vintage "World of Hammer" episodes that have been erroneously squeezed to an aspect ratio even narrower than 4:3.
WHO IS HARRY KELLERMAN AND WHY IS HE SAYING THOSE TERRIBLE THINGS ABOUT ME? DVD (*, 107 mins., 1971, R; CBS)
THE APRIL FOOLS DVD (**, 94 mins., 1969, PG; CBS)
THE WAR BETWEEN MEN AND WOMEN DVD (**½, 104 mins., 1972, PG; CBS): It's always nice to see a major label releasing catalog content on DVD again, even if there are heavily dated aspects in all three of CBS' early '70s releases this month.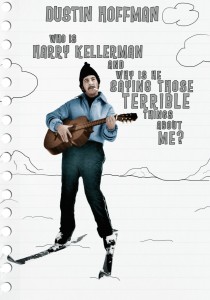 A self-indulgent misfire, the oddly titled "Who Is Harry Kellerman?" stars Dustin Hoffman in his second consecutive film for CBS' Cinema Center Films. Alas, this one was no "Little Big Man," with Hoffman playing Georgie Soloway, a paranoid rocker with suicidal thoughts who believes a man named Harry Kellerman is trashing his reputation. Along with his shrink (Jack Warden), Soloway looks back on his life and tries to understand where he went wrong in regards to his failed relationships, and tries in vain to relate to an aspiring actress (Barbara Harris) who has some of the same personal issues that he does.
Harris is the only redeeming element in "Harry Kellerman," livening up an otherwise morbid and boring affair that was generally assailed by critics of the day. Having been seldom seen since its original release, it's easy to see why, though Harris at least managed an Oscar nomination for her role.
Perpetually underappreciated, Harris also starred in one of two Jack Lemmon romantic comedies also making their debut on DVD this month.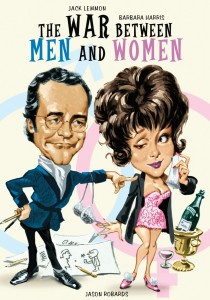 "The War Between Men and Women" is the superior of the duo – a competent and engagingly performed domestic comedy about an aging cartoonist (Lemmon) losing his sight but gaining a reluctant appreciation for the opposite sex, which he has mostly lampooned in his comedic animations. Harris is the divorced mom who falls for the curmudgeonly Lemmon, and the duo work out their differences even when her ex-husband (Jason Robards) reappears on the scene.
Director Melville Shavelson and co-writer Danny Arnold were inspired by James Thurber's works, incorporating elements of his personal life and drawings (including an adaptation of "The Last Flower") in the picture with several animated sections included for good measure. The movie isn't anything remarkable – it's a standard early '70s family comedy with some PG-level profanity, as well as a Marvin Hamlisch score undermined by a poky synthesizer – but it's good fun with Lemmon and especially Harris in fine form.
"The April Fools" isn't as satisfying: a lackluster teaming of Lemmon – as an executive working for swinger Peter Lawford – who falls for his unhappy wife (Catherine Deneuve). Sparks fail to fly between Lemmon and Deneuve in Hal Dresner's script, which at least was stylishly shot in scope by director Stuart Rosenberg. With the movie's Panavision aspect ratio restored to its full dimensions here, "The April Fools" is at least watchable again (and offers early appearances by the likes of Sally Kellerman, Melinda Dillon, Harvey Korman and Kenneth Mars), yet it's pretty dated and tired stuff. Even the Burt Bacharach-Hal David theme song, performed by Dionne Warwick, is forgettable, and once again Marvin Hamlisch contributes a similarly unremarkable score.
CBS' DVD transfers are all 16:9 enhanced (2.35 on "The April Fools," 1.85 on "Harry Kellerman" and "War") and look quite good although there are imperfections (splices, faded elements) in the source materials at times. The mono soundtracks are as satisfying as the original mixes allow, with "Men and Women" in particular suffering from an excessive use of ADR.
Coming later this month from CBS is Season 2 of GENTLE BEN (aprx. 12 hours, 1968-69), the story of a Florida Everglades family who keep a trained bear as a pet for their young son (Clint Howard). Dennis Weaver stars in this enjoyable Ivan Tors series which offers the same kind of wholesome entertainment as his aquatic hit "Flipper", with CBS' four-disc DVD set boasting crisp 4:3 transfers and mono soundtracks.
---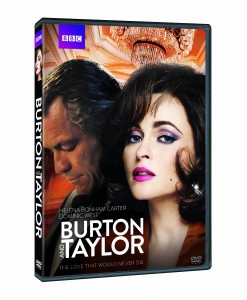 New From BBC Home Entertainment
BURTON AND TAYLOR DVD (90 mins., 2013; BBC Home Entertainment): Helena Bonham Carter and Dominic West star as Elizabeth Taylor and Richard Burton in writer William Ivory's snapshot of the couple's relationship – following a pair of failed marriages – in trying to produce a revival of Noel Coward's "Private Lives" in the early '80s. Carter and West are terrific here as the bickering but forever-starstruck lovers in a tidy, compelling BBC drama brought to DVD this month in a 16:9 transfer with a pair of behind-the-scenes featurettes included for good measure.
SHERLOCK – Season Three Blu-Ray (270 mins., 2013; BBC Home Entertainment): Benedict Cumerbatch and Martin Freeman return for this third season of contemporary Sherlock Holmes adventures. With Moriarty gone and two years having passed since Sherlock disappeared, the relationship between Holmes and Watson feels more detached – at least initially – than before, though Watson's upcoming wedding and cases involving blackmailer Charles Augustus Magnussen promise to get the master detective back on track (sort of). While fans flocked to "Sherlock"'s first episode of its third year (generating over 9 million viewers in the UK alone), critics were harsher on the season, many claiming it failed to live up to its predecessors. Either way, BBC's Blu-Ray presentation of "Sherlock: Season Three" offers good looking 1080p transfers and 5.1 DTS MA soundtracks, along with three behind-the-scenes featurettes.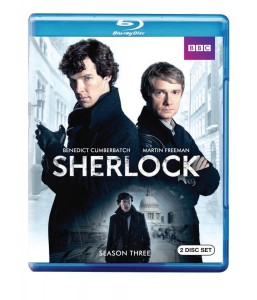 DOCTOR WHO: THE MOONBASE DVD (98 mins., 1967; BBC Home Entertainment): A story arc from the Patrick Troughton years envisions a future Earth where the weather is controlled remotely from the moon. Upon arrival, the TARDIS quickly finds the Cybermen have infiltrated the moonbase and killed off its crew, sending the Doctor with Polly, Ben and Jamie off on a last-ditch effort at saving the world. This vintage "Doctor Who" story has been remastered with animated material used to complete missing footage – ample extras, as always with these terrific BBC releases, include commentaries, a Making Of, PDF materials and a photo gallery.
THE LADY VANISHES DVD (90 mins., 2013; BBC Home Entertainment): Fresh adaptation of the Hitchcock '30s thriller sends Tuppence Middleton on a train crossing Europe when an elderly woman she was traveling with (Gemma Jones) disappears. Tom Hughes co-stars in this reasonably entertaining new spin on an oft-remade story, though it naturally lacks the visceral energy of its '30s predecessor. BBC's DVD boasts a 16:9 transfer and stereo soundtrack.
---
Label Wrap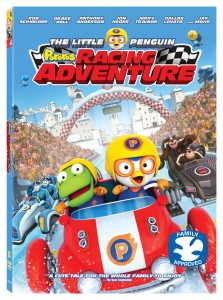 Also New From Lionsgate: SWAMP PEOPLE Season 4 (16 hours, 2013) includes all 22 episodes from the fourth season of the popular History Channel series. Episodes include Swamp Invaders; Texas Hold Em; Floating Dead; Bad Moho; Blood Lines; Waging War; Deadly Chill; No Surrender; Breaking Point; Cursed; Ride or Die; Devoured; Young Blood; Deadly Duo; Lightning Strikes; Sabotaged; Down Goes the King; Blood Runs Deep; Beast of the East; The Reaper; Deadly Divide; and No Tomorrow. Over 40 minutes of bonus footage is also included along with 16:9 transfers and 2.0 stereo soundtracks…Eric Roberts and Rich McDonald star in the direct-to-vid actioner SEAL PATROL (81 mins., 2013, R), a brief, forgettable programmer Lionsgate brings to DVD this week offering a featurette, 16:9 transfer and 5.1 Dolby Digital audio…Exclusive to Walmart is THE LITTLE PENGUIN: PORORO'S RACING ADVENTURE (77 mins., 2013, G), a Korean animated production featuring the voices of Jay Mohr, Drake Bell, Rob Schneider, Jon Heder and Anthony Anderson. Lionsgate's DVD contains a recording session featurette, four "minuscule bonus episodes," a 16:9 transfer and 5.1 Dolby Digital soundtrack in either English or Korean…Available on February 25th, Lacey Chabert and Robin Dunne try to fend off an attack from a supernatural SCARECROW (86 mins., 2013, Not Rated), a Syfy Channel original movie shot in Canada by director Sheldon Wilson. Lionsgate's DVD includes a 16:9 transfer and 5.1 Dolby Digital soundtrack...Season 5 of NURSE JACKIE (280 mins., 2013) returns Edie Falco to her Emmy-nominated role of Jackie Peyton, the troubled nurse trying to balance sobriety and work. In the fifth season of the Showtime series, Jackie dates an NYC cop (Adam Ferrera) while being challenged by new colleagues at All Saints Hospital. Lionsgate's Blu-Ray includes 1080p transfers, DTS MA soundtracks, cast/crew commentaries, deleted scenes, a gag reel and two featurettes…TERRY FATOR: LIVE IN CONCERT (96 mins., 2012) is a new Walmart-exclusive DVD offering the comedian/impressionist in concert at the Mirage in Las Vegas. Ample special features include commentary, Preshow material, a music video, 16:9 transfer and 5.1 Dolby Digital soundtrack…HELLBENDERS 3D (87 mins., 2013, R) is a low-rent genre outing from writer-director JT Petty following a group of exorcists on something resembling a throwback to violent, over-the-top horror outings from the '80s. Clifton Collins, Jr., Clancy Brown and Dan Fogler star, with Lionsgate's 3D/2D Blu-Ray combo offering a Making Of, commentary, short films, a 1080p transfer and DTS MA audio.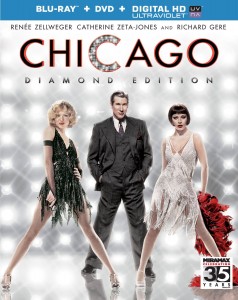 CHICAGO Diamond Edition Blu-Ray (***½, 113 mins., 2003, PG-13; Lionsgate): The long wait for the John Kander-Fred Ebb Broadway musical to reach the screen was worth it: 2003′s Best Picture Oscar winner is a breezy blast of musical entertainment with a memorable score and zesty song sequences.
This faithful adaptation of its source has Renee Zellweger as a nightclub-wannabe who's imprisoned for murdering her lover. Catherine Zeta-Jones plays the torch singer Zellweger emulates who's also on murderer's row in '30s Chicago, while Richard Gere essays the high-priced attorney who ultimately represents both.
Director Rob Marshall and screenwriter Bill Condon employ the device of having most of the musical numbers originate from the minds of the various characters — a decision that results in some bare-bones production numbers that are nevertheless faithfully reproduced from the stage version. You may also get tired of the cross-cutting between the movie's "reality" and fantasy sequences, but Marshall's direction is sure-handed most of the way and the choreography (based on Bob Fosse's original staging) is vibrant.
The song adaptations, meanwhile, are excellent and the performances right on the money: Zeta Jones (a Supporting Actress Oscar winner) is sensational while Zellweger proved to be a pleasant surprise as the anti-heroine. John C. Reilly and Christine Baranski shine in supporting roles. Only Gere seemed a little out of his element, with a singing voice that at times resembles Buddy Hackett (!), but he does, to his credit, manage to pull off a few deft dancing moves.
Despite the "dark" subject matter, "Chicago" is great entertainment. Anyone who enjoys a good musical — the kind they just don't make anymore — is urged to check it out.
Lionsgate's Diamond edition release of "Chicago" offers a fresh 1080p AVC encoded transfer and remastered 7.1 Dolby TrueHD audio – visually and aurally the film looks tremendous though I do not have the prior Blu-Ray (released by Buena Vista) to do an A/B comparison with (that disc only included PCM audio and looked quite good for its time, but was also an early-format release).
The disc is highlighted by a lengthy, 140-minute retrospective on the making of the film, detailing every element of the production with Rob Marshall and cast/crew members. Selected extras are also carried over from the prior releases (including extended musical performances and commentary by Marshall and Condon), though some materials ("From Stage to Screen: The History of 'Chicago'" and the deleted song "Class") are only present in the accompanying DVD, which is a straight reprise of the old Buena Vista release.
MOON MAN DVD (95 mins., 2012; Cinedigm): The Man on the Moon decides to visit Earth – causing a panic amongst the Earth's children who can no longer sleep – in this charming, low-key animated picture based on Tomi Ungerer's book. Cinedigm's DVD includes a widescreen 16:9 transfer and 5.1 Dolby Digital sound.
REGULAR SHOW: MORDECAI & MARGARET PACK DVD (176 mins., 2014; Warner): Sixteen episodes from the popular Cartoon Network cult series hit DVD this week. Episodes include Caffeinated Concert Tickets; It's Time; Muscle Woman; Do Me a Solid; Cruisin'; Yes Dude Yes; Access Denied; Fancy Restaurant; Diary; Bad Kiss; TGI Tuesday; Do or Diaper; Picking Up Margaret; Meteor Moves; Family BBQ; and Steak Me Amadeus. A commercial for "Steak Me Amadeus" is the sole extra on the single-disc DVD, presented in a 16:9 transfer with 2.0 stereo audio.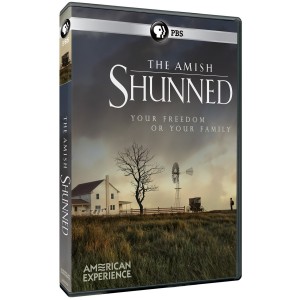 Coming From Magnolia: Available February 25th, Jared Leto stars in MR. NOBODY (139/155 mins., 2009, R/Unrated), a sprawling tale of the life and times of Nemo Nobody, a 118-year-old who happens to be the last mortal human left on Earth. Sarah Polley, Diane Kruger and Juno Temle co-star in this strange picture that hasn't received much play in the U.S. Magnolia's Blu-Ray includes an unrated Director's Cut plus the theatrical version along with deleted scenes, the trailer, and assorted Making Of material. The 1080p transfer on the Director's Cut is just fine (the theatrical version is in 720p) and the 5.1 DTS MA audio is likewise satisfying…Also available February 25th is MUSCLE SHOALS (111 mins., 2012, PG), a documentary about Rick Hall, the man who established the sound of Muscle Shoals, Alabama and its corresponding musical legacy. Jimmy Cliff, Aretha Franklin, Greg Allman, Bono, Mick Jagger, Alicia Keys, Keith Richards, Percy Sledge and Steve Winwood are a few of the artists who appear in Greg "Freddy" Camalier's documentary, filled with good music and a heartfelt story. Magnolia's disc includes additional scenes and interviews, two commentaries, the trailer, a 1080p transfer and 5.1 DTS MA soundtrack.
PBS New Releases
THE AMISH SHUNNED DVD (120 mins., 2014; PBS): Fascinating American Experience documentary follows seven former members of the Amish community as they leave their surroundings and try to integrate in present day America. Shot over a period of a year, Callie T. Wiser's non-judgmental view shows the binds that tie these men and women together along with the problems they face in the outside world. PBS' DVD includes a 16:9 transfer and stereo soundtrack…available this week from PBS is SPIES OF MISSISSIPPI (60 mins., 2013), a look at the battle between segregationists and the civil rights community during the "Mississippi Freedom Summer" of '64, and in particular, the efforts by the Mississippi Governor and his staff to secretly infiltrate the movement with black operatives. PBS' widescreen transfer and stereo soundtrack are both perfectly fine.
NEXT TIME: NEWHART Season 2 and the latest from Shout! Factory. Until then, don't forget to drop in on the official Aisle Seat Message Boards and direct any emails to our email address. Cheers everyone!