Celebrating its 40th anniversary with its first Blu-Ray release, the original DEATH WISH (***, 93 mins., 1974, R; Warner) became a box-office smash back in the summer of '74 and generated one of the most popular roles for its 50-year-old star Charles Bronson.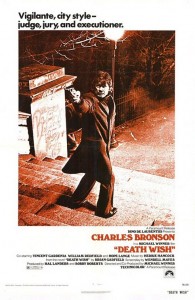 After his wife and daughter are brutally stalked and attacked returning to their New York City apartment, architect – and conscientious objector – Paul Kersey dashes to a local hospital, only to find out his wife is dead and his daughter psychologically scarred from the trauma. The police don't have any leads, and Kersey stands by idly one night after the attack watching a gang trash a car in his upper Manhattan neighborhood. No longer wanting to stand pat, Kersey is compelled to take up firearms after flying out to Arizona for a new job, and comes to embrace a lifestyle of vigilantism – removing the societal trash from the streets of a New York City at the height of '70s urban decay.
The original "Death Wish" is quite a bit removed from the entertaining, if decidedly more outlandish, Cannon sequels that belatedly followed in the '80s. Director Michael Winner, shooting one of his many pictures with Bronson, knows he's making an exploitation piece but the film has a measured script by Wendell Mayes, who adapted Brian Garfield's novel after director Sidney Lumet bowed out (Lumet was supposed to direct the picture with Jack Lemmon starring as Kersey – what a different movie that would've been!). Bronson's effective, cool performance anchors the film as Kersey believably makes the transition from urban liberal to gun-trotting purveyor of justice, though there's no question which side of the fence the movie comes down on in terms of justifying Kersey's actions. It's also interesting to see the film's debate over the use of guns, which is just as timely today as it was back some four decades ago.
Authentically shot on location, the movie makes a perfect companion piece with "The Taking of Pelham 1-2-3″ in terms of showing the Big Apple at the height of the city's grimy, violent '70s trappings. Authentic atmosphere permeates the picture, while familiar faces abound in supporting roles: Jeff Goldblum is one of the thugs who violently attacks Kersey's family, and the supermarket clerk he quickly bats his eyes at is Sonya Manzano, best known as Maria on "Sesame Street." An almost unrecognizable Denzel Washington and Laurence Hilton-Jacobs ("Welcome Back, Kotter") briefly appear as thugs, while Christopher Guest and Olympia Dukakis have early roles as a pair of cops working with detective Vincent Gardenia.
Ultimately, the original "Death Wish" doesn't have the gleeful, almost comic-book like fun of the later Cannon sequels ("Death Wish 3″ is a particular guilty pleasure that only seems to get better with age), but it's nevertheless an effective, nasty little picture that captures a time and place – and its corresponding cultural mood – memorably.
Warner's Blu-Ray edition of "Death Wish," licensed through Paramount, benefits from a satisfying, nicely detailed new AVC encoded 1080p transfer. Colors look fresh, the picture doesn't seem impacted by any obvious use of DNR, and the print utilized is in good condition. The mono audio is limited by its restrictive, one-channel range, though Herbie Hancock's score still packs a solid punch. The original trailer is the sole extra on a solid, no-frills Warner catalog release – check it out before taking MGM's Blu-Rays for Parts II, III and IV for a spin.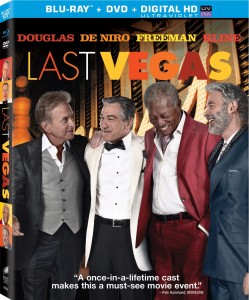 LAST VEGAS Blu-Ray/DVD (**, 105 mins., 2013, PG-13; Sony): So feeble that not even the addition of a studio audience laughtrack could spice up the tired jokes, "Last Vegas" brings together a handful of Oscar winners – Michael Douglas, Robert DeNiro, Morgan Freeman and Kevin Kline – for a "Geriatric Hangover" populated with Viagra and "old willy" jokes.
After the passing of one of his friends, swinging Douglas decides it's time to get married – again – to a younger woman. Pals Freeman and Kline opt to join him, but have to drag grumpy widower DeNiro along for the ride. When in Vegas, the group gamble, drink and find that life is worth living no matter at what age…which you could have deduced from watching the movie's two-minute trailer.
Writer Dan Fogelman and director Jon Turtletaub have fashioned a pedestrian comedy that nevertheless managed to become CBS Films' highest grossing picture to date. Apparently, the cast generated enough goodwill among older viewers to make "Last Vegas" a box-office hit, but it's unfortunate they couldn't have given fans more entertainment in the process: the scene where Kline says goodbye to his loving wife, who has wrapped up a Viagra pill and condom in an envelope as a present, is pretty much all you need to know about the level of comedy in the picture. The actors look like they're having a good time, but outside of Mary Steenburgen's work here as a seasoned lounge singer, there's little reason to cash in on this waste of talent.
Sony's Blu-Ray/DVD combo pack includes commentary and featurettes, with three of them exclusive to the Blu-Ray platter. A digital copy is also on-hand along with a 1080p transfer and 5.1 DTS MA soundtrack.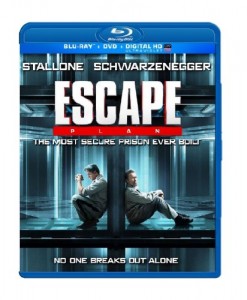 ESCAPE PLAN Blu-Ray/DVD (**½, 115 mins., 2013, R; Summit/Lionsgate): It took far too long to get action icons Sylvester Stallone and Arnold Schwarzenegger to team up in a feature film. Their brief sequences in "The Expendables" pictures notwithstanding, "Escape Plan" offers Sly and Arnie together at last in a competent yet uninspired prison break picture from writer Miles Chapman and director Mikael Hafstrom that fizzled out at the U.S. box-office.
Stallone plays an expert in prison security whose job is to test out a jail's defenses by becoming an inmate in one. His latest assignment finds Stallone's Ray Breslin in an iron-clad, almost futuristic facility overseen by a dictatorial warden (Jim Caviezel) who doesn't know Breslin's "safe word," and promptly condemns Ray to a life behind bars that he didn't deserve. However, Ray strikes up a friendship with fellow inmate Emol Rottmayer (Arnie), and together, the duo hatch a scheme to break out of the seemingly impenetrable fortress they're going to otherwise die in.
"Escape Plan" is reasonably entertaining yet there's a lingering sense of disappointment that, after all these years, this rather bland picture ended up being the vehicle that brought the two stars together. Arnie seems more engaged than Sly here, and there are a few scattered laughs, yet there's nothing especially memorable about the piece, and the movie's ending is flat. On the supporting cast side, Vincent D'Onofrio, Amy Ryan, Vinnie Jones and Sam Neill (unbilled in the advertising campaign, but credited in the film itself) do what they can in small roles without much (if any) pay off.
Summit's Blu-Ray/DVD combo pack offers commentary with Hafstrom and Chapman, three featurettes, deleted scenes, a DVD and digital copy. The 1080p transfer is quite good though the DTS MA 5.1 audio suffers from often garbled dialogue between Sly and Arnie that necessitated turning up my receiver several clicks.
---
ABOUT TIME Blu-Ray/DVD (***, 124 mins., 2013, R; Universal): The latest romantic comedy from Richard Curtis ("Four Weddings…," "Love Actually") stars Domhnall Gleeson (vet of the Harry Potter series) as a seemingly ordinary young man who finds out, on his 21st birthday, that his father (Bill Nighy) has been able to time travel. Minus the ability to change significant historical events, Gleeson uses his family's penchant for bending the space/time continuum for romance, and, in particular, wooing an American girl (Rachel McAdams) whom he falls for.
Though burdened a small amount by a time-travel element even more ludicrous than most of its genre brethren, "About Time" is good-natured and benefits enormously from appealing characters. Gleeson and McAdams have solid chemistry together, and Nighy is terrific as Gleeson's father, who eventually imparts some predictable – yet emotionally satisfying – advice about the need to live each day as it is, even with the stresses of the human existence. This is a well-shot and poignant film well worth a view for romantics, especially with Valentine's Day coming up.
Universal's Blu-Ray includes deleted scenes with Curtis' introductions, a blooper reel, music video, and BD-exclusive behind the scenes featuretes. A DVD and digital copy round out the disc while the DTS MA 5.1 audio and 1080p transfer are top notch on the BD side.
DALLAS BUYERS CLUB Blu-Ray/DVD (**½, 117 mins., 2013, R; Universal): Matthew McConaughey – odds-on favorite to win Best Actor at this year's Academy Awards – gives a deservedly praised performance here as rodeo bullrider Ron Woodroof, a Texas man who overindulges in booze and girls, and contracts HIV during the mid '80s. Seeking a way to treat the disease, Woodroof finds that the FDA hasn't approved more than one drug to ailing patients, and heads to Mexico in an attempt at extending his life beyond the 30-day lifespan his doctor (a spectacularly unconvincing Jennifer Garner) claims he has left.
Though McConaughey's performance keeps you watching, "Dallas Buyer's Club" isn't nearly as sound a picture in other facets, particularly Jean-Marc Vallee's workmanlike direction and a script by Craig Borten and Melisa Wallack that may be heavy in its historical accuracy but doesn't make for a particularly entertaining motion picture. That said, McConaughey is fully convincing and Jared Leto likewise effective as a transgender patient who aids Woodroof in obtaining medical treatments for AIDS from around the world.
Universal's Blu-Ray includes a 1080p transfer, 5.1 DTS MA audio, deleted scenes and a Making Of featurette, plus a DVD and ultraviolet copy.
THE BEST MAN HOLIDAY Blu-Ray/DVD (***, 124 mins., 2013, R; Universal): Belated sequel to the 1999 hit reunites Taye Diggs, Terence Howard, Nia Long, Sanaa Lathan, Monica Calhoun, Harold Perrineau, Regina Hall and Melissa De Sousa in an entertaining picture from writer-director Malcolm D. Lee, likewise repeating his chores from its predecessor. As with the original "The Best Man," Lee varies the film's tone from the comedic and romantic to more dramatic sequences, but the performances keep the sequel on an even keel that satisfied fans of the original. Universal's Blu-Ray includes BD-format exclusives (an alternate ending, deleted/extended scenes, "Smack Talk" featurette) plus commentary, a Making Of and gag reel, along with a 1080p transfer and 5.1 DTS MA audio. The combo pack also includes an Ultraviolet copy and DVD, and streets February 11th.
---
GAME OF THRONES Season 3 Blu-Ray/DVD (555 mins., 2013; HBO): Fans of the hit HBO series who never read George R.R. Martin's novels were in for quite a shock in the third season of the series, which included the now legendary (or is it infamous?) "Red Wedding" episode. No spoilers here, because I'm not a "Game of Thrones" fan, but it is pretty insane stuff.
Season three of "Game of Thrones" hits Blu-Ray on February 18th from HBO. The multi-disc Blu-Ray/DVD/digital copy package includes attractive 1080p transfers, 5.1 DTS MA soundtracks, and ample extras including:
• A Gathering Storm – Look back at the stormy events of Season 3 in this 14-minute recap with cast and crew.
• The Politics of Marriage – Cast and crew examine the institution of marriage and its place in Game of Thrones.
• Inside the Wildlings – Go beyond the Wall with this introduction to the wildlings.
• New Characters – Meet the new faces in Season 3: Olenna Tyrell, Missandei, Mance Rayder, Tormund Giantsbane, Orell, Jojen & Meera Reed, Blackfish & Edmure Tully, Thoros of Myr, and Beric Dondarrion.
• Deleted Scenes/Extended Scenes – Five deleted and extended scenes.
• Audio Commentaries – 12 audio commentaries with cast and crew including David Benioff, D.B. Weiss, George R.R. Martin, Lena Headey, Emilia Clarke, Michelle Fairley, Kit Harington, Richard Madden, and more.
• In-Episode Guide – In-feature resource that provides background information about on-screen characters, locations, and relevant histories.
• Histories & Lore – Learn about the mythology of Westeros as told from the varying perspectives of the characters themselves.
• The Rains of Castamere Unveiled – Get an in-depth look at the creation of the most pivotal episode of Season 3 in this comprehensive exposé featuring cast and crew.
• Roots of Westeros – Explore the interconnected web of relationships, rivalries, and conflicts between the noble houses of Westeros with this interactive guide.
THE ARMSTRONG LIE Blu-Ray (123 mins., 2013, R; Sony): Alex Gibney was hired years back to produce a documentary about the comeback of the Tour de France champion, but had to shelve his original intentions once Armstrong finally admitted his drug use and his legacy was shattered. Using footage he originally shot as well as probing the tragedy behind Armstrong's facade – which was used to raise millions of dollars for cancer research – Gibney has made a searing indictment of the power of celebrity and the lure of modern-day, multi-million dollar sports, making for one of the most absorbing documentaries I've seen in years. Sony's Blu-Ray, available February 11th, includes commentary with Gibney, plus a Q&A with the director, producer Frank Marshall and other members of the technical team, deleted scenes, a 1080p transfer and 5.1 DTS MA soundtrack.
WADJDA Blu-Ray (97 mins., 2012, PG; Sony): Fascinating, moving Saudi Arabian film receives a sterling Blu-Ray release on February 11th from Sony. Haifaa Al Mansour's drama chronicles the seemingly unattainable pursuit – specifically, a new bicycle – of a 10-year-old Saudi Arabian girl whose mother won't buy her one, worrying that the restrictive society they live in will look badly upon her. Funny but deeply felt, "Wadjda" is one of those foreign films that enlightens, educates and entertains all at once, with Sony's Blu-Ray offering an insightful commentary with the director, a Making Of featurette, and a Directors Guild of America Q&A with the filmmaker. The 1080p transfer is fine and the 5.1 DTS MA Arabic audio likewise satisfying with English subtitles comprising the package.
JEWTOPIA Blu-Ray (90 mins., 2013; Cinedigm): Adaptation of the Broadway play stars Ivan Sergei and Joel David Moore as childhood pals who help each other in their respective relationships with Jennifer Love Hewitt and Jamie-Lynn Sigler. Romantic predicaments and cultural elements come into play once Moore helps Sergei pretend he's Jewish in order to better court Hewitt in Bryan Fogel's farce which is heavy on religious/ethnic stereotyping and perhaps worked better on stage than on-screen. Cinedigm's Blu-Ray/DVD combo pack offers a 1080p transfer and DTS MA 5.1 audio.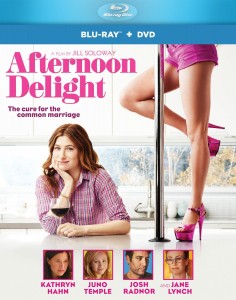 AFTERNOON DELIGHT Blu-Ray (95 mins., 2013, R; Cinedigm): Kathryn Hahn, who's been so good in a slew of recent films in supporting parts, finally gets a chance at a lead role in Jill Soloway's festival hit. Hahn hits both comedic and dramatic beats in equal measure in Soloway's picture about a bored housewife who takes her husband ("How I Met Your Mother"'s Josh Radnor) to a strip club, where she strikes up an unlikely friendship with a stripper (Juno Temple) whom Hahn quickly employs as her family's nanny. Offbeat with numerous effective moments, "Afternoon Delight" arrives on Blu-Ray on February 18th boasting commentary with Soloway and Hahn; deleted scenes; behind-the-scenes featurettes; a 1080p transfer, DTS MA 5.1 audio and the trailer.
HOW I LIVE NOW Blu-Ray (101 mins., 2013, R; Magnolia): Saorise Ronan stars in this adaptation of Meg Rosoff's popular young adult novel, set in a futuristic Europe decimated by a war that's never fully outlined. As a young American girl living with her cousins in the UK, Ronan's Daisy eventually has to fend for herself when her mother never reappears and she's separated from her other cousins, including the boy she falls in love with. Kevin Macdonald's picture is gritty and well-acted though is likely to best appreciated by admirers of the novel. Magnolia's Blu-Ray presentation includes cast, author and director interviews, deleted scenes, several Making Of featurettes, the trailer, a good looking 1080p transfer and 5.1 DTS MA audio.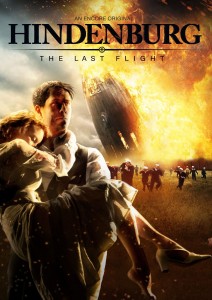 GRACE UNPLUGGED Blu-Ray/DVD (101 mins., 2014, PG; Lionsgate): Faith-based drama stars AJ Michalka as a Christian teen who runs away from home – and her over protective dad ("Desperate Housewives"' James Denton) – in order to pursue her music career. Brad J. Silverman's well-executed family picture co-stars Kevin Pollak and Shawnee Smith, and offers strong moral messages that should transcend any particular religious conviction. Lionsgate's Blu-Ray/DVD combo pack, out February 11th, includes deleted scenes, a gag reel, Making Of featurette, 1080p transfer, 5.1 DTS MA soundtrack and a digital Ultraviolet copy.
Anchor Bay New Releases: HINDENBURG (191 mins., 2012) is a German produced mini-series about the ill-fated Zeppelin airship, framed by a highly speculative story as authentic as Robert Wise's '70s Universal production. Greta Scacchi and Stacy Keach star in a watchable production that works fairly well when it chronicles the actual disaster, less so with its fictional elements. Anchor Bay's DVD includes the production's full three-hour version with 5.1 Dolby Digital audio and a 16:9 (1.78) transfer…SCORNED (86 mins., 2013, R) stars Billy Zane as a man whose girlfriend (Annalynne McCord) finds out that he's having an affair with her best friend (Viva Bianca). McCord's Sadie then invites the duo to a wild weekend where she gets her revenge in Mark Jones' ludicrous thriller that might be good for a few yucks via McCord's increasingly unhinged performance. Anchor Bay's Blu-Ray includes a good-looking 1080p (1.78) transfer and 5.1 Dolby TrueHD soundtrack…Horror fans may have a better time with SORORITY PARTY MASSACRE (103 mins., 2013, R), a more eclectic offering from writer Chris W. Freeman, who directed with Justin Jones. Girls, gore and assorted mayhem pop up when a psycho stalks a gaggle of sexy sorority girls – a wacky cast of veteran actors including Kevin Sorbo, Leslie Easterbrook, and even "Night Court"'s Richard Moll spice up the usual genre shenanigans, and Freeman at least has a sense of humor about the material. While it drags on for over 100 minutes (a good 15 minutes too long), "Sorority Party Massacre" ought to satisfy old-school slasher fans if nothing else. Anchor Bay's DVD includes deleted scenes, outtakes, commentary with Freeman and Jones, a 16:9 transfer (1.78) and 5.1 Dolby Digital soundtrack.
CUTIE AND THE BOXER (82 mins., 2013, R) is Zachary Heinzerling's acclaimed documentary about artist Ushio Shinohara, who met his wife Noriko in New York during the late '60s. Decades later, Noriko's art career is blossoming while her husband tries to keep his work afloat in this fascinating look at the couple and their divergent personalities – not to mention artistic styles. Anchor Bay's Blu-Ray boasts deleted scenes, a Sundance Q&A, featurettes, a 1080p transfer and 5.1 DTS MA audio…coming on February 18th from Anchor Bay, BATTLE OF THE DAMNED (89 mins., 2014, R) ranks as one of the wackiest Dolph Lundgren features – faint praise that may be as commando Dolph is sent into a quarantine zone to save an industrialist's daughter after a virus breaks out. Zombies and killer robots take on Dolph in a limp "World War Z" knock-off that provides a few laughs for undemanding action fans. Anchor Bay's Blu-Ray, out February 18th, includes a featurette, 1080p transfer and Dolby TrueHD 5.1 soundtrack.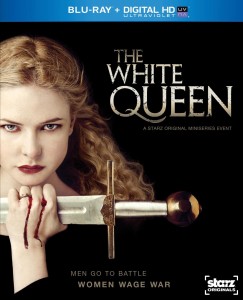 Finally, the original Starz mini-series THE WHITE QUEEN (580 mins., 2013) comes to Blu-Ray this week from Anchor Bay. Juliet Aubrey, Ameurin Barnard, and Rebecca Ferguson star in this adaptation of three books by Philippa Gregory ("The White Queen," "The Red Queen," "The Kingmaker's Daughter") loosely chronicling the War of the Roses in England from 1464 onwards. Anchor Bay's Blu-Ray presentation is superb with its 1080p transfers (1.78) and 5.1 Dolby TrueHD soundtracks, and ample extras include a Making Of featurette and numerous other segments detailing the production.
DALLAS: The Complete Second Season DVD (636 mins., 2013, Warner): Second season of the TNT revival bid adieu to J.R. Ewing and Larry Hagman after the actor passed away during its production. When J.R. dies – naturally under mysterious circumstances – Southfork is up for grabs with the dividing lines falling between J.R.'s son John Ross (John Henderson) and Christopher (Jesse Metcalfe), the adopted son of Bobby Ewing (Patrick Duffy). Meanwhile, the ladies continue to stir up trouble, with Sue Ellen (Linda Gray) running for governor.
More double-crosses and wild plot turns abound in season two of the new "Dallas," brought to DVD on February 11th by Warner in a multi-disc set featuring a special tribute to the late Hagman. Cast and crew share their memories about working with the actor, while deleted scenes, an extended cut episode of "J.R.'s Masterpiece" (with optional commentary) and other behind the scenes featurettes round out the release along with 16:9 transfers and 5.1 Dolby Digital soundtracks.
E One New Releases: Erik Estrada stars in FINDING FAITH (104 mins., 2013), a new drama about a 14-year-old girl abducted by an internet predator. Sheriff Mike Brown produced this cautionary, faith-based film suitable for family audiences that E One brings to DVD this week including a 12-page activity guide and "Introduction to Internet Safety 101″...GUESS HOW MUCH I LOVE YOU: FRIENDSHIP ADVENTURES (80 mins., 2011) includes seven episodes from the animated adaptation of the best-selling children's book series (Favorite Thing, Fly Away Home, Follow Me, I Promise, All Fall Down, New Friend, Leaf Shade) in 16:9 widescreen transfers.
THE ARTIST AND THE MODEL Blu-Ray (105 mins., 2012, Not Rated; Cohen): A young Spanish girl, having escaped from a refugee camp in the south of France, runs into a tired, curmudgeonly sculptor near the Spanish border in Fernando Trueba's 2012 drama. Impressively shot in stark B&W, "The Artist and the Model" is a leisurely, compelling character study with terrific performances from Jean Rochefort as the sculptor and sultry Aida Folch as the young girl. Claudia Cardinale co-stars in this latest Cohen Film Collection release, brought to Blu-Ray this month with a highly satisfying 1080p transfer, DTS MA audio (in French with English subtitles), an interview with the director, photo gallery, and the trailer.
DIANA Blu-Ray (113 mins., 2013, PG-13; E One): Disappointing chronicle of the final years of Princess Di's life, specifically her relationship with Hasnat Khan (Naveen Andrews from "Lost") and Dodi Fayed (Cas Anvar). Though Naomi Watts gives a valiant performance in the lead role, the Stephen Jeffreys script and direction from Oliver Hirschbiegel belong in a bad TV-movie, with bland characterizations and unconvincing dialogue. A movie that never found its footing in theaters – after being barraged by poor reviews – "Diana" lands on Blu-Ray on February 11th from E One in a 1080p (1.85) transfer with DTS MA audio. Extras include cast/crew interviews and a Diana fashion photo booklet.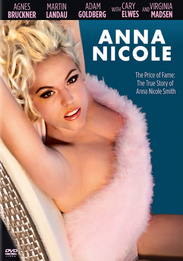 New From IFC/MPI: Justin Long attempts to woo eclectic waitress Evan Rachel Wood in Kat Corio's enjoyably offbeat A CASE OF YOU (91 mins., 2013, R), an indie rom-com where Long's straightlaced writer tries to package himself as someone Wood would be interested in – with initially effective results. Sienna Miller, Busy Philipps, Peter Dinklage and Brendan Fraser spice up the predictable but watchable "A Case of You," which comes to Blu-Ray this week from IFC offering PCM 2.0 lossless audio, DTS MA 5.1 sound, interviews with the cast, the trailer, and a fine 1080p transfer...Abigail Breslin stars in HAUNTER (97 mins., 2013, Not Rated), a decent supernatural thriller shot in Canada by director Vincenzo Natali and writer Brian King. As a teenager killed along with her family – but still haunting the home they perished in – Breslin attempts to spare a young, living girl from the same fate. Routine but competently executed, "Haunter" comes to Blu-Ray this month sporting a 1080p transfer, DTS MA 5.1 audio, commentary with Natali, another commentary with King, storyboards, the trailer, and a behind-the-scenes featurette....Available February 11th on DVD is THE SUMMIT (102 mins., 2013, R), a documentary from writer-director Nick Ryan about the efforts of 18 mountain climbers who ascended to the top of K2 in August of 2008, only to have 11 of them dead two days later. Ryan's compelling examination of the mystery offers testimony from the survivors -- with some re-enactments included -- in a Sundance Selects DVD. The disc's 16:9 transfer is excellent and the trailer is included on the extras side.
ANNA NICOLE DVD (89 mins., 2013, Not Rated; Sony): Agnes Bruckner – who has been an Aisle Seat favorite for a long while – gives a terrific performance as the tragic supermodel/actress in this otherwise superficial Lifetime movie that recounts her fast rise to stardom and even more rapid fall as a gossip-rag mainstay. Martin Landau, Adam Goldberg, Cary Elwes and Virginia Madsen co-star in the telepic directed by Mary Harron. Sony's DVD includes a 16:9 transfer and 5.1 Dolby Digital soundtrack. (Available February 11th)
REACHING FOR THE MOON DVD (118 mins., 2013, Not Rated; Wolfe Video): Based on a true story, Bruno Barreto's latest stars Miranda Otto as Elizabeth Bishop, a Pulitzer Prize-winning poet who fell for the Brazilian architect Lota de Macedo Soares (Gloria Pires) during the 1950s. What it meant to be gay during the '50s is a major element in Matthew Chapman and Julie Sayres' screenplay, which Wolfe Video brings to DVD on February 11th. The disc includes a behind the scenes featurette, 5.1 soundtrack, and a 16:9 widescreen transfer.
ON THE JOB Blu-Ray (116 mins., 2013, Not Rated; Well Go USA): Action-thriller from the Philippines looks at the investigation surrounding a drug dealer's death from the point of view of a police sergeant and federal agent. When the duo find out that the man's killers were inmates, recently released from jail as assassins to carry out the crime, they attempt to end the conspiracy. Well Go's Blu-Ray of Erik Matti's Filipino-language picture includes a Making Of featurette, deleted scenes, the trailer, a 1080p transfer and 5.1 DTS MA audio subtitled in English. (Available February 18th)
New & Upcoming From CJ Entertainment: Kang Woo-suk's thriller FISTS OF LEGEND (155 mins., 2013) fights its way to Blu-Ray on February 18th. This Korean white-knuckler about a reality show where former friends – and street fighting legends – battle to a bloody pulp against one another ought to please MMA fans and martial arts movie buffs alike. CJ's Blu-Ray includes Korean and English 5.1 tracks with full English subtitles available for the former, plus a 1080p transfer and extras including a Making Of and some 40 minutes of behind-the-scenes material.
Coming on February 11th from CJ is MASQUERADE (131 mins., 2013), a historical drama that offers colorful action and political intrigue set in the royal palace of ancient Korea's Joseon Dynasty. "G.I. Joe"'s Byung-hun Lee stars as a tyrannical king who finds a body double in a hard-working peasant – one who has to take over the throne when the real king is fatally poisoned. Lee pulls off both roles effectively in this good-looking production CJ brings to Blu offering a vivid 1080p transfer with Korean 5.1 audio (with English subtitles) or a dubbed English 5.1 track.
From Indiepix: THE BOOKER (96 mins., 2012) is a documentary about a professional wrestling fan who creates his own "Platinum Championship Wrestling" league from the ground up, through an early promotion to a 2500 seat arena. Michael Perkins' doc is compelling and well-executed, with Indiepix's DVD boasting a 16:9 transfer and 2.0 stereo soundtrack.
---
Jimmy Stewart dabbled in all kinds of films and TV series throughout his prolific career, but seldom in the realm of sitcoms. His one and only effort in the genre, THE JIMMY STEWART SHOW (606 mins., 1971-72), is a predictable, if suitably relaxed, down-home effort that only ran for one season on NBC beginning in the fall of 1971.
Stewart's role here is Professor James Howard, an old-fashioned anthropologist at Josiah Kessel College. When his son's home burns down, Stewart and his wife open their doors to their son and his wife, which brings along generation-gap laughs (or, would-be laughs) while Howard pals along with fellow professor Dr. Quince (John McGiver) in trying to make sense of it all.
Stewart is really the sole attraction, as you might expect, with "The Jimmy Stewart Show." The show is forgettable and fairly pedestrian in every respect, from its story lines through its nondescript supporting cast, though at least there isn't a tacky laugh track. Warner's DVD set includes the entire run of the series in good looking 4:3 transfers and mono soundtracks.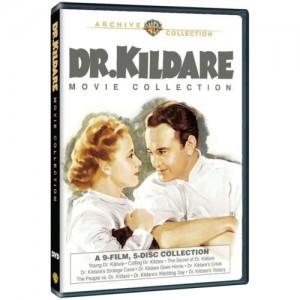 Golden Age fans should be interested in a pair of exciting new anthologies newly available from the Warner Archive this week.
DR. KILDAIRE MOVIE COLLECTION is a five-disc DVD set featuring all nine MGM pictures featuring Lew Ayres as Max Brand's debonair physician. Included here are Young Dr. Kildaire, Calling Dr. Kildaire, The Secret of Dr. Kildaire, Dr. Kildaire's Strange Case, Dr. Kildaire Come Home, Dr. Kildaire's Crisis, The Pople Vs. Dr. Kildaire, Dr. Kildaire's Wedding Day and Dr. Kildaire's Victory – nine features all co-starring Lionel Barrymore as Kildaire's veteran (and grumpy) mentor Dr. Gillespie, with Laraine Day as nurse Mary Lamont. These MGM productions were produced between 1938 and '42 and offer vintage entertainment for Golden Age enthusiasts.
Finally, MONOGRAM COWBOY COLLECTION VOLUME 7 saddles western fans up for ample old-time sagebrush fun. Warner's three-disc DVD set includes nine features starring Johnny Mack Brown (Trigger Fingers, Whistling Hills and Man From the Black Hills), Jimmy Wakely (Saddle Serenade, Across the Rio Grande), and Whip Wilson (Gunslingers, Silver Raiders, Arizona Territory, and Lawless Cowboys), all in 4:3 B&W transfers and mono soundtracks. Giddy up!
NEXT TIME: The latest from Shout! Factory. Until then, don't forget to drop in on the official Aisle Seat Message Boards and direct any emails to our email address. Cheers everyone!