Sir Lew Grade's ITC Entertainment produced a number of high-profile cinematic vehicles in the '70s, several of them ending up as notable box-office failures. The most notorious of the lot was RAISE THE TITANIC (**½, 116 mins., 1980, PG), a film that's actually not nearly as terrible as its disastrous commercial performance would lead one to believe.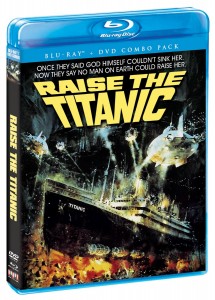 In order to tap into the film's mindset, one has to travel back to the late '70s and early '80s – before Robert Ballard discovered the wreck of the ill-fated White Star liner and James Cameron spearheaded numerous expeditions down to the bottom of the Atlantic during and after the production of his 1996 blockbuster.
In fact, one of the more memorable moments during my family's sailing sojourns around southern New England and the islands (Martha's Vineyard, Nantucket, Block Island) in the '80s was when my cousin – a marine enthusiast – picked up a radio transmission from Ballard's crew, communicating that they had "found something." While it wasn't expressly spelled out, my cousin deduced that they had found the Titanic – something confirmed in newspaper and TV reports over the subsequent days, back in the pre-internet era when news traveled just a little bit slower than it does now. For a couple of days, at least, we were in on the scoop, and soon Titanic fever would again captivate the general public around the world.
Clive Cussler's book "Raise the Titanic" was published nearly a decade prior to Ballard's discovery. At the time, a notion like discovering the wreck and raising it – even if it was still a flight of fancy in Cussler's novel – wasn't totally out of the realm of believability, since the author wasn't aware that the vessel had broken into two parts on the way down to its watery tomb. One of several books starring Cussler's hero, Dirk Pitt, the book was a fast read – entertaining and compelling, and an ideal project for a feature film.
Regrettably, despite an ample budget, the ITC-produced "Raise the Titanic" was a huge bomb (Grade ultimately remarked it would've been more cost efficient to lower the Atlantic!). The movie certainly has its share of shortcomings – a lack of character development and human engagement, a ponderous mid-section – but it also, as Roger Ebert noted in his original review, "has some wonderful moments," even if "they're bogged down in two moronic subplots."
At least Richard Jordan was a fitting choice for Dirk Pitt, who's tasked with raising the doomed ship after the U.S. government discovers that the Titanic was carrying a rare element named Byzantium – something that could, decades later, be used to develop a nuclear defense perimeter around the U.S. Pitt, along with old chum Admiral Sandecker (Jason Robards) and Dr. Seagram (David Selby), not only has to find the Titanic and raise it, but also head off an attempt by the Russians to access the Byzantium and claim the ship for themselves.
Stanley Kramer was originally attached to "Raise the Titanic," and brought in screenwriter Adam Kennedy to rewrite Eric Hughes' original adaptation of Cussler's novel. Though Kramer eventually dropped out, the remnants of his involvement can be found on the finished film, which was ultimately directed by Jerry Jameson.
Despite its terrible reputation, it's a movie that's never awful – it is, at times, tedious, especially during its less-than-thrilling sequences of submersibles descending upon the Titanic and their assorted problems in bringing the ship back to the surface. There's also a lack of development among the film's protagonists – the movie moves along in workmanlike fashion without pausing for scenes that could've fleshed out the script's otherwise vacant character motivations. Why is Pitt so constantly irritated with Dr. Seagram? And so what if Pitt's former flame (a worthless role for the lovely Anne Archer) is currently involved with him? There's no pay off to their sequences, and no point at all in Archer's token female character even being involved in the picture to begin with. The movie is more interested in hardware than humanity, and that lack of engagement undoubtedly was the main reason why viewers found it dull and uninteresting.
If one can overcome the film's problems, however, then there are some rewards to be found in "Raise the Titanic" – namely, John Barry's majestic, beautiful score (one of his best from the era), which carries the film and gives it an otherwise absent emotional undercurrent. The opening montage of archival photos from the White Star liner, set to Barry's main theme, is wonderfully done, and a brief sequence where Pitt meets one of the surviving crewmen from the vessel (Alec Guinness) carries a poignant resonance that pays off in Pitt raising the flag of the White Star line once the Titanic resurfaces. More moments like those could've made "Raise the Titanic" truly special.
The special effects in the movie are also excellent for their time, especially the model work (shot in Malta's tank) and the concluding sequences of the Titanic sailing back into port in New York City, completing its maiden voyage at last. There's also a haunting shot of the Titanic passing by the twin towers of the World Trade Center – sequences that still move the viewer even with their pre-CGI technical rendering.
Restored to its full widescreen glory on Blu-Ray from Shout! Factory, "Raise the Titanic" is certainly a more watchable film in Technovision (2.35) and stereo than in its prior, muddy, pan-and-scan home video crop jobs, the likes of which U.S. viewers have had to live with since its theatrical debut. Though the print shows its age and is quite grainy at times, the restoration of the movie's scope aspect ratio and its stereo sound enhances Barry's magnificent music (though I did find the 2.0 DTS MA stereo track to be too "hot," even with an increased dynamic range over the 5.1 DTS MA mix). A lengthy trailer and a newly produced 20-minute featurette, touching upon the movie's visual effects (though curiously not the excised prologue of the boat's sinking – footage of which was ultimately used in an episode of NBC's short-lived sci-fi series "Voyagers!"), rounds out the release along with a standard DVD copy.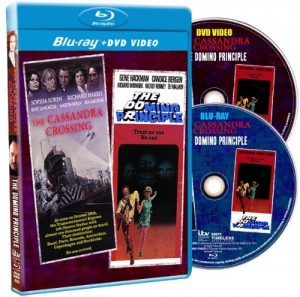 Shout has also, through their Timeless Media label, released a pair of earlier ITC features – neither of which has weathered the years as well.
THE CASSANDRA CROSSING (*½, 128 mins., 1977, R) is a cynical, violent and ridiculous attempt at mixing a downbeat "'70s" thriller with an all-star disaster spectacle. George (Pan) Cosmatos' film finds a group of eco-terrorists breaking into the World Heath Organization, wherein the trio is infected with a deadly pneumonic virus produced (of course) by the American military. One of the men escapes and boards a European train populated with a motley assortment of passengers, from Richard Harris' world-renowned doctor to his estranged wife Sophia Loren, Ava Gardner and her boy-toy Martin Sheen (an especially bad performance), and less-than-reverential reverend O.J. Simpson. As the virus begins to spread, American military man Burt Lancaster – essentially the film's heavy – decides that it might be wise to leverage the infection by having the train cross the infamous Cassandra Crossing, an unsteady bridge that could possibly offer an easy way out for the military and a deadly demise for the train passengers.
Produced with Carlo Ponti and co-written by Tom Mankiewicz, "The Cassandra Crossing" is completely watchable and also unrelentingly stupid. In fact, it's peppered with unintentionally hilarious moments – such as the infected terrorist stammering through the train's kitchen (complete with over-the-top "shock" effects in Jerry Goldsmith's score) and Sheen's unforgettable breakdown as he falls into Harris' arms before the movie's ending. Speaking of which, the carnage in the concluding moments is noteworthy – R-rated and bloody as nobody (not even children and elderly women) is spared a tragic end, it nearly mitigates the outrageously awful miniature effects that resemble a child playing with his dad's Lionel train set.
Shout has paired "The Cassandra Crossing" on Blu-Ray with another terrible – and terribly dated – '70s ITC misfire, THE DOMINO PRINCIPLE (*½, 100 mins., 1977, R), a political paranoia thriller that aims for "Three Days of the Condor" but shoots blanks on every front. Adam Kennedy, who also wrote "Raise the Titanic," spins a pedestrian tale of a Vietnam vet (Gene Hackman), imprisoned for murder, who gets a chance at a new life provided he carries out an assassination hit for mysterious Richard Widmark. Soon Hackman and fellow cellmate Mickey Rooney (yes!) escape prison only to find that life outside the big house isn't much fun – in fact, "The Domino Principle" spares little time in telling you that life sucks for its lead protagonist as only a bad, heavy-handed '70s thriller can.
The better political paranoia thrillers of its era often boasted ample style to underscore their downbeat tendencies, but such technical attributes are in short supply in "The Domino Principle." Stanley Kramer was out of his element helming his one and only "thriller," with a syrupy Billy Goldenberg score and flat, plastic cinematography that carries a vanilla, TV-like appearance. Candice Bergen also chips in with one of her patented poor performances in a film that bombed out of theaters in a matter of days.
Though both prints (especially "The Cassandra Crossing") display scratches, nicks and other evidence of wear and tear, Shout's 1080p transfers are both top-notch with fine detail and a lack of DNR. On the audio end, the DTS MA mono soundtracks are hampered by the limitations of their often coarse audio ("The Cassandra Crossing" in particular has a brittle, rough soundtrack with occasionally garbled dialogue – it also does no favors for Goldsmith's score). Trailers are included on the supplemental side as well as one vintage behind-the-scenes featurette on "The Domino Principle."
Also coming this month from Shout! are a pair of splendid B-movie Blu-Rays: DIE MONSTER DIE! (80 mins., 1965) is a highly entertaining American-International adaptation of H.P. Lovecraft's "The Colour Out of Space," fashioned as a vehicle for star Boris Karloff as a mad scientist. Nick Adams and Suzan Farmer co-star in a vivid Colorscope (2.35) production given a terrific 1080p AVC encoded HD rendering here with DTS MA mono audio...Another widescreen production, THE BEAST OF HOLLOW MOUNTAIN (80 mins., 1956), has been joined by the enjoyably goofy THE NEANDERTHAL MAN (78 mins., 1953), the latter of which is presented in 4:3 (1.33) B&W in Shout's Blu-Ray/DVD combo package. Fans of '50s sci-fi should enjoy these previous entries in MGM's "Midnight Movies" series...Finally, "Sledge Hammer!" creator Alan Spencer is back with the IFC comedy series BULLET IN THE FACE (135 mins., 2013), starring Max E. Williams as a nutcase who receives a face transplant (from a slain cop he killed!) and is coerced into joining the police and fighting his former comrades in crime. Bombastic, nutty -- and very funny at times -- "Bullet in the Face" receives a Shout! DVD release sporting commentary from Spencer along with 16:9 transfers and 5.1 Dolby Digital soundtracks.
---
RIDDICK Blu-Ray (**½, 118 mins., 2013, R; Universal): Agreeable vanity project from star Vin Diesel resurrects his futuristic anti-hero in a story that turns the clock back from the bloated budget (and unappealing story) of "The Chronicles of Riddick" and towards the lower-scale thrills of the original "Pitch Black."
With director David Twohy returning, "Riddick" quickly jettisons Riddick from the environment of its immediate predecessor, finding him once again cast off and alone on a desolate planet. In sequences that recall past sci-fi isolation stories ("Robinson Crusoe on Mars" even comes to mind), Riddick struggles to survive on a planet populated with creatures who prey while wet as well as dog-like beasts – one of which Riddick raises after saving its life as a puppy. These sequences are compelling, but things turn routine once a group of bounty hunters (including Katee Sackhoff) arrive on the scene to hunt down our protagonist.
"Riddick" was produced by Diesel himself for $38 million – its eventual $98 million worldwide in-take may not seem like much, but the film at least was profitable (more than you can say for its predecessor, "Chronicles," which was filmed with a $100 million budget and lost money). The smaller-scale thrills of this sequel are a welcome respite from the bloated extravagance of its predecessor, with solid creature work and cinematography by David Eggby even though the whole film was basically shot against a green screen. Eventually, the picture did wear me out – I can only take so much of Riddick's one-note, grizzled tone over a full two hours – but for fans of the original "Pitch Black," it's at least worth a look.
Universal's Blu-Ray includes both the movie's 119-minute theatrical version as well as an unrated 127-minute cut, which offers more material related to the storyline of "Chronicles" and, in particular, the Vaako character played by Karl Urban. Three featurettes are exclusive to Blu-Ray, while three more featurettes take viewers behind the scenes. The 1080p transfer and 5.1 DTS MA soundtrack are both fine, and a DVD and digital copy are also included.
MACHETE KILLS Blu-Ray Combo Pack (*½, 108 mins., 2013, R; Universal): Remember when Robert Rodriguez was once hailed as one of the fresh voices in cinema? Those days seem awfully long ago, especially when you watch a lazy, tired vehicle like "Machete Kills" – the sequel to the director's B-grade action thriller that turned a decent enough profit to generate a sequel. Of course, they never figured out if viewers wanted to watch a follow up, and "Machete Kills" bombed in theaters, grossing a paltry $8 million (less than a third of the original film's gross).
This slack sequel finds Machete back and working for the President (Carlos Estevez, the newly rechristened Charlie Sheen) in order to stop a madman (Mel Gibson) from blowing up the planet. If you watched the original "Machete," you know what to expect from its over-the-top action sequences and celebrity stunt casting, with Sofia Vergara, Antonio Banderas, Cuba Gooding Jr., Amber Heard, and Michelle Rodriguez all slumming in this latest Rodriguez vanity project. Universal's Blu-Ray includes deleted/extended scenes, a featurette, DVD, Ultraviolet copy, 1080p transfer and 5.1 DTS MA audio.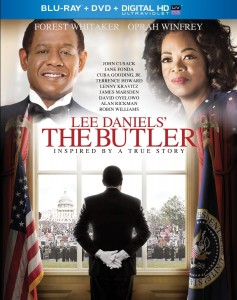 LEE DANIELS' THE BUTLER Blu-Ray/DVD (**½, 132 mins., PG-13, 2013; Anchor Bay): Well-acted but rambling socio-political study of Cecil Gaines (Forest Whitaker), a White House butler who witnesses decades of African-American oppression – and American evolution – in the Jim Crow South, through the civil rights movement, the assassination of JFK, the turbulent Nixon administration, and onto the present day and the election of Barack Obama.
It's an ambitious but flawed effort from writer Danny Strong and director Lee Daniels, not so much based on fact but rather "inspired" by a true story. Subsequently, Strong and Daniels employ a good deal of creative license in taking viewers on a tour of the black experience, with Whitaker's title character coming off less as a developed human being and more a figure for the film's various historical events to revolve around (shades of "Forest Gump" to a degree). It's a tactic that doesn't always work, particularly in soap-opera ish scenes between Gaines and his wife (Oprah Winfrey) and, especially, in other sequences involving his troubled family, including an older, combative son who becomes a part of the Black Panther movement.
While the performances of Whitaker and Winfrey are sound, the celebrity casting of the Presidents and their first ladies is more distracting than effective – Robin Williams as Eisenhower, Liev Schrieber as Lyndon Johnson, James Marsden as JFK and Alan Rickman's Reagan are a mixed lot at best, while John Cusack's embarrassing portrayal of Nixon feels like it belongs in a Saturday Night Live sketch. The movie wears its politics and preaching on its sleeve, which would've been tolerable had "The Butler" found a central focus to emotionally engage the viewer. As it is, the film is likely to play effectively with viewers old enough to have lived through and experienced the Civil Rights era, but feels more artificial than real, particularly in regards to its hackneyed domestic melodrama.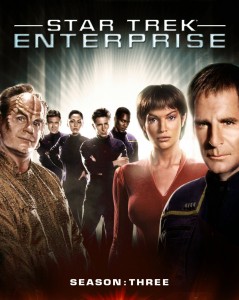 Anchor Bay's Blu-Ray includes deleted scenes, two featurettes, a gag reel and music video featuring Gladys Knight and Lenny Kravitz. The 1080p transfer and 5.1 DTS MA soundtrack are each excellent, and a DVD and Ultraviolet copy round out the combo pack.
STAR TREK ENTERPRISE: SEASON THREE Blu-Ray (17 hours, 2003-04; CBS): The fifth incarnation of Gene Roddenberry's sci-fi franchise offered fans its strongest set of episodes. With Manny Coto brought onboard, Brannon Braga produced a season-long "Xindi" arc involving the alien race's attempts to destroy Earth with a megaweapon. Though some episodes bore the brunt of budget cutbacks (due to low ratings), fans generally feel the third season of "Enterprise" is its finest and most cohesive.
CBS' Blu-Ray edition of "Enterprise: Season Three" offers vibrant 1080p transfers and DTS MA 5.1 audio tracks – a robust technical offering spread over the set's six discs. Extras include "In the Time of War," a new, three-part documentary recounting the ambitious third season story line, and "Temporal Cold War: Declassified." Selected episodes also boast new commentaries, while archival "Mission Logs," commentaries and deleted scenes return from the previous DVD edition.
---
WE ARE WHAT WE ARE Blu-Ray (105 mins., 2013, R; E One): Remake of Jorge Michel Grau's Spanish thriller is an effectively moody chiller that is likely to please indie horror fans despite its heavy-handedness.
Bill Sage plays the patriarch of the Parker family, which aims to keep its grotesque tradition going even after the death of his wife. Sage's attempts to lure his daughters (Ambyr Childers, Julia Garner) to his family's diet plan make for a gross-out affair that gets under your skin, though the movie's pretentious ruminations on organized religion (substituting the family's big secret for an individual faith) are transparent from the get-go. Still, "We Are What We Are" is effectively shot by Ryan Samul and director Jim Mickle, who scripted the film with Nick Damici. The performances are also excellent, with veteran support turned in by Kelly McGillis and Michael Parks.
E One's Blu-Ray, out this week, includes interviews with Mickle, Sage and Garner, a commentary with the cast and crew, a Making Of featurette, 1080p (2.35) transfer and DTS MA 5.1 soundtrack.
BEING HUMAN: Season 3 Blu-Ray (572 mins., 2013; E One): Sam Witwer, Meaghan Rath and Sam Huntington return for the third season of the entertaining Syfy Channel series, which is a bit lighter and more effective than its BBC counterpart. E One's four-disc Blu-Ray set includes a behind-the-scenes featurette, San Diego Comic Con panel, cast featurette, bloopers, 1080p (1.78) transfers and DTS MA 5.1 soundtracks.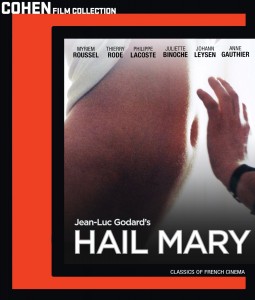 Cohen Film Collection New Releases
Jean-Luc Godard aficionados will be interested in a pair of new releases from the Cohen Film Collection, offering a pair of pictures from the prolific French filmmaker.
HAIL MARY (110 mins., 1985) was one of the most controversial films of Godard's career, denounced for obvious reasons by the Catholic Church. Adapting the story of Mary and Joseph and the Virgin Birth to contemporary times, Godard's film is a heady mix of the Annunciation, the spiritual and the flesh, all wrapped up in a dense dramatic layer that aficionados of the director will find far more accessible than casual viewers. Leisurely (if not downright placidly) paced, "Hail Mary" makes its Blu-Ray debut from the Cohen Film Collection sporting three featurettes, the short film "The Book of Mary," Godard's video notebook on the film, booklet essays, trailers, and a commentary by admirer/director Hal Hartlety and Museum of the Moving Image Chief Curator David Schwartz. The 1080p transfer and 2.0 uncompressed PCM audio (in French with English subtitles) are both excellent.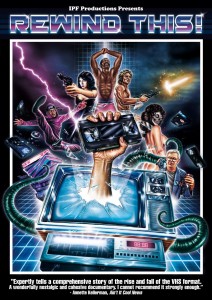 FOR EVER MOZART (86 mins., 1996) was hailed by some critics as a return to form for Godard, following a French theater company and its various adventures as it attempts to put on a play in war-ravaged Sarajevo. Though its messages will be best savored by Godard's devotees, "For Ever Mozart" is a more emotional and relatable film than many of the director's efforts from his more "contemporary" era, and should rank as essential viewing for fans. Cohen's Blu-Ray includes four featurettes, a commentary by critic James Quandt which adds insight into the film's thematic material, a booklet essay and Hal Hartley interview with Godard, the 2013 re-release trailer, a fine 1080p transfer and 2.0 uncompressed PCM French soundtrack.
REWIND THIS! DVD (90 mins., 2013, Not Rated; IFC): Fun documentary from director Josh Johnson recounts the development, rise and fall of the VHS medium, as well as the various exploitation producers – from Lloyd Kaufman to Frank Henenlotter and Charles Band – who found success marketing their shlock horrors to a hungry market of cassette-loving genre fans. "Rewind This!" is less successful when it profiles VHS-obsessed fans and is a bit all over the place at times in terms of focus (one moment it's interviewing a guy who thinks watching 4:3 pan-and-scan transfers is better than seeing the full widescreen aspect ratio; the next it's detailing the creation of Magnetic Video Corporation), but it's certainly entertaining and will prove nostalgic for those of us old enough to remember the golden rule of "Be Kind Rewind." MPI's Filmbuff DVD includes a commentary, additional animations, and over an hour of bonus content remembering laserdisc and more. The 16:9 transfer and 5.1 soundtrack are both perfectly fine.
---
COPPER – Season 2 Blu-Ray (585 mins., 2014; BBC Home Entertainment): Season two of the BBC-produced series, which aired on BBC America, is actually the program's final one, given that the network – citing declining ratings – recently canceled the series. "Copper" fans may find this release bittersweet for that reason, with detective Kevin Corcoran (Tom Weston-Jones) taking on a series of cases in New York City in the weeks leading up to Lincoln's assassination. BBC's multi-disc Blu-Ray set includes full 1080p transfers, 5.1 DTS HD soundtracks, set tours, "Insiders" and character profiles.
A.C.O.D. Blu-Ray (**½, 87 mins., 2013, R; Paramount): When mostly well-adjusted Carter (Adam Scott) finds his brother (Clark Duke) is getting married, memories of his scarred childhood – and especially the divorce of his parents (Richard Jenkins, Catherine O'Hara) – come back into his memory. Having to keep the duo at bay while confronting his own painful recollections of growing up as well as his current relationship with his girlfriend (Mary Elizabth Winstead), Carter takes on a bittersweet personal journey in this funny offering from director Stuart Zicherman, who co-wrote the film with Ben Karlin. Game supporting performances from Amy Poehler (as Jenkins' new wife), Ken Howard, Jessica Alba and Jane Lynch also help "A.C.O.D." to overcome a tone that veers from broad comedy to melancholy. Paramount's Blu-Ray includes Poehler's outtakes, cast/crew discussions about A.C.O.D., an Ultraviolet copy, a fine 1080p transfer and 5.1 DTS MA audio.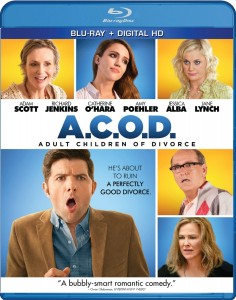 From Lionsgate: LIVING BY THE GUN (105 mins., 2013, R) stars Pat McIntre as a gunslinger who finds himself being hunted by his niece, who blames him for the death of her father. James Miller's western rides onto DVD offering a featurette, 16:9 transfer, 5.1 soundtrack, and a Digital HD Ultraviolet copy…DUCK DYNASTY – Season 4 (241 mins., 2013) couldn't hit home video at a better time given all the "outrage" surrounding Phil's comments last month. A&E's top-rated show – and one of the most watched programs on television today – returns to Blu-Ray in a fourth season package, just ahead of its fifth season broadcast premiere. The two-disc set includes all 10 episodes from the 2013 campaign, along with 20 minutes of never-before-seen footage, six deleted scenes, and five webisodes. The 1080p transfers and 2.0 DTS MA stereo soundtracks are all just fine…THE UNIVERSE IN 3D: A WHOLE NEW DIMENSION (135 mins., 2011) presents several episodes from the popular History Channel series in 3D for viewers with capable sets: "Crash Landing on Mars," "Worst Days on Planet Earth," and "God and the Universe" are all on-hand in MVC encoded full-resolution 3D and DTS MA 5.1 audio. While the disc is playable for 2D consumers, 3D is the clear draw here, and the solid transfers are impressively rendered…FRANKENSTEIN: THE REAL STORY (178 mins., 1995-2008) is a History compilation of three specials: "In Search of the Real Frankenstein," "Frankenstein," and "It's Alive! The True Story of Frankenstein" offer both a study of the science behind Mary Shelley's creation as well as its pop culture history. Released on DVD just in time for the debut of Lionsgate's upcoming "I, Frankenstein" film, the single-disc DVD compilation includes full-screen 4:3 transfers and 2.0 stereo soundtracks…POWER RANGERS MEGAFORCE: THE MYSTERIOUS ROBO KNIGHT (92 mins., 2013) boasts four episodes from the kid-friendly Saban series: "United We Stand," "Harmony and Dizchord," "Who's Crying Now?" and "Robo Knight." The single-disc DVD includes 16:9 transfers and 5.1 soundtracks as well as a Mega Bloks micro-figure bundled in the package.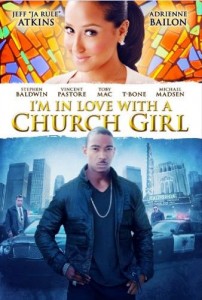 Lionsgate also brings the little-seen comedy-drama THANKS FOR SHARING (**, 113 mins., 2013, R) to Blu-Ray this month. Mark Ruffalo, Tim Robbins, Gwyneth Paltrow, Josh Gad and Joely Richardson star in Stuart Blumberg's tale of several disparate characters trying to recover from their sexual addiction. It's odd, if completely understandable, how the marketing for the video fails to divulge the latter element of the plot, instead describing the film as following "three obsessive characters." The raunch content of the picture is a bit much, and surely proved to be the main reason why the film held little appeal with mainstream viewers. Lionsgate's Blu-Ray includes deleted/extended scenes, a gag reel, featurette, commentary with Blumberg and co-writer Matt Winston, a 5.1 DTS MA soundtrack and 1080p transfer, plus a digital HD copy.
YOU'RE NEXT Blu-Ray/DVD Combo Pack (**½, 94 mins., 2011, R; Lionsgate): Another slasher – albeit more sharply written than most – brings the dysfunction junction of "Ordinary People" together with home invasion horror as a family celebrating their parents' wedding anniversary is stalked by a group of killers wearing animal masks. Adam Wingard directed Simon Barrett's script, which receives a few points for incorporating healthy doses of black humor in its second half, even while the body count is – predictably – pumped up. Still, folks who like this kind of thing will likely be entertained by it. Lionsgate's Blu-Ray, out this week, includes a Making Of featurette, the trailer, two commentaries (one with Wingard and Barnett, and another with the duo chatting with cast members), a 1080p (2.35) transfer, DTS MA 5.1 audio, DVD and Digital HD Ultraviolet copy.
I'M IN LOVE WITH A CHURCH GIRL Blu-Ray (119 mins., 2013, PG; Cinedigm): Appealing faith-based romantic drama stars Jeff "Ja Rule" Atkins as Miles Montego, a former drug trafficker trying to stay straight with the DEA following him around. His new relationship with church going Vanessa (Adrienne Bailon) proves to be a godsend in more ways than one in Steve Race's good-natured "Christian film" co-starring Stephen Baldwin, Vincent Pastore, Michael Madsen and "Karate Kid"'s Martin Kove. Cinedigm's Blu-Ray, out January 14th, includes two featurettes, deleted scenes, a 1080p transfer and 5.1 DTS MA soundtrack.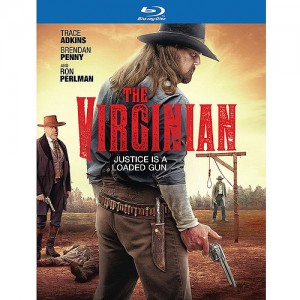 THE VIRGINIAN Blu-Ray (94 mins., 2013, Not Rated; Nasser/Cinedigm): The classic TV western is resurrected in this passable western that saddles up country superstar Trace Adkins in the title role – a tough enforcer working for a Wyoming cattle baron (Ron Perlman) and doling out justice on the frontier. Victoria Pratt provides the eye candy in the new "Virginian," which gallops onto Blu-Ray exclusively at Walmart and Sam's Club this month. The Cinedigm/Nasser release includes a 1080p transfer, 5.1 DTS MA soundtrack and one behind-the-scenes featurette.
BE MY VALENTINE DVD (88 mins., 2013; Cinedigm): Typically sweet and quite watchable Hallmark Channel movie stars William Baldwin as a widower firefighter who falls for a florist (Natalie Brown) – only to have her ex-boyfriend come back into town, hoping to sweep his former flame off her feet. It's silly nonsense that's nevertheless quite engagingly handled for the syrupy TV fare that it is – and at this point, where else can viewers go to find an unabashedly romantic, feel-good love story but the Hallmark Channel? Cinedigm's DVD, out January 14th, includes a 16:9 transfer and 5.1 Dolby Digital soundtrack.
---
Also New From Anchor Bay
COMEDY BANG! BANG! Season 1 DVD (230 mins., 2012; Anchor Bay): Scott Aukerman's offbeat IFC series finds the comedian/writer spinning off his podcast into a surreal series of self-contained sketches and cameos from the likes of Seth Rogen, Jon Hamm, Zach Galifanakis, Tenacious D, Weird Al Yankovic and others. Anchor Bay's DVD includes commentaries, deleted scenes, full length celebrity interviews, special effects footage, IFC promos and plenty more, with 16:9 transfers and 5.1 soundtracks rounding out the technical side. (Available January 21st)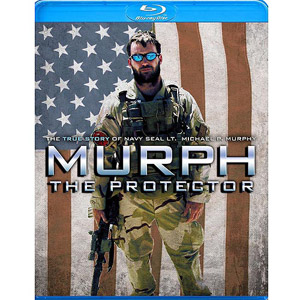 12 DISASTERS DVD (90 mins., 2012, R; Anchor Bay): Those crazy Canucks are at it again with another delightfully offbeat premise that spices up an otherwise routine Syfy Channel feature. In the snowy town of Calvary, an 18-year-old girl (Magda Apanowicz) has unearthed a prophecy – that the "12 Days of Christmas" yuletide carol actually holds a connection to the Mayan Prophecy of 2012! As with other Cinetel productions, "12 Disasters" is watchable enough, and Anchor Bay's DVD contains a 16:9 transfer and 5.1 soundtrack. Strange that Anchor Bay wouldn't have made this available before the holiday season, though.
MURPH THE PROTECTOR Blu-Ray (76 mins., 2013, PG; Anchor Bay): Scott Mactavish's documentary recounts Navy SEAL Michael P. Murphy's valiant battle with Taliban forces in Afghanistan. Murphy was the first to posthumously receive the Medal of Honor for fighting in Afghanistan – a feat detailed by interviews with his SEAL team members, friends and family in this excellent, inspiring production. Anchor Bay's Blu-Ray, which streets as a Walmart exclusive for the time being, offers a 1080p (1.78) transfer and stereo soundtrack. Recommended, particularly in lieu of the release of Universal's "Lone Survivor."
---
CHINA BEACH Season 2 DVD (14 hours, StarVista): Following last year's deluxe Complete Series box-set and a separate Season 1 DVD release, Starvista kicks off 2014 with a standalone edition of the cult-favorite ABC series' second season. "China Beach," which aired on Wednesday nights at 10pm basically for the duration of its run, was one of several attempts at bringing the Vietnam War to television in the form of a serialized drama. CBS had tried but failed to muster a consistent audience with their more battlefield-oriented "Tour of Duty," but ABC and Warner Bros. TV fared better in the ratings with "China Beach."
This multiple Emmy-winner starred Dana Delaney as Colleen McMurphy, a nurse at an EVAC hospital and USO entertainment center populated with both hard-working medical personnel (Robert Picardo's Dr. Dick; Marg Helgenberger's K.C., Colleen's assistant and a former addict; Concetta Tomei's hard-nosed Major Lila Garreau) and singers and entertainers who passed through the facility (Chloe Webb's Laurette Barber, Nan Woods' Cherry White among them).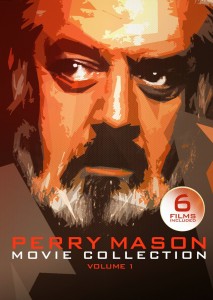 Starvista's Season 2 edition offers the same transfers and remastered original soundtracks present in the complete DVD box-set, with extras including conversations with Michael Boatman, Marg Helgenberger and Robert Picardo, "Voices of War: The Real China Beach" featurette, and commentary.
PERRY MASON MOVIE COLLECTION DVD (CBS): Raymond Burr returned as Perry Mason for dozens of TV movies during the '80s and early '90s, beginning with NBC's top rated 1985 TV film "Perry Mason Returns." The success of the picture lead to Burr and Barbara Hale (reprising her role as Della Street) returning – along with William Katt as Paul Drake, Jr. (Katt also happens to be Hale's real-life son) – for at least two new Mason cases each year from 1986-93. CBS' DVD box offers the first six of these: the before mentioned "Perry Mason Returns" along with "The Case of the Notorious Nun," "The Case of the Shooting Star," "The Case of the Lost Love," "The Case of the Sinister Spirit," and "The Case of the Murdered Madam." All six features are entertaining enough, though CBS' $50+ price tag seems a bit rich given the content included. 4:3 full-screen transfers and stereo soundtracks comprise the box-set.
EL SENOR DE LOS CIELOS Volumes 1 and 2 DVD (26 and 28 hrs. each; Universal): Telemundo series stars Rafael Amaya as a Mexican drug lord who clashes with government agent Gabriel Porras in this Spanish-language soap-thriller brought to DVD by Universal. Each miulti-disc set includes over 35 episodes from the popular series with English subtitles and assorted extras (deleted scenes on Volume 1, memorable moments and interviews on Volume 2), plus 16:9 transfers and 2.0 stereo soundtracks.
BADGES OF FURY Blu-Ray (98 mins., 2013, Not Rated; Well Go USA): Jet Li teams up with star Zhang Wen for the third time as mismatched cops – Li's the hardened vet, Wang the young hotshot – who track a serial killer whenever they're not yelling at one another in this entertaining Hong Kong action-comedy. It's not exactly "Rush Hour" but fans of the stars are likely to enjoy the modestly-budgeted shenanigans, which Well Go brings to domestic Blu-Ray this week sporting a four-part Making Of documentary, behind the scenes featurette, the trailer, and both the original Mandarin soundtrack (with English subtitles) or a dubbed English mix in 5.1.
Debuting January 14th from Well Go, A SINGLE SHOT (116 mins., 2013, R) is a moody but ultimately unsatisfying thriller from director David M. Rosenthal. Sam Rockwell plays a hunter who accidentally shoots a young woman and comes upon a stash of cash – his efforts to get back to his family prove futile in this cynical, downbeat film lacking in sympathetic characters. Rockwell gives it his all but it's ultimately a losing battle due to Matthew F. Jones' narcissistic script. Well Go's Blu-Ray includes a Making Of, the trailer, interviews, a dark 1080p transfer and 5.1 DTS MA audio.
NEXT TIME: IT'S A MAD MAD MAD MAD WORLD from Criterion! Until then, don't forget to drop in on the official Aisle Seat Message Boards and direct any emails to our email address. Cheers everyone!