Message Board - REGISTRATIONS NOW OPEN (again!)
Shout's November roster of horror/sci-fi favorites includes a bevy of tantalizing titles for genre addicts, with one of my favorite cult sci-fi films of the '80s among them. Needing little introduction for its fans, Thom Eberhardt's NIGHT OF THE COMET (***, 95 mins., 1984, PG-13) is a goofy, highly entertaining cinematic brew that's more fun than most gloomy films about The End of Civilization As We Know it, and as such has dated better than the majority of its genre brethren.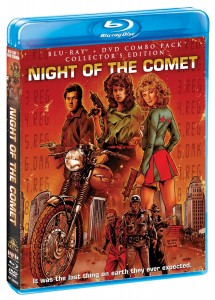 Though a firmly a product of the '80s, there's a certain energy present throughout "Night of the Comet" that has made it an enduring fan-favorite, its premise offering a sort of "Twilight Zone" tale that John Hughes might have written had Rod Serling's series been around at the time of its production.
Catherine Mary Stuart (who starred in "The Last Starfighter" earlier in '84) and Kelli Maroney play a pair of siblings from The Valley who find themselves two of the only humans alive after a comet passes by and wipes out nearly all of the world around them. Instead of moping about, though, the duo opt to party like it's 1999, though a pair of bad guys (Geoffrey Lewis, Mary Woronov) ultimately appear with some very "Omega Man" like shenanigans in tow, wanting the ladies' un-infected blood to prevent themselves from turning into zombies!
Although its climax is tired and villains uninteresting, "Night of the Comet" is otherwise a gem, capped by a totally satisfying ending that strikes the perfect note for the material. The appealing performances of Maroney and Stuart carry the film while Eberhardt manages to get the most out of the picture's limited budget, especially from a visual angle. Dramatically, it's no great shakes, and the last third of the picture does drag, but "Night of the Comet" effectively mixes satire, sci-fi, zombies and valley girls together in a splendid concoction that has lost little of its appeal over the years.
Shout's eagerly awaited Blu-Ray edition hits the bullseye with a number of entertaining supplemental features. Fresh, fun retrospective interviews with Catherine Mary Stewart, Kelli Maroney and Robert Beltran run nearly half an hour, while a shorter conversation with makeup artist David Miller, the trailer and photo galleries are also on-hand. Three new commentaries include Stewart and Maroney chatting together in the most entertaining track of the trio; director Tom Eberhardt discussing the project; and production designer John Muto detailing his work on the picture. On the technical end, the 1080p AVC encoded transfer is satisfying, offering a natural presentation of the low-budgeted picture. Though initially released in mono, a 5.1 DTS MA stereo remix here gives a bit more "oomph" to the soundtrack, with the picture's bouncy pop tracks suitably complimenting the action throughout (I love the mellow '80s soft-rock duet which closes the film — "Learn To Love Again" — which is surely deserving of its own CD release by now as well).
Needless to say I strongly recommend "Night of the Comet" as one of the best "little" genre films of the '80s, and Shout's Special Edition offers a full-fledged supplemental package that's certain to please its fans.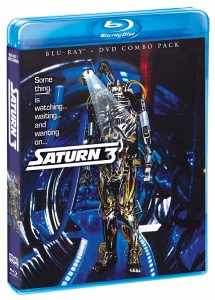 SATURN 3 Blu-Ray (**, 88 mins., 1980, R; Shout! Factory, available December 3rd): The tag line "Some Thing is Wrong on Saturn 3″ aptly applies to this highly troubled 1980 sci-fi thriller from ITC.
"Star Wars" production designer John Barry wrote the original story for "Saturn 3″ and was set to make his directorial debut with the picture until concerns with Barry's lack of experience lead producer Stanley Donen to take over (Barry left to work on "The Empire Strikes Back" until he tragically died of meningitis a couple of weeks into shooting).
The completed film stars Farrah Fawcett and Kirk Douglas in a May/December version of Adam and Eve (here dubbed Alex), a pair of scientists living a bountiful life on Saturn's third moon while working to create new food products for a depleted earth. Into their secluded existence comes psycho Harvey Keitel (dubbed by Roy Dotrice!) and his super robot "Hector" who's intended to replace Adam but whose real behavioral motives are more homicidal than scientific in nature.
"Saturn 3″ opens with a bizarrely choreographed sequence of Keitel boarding the capsule to Saturn 3 – sort of a throwback to Donen's MGM days – before becoming an odd, unsatisfying – not to mention claustrophobic – three-character drama. Barry's original concept may have made for an effective, adult "Star Wars" in the late '70s, but between the behind-the-scenes turmoil and a budget that was drastically reduced during production, it's little more than a curio for Douglas' scenery chewing, Fawcett's good looks and the sheer strangeness of Keitel's dubbed performance. Even the strongest material from Elmer Bernstein's superb score went unused in the finished product (and is best appreciated in Intrada's out-of-print CD).
Available December 3rd, Shout!'s Blu-Ray/DVD combo pack of "Saturn 3″ goes above and beyond for a stellar assortment of special features: deleted scenes culled from a videotape of NBC's '80s TV airing are included along with footage from the notoriously excised "dream sequence." Some audio gaps are present in the latter, but given this is the first time most of this deleted material has been available, fans ought to be thrilled with their inclusion here. New interviews with Roy Dotrice and effects producer Colin Chilvers are also on-hand along with a commentary from Greg Moss and "Saturn 3″ aficionado David Bradley. The latter is a bit on the slow side but there are some interesting nuggets passed on pertaining to the movie's rocky production. The trailer and a nifty new 1080p transfer with DTS MA 5.1 audio make for easily the most satisfying presentation of the picture ever presented on home video (the old US DVD was 4:3 full-frame and stereo; the UK disc was non-anamorphic 4:3 widescreen and mono!).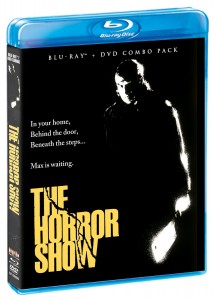 THE HORROR SHOW Blu-Ray (*, 95 mins., 1989, R; Shout! Factory): Producer Sean S. Cunningham had found moderate box-office success with his "House" horror-comedies made at New World in the mid '80s. Setting out to make a third entry in the series, Cunningham's resulting production was deemed too "dark" for the "House" moniker, resulting in UA convincing him to retitle it "The Horror Show" for the U.S. market (overseas, the movie is still titled "House III," even though it bears no relation at all to its predecessors).
A highly troubled production, "The Horror Show" has less to do with "House" than it is a dismal attempt to cash-in on the "Nightmare on Elm Street" era of '80s supernatural chillers. Brion James essays the bad guy here: a crazed lunatic named Max Jenke who returns from the grave to torment the cop (Lance Henriksen) who finally sent him to the electric chair. This means appearing in a number of red-herring dream shocks, including the unforgettably laughable moment when Jenke turns into Henriksen's Thanksgiving turkey at the family dinner table – and yes, he talks (err, gobbles!).
Unbearably slow to get going and poorly executed, "The Horror Show" was saddled with problems from the start: original director David Blyth was reportedly fired a week into filming, and co-writer Allyn Warner's name was replaced with the pseudonym Alan Smithee. While buffs may enjoy seeing Henriksen and James in leading roles here, the film is otherwise a misfire which often gets confused with Wes Craven's similarly-themed – and far more entertaining – 1989 film "Shocker," which has an almost identical premise.
Shout's Blu-Ray/DVD combo pack offers a number of supplements, including interviews with Kane Hodder, who handled the stunt work on the picture, and actress Rita Taggart, who remembers working with Blyth before his departure. A commentary with Cunningham and Michael Felsher is also included along with the trailer, a good-looking 1080p transfer and DTS MA stereo soundtrack.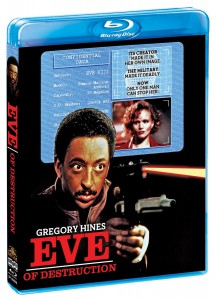 EVE OF DESTRUCTION Blu-Ray (**, 100 mins., 1991, R; Shout! Factory): There seems to be a growing assumption out there that every film Shout Factory releases on Blu-Ray has a cult following. If "Eve of Destruction" was one of those titles, I must've missed it, because this box-office dud vanished without a trace in the middle of the January '91 dumping grounds and hasn't been heard of since. For that reason, the movie is a very odd choice for a catalog vault dust-off, even from the purveyors of the odd and off-kilter from our friends at Shout.
That disclaimer aside, this Nelson Entertainment production – theatrically released by Orion – may offer some unintentional yucks for nostalgia buffs, with scientist Renée Soutendijk's robot doppleganger running amok and military man Gregory Hines sent to assess the situation. It's kind of a low-grade "Robocop"/"Terminator" variant with some seedy sexual content, feminist politics and over-the-top dramatics – particularly the shouting scenes between Soutendijk and Hines – which I found funnier than in anything in, say, "We're the Millers."
Given the movie's ho-hum execution, it's a bit surprising to see some quality talent wasted here behind the scenes: cinematographer Alan Hume and production designer Peter Lamont were both long-time veterans of the James Bond series, and composer Philippe Sarde composed many wonderful scores back in the '80s (though his effort here, regrettably, is not one of his best). Music video veteran Duncan Gibbons, understandably, never received a chance to direct another feature after this one, as his original script is riddled with plot holes and the film directed in a thoroughly pedestrian manner, despite location shooting in L.A. and New York.
For those willing to take the trip back to the days when studios had no choice but to jettison problematic releases in the coldest days of winter, "Eve of Destruction" may provide some laughs if you're willing to get into the spirit, and it does – marginally – improve as it goes along. Shout's Blu-Ray offers a nice transfer from the MGM vaults along with a 2.0 DTS MA stereo soundtrack and the original trailer.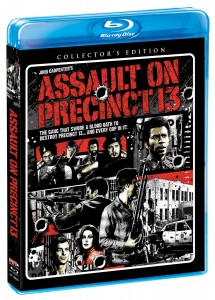 TANK GIRL Blu-Ray/DVD (**½, 103 mins., 1995, R; Shout! Factory): Wild and wacky United Artists box-office flop stars Lori Petty as a post-apocalyptic heroine in a wasteland where half-men/half-kangaroo warriors named The Rippers (one of whom is played by Ice-T in Stan Winston-designed make-up) join with Tank Girl in taking down a conniving villain (Malcolm McDowell) who controls the world's Water & Power. Flashy comic-strip interludes (derived from its source material created by Alan Martin and Jamie Hewlett) and a knowing sense of humor make "Tank Girl" a fun, silly – if forgettable – lark, though Naomi Watts is the real standout as Tank Girl's cute sidekick. Shout's Blu-Ray/DVD combo pack of "Tank Girl" includes commentary from Petty and director Rachel Talalay, a vintage featurette, the trailer, and interviews with Petty and production designer Catherine Hardwicke, who went on to direct the first "Twilight" feature. Regrettably, none of the movie's deleted scenes made it into this edition (but are available on the net). The 1080p transfer and 5.1 DTS MA soundtrack are both fine.
ASSAULT ON PRECINCT 13 Blu-Ray (***½, 91 mins., 1976, R; Shout! Factory): One of John Carpenter's earliest – and finest – works returns to Blu-Ray in a new Collector's Edition release. Carpenter's original script – regularly described as a mix of "Rio Bravo" and "Night of the Living Dead" – places a number of police officers and convicts in a depleted Los Angeles police precinct, trying to defend themselves from a gang that greatly outnumbers them outside. The film is taut, exciting and well-acted, particularly by Austin Stoker as the cop who grudgingly takes up arms with convict Darwin Joston to keep themselves alive.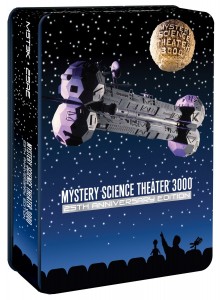 Image previously released a Special Edition Blu-Ray of "Assault on Precinct 13″ several years back that's been out of print for a while. This Shout edition includes new interviews with Nancy Loomis Kyes, who later appeared in Carpenter's "Halloween," plus Tommy Lee Wallace, who served here as art director/sound effects designer. Carried over from the Image release are Carpenter's commentary and a 20-minute interview with Carpenter and Stoker discussing the film. The trailer and radio spots are also included, while the 1080p transfer and 5.1 DTS MA/mono audio tracks likewise seem comparable to Image's discontinued Blu-Ray.
MYSTERY SCIENCE THEATER 3000: 25th Anniversary DVD (aprx. 11 hours, Shout! Factory): MST3K fans will want to pick up this deluxe, limited-edition packaged set including classic episodes – all new to DVD – "Gorgo," "Moon Zero Two," The Day The Earth Froze," and "The Leech Woman." If that wasn't enough, a bonus disc includes the out-of-print, essential MST3K episodes "Mitchell" and "The Brain That Wouldn't Die." A cornucopia of special features offers the new, three-part documentary "Return to Eden Prairie: 25 Years of Mystery Science Theater 3000," "Ninth Wonder of the World: Making of Gorgo" (MST3K Edition), "Last Flight of Joel Robinson," a "Life After MST3K" segment on Mary Jo Pehl, plus MST Hour Wraps and four mini-posters from Steve Vance – all of it housed in a glossy limited-edition tin. Highly recommended for all MST3K fans!
THE GENE AUTRY SHOW: Complete Series DVD (Timeless Media Group/Shout! Factory): The legendary singing cowboy gets his day on DVD with Timeless' lavish, 15-disc DVD box-set. Sporting all 91 episodes from the CBS series' 1950-56 run, nostalgia buffs should enjoy seeing Gene, his Wonder Horse Champion, and co-star Pat Buttram in a self-contained program with songs and western fun, all resurrected here in uncut and fully restored episodes. 15 episodes shot in color are among them, with ample extras including the original Wrigley Doublemint gum ads, photo galleries, "Melody Ranch Radio Shows," and a bonus disc filled with assorted episodes of other series produced by Autry's Flying A Pictures. A terrific, loving package that Timeless releases on December 10th.
---
THE MORTAL INSTRUMENTS: CITY OF BONES Blu-Ray/DVD Combo Pack (**, 130 mins., 2013, PG-13; Sony, available December 3rd): The "Twilight" craze has generated many a supernatural teen romance in its wake. This first adaptation of Cassandra Clare's popular books about girl who discovers she's part of the "Shadowhunters," a line of half-angel warriors battling demons in an alternate-universe New York City – dubbed Downworld – fits clearly in that category, though its convoluted plot made it far less comprehensible to outsiders as a film adaptation.
Lily Collins ("Mirror Mirror") stars as Clary Fray, the young woman who's thrust into an ages-old fight between the Shadowhunters and Valentine Morgenstern (Jonathan Rhys Meyers), an ex-Shadowhunter trying to obtain the "Mortal Cup" in order to control this "Underworld"-Lite universe of demons and assorted monsters. Jamie Campbell Bower is the brooding hunter who falls in love with Lily, while Lena Headey, CCH Pounder and "Mad Men"'s Jared Harris offer adult support to the young cast.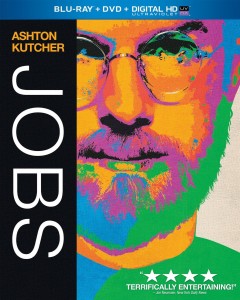 Produced by Germany's Constantin Film, this first (and possibly only) adaptation of the "Mortal Instruments" books failed to find an audience at the box-office, grossing $30 million in the U.S. and just $80 million worldwide to date (Constantin has since confirmed production of a sequel, though the jury is still out as to whether or not it'll ever be produced). It's not much of a surprise either, judging from this haphazard and endless – not to mention endlessly convoluted – film version, which does have a sense of humor and some nifty special effects but little in the way of dramatic engagement for non-fans. Most of the performances are devoid of appeal, and director Harald Zwart – of "Pink Panther 2″ and "Karate Kid" infamy – displays no more than a workmanlike approach behind the lens.
Sony brings "City of Bones" to Blu-Ray in a combo pack on December 3rd. The 1080p transfer is fine, the 5.1 DTS MA soundtrack constantly active, and extras include two featurettes, deleted scenes, a music video, and BD exclusives like an interactive lineage tracker and three additional featurette segments. A DVD and Digital HD Ultraviolet version round out the release.
JOBS Blu-Ray Combo Pack (**, 129 mins., 2013, PG-13; Universal): Ashton Kutcher does a valiant job portraying the Apple founder in this unfocused biopic from writer Matt Whiteley and director Joshua Michael Stern – one that feels overlong and yet undercooked, with Jobs' personal life downplayed while too much time is spent divulging his corporate empire's business machinations. Kutcher's out-there performance goes for broke and certainly keeps the picture compelling – as does Josh Gad's turn as Steve Wozniak – but the product surrounding them isn't nearly as satisfying.
Universal brings "Jobs" to Blu-Ray this week in a combo pack offering a DVD and Ultraviolet copy. The 1080p transfer is strong and the 5.1 DTS MA soundtrack top notch (featuring a fine score by John Debney). Extras include deleted scenes, commentary by Stern, and featurettes.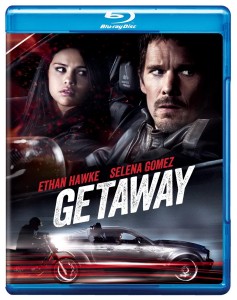 GETAWAY Blu-Ray (*½, 90 mins., 2013, PG-13; Warner): For viewers hoping to see a film where Ethan Hawke and teen pop star Selena Gomez sit in a car and drive for 90 minutes, your ship has at last come in. For everyone else, you will want to steer clear of "Getaway," a miserable late-summer throwaway where Hawke's former racing champion has to steal a Ford Shelby mustang in order to save his wife from a kidnapper (voiced by Jon Voight) who feeds him instructions over his cell phone. Gomez plays The Kid, a character added to this independent production (which Warner Bros. acquired through Joel Silver's Dark Castle label) in order to enhance its appeal among a younger demographic.
Ultimately, viewers of all ages bypassed "Getaway," which fizzled out with a $10 million gross over Labor Day weekend. This is a dumb, loud film that generates scant excitement even in its driving sequences – something that can be attributed to hack director Courtney Solomon, whose past credits include "Dungeons & Dragons," "An American Haunting" and the horrid Stallone bomb "Bullet to the Head."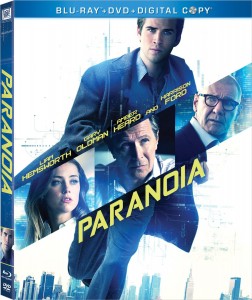 Fitting in appropriately with that roster of flops, "Getaway" comes to Blu-Ray on November 26th from Warner. The single-platter BD release includes a handful of featurettes (Crash Cams; Destroying a Custom Shelby; Metal and Asphalt; Selena Gomez On Set; The Train Station) plus an Ultraviolet copy, 1080p transfer and DTS MA 5.1 soundtrack.
PARANOIA Blu-Ray/DVD Combo Pack (*½, 106 mins., 2013, PG-13; Fox): Yet another late-summer bomb, "Paranoia" offers Liam Hemsworth as a young worker at inventor Gary Oldman's tech company. After a bleary-eyed night on the town, Hems is coerced into spying on Oldman's rival (Harrison Ford) or else face charges for credit card fraud. Amber Heard is the girl our hero falls for in this pedestrian, silly adaptation of Joseph Finder's novel by director Robert Luketic – a dud in spite of a terrific supporting cast (Josh Holloway, Julian McMahon and Richard Dreyfuss co-star).
A box-office disaster with only $7 million in domestic receipts (only Dreamworks' "The Fifth Estate" fared worse among major studio releases this year), "Paranoia" can only perform better on home video, though it's hard to envision this credibility-straining thriller generating positive word of mouth. Fox's Blu-Ray of the Relativity production includes deleted scenes, three behind-the-scenes featurettes, a DVD and Digital Copy, along with a 1080p transfer and 5.1 DTS MA soundtrack featuring a forgettable score by "Junkie XL."
ANCHORMAN: The Rich Mahogany Edition Blu-Ray (***, 97 mins., 2004, PG-13/Unrated; Paramount): One of Will Ferrell's funniest films returns to Blu-Ray in a re-issue of "Anchorman"'s sublime "Rich Mahogany" edition on December 3rd.
After a memorable co-starring turn in Todd Phillips' "Old School," Ferrell took the lead (and reaped some $84 million in domestic box-office) in "Anchorman," the occasionally hilarious, offbeat 2004 comedy from Ferrell and co-writer/director Adam McKay, starring Ferrell as a smug newsman at a San Diego TV station in the 1970s. Packed with cameos and some truly hysterical moments (including a "West Side Story"-esque showdown between Bay Area anchormen!), this Judd Apatow production is inspired lunacy in spite of its occasional unevenness, with a brilliant supporting cast (Paul Rudd, Steve Carell, David Kochner, Christina Applegate) as adept at the zaniness as Ferrell.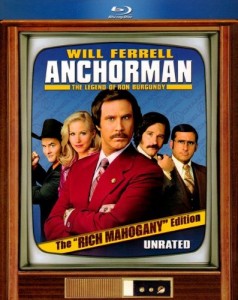 Previously available as a Best Buy exclusive, the two-disc "Rich Mahogany" edition includes a bevy of extras, and no less than three different edits of the picture: the original theatrical version, the extended unrated cut, and the "Lost Movie," dubbed "Wake Up, Ron Burgundy," which is comprised of discarded material from the film (excised subplots, alternate takes, etc.). All three versions are on-hand in splendid 1080p transfers with 5.1 DTS MA audio, while extras include all the goodies from the original video release of the film (25 minutes of bloopers/deleted scenes; interviews; a commentary track; and the unforgettable "Afternoon Delight" music video) with additional supplements on the second disc (cast audition footage, a table read, Comedy Central footage, intro to "Wake Up, Ron Burgundy"). It's capped by packaging that includes Ron's "personal 32-page diary" and a set of 12 trading cards, plus a coupon that'll cover a portion of your admission ticket to "Anchorman 2″ next month.
PAIN & GAIN Collector's Edition Blu-Ray (*½, 129 mins., 2013, R; Paramount): Slick but juvenile attempt by Michael Bay to extend himself beyond his usual brainless blockbusters. Mark Wahlberg and Dwayne Johnson star as a pair of south Florida musclemen who try to live the high life at the expense of business mogul Tony Shalhoub – and their plans misfire spectacularly with deadly consequences. Based on a true story, Bay and screenwriters Christopher Markus and Stephen McFeely attempt to inject ample doses of comedy to offset the horrible crimes involved in the characters' exploits, but their efforts backfire in a unpleasant mismash of typical Bay escapist fare in a true-crime backdrop.
Paramount's second edition of "Pain & Gain" on Blu-Ray includes an hour of bonus featurettes taking viewers behind the scenes with material related to the actual events that inspired the picture. The 1080p transfer and 7.1 Dolby TrueHD soundtrack are both exemplary.
ADORE Blu-Ray (**½, 111 mins., 2013, R; Paramount): A well-acted piece of trash cinema, director Anne Fontaine and writer Christopher Hampton's adaptation of Doris Lessing's book "The Grandmothers" paints a broad portrait of two Australian women – Robin Wright and Naomi Watts – who happen to be best friends that eventually become sexually involved with each other's respective sons. Plenty of sex and soap opera theatrics drive this good-looking if emotionally detached picture that Paramount releases on Blu-Ray December 10th. The 1080p transfer and DTS MA soundtrack are both superb, and an Ultraviolet copy is also on tap.
---
One of the more entertaining Batman cartoons in recent years, BATMAN: THE BRAVE AND THE BOLD (584 mins.) barrels onto Blu-Ray for the first time in a Warner manufactured-on-demand release. The two-disc set offers 1080p (1.78) transfers and DTS MA 2.0 stereo soundtracks for the complete first season of the program, offering 26 episodes with Batman joining up with a succession of DC Comics favorites in more lighthearted stories reminiscent of DC's Silver Age and the '60s Batman TV series. Among the supporting heroes are Green Arrow, Aquaman, Blue Beetle, Plastic Man, Dr. Fate, The Atom, and lesser-known protagonists Booster Gold, Wildcat and even Sherlock Holmes! The action is goofy though not absurd, and the stories engaging for both old-school comic book fans and young viewers alike. The transfers are sound and the presentation quite solid even with a slightly lower bit-rate than you might anticipate (to be expected with two discs housing the complete first season).
Polly Holliday and her character Flo Castleberry opted to leave Mel's Diner in FLO (716 mins., 1980-81), one of many TV spin-offs from the late '70s and early '80s. Alas, much like "The Roepers" of "Three's Company," the road to cancellation wasn't far behind, as this "Alice" spin-off lasted only a full season after debuting as a mid-season replacement in the spring of 1980. For "Flo" fans, this DVD release from the Warner Archives includes all 29 episodes of the short-lived series, with guest stars James Cromwell, Robert Englund, Forrest Tucker, Joanna Cassidy, Hoyt Axton (who also crooned the theme song) and Vic Tayback making a solitary appearance as Mel…Finally, Leonard Nimoy's impassioned performance as Mel Memelstein in the acclaimed TNT film NEVER FORGET (94 mins., 1991) is well worth a viewing on the Archives' new DVD release. Directed by TV veteran Joseph Sargent and scored by Henry Mancini, this drama about one man's efforts to legally prove that the Holocaust occurred co-stars Blythe Danner and Dabney Coleman in a powerful drama from TNT's original-movie heyday. Warner's DVD is full-screen with stereo audio.
Golden Age viewers have a trio of new releases worthy of a look from the Archives this week. DANNY KAYE: THE GOLDWYN YEARS ought to be of chief interest for the star's devotees, as it debuts four features staring the versatile showman: "Up in Arms" (1944) marked Kaye's feature debut as a hypochrondriac war hero opposite Dinah Shore; in "Wonder Man" (1945), Kaye plays twins (one of whom has left the earthly plain) in a comedy with Virginia Mayo; "The Kid From Brooklyn" (1946) finds Kaye as a milkman turned boxer with Mayo co-starring as a nightclub songstress; and "A Song is Born" is Howard Hawks' 1947 musical remake of "Ball of Fire" with Kaye and Mayo in roles previously portrayed by Gary Cooper and Barbaras Stanwyck. All four films look quite good in Warner's 4:3 color transfers…A long-time running gag of Jack Benny, GEORGE WASHINGTON SLEPT HERE (91 mins., 1942) is an amusing farce adapted from Moss Hart and George S. Kaufman's Broadway play. Benny and Ann Sheridan star as cityfolk who move to the country and quickly find that life isn't so easy out in the sticks. Charles Coburn, Percy Kilbride and Hattie McDaniel co-star in this amiable star vehicle that's not quite "Mr. Blandings Builds His Dream House," but wasn't entirely worthy of its star's derision. Warner's disc includes a full-screen B&W transfer…Finally, Season 7 of CHEYENNE (654 mins., 1962) includes the final 13 episodes from the memorable western series created by Roy Huggins and starring Clint Walker. Warner's DVD includes crisp B&W transfers and mono soundtracks from the groundbreaking hour-long program.
---
MICKEY'S CHRISTMAS CAROL Blu-Ray (26 mins., 1983, G; Disney)
WINNIE THE POOH: A VERY MERRY POOH YEAR Blu-Ray (64 mins., 2002, G; Disney): A pair of short but sweet holiday offerings arrives on Blu-Ray in time for the Christmas season from Disney.
"Mickey's Christmas Carol" is a gentle, abbreviated adaptation of the Dickens perennial with Scrooge McDuck, appropriately, filling the shoes of the miser who learns a few life lessons one fateful Christmas eve. Numerous Disney favorites appear in this half-hour short, which was first released with the 1983 re-issue of "The Rescuers" and became a favorite of many viewers via subsequent TV broadcasts. It's a perfectly entertaining short, best appreciated by younger viewers, though Disney's Blu-Ray presentation is regrettably scattershot: the 1080p AVC encoded transfer has been smeared with all kinds of noise-reduction, eliminating detail and scrubbing its inherent detail away. As a result, the colors may be stronger than DVD, but the overall presentation is a definite disappointment. Extras include a handful of Disney animated shorts (Corn Chips, Art of Skating, Pluto's Christmas Tree, The Hockey Champ, and the newly produced Yodelberg), plus a Disney Intermission sing-along feature and a digital copy.
Things fare slightly better with the Blu-Ray debut of "Winnie the Pooh: A Very Merry Pooh Year," an hour-long 2002 direct-to-video compilation of the 1991 ABC TV special "Winnie the Pooh and Christmas Too" (itself an off-shoot from the then-popular cartoon series "The New Adventures of Winnie the Pooh") and the 2002 production "Happy Pooh Year," linked with narration by Michael York. It's an enjoyable, though not especially memorable, package that Disney has given a Blu-Ray release sporting a 1080p (1.33) transfer that's generally superior to "Mickey's Christmas Carol," though the discrepancy in the animation quality between its separate halves is more obvious with the high-def rendering here. Extras include interactive goodies for kids ("Enchanted Environment," another Disney Intermission with games and activites), a digital copy and DTS MA soundtrack.
---
HOT IN CLEVELAND: Season 4 DVD (528 mins., 2012-13; Paramount): Guest stars Heather Locklear, William Shatner, Regis Philbin, Carol Burnett and "Modern Family"'s Jesse Tyler Ferguson join the ladies (Valerie Bertinelli, Jane Leeves, Wendy Malick and Betty White) for this fourth season of the popular TV Land sitcom. Among the 23 episodes included in Paramount's DVD (out December 3rd) is the show's first live show and a reunion between Mary Tyler Moore and her classic sitcom co-stars Valerie Harper, Cloris Leachman and Georgia Engel. Paramount's Season 4 package also includes outtakes, favorite moments, 16:9 transfers and stereo soundtracks.
THE CANYONS Unrated Director's Cut (99 mins., 2013; IFC/MPI): Bret Easton Ellis teamed up with director Paul Schrader for this disappointing portrait of disaffected types living in and around the Hollywood system. Among the unappealing characters are adult film star James Deen as a brash young movie producer and top-billed Lindsay Lohan as his philandering actress girlfriend. Schrader's movie is stylishly shot but surprisingly devoid of insight, offering characters and situations you've seen countless times before. IFC's Blu-Ray includes an unrated Director's Cut boasting a crisp 1080p transfer and 5.1 DTS MA soundtrack; extras include a series of featurettes and the trailer.
INCH'ALLAH DVD (101 mins., 2012, R; E One): Compelling import follows a Canadian doctor (Evelyne Brochu) working at a Palestinian refugee camp on the Israeli/Palestine border, treating pregnant women in a war-torn region where every day is uncertain. Anais Barbeau-Lavalette's picture comes to DVD on December 3rd featuring deleted scenes, a short film by Kevin Papatie ("Nous Sommes"), a 16:9 (2.35) transfer and 5.1 soundtrack.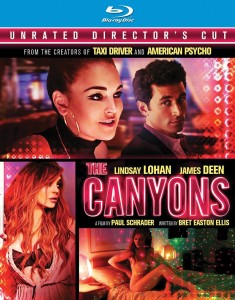 BIG STAR: NOTHING CAN HURT ME Blu-Ray (111 mins., 2012, PG-13; Magnolia): Fascinating documentary charts the sort-of rise and fall of Big Star, a '70s rock band that skirted around the charts but never hit the big time. Like the best music documentaries, you needn't be a fan of the band to find the group's story engrossing, as director Drew DeNicola probes Big Star's story and their influence on bands like REM and Beck. Magnolia's Blu-Ray, out this week, includes deleted scenes, featurettes, a 1080p transfer and 5.1 DTS MA soundtrack…Coming from Magnolia on December 3rd is DRINKING BUDDIES (90 mins., 2013, R), a four-character drama about workers at a Chicago brewery (Olivia Wilde and Jake Johnson) who find themselves attracted to one another while being attached to others (Ron Livingston and Anna Kendrick, respectively). Leisurely paced and peppered with some funny moments, "Drinking Buddies"'s strength comes from its performances, which manage to overcome the unevenness of Joe Swanberg's script (a fair amount of which was apparently improvised). Magnolia's Blu-Ray includes deleted scenes, cast interviews, AXS TV behind the scenes, commentary, a 1080p transfer and 5.1 DS MA soundtrack.
From Lionsgate: JFK ASSASSINATION: THE DEFINITIVE GUIDE (90 mins., 2013) is a new History Channel look at the controversies still swirling around one of the defining moments of the 20th century. Vincent Bugliosi, Max Holland, Gerald Posner, Robert Groden, Jefferson Morley and others present their views on the fateful events with History/Lionsgate's DVD including a 16:9 transfer and stereo soundtrack…Johan Earl, Tim Pocock and Martin Copping star in BATTLE GROUND (99 mins., 2013, R), an Australian produced WWII drama directed by Earl (who also wrote the picture) and Adrian Powers. Lionsgate's DVD includes a commentary with Earl and Powers, Making Of featurette, 16:9 transfer and 5.1 soundtrack…Joe Dante lent his name as an executive producer to the old-school TRAIL OF BLOOD (80 mins., 2013, R), a slight slasher with a group of campers stalked by a crazed vet. Dante favorite Robert Picardo stars with Lionsgate's DVD including a 16:9 transfer, 5.1 soundtrack, digital copy and commentary from writer-directors Joseph and Justin Guerrieri…Writer-director Charles Murray's character drama THINGS NEVER SAID (111 mins., 2013, R) arrives on DVD December 3rd. Lionsgate's DVD includes a digital copy, 5.1 soundtrack and 16:9 transfer...Finally, Red Sox fans will want to pick up the 2013 WORLD SERIES Blu-Ray from MLB and Lionsgate. This 90-minute retrospective is a must for Sox fans as it recounts the team's miracle, worst-to-first 2013 campaign with outstanding highlights, interviews and memorable moments -- and there was no shortage of the latter this past season. Footage from the regular season, ALCS win over Detroit and World Series victory over the St. Louis Cardinals make this a must for Sox fans. Lionsgate's Blu-Ray includes loads of extras including clinching celebrations, World Series highlights, parade footage and more.
Wolfe Video New Releases: THE PERFECT WEDDING (82 mins., 2013, Not Rated) offers a rom-com from a gay point of view with Jason T. Gaffney and Eric Aragon playing two young men who fall in love while attending the wedding of Aragon's sister. Kristine Sutherland, James Rebhorn and Apolonia Davalos co-star in Scott Gabriel's indie, which comes to DVD this week from Wolfe featuring a number of extras: a behind the scenes featurette, cast interviews, the trailer, 16:9 transfer and 5.1 soundtrack…Available December 3rd, OLD DOGS & NEW TRICKS (109 mins., 2013, Not Rated) is a web series following four gay Hollywood men and their relationships as they near 50. Guest stars in this Season 1 & 2 package include Greg Louganis, Ian Buchanan, Terri Garber and showman Michael Kearns. Wolfe Video's DVD includes a behind the scenes featurette, gag reel, and 5.1 soundtrack.
NEXT TIME: A December arrival of new releases! Until then, don't forget to drop in on the official Aisle Seat Message Boards and direct any emails to our email address. Cheers everyone and Happy Thanksgiving!