Message Board - REGISTRATIONS NOW OPEN (again!)
Twilight Time's November releases ought to be healthy sellers for the label, featuring two classics and one of the biggest hits of the early '70s offering something for every film buff.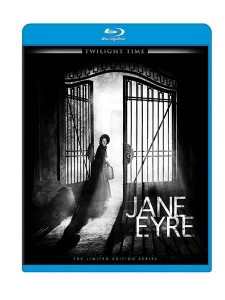 20th Century-Fox's 1944 production of JANE EYRE (***½, 96 mins.) leads the way: a gorgeously gothic visual adaptation of the Charlotte Bronte novel, splendidly realized on-screen by director Robert Stevenson. Orson Welles, Joan Fontaine (especially good in the title role), Peggy Ann Garner (the young Jane), Henry Daniell, Agnes Moorehead and a young Elizabeth Taylor (as an ill-fated girl Jane befriends at the oppressive Lowood Institution) star in this memorable adaptation of the Bronte classic. John Houseman and Aldous Huxley contributed to the screenplay, which, under the direction of Stevenson, resulted in a top-flight production all around, capped off by an outstanding Bernard Herrmann score. The movie may not have been directed by Welles, but given his involvement, the use of Herrmann's music, and a script adapted from a Mercury Theatre radio production, the movie has the feel, at least, of one of Welles' works from the era, and is engaging both dramatically and visually.
Twilight Time's Blu-Ray sports a crisp 1080p transfer with DTS MA mono audio. Some damage is occasionally evident in the print but the movie nevertheless boasts more detail than Fox's DVD edition from 2007. Extras have also been carried over from that release: a marvelously insightful commentary track is on-hand with Nick Redman and fellow historians Steven Smith and Julie Kirgo, plus another excellent commentary with Welles biographer Joseph McBride and Margaret O'Brien, who co-stars in the film. An isolated score track (newly reworked for this edition), a retrospective featurette, the original trailer, and a vintage US War Department film made by Stevenson cap off a first-class disc all around.
Twilight Time's other November releases likewise require little introduction for movie buffs.
Carol Reed's filming of Lionel Bart's musical OLIVER! (***½, 153 mins., 1968, G) is one of the best stage-to-screen adaptations of all-time: a faithful, emotional and well-acted filmization with outstanding cinematography by Oswald Morris and production design by John Box. Mark Lester makes for an ideal Oliver with Ron Moody recreating his award-winning stage performance as Fagin, Harry Secombe as Mr. Bumble and Oliver Reed as Bill Sikes. While it's certainly not the grittiest Dickens ever committed to film, as a musical, "Oliver!" works extremely well and Reed's direction captures what made the original production such a smash on both sides of the Atlantic.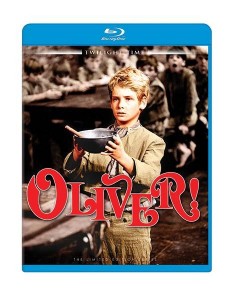 Working from a splendid 1080p AVC encoded transfer from the Sony vaults, Twilight Time's 3000-copy limited release of "Oliver!" ought to delight the film's fans. The stirring DTS MA soundtrack does justice to John Green's orchestrations of Bart's classic songs, with extras including featurettes, sing-alongs, the trailer, and an isolated score track.
The chemistry between Barbra Streisand and Robert Redford – and that title song, written by Marvin Hamlisch – sold THE WAY WE WERE (***, 118 mins., 1973, PG) as one of the most successful box-office love stories of its day. Truth be told, this isn't one of Sydney Pollack's best films, despite the fact that the song and the film became ingrained in pop culture for decades after its release.
Arthur Laurents' original script follows the tumultuous relationship between a Jewish campus radical (Babs) and a WASPy All-American type (Redford) from the '30s through the '50s, from their unlikely coupling through Redford's work as a screenwriter in Hollywood during the McCarthy blacklist era. The duo spar, fall in love, fall out of love, and ultimately can't come to terms in a bittersweet film loaded with familiar faces (James Woods, Sally Kirkland, Murray Hamilton, Viveca Lindfors, Patrick O'Neal, Lois Chiles, Brad Dillman), lovely scope cinematography by Harry Stradling, Jr. and Hamlisch's Oscar-winning score.
"The Way We Were" had something of a bumpy production with friction behind the scenes between Laurents, Redford and Pollack. Several scenes that would've better fleshed out the disintegration of the characters' marriage were jettisoned after so-so preview screenings, and the finished movie comes off as a more of a star-driven Hollywood product than a wholly believable film – nevertheless, viewers of the day ate it up.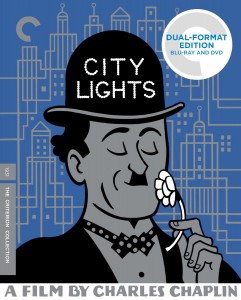 Again boasting a wonderfully detailed AVC encoded transfer and DTS MA 5.1 stereo soundtrack, Twilight Time's Blu-Ray also includes a new commentary with Nick Redman and Julie Kirgo outlining the film's strengths and production history, the trailer, an isolated score track, and an hour-long retrospective documentary carried over from the DVD release.
Looking for more catalog content on Blu-Ray? Criterion's spectacular HD presentation of Charlie Chaplin's 1931 masterwork CITY LIGHTS (86 mins.) ranks with the most exciting classic releases in HD this year. Apart from the film itself – which offers Chaplin enhancing his dramatic storytelling at the same time he reprises his Tramp character in a marvelous comedy, one of the last "silent" films made during the early sound era – Criterion's disc is chock full of wonderful extras.
A newly restored 4K derived transfer and uncompressed mono soundtrack grace a superb technical package, while commentary from Chaplin biographer Jeffrey Vance covers all the bases of the film's production, its reception at the time of its release and growth into a bona-fide film classic. A 2003 documentary on the film, featuring Aardman's Peter Lord, is also included, along with a new interview program, "Chaplin Studios: Creative Freedom By Design"; archival footage on the production of the picture, shot on set, with commentary from historian Hooman Mehran; a costume test, rehearsal footage, and a complete scene unused in the picture; an extract from Chaplin's 1915 short "The Champion"; trailers; a booklet offering comments from critic Gary Giddins and a 1966 Chaplin interview. All is included in a BD/DVD dual format edition absolutely recommended for buffs.
---
STAR TREK THE NEXT GENERATION – Season 5 Blu-Ray (1991-92, aprx. 20 hours; CBS): A visit from Leonard Nimoy's Mr. Spock (in the two-part "Unification") and several other memorable episodes ("The Inner Light," "The Perfect Mate") fuel this fifth box-set of TNG shows from CBS, all remastered in gorgeous high-definition with DTS MA 7.1 audio.
TNG's fifth season ranks as one of its finest, opening up with the season opener "Redemption, Part II" and carrying through episodes "Darmok" (guest starring Khan's Paul Winfield), "Ensign Ro" (which serves as an introduction to Michelle Forbes' character), "Silicon Avatar," "Disaster," "The Game," the before-mentioned two-part "Unification," "A Matter of Time," "New Ground," "Hero Worship," "Violations," "The Masterpiece Society," "Conundrum," "Power Play," "Ethics," "The Outcast," the "Groundhog Day"-esque "Cause and Effect" (with a new commentary by Brannon Braga and actor Seth MacFarlane), "First Duty" (with commentary by Ronald D. Moore and Naren Shankar), "Cost of Living," "The Perfect Mate," "Imaginary Friend," "I, Borg" (commentary by Rene Echevarria and the Okudas), "The Next Phase," the classic "The Inner Light" (commentary by Morgan Gendel and the Okudas), and the season finale "Time's Arrow, Part 1."
CBS, as with their prior Trek Blu-Rays, has included a superb mix of extras, many newly produced. Among the latter are deleted scenes and a gag reel, presented in HD, along with new featurettes "In Conversation: The Music of The Next Generation" (a juicy, hour-plus conversation between Jeff Bond and composers Ron Jones, Dennis McCarthy and Jay Chattaway) and "Requiem: A Remembrance of The Next Generation." There are also episodic promos and the reprise of archival featurettes from the 2002 DVD release, including a tribute to Gene Roddenberry (who passed away during the fifth season's original broadcast), segments on the special effects and makeup, and a closer examination of the season cliffhanger, "Time's Arrow." Unquestionably recommended! (Fans should also note CBS has released "Unification" as a standalone individual release on Blu-Ray this week).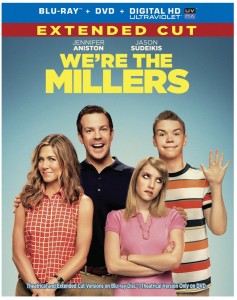 WE'RE THE MILLERS Blu-Ray Combo Pack (*½, 110 mins [theatrical], 119 mins. [extended], R/Unrated, 2013; Warner): Slow-going summer comedy hit – with a domestic box-office in-take of nearly $150 million – finds a Denver pot dealer (Jason Sudeikis) having to head south of the border to score a pick-up after he's robbed of his stash and savings. In order to convince the border patrol that he's not just a slacker, Sudeikis brings along a stripper (Jennifer Aniston) and a pair of teenagers in order to pretend that they're just an average American family.
Rawson Marshall Thurber's farce, scripted by Bob Fisher, Steve Faber, Sean Anders and John Morris, managed to generate a funny two-minute theatrical trailer, which no doubt helped "We're the Millers" initially find an audience. What's surprising is how well the film managed to do in spite of the fact that it roughly has about 10 minutes of genuinely funny elements in it – the rest, with a bloated two-hour running time, is meager stuff, dramatically limp and filled with the pre-requisite raunchy gags you'd anticipate given the premise. I also had a hard time buying perennial straight-man Sudeikis as a grungy pot dealer, making his transition into a clean-cut family guy too easy to accept – casting someone against type might've generated more laughs.
Warner's combo pack of "We're the Millers" offers both the 110-minute theatrical version of the picture as well as an extended cut that runs nearly 10 minutes longer. Ample extras include outtakes, a gag reel and deleted scenes, behind-the-scenes material, a Digital HD Ultraviolet copy, 1080p transfer and DTS MA soundtrack along with a standard-def DVD.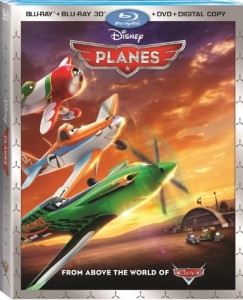 PLANES 3D Blu-Ray Combo Pack (**½, 91 mins., 2013, PG; Disney): A cropdusting plane named (naturally) Dusty dreams of participating in the "Wings Across the World" race but lacks the physical prowess to do so. In order to overcome his limitations, as well as a fear of heights, Dusty works with his friends to take part in the worldwide contest, valiantly battling his opponents including the dastardly returning champion Ripslinger.
"Planes" started out as a direct-to-video Disney feature before becoming a full-fledged theatrical release from the studio. Clearly aimed at younger viewers, this is a good-natured film for the little ones, with appealing animation and characters plainly modeled after the protagonists in Disney/Pixar's "Cars." While not written on the level as Pixar's films, "Planes" ought to satisfy its younger audience, and Disney's 3D Blu-Ray combo pack does full justice to the picture's surprisingly good (considering its moderate budget) animation with a lovely 1080p 3D transfer filled with depth of field effects. The 2D Blu-Ray is also on-hand featuring deleted scenes, the short "Franz's Song," featurettes, a digital copy and DVD.
TURBO Blu-Ray Combo Pack (**½, 96 mins., 2013, PG; Dreamworks/Fox): A garden snail takes on his dream (sound familiar?) of winning the Indianapolis 500 in this predictable, appealingly-drawn Dreamworks animated feature, which offers scant surprises but ought to delight its intended audience of moppets. Director David Soren's film only performed moderately well at the box-office but should pick up the slack on home video in time for the holidays, with Fox's just-released Blu-Ray including a great looking AVC encoded transfer, DTS MA soundtrack, a deleted scene, multiple featurettes, DVD and digital copy.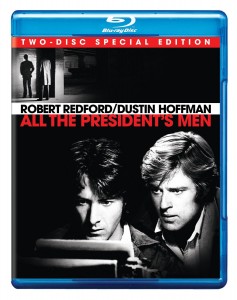 ALL THE PRESIDENT'S MEN Blu-Ray (****, 138 mins., 1976, PG; Warner): Alan J. Pakula's acclaimed chronicle of Bob Woodward & Carl Bernstein's Watergate reportage – with Robert Redford and Dustin Hoffman memorably essaying the intrepid Washington Post reporters – returns to Blu-Ray this month in a new two-disc release. The first disc contains the same presentation as its earlier release, sporting a number of terrific special features: commentary from Redford, a half-hour Making Of retrospective offering interviews with the stars and Woodward and Bernstein, an additional interview with the authors, a featurette on "Deep Throat" (aka former CIA associate director Mark Felt), a vintage promo featurette, the trailer, and a seven-minute excerpt from "Dinah!" with the host interviewing Jason Robards. The 1080p transfer looks a bit soft in places but offers appreciable detail, at least, over the old DVD, while DTS MA audio boasts the original monophonic soundtrack. The second disc, exclusive to this release, includes the new documentary "All the Presidents Men Revisited," narrated by Redford, which offers a fresh look back at the incident with ample archival footage.
PRINCE AVALANCHE Blu-Ray (94 mins., 2012, R; Magnolia): Following his turn in the mediocre indie "All is Bright," Paul Rudd tackled this role of a stern single guy who brings along his girlfriend's brother (Emilie Hirsch) to work on a highway out in the country in the late '80s. David Gordon Green's film offers a few amusing interludes with the duo but the film is mostly uneven and meandering. Magnolia's Blu-Ray includes a deleted scene, several featurettes, commentary, the trailer, interview with the director, a 1080p transfer and DTS MA soundtrack.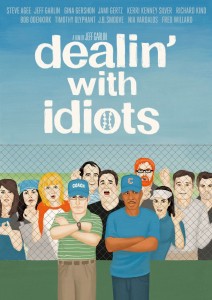 New From MPI: Jeff Garlin wrote and directed the occasionally funny DEALIN' WITH IDIOTS (87 mins., 2012, Not Rated), a mostly improvised comedy that finds Garlin's comedian finding inspiration in the parents, coaches and other figures surrounding his son's little league team – enough so that he plans his next project around them. Gina Gershon, Jami Gertz, Timothy Olyphant, Nia Vardalos and Fred Willard are a few of the fine supporting cast members who join Garlin on his comic odyssey, but while the material is ripe for the ribbing, the film itself mostly flatlines with only intermittent moments of inspiration. MPI's DVD includes the trailer, a 16:9 transfer, 5.1 soundtrack and streets this week…Audrey Tautou stars in Claude Miller's final film, THERESE (110 mins., 2012, Not Rated), an eloquently filmed tale of an unhappily married young woman's quest for independence and love in southwest France during the late '20s. MPI's DVD includes the trailer, a 16:9 transfer and 5.1 soundtrack in French with English subtitles.
From Sundance Selects comes CRYSTAL FAIRY (99 mins., 2013, Not Rated), an usual and offbeat tale of an American slacker (Michael Cera), living in Chile, who joins with three local siblings (Agustin, Juan Andres, and Jose Miguel Silva) to find a San Pedro cactus, which allegedly gives off good vibrations so to speak. Gaby Hoffman joins them in Sebastian Silva's dramaedy which paints a more realistic take on "Pineapple Express" territory. Sundance Selects' Blu-Ray includes a behind the scenes featurette, the trailer, a 1080p transfer and 5.1 soundtrack.
THE VIVIEN LEIGH ANNIVERSARY COLLECTION Blu-Ray (Cohen Film Collection):
Four British films starring Vivien Leigh, prior to her star-making turn in "Gone With the Wind," have been fully restored by Cohen in this two-disc Blu-Ray set. Included here are "Fire over England" (1936), a rousing 16th century historical drama offering the first on-screen pairing of Leigh with Laurence Olivier and cinematography by James Wong Howe; "Dark Journey" (1937) stars Leigh as a French double-agent in a wartime thriller co-starring Conrad Veidt; "Storm in a Teacup" (1937) puts Leigh in a light comedy co-starring Rex Harrison; and "St. Martin's Lane" (1937), starring Leigh with Charles Laughton and Harrison, is an especially interesting portrait of London street performers struggling to keep it together in spite of mounting competition from modern forms of entertainment.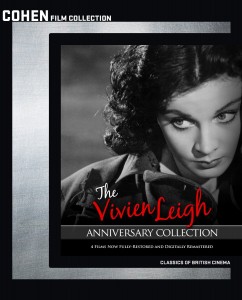 All four films have been impressively restored (especially considering some of the lousy video releases the individual films have received over the years) in this double-disc Cohen set. Extras include a featurette by Leigh biographer Anne Edwards, trailers, and an essay from biographer Kendra Bean. Recommended!
New from IFC: Jon Wright's entertaining Irish import GRABBERS (94 mins., 2011, Not Rated) mixes horror and comedy in a light, fun brew about aliens terrorizing a Northern Ireland community. A cool sense of humor prevails in this good-natured film IFC brings to DVD this week including a behind the scenes featurette, the trailer, 16:9 transfer and 5.1 soundtrack…the lovely Agnes Bruckner co-stars with Madeline Zima in Jamie Babbit's BREAKING THE GIRLS (87 mins., 2011, Not Rated), a steamy thriller co-starring Shawn Ashmore and Kate Levering. Arriving on DVD November 19th, IFC's DVD includes a 16:9 transfer, interviews and the trailer.
BRIDEGROOM DVD (80 mins., 2013, R; Virgil Films): Well-meaning, effective documentary from "Designing Women" creator Linda Bloodworth Thomason follows a gay couple who move to Los Angeles, where one of the men dies in an accident. What follows thereafter becomes something of a sermon on the importance of gay marriage, but the material is so authentically handled and powerful that it overcomes any overt proselytizing. Virgil Films' DVD includes a 16:9 transfer, stereo soundtrack and several public service announcements.
---
Also On DVD
TOUCHED BY AN ANGEL: THE FINAL SEASON DVD [Season 9] DVD (apr. 16 hours, 2002-03; CBS): Ninth and final season of the long-running CBS drama – kind of a female variant on the old Michael Landon staple "Highway to Heaven" – bids adieu to Monica, Tess, Andrew and Gloria, with Roma Downey, Della Reese, John Dye and Valerie Bertinelli taking on their final 22 cases requiring divine intervention. CBS' DVD includes the entire ninth season of "Touched by An Angel" on six discs featuring 16:9 transfers and 2.0 stereo soundtracks. Some music edits may be noticeable to hard core fans, otherwise the no-frills presentation is just fine.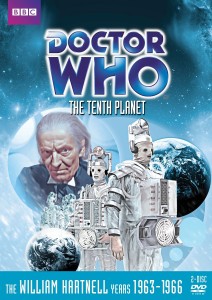 DOCTOR WHO: THE TENTH PLANET DVD (93 mins., 1966; BBC): The TARDIS lands in 1986 at the South Pole, along with the Cybermen from the Earth's twin planet, Mondas, who want to convert our population to the electronic side. This B&W production from the William Hartnell years is the latest Dr. Who special edition from the BBC, and comes stacked with supplemental content: commentary with Anneke Wills, Christopher Matthews, Earl Cameron, Alan White, Donald Van Der Maaten, Christopher Dunham and Peter Kindred is moderated by Toby Hadoke; a half-hour making of and 25-minute VHS reconstruction of episode 4 are on-hand, along with an interview with Wills, brief 1966 conversation with Hartnell, PDF materials and plenty of other goodies.
Also new from BBC Home Entertainment is the 2013 picture THE CHRISTMAS ANGEL (90 mins.), a heartwarming tale of a teenager, faced with the prospects of his mother dying on Christmas eve, trying to track down a "halo" in order to save her life. Timothy Spall is terrific as the curmudgeonly teacher who helps Eddie (Joseph Phillips) in an engaging holiday fantasy – previously titled "My Angel" – from writer-director Stephen Cookson, co-staring Brenda Blethyn, Mel Smith and Celia Imrie. BBC's DVD is 16:9 enhanced and offers a 5.1 soundtrack.
VIOLET & DAISY Blu-Ray (**, 88 mins., 2013, R; Cinedigm): Saorise Ronan stars as Daisy, a young woman who also happens to be a New York City assassin in Geoffrey Fletcher's oddball true crime/coming of age dramaedy/thriller. Along with pal Violet (Alexis Bledel), the duo receive a new assignment to rub out a dying man (James Gandolfini), only to – of course – question their motives. Fletcher, who wrote the script for "Precious: Based on the Novel Push by Sapphire" (I have to call it by the full title every time) and won an Oscar for his efforts, has written a bizarre – and ultimately boring – character drama that's made palatable only by its stars and production design by Oscar winner Patricia Von Brandenstein ("Amadeus"). Cinedigm's Blu-Ray includes a 1080p transfer and DTS MA soundtrack and not much in the way of extras (the trailer, teaser and poster gallery).
ALL IS BRIGHT Blu-Ray (**, 107 mins., 2013, R; Anchor Bay): Well-acted but depressing piece stars Paul Giamatti as a thief, just paroled from prison, who finds his best friend Rene (Paul Rudd) has taken over for him as surrogate father to his daughter and lover to his ex-wife. Trying to straighten himself out, Giamatti's Dennis decides to head for New York City where the duo sell Christmas trees – and have issues refraining from engaging in illegal activity. Phil Morrison directed Melissa James Gibson's script, which is understandably dour and moody given the parameters of its story – the real issue is that, the performances aside, the movie isn't compelling, clever or funny. Past "black comedies" have dealt with the holiday season to strong effect (the under-seen "The Ref" being one of many), but "All is Bright" is leaden and obvious. Anchor Bay's Blu-Ray, available November 19th, includes a 1080p transfer and DTS MA soundtrack along with an Ultraviolet copy.
NEXT TIME: A Shout-centric Thanksgiving! Until then, don't forget to drop in on the official Aisle Seat Message Boards and direct any emails to our email address. Cheers everyone!