Chad and Carey Hayes' screenplay takes the true story of a Rhode Island family's haunting in the early '70s and embellishes it into a film that grips you from its earliest frames, while Wan – the director who single-handedly launched a decades worth of gory "torture porn" pictures with the original "Saw" – here demonstrates a far greater command of the screen with what many have already called a directorial tour de force. In fact, Wan utilizes a documentary-styled approach that's closer to William Friedkin's 1973 classic than any other supernatural film I can recall, and expertly works with John R. Leonetti's cinematography and a masterful sound design to create one of the more brilliantly directed pictures this genre has seen in years.
The Perron family – led by parents Lili Taylor and Ron Livingston – move into their home in northern Rhode Island and quickly notice standbys of any film haunting: bumps in the night, unseen forces that cause their dog to bark, and an occasional chill that permeates the air. Their five young daughters, though, are quickly put into the crosshair of a supernatural entity that wants more than to just make its presence known, physically announcing itself by grabbing the girls and causing bruises to Taylor that she believes are just the result of an iron deficiency. Ultimately, the Perrons call in paranormal experts Lorraine and Ed Warren (Vera Fermiga and Patrick Wilson), the earliest "Ghost Hunters," who soon realize the family isn't suffering from a noisy oil burner on its last legs causing a ruckus.
"The Conjuring" carries an R rating but the film's violence is minimal and its profanity nearly non-existent. Wan eschews the gratuitousness of his past works in favor of a less is more approach that's just as scary for what you don't see as what you do (particularly when young Andrea Perron first encounters a ghost, standing in the corner of her room but only visible to her – not the audience). At first, it might be easy to resist the movie's familiar structure, but as the story unfolds, it's nearly impossible not to get wrapped up in the family's plight as the supernatural occurrences increase. The effectiveness is all due to Wan's direction and the uniformly believable performances of Taylor, Fermiga and Wilson, not to mention the unaffected young actresses playing the tormented Perron girls. Yet even with all the chilling moments, you come to care about these people, and the emotional catharsis that closes the picture is something few films in this genre have been able to duplicate (kudos to Joseph Bishara for a moody, effective score as well, with Mark Isham contributing a poignant "family theme" that plays a significant role in the film's concluding moments).
"The Conjuring" is at a disadvantage compared to other films in its genre because it's had to follow classic films like "The Exorcist," "The Haunting" and "Poltergeist." For viewers resistant to horror films in general, there's probably little here they haven't seen before, and one could argue the more explicitly visceral elements of the haunting are its weakest asset. Nevertheless, Wan's movie grabs you and doesn't let go until the credits have rolled – and even then, you might be checking the rear view mirror, just to make sure nothing's followed you home. That's frightful filmmaking at its finest, and "The Conjuring" is unquestionably the most effective cinematic haunt of this generation.
Warner brings "The Conjuring" to Blu-Ray on October 22nd. The 1080p transfer and 5.1 DTS MA soundtrack are both exemplary, and for those who might've had their theatrical viewings ruined by giggling teenagers or nervous talkers, seeing the film at home may enhance their appreciation of the film (the movie's use of silence is particularly striking). Sadly, special features are limp in this BD/DVD/Ultraviolet combo pack, with two fluffy featurettes (Face to Face With Terror and Scaring the "A$*%' Out of You) totaling less than 15 minutes. "A Life in Demonology" does give the real Lorraine Warren a 15-minute interview, but fans will be left wanting more (commentary, deleted scenes, etc.) — something I'm willing to wager a future Special Edition will eventually provide.
Airing October 15th on PBS stations around the country in a single, three-hour block – and arriving on Blu-Ray the same day – the documentary SUPERHEROES: A NEVER-ENDING BATTLE ranks as a must-view for comic book enthusiasts. Tracing the history of the superhero from its Golden Age origins – with Superman, Wonder Woman (who created quite the stir back in the '40s) and Captain America – through the rise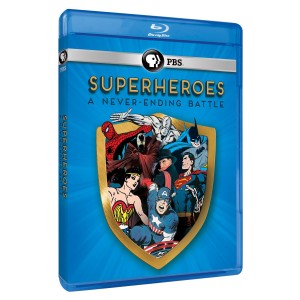 of Marvel Comics in the '60s and today's blockbuster superhero films, "Superheroes" ought to be sufficiently compelling for both die-hard comic book fans and casual viewers alike.
Liev Schreiber narrates this three-part visual essay from director Michael Kantor, who previously produced the award-winning PBS documentary "Broadway" and layers this production with interviews with comic book greats Stan Lee, Joe Simon, Jerry Robinson, as well as Michael Chabon, Jules Feiffer, and iconic TV stars like Adam West and Lynda Carter. Part 1 focuses on the creation of Superman and the public's obsession with the fledgling artform, especially among young readers; Part 2 follows the post-War era in the medium, where sales declined until the debut of Marvel's Fantastic Four, Spider-Man and the return of Captain America following JFK's assassination; and Part 3 sheds the spotlight on contemporary books, with moodier protagonists and the eventual success of the comic book hero on the big-screen (1978′s "Superman" being prominently discussed).
Colorfully produced with ample HD-scanned comic book images, "Superheroes" probably doesn't offer a lot of revelations for hardcore enthusiasts, but the material is presented in such an accessible manner that even hearing familiar anecdotes is likely to be engrossing for the devoted. Kantor also does a good job hitting upon the rise of superheroes in the pop culture, be it Andy Warhol's use of Batman and Superman images in the '60s, to the "Batman" TV series fad of the era, with copious film clips used for good measure. It's great fun for anyone who's ever picked up a comic or watched one of the recent Marvel movies.
PBS' Blu-Ray includes all three parts of 'Superheroes" in fine 1080i transfers with 5.1 audio. Extras include bonus interviews with Adam West, Stan Lee, Lynda Carter and others, along with songwriter Jack Urbont performing his "Marvel Super Heroes" themes.
---
LOVE ACTUALLY (***, 135 mins., R, 2003; Universal): Cute and thoroughly appealing romantic comedy from Richard Curtis examines the lives and loves of a handful of characters around Christmas time. As with any episodic film, some of the stories are more interesting than others, but the ones at the film's core work extremely well. Among the latter are newly elected British Prime Minister Hugh Grant's attraction to an adorable co-worker (Martine McCutcheon); frustrated author Colin Firth's infatuation with a girl in his Italian villa; aging rocker Bill Nighy's struggle to land the top Christmas single; and Liam Neeson's attempts at tutoring his young son in the ways of the heart.
Grant's scenes in particular are extremely well played, with the star in top form, and McCutcheon has a charming presence on-screen. Except for a heavy-handed commentary on US-British relations (what else would you expect when Billy Bob Thornton shows up as the President?), that section of the film turns out to be the most satisfying, with Curtis's script incorporating equal doses of hilarity and heartbreak. A few of his vignettes fail to work — Laura Linney's would-be romance with a fellow co-worker never pays off — but the movie for the most part is breezy and engaging, backed by a soundtrack comprised of familiar tunes and an effective Craig Armstrong score.
Universal's 10th Anniversary Edition of "Love Actually" offers a new AVC encoded transfer and DTS MA soundtrack – but the prior Blu-Ray was quite good, and frankly, I couldn't detect much of a difference between the two releases. Extras are ported over from prior editions: the commentary with Curtis and Grant, Nighy, and Thomas Sangster is thoughtful and amusing, while a lengthy series of deleted scenes are included. Curtis also provides some insights into his musical selections (praising Armstrong's score in particular), and a Kelly Clarkson music video rounds out the package, which ought to be a must for all romantic comedy fans. A DVD, Ultraviolet copy and Christmas ornament are also exclusive to the new 10th Anniversary package.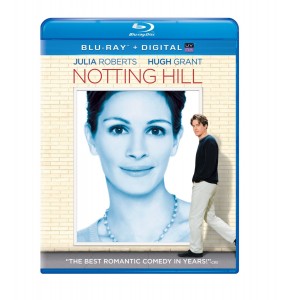 NOTING HILL Blu-Ray (**½, 124 mins., 1999, PG-13; Universal): Charming if predictable romantic comedy finds actress Julia Roberts falling for quaint book shop owner High Grant while on a press tour in England. Richard Curtis' script is always engaging and there's a palpable amount of chemistry in the performances of Grant and Roberts, but the movie isn't especially memorable when all is said and done, with Roger Michell's film tending to drag on a bit past the two hour mark as well. Universal's Blu-Ray – its first release in the format – certainly looks the part with a fine 1080p, VC-1 encoded transfer, 5.1 DTS MA sound, and extras including commentary, deleted scenes, an Ultraviolet copy, and the usual Making Of featurette.
HIGH PLAINS DRIFTER Blu-Ray (***½, 105 mins., 1973, R; Universal): One of Clint Eastwood's most memorable westerns rides onto Blu-Ray for the first time this month courtesy of Universal. This odd, moody genre outing, written by Ernest Tidyman and directed by Clint himself, stars Eastwood as a nameless drifter who aids the members of a small town from a gang of gunmen who had killed their prior sheriff. Supernatural overtones abound (is Eastwood that dead sheriff, or a messenger sent to exact revenge?) in this early '70s classic which Universal has done justice on Blu-Ray: the AVC encoded transfer is one of the studio's best catalog efforts in some time, with DTS MA audio and an Ultraviolet streaming copy rounding out the release.
Coming on October 22nd from Universal is the direct-to-video DEAD IN TOMBSTONE (100 mins., R/Unrated, 2013), a low-rent, gory western with Danny Trejo doing his usual shtick as a gang leader left for dead who returns from the grave – thanks to Satan (Mickey Rourke!) himself – to take vengeance on his former allies. Anthony Michael Hall and Dina Meyer co-star in Roel Reine's bloody sagebrush saga which comes in both R-rated and Unrated versions in Universal's Blu-Ray, with extras including deleted scenes, commentary, a Making Of, DVD, digital copy/Ultraviolet, and BD-exclusive format featurettes.
---
AFTER EARTH Blu-Ray/DVD (*½, 100 mins., 2013, PG-13; Sony): Positively dreadful sci-fi/fantasy could only have been made with the collective egos of Will Smith and M. Night Shyamalan preventing outsiders from telling them their latest cinematic endeavor was a miserable failure during production.
It's that protective bubble that resulted in this lifeless tale of a father and son who crash land on a post-mankind Earth where wildlife has evolved to dangerous proportions. Injured in the crash, papa Smith (a grim, charisma-free performance from Will) tries to spur his immature, brash teenage offspring (a hideous turn from son Jaden) to find a communication device that will enable them to get off the planet and back to their adoptive home world. Lots of predicaments get in their way, including giant monkeys, nasty birds and Shyamalan's latest ecological preaching (didn't he learn anything from "The Happening"??).
Even with reduced expectations, "After Earth" is a dud: the embarrassing performances of both Smiths is compounded by Shyamalan's typically humorless, leaden dialogue (he wrote the script with Gary Whitta from an original story by Will Smith). It's hard to imagine Sony studio executives weren't horrified by what they saw in the early rushes of the film, where characters speak (for no discernable reason) with off-kilter accents, but with both Shyamalan and Smith on their latest vanity trip, it's unlikely they could do anything but cut the final product down to a 100-minute running time (the film, incredibly, was apparently much longer prior to release). One thing's for certain: Jaden certainly isn't much of an actor, going from a sarcastic wiseass one second to a crying mama's boy without any kind of transition. He's terrible, and the film itself is a misfire across nearly every level.
Sony's Blu-Ray does enhance the movie's fine cinematography by Peter Suschitzky ("The Empire Strikes Back"), but it's unfortunate it wasn't utilized in a superior film. Also on-hand are numerous featurettes and BD-exclusive visual effects segments and an alternate opening, plus an Ultraviolet copy, 5.1 DTS MA audio and the DVD.
FANTASTIC VOYAGE Blu-Ray (***½, 1966, 100 mins.; Fox)
VOYAGE TO THE BOTTOM OF THE SEA Blu-Ray (***, 1961, 105 mins.; Fox): Two Fox sci-fi favorites debut on Blu-Ray this month in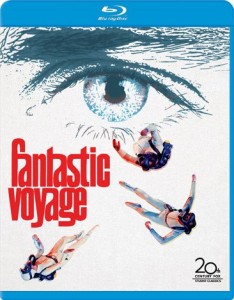 satisfying HD presentations.
"Fantastic Voyage" is graced by Jeff Bond's informative commentary as well as an isolated score track featuring Leonard Rosenman's score with comments from Bond, Nick Redman and Jon Burlingame. The latter basically functions as a secondary commentary track, since the group talks about the film's background, reputation and legacy as one of the '60s' biggest genre films, and then switches completely to Rosenman's score (which sounds sensational in full stereo) at the 37-minute mark.
A visual effects featurette, storyboards, trailers and TV spots are also on-hand, with the added benefit of a fine 1080p AVC encoded transfer that hasn't been ruined by DNR (it's worth nothing that Fox's recent catalog transfers seem to be improving, both their own releases as well as those licensed out to Twilight Time). Audio options include the original mono audio as well as an excellent 5.1 DTS MA stereo track that greatly enhances Rosenman's score with crisp separation. The movie remains a tense and exciting ride, and kudos to Fox for releasing it now instead of waiting for the oft-discussed, James Cameron-produced remake that looks like it'll never happen.
"Voyage to the Bottom of the Sea," meanwhile, offers a similarly strong AVC encoded transfer with 4.0 DTS MA stereo sound – the Irwin Allen production ought to provide nostalgic sci-fi/fantasy fun for buffs, though it's not nearly as strong a film as "Fantastic Voyage." Extras are carried over from the DVD, boasting commentary from author Tim Colliver; a "Science Fiction: Fantasy to Reality" featurette, playing along the lines of the previous DVD edition's "Global Warming Edition" tag; isolated score track in 2.0 stereo; and the original trailer.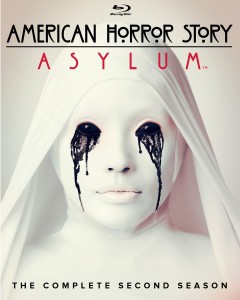 AMERICAN HORROR STORY: ASYLUM Blu-Ray (533 mins., 2012-13; Fox): Second season of the Ryan Murphy-created series offers a standalone story with several returning cast members (including Jessica Lange) and the same graphic mix of sex, gore and sadism as its predecessor. It's certainly an acquired taste, but fans who don't mind the repellent elements will be pleased with Fox's Blu-Ray, sporting deleted scenes and four featurettes (The Orderly; What is Asylum?; Welcome to Briarcliff Manor; and The Creatures), along with 1080p AVC encoded transfers and 5.1 DTS MA soundtracks.
NIKITA Season 3 Blu-Ray (926 mins., 2012-13; Warner): The CW's modestly rated series kicks things into another gear once Nikita, Michael and former analyst Ryan Fletcher are tapped to take over Division under a Presidential mandate to clean up the former regime. Amanda, though, has other plans in 22 action-packed episodes starring Maggie Q and company, which arrive on Blu-Ray October 22nd in a multi-disc set from Warner. The 1080p transfers and DTS MA 5.1 soundtracks are better-than-broadcast, with unaired scenes and a gag reel sure to appease fans. An Ultraviolet version is also included.
---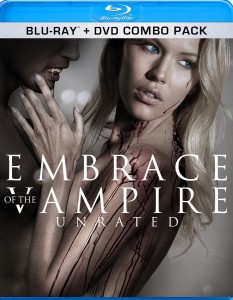 Also New & Coming on Blu-Ray & DVD
EMBRACE OF THE VAMPIRE Blu-Ray/DVD (91 mins., 2013, Unrated; Anchor Bay): Even the steamy (though otherwise pedestrian) Alyssa Milano direct-to-vid flick "Embrace of the Vampire" isn't immune from the remake treatment, as this fangless re-do from director Carl Bessai puts Sharon Hinnedael into Milano's shoes as a college student stalked by the undead. Nice Canadian locales do little to enliven a slow-going tease with a baffling ending that's unlikely to satisfy even the most delirious of vampire movie fans. Anchor Bay's BD includes a 1080p transfer of the movie's unrated version, a 5.1 Dolby TrueHD soundtrack and a copy of the DVD.
MANIAC Blu-Ray (89 mins., 2013, Unrated; IFC/MPI): Elijah Wood stars in Frank Khalfoun's remake of the William Lustig cult favorite, which itself was a grizzly tale of a New York City psycho who preys on the women who befriend him. The deranged mannequin store owner this time is Elijah Wood, who crosses paths with the unfortunate Nora Arnezeder in a script co-written by "Piranha"'s Alexandre Aja, and again frames the action from the killer's point of view. Wood's efforts are laudable in the 2013 "Maniac," but since I never cared for its predecessor, I didn't take to this gorier modern version either. IFC's Blu-Ray boasts a Making Of documentary; commentary with Wood, Khalfoun, and executive producer Alix Taylor; deleted scenes; a poster gallery; the trailer; a 1080p transfer and 5.1 Dolby Digital soundtrack.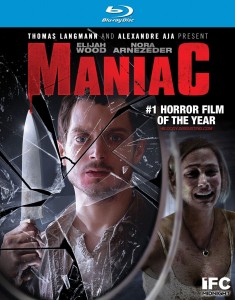 PLUSH DVD (100 mins., 2013, R; Millennium): "Twilight" helmer Catherine Hardwicke directed and co-wrote this watchable thriller starring Emily Browning as a rising rock star whose career gets a boost from a new guitarist (Xavier Samuel) harboring deep secrets. Once Samuel's moody musician makes advances on Browning, she retreats to her husband (Cam Gigamdet), but Samuel is (of course) unable to let her go. Solid performances make "Plush" a decent choice for thriller buffs, with Millennium's DVD including music videos, teaser trailers, a 16:9 transfer and 5.1 soundtrack.
ONLY GOD FORGIVES Blu-Ray (90 mins., 2013, R; Anchor Bay): Misfired reunion between "Drive"'s director, Nicolas Winding Refn, and star Ryan Gosling finds Gosling's fugitive holing up in Bangkok where he fronts a Thai boxing club as a facade for his drug business. Kristin Scott Thomas plays his crime lord mom who arrives to collect the remains of his slain younger brother who murdered a hooker, something that sends Gosling's anti-hero into a rage. "Only God Forgives" wasn't forgiven by critics, many of whom raved about the (overpraised) "Drive," but here rightfully condemned Gosling's blank expressions and the seedy storyline. Anchor Bay's Blu-Ray includes a commentary from Refn, director interviews, a featurette, a conversation with composer Cliff Martinez, a 1080p transfer and 5.1 DTS MA soundtrack.
New From Cohen: Sienna Miller stars in Rachid Bouchareb's JUST LIKE A WOMAN (88 mins., 2013, R), a female buddy/road trip flick with Miller as an unhappy wife who takes to the road with Golshifteh Farahani – on the run after having accidentally administered an overdose of medicine to her mother – and belly dance their way through the American southwest. The leads give good performances in a likeable, low-key character drama that becomes part of the Cohen Film Collection this month on Blu-Ray. The label's 1080p transfer is just fine, as is the DTS MA audio. Extras include a picture gallery and the trailer.
New From E One: The formulaic ABDUCTED (95 mins., 2012, Not Rated) is a by-the-numbers horror flick following a group of New York City couples (including Trevor Morgan and Tessa Ferrer) taken against their will in a thriller co-directed by veteran editor Glen Scantlebury. E One's DVD includes a behind the scenes featurette, 16:9 transfer and 5.1 soundtrack.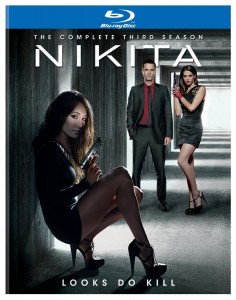 Quick Takes: Coming on October 29th from Wolfe Video, MARGARITA (91 mins., 2012) is a tale of a Mexican nanny (Nicola Correia Damude) working in Toronto whose girlfriend (Christine Horne) won't commit and whose employers – a wealthy couple with a teenage daughter – may have to let her go after losing funds in the recession. Wolfe Video's DVD includes a 16:9 transfer, 5.1 surround, the trailer, and the short film "Below the Belt"...OKA (105 mins., 2011, Not Rated; Well Go USA) examines "ethnomusicologist" Louis Sarno's trip, back in the '80s, to Central Africa where the recorded the music of the Bayaka Pygmies. Kris Marshall stars as the eclectic Sarno in a fascinating film from director lavinina Currier, co-starring Peter Riegert and Will Yun Lee. Well Go's Blu-Ray includes a 1080p transfer and 5.1 DTS MA soundtrack…Sigourney Weaver plays a gay rights advocate who initially struggles to accept her son's homosexuality in the 2008 Lifetime TV film PRAYERS FOR BOBBY (91 mins.), which returns to DVD this month from Lionsgate in a Special Edition. The disc offers a behind the scenes featurette, cast interviews, comments from the real-life Mary Griffith, a 16:9 transfer and 2.0 audio…Kids ought to enjoy ALPHA AND OMEGA 2: A HOWL-IDAY ADVENTURE (45 mins., 2013; Lionsgate), an abbreviated sequel that finds Kate, Humphrey and their three wolf cubs ready to celebrate the holiday season when their smallest cub disappears. The group bands together to find little Runt in an enjoyable story for the little ones with Lionsgate's Blu-Ray – currently a Walmart exclusive – offering a Blu-Ray 1080p transfer, Making Of, trivia game, featurettes, preview of upcoming Alpha & Omega adventures, 5.1 DTS MA soundtrack, DVD and Ultraviolet copy…Lionsgate also rolls out a pair of new History Channel releases on the 22nd. WWII 3-FILM COLLECTION (aprx. 10 hours, 2010-13) includes previously-released Blu-Rays of WWII IN HD, WWII IN HD: THE AIR WAR, and WWII FROM SPACE (check the Aisle Seat archives for individual reviews of these titles). On DVD, History has THE JFK COLLECTION lined up for release, including eight different History programs related to the Kennedy clan: "JFK: A Personal Story" (Parts 1 and 2), "Jacqueline Kennedy Onassis," "JFK Jr.: The Death of an American Prince," "Joseph Kennedy Sr: Father of an American Dynasty," "Robert F. Kennedy: His Many Sides," "Ted Kennedy: Tragedy, Scandal and Redemption" (all of which are presented in 1.78 widescreen with 2.0 stereo sound), and "JFK: Three Shots That Changed America" (in 1.33 and 5.1)…Finally, HBO releases FAMILY TREE (2013) on DVD later this month. Christopher Guest's new comedy series stars Chris O'Dowd as a 30-year-old who decides to investigate his relatives, with guest stars Kevin Pollak, Fred Willard, Ed Begley, Jr., Bob Balaban and Guest himself appearing through the series' first season. HBO's DVD offers bonus scenes, featurettes, 16:9 transfers and 5.1 soundtracks.
NEXT TIME: More of the latest reviews! Until then, don't forget to drop in on the official Aisle Seat Message Boards and direct any emails to our email address. Cheers everyone!