Message Board - Come and Discuss The Latest Videos, Movies & Anything Else!
It hasn't been a great year for 3D enthusiasts. Shortly after ESPN dropped their dedicated 3D channel, Real 3D stocks sank over the course of the summer as revenues for theatrical 3D releases declined to their lowest ebb since the current "resurgence" in the format. With Disney opting to can their planned 3D theatrical re-issue of "The Little Mermaid" earlier this year, it's admittedly been a rough go for 3D fans – though a pair of new 3D Blu-Ray releases from Warner Home Video should generate sufficient enthusiasm for format owners.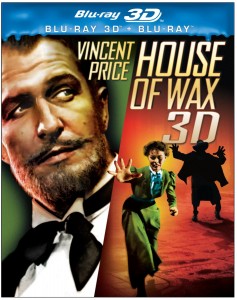 The most exciting release for genre buffs is sure to be HOUSE OF WAX (***, 88 mins., 1953, GP),Warner's then-groundbreaking attempt at marrying 3D and stereo (Warner-Phonic!) sound for its macabre remake of the 1933 "Mystery of the Wax Museum." In one of his trademark roles, Vincent Price stars as the kindly proprietor of a New York City wax museum whose business partner decides to enhance his financial standing by collecting the insurance money on Price's business. Not wanting to part company with his beautifully articulated wax recreations of Marie Antoinette and other historical figures, Price wages a futile fight that culminates in the museum being burned to the ground – with Price along with it…or so it seems. Months later, the now disfigured sculptor resurfaces along with a mute assistant (Charles Bronson!) with a new attraction filled with creations that seem too human to be true…
Director Andre de Toth might have only had one eye but he still had a clear vision for staging a slick piece of 1950s horror moviemaking. "House of Wax" is great fun and catapulted Price into genre stardom – his Henry Jarrod certainly doesn't start out as a monster, only becoming one physically and internally once his creations are destroyed. Though long a favorite of horror fans, most viewers have likely never seen "House of Wax" in its original, native 3D format, which is essential to the picture's impact: every scene is lit and choreographed to make use of the then-cutting edge process, and although the film doesn't offer a lot of gimmicky effects (save the showman outside the theater with his paddleboard tricks!), the format adds immeasurably to the picture's overall entertainment value. Without it, much of de Toth's artistry is lost, making this debut presentation of "House of Wax" in 3D a golden release for Golden Age horror fans.
Warner's 3D Blu-Ray doesn't disappoint in any capacity: the MVC encoded transfer is top-notch, with the print in sterling condition for the most part (the disc is also playable in 2D). The early "Warnerphonic" sound is encoded as a DTS MA 2.0 track, offering a mostly mono range for David Buttolph's score but with sound effects and ambiance that occasionally give it a wider audio pallet. Extras are tremendous: the new hour-long documentary "House of Wax: Unlike Anything You've Seen Before!" is a wonderful piece featuring interviews with admirers like Martin Scorsese, Joe Dante, Rick Baker and Wes Craven among others, all of whom extol the film's virtues, its 3D process and Price's performance. A newsreel, the trailer, a commentary with historians David Del Valle and Constantine Nasr, and even the 1933 "Mystery of the Wax Museum" (with Lionel Atwill and Fay Wray) is included on the supplemental side, with the latter presented in standard-def. Highly recommended and great fun for Halloween!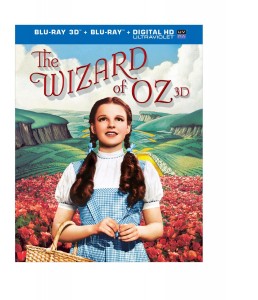 Also new from Warner on the 3D side is the 75th Anniversary release of THE WIZARD OF OZ (****, 102 mins., 1939, Warner), which has been previously released by the studio in a number of outstanding incarnations on Blu-Ray. The new 2-disc Blu-Ray release drops some extras from its prior package (retaining its music "Jukebox" of outtakes/underscore cues and assorted featurettes), but adds, most notably, a brand new 3D mastering of the '39 MGM classic. While 3D conversions certainly range in quality, this is one of the best I've ever seen performed on an older 2D picture: right from the movie's opening credits and early sequences in sepia tone, one can appreciate the level of work that went into the 3D process, with little ghosting and impressive depth-of-field work. There are times when there are limits to what 3D can do to the image (especially with the amount of flat backdrops in the picture), but this is much more pleasing a presentation than I ever anticipated, and should delight both "Oz" admirers and 3D fans in equal measure.
Warner's double-disc release (a more expensive Collector's Edition is also available, presumably including all the supplements left off this particular package) offers the 3D release along with a 2D Blu-Ray. The 1080p 2D image looks similar, if not roughly identical, to the earlier Blu-Ray release, with DTS MA audio supplanting the earlier disc's Dolby TrueHD track; most viewers, though, are unlikely to notice any differences in terms of the audio and visual presentation compared to Warner's initial BD. The big new extra, along with an Ultraviolet streaming copy, is a fresh documentary, "The Making of the Wonderful Wizard of Oz," which – similar to the "House of Wax" doc – offers a colorful and compulsively watchable retrospective on the film's oft-told production history.
Also new from Warner on the catalog front is King Vidor's 1925 silent masterpiece THE BIG PARADE (151 mins., Warner), which the studio has given the deluxe treatment in the form of a remastered Digibook release. Restored in 4K from a rediscovered camera negative, this World War I epic offers a commentary with historian Jeffrey Vance featuring comments from the late Vidor; extensive liner notes by historian Kevin Brownlow, along with original art, photos and advertising materials; the vintage short "1925 Studio Tour"; and the theatrical trailer. The 1080p (1.37) transfer is fine and the DTS MA stereo soundtrack offers a grand score by Carl Davis.
---
New From StarVista/Time Life
"Mama's Family" was the the down-home spin-off – of sorts – from "The Carol Burnett Show," featuring Vicki Lawrence's matriarch Mama Harper in a standardized sitcom format. Mama's curmudgeonly behavior drives most of the laughs in MAMA'S FAMILY, which co-starred Ken Berry as her hapless son Vint, Dorothy Lyman as his sexpot new wife Naomi, and Rue McClanahan as tentative sister Fran. The first two seasons were broadcast on NBC from 1983-85, with Harvey Korman appearing as the Alastair Cooke-like "Alistair Quince" in introductions seen only during the series' network run. Guest star appearances from Burnett herself (as daughter Eunice) and Betty White (other daughter Ellen) add some fun to the formulaic plots, with Imogene Coca, Jack Gilford, Jerry Reed, Fred Willard, and old "Carol Burnett Show" co-star Korman (also playing Ed Higgins) popping up from time to time as well.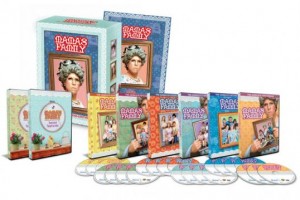 The series was canceled in 1985 but moved (like fellow sitcoms "Charles in Charge" and "Too Close For Comfort") to first-run syndication in the fall of 1986, where "Mama's Family" would enjoy an even longer run. These later episodes found Mama, Vint and Naomi moving to Florida after Fran's passing (Rue McClanahan had taken up residence on "The Golden Girls" after the NBC run concluded) but with more of the same kind of "rural" laughs involved.
Time-Life and Starvista have brought "Mama's Family" to DVD in the form of two separate-season 1 and 2 box sets (reviewed previously), as well as a lavish, 24-disc box-set featuring all 130 episodes with copious bonus content. Though I was always more partial to the early network years (one of the more memorable episodes, where the Harper clan appears on "Family Feud" with Richard Dawson, is among the Season 1 shows), fans of the program should be delighted with having the entire run of the series available at long last. Only a couple of episodes are affected by issues involving music clearances, and everything else, apparently, is uncut. Among the extras are classic "Family" sketches from "The Carol Burnett Show," plus the original 1982 "Eunice" TV movie with Burnett and Lawrence that inspired the series; interviews with Betty White, executive producer Rick Hawkins, costumers Ret Turner and Bob Mackie; a split-screen interview between Vicki Lawrence and her elderly alter-ego; and a reunion featuring Lawrence, Ken Berry, Dorothy Lyman, Beverly Archer and Allan Kayser (from the later syndicated era). Expensive but worth it for fans, with a signed note from Lawrence topping it off. (The set is being sold exclusively through Time Life here)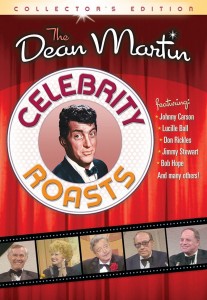 Also new from Starvista this week – and of chief interest for Golden Age fans – is the six-disc DVD set THE DEAN MARTIN CELEBRITY ROASTS: COLLECTOR'S EDITION, which features – for the first time – 12 complete roasts on home video. The subjects for ridicule include Bob Hope, Johnny Carson, Jimmy Stewart, Sammy Davis Jr., Jack Benny, Lucille Ball, Kirk Douglas, Michael Landon, Jackie Gleason, Don Rickles, Joan Collins and Martin himself, with roasters as varied as John Wayne, Phyliss Diller, Dom DeLuise, Rich Little, George Burns, Bob Newhart, Bette Davis, Don Rickles, Jonathan Winters and Muhammad Ali showing up as well.
NBC aired the roasts for many years from 1973 through the mid '80s, and Starvista's DVD set includes a dozen complete roasts along with numerous extras: bonus comedy sketches featuring Dean, Tim Conway and others; two rare Martin network specials ("Dean Martin's Red Hot Scandals of 1926″ and "Dean's Place"); three featurettes (Legends of the Roasts, The Art of the Roast and The King of Cool); rare Martin home movies; and interviews with Don Rickles, Betty White, Rich Little, Jackie Mason, Tim Conway and Ruth Buzzi.
---
Twilight Time New Releases
DRUMS ALONG THE MOHAWK (***½, 104 mins.), John Ford's third film released in 1939 – following "Stagecoach" and "Young Mr. Lincoln" – is arguably the least-known of his output in that fruitful cinematic year. Growing up, though, my Mom – a high school history teacher – had always told me how good of a film it was, and would show the movie to her classes as a portrait of life in the central New York frontier during the American Revolution.
Sumptuously shot in color, "Drums" is one of the best films about the colonial era (in a league with "1776″ and Mel Gibson's "The Patriot") and a hugely enjoyable piece of polished studio filmmaking. Henry Fonda, who just worked with Ford on "Young Mr. Lincoln," plays a homesteader who tries to make a new life in the Mohawk Valley wilderness with wife Claudette Colbert. Some local Indians prove to be an ally to Fonda and Colbert, though others – in conjunction with Torries lurking about (including an eye-patched John Carradine) – end up burning their cabin to the ground. After being taken in by a feisty widow (the terrific Edna May Oliver) who employs the couple to work on her farm, Fonda saddles up with fellow settlers and militia men as the Mohawks and Torries attack Fort Herkimer.
"Drums Along the Mohawk" is sturdy, old-fashioned historical filmmaking that's reasonably balanced in its depiction of the era – while romanticized and a bit cliched, obviously, in some regards (particularly the secondary characters), the central storyline and trials and tribulations the characters go through are believably rendered. Exciting, funny and poignant in places, "Drums Along the Mohawk" is a wonderfully entertaining film: an early Ford classic that deserves to be savored by its devotees and discovered by cinephiles who have yet to see it.
Twilight Time's Blu-Ray is one of their best looking releases from the Fox vaults. The 1080p AVC encoded (1.33:1) transfer is tremendous: detailed and natural, without an overt use of DNR. The DTS MA mono audio is fine, and an enjoyable commentary from Nick Redman and Julie Kirgo is included here along with Redman's 2007 feature-length documentary "Becoming John Ford," which profiles the relationship between Ford and Fox production head Darryl F. Zanuck, and was previously available in a Fox John Ford DVD box-set.
Also new from Twilight Time this month is a Blu-Ray release of Louis Malle's ALAMO BAY (**½, 98 mins., 1985, R), one of several uneasy American studio films from the French director (following the lousy caper-comedy "Crackers") about the acromonious relationship between fishermen along the Texas Gulf coast and the arrival of Vietnamese immigrants during the late 1970s. Alice Arlen's original screenplay focuses the drama on a gruff local (Ed Harris), involved in a loveless marriage but attracted to a former flame (Amy Madigan) whose father similarly works fishing shrimp. Madigan's Glory employs an enthusiastic young Vietnamese man (Ho Nguyen) to help her dad's business, and has to stand up to the locals – including Harris himself – once the fishermen, spurred on by the KKK, turn their hatred against the Vietnamese transplants.
Arlen's script tries to craft a compelling story set against the real-life historical backdrop of the picture, but "Alamo Bay" is only halfway successful in doing so. The atmosphere and mood are there – with kudos to Curtis Clark's cinematography and Ry Cooder's score – but the story feels artificially constructed and forced, right down to the pre-ordained bloody finale. Harris and Madigan do generate a lot of chemistry together (no surprise given their off-screen relationship), and the film is worth seeing for that reason, in spite of its shortcomings.
Sporting another winning transfer from the Sony vaults, Twilight Time's 1080p presentation of "Alamo Bay" is a brilliantly detailed stunner, with crisp detail that's film-like throughout. The 1.0 DTS MA mono track is serviceable, and extras include an isolated score track and the original trailer.
---
Also New From Warner
Back on Blu-Ray in a new 40th Anniversay release, THE EXORCIST (****, 122/132 mins., R) reprieves the same BD discs as the 2010 Digibook release of William Friedkin's blockbuster 1973 film, as well as adds a bonus disc with two new retrospective featurettes.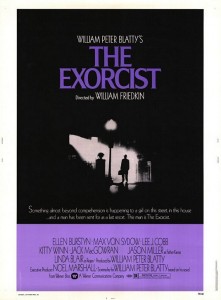 I've seen the picture many times over the years on video, though theatrically only once — in its 2000 "Version You've Never Seen" edition, which has since been re-christened the "Extended Director's Cut." Not knowing how a packed audience of mostly-college students would react to that somewhat controversial re-edit of the groundbreaking horror classic, I sat pretty much in stunned silence as kids used to gore but little genuine scares from today's genre flicks sat quietly, patiently and spellbound by a movie that remains as fresh and potent today as it did decades ago.
This tale of demonic possession, shot in a documentary style by Friedkin and filled with tremendous performances (including Ellen Burstyn, Jason Miller, Max Von Sydow, and Lee J.Cobb), is obviously best remembered for cute little Linda Blair becoming inhabited by a demon that enjoys spewing buckets of pea soup and spouting endless profanities, but the other elements of the film remain just as intriguing and mysterious for me: the opening sequence of Von Sydow in Iraq, the strange coincidences and unexplained appearance of the "demon," and the religious themes which resonate throughout the movie and encourage repeat viewing.
Fans have long debated the alterations made to the 2000 revision — which adds a fantastic new stereo soundtrack and some 10 minutes of footage author/screenwriter/ producer Blatty never wanted excised to begin with– but for me, I found that it actually has more narrative shape and moves just a bit more coherently than Friedkin's original cut. True, the theatrical version of "The Exorcist" was (and still is) a classic, but some theological debate between priests Max Von Sydow and Jason Miller was cut against Blatty's wishes, as were scenes involving Linda Blair being examined by doctors that were referred to in the finished cut but never previously shown.
These sequences were deftly restored to the picture, along with the infamous "spider walk" sequence — a great new shock-scare moment further enhanced by additional "subliminal image" shots (one of which is neatly added to the film's climax). However, it's not just effects that make the scene's addition noteworthy: coming at the height of Burstyn's increasing paranoia, the spider-walk works perfectly as a progression of horror following the discovery of filmmaker Burke Jennings' death.
The most satisfying addition for me, however, is the expanded finale with Cobb and priest William S. O' Malley that poignantly closes the film on a note that Friedkin's original ending was unable to do. The sound editing for the conclusion — which intriguingly includes a note of the film's opening Iraq music — is also effectively different in this version, reflecting the close of Blatty's original novel.
Whether or not you're a fan of this version of the film, there certainly seemed to be more point to the mostly-narrative enhancements found in the expanded "Exorcist" than in the purely-cosmetic changes George Lucas made to his "Star Wars" films. In some ways, this "Director's Cut" is the movie Blatty all the while, and if nothing else, makes for an interesting contrast to the final cut Friedkin originally turned in.
Warner's Blu-Ray edition of "The Exorcist" is simply sublime. The 40th Anniversary box contains the same two discs as the prior Digibook, and the still-exceptional VC-1 encoded 1080p transfer of the film – with both cuts on-hand – will not disappoint. The entire image has a clarity and crispness no prior video release of the picture offered, while retaining its original appearance (there's thankfully no 'rethinking' of the color timing that plagued Friedkin's Blu-Ray of "The French Connection"). The nicely textured DTS Master Audio soundtrack is likewise superb on both versions.
Disc one of the double-disc BD set boasts the "Director's Cut" (2000 version) with Friedkin's commentary from that prior release, plus that version's trailers, along with three new featurettes highlighted by extensive, previously unseen FX footage and make-up tests. This half-hour segment will prove to be a revelation for fans, as it also sports interviews with Blatty, Friedkin, Linda Blair, Owen Roizman and others; a then/now comparison of the movie's locations; and a ten-minute profile of the different versions of the picture, wherein Friedkin says the 2000 version is now his favorite and the most "complete" of the different cuts.
Disc two includes the original theatrical version, along with the extras from the 1998 DVD, from Friedkin's on-camera introduction to his original commentary; Blatty's original commentary with sound effects tests; interviews with the duo from that release; original trailers (albeit only presented in standard-definition); Mark Kermode's BBC documentary; and the ending that had been deleted from the theatrical cut.
What's new to this release – in addition to a hardbound excerpt from William Friedkin's terrific new book "The Friedkin Connection" – is a bonus Blu-Ray offering two brief documentaries. Regrettably, the two new extras on the disc, while interesting, really aren't worth a repurchase for fans: the half-hour "Beyond Comprehension" finds Blatty returning to the Georgetown locales where the film was shot, reminiscing and relaying anecdotes that have been divulged elsewhere many times by this point. It's slickly handled, but nothing revelatory. Of more interest is "Talk of the Devil," a 17-minute featurette that features footage of Father Eugene Gallagher, the Georgetown priest who was involved in the original, reportedly true exorcism that inspired Blatty to write his book. It's an interesting piece but feels a bit abbreviated.
Along with an Ultraviolet copy, this package is likely to appeal to first-time buyers of "The Exorcist" on Blu-Ray, though fans who already own the (more attractively packaged) prior Digibook will likely find their current release to be just as satisfying.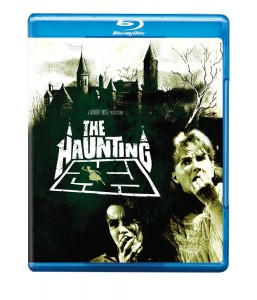 Also new from Warner on the haunted Halloween front is the first-ever Blu-Ray release of THE HAUNTING (***½, 112 mins., 1963, G), Robert Wise's seminal supernatural shocker. Nelson Gidding adapted Shirley Jackson's "The Haunting of Hill House" for this 1963 MGM classic, where a team of investigators is brought to Hill House to detail a series of ghostly occurrences and unfortunate incidents involving its former occupants. Julie Harris is superb as the emotionally vulnerable Eleanor with Claire Bloom (one of the screen's first overt lesbian characters), Richard Johnson and Russ Tamblyn co-starring in a film long regarded as one of the best of its kind. While I personally prefer "The Innocents," this is nevertheless one of the top of its class and Warner's Blu-Ray includes an impressive 1080p transfer preserving every inch of the movie's essential 2.40 Panavision frame. Extras carried over from the DVD edition include a commentary track featuring Wise, Harris and other members of the cast as well as the theatrical trailer.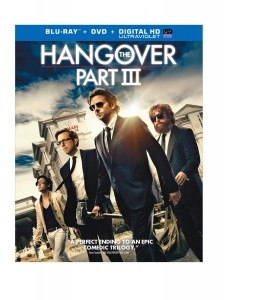 THE HANGOVER PART III Blu-Ray/DVD Combo Pack (*½, 100 mins., 2013, R; Warner): Given that the law of diminishing returns hit "The Hangover Part II" a couple of years ago, Part III tries – but fails – to mix up the formula. This time out, the Wolfpack (Bradley Cooper, Ed Helms, Justin Bartha) are called together to take care of child-like Alan (Zach Galifianakis) and promptly get wrapped up in gangster Leslie Chow's (Ken Jeong) heist plot. Director Todd Phillips and co-writer Craig Mazin attempt to turn the comedic shenanigans into more of a black-comic thriller here, and the results are simply dismal, save for a couple of scattered laughs and a cameo from Melissa McCarthy that – much like her appearance in "This is 40″ – is funnier than anything else in the picture. Otherwise, this sequel is just painful – violent and unpleasant to boot. Warner's Blu-Ray combo pack includes outtakes, extended scenes and Making Of featurettes that are more amusing than the film itself. The 1080p transfer and 5.1 DTS MA soundtrack are fine, and a DVD and Ultraviolet copy are also included.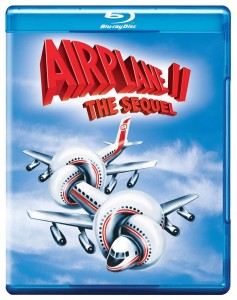 AIRPLANE II: THE SEQUEL Blu-Ray (***, 84 mins., 1982, PG; Warner): Compared to the bulk of today's dumb comedies, "Airplane II" is deserving of a place on the AFI Top 100 comedies list, where its predecessor rightly resides. Ken Finkleman's 1982 sequel rehashes many of its predecessor's jokes, but at least incorporates enough new funny bits to make it worthwhile — including a hysterical William Shatner doing his first genuine bit of self-parody. Naturally, there's a lack of freshness in the material, but Robert Hays and Julie Haggerty are still appealing as the star-crossed lovers – now on a doomed lunar mission – with Lloyd Bridges and Peter Graves returning along with some new supporting faces (Chuck Connors, Chad Everett, John Vernon, Sonny Bono) and cameos to match (Jack Jones even appears crooning his "Love Boat" theme).
A no-frills Blu-Ray catalog release, "Airplane II" looks terrific on Blu-Ray with Warner offering a satisfying 1080p presentation. The two-channel mono sound is fine, and at least this isn't the odd, infrequently seen "rescored for home video" version that drops Richard Hazard's constant use of the theme from "Battlestar Galactica" on the soundtrack!
INTERNAL AFFAIRS Blu-Ray (***, 115 mins., 1990, R; Warner): A film that's generated something of a small following since its original release, "Internal Affairs" is a slick 1990 Paramount release that marked British director Mike Figgis' first Hollywood film. Figgis coaxes excellent performances out of Richard Gere – as a corrupt L.A. cop – and Andy Garcia as the idealistic Internal Affairs officer driven to take him down. Gere's performance – which certainly went against the grain of his roles at that point in time – is one of his finest, and the movie – atmospherically shot by John A. Alonzo – is compelling and exciting, holding up extremely well in Warner's Blu-Ray edition, which boasts a weaker-than-expected 1080p transfer (somewhat hazy, perhaps a result of the original cinematography) and 5.1 DTS MA soundtrack.
---
THE ADVENTURERS (177 mins., 1970, PG): It takes about five seconds for the viewer to figure out why this 1970 turkey has forever been regarded as an all- time Bad Movie Classic. A young South American boy sees his beloved dog gunned down in slow-motion and then watches as a revolution spreads through his homeland, taking his family down with them. Years later, young "Dax" (Bekim Fehmiu, better known for his role in "Black Sunday") becomes a playboy, hooks up with Candice Bergen, and forever desires to return home for REVENGE!! Lewis Gilbert directed and co-wrote this Joseph E. Levine production, an adaptation of a Harold Robbins book with a crazy, all-star cast, most of whom look utterly lost: you've got Ernest Borgnine hamming it up, Leigh Taylor-Young, singer Anna Moffo, Olivia de Havilland and Rossano Brazzi muttering the picture's limp dialogue and absurd, soap opera theatrics. The cherry on top is Antonio Carlos Jobim's excessive, awful score — reasons all why "The Adventurers" is a camp favorite. Warner's Archive DVD brings back the old OOP Paramount disc with a 16:9 (2.35) transfer and rock-solid 5.1 Dolby Digital soundtrack. A bevy of laughs for bad movie buffs!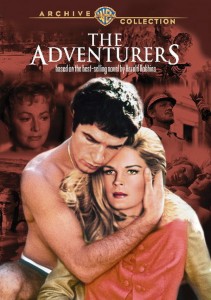 THE BIG BUS (88 mins., 1976, PG): Uneven though often amusing 1976 parody of the disaster film genre, produced several years before the Zucker Bros. and Jim Abrahams produced the classic "Airplane!"
Falling somewhere between one of Mel Brooks' more mediocre parodies (i.e. "History of the World Part I") and a Z-A-Z farce, "The Big Bus" chronicles the unsurprisingly wacky events that transpire during the inaugural launch of a nuclear-powered bus on a non-stop run from New York to Denver. Bus driver Joe Bologna, designer Stockard Channing, and a wacky cast of passengers (Ruth Gordon, Richard Mulligan, Sally Kellerman among them) attempt to stay on-course even as Jose Ferrer hatches a plan to blow it up and insane Lynn Redgrave tries to have intercourse with every passenger on it!
Numerous period references abound (from the Bicentennial to the Andes mountain plane crash cannibalism), but the biggest laughs come during an early barroom brawl, with Bologna and co-star John Beck using — I kid you not — half-broken milk cartons as weapons! It's a funny scene in a movie that offers sporadic laughs, though truth be told, the Z-A-Z films and Brooks handled this kind of material better elsewhere.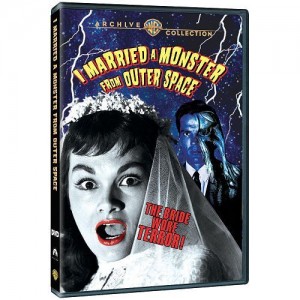 Still, THE BIG BUS is a pleasant ride and a fine DVD, with Warner's 2.35 transfer capturing the entire Panavision frame. On the audio side, David Shire's score is terrific, and there's an effective 5.1 Dolby Digital remixed soundtrack to spotlight it (the original mono track is also included). (This is another re-issue of a previously out-of-print Paramount DVD)
I MARRIED A MONSTER FROM OUTER SPACE (77 mins., 1958): Newlywed wife Gloria Talbott has a problem: New hubby Tom Tryon hasn't been acting like himself lately, and it's not because he's been off writing novels in his spare time, either. So begins Gene Fowler Jr.'s entertaining 1958 sci-fi tale, which boasts an exploitation-like title but actually has grade A production values and dialogue for this kind of black-and-white alien-invasion film. Back in print after being out of circulation for some time, Warner's Archive DVD is 16:9 enhanced and looks crisply composed, while the mono mix crackles with oldtime sci-fi sounds.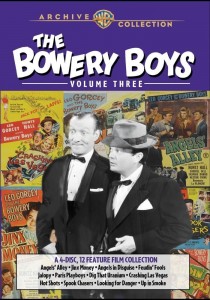 WILLIAM POWELL AT WARNER BROS. Includes four pre-code Warner Bros-Vitaphone features starring one of the leading men of the '30s. Included here are "The Road to Singapore" (1931); 1932′s "High Pressure"; 1933′s "Private Detective 62″ and 1934′s "The Key," co-starring James Whale favorite Colin Clive…After starring together in "The Man Who Played God," George Arliss reteamed with ingenue Bette Davis in THE WORKING MAN (77 mins., 1933), another early '30s Warner Bros. title making its DVD debut this month from the Archive. Both releases include 4:3 B&W transfers from the best surviving elements and come recommended for pre-code enthusiasts…Later Golden Age fun is on-hand in THE BOWERY BOYS: VOLUME THREE, a four-DVD box-set offering 12 features from the gang, shot between 1948-57 for Monogram Pictures and (later) Allied Artists. On-hand here are Angels Alley and Jinx Money (1948); Angels in Disguise (1949); Feudin' Fools (1952); Jalopy (1953); Paris Playboys (1954); Dig That Urnamium, Crashing Las Vegas and Hot Shots (1956); Spook Chasers, Looking For Danger, and Up in Smoke (1957). The initial five features are presented in 4:3 full-screen with the remaining seven in 16:9 (1.85) widescreen.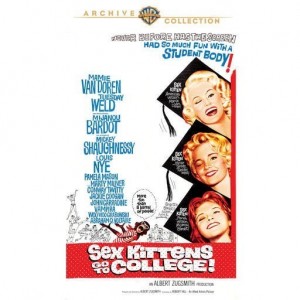 Mamie Van Doren, Tuesday Weld and Mijanou Bardot are mixed up with robots and monkeys in the nutty SEX KITTENS GO TO COLLEGE (103 mins., 1960), a wild & woolly Allied Artists release from prolific producer-director Albert Zugsmith, co-starring (are you ready?) Mickey Shaugnessy, Louis Nye, Conway Twitty, Jackie Coogan, Woo Woo Grabowski, John Carradine and Vampira, though not necessarily in that order. A 16:9 (1.85) transfer of this B&W B-feature ought to be more than enough to satisfy drive-in buffs…THE BEAST WITH FIVE FINGERS (88 mins., 1947) makes its DVD debut with Robert Alda and Peter Lorre starring in a macabre tale of a dead pianist's severed hand tuning up all kinds of trouble in a small Italian town. Robert Florey's 1947 black-and-white chiller at last makes its DVD debut in a 4:3 full-screen transfer with mono audio…The complete Second Season of TARZAN (1292 mins., 1967-68) offers more swinging jungle action with Ron Ely's incarnation of Edgar Rice Borroughs' hero teaming up with Cheetah and Manuel Padilla's Jai to take down bad guys – and meet the likes of guest stars Ethel Merman, James Earl Jones, Helen Hayes, Robert Loggia, Geoffrey Holder and (yes!) Diana Ross and the Supremes. Warner's six-disc set includes all 26 episodes in 4:3 transfers and mono soundtracks….More TV on DVD nostalgia is on-tap in NICHOLS (1225 mins., 1971-72), a short-lived western series starring James Garner as a sheriff of a small Arizona town circa 1914. Margot Kidder co-stars with Neva Patterson, John Beck and Stuart Margolin in this rarely-seen program from creator-producer Frank R. Pierson. Warner's Archive box contains all 24 episodes from the series' 1971-72 network run…Making its Blu-Ray debut is the complete Season 1 of THE MENTALIST (998 mins., 2008-09), starring Simon Baker as Patrick Jane, a fraud celebrity psychic whose family is killed by the serial killer Red John. While Jane pursues the vicious culprit, he helps out the police using his (legitimate) observational skills in a still-ongoing CBS series that remains one of the network's prime-time staples. Warner's first Archive Blu-Ray release in some time includes 1080p transfers and Dolby TrueHD 5.1 audio tracks; extras include unaired scenes; a gag reel; and two featurettes.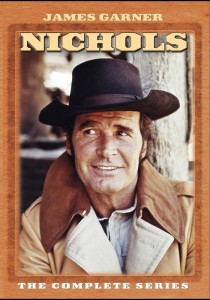 Finally, THE BEAUTICIAN AND THE BEAST (107 mins., 1997, PG) returns to DVD after its earlier Paramount release was discontinued. This Ken Kwapis-directed romantic comedy, produced during the height of Fran Drescher's popularity (shot during her years filming "The Nanny"), is a light, breezy fantasy with Drescher's Queens hairdresser falling for a European dictator (Timothy Dalton). Lisa Jakub leads a top-notch supporting cast (Ian McNice, Patrick Malahide) in a film written by Todd Graff and scored by Cliff Eidelman. Warner's Archive DVD boasts a 16:9 transfer (1.85) and 5.1 Dolby Digital soundtrack.
Also New & Coming on Blu-Ray
SNUFF Blu-Ray (80 mins., 1976, Unrated; Blue Underground): Trash cinephiles are the audience for Blue Underground's Blu-Ray of the infamous 1976 underground film from filmmakers Michael and Roberta Findlay, which was later completed by producer Allan Shackleton with a new ending. The nonsensical story involves a Manson-like cult in South America targeting an actress filming a movie locally; the picture is definitely not for most viewers, best explained by admirer Nicolas Winding Refn's interview in Blue Underground's new Blu-Ray edition. In addition to an interview with filmmakrer Carter Stevens, the disc features retired FBI agent Bill Kelly discussing his "Porn Buster" status, trailers, featurettes, a 1080p (1.66) transfer and DTS MA mono audio. You've been warned!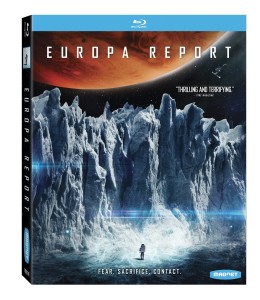 EUROPA REPORT Blu-Ray (90 mins., 2013, PG-13; Magnolia): Slow-going sci-fi flick stars Embeth Davidtz, Christian Camargo and Sharlto Copley as astronauts sent to Jupiter's icy moon to confirm the existence of life. What they find isn't exactly Kubrickian in a noble-minded but meandering independent offering featuring a solid score from Bear McCreary. Magnolia's Blu-Ray includes a featurette with McCreary, a visual effects featurette, photo gallery, the trailer, 1080p AVC encoded transfer and 5.1 DTS MA soundtrack…Also coming soon from Magnolia is A HIJACKING (103 mins., 2013, R), a tense Danish production focusing on a cargo ship attacked by Somali pirates in the Indian Ocean. Issued just in time for the release of Paul Greengrass' "Captain Phillips," Magnolia's Blu-Ray includes a 1080p transfer, 5.1 DTS MA soundtrack in English with Danish, and a handful of featurettes.
NEXT TIME: More of the latest reviews! Until then, don't forget to drop in on the official Aisle Seat Message Boards and direct any emails to our email address. Cheers everyone!