The 4th of July isn't just a great time for fireworks, cookouts, and specials on the founding of America – it's also a good time to check out seasonal summer-time movies at home. If the prospects of sitting through another near-three hour slog from Disney, Bruckheimer and Depp isn't up your alley, here are four of my favorites for Independence Day viewing 2013.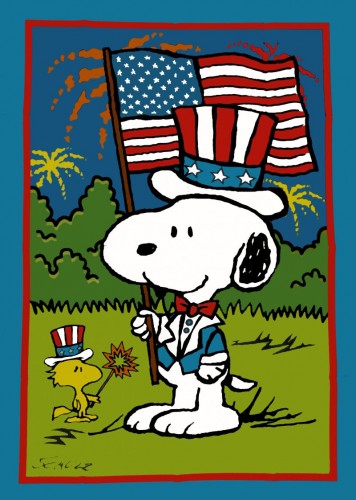 1776 (Sony, DVD): Peter Stone's unique musical on the signing of the Declaration of Independence captures the essence of its stage version with a top notch cast and stirring orchestrations. While the currently available versions are somewhat lacking (the DVD is a halfhearted "Director's revision," leaving out material from a longer laserdisc edit that shouldn't have been excised), the movie is still a marvelous piece of entertainment guaranteed to get you in the spirit. It also airs on both Sony Movie Channel (in HD) as well as TCM on the 4th.
THE PATRIOT (Sony, Blu-Ray/DVD): Although Roland Emmerich's latest, "White House Down," may end up being one of the disaster auteur's biggest flops, his best movie remains this 2000 Revolutionary War adventure that affords Mel Gibson the opportunity to cry "freedom!" one more time. Yet "The Patriot" isn't just a "Braveheart" mash-up, mixing in historical fact with a bit of creative license (courtesy of Robert Rodat's script) as Mel's farmer-turned-reluctant-warrior leads the Colonial rebellion against the British. Caleb Deschanel's cinematography is glorious, and John Williams' score is one of his best "late career" efforts, incorporating a rousing, appropriately patriotic main motif and a gorgeous love theme that enhances this good-looking picture. Mel also works splendidly opposite the late Heath Ledger – it's unfortunate they weren't able to rekindle their chemistry in George Miller's "Mad Max: Fury Road," which was to have gone into production around that time but only completed filming a few months ago.
JAWS (Universal, Blu-Ray/DVD): While the 4th plays as merely backdrop for Bruce the Shark's assault on Amity Island, there are few movies that convey the beauty of a coastal New England summer the way Steven Spielberg's classic adaptation of Peter Benchley's bestseller does. Universal's Blu-Ray offers a crisp high-def picture that enables you to see details in the Panavision frame prior video releases were unable to convey, making one further appreciate the unbelievably tough shoot that created a bona-fide movie classic.
THE SCARLET COAT (Warner Archives, DVD): Revolutionary War cinematic dramas are few and far between, which makes this Cornel Wilde 1955 MGM production worth savoring. A Cinemascope effort from director John Sturges, "The Scarlet Coat" might employ a bit of Saturday Matinee-styled history, but it's great fun. Warner Archives' recent DVD release also enables viewers to appreciate the movie's widescreen splendor, with exteriors, shot along the Hudson River, giving the Karl Tunberg script a bit of local authenticity. Happy 4th!
---
New From Criterion
Claude Lanzmann's SHOAH (566 mins., 1985) is a documentary work like no other. A nearly-ten hour epic that's entirely comprised of interviews with participants in the Holocaust – survivors, witnesses, and even former Nazis – along with unbelievable details about Auschwitz and Treblinka, and the Warsaw ghetto, "Shoah" took over a decade to produce, with Lanzmann, through an interpreter, interviewing dozens of victims, bystanders and perpetrators – the latter forming some of the lengthy work's most shocking, revealing moments.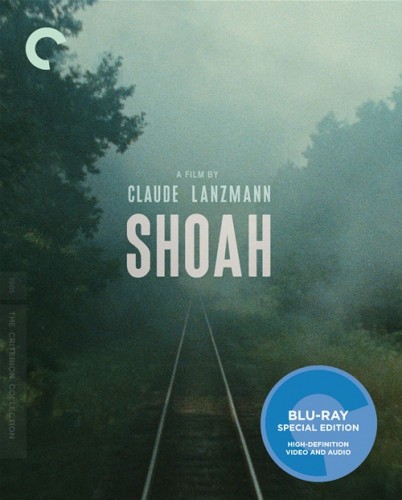 "Shoah" is hard to classify as a film, and it's tough to watch the picture in one sitting, certainly, both for its length and Lanzmann's unrelenting line of questioning to the participants. Some critics, including Pauline Kael, came down hard on Lanzmann's approach, while others, including Gene Siskel, hailed its importance. I sat through the film in high school and felt that, if viewed less as a "comprehensive" Holocaust documentary and more of a testament from participants seen through Lanzmann's prism, "Shoah" is a unique, engrossing, dense, horrifying, and essential piece of historical filmmaking, with the testimony being all the more shattering as it comes from those who lived through it.
Criterion's three-disc Blu-Ray edition includes a restored, 1080p transfer from a 4K Digital source, presented in 1.37 with English subtitles. Three other films by Lanzmann are offered in the box-set, including 1999′s "A Visitor From the Living," 2001′s' "Sobibor, October 14, 1943, 4pm" and 2010′s "The Karski Report," while other extras include a 2003 Lanzmann interview; a new conversation between Lanzmann and critic Serge Toubiana; an interview with Caroline Champeteir, an assistant camera person, and filmmaker Arnaud Desplechin; and the trailer.
---
Warner Archive New Releases
Those of us who might've been too young to appreciate the athletic talents of Esther Williams can get a glimpse of the late swimming great in one of her last big-screen vehicles: the 1955 MGM musical JUPITER'S DARLING (95 mins.). Boasting songs by Burton Lane and Harold Adamson, along with Hermes Pan choreography executed by the likes of Marge and Gower Champion, the Cinemascope extravaganza finds Williams' Amytis falling for Hannibal of Carthage (Howard Keel) despite being engaged to fuddy-duddy Fabius Maximus (George Sanders, who looks like he's looking for the set of "Spartacus" or "Cleopatra") in a Ancient Roman tale written by Dorothy Kingsley from Robert E. Sherwood's play "Road to Rome." George Sidney peppers the material with durable supporting players (Richard Haydn, William Demarest, Michael Ansara) and terrific set-pieces, including a memorable underwater ballet that naturally plays to Esther's strengths.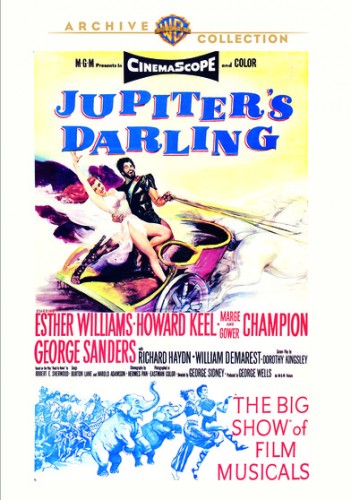 Warner's Archive DVD has been mastered from an old and relatively banged up 2.55 print – given the few screenings of "Jupiter's Darling" over the years, it's perfectly understandable that the image quality isn't as pristine as most titles contained in the Archive. That said, it's still perfectly watchable, and the stereo sound backs the regal orchestrations of David Rose. A fun frolic that's a perfect tribute to Williams, who passed away last month at the age of 91.
Continuing on a maritime theme, MARINE BOY (1966-67) was noteworthy for being one of the first Japanese animated cartoons to reach American shores. Produced originally in 1965 by Japan Tele-Cartoons, "Marine Boy" was – along with early Asian animated imports "Kima" and "Speed Racer" – intended for the North American audience, captivating young viewers who tuned in to see Marine Boy keep the oceans of the world safe on behalf of the Ocean Patrol. Along with a pair of other Ocean Patrol agents, a mermaid named Neptina and his faithful dolphin, Splasher, Marine Boy swam through some 26 episodes – all of which have been collected in the Archive's three-disc DVD set. For anime fans or nostalgic viewers who might remember the series – which aired in syndication after Warner-Seven Arts purchased the English language rights – "Marine Boy" is a blast of early "anime," and should delight kids and those who might recall its original broadcasts.
Finally, SPYMAKER: THE SECRET LIFE OF IAN FLEMING (96 mins., 1990) was one of numerous original films TNT produced for its network back in its infancy. Beyond its stunt casting of Jason Connery as Ian Fleming, this is a quite entertaining – if apparently embellished – biopic of the author who gave the world James Bond. Writer Robert J. Avrech and director Ferdinand Fairfax specifically follow Fleming's exploits during WWII, pausing more than a few times to establish that the future bestselling scribe's personal experiences influenced Bond's fictional adventures. It's nicely done and certainly worth a viewing for 007 fans, with Kristin Scott Thomas, Joss Ackland, and David Warner co-starring. Warner's Archive DVD includes a stereo soundtrack – featuring a Carl Davis score – and 4:3 transfer.
---
THE HOST Blu-Ray Combo Pack (**, 126 mins., 2013, PG-13; Universal):"Twilight" author Stephenie Meyer's sci-fi offering for teen readers failed to connect with the same audience as its vampire-centric brethren, especially on the big-screen. That's because Andrew Niccol's movie adaptation of "The Host" is a flaccid affair, with Saorise Ronan starring as a human girl in a future where extraterrestrials have assimilated the populace and the last vestiges of mankind struggle to survive. Ronan, however, fights off being brought into the fold, and ultimately works with her alien doppleganger to avoid the bad guys.
"The Host" is overlong and sterile, with most of the cast going through the motions in a silly, hackneyed story that brings out the worst elements in Niccol's direction. It's hard to believe Niccol was once one of the up-and-coming directors after "The Truman Show" and "Gattaca," but "The Host" ends up as one more nail in the proverbial coffin after over a decade of misfires for the filmmaker. Universal's Blu-Ray offers deleted scenes, a Making Of featurette, commentary with Niccol, Meyer, and producer Nick Wechsler; a DVD and Ultraviolet/itunes compatible digital copy, and a 1080p Blu-Ray transfer with DTS MA audio.
ADMISSION Blu-Ray Combo Pack (**½, 107 mins., 2013, PG-13; Universal):Director Paul Weitz and screenwriter Karen Croner's adaptation of Jean Hanff Korelitz's book results in an uneven, but certainly watchable, vehicle for star Tina Fey.
Fey plays an admissions officer at Princeton who simultaneously falls for former classmate Paul Rudd while finding out that one of Rudd's students at the "Qest School" could be the child she gave up for adoption years before. How this somewhat melodramatic story plays out is much less interesting than the performances of Fey and Rudd, who work well together in a likeable film that ultimately doesn't amount to a whole lot. Still, for a summer rental, "Admission" gets a passing grade.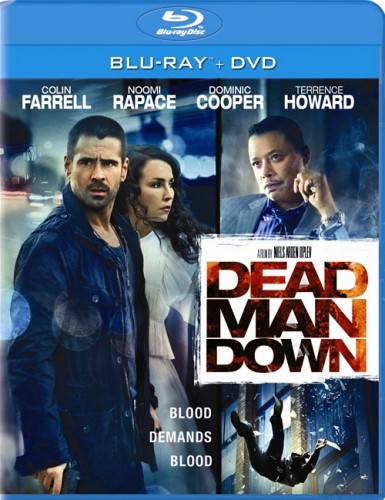 Universal's Blu-Ray includes a 1080p transfer, DTS MA soundtrack, Ultraviolet and itunes-compatible digital copy, DVD and just one extra: a sole behind-the-scenes segment with the two stars.
DEAD MAN DOWN Blu-Ray Combo Pack (**, 117 mins., 2013, R; Sony): Colin Farrell stars as a Hungarian immigrant who vows vengeance after his family is wiped out by a NYC crime lord (Terrence Howard) in a typical revenge picture produced by a pair of strange bedfellows: original "Girl With the Dragon Tattoo" director Niels Arden Oplev, making his American debut, and WWE Studios. Add in a supporting cast including Armand Assante, Isabelle Huppert, Dominic Cooper, F. Murray Abraham and, best of all, Noomi Rapace as a woman also trying to bring Howard down – even after Farrell has infiltrated his gang – and you have a recipe for a drawn-out, uneven but intermittently engaging crime drama with an obvious, but satisfying, love story at its center. Sony's Blu-Ray of "Dead Man Down" includes two format exclusive Making Of featurettes, an additional behind the scenes segment, a 1080p transfer, DTS MA soundtrack, DVD and Ultraviolet copy.
---
TV on DVD and Special Interest
ORPHAN BLACK Season 1 Blu-Ray (450 mins., 2013, BBC): The beguiling Tatiana Maslany plays a series of different roles in this great new BBC series that's more effective the less you know about it going in. Maslany plays a girl from the wrong side of the tracks who sees what appears to be an identical twin commit suicide; her Sarah then ends up taking the woman's place, inheriting her boyfriend and lifestyle, but that's the only the beginning of a series that's, fortunately, nothing like the recent Sarah Michelle Gellar misfire "Ringer." Maslany is utterly fascinating in "Orphan Black," which deservedly earned critical kudos earlier this year after its debut. BBC's Blu-Ray edition includes the complete first season in 1080p transfers and 5.1 DTS soundtracks – extras include an interview with Maslany, "Inside Vignettes" and a "Send in the Clones" featurette. Highly recommended!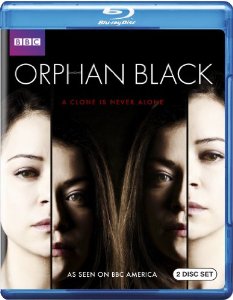 UNFORGETTABLE Season 1 DVD (aprx. 16 hours, 2011-12; CBS): Several years ago "60 Minutes" ran a piece on individuals (including former "Taxi" star Marilu Henner) who possess photographic memory, enabling them to remember every specific detail of their life. CBS sprang the segment into a dramatic series, "Unforgettable," using red-haired Poppy Montgomery as a consultant to her ex-love – an NYPD detective essayed by Dylan Walsh. Similar to other crime procedurals on the air, "Unforgettable" is still decently executed for what it is, and CBS' DVD includes all 22 first-season episodes in 16:9 (1.78) transfers with 5.1 sound and extras including commentary on two episodes; CBS launch promos; gag reel and deleted scenes for certain shows; and three Making Of featurettes.
MATLOCK – Season 9 DVD (aprx. 14 hours, 1994-95; CBS): Ben Matlock's final roster of cases finds him aligning with investigator Cliff Lewis (Daniel Roebuck) and Jerri Stone (Carol Huston) in this last season of the long-running courtroom drama starring Andy Griffith. CBS' five-disc set includes 4:3 transfers and stereo soundtracks, and arrives in stores on July 16th.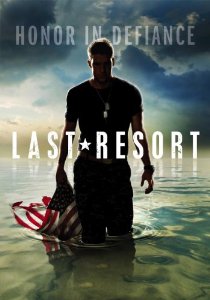 LAST RESORT – Complete Series DVD (558 mins., 2012; Sony): Network TV series take few chances these days, so a program involving a U.S. nuclear submarine that scoffs at blowing up Pakistan – and ends up exiled after being attacked by fellow ships – definitely comes off as "high concept." It also, predictably, didn't last long, with ABC's "Last Resort" finishing its 13 episode run just a couple of months after its debut. The good news for interested viewers is that the network allowed creators Karl Gajdusek and Shawn Ryan to finish the program with an actual finale, so "Last Resort" does provide a legitimate ending in its concluding moments. Sony's DVD of the complete series offers 13 behind the scenes featurettes, a 16:9 transfer and 5.1 soundtrack.
WAREHOUSE 13 : Season 4 DVD (aprx. 15 hours, 2013; Universal): After the Warehouse is destroyed, the agents attempt to regain what was lost by use of a legendary artifact – the results, though, could be dire in this fourth season of the Syfy Channel original series. Guest stars in "Warehouse 13″'s fourth season include Brent Spiner and Sam Huntington, with Universal's DVD boasting all 20 fourth season episodes in 16:9 transfers and with ample extras. Among the supplements are deleted/extended scenes, a gag reel, episode podcasts, and a 10-part animated web series, "Grand Designs," with one episode of the latter shown here for the first time.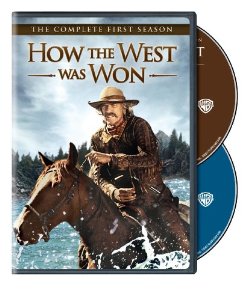 HOW THE WEST WAS WON Season 1 DVD (280 mins. and 118 mins [pilot film]; 1975-77; Warner): Small-screen adaptation of the '60s MGM Cinerama western stars James Arness and Eva Marie Saint as the heads of the Macahan clan, who head west in the post-Civil War era, along with their family, including Saint's eldest son Bruce Boxleitner. Warner's DVD release includes the complete first season of the series as well as its 1975 pilot film, "The Macahans," in full-screen transfers and mono soundtracks.
THE LEGEND OF KORRA BOOK ONE: AIR Blu-Ray (289 mins., 2013; Paramount): A follow-up to Nickelodeon's popular "Air: The Last Airbender" series, "The Legend of Korra" follows a teenage girl from the Southern Water Tribe, who leaves her home in order to travel to Republic City and combat a man who wants to rid the world of "bending" altogether. Colorful animated action dominates this two-disc BD set featuring 12 episodes with extras including a Making Of; commentaries from cast/crew members on all episodes; series creators' favorite scenes; 1080p transfers and DTS MA soundtracks.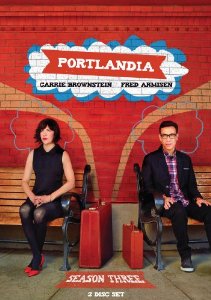 PORTLANDIA – Season 3 DVD (242 mins., VSC): Lorne Michaels produces this offbeat IFC series starring Fred Armisen and Carrie Brownstein, focusing on the eclectic residents of Portland, Oregon, with copious guest stars (from SNL's Bill hader to Rose Byrne, Jeff Goldblum and Jack White among others) sprinkled into the mix. Not for all tastes, but certainly funny when it hits the mark, VSC brings Season 3 of "Portlandia" to DVD this month offering its 10-episode run. Extras include two deleted scenes and tours of Portland with Kumail Nanjiani, who also guest stars in the program. 16:9 transfers and Dolby Digital soundtracks round out the release.
DAMAGES – THE FINAL SEASON DVD (529 mins., 2012; Sony): After a great start on FX, "Damages" sank during its second season, and never really recovered even after DirecTV purchased the series, enabling it to continue on for several years – mostly under the radar. This final assortment of 10 episodes once again finds Patty Hewes (Glenn Close) going up against Ellen Parsons (Rose Byrne) as the duo spar over the wrongful death of a hacker (Ryan Phillippe). Jenna Elfman, Janet McTeer, Judd Hirsch and John Hannah co-star with Sony's DVD including deleted scenes and outtakes along with 16:9 transfers and 5.1 soundtracks.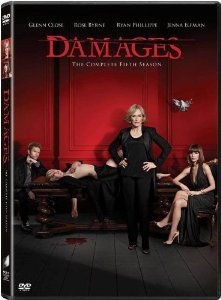 Ratings may have diminished in Season 2 of AMC's HELL ON WHEELS (2012, E One), but fans of the program's first season starring Anson Mount, Colm Meaney, Dominique McElligott and Christopher Heyerdahl will find sufficient plots to keep them glued through this sophomore year of the program. E One's DVD package is out on July 16th offering 16:9 transfers and 5.1 soundtracks (a Blu-Ray edition is also available). Extra features include a Making Of featurette; Set Tour with Anson Mount; Ten "Inside the Episode" featurettes; Cast reflection on Season 2; and a recap of Season 1.
A PLACE AT THE TABLE Blu-Ray (84 mins., 2013, PG; Magnolia): Well-meaning documentary from directors Kristi Jacobson and Lori Silverbush profiles 50 million Americans who struggle daily to get food on the table. Ample interviews and heartbreaking conversations with families trying to make ends meet – just to eat – comprise this 84-minute feature scored by T Bone Burnett and The Civil Wars, and offering an appearance by Jeff Bridges. Magnolia's Blu-Ray includes a 1080p transfer, DTS MA soundtrack and numerous extras (deleted scenes, additional interviews, deleted interviews, an AXS TV behind the scenes special, commentary and the original trailer)….Also new from Magnolia this month is a Blu-Ray of INTO THE WHITE (104 mins., 2012, R), a WWII drama concerning German and British pilots who band together after they're shot down in the Norwegian wilderness. Rupert Grint and Florian Lukas co-star in Petter Naess' picture, which Magnolia has brought to Blu-Ray in a 1080p transfer with DTS MA soundtrack and a Making Of featurette along with the trailer.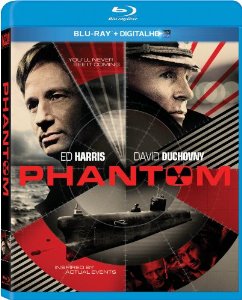 WAR ON WHISTLEBLOWERS DVD (66 mins., 2013; Disinformation): There's never been a better time for a documentary on government and corporate whistleblowers. This Robert Greenwald-directed documentary includes interviews with whistleblowers Michael DeKort, Thomas Drake, Franz Gayl and Thomas Tamm, as well as journalists Seymour Hersh and Michael Isikoff among others. Disinformation's DVD includes over two hours of extras, plus a 1.78 transfer and stereo soundtrack.
LOVE FOR LEVON (271 mins., 2013; Starvista) brings Joe Walsh, Gregg Allman, Mavis Staples, John Mayer, Dierks Bentley, Bruce Hornsby, Lucinda Williams, Roger Waters, John Hiatt and Ray LaMontagne together to celebrate the life of The Band's drummer Levon Helm, who passed away in 2012. This musical event, taped at the Izon Center in East Rutherford, N.J., offers 27 performances from the eclectic, talented musicians who came together to pay tribute to Helm. Starvista's two-disc set contains both a DVD and CD along with a full-color booklet and stills.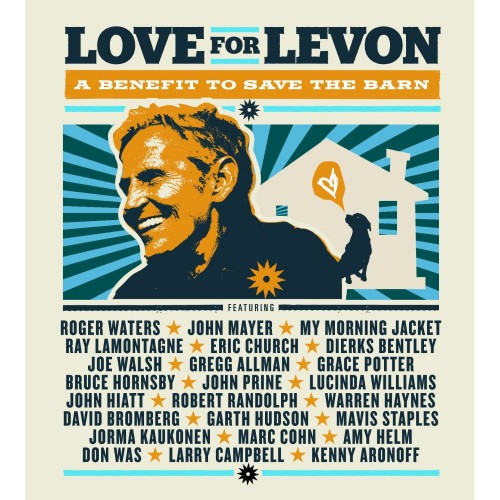 MARTHA & FRIENDS Summer Fun DVD (47 mins., 2012; Vivendi): Martha Stewart's media empire branched out to produce an animated series for kids, with Martha and her friends raising money for their neighborhood 4th of July show, heading to the beach, and then marking the end of the season with a Back to School Party. Four bonus webisodes and craft corner add some value to the 47-minute Vivendi DVD, which includes a 16:9 transfer and stereo soundtrack.
BEN 10 OMNIVERSE – HEROES RISE DVD (220 mins., 2013; Warner): 10 episodes from the popular Cartoon Network series (Of Predators and Prey parts 1 and 2; Outbreak; Blukic and Driba Go To Mr. Smoothy's; Malefactor; Bros in Space; Arrested Development; Rules of Engagement; and the two-part Showdown) arrive on DVD this month from Warner Home Video. Included in the two-disc set are 16:9 transfers, 2.0 stereo soundtracks, and "Alien Reveal" and "Alien Database" special features.
SUPERJAIL! Season 3 DVD (110 mins., 2013; Warner): 10 episodes from the third season of the bombastic Cartoon Network series hit DVD on July 23rd. Warner's DVD includes the episodes Stingstress; Superfail!; Uh-oh magic; Stickdischarge; Specialneeds; Troubles with Triples; Nightshift; Oedipusmess; Planet Radio and Burnstoolie Burn, all in 16:9 transfers and stereo soundtracks.
---
New From Shout! Factory
MYSTERY SCIENCE THEATER 3000: VOLUME XXVII DVD (aprx. 8 hours; Shout! Factory): Another winning mix of classic episodes from Mystery Science Theater include The Slime People, Rocket Attack USA, the hilarious Deadly Mantis and the Burt I. Gordon cult classic Village of the Giants. This is one of the strongest MST3K box-sets of late, with "Giants" and "Mantis" providing a high laugh quotient in particular. Shout's DVD extras include an interview with "Slime People" star Judith (Morton) Fraser; a talk with "Giants" star Joy Harmon; "Chasing Rosebud: The Cinematic Life of William Alland"; a "Life After MST3K" segment on Trace Beaulieu; introduction from Mary Jo Pehl; trailers; and four mini-posters by artist Steve Vance. Highly recommend for MST-ies everywhere, as you'd expect.
THE JACK BENNY PROGRAM – THE LOST EPISODES DVD (aprx. 9 hours; 2013; Shout Factory): 18 long-lost episodes from the legendary TV series, restored by the UCLA Film & Television Archive, come to DVD this month from Shout Factory. These "Jack Benny Program" rediscovered episodes include guest stars Natalie Wood, Red Skelton, Gary Cooper, George Burns, John Wayne, Billy Graham, Milton Berle, Tony Curtis and President Harry Truman. Extras include a new interview with director Norman Abbott, Benny secretary Dorothy Ohman and writer/comedian Harry Shearer; comedy bits of the "Jack Benny Television Specials" and Heart newsreels.
THE ANGRY BEAVERS: THE COMPLETE SERIES DVD (aprx. 22 hours, 1997-2001; Shout! Factory): All 62 episodes from the Nickelodeon series – produced at a time when Ren & Stimpy and the Rugrats lead kid-cable TV ratings – reach DVD for the first time. This 10-disc set preserves every adventure of twin beavers Norber and Daggett, with Shout's DVD set including full-screen transfers and stereo soundtracks. (Available July 30th)
---
PBS New Releases
ENDEAVOR – Series 1 Blu-Ray (aprx. 7 hours, 2012-13; PBS): A prequel to Colin Dexter's "Inspector Morse" novels, "Endeavor" stars Shaun Evans as Constable Endeavour Morse and Roger Allam as DI Thursday in a five-part limited series. Beginning with a 2012 pilot episode and continuing through four additional episodes (Girl, Fugue, Rochet, and Home), "Inspector Morse" fans should be sufficiently entertained with these slick period mysteries. PBS' Blu-Ray also looks excellent with 1080p transfers and 2.0 stereo soundtracks.
AMERICA'S TEST KITCHEN Season 13 DVD (aprx. 13 hours, 2013; PBS): Christopher Kimball and the staff at America's Test Kitchen return for the latest season of the long-running PBS cooking staple. This four-disc set from PBS offers all 26 episodes from the series' 2013 season, as well as its accompanying 52 recipes in printable form, with dishes running the gamut from seafood to grill favorites, Italian classics and Sunday Brunch dishes all in good measure. Tasty!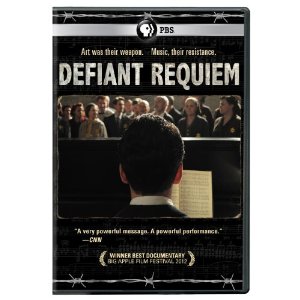 SECRETS OF HENRY VIII'S PALACE (60 mins., 2013) takes viewers to England's Hampton Court, chronicling King Henry VIII's wild life and times to King William III and Quen Mary II's baroque makeover. The hour-long program is newly available this month from PBS along with SECRETS OF ALTHORP, THE SPENCERS (60 mins., 2013), which examines the childhood home and final resting place of Diana, Princess of Wales, where 19 generations of Spencers have lived. Finally,SECRETS OF CHATSWORTH (60 mins., 2013) profiles an estate the size of Washington D.C. belonging to the Dukes of Devonshire. Samuel West narrates all three "Secrets" programs, which ought to please English history enthusiasts and casual viewers alike, and are each presented on DVD by PBS with widescreen transfers and stereo soundtracks.
NEVER FORGET TO LIE (60 mins., 2013) is Marian Marzynski's Frontline documentary about his childhood, having survived the Holocaust by pretending to be Christian. Marzynski interviews other Holocaust survivors in a moving, penetrating examination that PBS brings to DVD this month in a 16:9 transfer with stereo audio.
AFTER NEWTON: GUNS IN AMERICA (60 mins., 2013), from producers Jonathan Silvers and Patrick Flynn, attempts – over the course of a single hour – to chart the history of America's relationship with firearms over the centuries. Bill Cosby, Frank Serpico and NRA President David Keene are a few of the interviewees in this fairly well balanced documentary, which includes a 16:9 transfer and stereo soundtrack on PBS' DVD release.
Last but certainly not least, DEFIANT REQUIEM (85 mins., 2012) chronicles the true story of Rafael Schachter, a Czech opera-choral conductor who, after being sent to the Terezin concentration camp in 1941, taught prisoners to sing Verdi's "Requiem," even performing it several times. Doug Schultz's superb documentary is both poignant and powerful, and PBS' DVD includes a fine 16:9 transfer with 5.1 Dolby Digital sound.
---
Also New & Noteworthy
THE MANSON FAMILY Blu-Ray (95 mins., 2003, Not Rated; Severin): Bonkers docu-drama from writer-director Jim Vanbebber chronicles the exploits of Charlie Manson and his followers, mixing an account of the "Family"'s crimes during the '60s with fictional elements and multiple time frames thrown in for good measure. Vanbebber shot "The Manson Family" over a period of many years and only completed the picture in 2004; it is graphic, shocking and highly uneven. Certainly not for every taste, but for those who want to witness the horrifying crimes Manson and his followers committed, the picture conveys what was a reportedly (mostly) accurate depiction of them. Severin's excellent Blu-Ray release of the film includes a full-frame, 1.33 1080p transfer with 5.1 Dolby Digital sound – extras include commentary with Vanbebber, a new interview with musician Phil Anselmo, an uncut version of the Making Of documentary; deleted scenes; trailers; interview with Manson and the first release of Vanbebber's short, "Gator Green."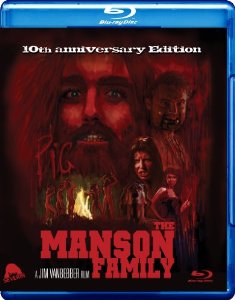 PHANTOM Blu-Ray (98 mins., 2013, R; Fox): While Todd Robinson's film won't exactly remind you of "The Hunt For Red October," fans of submarine thrillers will still find sufficient entertainment in this Cold War tale of a Russian sub, its grizzled commander (Ed Harris) and a KGB agent (David Duchovny) who knows what the submarine's secret mission happens to be. Unsurprising but watchable in an old-fashioned type of way. Fox's Blu-Ray includes a 1080p transfer, DTS MA soundtrack, Ultraviolet copy, audio commentary, and several Making Of featurettes, including a segment on Jeff Rona's original score.
THE POWER OF FEW Blu-Ray (96 mins., 2013, R; Vivendi): Leone Marucci wrote, produced and directed this indie drama about a grocery store robbery gone wrong, and the various, disparate individuals whose lives are impacted by it. Christopher Walken, Christian Slater, Anthony Anderson, Jesse Bradford, Moon Bloodgood and Q'Orianka Kilcher comprise the ensemble cast in this 2013 production that Vivendi brings to Blu-Ray this month offering a Making Of featurette; deleted scene; "Community Outreach" featurette; and a handful of cast interviews, along with a 1080p transfer and DTS MA soundtrack.
BLOOD RUNS COLD DVD (78 mins., 2010, Not Rated; Vivendi): Tommy Wiklund co-produced this Collective/Bloody Disgusting presentation involving an icy killer knocking off unsuspecting victims in a remote cabin. Vivendi's DVD boasts a 16:9 transfer, English 5.1 soundtrack and a Making Of featurette.
NEW WORLD Blu-Ray (135 mins., 2012, Not Rated; Well Go USA): "Showdown" director Park Hoon-Jeong's well-received Korean import follows undercover cop Lee Jeong-jaw as he's assigned to bring down a massive crime organization that he's been a part of for nearly a decade. This lengthy, engrossing thriller comes to Blu-Ray on July 23rd in another fine Well Go release, boasting a 1080p transfer with 5.1 DTS MA Korean audio and English subtitles.
A VIKING SAGA: THE DARKEST DAY DVD (88 mins., 2013, R) is a low-budget, direct-to-video hack 'n slash from director Chris Crow. Lionsgate's DVD includes cast/crew interviews, a 16:9 transfer and 5.1 Dolby Digital soundtrack.
NEXT TIME: Get lost in the Special Edition of John Carpenter's THE FOG! Until then, don't forget to drop in on the official Aisle Seat Message Boards and direct any emails to our email address. Cheers everyone!