As someone who grew up in the '70s and '80s, my knowledge of the Golden Age of Radio is virtually non-existent. I recall my dad referring to "The Shadow" a few times, and remember listening to Orson Welles' "War of the Worlds" broadcast, but it's an art form I wish I always had more exposure to.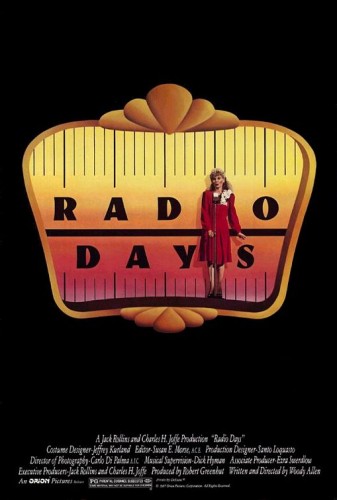 Over the last few years, while scanning the AM radio late at night (once in a while I still check and see what distant signals I can bring in), I came across a station up in Canada that aired old-time radio programs. The sound crackled in and out, but eventually I heard the station's call letters – 900 CHML up in Hamilton, Ontario, and became acquainted with "Those Old Radio Shows," which airs nightly from 11pm-1am. Recently I ditched the radio for my cell phone and the essential Tune-In radio app, and every night, usually while walking our dog, I typically check out whatever shows CHML is running: dramas like the "Lux Radio Theater" or "Suspense!", or comedies like the Great Gildersleeve and Fibber McGee & Molly. These programs manage to function as a time capsule of their time, naturally, but many remain quite entertaining, giving listeners a taste of their era's popular culture.
These shows were the mainstream entertainments of their day, and while what's popular today may be (and often is) forgotten tomorrow, radio has faded almost completely from view because the medium itself is no longer what it once was. Old movies are, of course, still movies; TV series from decades past still exist in the television medium; but since radio itself isn't utilized as it once was (mostly used merely as a diversion for drivers in between destinations), few people today would have any idea of radio's pop-culture impact and how ingrained it was in people's day to day lives…as well as how it connected people – through collective, shared experiences – in a way today's multi-media onslaught fails to do.
Woody Allen's RADIO DAYS (****, 88 mins., 1987, PG) is at once a testament to the medium and a wonderfully vivid childhood reminiscence on the part of its writer-director. It contrasts Woody's youthful days in 1940s Queens with the glamorous celebrities his family would listen to on the radio, moving briskly from one colorful vignette to the next. Throughout, Allen illustrates how vital the radio was in terms of both entertainment programs ("The Masked Avenger" was "The Avengers" of its day) and breaking news stories, which ran the gamut from reports of America's engagement in WWII to the tragic story of a little girl (based on the true story of Kathy Fiscus) who became trapped in a well and the ultimately unsuccessful attempt at saving her life. And, of course, there's the music – the big bands, the Latin styled sounds of Carmen Miranda – which underscores the life of Allen's alter-ego (a young Seth Green), his parents (Michael Tucker, Julie Kavner), and Aunt Bea (Dianne Weist), whose failed romantic entanglements – both funny and sad – comprise a fair portion of the film. The contrasting radio world Allen shows us is great fun, with one thread detailing the rise of a cigarette girl (Mia Farrow) into the posh world of radio celebrities, many of whom are modeled on actual individuals.
It's a warm and nostalgic, gentle and often hilarious effort, starring many Allen regulars (Diane Keaton memorably sings "You'd Be So Nice to Come Home To" in the closing moments), and backed by gorgeous cinematography by Carlo DiPalma and production design by Santo Loquasto. Dick Hyman's adaptation of many wonderful period songs is also effective, and it's unfortunate his work didn't receive more play on the film's soundtrack album.
"Radio Days" isn't just a thoroughly entertaining film, but it's also one of Allen's best – as well as his most repeatable. Its concise running time moves from one wonderful anecdote to another, eloquently – if only briefly – pausing to recall a world that was fading from view even at the time of its release, as well as the glowing memories of childhood that are universal to us all. It's just a marvelous, charming and wonderful picture.
Twilight Time's Blu-Ray of "Radio Days" is culled from a generally good-looking print, presented in a 1080p (1.85) encode that hasn't been harmed by digital noise reduction. The clear mono audio is punchy and effective, and the movie's curious theatrical trailer – voiced entirely by Don Pardo – is included along with a music-and-effects track. Don't miss this one!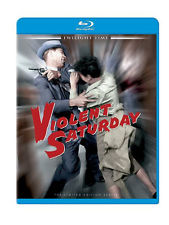 Making its Blu-Ray debut from TT is the 1955 Fox Cinemascope thriller VIOLENT SATURDAY (***, 91 mins.), which offers plenty of melodrama and excitement in a 1080p transfer that easily trumps the label's prior, non-anamorphic DVD release.
In this fast-moving adaptation of a William L. Heath novel, Stephen McNally, J. Carrol Naish and Lee Marvin play a trio of bank robbers looking to pull off a heist in a small Arizona mining town. Richard Egan is the mine's manager, trying to work things out with his cheating wife (Margaret Hayes) but drawn to local nurse Virginia Leith at the same time. There's also Egan's associate, Victor Mature, who tries to win over his son (Billy Chapin), who doesn't feel that his father is a hero. Meanwhile, Tommy Noonan essays the bank's manager – who enjoys looking at Leith whenever possible; Sylvia Sidney is a librarian with a Winona Ryder type of shoplifting complex; and Ernest Borgnine is an Amish farmer whose pacifist beliefs are put to the test in a potent climax.
"Violent Saturday" has all the makings of a grand, glorious Cinemascope noir, and the picture does not disappoint. Richard Fleischer's tight direction keeps the film moving, while a robust Hugo Friedhofer score adds the right amount of dramatic tension. The cast is interesting, the thematic material a deft mix of pulp-noir and '50s melodrama, and I have to confess I found every bit of it irresistibly appealing.
Friedhofer's excellent score is isolated in stereo in TT's Blu-Ray, capped by a vivid AVC encoded (2.55) transfer, 5.1 DTS MA soundtrack and a new commentary by Nick Redman and Julie Kirgo.
If the reports that John Wayne was once tagged to star as "Dirty Harry" are true, then The Duke's late-career contemporary police thrillers like "McQ" andBRANNIGAN (**½, 119 mins., 1975, PG) can be viewed as understandable reactions to Wayne's alleged decision to turn down the role. This breezy if somewhat pedestrian 1975 United Artists vehicle offers Wayne as a grizzled Chicago cop sent to London to extradite a felon (John Vernon), only to see the criminal kidnapped shortly after he lands. With the help of a local London police officer (Judy Geeson) and some resistance from a stuffy local cop (Richard Attenborough), Brannigan soldiers through a somewhat drab mid '70s UK in pursuit of the kidnappers – while avoiding an assassination hit on his own life.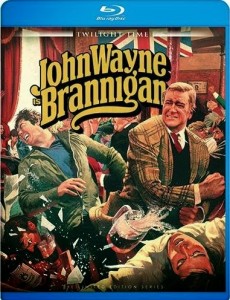 Dominic Frontiere's tuneful "mod" score is one of the more memorable elements in "Brannigan," along with a couple of well-executed car chases on the part of director Douglas Hickox. It's not a terribly exciting film, but Wayne completists might enjoy the "fish out of water" angle of the film, which at least livens up the patchwork script credited to no less than four different writers (Christopher Trumbo, Michael Butler, William P. McGivern and William W. Norton).
The 1080p (2.35) transfer TT had to work with on "Brannigan" is likely as healthy as the rather flat cinematography of Gerry Fisher will allow. The DTS MA mono sound is fine, and extras include an isolated score track (boasting some unused Frontiere music prior to the end credits) and a casual commentary with Nick Redman and Geeson reflecting on her work with Wayne.
Also new from Twilight Time this month is George Cukor's highly memorable BORN YESTERDAY (***½, 103 mins., 1951), the film that won Judy Holliday an Oscar for her performance as Billie Dawn, the moll of a junk dealer (Broderick Crawford) who's "cultured" by a newspaper writer (William Holden). This adaptation of Garson Kanin's play makes for a spirited Columbia comedy, brought to Blu-Ray in a typically crisp B&W (4:3) transfer from the Sony vaults. An isolated score track and trailers round out the release. Finally, SAVE YOUR LEGS! (92 mins., 2012) is a popular Australian comedy concerning a group of cricket players who stage an international tour for their past-their-prime team, taking them to India where they meet legend Sachin Tendulkar. TT has imported a variety of extras from overseas DVD editions (commentary, documentary, featurettes), added an isolated music/effects track, the trailer, and topped it with a 1080p transfer (2.35) and 5.1 DTS MA audio.
---
The success of "Roots" changed the landscape of television. For starters, networks began searching out properties that could become the next big TV mini-series. Shows like "The Winds of War" and "North and South" would become mammoth hits in the early to mid '80s, and none came as well-received or successful as NBC and Paramount's 1980 undertaking of James Clavell's SHOGUN (***½, 547 mins., 1980; CBS), which has just been upgraded in CBS' new Blu-Ray release.
A bestselling novel based loosely on actual events, Clavell's book was an international bestseller, but laid dormant for years as it passed from one producer to another before being made. Directors and writers came and went, as did actors: Sean Connery, Albert Finney, and Roger Moore were all viewed as viable candidates for the production, which at first was intended to be a theatrical film.
After "Roots" hit the big time, though, the property headed for the small screen, where NBC and Paramount teamed up with Toho Studios and other Japanese production houses to film the massive project. Shot entirely in Japan for nearly a half a year, "Shogun" was produced and written by Eric Bercovici from Clavell's novel, and directed capably by Jerry London. While the crew faced countless technical challenges (Toho wasn't as technically proficient as Hollywood), they ended up capturing a remarkable tale that would be embraced by the masses.
Clavell's story of a stranded British sailor (Richard Chamberlain) in 17th century Japan — who falls in love with a geisha and becomes involved in the land's internal political and military struggles — may not be a household name these days, yet when it aired over 30 years ago, "Shogun" was nothing short of a phenomenon. NBC recorded some of its highest ratings to date when the mini-series aired, with the show garnering increasing word-of-mouth and growing ratings as it progressed through its separate episodes. The program became such a blockbuster that its creators firmly believe that its popularity enabled the spread of Japanese culture into the American mainstream, from restaurants to sushi bars which are commonplace in our society today.
The show itself is still highly entertaining, if a bit leisurely told. Extremely faithful to its source, "Shogun" is an epic adventure and a historical travelogue of feudal Japan. Chamberlain serves as our guide, learning about the customs of the land while serving up both action (as his character, John Blackthorne, seeks to become the first foreign Samurai) and ample doses of soap opera (his relationship with one of warlord Toshiro Mifune's geishas) along the way.
It's beautifully shot and acted with a terrific cast, most notably John Rhys-Davies as Rodrigues (a Spanish sailor who works for Mifune's Toranga), who resembles Sallah in more ways than one. Musically, Maurice Jarre was tapped to score the mini-series, though this isn't one of Jarre's more inspired efforts: recorded with what sounds like a small orchestra, it's functional but little more, and definitely a bit disappointing under the circumstances (Jarre would more memorably score the disastrous movie version of Clavell's "Tai-Pan" for Dino De Laurentiis several years later).
Paramount's superb box-set offers a satisfying and clear 1080p (4:3) transfer of the unedited mini-series, along with standard-def extras carried over from the DVD. The full-frame transfer is exceptionally colorful and pristine — it's doubtful the show ever looked so good on the air in 1980. The original mono sound has been effectively remixed to 5.1 DTS MA, giving a nice stereophonic presence to the soundtrack, which — as the filmmakers point out in the documentary — had to be painstakingly re-assembled once the crew returned to the United States (Toho wasn't equipped to pack both sound and picture together when shipping the movie overseas).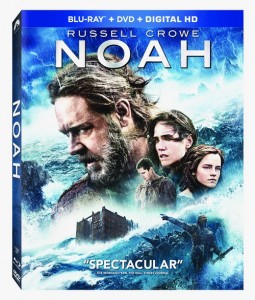 NOAH Blu-Ray Combo Pack (**, 137 mins., 2014, PG-13; Paramount): Giant rock creatures with glowing eyes (perhaps what William Shatner had in mind for "Star Trek V"?). An Anthony Hopkins performance that seems more suited to "Lord of the Rings" than a Biblical epic. Russell Crowe's Noah threatening to take the life of adopted daughter Emma Watson's unborn child if she gives birth to a girl…oddball elements that comprise director Darren Aronofsky's controversial and quite uneven spectacle, which was greeted with mixed reaction around the globe this past spring.
Portraying Noah as a strict environmentalist, Crowe gives a predictably grizzly – if not downright sleepy – performance in a weird, albeit great-looking film with several memorable moments – not the least of which shows the creation of the universe as you've seen it before. Otherwise, the story, as concocted by Aronofsky and Ari Handel, takes ample liberties with the Bible in its strange, unsatisfying mix of family drama and spectacle, with lesser elements revolving around Ray Winstone's heavy-handed villainy as Tubal Cain. It's not out there enough to please the director's fans, while being too far removed from the text – and also too violent – for faith-based audiences and family viewers.
Maybe worth a look nevertheless for its vivid imagery (cinematographer Matthew Libatique's work includes evocative Iceland location shooting), "Noah" has been brought to Blu-Ray by Paramount in a strong visual presentation. The 1080p AVC encoded transfer (1.85) is sumptuously detailed, though extra features (three featurettes) are a disappointment. Musically, Clint Mansell's score swells in 7.1 DTS MA, hitting all the predictable notes but adding little to the dramatic weight of the film.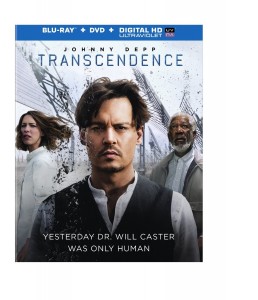 TRANSCENDENCE Blu-Ray Combo Pack (**, 119 mins., 2014, PG-13; Warner): Good-looking but feeble futuristic thriller stars Johnny Depp as a scientist, dabbling in Artificial Intelligence, whose mind is implanted into a giant computer after he's shot by anti-technology radicals. What follows in writer Jack Paglen's script is something of a "higher minded" version of "The Lawnmower Man," as Depp begins to enhance his abilities from the tech/spiritual netherworld, and threatens to cleanse mankind of its sins as a result.
Christopher Nolan was one of the producers on "Transcendence," with his long-time cinematographer Wally Pfister making his feature directorial debut on the picture. Though the cast (Rebecca Hall, Paul Bettany, Kate Mara, Cillian Murphy and Morgan Freeman) is top notch and the premise intriguing, the final result is underwhelming and filled with logical gaps that require too much of a suspension of disbelief – not to mention characters you could care less about.
A massive flop at the box-office, "Transcendence" makes a B-line for home video this week. Warner's Blu-Ray combo pack includes a number of featurettes, DVD, digital copy, and an attractive 1080p AVC encoded (2.40) transfer with 5.1 DTS MA sound sporting a score by Mychael Danna. It's unlikely this one is going to transcend its terrible reputation on home video.
RIO 2 Blu-Ray Combo Pack (**½, 101 mins., 2014, G; Fox): More-of-the-same animated hyjinks revolving around talky bird couple Blu (voiced by Jesse Eisenberg) and Jewel (Anne Hathaway), who now have a family of their own, and head down to the Brazilian rain forest after hearing an extinct species of birds is alive and kicking. This overly-plotted follow up lacks the charm of its predecessor, leaping from one story line to the next in a frenetic fashion over the course of its 100 minutes. Still, the visual design is appealing enough and the music – with Sergio Mendes functioning as executive music producer – is terrific…just enough so that adults might tolerate a single viewing. Fox's Blu-Ray combo pack includes a lovely 1080p (2.40) transfer, DTS MA 5.1 audio, and copious extras (featurettes, deleted scenes, music video sing-alongs, etc.), plus a DVD and digital copy.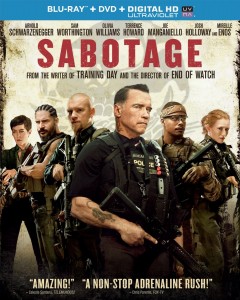 HEAVEN IS FOR REAL Blu-Ray Combo Pack (***, 99 mins., 2014, PG; Sony): Wholesome adaptation of the Todd Burpo-Lynn Vincent bestseller, which detailed the near-death experience of Burpo's young son, Colton. Greg Kinnear plays Todd Burpo in this entertaining and well-acted picture directed by "Braveheart" scribe Randall Wallace, who adapted the book with co-writer Christopher Parker, and brought along former collaborators including cinematographer Dean Semler and composer Nick Glennie-Smith, raising the whole picture technically far above the usual "faith based" genre outing. Thomas Haden Church, Kelly Reilly, Margo Martindale and young Connor Corum co-star, with Sony's Blu-Ray of the $80-million-plus box-office hit arriving in stores this week. The Blu includes a pair of exclusive featurettes along with a 1080p transfer (2.35), 5.1 DTS MA soundtrack, a DVD and Ultraviolet copy.
SABOTAGE Blu-Ray Combo Pack (**, 110 mins., 2014, Rl Universal): Grimy and unpleasant thriller from "Training Day" and "End of Watch" auteur David Ayer follows a group of DEA agents who manage to steal – and then subsequently lose – $10 million in drug money during a routine operation. After being placed on probation, the unit – led by Arnold Schwarzenegger's grizzled veteran – returns to action, only to have its members hunted down one by one. "Sabotage," which failed to find an audience at the box-office this past spring, is a thoroughly ugly film, from its excessive violence to its endless profanity and unappealing characters. Ayer manages to waste a tremendous cast here – in addition to Arnold, Sam Worthington, Joe Manganiello, Terrence Howard, Olivia Williams, Mireille Enos and "Lost" alums Josh Holloway and Harold Perrineau fail to overcome the stylistic "edginess" the director instills in the material. Universal's Blu-Ray includes a 1080p (1.85) transfer, 5.1 DTS MA soundtrack, two alternate endings and a Making Of, plus a DVD and digital copy.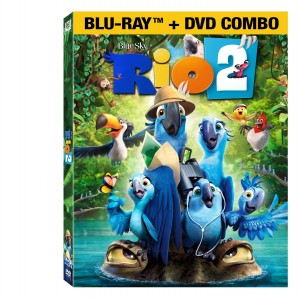 AMERICAN GIRL: ISABELLE DANCES INTO THE SPOTLIGHT Blu-Ray/DVD (100 mins., 2014, Not Rated; Universal): The latest "American Girl" live-action feature follows precocious nine-year-old Isabelle (Erin Pitt), who's studying ballet at a performing arts school along with her talented older sister. Melora Hardin co-stars in another likeable, family-friendly outing that should appeal to young viewers. Universal's Blu-Ray combo pack includes a DVD, digital copy, 1080p transfer and 5.1 DTS MA soundtrack.
MAKE YOUR MOVE Blu-Ray (110 mins., 2014, PG-13; Sony): Derek Hough stars as a dancer who falls for a hip-hop artist (Korean singing sensation BoA) after they meet at a New York City club. Their dancing and blossoming relationship is put on the line when they find themselves challenging one another in this "Step Up"-like drama with ample dancing sequences that play off the strengths of the leads. Sony's Blu-Ray includes a commentary with writer/director Duane Adler and the choreographers, a featurette, deleted scenes, 1080p (1.85) transfer and 5.1 DTS MA audio.
---
Fox has released a handful of new TV on DVD sets that have been produced on manufactured-on-demand media through Amazon's "CreateSpace" program. Here's a rundown:
BOB'S BURGERS Season 3 DVD (506 mins., 2012-13; Fox)
AMERICAN DAD! Volume 9 DVD (418 mins., 2012-13; Fox): "American Dad," Seth MacFarlane's "Family Guy" follow-up, finally finished its run on Fox this past year (it's heading to TBS for new episodes), having never matched the fanbase of MacFarlane's earlier series. In fact, the creator himself has told viewers in the past to email Fox in the hopes of generating another renewal for the show, which has perennially struggled in the ratings. Volume 9 of "American Dad!," then, marks the end of an era of sorts for the series (at least it's network run), with the three-disc set including uncensored episodes in 16:9 (1.78) transfers and 5.1 soundtracks. The recent Fox animated series "Bob's Burgers," meanwhile, also returns to DVD this month from Fox. The three-disc set Season 3 set contains its entire 23-episode season in 16:9 (1.78) transfers with 5.1 soundtracks – an appetizer before Season 4 kicks off this fall.
THE GLADES Season 4 DVD (572 mins., 2013; Fox): Matt Passmore stars in this A&E dramatic series as a Chicago cop who moves to Florida and finds life in the swamp to be just as tough as the Windy City. Fox's Season 4 set of "The Glades"' includes all 13 episodes in 16:9 (1.78) transfers and 5.1 soundtracks.
THE NEW NORMAL: The Complete Series [Season 1] DVD (484 mins., 2013-14; Fox): "Glee" producer Ryan Murphy failed to ignite the same sparks in this serio-comic study of a gay couple (Justin Bartha and "Book Of Mormom's Andrew Rannells) who find a surrogate mom in Georgia King…who has a family surrounding her that's not exactly tolerant. Sentiment and preaching were laid on fairly thick (as you'd expect in a Murphy production) in this short-lived NBC series, which hits DVD in a three-disc set featuring its entire run in 16:9 transfers and 2.0 stereo soundtracks.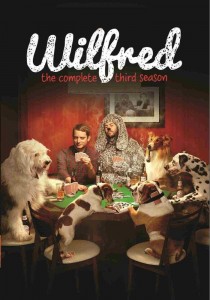 LAST MAN STANDING Season 1 (521 mins., 2011-12) and Season 2 (386 mins., 2012-13; Fox): The family sitcom, once so prevalent on the airwaves, seems to be dissipating on network TV. This Tim Allen comedy has flown under the radar since its debut on ABC in the fall of 2011, but it's been renewed for a fourth year, carrying the torch for its well-worn genre. Fans ought to enjoy Fox's no-frills releases from the show, as both Season 1 (23 episodes) and Season 2 (18 episodes) sets include 16:9 transfers and 2.0 stereo soundtracks.
WILFRED: Season 3 DVD (286 mins., 2013; Fox): Ryan (Elijah Wood) and his dog Wilfred (Jason Gann) return in the third (and penultimate) season of the raunchy FX comedy – a remake of an Australian series that also starred Gann (Shout released that version of "Wilfred" a year ago). Fox's DVD of "Wilfred"'s third season boasts 16:9 transfers and 5.1 Dolby Digital soundtracks of all 13 episodes. Also new from Fox are the third season of THE KILLING (528 mins., 2013), following Sarah Linden and Stephen Holder's subsequent adventures after the Rosie Larsen case, and Season 3 of LOUIE (286 mins., 2012), the acclaimed FX series mixing Louis C.K.'s stand-up comedy with casual sitcom oriented storylines. Offbeat and wacky. Both releases include 16:9 transfers and 5.1 Dolby Digital soundtracks.
UNFORGETTABLE Season 2 (aprx. 9 hours, 2013-14; CBS) returns Poppy Montgomery to her role as NYPD Detective Carrie Wells, working with former boyfriend and current partner Al Burns (Dylan Walsh) in the high-risk Major Crimes division. The duo tackle cases involving a nuclear bomb, a serial killer, and assorted terrorists in 13 second-season episodes from the series (which started on CBS, moved over to TNT for its second year, and is currently back on CBS again). CBS' four-disc set includes the complete "Unforgettable" Season 2 in 16:9 transfers with extras including a gag reel, deleted scenes and three featurettes.
---
Cinedigm New Releases: The Hallmark Channel generated one of their biggest hits with the First Season of CEDAR COVE (588 mins., 2013), the channel's inaugural original series, about life in a quaint Pacific Northwest town. Andie MacDowell stars as a local judge who tries to balance work with her relationship with new arrival in town Dylan Neal (who runs the local newspaper); other plots involve MacDowell's daughter (Sarah Smyth) choosing between a pair of suitors; and her best friend's (Teryl Rothery) romantic entanglements as well. Wholesome and family friendly, "Cedar Cove" is beautifully shot in Vancouver and was an immediate success for the network. With Season 2 debuting shortly, Cinedigm has released a Season 1 set for the series with a behind-the-scenes featurette, 16:9 transfer and 5.1 Dolby Digital soundtrack…Sharlto Copley toplines OPEN GRAVE (102 mins., 2013, Not Rated) as man who awakens in a pit of graves and tries to piece together who he is – as well as a group of strangers suffering from amnesia as well. Cinedigm's Blu-Ray of Gonzalo Lopez-Gallego's film, co-starring Thomas Kretschmann, offers a 1080p transfer, 5.1 DTS MA audio and a behind-the-scenes featurette.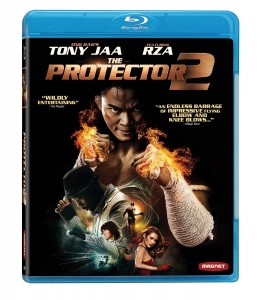 From Magnolia: Tony Jaa fans will want to check out Magnolia's new Blu-Ray release of THE PROTECTOR 2 (105 mins., 2013, R), the sequel to the global smash that returns Jaa as the no-nonsense "Kham". The RZA co-stars as LC, who hunts after Kham after Boss Suchart is murdered. Magnolia's Blu-Ray (a 3D version is apparently available separately) includes behind-the-scenes featurettes, an AXS TV special, trailers, a 1080p transfer (2.35) and 5.1 DTS MA audio in either English or Thai. Martial arts buffs might also want to check out the new ONG BAK TRILOGY box-set containing "Ong Bak," its bizarre prequel, and "Ong Bak 3," all with 1080p (1.85/2.35) transfers, 5.1 DTS MA soundtracks in English or Thai, and assorted special features. Check the Aisle Seat archives for reviews of the individual titles.
Well Go New Releases: On July 29th, Patrick Kazu Tang's DRAGONWOLF (122 mins., 2012, Not Rated)slices and dices its way onto Blu-Ray with the lovely Macha Polivka co-starring as the woman who gets inbetween two men who rule the mean streets of The Devil's Cauldron. Well Go's Blu-Ray boasts a DTS MA 5.1 English soundtrack and 1080p transfer…If time travel and "Ordinary People" were to intertwine, the result might resemble something like I'LL FOLLOW YOU DOWN (93 mins., 2013, Not Rated), a moody tale of a young scientist (Haley Joel Osment) trying to uncover the whereabouts of his missing physicist father and make his fractured family whole again. With Gillian Anderson, Rufus Sewell and Victor Garber. Well Go's Blu-Ray includes deleted scenes, a behind the scenes featurette, 1080p transfer and DTS MA 5.1 audio.
AMBER ALERT: TERROR ON THE HIGHWAY DVD (90 mins., 2008, Not Rated; Nasser): Tom Berenger has clearly seen better days, as evidenced by this tepid tale of a crazed man who abducts two young girls and learns the hard way not to mess with a local police chief (Torri Hinginson). This made-for-TV film was originally known as "Desperate Hours" before its recent name change for home video. Nasser's DVD includes a 16:9 transfer and 5.1 Dolby Digital soundtrack.
LULLABY DVD (117 mins., 2013, R; Arc Entertainment): Andrew Levitas' disappointing drama wastes a terrific cast in a downbeat tale of a young man (the perpetually charisma-challenged Garrett Hedlund) who returns to his ancestral home in time for his father's announced suicide. Richard Jenkins essays dear o'l dad with Anne Archer as his sensitive wife, Jessica Brown Findlay as Hedlund's siter, and Amy Adams as the girl Hedlund unwisely left behind. Jennifer Hudson and Terrence Howard co-star in the drawn-out picture, which arrives on DVD from Arc offering a 16:9 transfer and 5.1 soundtrack.
CELL 213 DVD (109 mins., 2008, R; E One): Eric Balfour plays a criminal defense attorney who's incarcerated in the South River State Penitentiary after being framed for a murder he didn't commit. Supernatural shenanigans ensue once he's inside in this 2008 thriller from director Stephen Kay co-starring Michael Rooker and Bruce Greenwood, just making its DVD debut from E One on July 22nd. The no-frills disc boats a 16:9 transfer and 5.1 Dolby Digital soundtrack.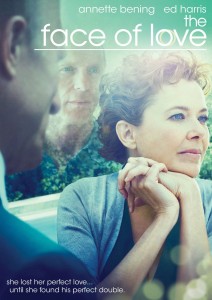 IFC/MPI New Releases: THE DEN (76 mins., 2013, R) stars Melanie Papalia as a graduate student who tries to study the habits of website users on a video chat site. After seeing a girl murdered on her webcam, she attempts to uncover the truth in a grizzly, short little indie thriller from director Zachary Donohue. IFC's DVD includes commentary, behind the scenes material, the trailer, a 16:9 transfer and 5.1 Dolby Digital soundtrack…Annette Bening and Ed Harris both give fine performances in THE FACE OF LOVE (92 mins., 2013, PG-13), an underrated drama about a woman who falls for a man possessing the same traits as her late husband. Robin Williams and Amy Brenneman co-star in Arie Posin's film, now available on DVD with extras including deleted scenes, a cast featurette, the trailer, and commentary from Posin…GMO OMG (85 mins., 2013, Not Rated) is Jeremy Seifert's documentary about genetically modified organisms (GMOs) and how they're impacting our health and the planet itself. Entertainingly done with IFC's DVD including bonus interviews, a 16:9 transfer and 5.1 audio.
THE PRETTY ONE DVD (95 mins., 2014, R; Sony): Zoe Kazan gives a terrific performance as identical twins – one of whom assumes the identity of the other after she dies – in this low-key indie dramaedy co-starring "The New Girl"'s Jake Johnson and Ron Livingston. Jenee LaMarque's film has received a straightforward DVD release from Sony offering a visual effects featurette, 16:9 transfer and 5.1 Dolby Digital soundtrack.
---
Vintage anime fans ought to be excited by a pair of new releases from the Warner Archives this month.
MAGIC BOY (83 mins., 1960) is noteworthy for being the first full-length Japanese animated film to be released in the U.S. MGM imported this 1960 tale of a young boy named Sasuke who sets off to take on a demon witch that invades his peaceful forest home. Though obviously dubbed for the U.S. with a new theme song sung by "Danny Valentino," most of "Magic Boy" was left untouched in the editing room by Hollywood, making for a fascinating relic of vintage anime now on DVD. Warner's Archive disc restores the full widescreen (2.40) frame in 16:9 with mono audio.
MARINE BOY (636 mins., 1967-68), meanwhile, was noteworthy for being one of the first Japanese animated cartoons to air on American TV. Produced originally in 1965 by Japan Tele-Cartoons, "Marine Boy" was – along with early Asian animated imports "Kima" and "Speed Racer" – intended for the North American audience, captivating young viewers who tuned in to see Marine Boy keep the oceans of the world safe on behalf of the Ocean Patrol. Along with a pair of other Ocean Patrol agents, a mermaid named Neptina and his faithful dolphin, Splasher, Marine Boy swam through dozens of episodes – the final 26 of which have been collected here on DVD in a three-disc Warner Archives set. For anime fans or nostalgic viewers who might remember the series – which aired in syndication after Warner-Seven Arts purchased the English language rights – "Marine Boy" is a blast of early "anime," and should delight kids and those who might recall its original broadcasts.
Also new from the Archives is THE WARRIORS (85 mins., 1955), notable for being the final swashbuckler starring the great Errol Flynn, appearing here as the Prince of Wales, who combats vile French forces led by Comte De Ville (Peter Finch). Joanne Dru co-stars in this Cinemascope production from Allied Artists, presented here in full 2.40 widescreen (16:9) enhanced with mono audio…James Garner fans will be delighted by the long-overdue release of THE LONG SUMMER OF GEORGE ADAMS (93 mins., 1981), one of the actor's favorite made-for-TV movies, directed by Stuart Margolin. Both "George Adams" and the breezy 1980 made-for-TV comedy MARRIAGE IS ALIVE AND WELL (97 mins.) – starring Joe Namath, Melinda Dillon, Judd Hirsch and Jack Albertson – make their DVD debuts from the Archives featuring uncut 4:3 transfers and mono sound…More contemporary shenanigans are on-hand in the Complete Fifth Season of CHILDREN'S HOSPITAL (156 mins., 2013), the zany series that finds the cast relocated to a pediatric clinic in Osaka, Japan. 16:9 transfers and stereo soundtracks comprise Warner's single-disc manufactured-on-demand package.
NEXT TIME: Herzog: The Collection! Until then, don't forget to drop in on the official Aisle Seat Message Boards and direct any emails to our email address. Cheers everyone!