The gorgeously shot — kudos to director Robert Stromberg and cinematographer Dean Semler — but flawed "revisionist fairy tale" MALEFICENT (**½, 97 mins., PG) takes the perspective of the title villainess (a perfectly cast Angelina Jolie) as she curses Aurora, the King's daughter (Elle Fanning), to a lifetime slumber upon her reaching the age of 16. Until that time, Maleficent actually becomes — grudgingly — some kind of fairy godmother to the girl, who lives in the forest, secluded from the castle and her increasingly deranged father, who wants only to destroy Malefcent and her fairy kingdom.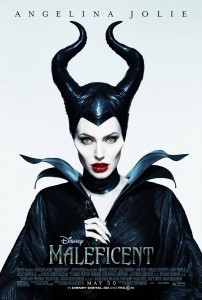 "Maleficent," the latest Disney live-action fantasy to follow in the footsteps of Sam Raimi's "Oz: The Great and Powerful" and Tim Burton's "Alice in Wonderland," falls inbetween the two in terms of quality. It's livelier and more fun than Burton's picture, yet not as satisfyingly scripted as last year's sojourn to Frank Baum's magical province. Part of the problem is its obvious identity crisis, wherein the film wants to place a more adult spin on "Sleeping Beauty" while retaining the wholesome qualities of a Disney production. This results in Maleficent herself being not "bad" but rather understandably outraged by the horrendous behavior of the king (a terribly one-note Sharlto Copley), who strips away her wings and the ability to fly.

Jolie is just fine in the lead, and Fanning is lovely as Sleeping Beauty — but other roles in the picture prove to be a bust, particularly the "three fairies" (played by Juno Temple, Lesley Manville and Imelda Staunton) who become the girl's surrogate caretakers and would-be comic relief. Abrasively unfunny and obnoxious, they're just as worthless as Copley's gruff, wooden performance as the King — and the less said, the better about Prince Philip (Brenton Thwaites), who's treated here like a refugee from the last "Twilight" movie.

Technically the film delivers: the effects are impressive and the cinematography, especially early on, delivers some striking, evocative shots of Maleficent sitting on the top of a hill, contemplating her existence with clouds billowing in the background. With first-time director Stromberg coming from a background in special effects animation, it's no surprise this is a sumptuously designed picture that often looks, in its best moments, like a painting come to life. For that reason, adults can at least appreciate the pretty pictures even if the story (credited to veteran Disney scribe Linda Woolverton) doesn't come together, and relies heavily on the studio's now-standard "female empowerment" themes (like "Frozen," the male leads are spectacularly weak).

"Maleficent" also shows ample evidence of having being worked over in post-production — with a scant 97-minute running time, it's obvious Disney executives poured over every aspect of the picture, with the entire opening having been reshot after principal photography concluded. This resulted in the deletion of Miranda Richardson and Peter Capaldi's scenes as the Queen and King of the Moors, as well as India Eisley (Olivia Hussey's daughter) being replaced by another actress as a young Maleficent in scenes rewritten and shot under the guidance of director John Lee Hancock. While one can only imagine Disney executives didn't like the direction the movie was taking, the finished product — tellingly — never settles into a comfortable editorial rhythm.

On the whole, "Maleficent" is a mixed bag with some memorable elements and numerous shortcomings, though between the visual design and James Newton Howard's effectively emotive score (which only hits a false note with an odd, "wicked witch" type of fanfare in its concluding seconds), at least it gives the viewer something interesting to look at and listen to.
---
Westerns have staged quite a digital comeback on Blu-Ray since the format's inception. The wide open vistas, rugged action and rousing musical scores synonymous with the genre are perfectly suited for the high-definition treatment, and studios have responded by releasing a steady stream of western catalog content, both here and overseas, on Blu-Ray. Last month, Criterion added another log onto the campfire with a marvelous edition of Howard Hawks' RED RIVER (****, 127/133 mins.), the 1948 masterpiece that stands tall as one of the finest sagebrush sagas ever produced.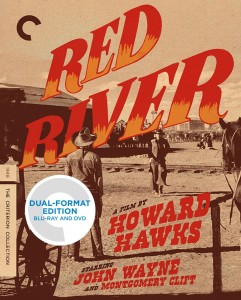 A rugged, exciting distillation of Borden Chase's Saturday Evening Post serial, "Red River" finds cattle rancher Thomas Dunson (John Wayne) leading a herd to Missouri from a struggling, post-Civil War Texas. The journey from the Lone Star state is fraught with peril: stampedes, famine, the possibility of a rising river, the presence of Comanches and mutiny from within Dunson's own ranks threaten the cattle drive along the Chisholm Trail. Fortunately, Dunson's right hand man – Matthew Garth (Montgomery Clift) – is present to keep the herd moving…at least until Dunson's unforgiving demeanor reaches a breaking point.
Perennially cited as one of the hallmarks of the genre, "Red River" remains as potent and exciting as ever. Shot on location in Arizona, the movie offers a straightforward but thoroughly entertaining narrative, backed by superb cinematography of an actual cattle drive in motion. No CGI here – this is the real thing, with Hawks mixing thrills and strong, indelible characters throughout. Wayne, of course, towers over them all as the driven Dunson, and Clift is striking as the increasingly weary Matt, whom Dunson essentially adopted when he was a young boy. Numerous familiar faces appear in support, including Walter Brennan as the driver of the chuck wagon, John Ireland as "Cherry Valance," Joanne Dru as the feisty frontier girl who falls for Matt, Harry Carey Sr. and Jr., and supposedly a young Richard Farnsworth somewhere in the cast. It's a tremendous, rousing western that deserves its status as a bona-fide film classic.
Criterion's Blu-Ray/DVD release offers two distinct versions of the picture: Hawks' preferred theatrical version (127 mins.) as well as a longer "preview" assembly (133 mins.) that essentially supplanted the former during the advent of home video. For that reason, more viewers are likely familiar with the earlier, longer cut of the film, which offers "book pages" that move the narrative along in place of the theatrical cut's narration by Walter Brennan. There are some differences in Dimitri Tiomkin's grand score as well, along with several trims and an abbreviated ending – one that was allegedly cut down because it bore a resemblance to Howard Hughes' "The Outlaw." As Peter Bogdanovich explains in a new interview on the Criterion release, perhaps the best version of the movie would be the theatrical cut with the ending of the preview version, yet viewers can, at least, choose between the two here. Personally, I prefer the 133 min. version for its smoother pacing, reliance on Tiomkin's music instead of Brennan's narration, and the fact that, visually, the elements are in much healthier condition than the theatrical edit. Criterion restored both cuts in 2K (1.33 B&W 1080p) transfers, yet the theatrical version had to be cobbled together from a myriad of sources (including the longer version, a French print, even a PAL video tape for its opening credits) and often displays the disparity of those elements, despite the remarkable work undertaken to piece it back together.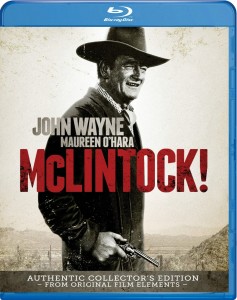 Extra features, spread across both Blu-Rays and DVDs, include the before-mentioned talk with Bogdanovich plus a 1972 interview between Hawks and the filmmaker; a new interview with critic Molly Haskell; comments from western authority Lee Clark Mitchell; an archival conversation with Borden Chase; and a 1949 Lux Radio Theatre adaptation of the material with Wayne, Brennan and co-star Joanne Dru. A paperback reprinting of Chase's original writing completes another candidate for top disc of 2014!
Back on Blu-Ray this month is the 1963 Wayne vehicle McLINTOCK! (***, 127 mins., Not Rated), a good-natured lark produced by Wayne's Batjac Productions that stars the Duke as a cattle baron who butts heads with his estranged wife (Maureen O'Hara) in a loose western variant on "The Taming of the Shrew." Stefanie Powers, Patrick Wayne, Yvonne De Carlo, Chill Wills, Jack Kruschen and numerous other familiar faces pop up in this lengthy but fun slice of escapism, directed by Wayne's pal Andrew V. McLaglen, which makes its second BD appearance courtesy of Paramount's new "Authentic" package. Remastered from the original film elements, this "Mclintock!" is a notable enhancement from Olive's Blu-Ray, which was released just over a year ago – the transfer is excellently detailed and colorful, while extras (none of which were included on the Olive disc) offer commentary from Leonard Maltin and cast/crew members plus various Making Of featurettes from the prior Paramount DVD release. For a movie that inexplicably fell into the public domain for a time – albeit minus Frank DeVol's soundtrack, which was still under copyright – it's great to see the picture treated properly on Blu-Ray at last, in a superior package to the Olive presentation at that.
---
LONE SURVIVOR Blu-Ray Combo Pack (***, 121 mins., 2013, R; Universal): Gut wrenching and exceedingly well-made account of Marcus Luttrell's survival against Taliban forces in Afghanistan after his fellow squadmates were wiped out in a harrowing attack. Mark Wahlberg (as Luttrell) and the rest of the performances are convincing, Peter Berg's direction is suspenseful, and the film does impart a vital message that not every individual in the country is a religious zealot, even if their opposition receives little play in the media. Even if the movie lacks the visceral and narrative impact of Ridley Scott's "Black Hawk Down," this is still a remarkable true story that's well worth seeing.
Universal's Blu-Ray combo pack includes a number of BD exclusive featurettes taking you behind the scenes into the production of the picture as well as offering an in-depth look at Luttrell himself. The 1080p transfer and 5.1 DTS MA soundtrack are both excellent, with a DVD and digital copy rounding out the disc.
I should add though this was another "dramatic" film I've seen theatrically in the last 2-3 years where a few older moviegoers couldn't keep quiet. In this case we had "grandma and her friend" who had to make "Oh that's terrible!" comments after every bit of gore and violence in the picture. Kudos to my wife for telling them to keep quiet (and they did), but I don't understand what it is about this type of film that encourages more bad behavior in theaters than the big blockbusters. I've sat through movies like "The Hunger Games" and "The Dark Knight" where you could hear a pin drop during them…even with lots of kids in attendance. I don't get it!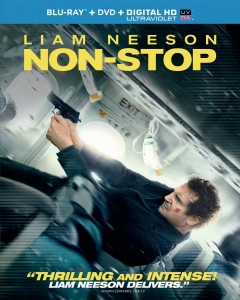 NON-STOP Blu-Ray Combo Pack (**, 106 mins., 2014, PG-13; Universal): The latest brainless Liam Neeson thriller — which finds our star as a drunken air marshal tormented by an unseen passenger on a flight bound for London — is capably directed and stylishly filmed if nothing else. Unfortunately, what eventually turns into "Taken on a Plane" succumbs to a late-game plot twist so hilariously, inexplicably "politically correct" you can almost feel the filmmakers checking off a list to make ensure no foreign box-office revenue was lost due to religious or ethnic sensitivities. The cumulative effect not just makes the finale laughable, it's also downright insulting to anyone who has served in the military or suffered from PTSD. Suffice to say, at least the real terrorists are sure to be delighted by this venomously anti-American production funded by France's Studio Canal, which might explain its political bent. Universal's Blu-Ray package offers a digital copy, a few featurettes, 1080p transfer and 5.1 DTS MA audio plus a digital copy.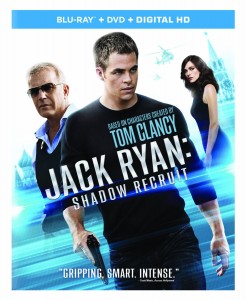 JACK RYAN – SHADOW RECRUIT Blu-Ray Combo Pack (**, 105 mins., 2014, PG-13; Paramount): Mediocre attempt at "rebooting" Tom Clancy's character in his earliest days as a CIA analyst proves to be a big disappointment. Here, Chris Pine takes over the role previously occupied by Alec Baldwin, Harrison Ford and Ben Affleck as he's tasked to stop a Russian tycoon (Kenneth Branagh, who also directed) who tries to ignite another 9/11 and drop the value of the American dollar in the process.
Long in development, this "Jack Ryan" bears scant resemblance to the more intricate and believable Clancy novels that preceded it, to say nothing of the previous films in the series, which ran the gamut from excellent ("The Hunt For Red October") to overstuffed and flawed (both of the Ford pictures). Branagh brings a cool visual eye to the material, but the Adam Cozao-David Koepp script feels more like Bond and Bourne, with Ryan quickly becoming a CIA super-hero as he races to stop another catastrophe. It's push-button moviemaking, with a number of uncertain performances – particularly from Kiera Knightley, boasting a none-too-convincing American accent in the Anne Archer role – failing to enhance the standard-issue storytelling.
Paramount's Blu-Ray combo pack, out June 10th, includes deleted and extended scenes; commentary from Branagh and producer Lorenzo di Bonaventura; Making Of featurettes; a 1080p transfer and 7.1 DTS MA soundtrack, along with a DVD and digital copy.
---
Warner Archives New Releases
Clark Gable, Myrna Loy and Spencer Tracy toplined Victor Fleming's 1938 hit TEST PILOT (119 mins.), a vintage MGM production offering Gable as the title hero, who flies high while maintaining his relationship with his wife (Loy) and mechanic best friend (Tracy). Lionel Barrymore co-stars in a spirited film with death-defying flying sequences that look impressive in Warner's new Archive release, presented in 4:3 B&W…Golden Age western fans will want to saddle up for THE MONOGRAM COWBOY COLLECTION VOLUME 8, a new four-disc Archives anthology that focuses on the exploits of Marshal Sandy Hopkins (Raymond Hatton) with Nevada Jack (Johnny Mack Brown) and the Rough Riders. Included here are no less than 12 features produced by Monogram from 1941-50: Arizona Bound, The Gunman From Bodie, Forbidden Trails, Below th eBorder, Ghost Town Law, West of the Law, Law of the Valley, West of the Rio Grande, Silver Range, Over the Border, Six Gun Mesa and West of Wyoming, all in 4:3 B&W transfers.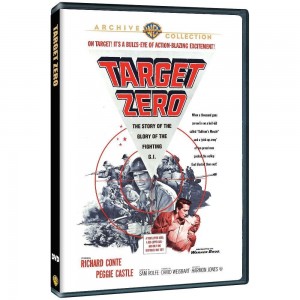 It's hard to believe that, as iconic as Hanna-Barbera's THE JETSONS characters are, the series itself only generated a trio of seasons split between the '60s and '80s. Warner's Season 3 release (220 mins.) collects the final 10 episodes from the series that ran in its second incarnation – in TV syndication circa 1987. Thus, Warner's Archive DVD offers a bittersweet goodbye to the animated family of the future in a single-disc set with 4:3 transfers and stereo soundtracks.
Also new from the Archives this month: Andy Griffith followed his star-making performance in "No Time For Sergeants" with the Coast Guard comedy ONIONHEAD (110 mins., 1958), a Norman Taurog production co-starring Walter Matthau and Joey Bishop. Warner's Archive DVD boasts a 16:9 (1.78) B&W transfer…Natalie Wood and Tab Hunter toplined the 1957 Warner comedy THE GIRL HE LEFT BEHIND (103 mins.), with Hunter starring as a frat boy who flunks out of college and joins the service. James Garner, Alan King, David Janssen and Jim Backus lead an outstanding supporting cast in this genial comedy presented here in a 16:9 transfer (1.78) with mono audio…Finally, TARGET ZERO (92 mins., 1955) is a rare Korean war drama tarring Richard Conte with Charles Bronson, L.Q. Jones and Chuck Connors offering support. Warner's B&W 16:9 transfer (1.78) is excellent.
---
THE SECRET LIFE OF DORKS (91 mins., 2013, PG-13) wastes a good cast in a sophomoric "coming of age" picture wherein an average geek (Gaelan Connell) tries to make a pass at his lifelong crush (Riley Voelkel) while ignoring the awkward girl (Vanessa Marano) who secretly pines for him. Director Salome Breziner fills out the supporting cast with familiar veterans like Seymour Cassel, Jim Belushi, Jennifer Tilly, plus William Katt and Kay Lenz (though regrettably it's a toss-up as to which of the latter duo has had more plastic surgery), but the humor is dumb and juvenile. When the movie ends with Belushi barfing on Mike Ditka, that's pretty much all you need to know. Cinedigm's DVD hits stores June 10th with a 16:9 transfer and 5.1 Dolby Digital soundtrack.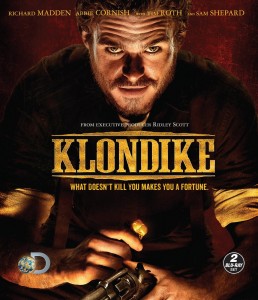 One of the highest-rated cable mini-series of 2014, Discovery's first dramatic series, KLONDIKE (429 mins., 2014), is a multi-part adaptation of Charlotte Gray's book "Gold Diggers," following prospectors and other characters making their way in the untamed Yukon. Abbie Cornish, Marton Csokas, Ian Hart, Tim Blake Nelson, Tim Roth and Sam Shepard star in this good-looking production coming to BD on June 10th. Cinedigm's BD includes two featurettes, cast interviews, a 1080p transfer and 5.1 Dolby Digital sound…Godfrey Reggio, Philip Glass and Jon Kane reunited for VISITORS (87 mins., 2013, Not Rated), another meditation on the modern world from the filmmakers of the "The Qatsi Trilogy." Cinedigm's Blu-Ray, out June 10th, includes interviews with the filmmakers along with "presenter" Steven Soderbergh; a Making Of; trailers; a 1080p transfer and 5.1 DTS MA audio.
This week, Cinedigm also releases VALENTINE ROAD (89 mins., 2012), a documentary from Marta Cunningham about a 2008 high school shooting in Oxnard, California. Deleted/extended scenes comprise the extras in Cinedigm's DVD release along with a 5.1 soundtrack and widescreen transfer…The inspirational sports drama MIDRANGE (110 mins., 2012, PG-13) also comes to DVD this month from Cinedigm, offering bonus interviews, a 16:9 transfer and 2.0 stereo soundtrack.
New From Magnolia: Steve Coogan returns as ALAN PARTRIDGE (90 mins., 2013, R) in a new feature expansion of his long-running talk show host/DJ character, who here is held hostage by a fellow DJ (Colm Meaney) after he learns he's being fired. Magnolia's Blu-Ray, out next week, includes a Making Of, behind-the-scenes featurette, AXS TV special, 1080p transfer and 5.1 DTS MA audio.
---
HBO New Releases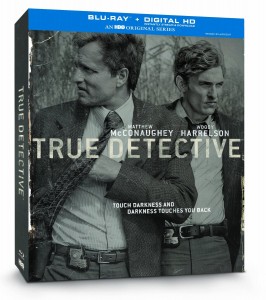 One of the most-discussed cable series in recent years, TRUE DETECTIVE (458 mins., 2014) spins a seemingly straightforward premise – following a pair of Louisiana detectives (Woody Harrelson, Matthew McConaughey) as they investigate a serial killer and his victims over multiple decades – into an intricate, fascinating yarn. Over the course of eight episodes, Nic Pizzolatto's series keeps you riveted with compelling drama, offbeat humor and two dynamic performances from Harrelson and McConaughey – as for the plot, the less said the better…except check it out. HBO's Blu-Ray presentation, out on June 10th, includes a Making Of; Up Close with the actors; interviews with Pizzolatto and music supervisor T Bone Burnett; Inside the Episode featurettes; two commentaries; deleted scenes; 1080p transfers and 5.1 DTS MA soundtracks.
Also new from HBO this month is the sixth season of TRUE BLOOD (600 mins., 2013), which finds Sookie Stackhouse and company trying to make sense of a world where TruBlood is in short supply and the human/vampire conflict has come out into the open – leading the governor (Arliss Howard) to declare war on the undead. Fans of the series will naturally make the most sense of "True Blood"'s sixth season, with HBO's Blu-Ray including format-exclusive featurettes (Vamp Camp Files; True Blood Lines) along with Inside the Episode backstories, audio commentaries, 1080p transfers, 5.1 DTS MA soundtracks and a digital copy for itunes or Ultraviolet.
---
Available this week on Blu-Ray from PBS is SNOW MONKEYS (60 mins., 2014), a terrific Nature special chronicling the snow monkeys from Japan's frigid Shiga Highlands. Outstanding cinematography, a pleasant score by Jeremy Zuckerman and narration from Liam Neeson make for a fine program suitable for all ages, with PBS' Blu-Ray offering a 1080i transfer and 5.1 Dolby Digital sound…more wonders from the animal world are profiled in INSIDE ANIMAL MINDS (180 mins., 2013), a trio of BBC programs that aired on PBS' Nature series. The single-disc DVD includes "Dogs & Super Senses," "Bird Genius," and "Who's the Smartest?," as it profiles canines, birds and dolphins and their respective abilities to problem-solve and relate with one another. PBS' DVD includes widescreen 16:9 transfers and stereo soundtracks…MY BIONIC PET (60 mins., 2013) is a marvelous special looking at how modern science – and bionic limbs – can be tailored for all kinds of animals, from turtles to pigs, dogs and horses alike. An inspiring Nature special that also makes its DVD debut this week from PBS in a 16:9 transfer with stereo audio.
PENNSYLVANIA BALLET AT 50 is an hour-long tribute to Philadelphia's renowned company, offering copious highlights from its 50th Anniversary celebration performance, including performances of Wheeldon's "After the Rain," Sappington's "Under the Sun" and Balanchine's "Diamonds" from "Jewels." Bonus features include extended interviews, a widescreen 16:9 transfer and stereo soundtrack. Available June 17th…Finally, TB: SILENT KILLER (90 mins.) is a scary Frontline examination into the return of TB as a "silent killer" around the globe, with filmmaker Jezza Neumann traveling to Swaziland, which has the largest incidence of tuberculosis in the world. PBS' DVD includes a widescreen 16:9 transfer and 2.0 stereo sound.
---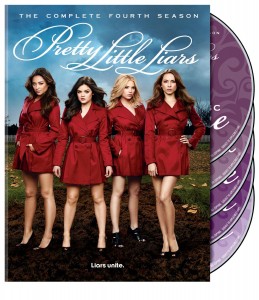 Also New & Noteworthy
PRETTY LITTLE LIARS: Season 4 DVD (1046 mins., 2013-14; Warner): Top-rated ABC Family drama returns to DVD this week with the release of the series' fourth season. Warner's five-disc set includes all 24 episodes from "Pretty Little Liars"'s Season 4, with the girls trying to find out the identity of Red Coat, what caused the traumatic lodge fire at the end of Season 3, and of course, what happened to Alison, in this continuation of Sara Shepard's popular young adult novels. Warner's DVD box-set includes three new featuretes: "Unhooding Red Coat," "Confessions of 'A' Lair," "Pretty Little Scenes," plus a bonus recap episode, unaired scenes, 16:9 transfers and 5.1 soundtracks.
DRAGONS: DEFENDERS OF BERK Part 2 DVD (220 mins., 2013-14; Fox): 10 more episodes from the popular TV spin-off of Dreamworks' "How to Train Your Dragon" includes Ultraviolet copies, 16:9 transfers, 5.1 soundtracks, "Dragon Tracker Part 4," "Evolution of the Skrill," "Here Comes the Fire: Dragon Mash-Up" and "World of Dreamworks Animation" extras.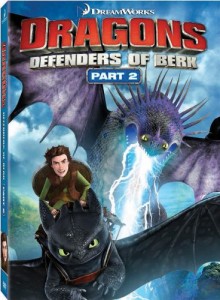 SUITS Season 3 DVD (aprx. 12 hours, 2013; Universal): Gabriel Macht stars in this USA original series as a Manhattan attorney who hires an unmotivated Patrick J. Adams to be his new associate – the hitch being that Adams doesn't have a law degree but does have an uncanny ability to remember things. Universal's third-season DVD edition of "Suits" includes deleted scenes, a gag reel, alternate finale ending, featurettes, and digital copy, plus 16:9 transfers and 5.1 Dolby Digital soundtracks.
COVERT AFFAIRS Season 4 DVD (aprx. 11 hours, 2013; Universal): Fourth season of the popular USA cable series stars Piper Perabo as a young CIA agent who again struggles to maintain her personal and professional relationships in a good-looking series that's due back on the air this summer. Universal's DVD set includes all 16 episodes from "Covert Affairs"'s fourth season in 16:9 transfers with extras including deleted scenes, a gag reel, a "prequel" and "Sights Unseen: Auggie Undercover" featurette. Also new from Universal is the complete final season of WAREHOUSE 13 (aprx. 4 hours, 2014), which hits DVD with its last 13 episodes, a gag reel, deleted scenes, bonus holiday episode, episode podcasts with cast/crew members on every show, and DVD exclusive interviews.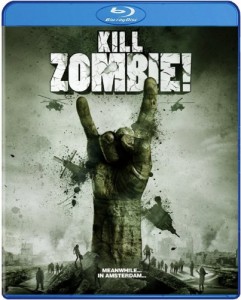 Well Go New Releases: On June 10th, Well Go releases the Netherlands' answer to "Shaun of the Dead" – the insane, and quite goofy, horror-comedy KILL ZOMBIE! (86 mins.), which follows the shenanigans that ensue once a Russian space station crashes in Amsterdam, releasing a deadly toxin in the process. Not for all tastes (to put it mildly), Well Go's Blu-Ray includes the Dutch soundtrack in DTS MA 5.1 with English subtitles…The contemporary Korean drama THE ATTORNEY (127 mins., 2013, Not Rated) examines what happens when a lawyer defends a local teen – accused of a crime he didn't commit – who's beaten while in jail. A nice change of pace for Well Go, with their DVD – due June 17th – including a 5.1 Korean soundtrack with English subtitles and 16:9 transfer.
New From MPI: Joe Swanberg's independent thriller 24 EXPOSURES (78 mins., 2013, Not Rated) follows a "fetish photographer" (Adam Wingard) who's accused of murdering one of his models. Simon Barrett co-stars with IFC's newly-released DVD including commentary, the trailer, a photo gallery, 16:9 (1.78) transfer and 2.0 stereo audio…The Sundance Selects release RUN & JUMP (106 mins., 2013, Not Rated) is a well-acted if decidedly offbeat tale of an Irish housewife (Maxine Peake) and her relationship with the American doctor (a strangely cast Will Forte) sent to chronicle and assist with her husband's recovery following a debilitating stroke. MPI's DVD includes a behind-the-scenes featurette, the trailer, a 16:9 transfer and 5.1 soundtrack.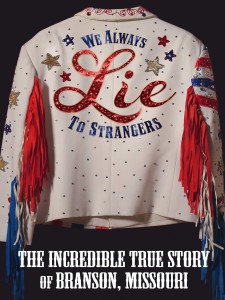 WE ALWAYS LIE TO STRANGERS DVD (108 mins., 2014; Virgil Films): Documentary from AJ Schnack and David Wilson looks at the phenomenon behind Branson, Missouri – with a population of 10,500, this Ozark town has become a major tourist destination, bringing in nearly $3 billion a year for its "down home" family values and lack of nudity, gambling and seediness. Virgil's DVD, available this week, includes a 16:9 transfer and 2.0 stereo soundtrack.
RIDE FOR LANCE DVD (86 mins., 2014; Anchor Bay): Writer-director Scott Mactavish, who previously brought us the fine "Murph: The Protector," returns with another strong documentary. "Ride for Lance" focuses on four Navy SEAL bikers, traveling from Virginia to Alaska and back, and their 31-day ride to raise awareness for fallen SEAL Lance Vaccaro. A portion of the proceeds from Anchor Bay's release will be donated to the Navy SEAL Foundation, with the label's DVD – currently a Walmart exclusive – featuring a 16:9 transfer and 2.0 stereo soundtrack.
JLA ADVENTURES: TRAPPED IN TIME DVD (53 mins., 2014; Warner): Original "movie" – albeit less than an hour in length – finds the Justice League squaring off against the Legion of Doom, spearheaded by a resurrected (in the future!) Lex Luthor. Young viewers who enjoy the series will be most entertained by the comic book action on-hand here, with Warner's DVD offering two bonus cartoons, a 16:9 transfer and 2.0 stereo soundtrack.
NEXT TIME: More of the latest releases! Until then, don't forget to drop in on the official Aisle Seat Message Boards and direct any emails to our email address. Cheers everyone!