A notorious box-office flop that signaled a fast downward spiral in director William Friedkin's filmography, SORCERER (***, 121 mins., 1977, PG)has been resurrected by Warner Home Video in a gorgeously restored – albeit extras-free – Blu-Ray digibook release this week. For fans of the movie who've had to make do with a litany of faded old video transfers over the years, the disc's new 1080p transfer should prove to be a revelation, offering bold colors and almost three-dimensional detail.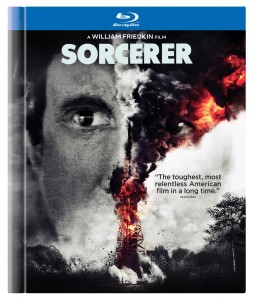 Friedkin's film is a remake of Henri-Georges Clouzot's "The Wages of Fear," scripted by Walon Green from Georges Arnaud's novel and primarily shot in the Dominican Republic. As with the prior picture, it follows a group of disparate men placed into a desperate situation – having to transport a deadly cargo of nitroglycerin across the rugged terrain of the South American jungle – but with an added emphasis on the respective individuals running from the past. In Friedkin's version, the protagonists include Roy Scheider as a NYC mobster wanted for his involvement in a heist that killed a crime boss' brother; Bruno Cremer as a Paris banker about to be sent to prison for fraud; and Amidou as an Arab terrorist who escapes from authorities after detonating a bomb in Israel. Along with Francisco Rabal as a mysterious individual who joins the quartet, the men are tasked with transporting the dangerous cargo across hilly, rocky terrain with thick underbrush. The occasional vestiges of civilization – poorly marked roads, faded signs and indications of previous, failed excursions – aid them only to a point, most notably when both trucks are forced to cross a rope bridge that even Indiana Jones would wince at.
"Sorcerer" was beset with difficulties, ranging from Friedkin having to work with Paramount after Universal backed out of fully supporting a picture minus a commercially attractive cast; replacing cinematographer Dick Bush with John M. Stephens; and later suffering a catastrophic defeat at the box-office, coming just a few weeks after the release of "Star Wars." As a result, the film has long been deemed as a disaster and, due to litigious issues between Friedkin and the two studios who funded it, has never been given a proper rendering in the home video realm, most recently appearing on a 1998 Universal, full-frame DVD release.
Thanks to fan interest, a resolution in the case over Friedkin's lost profits and the release of the director's essential "The Friedkin Connection" memoir (a highly recommended read), the filmmaker was able to convince Warner Home Video to restore the picture for Blu-Ray. The result is a disc that features a smashing new transfer, one that's as film-like as any catalog release I can recall, with perfectly rendered colors, deep blacks, and fine detail. On the audio end, the 5.1 DTS MA mix features some occasionally effective surround work (particularly when Rabal's laugh echoes through the rear speakers in the concluding moments), along with a Tangerine Dream score that ranges from pulsating to plodding as it underscores the action (one can sense this film was a heavy influence on Michael Mann's early work).
"Sorcerer" isn't a classic, but it's certainly a well-made and compelling thriller that Friedkin enthusiasts should savor. Coming after his "Exorcist" and "French Connection" triumphs, its failure drove a stake through the heart of Friedkin's career, something reinforced by a bevy of flops and critically lambasted films that would follow ("Cruising" and "Deal of the Century" among them). Yet, "Sorcerer" itself is undeserving of its formerly stained reputation, marked by exciting moments that linger in the memory long after the picture has concluded.
Warner's Digibook release offers excerpts from "The Friedkin Connection" and several pages of glossy photos – but considering the deluxe treatment Friedkin's classics have received on home video, the lack of a commentary and deleted material (some European prints included numerous alternate scenes) comes as a disappointment.
---
More Warner Catalog Releases
Michael Caine's sleek, edgy performance as Jack Carter was the defining element of Mike Hodges's highly-regarded – if not altogether classic – 1971 British gangster thriller GET CARTER (***½, 112 mins., R). The movie has been newly released on Blu-Ray for the first time and, less successfully, was transported to the U.S. for a slick but superficial remake starring Sylvester Stallone nearly 30 years later.
Caine's Carter is a tough, mean dude, a professional thug who returns home after his brother's suspicious death. Inquisitive yet unrelenting in his pursuit of vengeance, Carter uncovers a tangled web of corruption and cover-up, with local gangs and his own pursuers trailing after him at every turn.
If there's a definition for the word "cool" in terms of gangster pictures, "Get Carter" is pretty much it. Caine's performance is justifiably considered one of his best, while Hodges's script (adapted from Ted Lewis's novel "Jack's Return Home") and direction slowly lure you into its lurid world of crime, one with as much internal violence as there is on-screen in the brutal, R-rated picture (which originally received an X at the time). Roy Budd's music is only present in the film for a handful of minutes, but his motif and opening theme are supremely memorable — a perfect example of economic underscoring in early '70s cinema.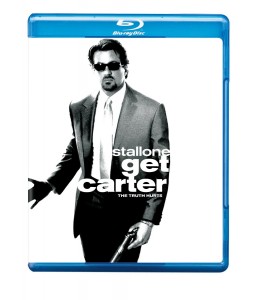 Capturing a mood and tone that few films of its kind have been able to live up to, the original "Get Carter" is a supremely memorable and haunting work offering solid performances, tough action, and vivid settings.
Warner's 1080p AVC encoded Blu-Ray transfer is excellent, with crisp detail and a natural film-like appearance on-hand. The audio commentary by director Hodges (who struggled since the film's release to produce consistently good films), Caine, and the cinematographer will be of much interest for fans of the film, diving into the picture's enduring significance in the genre and accentuating the characteristics of Caine's anti-hero. A lengthy international trailer has been included, along with a "music trailer" — a four-minute sequence that intercuts the film's opening credits with Budd himself at the electronic keyboards, playing his theme while the movie is projected in the background.
Surprisingly, the opening notes in the decidedly American remake of GET CARTER (**½, 102 mins., 2000, R) happen to be exactly the same: Budd's music has been incorporated throughout Tyler Bates's techno-oriented music score, and if you think that's the biggest surprise the movie has in store, you would be correct.
However, to give the movie some credit, this Morgan Creek/Franchise production (which carries no less than four opening studio logos on-screen!) is nowhere near as bad as its reputation, or its meager box-office in-take, would have you believe. The script by David McKenna is surprisingly faithful to the source material, incorporating some dialogue from the original and, more or less, adhering to the plot of its predecessor.
Sylvester Stallone is obviously no Michael Caine, but Sly is adequate in the Carter role, which has naturally been softened a bit in the remake. The biggest shift in the story is the expansion of the relationship between Carter and his niece (the cute Rachael Leigh Cook), which in the original was limited to five minutes at the beginning of the film and a later, significant plot development. Here, that story element has been altered to make Carter, and the situation, more sympathetic, which naturally causes this picture to lose the grit and unrelenting air of death that permeated the original.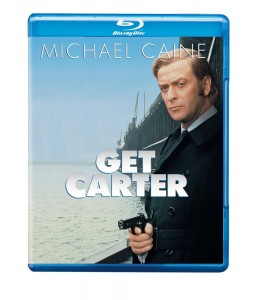 Still, it terms of Americanizing the plot, "Get Carter" works fairly well. The overcast Seattle locations give the movie a healthy dose of atmosphere, and while director Stephen Kay seems to be straining at times to craft action scenes a la Michael Bay or David Fincher, the movie works because the story still hooks the viewer. The supporting cast is excellent, with Alan Cumming and Mickey Rourke as the men with the answers Carter wants, Miranda Richardson in a somewhat limited role as Carter's sister-in-law, and Michael Caine himself in a couple of sequences as a local shady businessman who employed Jack's late sibling.
And, of course, there's Sly, who doles out the punishment in a traditional American way, as opposed to Caine's calculated and determined mode of revenge. It's a study in contrasts all the way, and naturally there is far less nuance in the newer version, but as remakes go, the U.S. "Get Carter" isn't all that bad – a compliment considering the glut of re-dos we've been seeing of late.
Warner's Blu-Ray boasts a solid 1080p transfer with 5.1 DTS MA audio and extras from the DVD including commentary from director Kay (who has since mostly worked in TV fare), deleted scenes and the trailer.
Also new from Warner on Blu-Ray is CONSPIRACY THEORY (***, 135 mins., 1997, R), director Richard Donner's best film of the '90s (following the disastrous "Radio Flyer" and "Assassins," not to mention the mediocre later "Lethal Weapon" sequels and "Maverick"): an agreeable thriller featuring Mel Gibson as an Oliver Stone-type nut who believes that there's a dastardly motive behind every newspaper headline. Patrick Stewart is the suspicious mystery man who may or may not be the villain, and Julia Roberts's attorney is the object of Gibson's affection, though it's hard to imagine what she sees in him other than serving to propel the story forward. Somewhat contrived for the first hour, this slick suspenser does get more involving once its secondary plot kicks into gear (which the studio wisely decided to withhold from its trailers and pre-release publicity), with Donner's quick pacing making up for the standard gaps in logic and story construction which typically accompany films from this genre. It would have been more interesting to see the movie go completely over the edge into another direction with Gibson's character (it ultimately goes only halfway there), but it's still an enjoyable film that successfully maintains its level of uneasy paranoia from start to finish. Warner's no-frills catalog Blu-Ray includes a satisfying 1080p transfer with DTS MA 5.1 audio.
---
Olive Films New Releases
The independent label continues to mine Paramount's back catalog for a number of obscure and eclectic titles new to Blu-Ray (and home video itself, for that matter).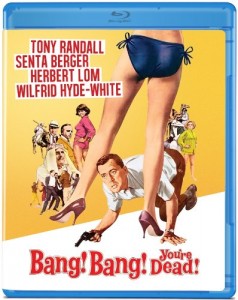 One of numerous spy spoofs that popped up in the midst of James Bond '60s mania, BANG! BANG! YOU'RE DEAD! (**½, 92 mins., 1966) is an agreeably lightweight international production starring Tony Randall, Senta Berger, Wilfrid Hyde-White, Herbert Lom and "guest star" Terry-Thomas. The Moroccan settings are the most interesting element in Don Sharp's 1966 film which finds Randall as an American architect who gets wrapped up with CIA agent Berger after he grabs a cache of secret documents coveted by villainous spy Lom. Klaus Kinski co-stars with "On Her Majesty's Secret Service" cinematographer Michael Reed capturing sufficient atmosphere while the story, concocted by Peter Yeldham, offers a mild vehicle for the stars that's most recommended for '60s nostalgia buffs. Olive's Blu-Ray is derived from a somewhat faded and banged up source, but it's a pleasing 1080p AVC encode without any unnecessary DNR.
More interesting dramatically is UP THE JUNCTION (***, 119 mins., 1967, R), director Peter Collinson's film about a young Chelsea woman (Suzy Kendall) who decides to spend her days not partying with the upper crust, but rather in the tough, working class world of Battersea. There, she settles in and takes a factory job, becomes friendly with a pair of sisters (Afrienne Posta, Maureen Lipman) and falls for a local guy (Dennis Waterman), learning about the harshness of life in the London slums and the various tragedies that follow.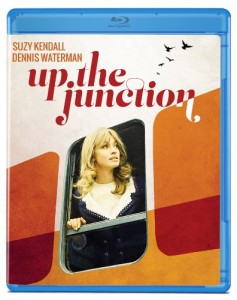 Strikingly shot in widescreen and scored with a song-heavy soundtrack by Manfred Mann, "Up the Junction" is most certainly a product of its era, yet it's also a fascinating one for its story, wherein its well-to-do heroine shuns the life of privilege she's been born into in order to see how life works on the other side of the tracks. Kendall's character is a bit of a cipher in terms of her back story, which may be a result of the picture having been adapted from Nell Dunn's stories. Nevertheless, it's a "mod" movie with a twist, and Olive's Blu-Ray retains the movie's striking widescreen cinematography in a satisfying 1080p transfer.
For fans of '60s sci-fi and the Saturday afternoon "Creature Double Feature," THE BAMBOO SAUCER (*½, 103 mins., 1968, G) might provide a nostalgic view for curious viewers, though admittedly, the film is pretty terrible. This low-budget effort finds a team of scientists heading into China in order to track down a UFO that's crashed. Less than stellar action and some heavy-handed preachiness follow in a movie that's impossible to believe was released the same year as Kubrick's "2001." That said, those with a soft spot for minor genre fare like "The Bamboo Saucer" – flaws and all – might enjoy this Melange Pictures production starring Dan Duryea, John Ericson and Lois Nettleton. As with "Bang! Bang! You're Dead," the source print shows its age with nicks, scratches and other issues, but once again Olive's 1080p transfer is sharp and unmolested with DNR processing.
No extras are included on any of the discs.
---
ESCAPE TO TOMORROW Blu-Ray (*, 90 mins., 2014, Not Rated; Cinedigm): Infamously tagged as the "movie shot undercover at Disney World," "Escape From Tomorrow" isn't even as entertaining as standing in a three-hour line for the recently dumbed-down "O Canada!" Circlevision 360 film in EPCOT Center.
Writer-director Randy Moore "somehow" got a film crew inside the Magic Kingdom and EPCOT, as well as the Polynesian Resort, in order to film his "movie" about a harried husband (Roy Abramsohn) who loses his marbles while taking his stereotypically shrewish wife (Elena Schuber) and their kids on a magic-filled vacation in WDW.
The first half of "Escape to Tomorrow" is mildly watchable, if only for its novelty value: seeing the couple bicker in front of well-known Disney World landmarks is somewhat amusing, as is the husband getting drunk in EPCOT's Germany and subsequently throwing up on the Mexico Boat Ride. Yet the seams begin to show early and often: green-screen footage looks as authentic as a Hollywood backlot, and Moore's attempts at crafting any kind of plot are embarrassing. For the first 45 minutes, the husband chases after a pair of young teenage girls (one of which is played by the lovely Annet Mahendru from "The Americans"), but then gets involved with a "Magician" under Spaceship Earth which leads to a nasty, repellent, gory finale – assuming you make it that far.
One of those "festival darlings" that's sure to turn off most viewers, "Escape to Tomorrow" is an amateurish outing that never would've received the same level of publicity had it been filmed anywhere other than the Happiest Place on Earth. Do yourself a favor and avoid a fast pass – or a pass of any kind – to this attraction.
Cinedigm's Blu-Ray is available April 29th, exclusively at Best Buy until later on in the summer. The disc's 1080p transfer, given the handheld HD cameras Moore used to shoot the movie, is surprisingly excellent, and the DTS MA audio includes a seriously good score by Abel Korzeniowski that belonged in a better film. Extras include commentaries (including Abramsohn and Schuber in character – as if you didn't get enough of them during the film!), a Making Of, and the trailer.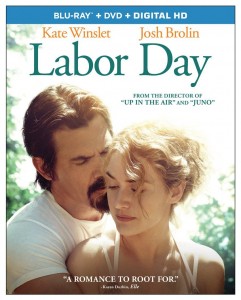 LABOR DAY Blu-Ray Combo Pack (**, 111 mins., 2014, PG-13; Paramount): Jason Reitman's adaptation of Joyce Maynard's novel is an agonizingly slow-moving tale of an escapist convict (Josh Brolin) who seeks shelter with an emotionally disconnected single mother (Kate Winslet) and her teenage son (Gattlin Griffith) on the verge of adolescence. Add in several sequences of baking – yes, baking – with Brolin and Winslet batting eyes at one another while making peach pie, and pointless sequences involving Griffith's infatuation with the opposite sex, and you've got a weird – albeit well-acted and nicely shot – drama that ends up stuck in neutral throughout most of its running time.
Reitman shot this '80s period piece in western Massachusetts and sets a convincing scene for "Labor Day," but the drama just never gels. Brolin and Winslet generate believable chemistry together, though we get the drift of their relationship quickly. On the opposite end, the adventures of the film's teen protagonist ultimately have no payoff, unless you consider a cameo from Tobey Maguire as the boy's adult self to be worth the wait. It's all compounded by the fact that "Labor Day" moves at a snail's pace, and could easily be viewed on fast-forward without missing any pertinent plot information, seeing as very little happens throughout the picture's two hours.
Paramount's Blu-Ray, out April 29th, includes commentary from Reitman, a Making Of, deleted scenes, an attractive 1080p transfer and 5.1 DTS MA soundtrack, plus a DVD and digital copy.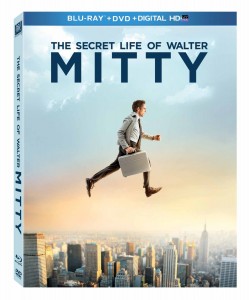 THE SECRET LIFE OF WALTER MITTY Blu-Ray Combo Pack (***, 113 mins., 2013, PG; Fox): Good-natured comic fantasy derived from James Thurber's novel stars Ben Stiller – who also directed – as the dreamer who sets off on a real-life adventure for a missing slide belonging to a fellow Life magazine staffer (Sean Penn) for the final print issue of the publication. More serious and less broadly played than you might expect from Stiller, "The Secret Life of Walter Mitty" offers a series of likeable performances from the likes of its star-director, along with Kristen Wiig as the co-worker Mitty pines after, Shirley MacLaine as his mom, Kathryn Hahn as his sister and Penn, who's quite effective in a small supporting turn. It's well designed, shot (by Stuart Dryburgh) and scored by Theodore Shapiro – an unsurprising yet genuine "feel good" movie suitable for all ages, which is a rare commodity in this day and age. Fox's Blu-Ray includes deleted scenes,a music video, featurettes, DVD and a digital copy; the 1080p AVC encoded transfer is just fine and the 5.1 DTS MA audio perfectly delivered.
COWGIRLS 'N ANGELS 2: DAKOTA'S SUMMER Blu-Ray (91 mins., 2014, PG; Fox): Pleasant direct-to-video drama, intended for family audiences, stars Haley Ramm as an aspiring rodeo performer who finds out she was adopted at birth in this sensitively rendered picture from writer-director Timothy Armstrong, co-starring Glynn Turman and Keith Carradine. Fox's Blu-Ray includes a Making Of featurette, 1080p AVC encoded transfer and 5.1 DTS MA soundtrack.
Another moving drama, BLACK NATIVITY (***, 93 mins., 2013, PG), is likewise suitable for adults and kids alike. Kasi Lemmons' poignant film stars Jacob Latimore as a teenager who goes to live with his grandparents (Forest Whitaker, Angela Bassett) while his mother (Jennifer Hudson) struggles to make ends meet. He learns valuable life lessons and respect – both for himself and his elders – in a meaningful story finely acted by all. Fox's Blu-Ray includes deleted scenes and a number of featurettes (exclusive to the BD edition) along with a DVD and digital copy, a finely textured 1080p transfer and 5.1 DTS MA soundtrack.
New from Fox on the catalog front is ONCE (**½, 86 mins., 2007, R), writer-director John Carney's 2007 indie hit starring Glen Hansard and Marketa Irglova as the struggling musicians who raise each other's talents, and spirits, over a brief span of time. This Irish import won an Oscar for its gorgeous song "Falling Slowly" and has since become a full-blown stage musical hit – but the original movie remains an authentic and quietly effective drama all its own. Fox's Blu-Ray includes commentaries, featurettes, a 1080p transfer and DTS MA audio.
---
New Spins From Shout! Factory
Shout's April offerings include a brand new Collector's Edition of SOPHIE'S CHOICE (***, 157 mins., 1983, R), Alan J. Pakula's acclaimed adaptation of William Styron's book about a Polish-Catholic Holocaust survivor, Sophie Zawistowska (Meryl Streep), and her lover (Kevin Klone) in Brooklyn following WWII. Peter MacNicol plays the writer who draws closer to the duo and unearths a horrifying truth through flashbacks to Sophie's time in Auschwitz in this depressing, slow-going if outstandingly acted drama scored by Marvin Hamlisch and shot by the great Nestor Almendros. Shout's Blu-Ray/DVD combo pack includes a new "roundtable" interview with Streep and Kline, a commentary from Pakula, the trailer, a fine 1080p transfer and DTS MA 2.0 stereo audio.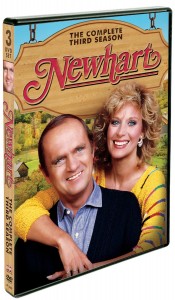 Martial arts fanatics should warm to Shout's DVD Double Feature of LADY WHIRLWIND and KAPKIDO. Both star Angela Mao Ying – first as a Chinese student expelled from Korea who returns home to start a martial arts school in "Hapkido," then as a woman who seeks revenge for the death of her sister in "Lady Whirlwind." Both discs include English dubbed and the original Mandarin audio tracks (5.1 on "Hapkido," 2.0 on "Lady Whirlwind") along with essential 16:9 (2.35) transfers, trailers and interviews.
NEWHART: Season 3 (8 hours, 1984-85) finds the long-running, classic CBS sitcom settling into a comfortable groove. Now that Dick has added being host of local TV talk show "Vermont Today" to his resume, yuppie producer Michael (Peter Scolari) has fully inherited the show's comic foil role from Kirk, the departed proprietor of "The Minuteman Café" (Stephen Kampmann). Scolari's comic timing works hand in hand with Newhart's Button-Down approach, and his relationship with Stefanie (Julia Duffy) begins to slowly blossom throughout the course of 22 very funny episodes – and what's wrong with more Larry, Darryl and Darryl? Shout's DVD is mastered from the best-available sources at MTM/Fox and comes highly recommended for "Newhart" fans – with Season 4 due out this summer (thanks guys!).
MR. MAGOO: THE THEATRICAL COLLECTION 1949-1959 (6 hours) collects, across four DVD platters, 53 theatrical shorts starring the vision-impaired protagonist (voiced by Jim Backus) as well as the movie "1001 Arabian Nights." These shorts are a good deal more entertaining than the lower-quality animation seen in Magoo's later TV adventures, with many in their proper Cinemascope aspect ratios. Bonus interviews, commentaries, a photo gallery, and "A Princess For Magoo: The Making of 1001 Arabian Nights" round out a must for Golden Age animation enthusiasts.
---
By the end of the 1970s, the Hollywood "blockbuster culture" had been firmly established and sequels began to be produced to films that never required them. Case in point: BEYOND THE POSEIDON ADVENTURE (*½, 114 mins., 1979, PG; Warner), a picture that went into production even though producer-director Irwin Allen's fortunes had sunk following the disaster (in more ways than one) of "The Swarm."
"Swarm" alumnus Michael Caine even opted to cash another Allen paycheck here as the captain of the tug boat Jenny, who — along with crew mates Karl Malden and Sally Field — attempt to salvage parts of the Poseidon (hours after the original movie ended) before it sinks to the bottom. En route they run into nefarious Telly Savalas with an agenda of his own, and a new roster of survivors (Peter Boyle, Jack Warden, Shirley Knight, Shirley Jones, Veronica Hamel, Angela Cartwright, Mark Harmon, and Slim Pickins) who are trying to survive their own "Morning After" and get out of this cardboard retread of the far superior original.
With ample amounts of stock footage and interminable scenes of actors slowly making their way up and down ladders, "Beyond the Poseidon Adventure" was reviled by critics and quickly became a box-office bomb upon release. Watching the movie now in Warner's Archive DVD, it's shocking to see how threadbare the film actually is: with production values that appear only a bit more elaborate than an old "Star Trek" episode (when the ship shakes, you almost expect Shatner or Nimoy to fall in the frame!), "Beyond…" is incomprehensibly bad from every angle.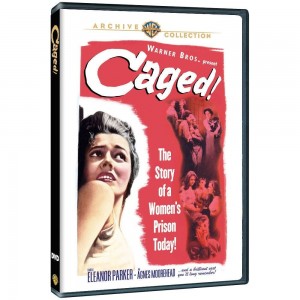 Not only is the dialogue in Nelson Gidding's script hideous (is this the same man who wrote "The Haunting"?) and the performances equally overboard (Caine is at his hilarious best in his late 70s/early 80s "Shouting Mode"), but the ineptitude extends to the music as well. The opening strains of Jerry Fielding's music sound like they should have accompanied one of Samuel Z. Arkoff's sword-and-sandal imports from the '60s, and the rest of the composer's shockingly poor score comes off like library music — seldom matching what it accompanies on-screen.
Warner's Archive DVD – a repressing of their earlier, OOP retail disc – is a top-notch affair, with a gorgeous 16:9 (2.35) transfer enhancing every nook and cranny of the cut-rate production. The 1.0 Dolby Digital mono sound is okay (there's only so much you can do for the music), and both the original trailer and a full, half-hour vintage Making Of (complete with amusing cast and crew interviews) round out a highly entertaining release. (Sadly, none of the deleted scenes that were restored to the ABC network TV broadcasts were included here, but we'll give Warner a mulligan on that one).
Also new from Warner on the MOD front is a repressing of CAGED (***, 96 mins., 1950), the guilty-pleasure favorite starring Eleanor Parker as an innocent young bride who ends up behind bars and becomes a hardened con in the process. Cat fights, scenery-chewing performances and some campy moments make for a delectable '50s noir co-starring Agnes Moorehead, Hope Emerson and Ellen Corby, and scored by the great Max Steiner. Warner's DVD is 4:3 full-screen B&W with mono sound…JONNY QUEST: THE COMPLETE EIGHTIES ADVENTURES (286 mins.) gathers Jonny Quest, Hadji, Bandit, Dr. Quest and Race Bannon in a brand-new series of 13 episodes produced by Hanna-Barbera for syndication in the '80s – following the successful resurrection of "The Jetsons." The '80s "Jonny" didn't last as long, but it's still a nostalgic view for cartoon buffs, with Warner's DVD set boasting full-screen transfers and mono soundtracks.
---
STAR TREK ENTERPRISE: SEASON FOUR Blu-Ray (2004-05; CBS): The fifth incarnation of Gene Roddenberry's sci-fi franchise sailed off into the sunset in its fourth and final year. For the most part, "Enterprise" had a sturdy final frame courtesy of producer Manny Coto (one-time director of horror cult classic "Dr. Giggles"), who attempted to tie-in the series with the original show by way of references and storylines directly related to the exploits of Kirk, Spock and the gang. The latter can be felt most evidently in "In A Mirror Darkly," a two-part salute to the original "Trek"'s classic "Mirror, Mirror." There are a number of other story arcs which give the show more dramatic weight than it previously generated, but most of the good will is kiboshed in the hugely disappointing series finale, "These Are The Voyages." Instead of sending the Enterprise crew off on a strong note of their own, Rick Berman and Co. opted to have TNG vets Jonathan Frakes and Marina Sirtis return to reprise their Riker and Troi roles, with Frakes mugging endlessly and the episode trying (but failing) to connect the dots between the respective "Trek" franchises. Needless to say it didn't work.
CBS concludes their superb "Enterprise" Blu-Ray packages with a six-disc set sporting superior 1080p transfers and 5.1 DTS MA soundtracks. Given that this was the most recent edition of "Star Trek," it should come as no surprise that "Enterprise" looks and sounds better than any of its predecessors, with extras including newly recorded commentaries, two fresh featurettes, and the regulation deleted scenes, outtakes, and behind-the-scenes segments from the prior DVD.
"Enterprise" had some strong moments and a likeable cast, but never really seemed to get into a comfortable groove during its four seasons. Perhaps its worst crime was that it was simply dull. Too many trips to the well resulted in the entire "Star Trek" franchise being put into a hiatus, but a deserved one (and likely needs another after the horrid "Star Trek Into Darkness"!).
Upcoming from CBS is DYNASTY: The Complete Eighth Season (1987-88), the penultimate season of the Carrington clan's adventures, starring Joan Collins as Alexis and an all-star cast engaging in more '80s primetime soap zaniness. The series was generally regarded as over the hill by Season 8, but fans will nevertheless enjoy revisiting CBS' DVD box-set, offering unedited episodes, satisfying 4:3 transfers and stereo soundtracks…LAVERNE & SHIRLEY: Season 8 (9 hrs., 1982-83) was the final hurrah for Laverne De Fazio and Shirley Feeney — though this goodbye year for the once-popular ABC series only offers a fleeting appearance by Cindy Williams' Shirley, with the actress leaving the show after a couple of episodes and the remaining cast struggling to maintain a happy face thereafter. Fans, at least, will still enjoy seeing these final 22 episodes from the series, presented here on DVD in unedited broadcast-length form with original promos and a gag reel (available May 6)…Coming on May 13th is PERRY MASON: MOVIE COLLECTION Volume 2 (aprx. 10 hours, 1987-89), featuring six NBC TV movies starring Raymond Burr, Barbara Hale, and William Katt, who's replaced by William R. Moses over the course of these 1987-89 broadcasts. Included in CBS' six-disc set are The Case of the Scandalous Scoundrel; The Case of the Avenging Ace; The Case of the Lady in the Lake; The Case of the Lethal Lesson; The Case of the Musical Murder; and The Case of the All-Star Assassin. The 4:3 transfers and stereo soundtracks are all fine.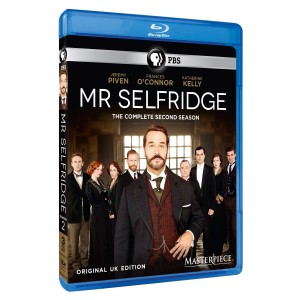 MR. SELFRIDGE – Season 2 Blu-Ray (aprx. 8 hours, 2014; PBS): Season two of the new hit PBS/ITV series is set five years from the end of season one. Harry Selfridge (Jeremy Piven), the US raconteur who started a popular chain of department stores in London, finds himself trying to become fully ingrained in the British culture and win back his estranged wife while maintaining his business. However, with England on the precipice of WWI, not everything is as posh and extravagant as it appears in "Mr. Selfridge"'s sophomore season. PBS' Blu-Ray includes the complete, original UK episodes of the series in 1080i transfers with 2.0 Dolby Digital audio. Extra features include deleted scenes and a featurette in the two-disc set, which hits stores on April 29th.
Also New From PBS: Ken Burns' inspiring THE ADDRESS (90 mins., 2014) profiles how learning-disabled students in Vermont's Greenwood School are tasked with memorizing the Gettysburg Address. Hidden cameras, left at the school for several months, chart their progress, struggles and triumphs in a terrific feature-length documentary now available on DVD…THE STORY OF THE JEWS With Simon Schama (295 mins., 2013) is a five-part series exploring the Jewish experience from the past to the present. Five episodes (in the Beginning; Among Believers; A Leap of Faith; Over the Rainbow; Return) are included in 16:9 transfers and stereo soundtracks (available May 6th).
DOCTOR WHO: WEB OF FEAR DVD (146 mins., 1968; BBC Home Entertainment): A vintage arc from the Patrick Troughton years lands on DVD for the first time – making it available to the general public for the first time in over 45 years. This Mervyn Haisman-Henry Lincoln plot sends Dr. Who and the TARDIS inside the London Underground where they battle the Great Intelligence and the Yeti – not the abominable snowman, but rather a deadly villain ready to invade Earth. BBC's DVD presentation doesn't offer the same amount of bells and whistles as other Doctor Who Special Editions, but does include a reconstructed Episode 3 produced from photographs and surviving audio tracks (no footage of the episode itself exists).
---
BAD COUNTRY Blu-Ray (104 mins., 2014, R; Sony): Willem Dafoe plays a tough Baton Rouge police detective who recruits a local contract killer (Matt Dillon) to out some of the south's most nefarious gangs. Things, naturally, don't go so well once a contract is put out on Dafoe's head and Dillon's hitman is outed as a snitch, leading the duo to take down crime boss Tom Berenger and his not-very-merry friends. Chris Brinker, a producer of "Boondock Saints," directed this moderately budgeted crime drama with a solid supporting cast (Neal McDonough, Amy Smart, Chris Marquette and Bill Duke among them). Sony's Blu-Ray, out April 29th, includes deleted scenes, a 1080p AVC encoded transfer, DTS MA 5.1 audio and a behind-the-scenes featurette.
Also New From Cinedigm on DVD: Katie Graham and Andrew Matthews' indie comedy ZERO CHARISMA (97 mins., 2014, Not Rated) follows a group of fantasy role playing gamers who are thrown for a loop when a new player (Garrett Graham) arrives on the scene, threatening to turn their phony universe upside down. Cinedigm's DVD includes deleted scenes and NY Comic Con interviews, a 16:9 transfer and stereo soundtrack…7 DAYS IN SEPTEMBER (93 mins., 2002) is a 9/11 documentary that enjoyed a successful festival run in 2002 and is now making its way to DVD in a national release from Cinedigm, complete with new special features.
Lionsgate New Releases: "Twilight" star Kellan Lutz served up a winter box-office flop in THE LEGEND OF HERCULES (98 mins., 2014, PG-13), a watchable though overly familiar pastiche of genre cliches from action vet Renny Harlin. Lionsgate's Blu-Ray package is a 3D/2D combo that looks good in either format, with extras including commentary from the director and star, a Making Of featurette, and digital copy. The 7.1 DTS MA audio is just fine…Also new next week is GIMME SHELTER (101 mins., 2014, PG-13), a well-intentioned drama starring Vanessa Hudgens as a troubled teen to sets out to find her father (Brendan Fraser) after fleeing from her abusive mother (Rosario Dawson). Writer-director Ronald Krauss' film offers scant surprises but does boast capable performances from Hudgens and James Earl Jones. Lionsgate's Blu-Ray includes a fine 1080p transfer, DTS MA 5.1 soundtrack, deleted scenes, a featurette, and digital copy.
Coming from Lionsgate on DVD is BAREFOOT (89 mins., 2013, PG-13), starring Scott Speedman as a well-to-do guy from a wealthy family who falls for eccentric Evan Rachel Wood. In spite of all obstacles, the duo fall in love at his brother's wedding in this agreeable rom-com from director Andrew Fleming. Lionsgate's DVD includes a digital copy, 16:9 transfer and 5.1 Dolby Digital soundtrack…MADEA'S NEIGHBORS FROM HELL: THE PLAY (138 mins., 2013) is a live taping of Perry's stage play starring (who else) Perry as Madea, who here deals with a new arrival in town: a foster mom and several troublemaking kids. A behind-the-scenes segment, 16:9 transfer and 5.1 soundtrack adorn Lionsgate's DVD, available this week...GLORIA (109 mins., 2014, R) stars Paulina Garcia as the title character, a middle-aged woman who rekindles her passion for life when she meets Sergio Hernandez's Rodolfo. Sebastian Lelio's art-house hit arrives on DVD April 29th featuring a 16:9 transfer, 5.1 Spanish audio with English subtitles, a digital copy and behind-the-scenes musical montage.
New From IFC/MPI: Iain Softley's compelling TRAP FOR CINDERELLA (100 mins., 2011, Not Rated) is an effective British thriller starring Tuppence Middleton as a young woman who attempts to piece her life back together following a devastating fire that claimed her friend's life and left Middleton severely burned. IFC's DVD includes cast/crew interviews, the trailer, a 16:9 transfer and 5.1 Dolby Digital soundtrack…Geoffrey Rush toplines THE BEST OFFER (131 mins., 2012, R), Giuseppe Tornatore's latest film about an art appraiser hired by an heiress to pt a price on her late parents' collection. Sylvia Hoeks, Jim Sturgess and Donald Sutherland co-star in the most recent work from the "Cinema Paradiso" filmmaker, scored by Ennio Morricone and brought to DVD this week with a 16:9 transfer and 5.1 Dolby Digital soundtrack…the wacky WRONG COPS (82 mins., 2013, Not Rated) is an ensemble comedy with Eric Judor, Steve Little, Arden Myrin, Marilyn Manson and "Twin Peaks" alumni Ray Wise and Grace Zabriskie. IFC's DVD of Quentin Dupieux's picture includes commentary, the trailer, a 16:9 transfer, 5.1 soundtrack and featurette.
NEXT TIME: Twilight Time's latest, including USED CARS and MR. HOBBS! Until then, don't forget to drop in on the official Aisle Seat Message Boards and direct any emails to our email address. Cheers everyone!