Music lost one of its champions when Marvin Hamlisch passed away in 2012. PBS' American Masters documentary, MARVIN HAMLISCH: WHAT HE DID FOR LOVE DVD (84 mins., 2013; PBS), is a wonderful tribute to the late composer, born a musical prodigy with a personality that wasn't suited for the life of a virtuoso pianist.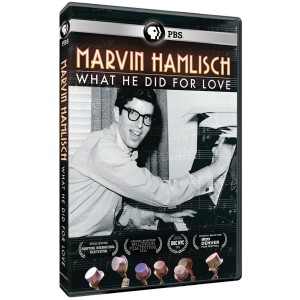 Dori Berinstein's production traces Hamlisch's childhood and evolution into a composer, from his chance meeting with producer Sam Spiegel – that lead to Hamlisch's hiring on the Burt Lancaster film "The Swimmer" – to his work with Sydney Pollack on "The Way We Were," where Hamlisch gave back part of his salary to re-score the score's climactic cue. His popular work on "The Spy Who Loved Me" and "Ice Castles" is discussed along with, naturally, his Broadway hits, notably the career-defining "A Chorus Line." There's also a bittersweet element to the program, especially where Hamlisch's later stage disappointments like "Smile" and "Sweet Smell of Success" are concerned – yet through it all, Hamlisch's love of life and people is conveyed to great effect, as well as his praiseworthy Pops work with orchestras across the country. It's a terrific program that only comes up short in that I wish more of Hamlisch's music – and fewer talking heads – were heard throughout its 84 minutes.
PBS' DVD offers an additional hour-plus of bonus footage, never-before-heard "Making Of" recordings from "A Chorus Line," a 16:9 transfer and stereo soundtrack.
One of the highest rated programs to ever air on PBS, DOWNTON ABBEY (aprx. 9 hours, 2013)returned to the American broadcast airwaves this past month to astronomical viewer response – over 10 million tuned in for the fourth season premiere alone. For those who don't want to wait for all the episodes to run, PBS releases the complete Season 4 – intact in its original UK broadcast length – on January 28th. The program picks up several months after Matthew's tragic passing with the roaring '20s in full swing, with guest stars including Shirley MacLaine and Paul Giamatti, playing Cora's playboy brother.
PBS' three-disc Blu-Ray set includes over 30 minutes of behind-the-scenes content along with 1080i HD transfers and 2.0 stereo soundtracks.
---
IN A WORLD… Blu-Ray (***, 91 mins., 2013, R; Sony): Charmingly off-kilter directorial debut from actress Lake Bell chronicles the life of Carol, a Hollywood vocal coach who's also the daughter of a well-known voice over artist (Fred Melamed). The industry has reeled since the death of the great Don LaFontaine, though the prospects of a new "quadrilogy" dubbed "The Amazon Games" has the town's voice-over artists vying for the opportunity to bring back the iconic trailer line "In a World…" – and seething with ire once Carol herself ends up improbably getting the gig.
Bell also wrote "In a World…," which isn't so filled with inside jokes that it's inaccessible to casual viewers, and is sprinkled with offbeat comedy and wry human observations throughout. Like a lot of indie comedies, it's uneven, but the characters – from Bell's heroine to her sister (Michaela Watkins) and husband (Rob Corddry), and co-worker (Demetri Martin) who shares an affection for her – are thoroughly likeable and the film itself highly appealing. At a tidy 90 minutes, this is an effervescent comedy-drama that's one of the more surprising sleepers of last year.
Sony's Blu-Ray, out January 21st, includes a commentary with Bell, an alternate opening sequence, deleted scenes, a gag reel and promo trailers, plus a 1080p transfer and 5.1 DTS MA soundtrack.
CAPTAIN PHILLIPS Blu-Ray/DVD (***½, 134 mins., 2013, PG-13; Sony): Exciting, suspenseful account of an American tanker, the Maersk Alabama, and its captain, Richard Phillips (a terrific Tom Hanks performance), after it's taken over by Somali pirates in the Indian Ocean in 2009.
This searing thriller – adapted by Billy Ray from Phillips and Stephan Talty's account of the event that made headlines around the world – is one of Paul Greengrass' best films, detailing the escalating tension between the Somalis and their captain (excellently portrayed by Barkhad Abdi) as the emaciated pirates try to exact a ransom from their captives. Crisply edited and atmospherically shot by Barry Ackroyd, "Captain Phillips" is one of 2013's best, anchored by Hanks' performance and Greengrass' involving direction.
Sony's Blu-Ray offers a marvelously detailed image (mastered from a 4K source) and DTS MA 5.1 soundtrack, the latter featuring the film's weakest element – a cliched music score credited to Henry Jackman that reportedly had been rewritten by Hans Zimmer and numerous others. Visually the film is marked by authentic filming on a Maersk tanker in Malta -- there's no CGI green-screening here. That's a real ship, that's a real ocean, and the film benefits enormously from the production's realism. A commentary with Greengrass and a comprehensive, hour-long "Capturing Captain Phillips" Making Of documentary (offering news footage of the actual event and interviews with the cast and crew plus Phillips himself) are also included in Sony's BD/DVD combo pack.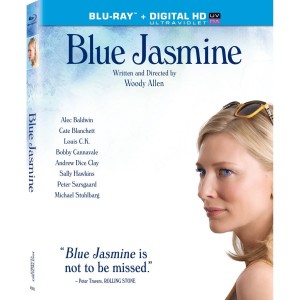 BLUE JASMINE Blu-Ray (***, 98 mins., 2013, PG-13; Sony): Woody Allen's latest is a captivating, if downbeat character study of Jasmine, a New York socialite (one of Cate Blanchett's finest performances) whose philandering financial hustler husband (Alec Baldwin) loses everything – including the fortune of her less fortunate sister (Sally Hawkins) and husband (a shockingly good turn from Andrew Dice Clay).
Allen's script switches back and forth between Jasmine's posh lifestyle in the past and the harsh reality of her present, where she attempts to put her life back together by moving in with her now-divorced sister…yet finds the process impossible, with her own personal hang-ups manifested in front of friends and total strangers alike.
"Blue Jasmine" does have several very funny moments but it's mostly a tart and sad profile of a woman who's lost everything and can't entirely divorce herself from the lifestyle she once lead. Blanchett is just great in the film, and the movie is one of Allen's stronger features in some time, even if a romantic subplot involving Jasmine and a San Francisco widower (Peter Sarsgaard) doesn't feel entirely believable.
Sony's Blu-Ray edition of "Blue Jasmine" includes a 1080p transfer of Javier Aguirresarobe's terrific cinematography – this is one of the few Allen films shot in 2.35 and both he and Aguirresarobe do an excellent job taking advantage of the format, placing actors on all sides of the image. The 5.1 DTS MA audio is fine, and extras include "Notes from the Red Carpet" and a cast press conference.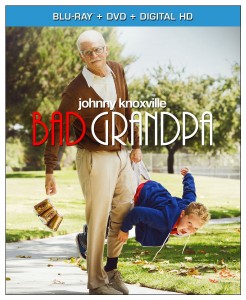 JACKASS PRESENTS: BAD GRANDPA Blu-Ray/DVD (***, 91/102 mins., 2013, R/Unrated; Paramount): One of the funniest films of this past year, this unusual hybrid of scripted comedy and "Jackass" improvisational pranks surprisingly hits the mark more often than not.
Johnny Knoxville stars as 80-something Irving Zisman, a dirty old man whose wife dies just as he's charged with taking care of his eight-year-old grandson (the expressive, quite likeable Jackson Nicoll). The duo set out on a road trip to dispose of her body (!) while driving to meet Irving's deadbeat son – and promptly get wrapped up in all kinds of shenanigans, mostly of the raunchy variety, along the way.
While "Jackass" fans will be most likely to enjoy "Bad Grandpa," this film tries much harder than its predecessors to utilize a straightforward dramatic outline. The result – thanks to the script by Knoxville, Spike Jonze and director Jeff Tremaine – is a movie that's not simply a collection of skits strung together, though the film's biggest laughs do stem from a number of improvisational moments between Knoxville and folks totally unaware of the joke being perpetrated on them. The movie is also sweet and not nearly as raunchy as it could've been, at least in the 91-minute R rated version (an extended, unrated cut is also included here, running 11 minutes longer).
Paramount's Blu-Ray/DVD combo pack includes over an hour of extras, from additional deleted scenes, behind the scenes segments and alternate "real life reactions." The 1080p transfer and 5.1 DTS MA soundtrack are both top-notch and a DVD and digital copy comprise the combo pack.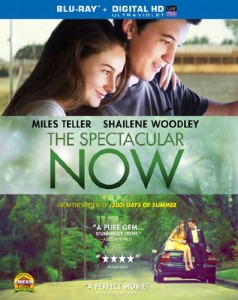 THE SPECTACULAR NOW Blu-Ray (**, 95 mins., 2013, R; Lionsgate): Hard-living high schooler Sutter Keely (Miles Teller) is constantly the life of the party, but once he finds himself falling for quiet, pretty Aimee (Shailene Woodley), Sutter begins to re-evaluate his life.
Tim Tharp's book was adapted by "500 Days of Summer" scribes Scott Neustadter and Michael H. Weber in "The Spectacular Now," an uneven drama with logistical gaps that linger after the credits roll. The main character isn't especially likeable, even while he undertakes a soul-searching expedition to find his deadbeat father (Kyle Chandler) and his place in the world – to the point where one wonders what Aimee sees in him. I'm a big fan of Shailene Woodley and her performance here is natural and engaging, but why her character finds Sutter appealing, or why she'd want to be with him after all the garbage he puts her through, is something that isn't credibly answered in the film. The movie also carries an extremely predictable arc where you're waiting for the inevitable consequences (accident, death, etc.) to happen, which they do…resulting in a disappointing film that wasn't worthy of some of the positive reviews it received (and the less said the better about Jennifer Jason Leigh's performance as Sutter's mom).
Lionsgate's Blu-Ray presentation includes a four-part Making Of documentary, deleted scenes, a commentary with the director, 1080p transfer, 5.1 DTS MA soundtrack and an Ultraviolet copy.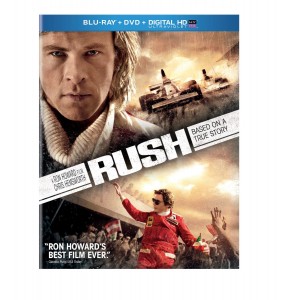 RUSH Blu-Ray/DVD (***, 123 mins., 2013, R; Universal): Ron Howard's pet project tells the true story of the rivalry between Formula 1 racers James Hunt (Chris Hemsworth) – a hard-living Brit – and Austria's cool, calculating pro Niki Lauda (Daniel Bruhl) during the mid 1970s. The duo battle on and off the track, but when a near-fatal accident severely injuries Lauda, their rivalry takes on more profound scales of humanity and the will to succeed.
With pulse-pounding race sequences, Howard's "Rush" immediately captivated this non-fan of auto racing with its superb technical attributes – particularly impressive given the movie's modest budget (Howard had to get funding from a myriad of sources to produce the picture). Yet, Peter Morgan's script is just as satisfying off the track, with excellent character development and strong performances from both leads, making for one of Howard's better pictures in some time.
Universal's Blu-Ray/DVD combo pack includes a pair of BD exclusives: "Race for the Checkered Flag: The Making of Rush" and "The Real Story of Rush" featurettes, along with deleted scenes and a Howard featurette, which also included on DVD. The 1080p transfer and 5.1 DTS MA soundtrack featuring Hans Zimmer's score are both brilliantly rendered.
CLOSED CIRCUIT Blu-Ray/DVD (**½, 96 mins., 2013, R; Universal): A pair of lawyers (Eric Bana, Rebecca Hall) are assigned to defend a Turkish immigrant after a London terrorist attack claims over 100 lives. Steve Knight's script for "Closed Circuit" – a well-made and cast British thriller – is certainly relevant in its topical political trappings, but there's a certain implausibility about John Crowley's film that no amount of fine acting from Bana, Hall, Ciaran Hinds, Julia Stiles and Jim Broadbent can overcome. Still, this is a watchable mystery that's stylishly filmed, and Universal's Blu-Ray offers both a sterling 1080p transfer with 5.1 DTS MA audio. Extras include just a single featurette, DVD and Ultraviolet copy.
ENOUGH SAID Blu-Ray (**½, 93 mins., 2013, PG-13; Fox): The late James Gandolfini gives one of his more likeable feature performances in Nicole Holofcener's uneven drama-edy. Julia Louis-Dreyfuss stars as Eva, a divorced mom who falls for Gandolfini's divorced Albert. While their relationship grows, Eva strikes up a relationship with Marianne (Catherine Keener), one of her masseuse clients, and slowly realizes the ex-husband she's complaining about is actually Albert! Holofcener's script tends to move uncomfortably between broad comedy and bittersweet drama, but the performances – especially Gandolfini, who's sweet and irresistible here – anchor "Enough Said" strongly enough that the film is able to partially overcome its inherent bumpiness. Fox's Blu-Ray includes a BD exclusive "Second Takes" featurette, a number of other promo featurettes, a 1080p transfer and 5.1 DTS MA soundtrack.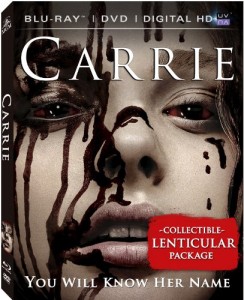 CARRIE Blu-Ray/DVD (**½, 100 mins., 2013, R; MGM/Fox): Watchable if unnecessary new adaptation of Stephen King's novel ends up a watered down remake of Brian DePalma's 1976 hit, with even that version's screenwriter, Lawrence D. Cohen, here given a credit. Chloe Grace Moretz gives a fine, sympathetic performance as the tormented teen who's the focus of one particular bully, unaware the object of her ridicule has blossoming physic powers. The high school element of the picture works best, relegating the material involving Julianne Moore's unhinged, crazy religious mama to the movie's weaker, more heavy-handed half. Overall, it's thoroughly watchable, well-acted but forgettable, with the movie growing increasingly tired as it chugs along to a bombastic climax executed by director Kimberly Pierce. MGM's Blu-Ray offers the movie's theatrical version as well as the option of watching it with an alternate – and absolutely horrendous – ending that tries (and fails spectacularly) to mimic the shock finale of the DePalma film. Other extras include deleted scenes and featurettes, a commentary from Pierce, a 1080p transfer, DTS MA 5.1 soundtrack, DVD and digital copoy.
RUNNER, RUNNER Blu-Ray/DVD (*½, 91 mins., 2013, R; Fox): Feeble thriller finds Justin Timberlake's Princeton grad/online gambler seeking retribution from a website by heading down to Costa Rica and knocking on the door of millionaire Ben Affleck. Brad Furman's box-office flop shows all signs of post-production cutting – including a 90-minute running time that had been worked over by one of Affleck's "Argo" editors – and is credibility-straining throughout. Nevertheless, there's at least some amusement to be found in the scenery-chewing performances of its leads, especially Affleck, whose bombastic performance takes you back to the Golden Raspberry-era of his now-celebrated career. Fox's Blu-Ray includes deleted scenes and a behind-the-scenes featurette, a 1080p transfer with DTS MA 5.1 audio, DVD and digital copy.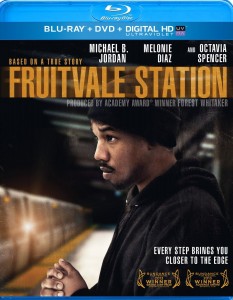 FRUITVALE STATION Blu-Ray/DVD (**½, 85 mins., 2013, R; Anchor Bay): Ryan Coogler's directorial debut chronicles the real-life tragic shooting of Oscar Grant, a 22-year-old Bay Area African-American who was shot by a white transit officer on New Year's Day in 2009.
Grant is certainly portrayed in glowing terms in Coogler's film, which flashes back to chronicle the events leading up to his death: as a father to a young infant, son to a loving mom (Octavia Spencer), and a former ex-con who's cleaned his life up. All the while, the movie gives you some indication about his troubled past in one particular flashback sequence, but glosses over the specifics. Nevertheless, it's a testament to Coogler's direction that the movie reels you in so effortlessly, but when "Fruitvale Station" was over, I felt manipulated – beyond its portrayal of Grant, all the white characters come off as hating stereotypes and the movie's dramatic angle just feels one-dimensional. If "Fruitvale Station" wanted to tell us something about race relations and not just make a single dramatic gesture, the movie would've been better off looking at the tragedy also from the angle of the cop who pulled the trigger – regardless of how it felt about him. Ultimately, "Fruitvale Station" just feels too simplistic and calculated, regardless of how well it's made.
Anchor Bay's Blu-Ray includes a featurette, Q&A with cast and crew members, a 1080p transfer, 5.1 DTS MA soundtrack, DVD, and Ultraviolet digital copy.
THE FIFTH ESTATE Blu-Ray/DVD (**½, 128 mins., 2013, R; Dreamworks/Buena Vista): Director Bill Condon's examination of Wikileaks founder Julian Assange (Benedict Cumberbatch) held the inglorious honor of being the lowest-grossing studio release of last year, though it's far from the worst picture of 2013. In fact, the strongest charge one could level against "The Fifth Estate" is that it's overlong and slow-going at times. Writer Josh Singer's script tends to play its portrayal of Assange right down the middle, neither damning Assange's controversial quest to unload classified documents online for the world to see nor completely supporting his motives, and the performances of Cumberbatch and Daniel Bruhl (as one of Assange's initial supporters) are terrific. Dreamworks' Blu-Ray, out January 28th, includes a number of behind the scenes featurettes – a discussion with composer Carter Burwell among them – along with trailers, TV spots, a DVD and digital copy.
---
THE KILLING FIELDS Blu-Ray (****, 141 mins., 1984, R; Warner): One of producer David Puttnam's finest features, "The Killing Fields" is a harrowing, extraordinary film, and one of the best from a terrific year at the movies.
Director Roland Joffe's picture tells the true story of New York Times journalist Sydney Schanberg (Sam Waterston), stationed in Cambodia during the early '70s. The Vietnam conflict by this point had spread into the nation, spurring the revolutionary forces of the Khmer Rouge to take over the country piece by piece. At great personal risk, Schanberg decides to stay in Cambodia to chronicle the horrors of the Khmer Rouge, but eventually has to leave following the evacuation of the capital Phnom Penh. His friend and interpreter, Dith Pran (an Oscar winning performance by Haing S. Ngor), however, doesn't make it out with him, and instead tries to survive in a country where some two million Cambodians were executed by the growing communist forces.
"The Killing Fields," in a highly competitive year ("Amadeus," "Places in the Heart," and "A Passage to India" were just a few of the acclaimed pictures of 1984), earned Oscars for Ngor's performance as well as film editing and Chris Menges' cinematography. This is a fabulous film – horrific in depicting the horror of the Cambodian crisis, humane in its treatment of the impacted people, and suspenseful in its portrait of Pran's survival. Joffe captures the movie with a realistic, almost documentary-like approach, and all of the performances are spot on, especially from the leads, while small roles are populated with familiar faces like John Malkovich, Julian Sands, and Craig T. Nelson. The movie gets a bit syrupy at the end with its use of John Lennon's "Imagine," but emotionally the picture gets away with it through the conviction of the filmmakers and Bruce Robinson's fact-based screenplay. It's one of the finest films of the '80s.
Warner's Digibook Blu-Ray includes a clean 1080p AVC encoded transfer of the film. The 2.0 DTS MA stereo audio is effective, though there are sections of Mike Oldfield's score that haven't weathered the years well. Extras are limited to a trailer and Joffe's commentary, along with a glossy booklet with production notes.
Also new from Warner on Blu-Ray on the catalog side is TEQUILA SUNRISE (**½, 115 mins., 1988, R), "Chinatown" scribe Robert Towne's contemporary noir about an ex-drug dealer (Mel Gibson), his former friend-turned-cop (Kurt Russell) and the girl – a local restaurant owner – who comes between them (Michelle Pfeiffer). Beautifully shot by Conrad L. Hall, "Tequila Sunrise" has lots of style and a moody Dave Grusin score, along with ample chemistry between the leads. What it doesn't have is a coherent script, with Towne's convoluted web of double-crosses detracting from what's an otherwise appealing late '80s star vehicle. Still worth checking out in HD, though, with Warner's Blu-Ray boasting a clean 1080p AVC encoded transfer that nicely replicates Hall's cinematography. The disc also includes a 2.0 DTS MA stereo soundtrack, commentary from producer Thom Mount and the trailer.
SUNRISE Blu-Ray/DVD (94/79 mins., 1927; Fox): F.W. Murnau's groundbreaking 1927 drama about a farmer (George O'Brien), his wife (Janet Gaynor) and the woman (Margaret Livingston) who comes between them – spurring the farmer to consider murdering his bride before realizing the error of his ways – comes to Blu-Ray as part of Fox's "Studio Classics" line. The disc includes two versions of "Sunrise": the full-length version runs 94 minutes with either the original "Fox Movietone" audio or Timothy Brock's Olympia Chamber Orchestra score, while the European silent version runs 79 minutes, minus the sound effects from the Fox Movietone sound system. Extras include commentary from cinematographer John Bailey, outtakes also with his commentary, the trailer, screenplay, restoration and notes, and Carl Mayer's scenario with Murnau's notes. The 1080p transfer is as crisp as the material allows, while an accompanying DVD also includes both versions of the film on a dual-sided disc.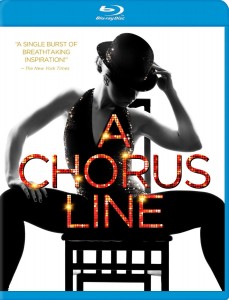 Also this month, MGM and Fox bring to Blu-Ray one of the most disappointing stage-to-screen adaptations: Richard Attenorough's A CHORUS LINE (**, 117 mins., 1985, PG-13). Michael Douglas leads a relatively unknown cast as a Broadway producer trying to select the chorus in his new show. The lives, loves, and fears of each individual are then exposed as Douglas probes their personal backgrounds, resulting in a collection of Marvin Hamlisch-Edward Kleban songs.
Despite the musical's popularity and widespread acclaim, director Attenborough managed to botch just about everything with this lifeless film. Ralph Burns' plastic, synth-heavy rendition of the original score results in a soundtrack that dates the film badly, while many of the actors seem to be completely miscast (leading lady Alyson Reed has zero chemistry, for example, with Douglas). Worst of all, though, is Attenborough's treatment of the show itself: songs were dropped, with many rearranged or abbreviated, and the director treating several of them as if they were throwaways. One need look no further than what the filmmakers did to the show's standout number, "What I Did For Love," to see how misguided the entire enterprise was.
MGM's Blu-Ray may still be a worthwhile view for the curious, with its attractive 1080p transfer and DTS MA 2.0 stereo soundtrack (note this version opens with the Columbia logo and does not have a wide shot of NYC as seen in the European version). While the trailer is included, a nice interview featurette with Hamlisch from the prior DVD edition is, unfortunately, nowhere to be found here.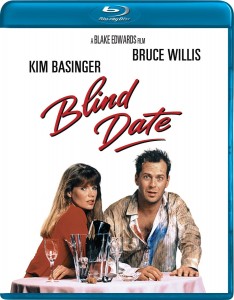 BLIND DATE Blu-Ray (**½, 95 mins., 1987, PG-13; RLJ): One of Blake Edwards' biggest box-office hits, this frivolous 1987 comedy still would've been long forgotten had it not offered Bruce Willis in his first feature starring role. Willis glides effortlessly through "Blind Date" as a yuppie who's set up with gorgeous Kim Basinger, only to find out she becomes quite unhinged after downing some alcohol. The predictable, occasionally funny shenanigans are over and done with in a tidy 90 minute running time – atypical for most of Edwards' comedies – with memorable supporting bits turned in by John Larroquette, William Daniels and Phil Hartman. While the movie was apparently watered down from the original script by "My Cousin Vinny" scribe Dale Launer (who essentially disowned the finished product), "Blind Date" still offers a breezy good time with a pair of stars just working into their prime. RLJ's Blu-Ray is a no-frills disc from the Sony vaults: the 1080p transfer of the 2.40 widescreen frame is just splendid, with 2.0 DTS MA stereo audio offering a subdued Henry Mancini score augmented with plenty of songs by Billy Vera and the Beaters among others.
PRIDE AND PREJUDICE Keepsake Edition Blu-Ray (510 mins., 1996; Lionsgate): This BBC/A&E co-production is generally regarded as the finest adaptation of Jane Austen's classic book, which says something given other outstanding renditions of the Austen story produced over the decades. Colin Firth and Jennifer Ehle have palpable chemistry in this 1996 production, gracefully adapted by director Simon Langton and writer Andrew Davies, with a marvelous supporting cast and sumptuous locales.
A&E meticulously remastered "Pride and Prejudice" for Blu-Ray back in 2009 and the results completely blew away prior DVD and broadcast editions of this mid '90s mini-series. As profiled in a featurette on the restoration, extensive work was done to produce a definitive HD transfer of the show and the results are outstanding indeed. The PCM stereo sound isn't as much of an improvement, and Lionsgate's new "Keepsake Edition" Blu-Ray disc includes four new featurettes: "The Definitive Pride and Prejudice," "Love or Money? Courtship and Marriage in Pride and Prejudice," "The Music of Pride and Prejudice," and "Lifestyles of the Wealthy in Early 19th-Century England."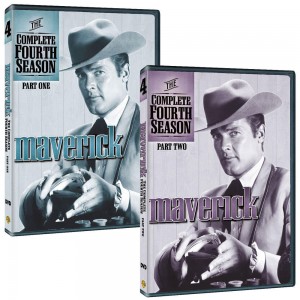 Warner Archive New Releases: The Roger Moore era began – and, before the season was over, ended – with the Complete Fourth Season of the classic TV western MAVERICK (1961-62). This penultimate season for the series took a major hit when James Garner left the program, leaving Jack Kelly's Bart to carry the day. Fortunately, Moore joined the cast – however briefly – as cousin Beau Maverick, making Warner's new Archive DVD release worthwhile viewing for series fans and 007 buffs as well. Episodes include The Bundle From Britain, introducing Moore's character; Hadley's Hunter; The Town That Wasn't There; Arizona Black Maria; Last Wire From Stop Gap; Mano Nera; A Bullet for the Teacher; The Witch of Hound Dog; Thunder From the North; The Maverick Line (a two-part episode shot during Season 3 starring Garner); Bolt From the Blue; Kiz; Dodge City or Bust; The Bold Fenian Men; Destination Devil's Flat; A State of Siege; Family Pride; The Cactus Switch; Dutchman's Gold; The Ice Man; Diamond Flush; Last Stop Oblivion; Flood's Folly; Maverick at Law; Red Dog; The Deadly Image; Triple Indemnity; The Forbidden City; Substitute Gun; Benefit of the Doubt; and The Devil's Necklace. All the 4:3 B&W transfers are sound…A pair of TV-movies produced during TNT's heyday also hit home this month from the Archive. HEART OF DARKNESS (105 mins., 1993) was regrettably deemed one of the most disappointing of the lot, despite teaming director Nicolas Roeg with Joseph Conrad's oft-imitated novel and starring Tim Roth as the captain who chugs up the Congo to find John Malkovich's Kurtz. Well-produced with a fine Stanley Myers score, the movie is dramatically limp and underwhelming. More entertaining is Arthur Penn's enjoyable THE PORTRAIT (89 mins., 1991),an engaging drama with Cecilia Peck starring as an artist who returns home, only to find that her parents (real-life dad Gregory and Lauren Becall) have sold off their ancestral home and refuse to complete her family portrait. It's fun watching Peck and Bacall working together here, and Penn's direction balances their chemistry perfectly in this adaptation of Tina Howe's play "Painting Churches." Both "Heart of Darkness" and "The Portrait" include 4:3 full-screen transfers and stereo soundtracks, the latter also including a score by Elmer Bernstein favorite Cynthia Millar.
---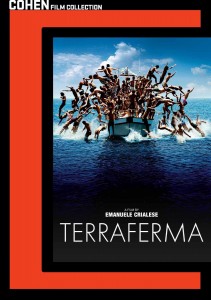 Cohen Film Collection New Releases
The Italian drama TERRFERMA (94 mins., 2011) makes its North American home video debut this month from Cohen. Set on a summer tourist island off the coast of Italy, Emanuele Crialese's film follows the young son of a large family faced with trying to help – illegally – a family of "boat people" trying to immigrate to Europe. Cohen's Blu-Ray edition includes a 1080p transfer, DTS MA audio in Italian with English subtitles, plus a Making Of featurette and the original trailer.
Also new from Cohen this month is THE PREY (105 mins., 2011), a French thriller with Albert Dupontel as a bank robber who tells a fellow inmate in prison about money he's hidden away. He confides the information about its whereabouts, and asks the man (Sergi Lopez) to look after his family – only to find out he's really a serial killer. Eric Valette's twisty thriller – just announced for an American remake – is worth a look for French cinephiles, with Cohen's Blu-Ray including an interview with Valette, a Making Of featurette, the trailer, a 1080p transfer and DTS MA audio.
---
New From Lionsgate: The highest grossing Spanish language film ever released in North America,INSTRUCTIONS NOT INCLUDED (115 mins., 2013, PG-13) follows ladies man Eugenio Derbez after he learns that he has an eight-year-old daughter. Derbez moves to Hollywood in order to find her mother, and eventually becomes a stuntman in the process – but life takes a turn once her mother resurfaces….and did I mention the fatal disease also involved in the story? Wildly dramatic, "Instructions Not Included" certainly isn't going to be for everyone, but it's engaging and never boring at least. Lionsgate's Blu-Ray includes a commentary from Derbez (who also directed), a 1080p transfer, 5.1 DTS MA Spanish soundtrack, and Ultraviolet copy.
Season One of CROSSING LINES (460 mins., 2013) arrives on Blu-Ray January 21st from Lionsgate. William Fichtner, Donald Sutherland and Marc Lavoine co-star in this co-production between France's TF1 and NBC, which generated decent reviews when it aired last summer. Lionsgate's Blu-Ray offers 10 episodes from the limited run series plus a behind-the-scenes featurette, 1080p transfers and DTS MA soundtracks…COUNTING CARS: Season 2, Volume 2 (286 mins., 2013) offers 13 more episodes from the popular History Channel series: Psychedelic Circle, Change of Heart, Super Nova, One Love One Car, The Marleymobile, Floodpocalypse Now, The Horn Ultimatum, Haunted Ho, Zombie Truck, Tour de Pants, Special Delivery, The Car Hoarder, and Van Haulin', along with over 35 minutes of bonus footage, 16:9 transfers and 5.1 soundtracks on DVD...RICHARD THE LIONHEART (104 mins., 2013, R) is a low-budget affair following Richard after he's thrown in prison and has to fight off a series of challengers – all a test by dad King Henry II to see what he's made of. Malcolm McDowell is the only recognizable name in the cast of this B-movie, which Lionsgate brings to DVD offering a 16:9 transfer, 5.1 soundtrack, Ultraviolet copy, and interviews with producer Phil Gorn and actor Burton Perez.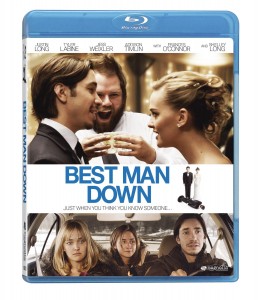 Magnolia Releases: Surely one of the weirdest premises you'll see this (or any) year, BAD MILO (84 mins., 2013, R) finds Ken Marino doing battle…with a demon…living in his own stomach. Jacob Vaughan's comedy of horrors co-stars Gillian Jacobs, Patrick Warburton, Mary Kay Place, Stephen Root and Peter Stormare in a gory, occasionally funny romp that's at least unpredictable. Magnolia's Blu-Ray is filled with extras, from outtakes and deleted scenes to behind-the-scenes featurettes, the trailer, a 1080p transfer and 5.1 DTS MA soundtrack…BEST MAN DOWN (90 mins., 2013, PG-13) stars Justin Long and Jess Weixler as newlyweds who spend their honeymoon driving Long's best man (Tyler Labine) back home – after he passes away at the wedding. Ted Koland's film is surprisingly poignant in places and serves up a funny 90 minutes with a game cast. Magnolia's Blu-Ray includes outtakes, interviews, the trailer, a 1080p transfer and 5.1 DTS MA soundtrack.
Also New From PBS: MARTHA SPEAKS: PUPPIES! PUPPIES! PUPPIES! (75 mins., 2014) includes six episodes from the hit PBS children's series: Puppy Skits, Dinosaurs in Trouble!, The Puppy Tooth Fairy, Martha's Blue Period, Martha's Puppy, and The Cheating Chum Caper. Printable resources for parents, coloring pages and activities are included in PBS' latest DVD release from the animated program…RAW TO READY (240 mins., 2013) examines how raw materials are crafted to produce amazing machines. Four episodes – Komatsu, Bentley, Mack Truck, and Bombardier – are included in PBS' double-disc DVD set with widescreen transfers and stereo soundtracks…NOVA: MAKING STUFF 2 (240 mins., 2013)is hosted by the affable David Pogue, who likewise chronicles modern innovations through science and technology. The four episodes (Wilder, Colder, Safer, Faster) should be accessible for science buffs and casual viewers alike, and benefits from Pogue's sense of humor. PBS' DVD presentation is a double-disc set offering a widescreen transfer and stereo soundtrack…THE AFRICAN AMERICANS: MANY RIVERS TO CROSS (360 mins., 2013) was written by Professor Henry Louis Gates, Jr., who also hosts this six-hour chronicle of African-American history and struggles – politically, culturally and otherwise. PBS' DVD streets on January 29th and contains widescreen transfers and stereo soundtracks.
Quick Takes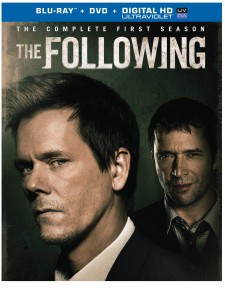 THE FOLLOWING – Season 1 Blu-Ray (654 mins., 2013; Warner): Kevin Williamson produced this ridiculously over-the-top serial killer thriller for Fox – a series that netted the involvement of Kevin Bacon with the proviso that the star would only appear in some 15 episodes. Fox eventually agreed to producing the program with Bacon, electing to produce a limited-run set of episodes instead of the usual 22-24 programs most American series typically do (it's a tactic Fox has used since on "Sleepy Hollow" and the upcoming "24″ sequel series).
Unfortunately, reducing "The Following"'s order to 15 episodes didn't help the program from veering off the rails, as what begins as an FBI profiler (Bacon)'s quest to stop serial killer Joe Carroll (James Purefoy) and his maniacal followers grows sillier throughout its first season. It's still slickly made and entertaining enough, but fans of the genre are more likely to be satisfied by it than casual viewers just looking for a weekly thrill ride.
Warner's Blu-Ray includes the complete first season of "The Following" in 1080p transfers and 5.1 DTS MA soundtracks. The a/v presentation is terrific, and ample extras include deleted scenes, commentary on the finale, "Maximum Episode Mode" features with optional "focus points," and several behind the scenes featurettes with the cast and crew.
ARCHER: SEASON 4 Blu-Ray (286 mins., 2013; Fox): Wacky FX animated series continues the adventures of Sterling Archer, the world's greatest spy, in adult-oriented, frequently funny episodes. Fox's Season 4 Blu-Ray collects the entire fourth season in 1080p transfers with 5.1 DTS MA soundtracks and a pair of extras ("Fisherman's Daughter," "Archer Live!").
WHEN CALLS THE HEART DVD (89 mins., 2013; Millennium): Poppy Drayton stars as teacher Elizabeth Thatcher – a young woman who becomes a teacher in the prairie – in this entertaining, family-friendly Hallmark movie from Michael Landon, Jr. Landon also adapted Janette Oke's popular novel for the TV-film co-starring Maggie Grace, Stephen Amell, Jean Smart and Lori Loughlin (the latter two have returned for Hallmark's new weekly series of the same name, but with Erin Krakow taking over Drayton's role). Millennium's DVD includes a 16:9 transfer and 5.1 soundtrack.
PLUS ONE DVD (96 mins., 2013, Not Rated; IFC): Dennis Iladis' nearly indescribable picture does earn a few points for originality with its tale of three college friends who find themselves having to battle doppelgangers caused by a meteorite. Moody and oddball, though not as promising as it's premise would lead you to believe. IFC's DVD includes commentary with the director and crew members, deleted scenes, visual effects featurettes, interviews, trailers, a 16:9 transfer and 5.1 soundtrack.
NEXT TIME: Criterion's THIEF. Until then, don't forget to drop in on the official Aisle Seat Message Boards and direct any emails to our email address. Cheers everyone!