Message Board - Registrations Open
Though far from the funniest film ever made, IT'S A MAD, MAD, MAD, MAD WORLD (154/197 mins., 1963) is undoubtedly one of the biggest cinematic comedies ever mounted in terms of scale – offering a veritable who's who of classic Golden Age comedians in a picture that has long generated a love/hate relationship among viewers. While the movie's artistic merits are debatable, there's no denying that Criterion has produced one of the most praiseworthy restorations we've seen on home video in years with their new Blu-Ray/DVD edition of Stanley Kramer's gargantuan 1963 release.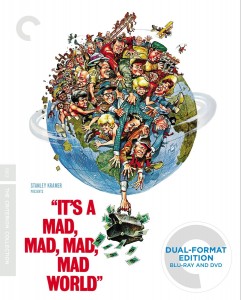 The screenplay by William Rose and his wife, Tania (who had previously written the British car rally comedy "Genevieve"), opens with a group of motorists watching in awe as Smiler Grogan (Jimmy Durante) speeds off a highway overpass, crashing into a ravine where he reveals (prior to literally kicking the bucket) that a treasure is buried under a "Big W" in Palm Springs, California. With this hot tip, the motorists stage a frantic mad dash for the coast, splitting up into different groups and getting into every kind of predicament imaginable. Their progress is tracked by Captain T.G. Culpeper (Spencer Tracy), ready for retirement after spending years as an honest cop, wanting only to bring the situation to a close in order to round out his distinguished career.
The crazies he's after include J. Russell Finch (Milton Berle), his wife Emmeline (Dorothy Provine), her mother (Ethel Merman) and, eventually, brother (a funny Dick Shawn); Melville Crump (Sid Caesar) and his wife (Edie Adams); botanist J. Algernon Hawthorne (Terry-Thomas); Ding Bell (Mickey Rooney) and Benjy Benjamin (Buddy Hackett); and the irascible Lennie Pike (Jonathan Winters). However, if that wasn't enough, Kramer filled his supporting roles a wealth of talented and formidable performers, many of whom had already achieved fame or would later to go onto find it – names like Jim Backus, Joe E. Brown, William Demarest, Andy Devine, Selma Diamond, Peter Falk, Norman Fell, Stan Freberg, Sterling Holloway, Don Knotts, and Carl Reiner, plus cameos from Jerry Lewis, Jack Benny, Buster Keaton and the Three Stooges for good measure.
Having not lived through its era, "It's a Mad, Mad, Mad, Mad World" is a tough nut to crack. The movie means a good deal more to nostalgic viewers than anyone else, especially since its comedy is seldom more than gently amusing. The big laughs one would expect from the assembled cast seldom materialize throughout the course of its three hours, and yet as I've come to find out over the years, the movie grows on you. It's not hilarious, but it's likeable, and serves as a time capsule of its day – and where else in the history of cinema have so many legends come together for one motion picture? Even if the film is less than the sum of its parts, seeing these performers working together alone is worthwhile, and Kramer's use of the wide scope frame also makes his comic odyssey visually stimulating. It's not a classic, but it is a one-of-a-kind motion picture experience whose place in history is stamped by the talent who worked on it.
While the film was heavily promoted as a Cinerama feature, Kramer actually shot the film in the 70mm Ultra Panavision process, and the movie originally opened in Roadshow release at 192 minutes in November of 1963. United Artists, however, quickly pared the film down to 163 minutes (later 154 mins. minus overture/intermission/exit music) -- some have claimed to accommodate more screenings in theaters -- and for many years the longer Roadshow version of the movie was thought to be lost forever. MGM/UA attempted to restore what they could salvage of the lost footage in the early '90s for a laserdisc release that ran 20 minutes longer, but was hampered by sequences that were inserted in the wrong order and also transferred at varying aspect ratios.
Working with restoration authority Robert A. Harris, Criterion has produced a spectacular new, 197-minute presentation exclusively for their new Blu-Ray/DVD release. The care that went into this production is evident throughout, and it is truly remarkable what Criterion and Harris were able to find. This new restoration offers footage added back into the film for the first time, as well as newly remastered deleted scenes that are an enhancement from the prior attempt at restoring the Roadshow version – scenes are here inserted back in their proper place, others that were "warped" for Cinerama exhibition have been corrected, sequences with Japanese subtitles that were zoomed-in and cropped have been fixed as best they can, and others lacking visuals have been carefully matched with stills from the movie (several audio drop-outs have also been rectified with subtitles). Given that none of the original film elements exist – and that the added scenes come from a myriad of sources that have been ravaged by time, sticking out visually from the rest of the picture – it's amazing how much of the "lost footage" has been resurrected here on Blu-Ray, and how well it plays together.
Another notable aspect of the restoration was the decision to lift the color off the laserdisc master for some of the excised material – a necessity given that those sequences have faded even further over the 20 years since their previous exhibition, and offer virtually no color when viewed today. By using the same process that converts 2D movies to 3D, Harris and Criterion were able to add color to newly rescanned in HD – but now-monochrome – material. It's fascinating to see their cutting-edge efforts in action, even if the end result carries B&W borders along the image (since the laserdisc didn't transfer the full aspect ratio of the film, no color guide existed for that part of the image).
The 1080p image itself otherwise is just brilliant — working from the same gorgeous master MGM produced for their earlier Blu-Ray release, which offered pinpoint detail. This is what every catalog release ought to look like on Blu-Ray but seldom does, and if the 197-minute version offers too much "Mad World" for you (even the movie's Intermission "police calls" have been reinstated), the "Shorter Roadshow" 163-minute version is also included here on its own disc, with both pictures offering a robust 5.1 DTS MA soundtrack that does justice to Ernest Gold's raucous, infectious – and admittedly repetitive – score.
Extras, as you'd anticipate, are in abundance, though fans may lament the loss of the older laserdisc documentary, which made its way onto MGM's prior DVD and Blu-Ray releases. A group commentary track with fans Mark Evanier, Mike Schlesinger, and Paul Scrabo offers as much trivia on the extended version as you'd ever want to hear; excerpts from a 1974 Kramer-hosted talk show include recollections from Sid Caesar, Buddy Hackett and Jonathan Winters; a press interview from '63 and two episodes from the TV program "Telescope" offer priceless, vintage footage of the cast behind the scenes; a 10 minute extract from the 2000 AFI TV special "100 Years…100 Laughs" features comments from admirers like David Alan Grier and Whoopi Goldberg (who starred in the unfortunate semi-remake "Rat Race"); Sten Freberg's original TV and radio ads with his introduction; trailers and radio spots; and footage from a 2012 event, "The Last 70mm Film Festival," hosted by Billy Crystal and offering appearances from surviving cast and crew members. It's a shame the program ends at the 38 minute mark – one wishes the conversation had lasted longer, particularly considering half of the featurette is spent introducing the various participants.
The package is housed in a cardboard foldout case with Jack Davis' original artwork and a three-disc DVD copy that offers a standard-def version of the same presentation. For fans, this is as much as one could hope for – "Mad" indeed!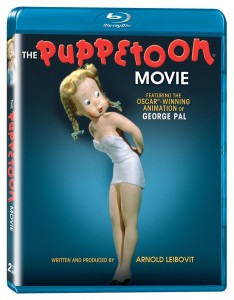 New from B2MP is another loving restoration for Golden Agers: a limited-edition Blu-Ray of THE PUPPETOON MOVIE (79 mins., 1987), Arnold Leibovit's compilation of classic George Pal shorts framed by new footage of Gumby and friends learning about the work of the late fantasy film pioneer.
Similar to Warner Bros.' various animated films comprised of classic Looney Tunes cartoons, "The Puppetoon Movie" offers a number of Pal's most memorable shorts in a breezy, fast-moving production fans and casual viewers will both enjoy. Its fine high-def mastering is reason enough for celebration – but B2MP's marvelous 2-disc Special Edition goes above and beyond with a package that pays tribute to Pal's legacy altogether.
In addition to the film's 1080p transfer, there are no less than seven Puppetoon shorts making their home video debut in spectacular HD ("And To Think I Saw It On Mulberry Street," "500 Hats of Bartholomew Cubbins," "The Sky Princess," "Rhapsody in Wood," "Date With Duke," Jasper and the Beanstalk," and "Rhythm in the Ranks"), as well as an HD presentation of the Jimmy Durante-Terry Moore B&W feature "The Great Rupert," and a handful of full-length Puppetoon shorts in standard def ("What Ho She Bumps," "Mr. Strauss Takes a Walk," "Olio for Jasper," "Philips Cavalcade," "Jasper's Derby," "Hoola Boola," "Ether Symphony," "Aladdin and the Magic Lamp," "The Magic Atlas," "Jasper and the Haunted House," "The Philips Broadcast of 1938," and "The Ship of the Ether").
Extended interviews with greats like Ray Harryhausen, Ray Bradbury, Gene Roddenberry, Walt Disney, Wah Chang, Duke Goldstone and Russ Tamblyn are also present. If all of that – and a commentary from Leibovit and animation authority Jerry Beck – wasn't enough, there's also Leibovit's wonderful 1985 documentary "The Fantasy Film Worlds of George Pal." Presented in standard-def, this loving production offers clips from all of Pal's classics with fond remembrances from their respective cast members. I first watched the program on a local PBS station in the late '80s and it immediately generated my interest in tracking down all of Pal's productions back in the heyday of VHS and laserdisc.
Though priced at $49.98, this 3000-copy limited edition – available only through B2MP's website – is an essential purchase for Pal aficionados, lovers of classic animation and film fantasy alike. Highly recommended!
NEXT TIME: THE KILLING FIELDS and more. Until then, don't forget to drop in on the official Aisle Seat Message Boards and direct any emails to our email address. Cheers everyone!